White Hall Outdoor Centre in the Peak District offers superb outdoor pursuits days for both families and kids on their own. Read on for our review. White Hall Outdoor Centre provided Peak District Kids with two complimentary activity days for purpose of this honest review and social media coverage.
Stepping off from a (what seemed like) a 100ft ladder onto a small wooden platform ready to jump the 'Leap of Faith', I realised that I should perhaps reconsider my relationship with FOMO (Fear Of Missing Out). I could have said, 'no thanks', but everyone else was doing it and my kids were giggling away and filming the evidence from the ground below.
I had two choices: take the leap or face the music.
So I swore under my breathe, stepped off the platform, screamed all the way down, and lived to tell the tale. I realise that I should probably mention I had ropes attached to me; I'm not quite that stupid.
I should also add that earlier that day I had hauled my bum up a limestone rockface in an underground cave, wearing wellies. Yes, if felt like I was auditioning for Super Woman.
The experiences offered at White Hall Outdoor Centre, just outside Buxton, is all about stepping out of your comfort zone and taking on challenges that you don't do everyday. This was part of an Easter holidays 'family activity day' where parents and their kids had come together to enjoy a day of outdoor pursuits.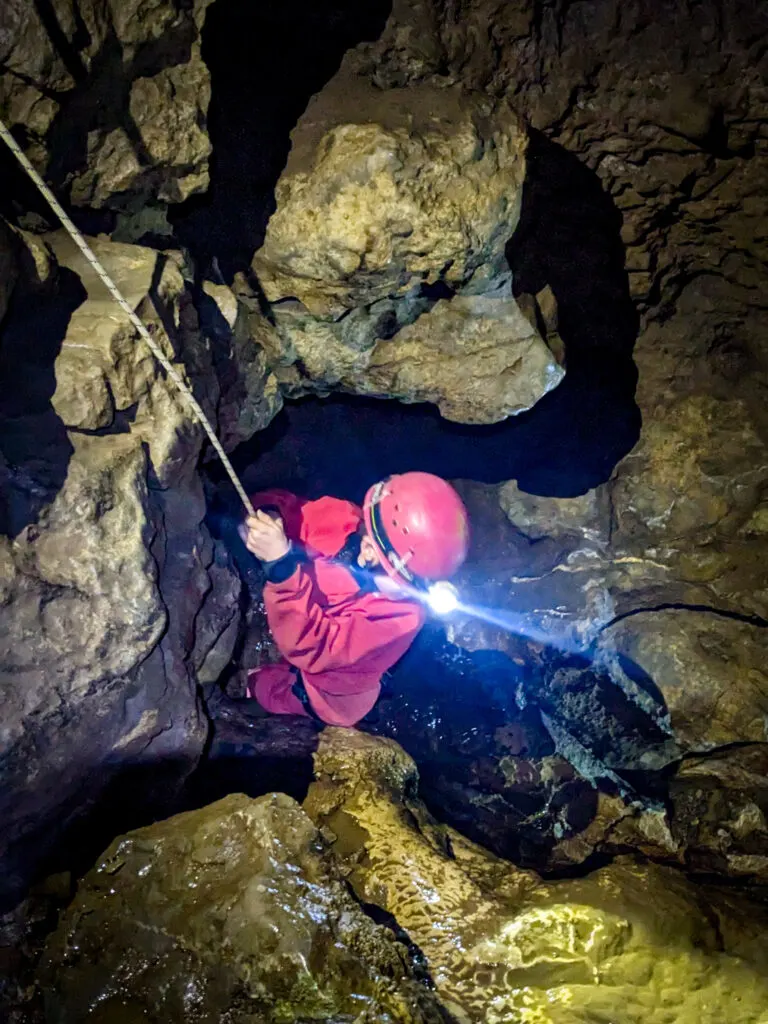 About White Hall Outdoor Centre
White Hall was founded in 1951 by one of the UK's greatest rock and alpine climbers, Sir Jack Longland. It was the very first Local Authority centre in the UK and the catalyst for the creation of so many other similar centres across the UK.
Since it's opening, more than a million people have taken part in residentials and adventurous activity courses to push boundaries, widen their horizons and gain confidence.
Those local to the Peak District may know this outdoor centre for residential and school trips over the years, and may have fond memories enjoying rock climbing, caving, mountain biking and canoeing, as well as using the centre's onsite climbing wall, ropes course and zip wires.
But White Hall Outdoor Centre isn't just for schools and youth clubs, it's also open to the general public too by means of 'family activity days' and 'kids activity days'. These activity days are generally in the Derbyshire school holidays.
The family activity days
My two boys (aged 7 and 9) and I signed up for a 'Family Activity Day', along with 4 other families.
The first activity for the day was caving at Giant's Hole outside Castleton. This involved getting geared up in cave-suits and hard-hats to go scrambling, climbing, and abseiling through the cave system. There were challenging moments along the way for various members of the group. For some it was claustrophobia, but for me it was struggling to get my rear end up the slippy limestone in wellies, no upper body strength and dodgy knees (but I did it, thanks to a staff member hauling me up!) In fact, the White Hall staff were incredible at supporting us when we felt out of our comfort zone. Plus, seeing the waterfalls, fossils, and formations deep inside the cave was just incredible. Giant's Hole is not on the tourist radar, and only people in the know know where to come.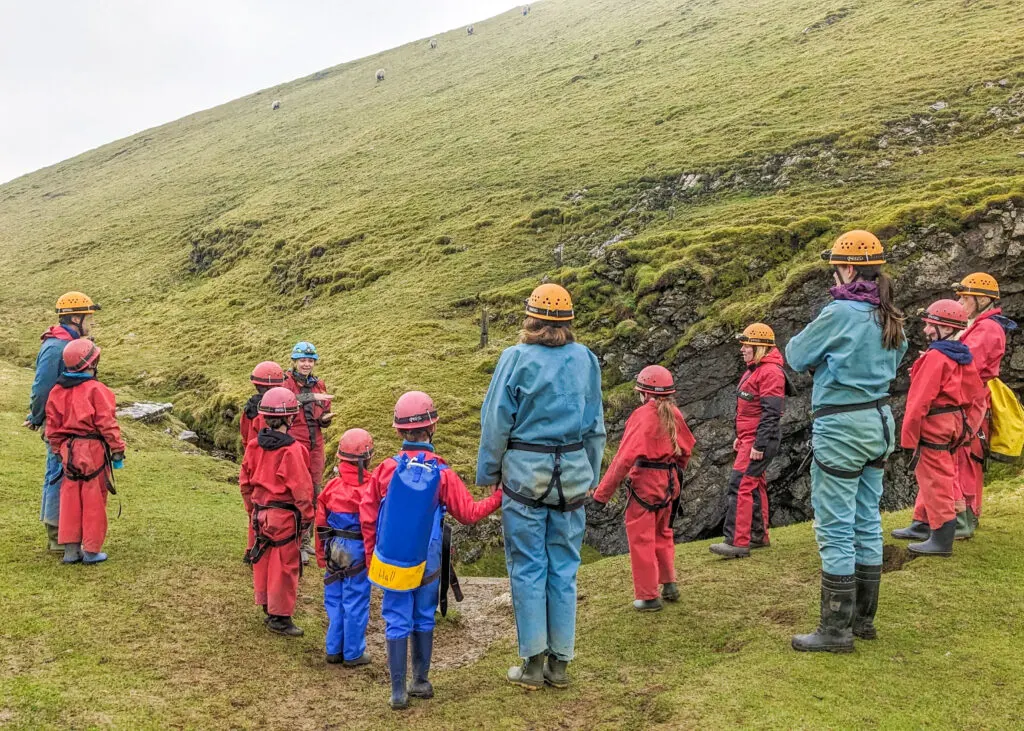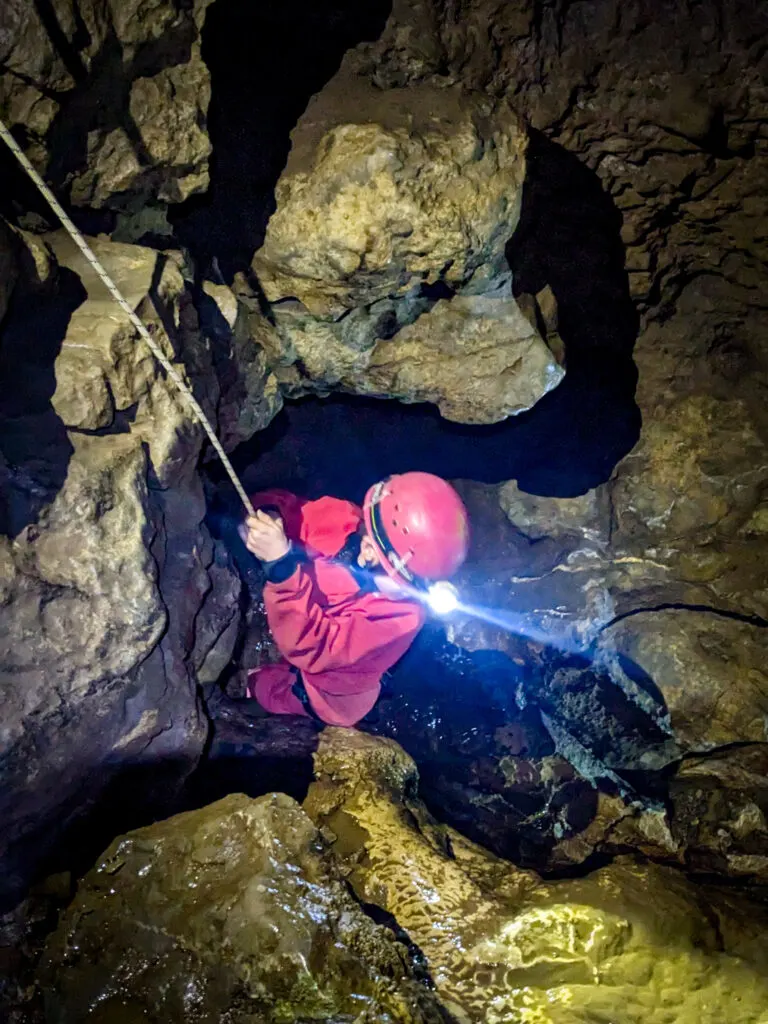 In the afternoon we all took on the high zip wire and 'Leap of Faith'. All totally crazy fun, but it was wonderful how all the different families who had signed up to the day came together to support one another.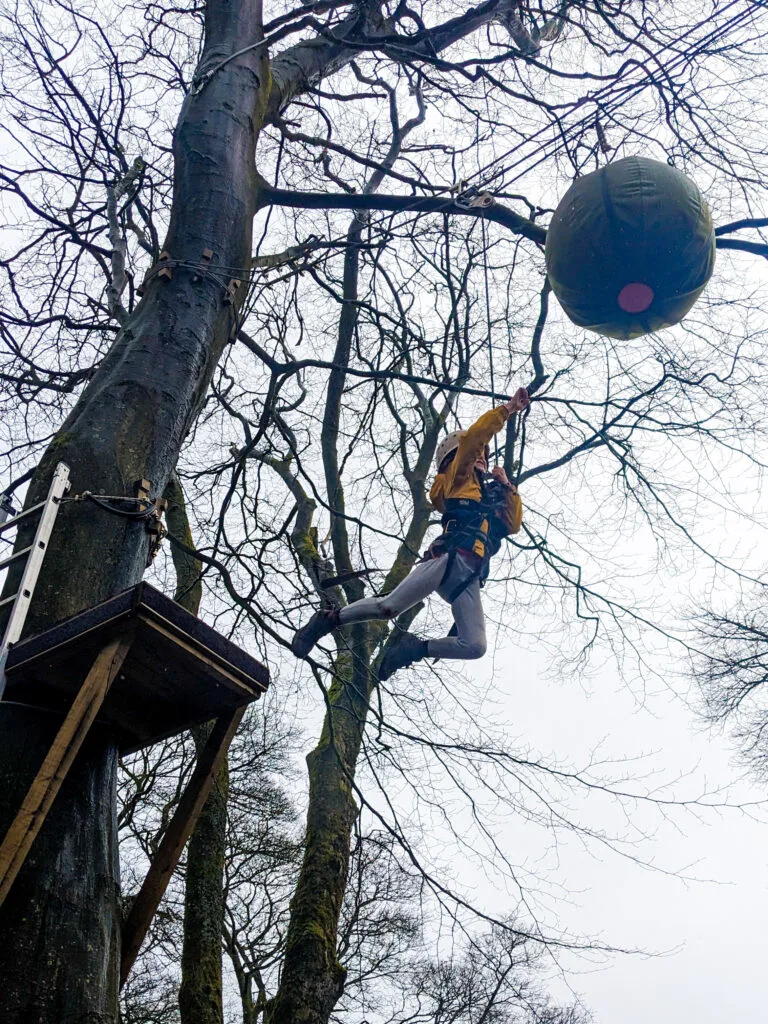 Then to round off the day, it was realised that parents were very much in need of a sit down and relax. So the leaders introduced to us 'Orien-tea-ring' where the kids went off to learn map-reading skills whilst the parents patted each other on the back for the day's achievements over a cup of tea. Us parents had certainly all bonded over the day's activities.
It was an utterly brilliant day. My monkey-boys were totally in their element and took everything in their stride. But for me, personally, it felt really good to do something different with them and push myself out of my comfort zone.
The kids only activity days
If you're a parent who would rather sit back and let the kids enjoy the challenges, or perhaps you're in need of a kid-free day, then there are also activity days just for kids where you drop them off at 9:30am, and then pick them up (hopefully exhausted) at 4:30pm.
My boys also tried this out and absolutely loved it! It was a great way for them to exercise independence and meet other kids outside of school too. For their activity day they played in the artificial cave, went on the zip wires, and took a trip to The Roaches for climbing and exploring.
There are two age groups for the kids activity days:
6-8 year olds
9-13 year olds
If you have siblings who want to be together in the same group, then White Hall can accommodate this.
A whole range of activities will be on offer throughout the course of the day including:
High and low ropes
Zip wires
Climbing walls
Mountain biking
Orienteering
Artificial cave
Problem solving
Canoeing, kayak, stand up paddle boarding
Abseiling
Climbing
Rock/stream scrambling
Caving
Bushcraft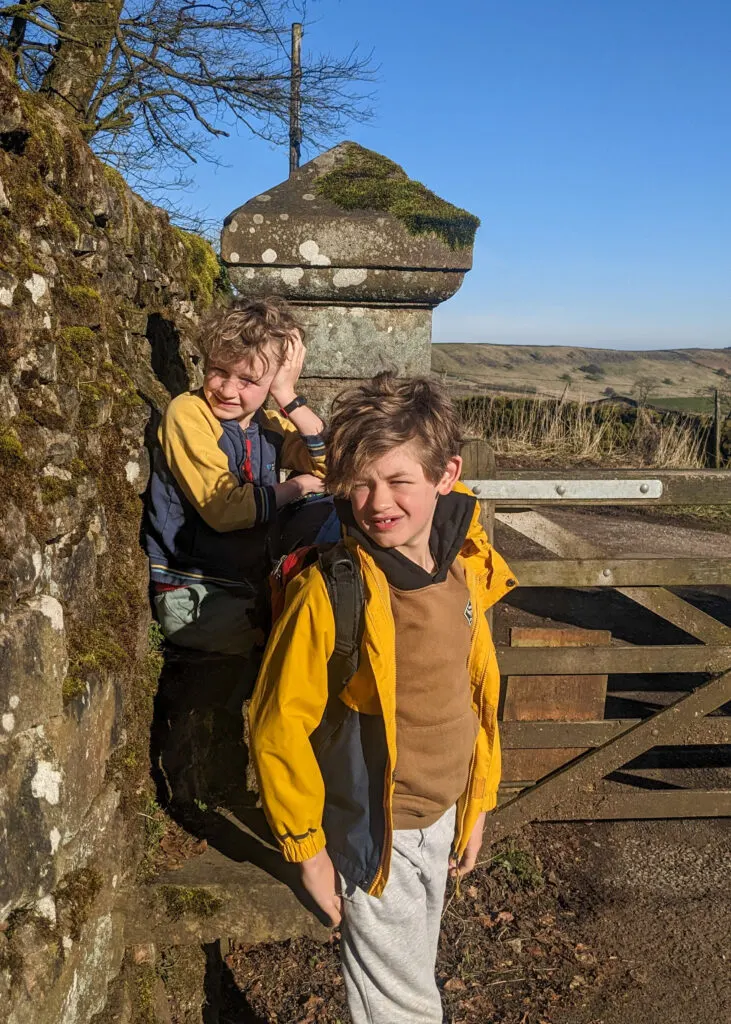 How do you know what you'll be doing that day?
There is no fixed itinerary to each day at White Hall, whether you've signed up to the family activity days or kids-only days. This means that the outdoor leaders can be flexible with weather and needs of individuals in groups, taking into consideration what is put on medical forms. For instance, the weather was atroscious for our family activity day, so we ventured underground to the caves. If it had been warm and sunny, we may have been out on the canoes.
So if you or other family members participating have any medical requirements or issues that the staff should know about, make sure you write this on the medical form so that staff can plan the day accordingly. The staff are all extremely well qualified in supporting people from all different backgrounds and abilities.
What to take with you
Packed lunch and drinks
Old clothing you don't mind getting dirty and wet. NO denims as they are not good for keeping you warm
Extra jumpers/fleeces
Waterproof coat and trousers
Trainers or walking boots
indoor shoes/slippers
Wellies in case you go caving (although these are provided by the centre if needed)
A complete change of clothes in case of a wet or dirty activity
Towel and wash kit
Bin liner
Money for ice-cream, sweets or souvenirs
Sun cream, hats and insect repellent
Labelled medication if required
The staff at White Hall Outdoor Centre
I just wanted to give special mention to the staff at White Hall. They really are a wonderful team. All activities are run by highly skilled and qualified staff, using all necessary safety equipment provided by the centre. They are extremely professional with everything they do, but moreover, they are all really kind-hearted and supportive people who will ensure you will be smiling at the end of the day (smiles cannot be guaranteed at the top of Leap of Faith).
How to book for White Hall Outdoor Centre
White Hall Outdoor Centre tend to run the family and kids-only activity days over school holidays (although not all school holidays). Check the website (click here for their Eventbrite booking system) to see what's coming up and to book.
More info can also be found at whitehall.derbyshire-outdoors.org.
---
You may also like to read:
Family canoeing in the Peak District
Family abseiling in the Peak District
Indoor climbing at Substation Macclesfield REVIEW