Have you got little adrenaline junkies who thrive on adventure? Well kids as young as 5 can abseil the 90 feet drop from Millers Dale Viaduct in the Peak District under the extremely professional instruction of Chris at Peaks and Paddles. Peak District abseiling is one of our top things to do in the Peak District!
AD | Peak District Kids received a complimentary abseiling session with Peaks and Paddles in exchange for promotion on our website and social media channels. As always, these are all our own words and opinions.
We had previously been canoeing with Peaks and Paddles, which was brilliant fun, and my boys (aged 5 and 7) were keen to try abseiling next to hone their Spiderman skills! And before anyone asks if I had a go, well I had to stand back and take photos of course 😉 – so I left it all to the boys.
Check out our Instagram reel (short video) of abseiling in the Peak District with Peaks and Paddles:
https://www.instagram.com/p/CN2kIKDAHRe/
What to expect from your Millers Dale abseil
We met Chris, the abseiling instructor from Peaks and Paddles, at Millers Dale car park. Click here for Google Map location, postcode: SK17 8SN. All day parking here is £4.50 and the machine does take cards. Although you don't need to pay if you have a Peak District annual parking pass to display. There are public toilets and a small café here.
It's then a short 750 metre walk along the Monsal Trail to Millers Dale Viaduct. Chris brings along all the equipment you need, including hard hats, so all you need to bring is yourselves and a sense of adventure!
Once you arrive at Millers Dale Viaduct, Chris sorts all the ropes out and gets them rigged up. He then helps fits your harness, before sharing some advice on using the ropes and carabiners (the metal clips).
Over the bridge you go!
Both my boys were a little nervous about climbing over the railings for the first time. But Chris is very patient and encouraging. My 5yo was fine after the first go, but my 7yo took a few more goes to get used to it. That first bit of climbing over really is the scariest part!
To go from standing on the edge to dangling, Chris instructed the boys to go onto their knees first, and then gradually take each foot off so that all their weight was on the ropes.
Then for the first go, Chris lowered them down individually to the bottom of the bridge. There may have been nerves at the start, but on landing, both were beaming with big grins and eager to go again!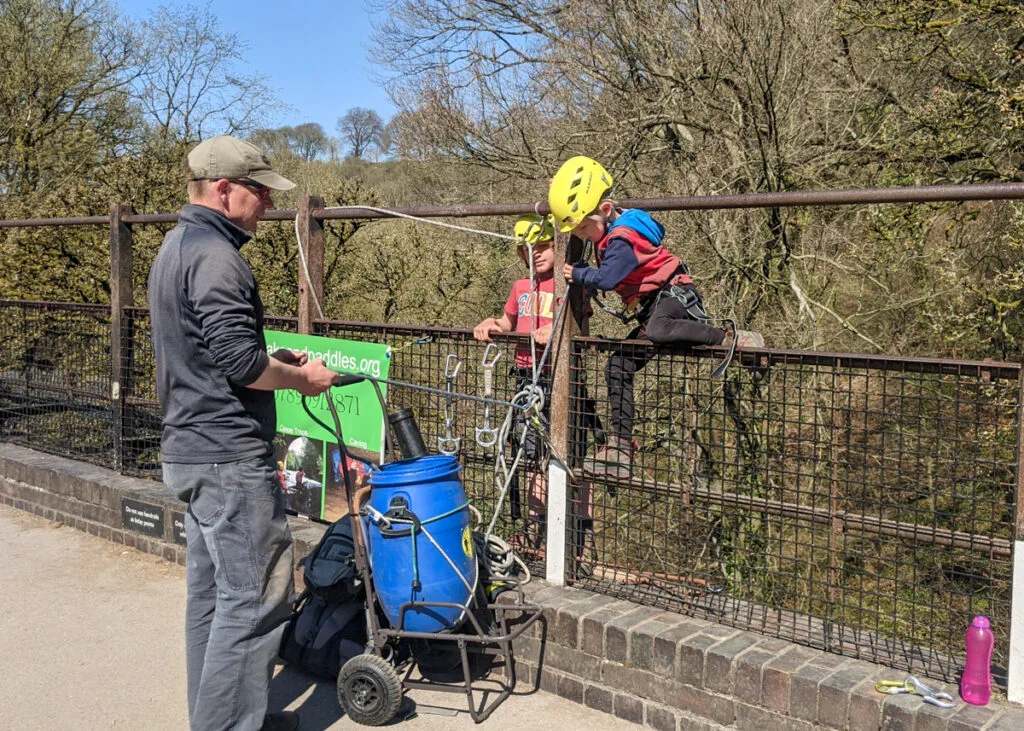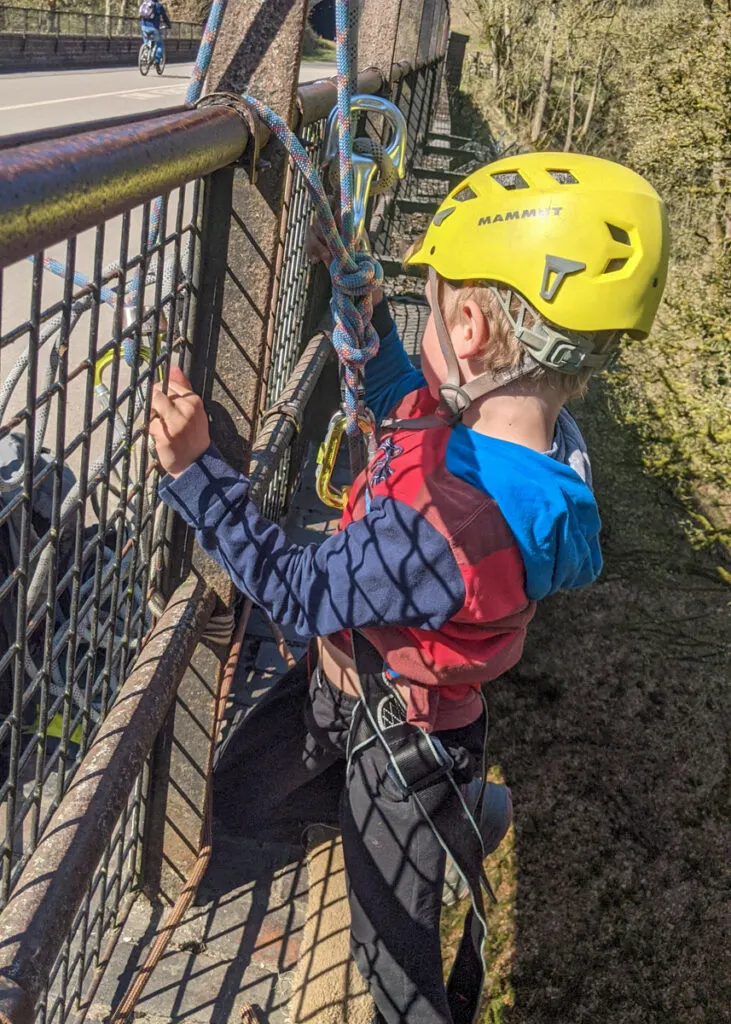 Teaching the actual abseiling bit
After that first go, Chris then talked through how to actually take control of the rope themselves and then walk down the wall of the bridge. Both boys had a practice on the Monsal Trail side of the railings to get the idea first, and then they were off!
Both boys got the hang of moving the rope through, although they couldn't quite get the knack of making it a big fluid movement. So it was a rather slow descent!
The next step would have then been to try walking down whilst feeding the rope. But my boys decided to do a little bit of rope feeding, and then would ask Chris to lower them down.
By the end of the lesson, Chris was zooming them down the rope together. It wasn't technically 'abseiling' I suppose, but they were having the time of their lives and are now desperate to go back and do more!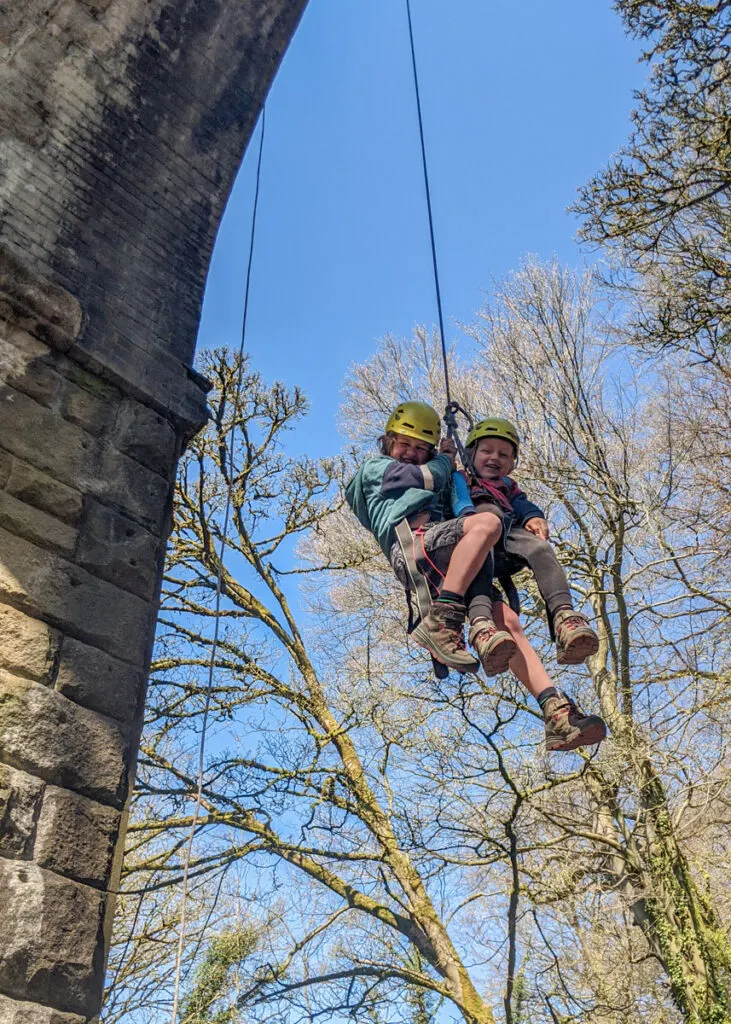 How many goes do you get?
There is no limit to the amount of goes. You can fit in as many as you want in the allocated time slot. It just depends how quickly you can get back up the steps again!
What is the best age for kids to go Peak District abseiling?
Chris takes kids as young as 5, but has taken a 4 year old abseiling before. It really is down to the individual child. Understandably, not all kids will be happy jumping off a bridge!
Older kids will probably get the hang of actually abseiling better (walking down and feeding the rope through), but younger kids seem to have less fear. At the end of the day, it's all about them challenging themselves and having fun.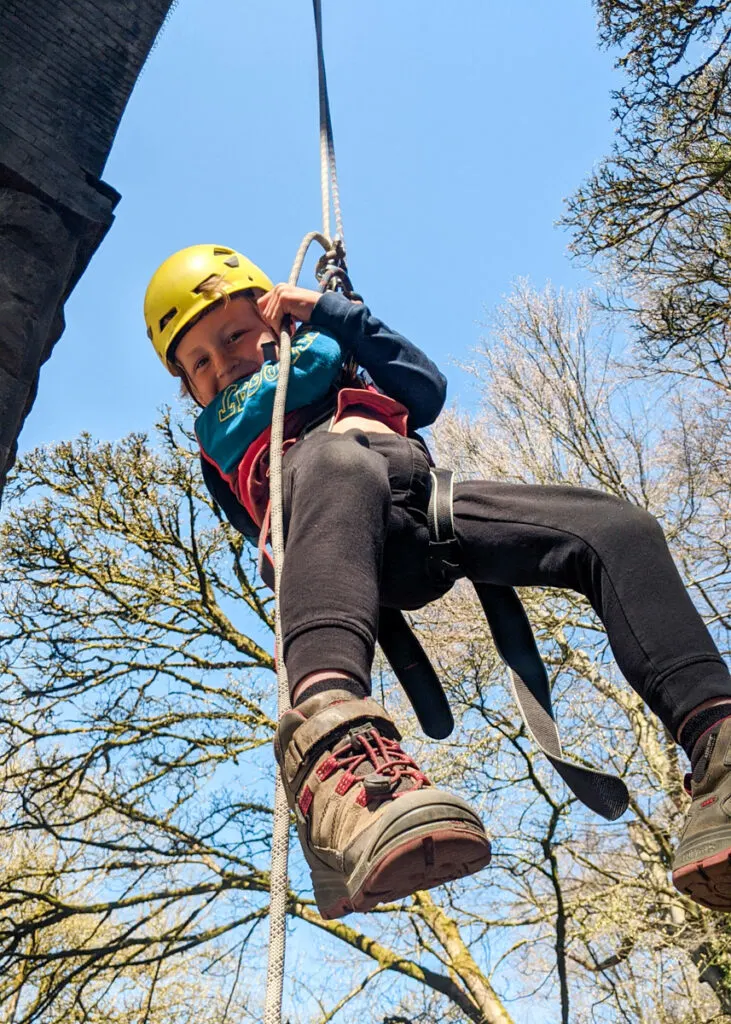 What to wear abseiling
Comfortable clothing and shoes with good grip. My boys wore shorts / tracksuit bottoms and their Keen hiking boots. Ensure long hair is tied back.
What to do after your abseiling adventures?
From Millers Dale Bridge you could continue along the river and follow our Chee Dale Stepping Stones walk. Perhaps take a picnic with you as everyone will be hungry after their adrenaline pumping activities.
Or plan to bring your bikes and enjoy a cycle along the Monsal Trail.
Or you may find that after all the adrenaline from jumping off the bridge, the kids need a little energy boost. The café at Millers Dale (next to the car park) serves scrummy ice-cream and cakes!
How to book and how much
If you book directly on the Peaks and Paddles website, you get 15% off. Currently for a family of four, it's £102 for the two hour session. You can book sessions all year round. Do drop Chris an email if you struggle to get availability that works for you.
Please note that all under 18s need a parent watching or taking part.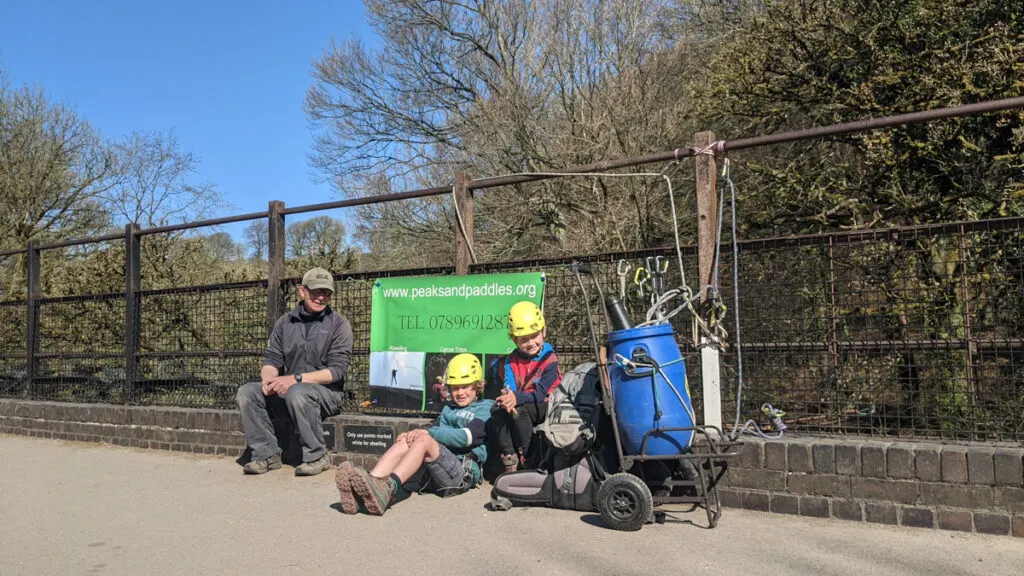 ---
You may also like to read:
Peak District canoeing with kids
Chee Dale Stepping Stones walk from Millers Dale (5km)
Cycle the Monsal Trail with kids