The Monsal Trail is one of the best Peak District cycle routes for families as it's traffic free and relatively flat. Plus with all the long tunnels to cycle through, it makes for a very fun ride! If you're planning to cycle the Monsal Trail and want to learn more, then read on…
Disclaimer: This post contains affiliate links. Should you click to purchase, it is at no additional cost to you, but I receive a small commission.
If you are planning a visit to the National Park, please arrive early or late in the day to avoid crowds if visiting over sunny weekends or school holidays. Please also take all litter home with you, don't bring BBQs and park your car in designated parking areas. Also, please use these route descriptions as a guide; access may change.
Click here to check out more family cycle routes in the Peak District
FOLLOW US:
PARKING INFORMATION: Please do not rely solely on the postcode for parking directions. In the National Park, a postcode can cover a large area. Postcodes are only provided as guidance. Please either use the Google Maps point provided for every walk, or what3words.
For those visiting the area, it's one of our suggested top things to do in the Peak District with kids. Indeed this in one of the best family bike rides in the UK! So grab your bikes, helmets and snacks (always bring snacks!) and get ready to cycle the Monsal Trail!
Now it does get busy on a sunny weekend and over school holidays, so we urge you to start the Monsal cycle trail early.
The history of the Monsal Trail
The Monsal Trail runs along the former Midland Railway line for 13.5 km between Chee Dale (just a couple of miles from Buxton) and Coombs Road in Bakewell. It follows a section of the former Manchester, Buxton, Matlock and Midlands Junction Railway, built by Midland Railway in 1863 to link Manchester with London. The line was closed in 1968, and remained unused for twelve years before being taken over by the Peak District National Park authority.
In 1981 the section from Bakewell to Chee Dale was opened as a pedestrian way. However the tunnels had to remain closed for safety reasons and footpaths made for people to walk around them. It wasn't until 2009 that work started on re-opening the tunnels. The tunnels opened in May 2011 at a cost of £2.25 million to allow pedestrians, cyclists, horses, and wheel chair uses to travel the full length along the old railway track.
Further funding and planning permission is being sought to extend the route into Buxton.
Monsal Trail cycle map
It's pretty much impossible to get lost on the Monsal Trail as it's linear, with no crossing tracks. There are footpaths that veer off the at various points, but they look so different from the actual track that there is no way you can be confused.
There are also maps on boards along the way to indicate where you are and the distances, as well as providing historical facts.
However, a printed Monsal Trail cycle route map showing the distances between tunnels gives you an idea of your day ahead if you've never cycled the Monsal Trail before.
Click here to download the map of the Monsal Trail from Peak District National Park authority.
The tunnels
The tunnels, that are up to 400 metres long, are extremely fun to cycle through. On a hot day it's amazing feeling the cool air as you ride through, and they also provide shelter on a wet day.
Operated by light sensors, four of the longer tunnels are lit during daylight hours, dawn to dusk, to make them safe to use. Although it does take time for your eyes to adjust to the darkness sometimes and some cyclists turn on their lights. Also, the paths through the tunnels are tarmac, rather than gravel, which make for easier cycling.
Where should we start?
There is paid parking at Bakewell Station, Hassop Station, Monsal Head and Millers Dale. As there is a very slight incline towards the Chee Dale end (Buxton), we recommend cycling slightly uphill first, to then zoom back down when you turn back around.
So your best bets are parking at Bakewell or Hassop.
If you've got very young kids and just want to do a short leg, the cycle from Millers Dale to the end at Chee Dale is just 2 miles each way and you still get to go through tunnels. Millers Dale is also start of our Chee Dales Stepping Stones walk, and where you can go abseiling in the Peak District.
At Monsal Head the parking is limited and you have to get your bikes down the footpath on to the track as the parking sits up on a hill (with amazing views). So that's not really an option for cyclists. Although the Stables Bar at Monsal Head gets a big thumbs up from us! There's sometimes an ice-cream van here on a sunny day. We have a lovely short walk that starts from here and heads down the valley to the weir. Click here to read our Monsal Head circular walk.
Hassop to Millers Dale
Hassop Station is where we recommend starting your Monsal Trail bike ride. There's ample parking and if it's very busy, they often open up an adjacent field for additional parking.
The Cafe here has a lovely menu, including vegan options and a separate kids menu. There's an outside playground area and is one of our top places for families to eat in the Peak District and always makes for a lovely end point to a bike ride. Adjacent to the café is a shop selling books and gifts.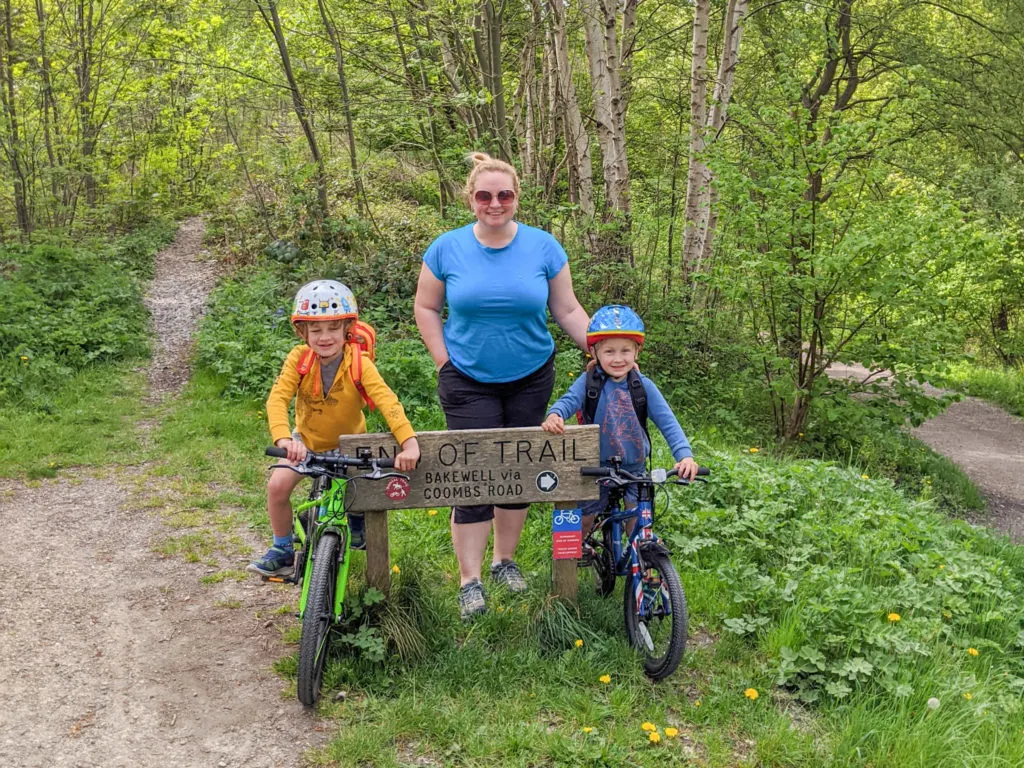 From Hassop station, it's a short 1 km cycle into Bakewell to pick up a Bakewell tart, or it's an 8 km cycle to the cafe at Millers Dale (going Chee Dale way).
From Hassop to Millers Dale you will pass through Longstone, Headstone Tunnel through to Monsal Head, Cressbrook Tunnel, and Litton Tunnel. This generally takes us an hour with stops along the way. It's much quicker coming back as you're cycling slightly downhill.
When passing through Longstone, you may want to jump off the trail and visits Thornbridge Gardens and Café. This is a superb place for kids as they can paddle in the fountain to hook a rubber duck and there's a lovely play area, plus the gardens to explore/
The cafe at Millers Dale has seating both inside and outside. It's a small café that serves simple meals. We treat is as a nice ice-cream or hot chocolate stop, depending on the seasons. The service has always been happy and friendly.
It's then just 3 km to reach the Chee Dale end of the Monsal Trail with more tunnels to cycle through. So if little legs are up for it you may be tempted!
Just on from Millers Dale, you may spot people abseiling from Millers Dale Bridge. Kids from the age of 5 can do this with Peaks and Paddles – click here for more info.
Important tips
Keep to the left at all time, except when overtaking. There's an unwritten rule on the Monsal Trail that everyone keep to the left, including walkers.

Use your bell when approaching someone you need to overtake, they may not realise you are coming.

If there is a horse on the track, slow right down and give it lots of space.

Bring lots of water and snacks. Although make sure you have your bank card handy to purchase the all important treats at Millers Dale Cafe and Hassop Cafe.

Pack a small first aid kit with antiseptic cream, wipes and plasters, just in case there's a fall.

There are some lovely walking trails off the Monsal Trail (such as our Chee Dale walk). If you want to explore them, bring a bike lock to secure your bikes along the Monsal Trail before venturing off.

No BBQs are allowed in the Peak District and please take all your rubbish home with you.

There are public toilets located at Hassop Station and Millers Dale Café only.
Monsal Trail cycle hire
Bikes can be hired (including electric bikes!) from Monsal Trail bike hire at Hassop Station. It is open daily from 9 am to 5 pm, and bikes are sanitised between users.
Current prices as of October 2021 are:
| BIKE | TWO HOURS | FOUR HOURS | ALL DAY | ADDITIONAL DAYS |
| --- | --- | --- | --- | --- |
| Adult | £17 | £21 | £24 | £21 |
| Jnr | £11 | £15 | £17 | £15 |
| Bike & Trailer/Tagalong | £27 | £35 | £39 | £35 |
| Trailer | £12 | £16 | £19 | £16 |
| Bike & Baby Seat | £24 | £29 | £33 | £29 |
| eBike | n/a | £28 | £35 | £28 |
| Tandem | £34 | £42 | £48 | £42 |
Prices correct as of April 2023
There is no need to book, just turn up! You can book tandems, trikes and electric bikes in advance and they also take large group bookings, but there is no booking system for standard bikes. There really do have a lot of bikes to hire out, and on the rare occasion they've run out, you don't have to wait too long before someone comes back in with one. Just make sure you have photo ID on you as this is required for all rentals.
Campsites near the Monsal Trail
Check out Beech Croft Farm (Taddington) and Dale Farm (Great Longstone) in our top family camping Peak District article, as voted for by members in our Facebook Group.
Monsal Trail too busy for you?
As already mentioned, the Monsal Trail can get exceptionally busy at weekends and over the school holidays. A quieter alternative is the High Peak Trail and Tissington Trail Loop.
Alternatively, try the Manifold Way, which passes right underneath Thor's Cave and there's a cake and ice-cream stop at Wetton Mill half way along.
---
Peak District Kids is a free online resource. If you enjoyed this bike ride, you can show your support by buying me a coffee. Thanks so much! You may also want to share your own photos from our walks in our Peak District Kids Facebook Group.
Or visit the Peak District Kids shop. £1 from every sale of the iron-on patches goes towards the Peak District National Park Foundation, a registered charity established to raise funds to care for The Peak District National Park.
Also, feel free to share your walk photos with us on Instagram. Please follow us and tag @peakdistrictkids in your posts so we can share them with our wider community.
Want more ideas for family bike rides?
Check out our Best family bike rides in the Peak District
or come and join our friendly Peak District Kids Facebook Group
You may also like to read:
Monsal Head circular walk (2.4km)
Easy Peak District cycle routes
Cycling the High Peak Trail with kids: Hurdlow to Friden