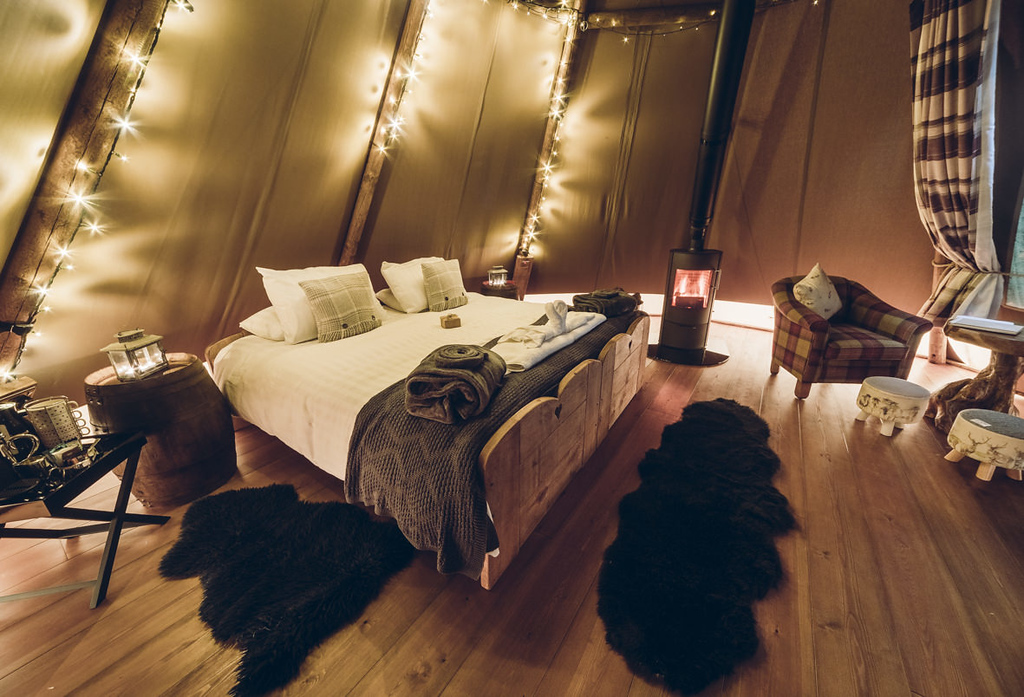 If you're visiting the National Park and looking for a bit more comfort with your camping, then Peak District glamping is a fantastic option! You still get to embrace outdoors living, without the hassle of loading up your car with a mountain of gear. It's a win-win!
There are some fantastic glamping options across the Peak District, but unfortunately most of them are geared towards couples, rather than families. We actually found it quite a minefield trying to find those that were open to families.
However, do not fear, we have found a small handful of Peak District glamping options that cater for families. These all have lots of space for your little ones to run around and explore, and there's even a hot tub or two mentioned in here! I'm sure that's piqued your interest!
Do note the Peak District Kids has not stayed yet at these glamping sites. This blog post was compiled from online research and chats with the glampsite owners. We hope that one of our writers will be able to visit soon for a full review, which will also be shared on our Peak District Kids Facebook Group.
If you prefer regular camping, check out our top family campsites in the Peak District
Scaldersitch Farm, Hartington
Scaldersitch Farm offers boutique Peak District glamping with luxury yurts and tipis which boast cosy log burners. Set just 1 mile from Hartington Village, the location offers footpaths from the gate into some of the most beautiful parts of the Peak District.
Children are encouraged to explore amongst nature on the site, and each year the owners add extra touches to encourage nature for guests to enjoy with bird boxes, bug hotels and more. There's plenty of green outdoor space and fresh air to run around, and marshmallows around the camp fire complete the perfect day.
This is the place to come for families to step away from technology, allowing you to enjoy simple pleasures such as reading by the fire, watching the stars, and sitting in the hot tub listening to the birds. Though there are still mod cons such as USB sockets, a kettle, and Nespresso coffee maker.
The largest accommodation sleeps 5 with a superking and three singles. There's a private wood-fired hot tub and all luxury bedding and towels are provided. There are no ensuite bathroom facilities, instead you need to walk to the central washroom (called 'The Old Dairy'). This is just as luxurious and includes underfloor heated washrooms with flushing toilets, and a wet room style shower room complete with toilets and hand basin.
Self caterers can use the 'Cartshed Barn Kitchen', and spa treatments are also available.
Click here for more information and to book.
Long Valley Yurts, Bakewell
Long Valley Yurts site near Bakewell is a hidden gem. Located on the Knotlow Farm campsite, you will find a small peaceful site surrounded by over a hundred acres of farmland and well away from any main roads or traffic.
Long Valley Yurts have four yurts here, two of which come with Scandinavian wood fire hot tubs, great fun for all the family. The yurts themselves come fully equipped with comfortable beds, bedding, everything you need to cook and dine with, twinkling fairy lights as well as a wood burning stove to keep all the family warm and cosy at night. Pet friendly yurts also available.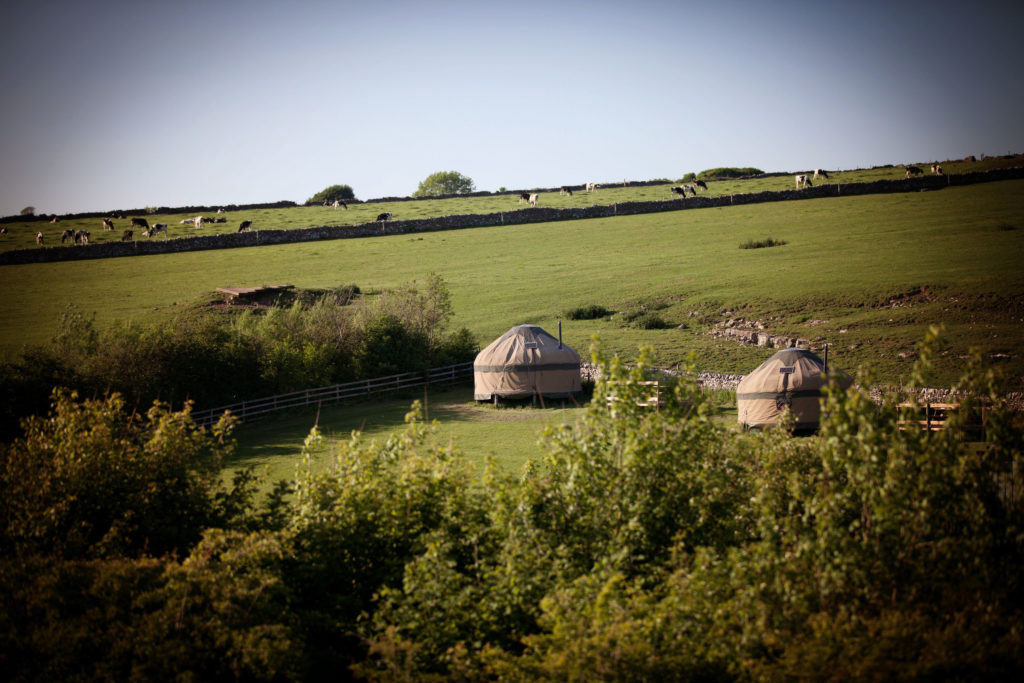 Long Valley Yurts offer short breaks on either a Fri-Mon, Mon-Fri or full week basis Fri-Fri or Mon-Mon.
Weekend prices from £290 or £405 inclusive of the wood fired hot tub. Mid-week rates from £199 or £299 inclusive of the wood fired hot tub. Full week rates from £425 or £595 inclusive of the wood fired hot tub.
Click here for more information and to book.
Secret Wood Glamping, Holmesfield
Situated in a secluded woodland just outside the Peak District National Park boundary, Secret Wood Glamping offers families the space to relax, unwind and reconnect. The main bell tent – the Emperor Bell Tent – sleeps six with three double beds, and there is also a second 5 m bell tent is available for extra guests or as a play space for children. Bedding is provided, as well as toiletries and cooking utensils. Everything is eco friendly where possible with bamboo plates, eco friendly toiletries and toilet paper, and the solar powered fairy lights make the evenings magical!
There is no electricity on site. So either pack lots of battery packs, or take the opportunity to completely switch off. And don't worry, there is still a loo on site (a compost loo), as well as a gas powered woodland shower!
With no other guests around you have the entire woodland to yourselves to explore. There's a fire pit to roast marshmallow, and kids love paddling in the stream and building dens in the wood. But the over-riding appreciation is that of absolute peace and quiet… except the signing of the birds.
Click here for more information and to book.
---
You may also like to read:
Top things to do in the Peak District with kids
The BEST family camping in the Peak District
The BEST family walks in the Peak District