The Peak District may be landlocked and a fair drive to the coast, but with the fresh rivers weaving their way around the dales, there are some superb wild swimming spots to be found. But with young kids especially, you need to know that the current isn't too fast, that the water is easy to get into and out of, and that it is clean.
Wild swimming is one of our top things to do in the Peak District with kids, and our favourite spot has to be the Youlgreave swimming area on the River Bradford.
Please note that there are are no toilets here and parking is very limited in the village, so please arrive early or late in the day. Do not bring BBQs, and take everything home with you.
How to get there
Click here for location of the Youlgreave swimming spot.
Just a ten minute drive south of Bakewell is the picturesque village of Youlgreave (sometimes spelt Youlgrave), which sits between the River Bradford and River Lathkill. On the River Bradford is a designated swimming area that has been carved out of the rock along the river.
There is a bus service from Bakewell, but the easiest way to get there (as with most places in the Peak District) is by car.
However, do note that parking is extremely limited in the village and the roads narrow. Arrive early to secure a parking space, and please be respectful to locals. There is a small car park here (bring coins to pay the honesty box).
Please note the rules at Youlgreave swimming spot
The following code of conduct signs have been installed (2022) next the swimming spot.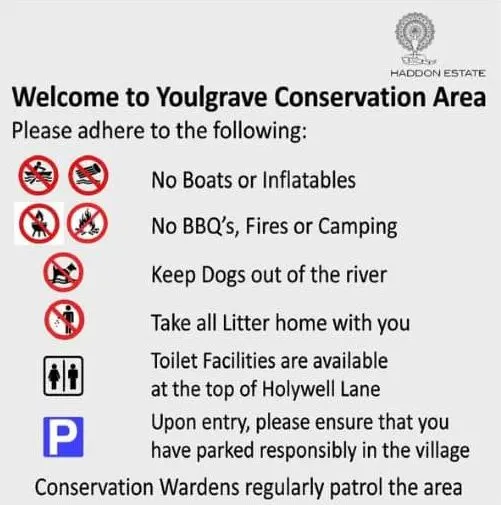 What to expect
Youlgreave swimming area sits within two steep banks, and is about 8 metres by 20 metres. This has been carved out of the rock so that it's deep enough to swim in, but is probably only 1.5 metres at its greatest depth in the middle (though this is of course seasonal).
The water flows through and then cascades over the edge, and there is also a ledge along the near side, which kids can stand up in and makes it very easy for getting in and out. You can take very small kids and toddlers paddling further up stream or down stream of the main swimming area.
There's also a grassy area on the Youlgreave side that is a perfect spot for a picnic. There are no bins here, so please take everything home with you and leave the area as you found it.
Is the water clean?
Yes, the water is very clean due to the limestone rocks over which it flows, and the current is consistent. However, on warm summer days when kids have been jumping in, they disturb the silt at the bottom, so it can seem murky.
Is the water cold?
Yes! Absolutely bloody freezing!
We recommend kids wear wetsuits, but there are often kids there in just normal swimwear. In fact, I've been in with just a swimming cossie, and it's amazing how quickly your body gets used to the temperature.
It's certainly invigorating!
What's lurking at the bottom of the river?
There are sharp rocks, silt and vegetation at the bottom, but it's mostly limestone rock. This is wild swimming after all! My boys wear these sandals from Keen to protect their feet, although I go in bare foot.
What else is there to do in Youlgreave?
There as some lovely walking paths that follow alongside the River Bradford. Check out our Alport to Youlgreave walk, which is just 3km and loops either side of the River Bradford. There's also our Middleton to Youlgreave walk (3.6km). Or perhaps link the two walks for a 6.6km circular Youlgreave walk.
There are no less than three pubs to choose from in Youlgreave; you really are spoilt for choice! There is also a large rec with a playground a little further out of the village along Alport Lane.
---
You may also want to read:
Baslow Edge Walk (2.7km)
Alport to Youlgreave walk along the River Bradford (3km)
Middleton to Youlgreave walk (3.6km)