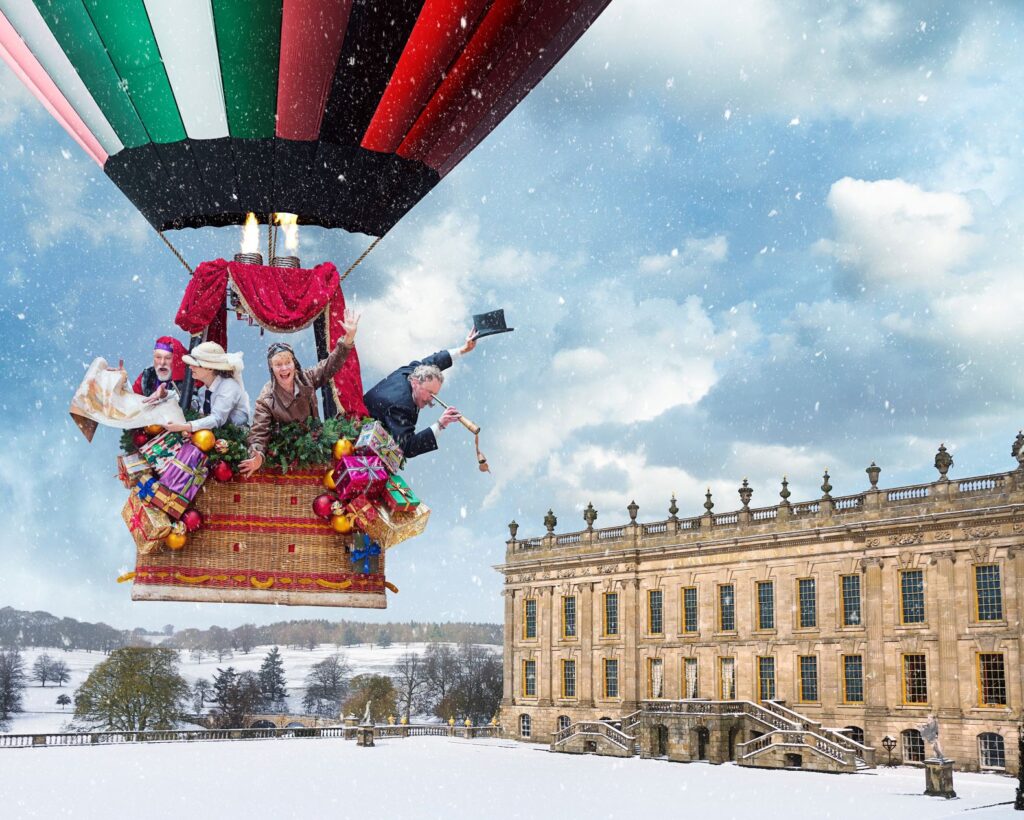 Christmas is a magical time wherever you are in the UK. But a Peak District Christmas is very special. The quaint little villages decorated in festive cheer feel like you've stepped in to a Dickens novel, and if there's a light dusting of snow on the hill tops, those escarpment views are even more spectacular. Plus the charming local pubs feel even cosier with the holly framing the roaring log fires, and we mustn't forget the impressive decorations and markets at Chatsworth House (featured on Channel 4 last year)
2020 hasn't been the best of years has it? And a lot of people are hoping to make up for it with a fabulous family Christmas. So if you're planning to visit the Peak District at Christmas or perhaps to visit some Christmas markets in the Peak District, here are the events taking place that we know about so far (as well as confirmed cancellations). These are all subject to change in these uncertain times, and I will keep this updated as best I can.
Do you know of any Christmas events in the Peak District that are taking place and not yet listed here? Then please email me so I can include it.
Christmas at Chatsworth
Dates are 7th November 2020 to 3rd January 2021
Tickets are not yet available, but you will need pre-book a timed slot online.
Chatsworth has confirmed that Christmas is going ahead this year! Step inside one of the grandest houses in the country and marvel their fabulous festive transformation; a sure way to get you into the Christmas spirit.
Tickets are not yet on sale, but when they do open, you will need to select a specific time slot and pre-book your ticket. Parking will be free (one car for every five tickets).
As for the renowned Chatsworth Christmas Markets, these have not yet been announced. From the Chatsworth website: "We are currently looking at plans for how we can run the Christmas market in 2020, ensuring a wonderful experience, and the safety of our visitors, staff and stall holders. As soon as a decision has been made about this year's event, we will publicise details."
Peak Rail Santa and Steam Special
Dates are 5th, 6th, 12th, 13th, 19th, 20th, 23rd and 24th December. The Santa Steam Train will be running four times each day (10:30, 12:05, 13:40, 15:15)
Click here for further information. Bookings are not yet open, but pre-booking will be essential by emailing or phone call.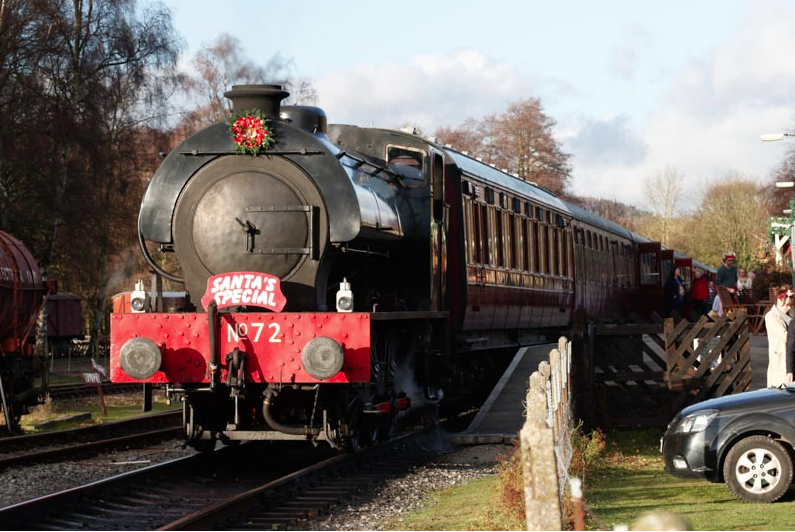 My parents took the boys on this last year and they had the best time! Riding a steam train makes for a fun day out anyway, but add in a visit from Santa on the train with his helpers and hot chocolate? Well, that makes for an awesome day.
What's great about this event is that there is no queuing. You board the train at Rowsley South Station and take your seat. The steam train then makes a return trip to Matlock Bath (lasting approximately 1 hour), whilst you are entertained onboard.
Each child will receive an age suitable gift, together with a Christmas treat and activity pack. Mums, Dads, Grandparents and Guardians can relax and enjoy a mince pie and a glass of hot mulled wine in garland filled coaches.
Bookings are not yet open, and there is no information as yet as to the COVID safety measures that will be implemented.
Santa's Grotto at Poole's Cavern
Awaiting confirmation, but announcement coming later in September with dates and online booking.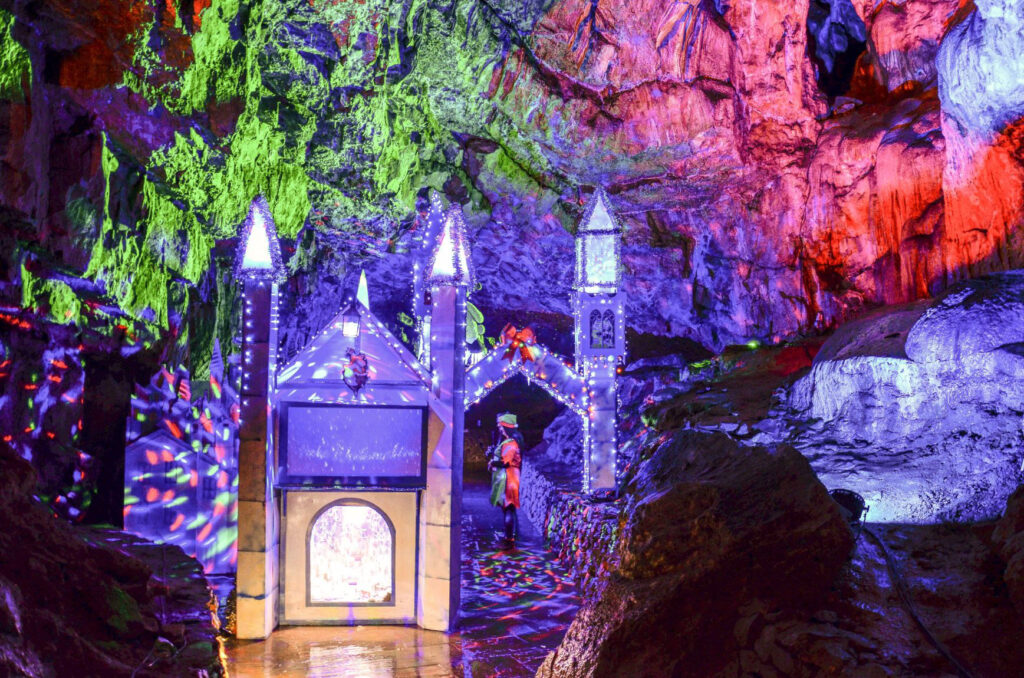 Parents have raved about their experience of Santa's Grotto at Poole's Cavern in past years. This ancient natural limestone cavern is transformed into a magical grotto complete with elves and bright twinkling lights. And you will be able to meet the big man himself!
I've spoken to the manager at Poole's Cavern and they're hoping to go ahead with this event this year and planning to make it extra special. They are currently working out the best way of managing the event in a COVID-safe manner. There will be an online booking system to pre-book your tickets. Watch this space for further announcements and make sure you get in there quick when tickets go on sale, as this event always sells out.
Poole's Cavern is part of Buxton Country Park and it is worthwhile combining your visit with the short Solomon's Temple walk, which is great for kids with it's magical wood carvings, plus the views from the top are fantastic. Afterwards, you may want to head into Buxton itself for a bite to eat or play at the playgrounds in Buxton Pavilion Gardens. Check our our guide for things to do in Buxton.
Carols by Candlelight at Treak Cliff Cavern
This looks like it will still be going ahead, but we are awaiting an official announcement for dates.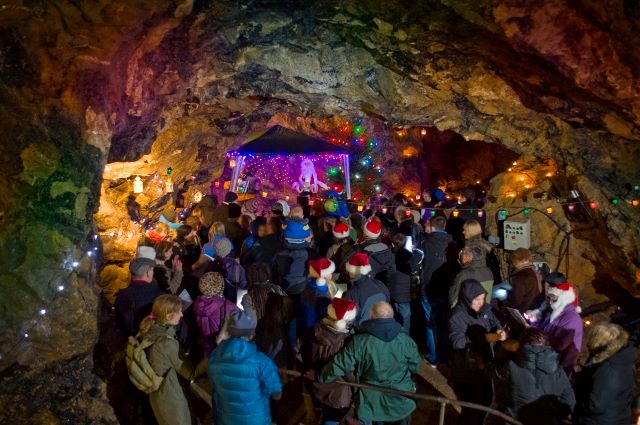 From the Treak Cliff Cavern website: "The Carols By Candlelight event is subject to relaxation of the Social Distancing rules, and may go ahead as usual or may adapt accordingly. It is uncertain at this time, but we will keep this page updated".
Carols by Candlelight is a popular annual Christmas underground singalong (it's not a concert!) at Treak Cliff Cavern, just outside Castleton. The carol singing usually starts around midday and lasts for an hour. Tickets for the event will hopefully go on sale later in September, depending on Government Guidelines. Your ticket will include mulled wine and mince pie afterwards. A guided tour and a present for younger ones from Santa are also included in the ticket price.
A light festive lunch may also be available exclusively for Carols by Candleight visitors and can be booked in conjunction with a ticket for the main Carols by Candelight event.
Matlock Christmas Market
Dates are the 19th and 20th December
Whilst is has been announced that the Matlock Victorian Christmas Market will not be going ahead, the Matlock Christmas Market (which is a completely different market) is. The event will take place at Hall Leys Park, and entry is free. I'm not yet sure if they will be capping numbers, but according to their Facebook page, they will be adhering to UK Government social distancing measures.
This will be full of festive fun, including food stalls, live music, a fun fair, Father Christmas, face painting, fire breathers, mulled wine, and much much more.
Christmas at Buxton
Buxton makes for a lovely day out in it's own right, but the town really does come alive at Christmas.
The Grand Bazaar & Pavilion Gardens Christmas Lights Switch-On is still planned for Friday 20th November (2pm to 8pm). There will be over 40 Christmas stalls selling a fabulous selection of seasonal food and drink, festive gifts, decorations, hand crafted jewellery and crafts. Hot festive food and drink will be available on the Promenade, as well as Santa's Grotto and children's rides. The lights switch on is planned for 6:30pm and Fairfield Brass Band will be performing afterwards. Further details to be announced nearer the time.
The Christmas Fair at the Pavilion Gardens is in the calendar for the 5th and 6th December, but there is currently no further information available.
Sadly, the Buxton panto this year, Aladdin, has been cancelled.
Confirmed cancellations of Peak District Christmas events
The following are the confirmed cancellations for usual Christmas events in the Peak District:
I am still awaiting information as to whether Haddon Hall and National Trust Lyme are doing a Peak District Christmas event this year.
Feature image courtesy of Chatsworth House.
---
You may also like to read:
Top days out in the Peak District
Things to do in the Peak District when it rains
Things to do in Matlock and Matlock Bath