Poole's Cavern is an ancient natural limestone cavern, on the outskirts of the historic spa town of Buxton. It has been visited by explorers since the seventeenth century, yet formed over millions of years. Book a 45 minute guided tour to view some of the most impressive underground scenery in the UK with vast limestone galleries, and crystal Stalactites and Stalagmites. Whilst this is a fantastic geography lesson for all the family, younger kids especially will love spotting all the unusual features; from gorillas to Hagrid's Hut!
Peak District Kids were gifted a family ticket to Poole's Cavern in exchange for this honest review and social media coverage. As always, these are all our own words.
This is probably one of the best things to do in the Peak District on a rainy day as no matter what the weather is doing up top, underground in Poole's Cavern the temperature is a constant 7°C all year round (make sure you have a jacket with you, even in summer). Plus, Poole's Cavern is part of Buxton Country Park and you can combine your visit with the short walk through Grin Low Woods up to Solomon's Temple; read all about the walk here (with amazing views over Buxton).
What are the COVID safety measures?
Since the reopening of Poole's Cavern on the 20th July 2020, all tickets must be pre-booked online for a specific time, and tour groups must not exceed ten. Hand sanitiser stations are available throughout, and face covering must be worn in the cavern by everyone (unless there are health or faith reasons, or for kids under the age of 11). All staff wear appropriate PPE.
As there are very few steps at Poole's Cavern and the walk through is very easy, there is no exertion and wearing a mask is comfortable.
Also, at the end of the tour (when you have reached the far end) you need to retrace your steps back to the beginning again. On the return, our tour guide wiped down all the railings with an antibacterial wipe so it was safe for the next group coming through.
Our Poole's Cavern Tour
Just 15 minutes before our tour was scheduled to begin, we walked through the gift shop to the cashier desk and presented the bar code on our printed ticket. We then ventured into a small exhibition area whilst we waited for our tour to commence.
There are lots of interesting facts to read about the formation and history of the cavern in the exhibition area. However, our boys (age 5 and 6) were more interested in the human skull and fossils on display from the cavern.
Martin was our tour guide. He's been working at Poole's Cavern for 16 years and most certainly knows his stuff.
Once we were in the cavern, Martin provided us with a detailed scientific explanation as to how the caverns, Stalactites and Stalagmites are formed. Just as I was thinking that this would go totally over the boys' heads (and some adults'), Martin looked at the boys and re-explained everything on their level using a simple analogy of sugar and water to demonstrate the formation of Stalactites and Stalagmites. They got it! And I'm sure I noticed the frown easing on the faces of some of the adults.
Martin was absolutely fantastic throughout the tour and had a theatrical flare at times. He was always engaging the boys where he could (our two were the only kids on the tour of ten people), yet also managed to put across the history and science for the adults. The caverns are beautifully lit and Martin would point out lots of unusual feature for the boys to guess what they look like. There was a dragon, gorilla, cat, gargoyle and even Harry Potter features to find!
Need to know for families
Pushchairs and child buggies are permitted in the cave.
We recommend that the tour is best for kids age 4+. Younger ones may get a bit fidgety, although all kids are different and it's really at the discretion of the parent(s). There is no minimum age limit and babies are welcome. Children under the age of 5 are free to enter.
The walk through the cavern is very easy and flat. There are only 28 steps in total with no more than 10 in one place. However, it can be wet and slippy in places so wear shoes with good grip. And don't forget your jacket as it's always a constant 7°C in the cavern, even on a hot summer's day.
How to book tickets for Poole's Cavern
Head over to the Poole's Cavern website to pre-book your ticket. Click here to book.
Tours start at 10am, and the last tour commences at 4:30pm. Tours run every 20 minutes, 7 days per week.
| | | |
| --- | --- | --- |
| Adult | £11.00 | Ages over sixteen. |
| Child | £5.50 | Ages five to sixteen. |
| Family | £28.00 | Two adults and up to three children. |
| Students & Seniors | £9.00 | With valid ID. |
Do you want your admission ticket to be valid for a whole year? If you're a UK taxpayer, then Gift Aid your ticket for no extra cost. Gift Aiding your visit it makes a massive difference to attractions like Poole's Cavern and Buxton Country Park as the government will give them an extra 25% on top of your admission fee. Just ask at the pay desk to complete a quick Gift Aid declaration form (special events not included). Your extra money will go towards local woodland conservation and heritage projects.
Where to park
There is pay and display parking at Buxton Country Park, right next to the entrance to Poole's Cavern. Click here for the Google map point. The postcode is SK17 9DH.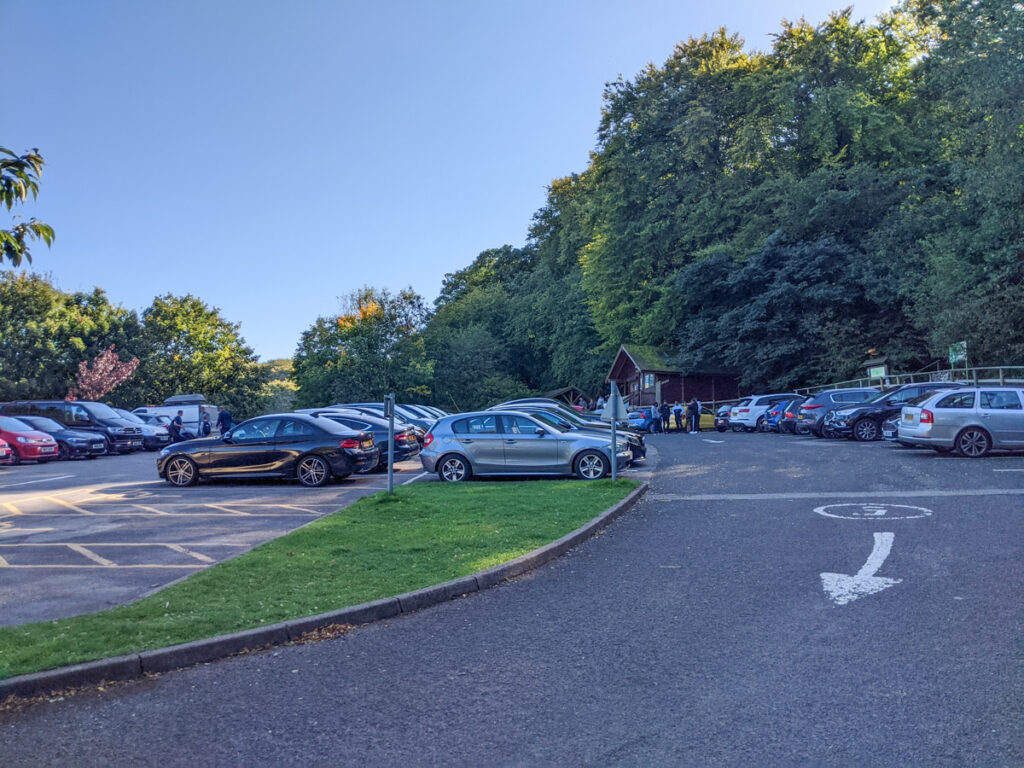 After your visit to Poole's Cavern
There is a small take-away hut outside the entrance to the cavern with picnic tables if you fancy a bite to eat.
Also within the Buxton Country Park is Go Ape (high ropes course for age 10+), Grinlow Woods, and Solomon's Temple. From the car park for Poole's Cavern you can follow the walking trails up to Solomon's Temple through the woods and to the rocky hilltop for fantastic views over Buxton. Click here for full details of our 1.8km circular walk, including map, photos, and route description.
And every time we take the kids to Buxton, we always have to stop at the Buxton Pavilion play areas. For other ideas of things to do in Buxton with kids, check out this post.
---
You may also like to read:
Top things to do in Buxton with kids
Best days out in the Peak District
Solomon's Temple walk, Buxton