Considering a visit to Speedwell Cavern? Read on for our Speedwell Cavern review…
Set at the foot of the spectacular Winnats Pass, Speedwell Cavern is one of the best things to do in Castleton and is our favourite of the four Castleton show caverns. Why? Because you get to venture into the cavern on a boat!
Now Speedwell Cavern is not for the faint hearted or claustrophobic. You need to first walk down 106 wet and slippery steps to reach the boat. Then once you're slowly motoring along the canal, the boat bashes either side of the narrow tunnel and the tour guide reminds you to duck to avoid bashing your head (hard hats are provided for this very reason!) It's all part of the adventure and a perfect Peak District rainy day activity.
It's mind-blowing to think that kids as young as seven used to work down this lead mine, holding a candle in their teeth for light and wading through the freezing water as they chiselled away at the rock in search of lead. Little did they know at the time, but there wasn't actually that much lead to be found here. What an unbearably tough existence (which I liked to frequently remind my kids along this tour 😉).
Speedwell Cavern opening times and ticket prices
Speedwell Cavern is open all year round (CLOSED Christmas Day, Boxing Day and New Years Day).
Adult tickets are currently £16 and children tickets (age 5-15) are £9. Tickets must be booked online for a specific timeslot (click here). Check the website for up to date pricing and opening times.
"A family group of 2 adults and 2 small children (under 8 years) or 1 adult and 3 children (under 8 years) may purchase tickets for 2 Adults and 1 child only. You will be seated together on 1 bench (it will be a squeeze, and if the children are too big you will end up having to sit one on an adults knee). Children 4 years old and under are free of charge provided you sit them on an adults knee on the boat (strictly 1 free child per adult). No ticket is required so do not include them in your numbers."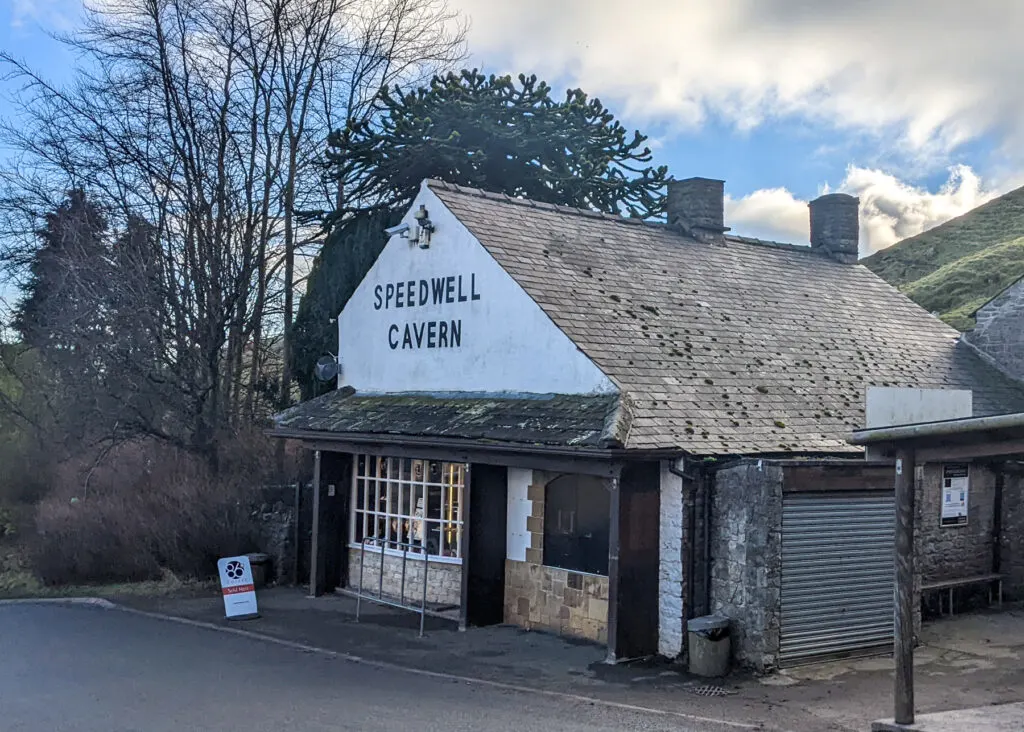 What to wear for your Speedwell Cavern visit
The temperature in Speedwell Cavern is a constant 9°C all year round. If it's snowing outside, its 9°C. If there's a summer heat wave, it's 9°C. So take a warm jacket with you.
On the return journey along the canal you're actually facing the wind from the underground fan that ventilates the cavern, so it can feel a little chillier on your return journey.
The steps down to the cavern are rather slippery and narrow. We suggest wearing hiking boots, or at least shoes with a good tread.
Parking at Speedwell Cavern
There is a designated car park for Speedwell Cavern across the road from the entrance. Parking from 6am to 8pm is £4.50 for four hours or £9 all day.
Be warned that this car park is also used by general visitors to Castleton, especially those climbing Winnats Pass. This car park can be full by 11am (10am on school holidays), so we suggest getting there early to get a space.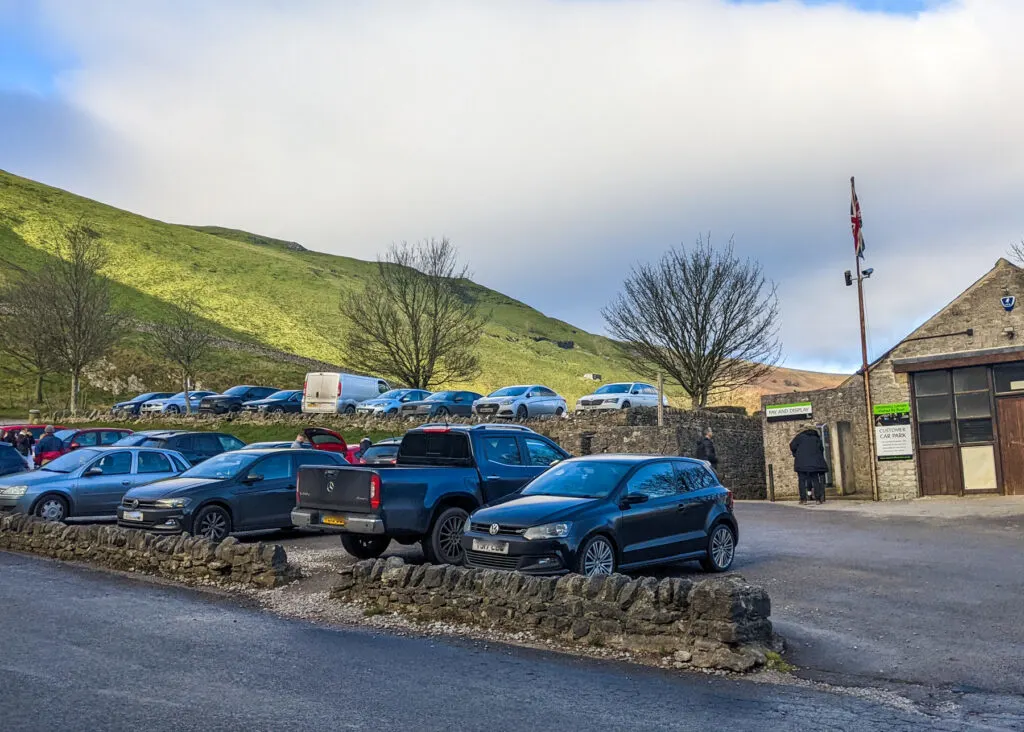 If there is no space here, you will need to park in the village. There are spaces at the main Visitor Centre car park as well as all day parking at the Peak Cavern car park. Allow 15 minutes to walk back up to Speedwell Cavern in time for your tour start time.
Are there toilets at Speedwell Caverm?
There are no toilets inside the cavern. Use the public toilets in the car park across the road.
Arriving to Speedwell Cavern
You are advised to arrive 20 minutes before your tour start time. We understand that this is to ensure tours run on time. However, this means a fair bit of hanging around with nothing to do. If you have young kids with you, bring some snacks.
Before you venture down into the cavern you are provided with a hard hat. The one-size-fits-all hard hats are only provided for adults and older children. Small children are welcome to wear one, however it isn't really necessary as they are too short to bump their heads, and the wobbly hat may be a distraction.
The Speedwell Cavern boat trip
The Speedwell Cavern tour lasts between 45 minutes and 1 hour.
The tour starts by walking down 106 steps. Hold on to the railings either side and take your time. Then board the small boat that takes you further into the cave system.
A tour guide with a classic-English dry sense of humour (including a few Dad jokes that kids will love) motors the boat slowly along the canal, providing some history to the lead mine. The tunnel is very dimly lit and very narrow. Watch your head!
At the 'half-way house' (a small inlet, one third of the way along) your boat will pull in to allow another tour boat to pass. You will need to help push the boat backwards to get back on track.
When you reach the end of the canal, you step out into a larger cavern with a 'bottomless pit' and remnants of the lead miners work (look out for the ladder). Another tour group will take your boat back whilst you have time to look around the cavern and take photos. Little ones may get a bit fidgety with the wait here.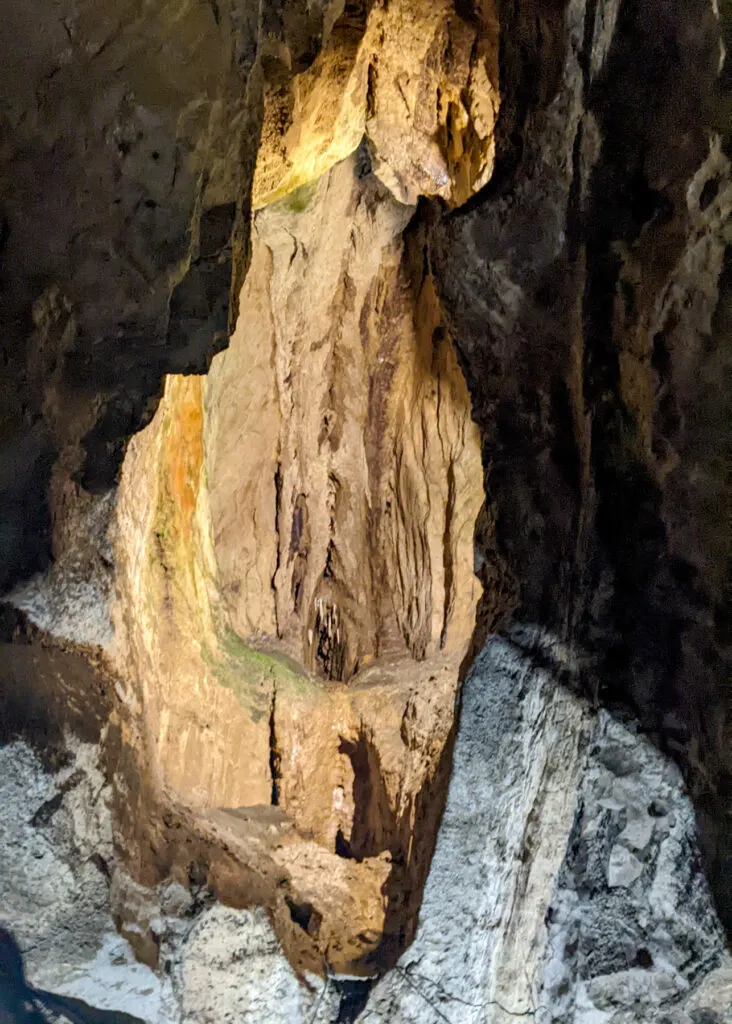 When the next boat arrives and the passengers have alighted, you climb onboard their boat and motor back to the start of the canal. Don't forget you need to climb back up the 106 steps.
To exit, you walk through a small gift shop.
After your visit to Speedwell Cavern
It's a short 10 minute walk along the road slightly downhill to the village of Castleton. Or you can take the more picturesque route along a public footpath than leads into the back of the village. The footpath is just on the right of the road as you're walking towards the village from Speedwell Cavern.
Once you're in Castleton, take your pick from one of the six pubs for lunch, or perhaps make a beeline for The Real Fudge Company.
Alternatively, enjoy a walk up Cave Dale, Winnats Pass, or Mam Tor for some superb views.
Check out our guide to Castleton.
---
You may also want to read
How to get to Mam Tor the easy way
Things to do in Castleton
Edale to Kinder Scout walk