'Trigbagging' (the challenge of visiting trig points) has become a thing for outdoor enthusiasts over the past few years. These trig points are concrete 'triangulation pillars' dotted around high points of the UK, which were used by the Ordnance Survey in order to determine the exact shape of the country (click here for more information about them). You may have seen photos of people standing on them, sitting on them, or even jumping off them in photos on their Peak District walks.
There are a total of 88 trigpoints in the Peak District, and many of these are accessible on the family walks detailed on this website. So we've compiled them here for you for easy refence.
Often perched on a summit, Peak District trig points provide a 'goal' to a family walk and something to aim for. Plus, once you start, you'll realised that it's really quite fun collecting photos of them on your adventures around the Peak District!
Our good friends over at Peak District Walks share the full list of Peak District trig points, so you can see their exact location. Please note that if you are attempting the full challenge, 32 of the 88 trigs in the Peak District fall on private land and for EVERY one of these you MUST seek permission before walking to the trig point.
But read on for 13 Peak District trig points that are accessible on our family walks.
Disclaimer: This post contains affiliate links. Should you click to purchase, it is at no additional cost to you, but I receive a small commission.
If you are planning a visit to the National Park, please arrive early or late in the day to avoid crowds if visiting over sunny weekends or school holidays. Please also take all litter home with you, don't bring BBQs and park your car in designated parking areas. Also, please use these walks as a guide; access and stiles may change.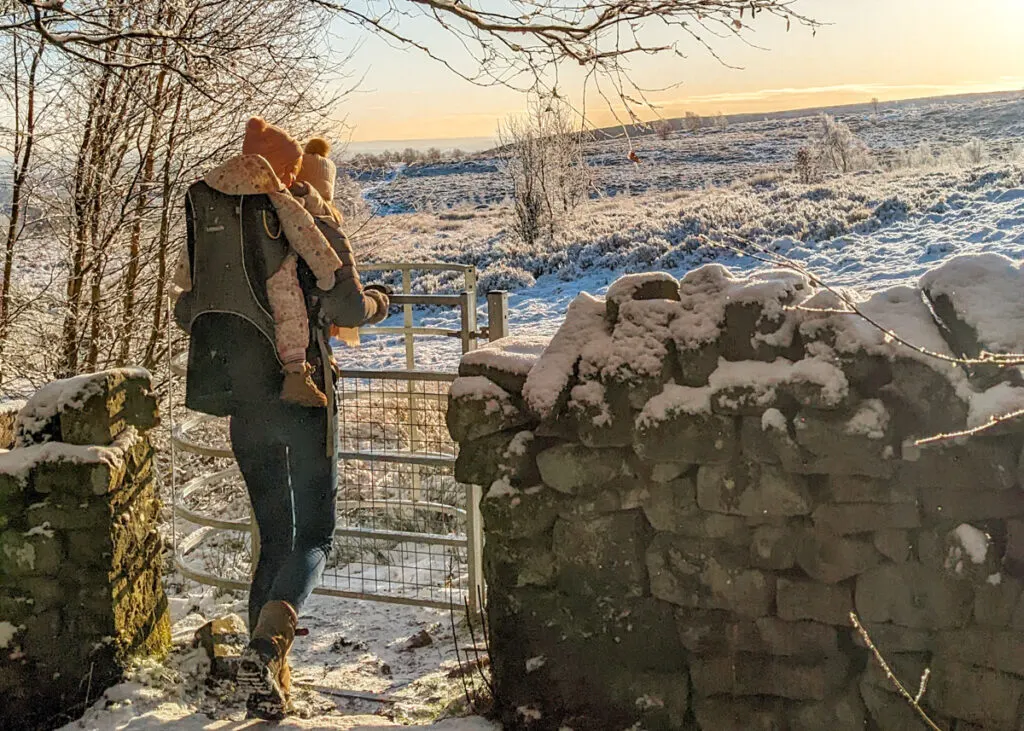 During the winter months, it's important to be extra prepared and safe when out walking and adventuring in the Peak District. The weather can change so quickly, especially on the exposed escarpments, and we don't want you to get caught out.
Read our top tips for safe winter walking with the kids.
FOLLOW US:
PARKING INFORMATION: Please do not rely solely on the postcode for parking directions. In the National Park, a postcode can cover a large area. Postcodes are only provided as guidance. Please either use the Google Maps point provided for every walk, or what3words.
Do check out our top tips for hiking with young kids, as well as our essential items to take on a family hike in the Peak District.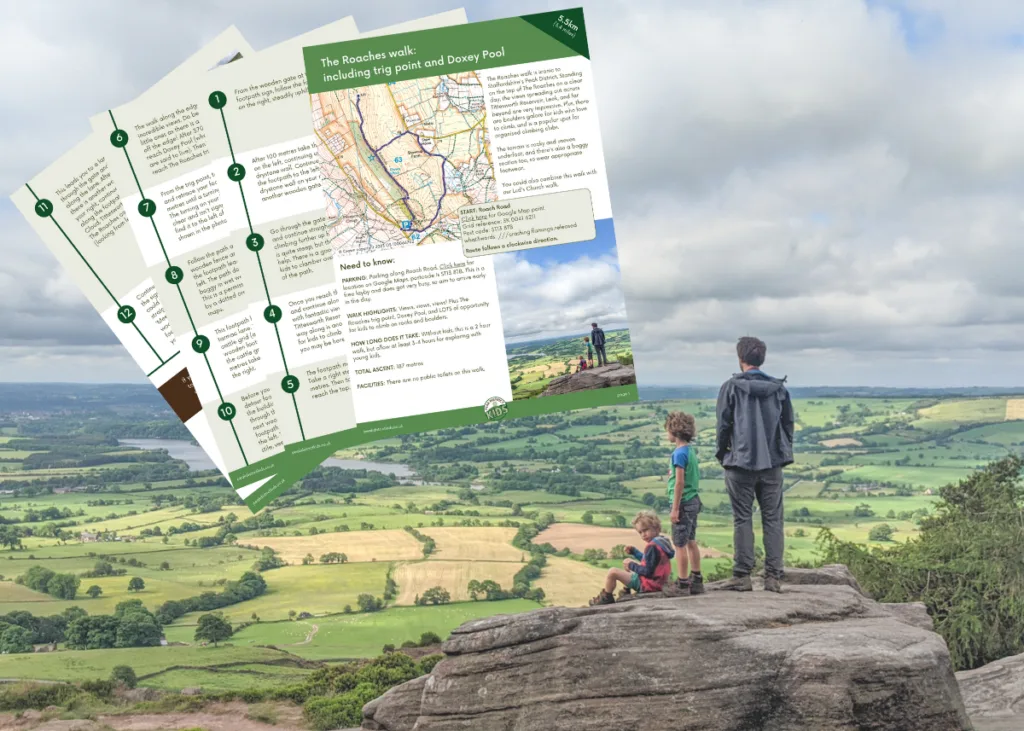 Download and print out our walking guides ready for your family walk. There are over 80 downloadable walk guides available, and these include all the main Peak District family walks, pram-friendly walks, and toddler walks.
Each printable download is just £1.50, whether it's a short 1km stroll or an epic walk up Kinder Scout.
Map of our Peak District trig point walks
Use the map below to see where our Peak District view walks are located.
Don't leave home without your Peak District OS Map!
Sale
1. Ox Stones trig point
Ox Stones walk guide (1.7km)
Click here for start point
Printable download
Probably our favourite Peak District toddler walk and very easy for a bagging trig point. Our short Ox Stones walk close to the Sheffield border is relatively flat, the views are incredible, there are rocks to climb, as well as ticking off Ox Stones trig point. Plus there's lots of wildlife to spot (caterpillars, butterflies, lizards, curlews and other ground nesting birds, hares and more!), and be sure to look across the landscape for deer, especially when on top of the rocks.
And just around the corner is Mayfield Animal Park where you can feed llamas and alpacas, and see meerkats, reindeer and more. There's also a small outdoor play area (with mud kitchen) and small indoor café.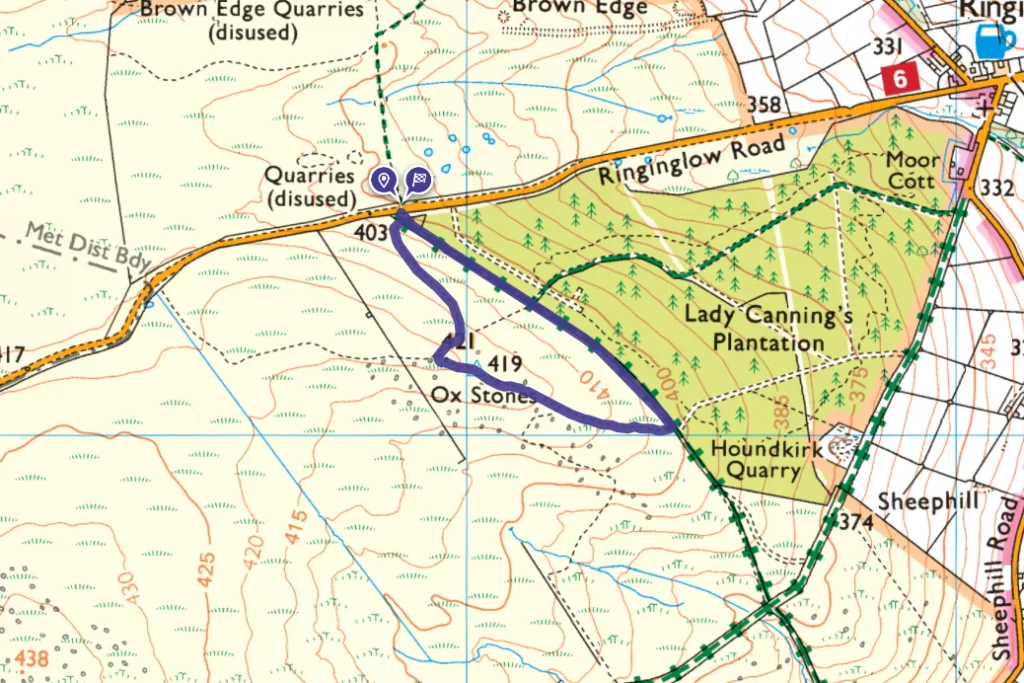 2. Stanton Moor trig point
Stanton Moor walk guide (3.1km)
Click here for start point
Printable download
Stanton Moor trig point can be found near the start of our Stanton Moor walk. Turn left at the big 'corkscrew' rock, and it's just further along the main footpath, on the right. You will have to walk 100 metres off the main footpath the reach it.
Our short circular Stanton Moor walk has it all – unusual stones to explore, rocks to climb, woodland, open moorland views, muddy puddles, and of course, Stanton Moor trig point! It's easily one of our favourite family walks, and it's a flat Peak District walk, which makes it easier on little legs and a good option for those with mobility issues (there are no stiles too).
At the start of the walk is a large rock that looks like a corkscrew; it's begging to be climbed by the grownups if you're up for the challenge. And half way around is a Bronze Age circle (the 'Nine Ladies') that was used by the Druids.
3. Birchen Edge trig point
Birchen Edge walk guide (2.6km)
Click here for start point
Printable download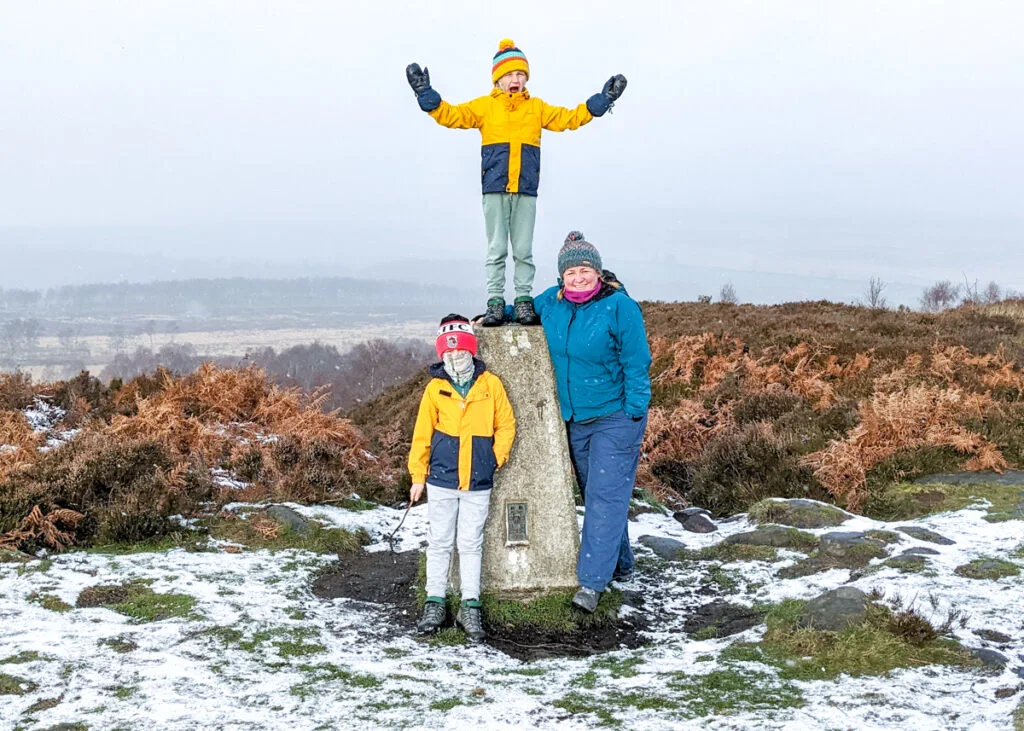 The Birchen Edge walk is one of our favourite Peak District pub walks as it starts and ends at the The Robin Hood Inn (where kids eat free Monday to Friday!) But there are also fantastic views once you get up to the escarpment, loads of climbing and scrambling opportunities, and there's even a trig point to bag on this walk! In fact, the Birchen Edge Trig Point is the half way point on this walk.
Even though this Birchen edge circular walk is a short distance, allow a good 1-2 hours with young kids. In places, the path is very uneven underfoot, and there is a very steep section down at the end that is tricky if you have little ones in a carrier. But really, the time goes to all the climbing and scrambling opportunities there are for kids on the rocks and boulders, and is the reason why it's one of our favourite Peak District walks with kids. In fact, Birchen Edge isn't just for kids who love to climb, you will often see adult climbers here with all their gear.
We should also mention Nelsons Monument you reach at the top along the escarpment. This is a gritstone column erected in 1810 in honour of Lord Nelson. Sitting behind this monument are a collection of three rocks known as 'Three Ships', which have been carved with the names of three of Nelson's ships: Victory, Defiance and Royal Sovereign. These are also fun to play on, and provide shelter for a picnic on a windy day.
4. Mam Tor trig point
Mam Tor walk guide (1.1km linear, or 4.1km circular)
Click here for start point
Printable download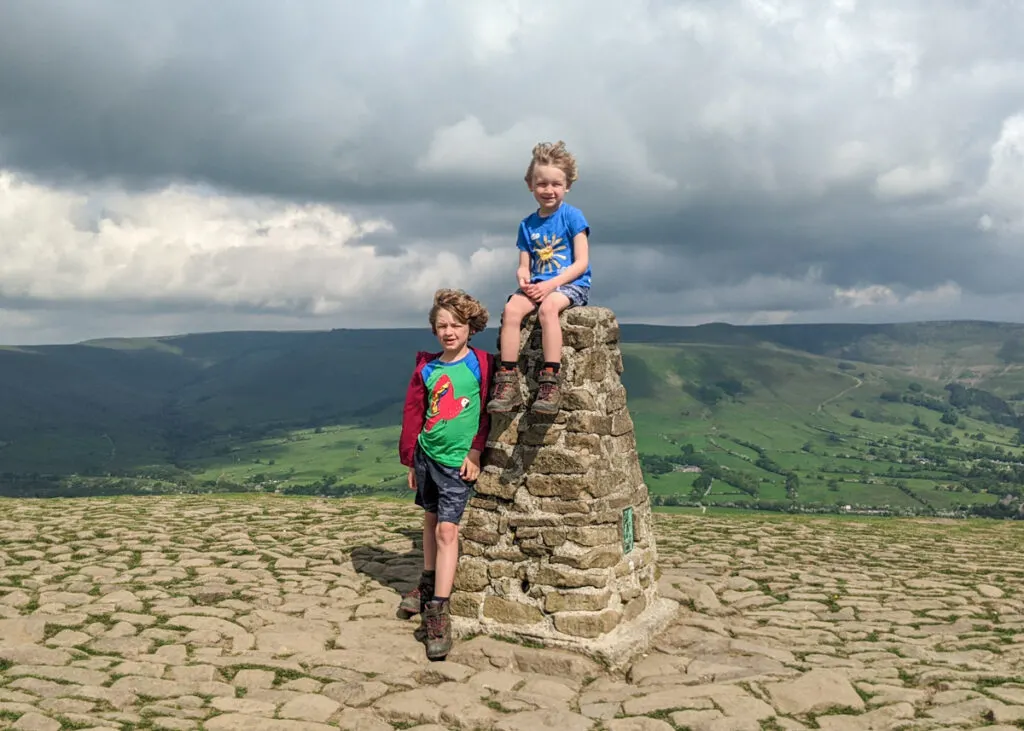 Mam Tor, meaning 'Mother Hill', is a 517 metre high hill overlooking Castleton and is one of the most well-known (and popular) trig points in the Peak District. The views from the top are spectacular, although arrive early during school holidays and weekends to avoid the crowds.
You don't actually have to endure a long hike to get to Mam Tor trig point itself. If you park at this car park it is just a short (but steep) 550 metre walk uphill. Click here to read all about the quick and easy route to Mam Tor trig point.
However for a longer walk, our 4.1km Mam Tor walk takes in the classic loop along Great Ridge and Broken Road. Starting at the Mam Tor National Trust car park it's a short climb to the top of Mam Tor (517m). From here, the walk leads you down to Hollins Cross, and then down through the woodlands to meet Broken Road (which is a very broken road that was abandoned due to landslides in the 1970s). Following Broken Road the walk leads you up past the entrance to Blue Johns Cavern, before returning back to the car park.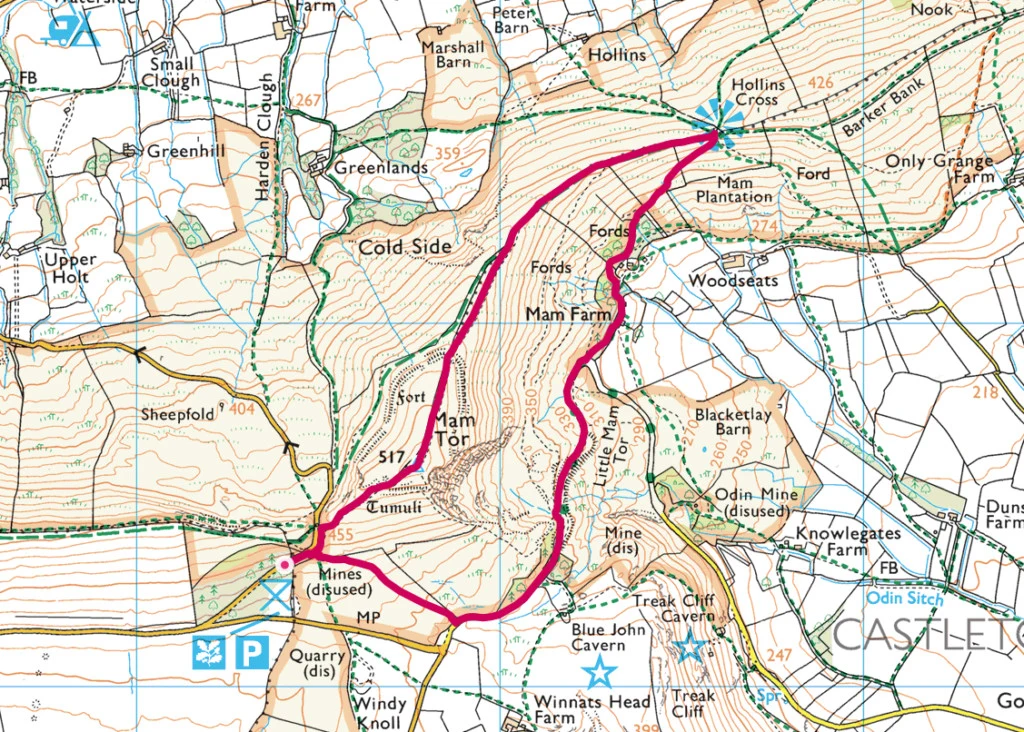 5. Shutlingsloe trig point
Shutlingsloe walk guide (4.8km)
Click here for start point
Printable download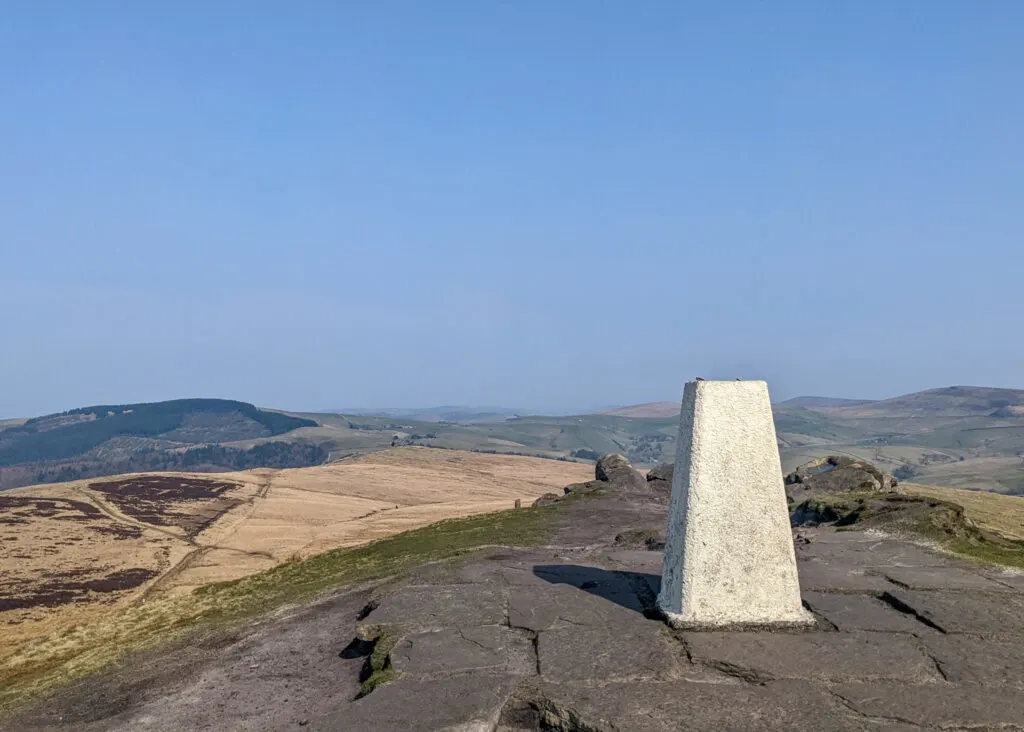 Nicknamed the 'Matterhorn of Cheshire' due to its similar shape to the Matterhorn in Switzerland, Shutlingsloe (506 metres) is a great starter hill for little legs. Our linear Shutlingsloe trig point walk, right on the edge of the Peak District border in Cheshire, with a steady ascent of 245 metres, is a rewarding Peak District family walk that takes in forests, and incredible 360 degree views.
This is a walk that enables little ones to to feel like they have climbed a mountain to stand on top of the world! From the top of Shutlingsloe, you will see The Roaches, Shining Tor (the highest hill in Cheshire), Macclesfield, and even across to Wales on a very clear day.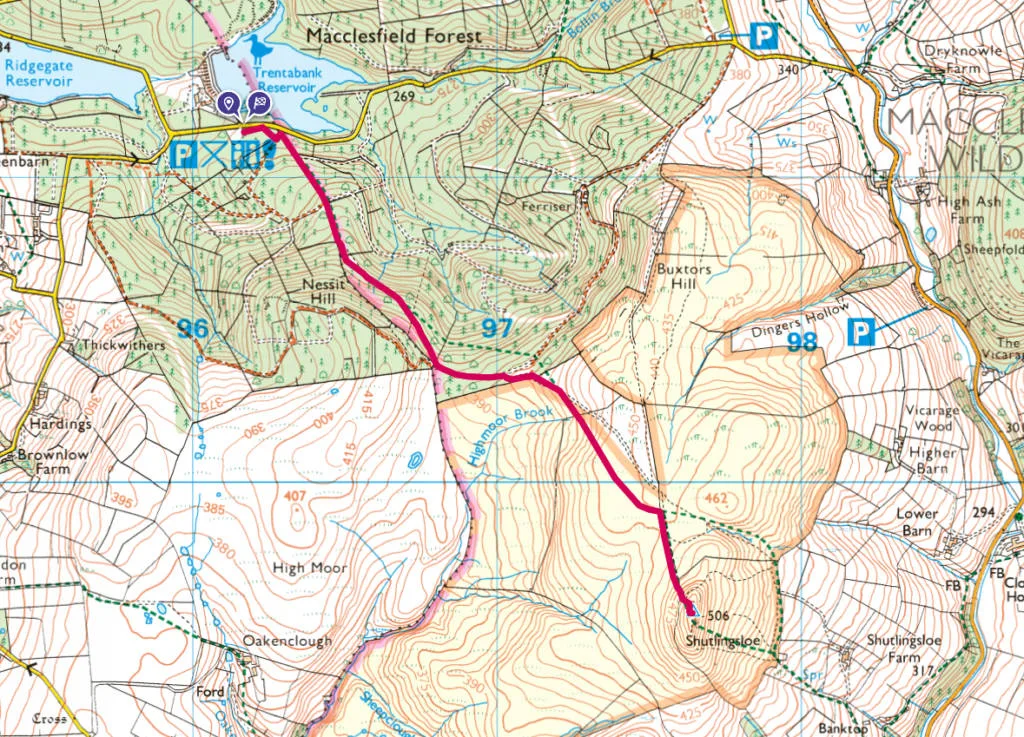 6. The Roaches trig point
The Roaches walk guide (5.5km)
Click here for start point
Printable download
The Roaches is iconic to Staffordshire's Peak District. Standing on the top of The Roaches on a clear day, the views spreading out across Tittesworth Reservoir, Leek, and far beyond are very impressive. Plus, there are boulders galore for kids who love to climb, and is a popular spot for organised climbing clubs.
The footpath along the top of The Roaches to the trig point can get busy, but the second half of our short circular Roaches walk is much quieter. The terrain is rock and uneven underfoot, and there's also a boggy section too, so wear appropriate footwear. Also, as this is a Peak District tourist hot spot (and understandably so), aim to arrive by 9am to secure a parking space (and only park in designated parking areas).
You could also combine this walk with our Lud's Church walk. Combining the two walks into a Roaches and Lud's Church walk makes a total distance of 12.6km.
7. Win Hill trig point
Win Hill walk guide (6.2km)
Click here for start point
Printable download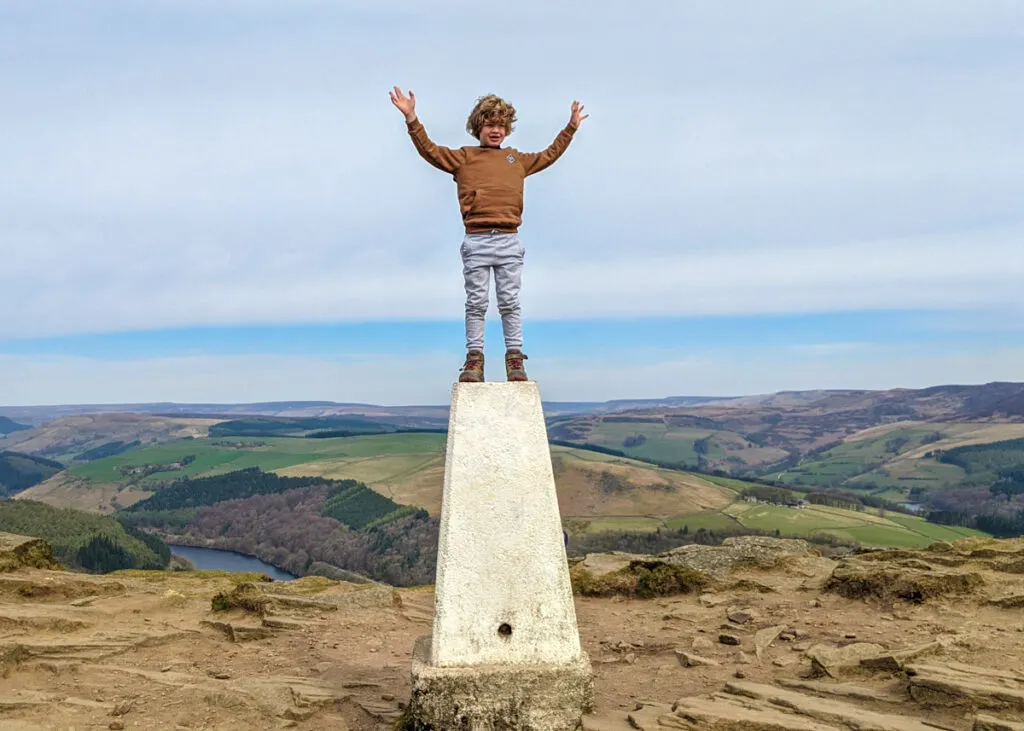 The views from Win Hill (462m) over Ladybower Reservoir and the Great Ridge in the Dark Peak are superb on a clear day. Whilst the direct route up to the summit is rather steep, this circular Win Hill walk allows for a steadier incline through the pine forest, more suitable young families. There is, however, a steep decline from the summit; whilst kids will probably bound down, parents may want to use walking poles, and it may be tricky for those with little ones in carriers.
This Win Hill walk is super fun, with woodland explorations, incredible views, boulders to scramble up to the summit, and a family snap at the Win Hill Trig point is a must! Starting from Heatherdene car park, this walk crosses over Ladybower Dam, meaning that you will also pass the Ladybower plugholes (technically known as shaft spillways), which drain water when the reservoir becomes full after heavy rains.
Make sure you have change for parking at Heatherdene car park (the machine doesn't take cards). And on weekends and school holidays, arrive before 10am to get a parking space, as this car park does get exceptionally busy.
8. Shining Tor trig point
Shining Tor walk here (6.3km)
Click here for start point
Printable download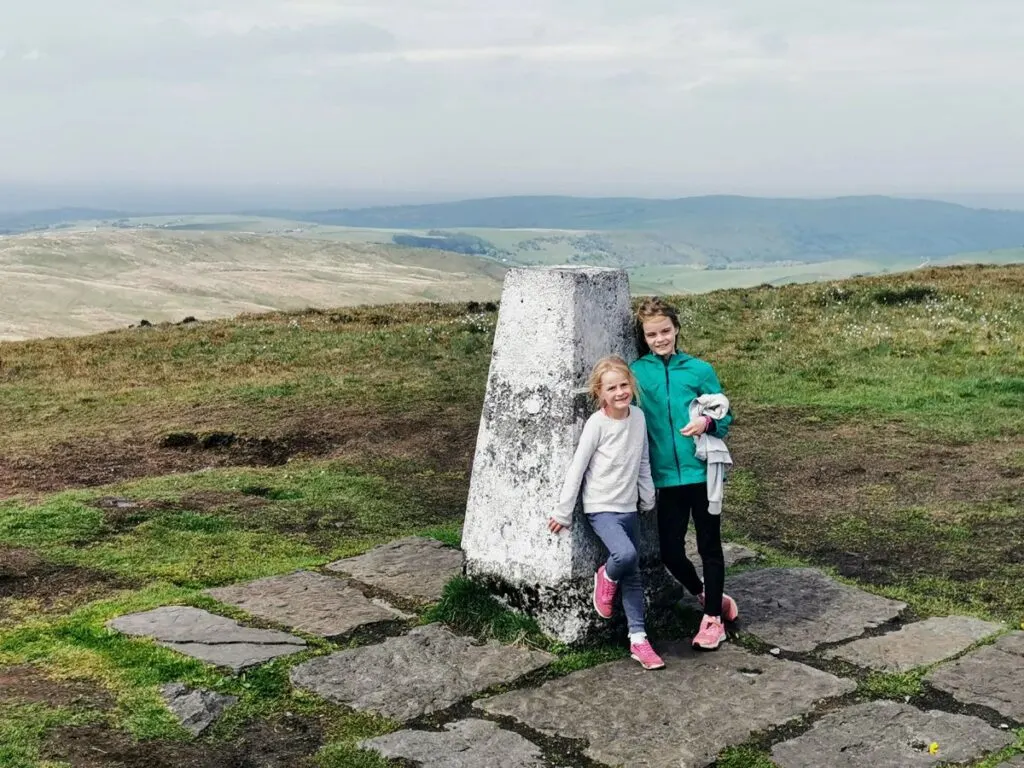 Shining Tor is the highest hill in the Cheshire Peak District at 559 metres, yet this 6.3km linear walk allows you to feel on top of the world without too much of an uphill challenge. Indeed, this is one of the best view walks in the Peak District.
You can extend this walk and increase the ascent by starting lower down at Errwood Reservoir. However, this walk starts from the beautifully located Pym Chair car park at 461 metres, meaning you can reach the summit of Shining Tor fairly easily.
Completing the full Shining Tor walk rewards you with a trig point at summit along with fantastic views from the rocky outcrops along the ridge. You'll be able to see the distinctive Shutlingsloe peak in the distance and on a clear day, you may even be able to make out the Wrekin in Shropshire, the mountains of Snowdonia in Wales and Jodrell Bank.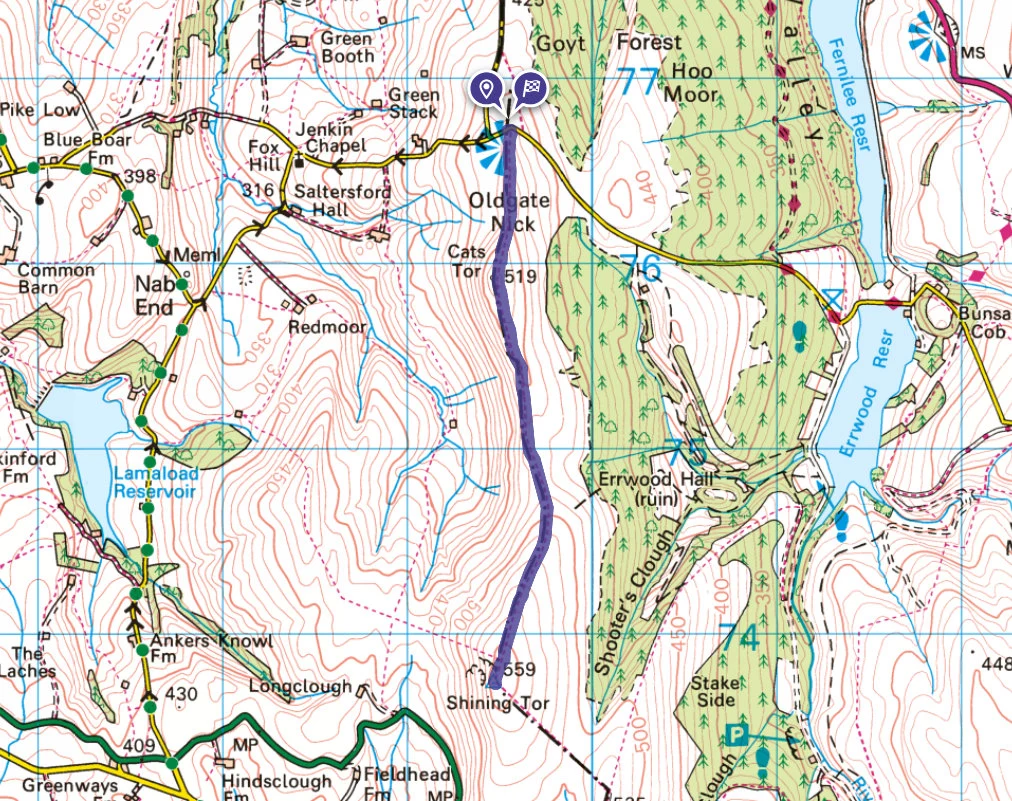 9. High Neb trig point (Stanage Edge)
Stanage Edge walk guide (7.7km)
Click here for start point
Printable download
The Stanage Edge walk that takes in High Neb trig point is all about taking in the superb views from arguably the most impressive gritstone escarpment in the Peak District. On a clear day, you can see across to Kinder Plateau and Mam Tor, with the angular summit of Win Hill protruding from the foreground, and further along this walk, you will get a glimpse of Ladybower Reservoir. Hathersage can also be easily spotted as Stanage Edge stands over this picturesque village. And for kids, there are LOTS of opportunities to play on the boulders (just keep an eye on them and make sure they don't go too close to the edge!)
This route starts from Hollins Bank car park (at the base of Stanage Edge), which is just a short, steady climb to the top. You then follow the footpath along the top, passing High Neb trig point, right to the end of the escarpment (aptly named Stanage End), before descending to the footpath below and following it all the way back to the car park.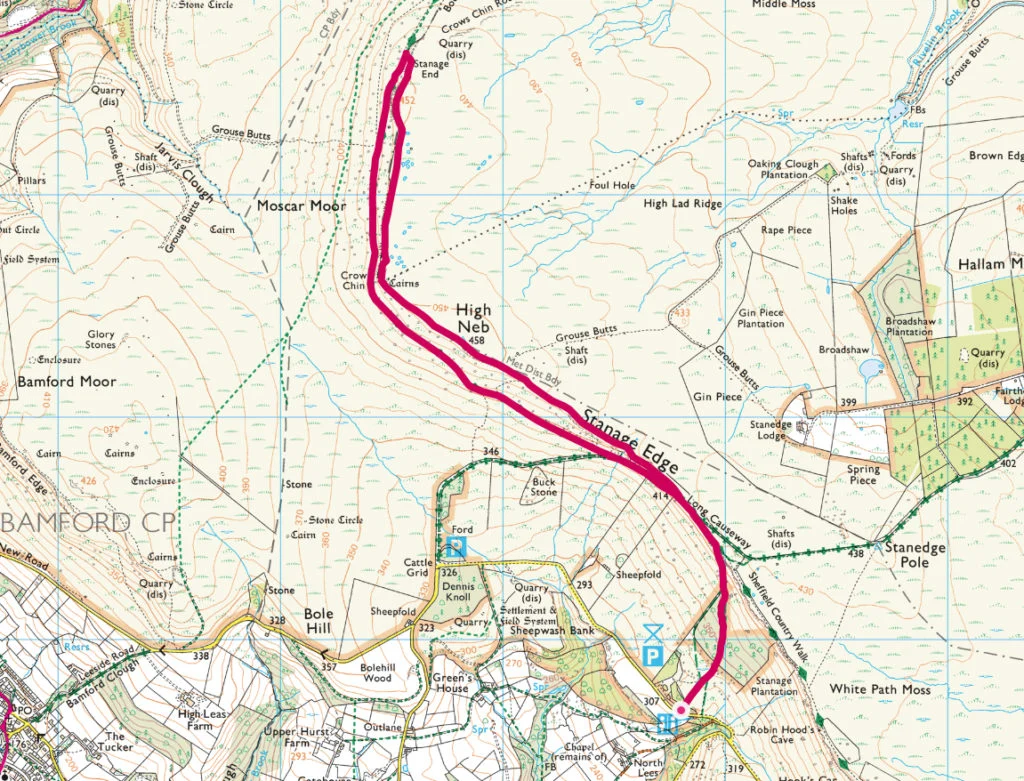 10. Higher Shelf Stones trig point
Higher Shelf Stones trig point walk guide (6km)
Click here for start point
Printable download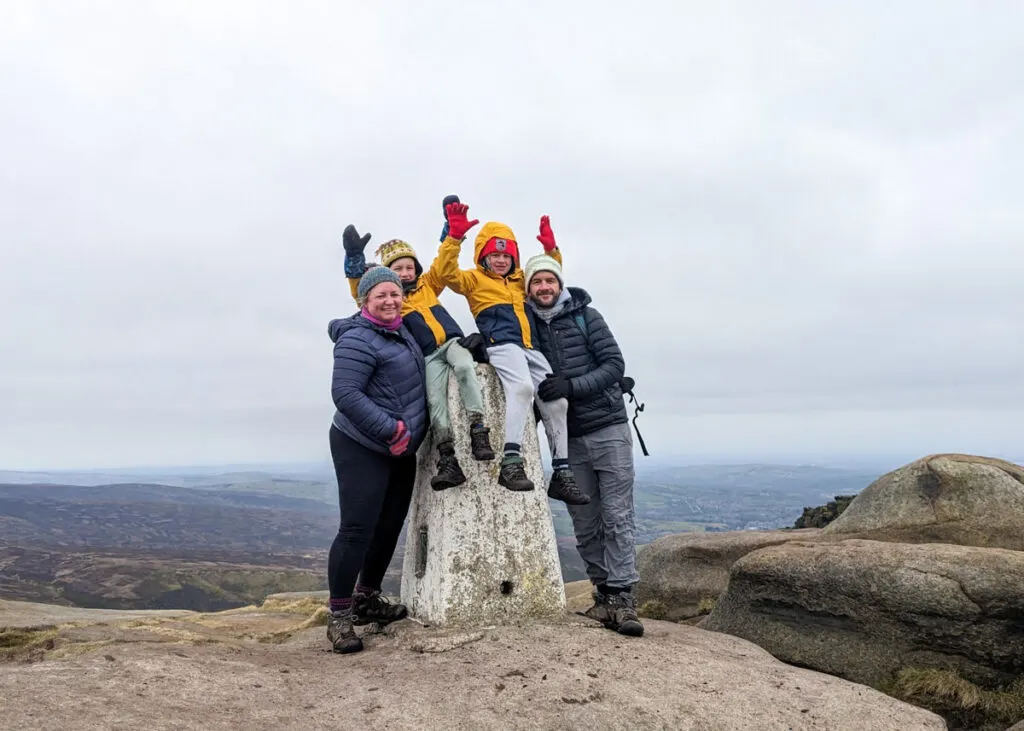 The Higher Shelf Stones trig point is the half way point on the B29 'Overexposed' crash site walk.
On 3rd November 1948, a Boeing B-29 Superfortress (American bomber) called Overexposed crashed into the Peak District moorlands, near Higher Shelf Stones on Bleaklow. Part of the 16th Photographic Reconnaissance Squadron, used for military photography, the plane crashed due to a fatal navigation error in poor visibility. All thirteen crew members lost their lives. Much of the wreckage remains on the moors as a memorial and an official plaque has been erected.
Only attempt this walk on a clear day. Many of the footpaths over the moor between the Pennine Way and Higher Shelf Stones are unclear and there are multiple options. It can be rather disorientating and in poor visibility it is very easy to get lost. The boggy tracks add to the difficulty.
It is extremely exposed on this walk. On hot, sunny days there is no shade, in the winter months the temperature drops, and you can often experience four seasons in one day. Wear appropriate clothing, including sturdy footwear, and bring enough water.
This is also a very popular Peak District walk and parking is limited. Aim to arrive before 9:30am on weekend and holiday days to secure a parking spot. Do not park behind the double yellow lines, you will be ticketed.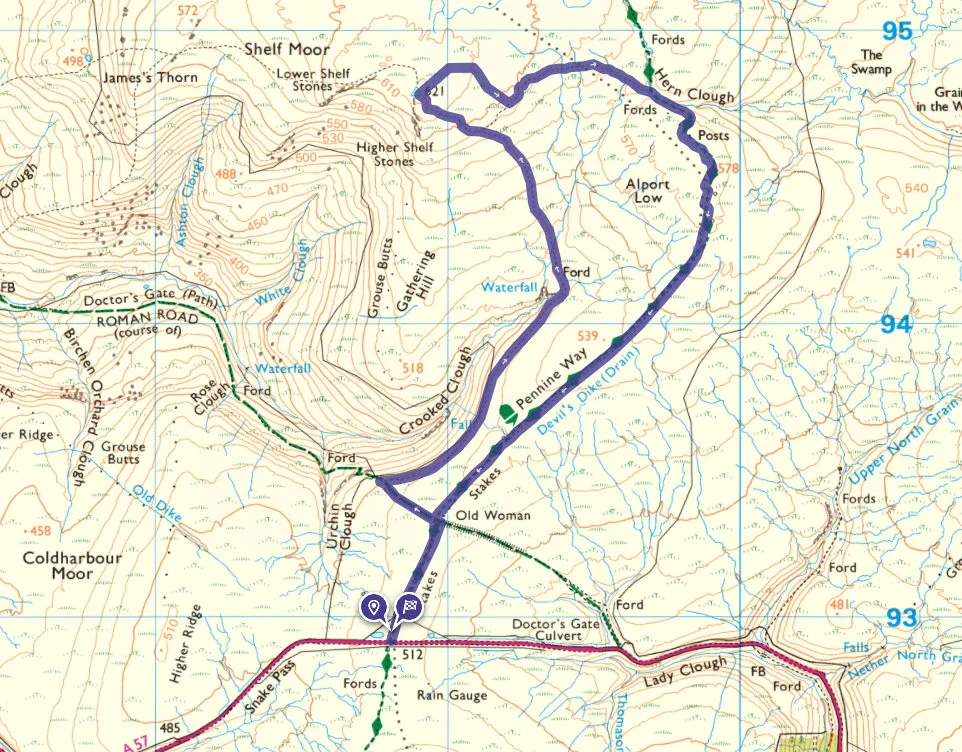 11. Sir William Hill trig point
Eyam Moor walk guide (6.3km)
Click here for start point
Printable download
Sir William Hill trig lies just off Sir William Hill Road. Although this 'road' is a byway open to all traffic, it's a very bumpy and uneven track that's only suitable for 4WDs and there's no parking.
It's best to park at the top of Edge Road (click here for Google Map point) and walk the 1km towards the trig point. There's a wooden stile opposite the mast that leads you up to the trig point. It's just a 1 minute walk from the track.
Otherwise, incorporate Sir William Hill trig along our Eyam Moor walk. It's one of our more challenging family walks as hardly any of the walk is flat. It descends down over Eyam Moor into woodland to Bretton Brook, and then climbs up again alongside open pastures. Your efforts are rewarded with vast open views across to Hathersage, Stanage Edge and Win Hill. Although the true treat of this walk is that you will see few other hikers. Indeed, this is one of our quiet Peak District walks. Half way around the walk is the perfect picnic and paddle spot next to a stream, and there's also remains of old barns to play 'hide and seek' in.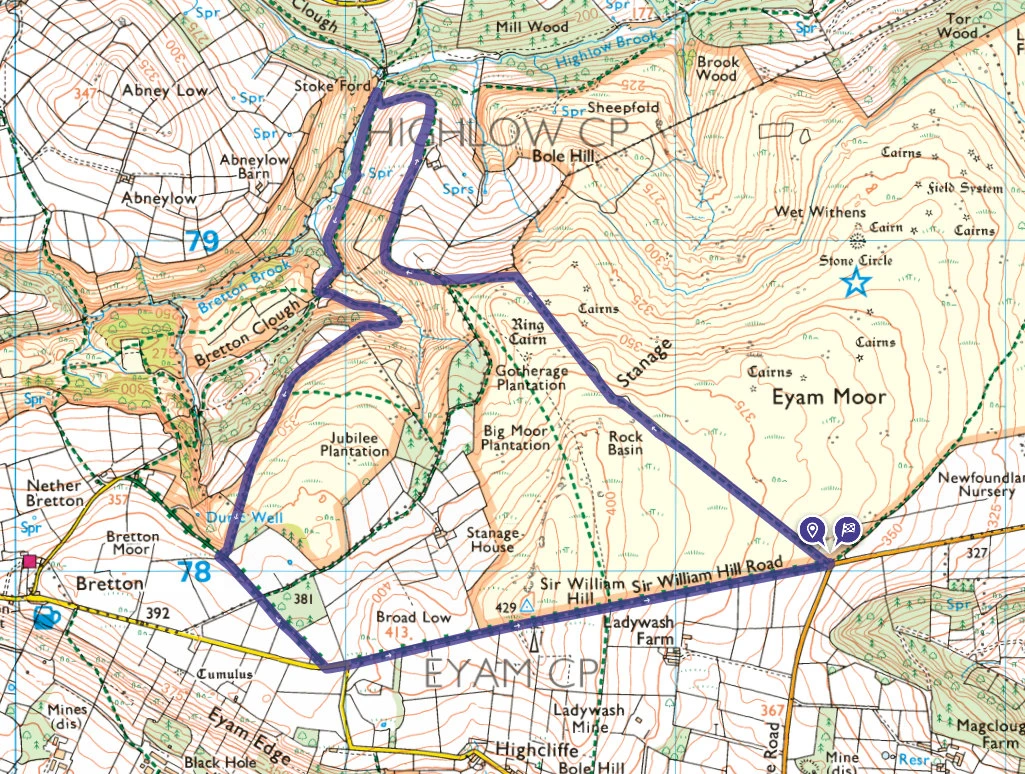 12. Noton Barn trig point
Bakewell to Haddon Hall walk guide (8.4km)
Click here for start point
Printable download
Over Haddon via Lathkill Dale walk (5km)
Click here for start point
Printable download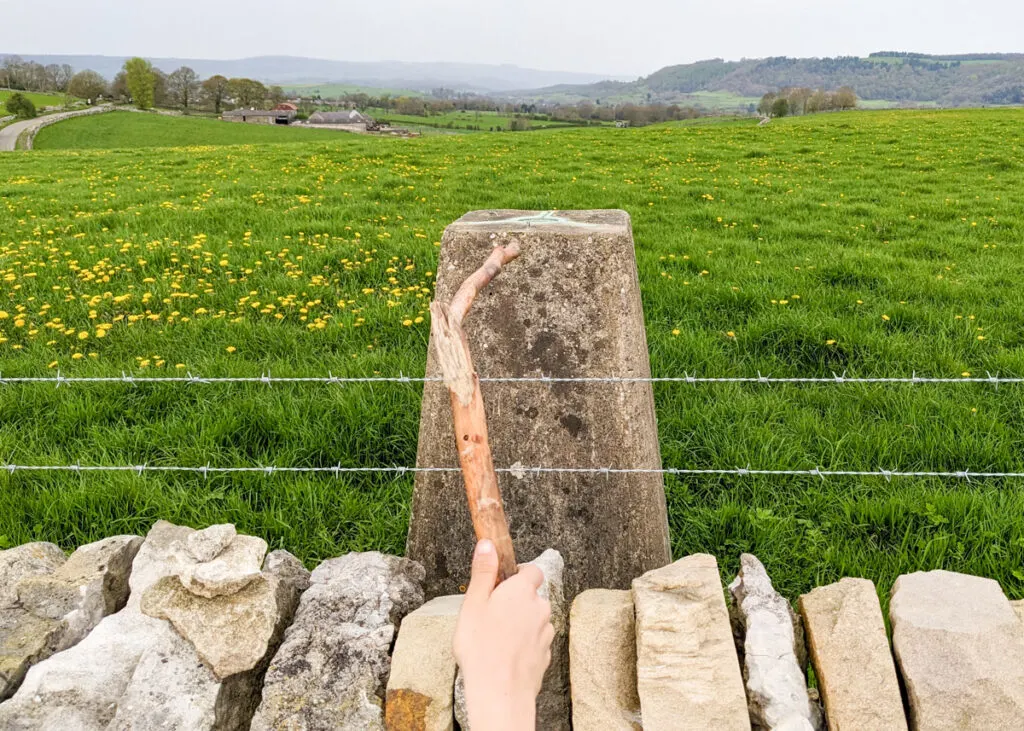 Noton Barn trigpoint is on the Over Haddon via Lathkill Dale walk and also the Bakewell to Haddon Hall walk.
However, it is on private land and you need the landowner's permission to access it. But you can (just about) touch it from the other side of the wall (be careful of the double-barbed wire); we just use a stick to bag this trig.
Both walks offer lovely views over the rolling dales. Your choice of walk depends on whether you would rather incorporate Lathkill Dale or the River Wye and Haddon Hall. Do note that Haddon Hall is paid entry.
13. White Edge trig point
Curbar Edge walk guide
Click here for start point
Printable download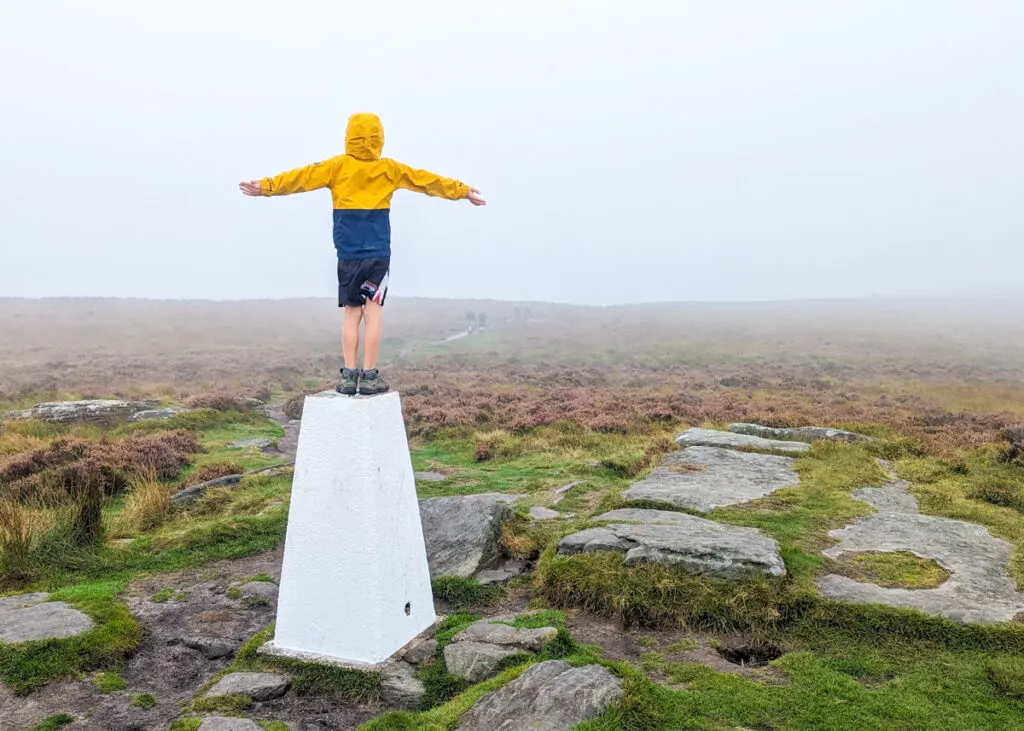 White Edge trig point is located along White Edge, which forms the first section of the circular Curbar Edge walk. The trig point is just off the main footpath along White Edge and is very easy to see as it's only 100 metres from the path and there is a clear footpath to it.
The Curbar Edge walk is a classic Peak District walk offering epic views and a half-way pub stop, as well as the trig point. It's one of our longer Peak District family walks, but kids will love the clambering on the boulders, which we save for the end of the walk (just watch out for those drops).
Please note that you are very exposed on this walk, and the weather can be wilder along these edges than down in the valley, so bring an extra layer of clothing with you.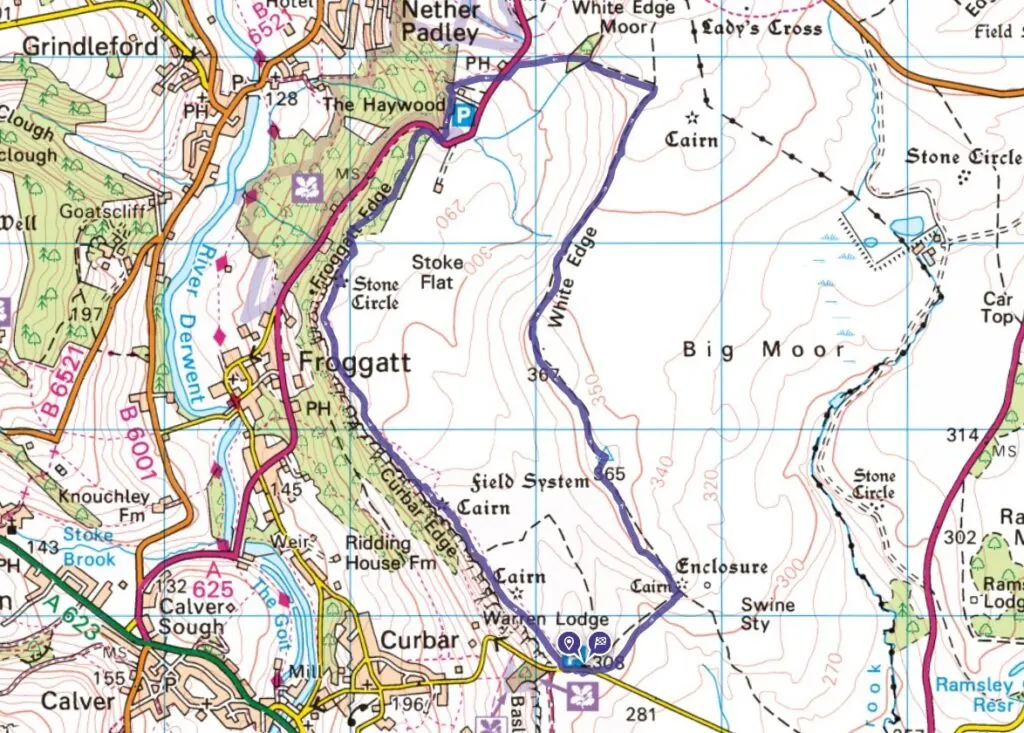 14. Kinder Low trig point
Kinder Scout walk for Hayfield guide (14km)
Click here for start point
Printable download
We feature two walks up Kinder Scout on this website; one from Hayfield and one from Edale.
To reach Kinder Low trig point, you need to follow our Kinder Scout from Hayfield walk, as this walk takes you almost right past it.
Now this is quite a climb for little legs, and really, you should only attempt to hike up Kinder with your kids if they are good hikers. Kids from the age of 5 are absolutely fine hiking up there, but just be wary that there are no facilities enroute, so bring ALL the snacks. But your efforts will be rewarded with incredible views on a clear day.
Indeed, the expansive moorland plateau of Kinder Scout is the highest point in the Peak District, and on a clear day you can see across to Manchester, making it one of the best Peak District views you can get. This is where 500 walkers trespassed en masse and walked from Hayfield to Kinder Scout to secure access right to open country for all to enjoy forever in 1932. It is an iconic hike, which is remote and technical in places.
---
You may also like to read:
Peak District stepping stone walks
Peak District pub walks
Peak District walks with views