A picturesque circular walk from the historic market town of Bakewell along the River Wye to the grand Haddon Hall estate, returning via open farmland and through Bakewell cemetery. Despite the town being a tourist hotspot, this circular Bakewell to Haddon Hall walk leads you away from the hustle and bustle, along quiet footpaths.
Kids will enjoy paddling and playing around the streams and river, and the views towards Haddon Hall as you climb up towards Over Haddon are very pretty.
Haddon Hall is a fortified medieval manor house dating from the 12th century, and is the home of Lord and Lady Edward Manners whose family have owned it since 1567. If you would like to go into Haddon Hall and have a look around, you need to purchase a ticket (visit the Haddon Hall website). Children under 16 are free, but adult tickets are £23.90. There's a 30% discount for Derbyshire residents.
There's also a trig to bag on this walk – Noton Barn Farm trigpoint. However, it is on private land and you need the landowner's permission to access it. But you can (just about) touch it from the other side of the wall (be careful of the double-barbed wire); we just use a stick to bag this trig.
Once you're back in Bakewell, there are lots of pubs and cafes to refuel. Check out our guide: things to do in Bakewell.
Disclaimer: This post contains affiliate links. Should you click to purchase, it is at no additional cost to you, but I receive a small commission.
If you are planning a visit to the National Park, please arrive early or late in the day to avoid crowds if visiting over sunny weekends or school holidays. Please also take all litter home with you, don't bring BBQs and park your car in designated parking areas. Also, please use these walks as a guide; access and stiles may change.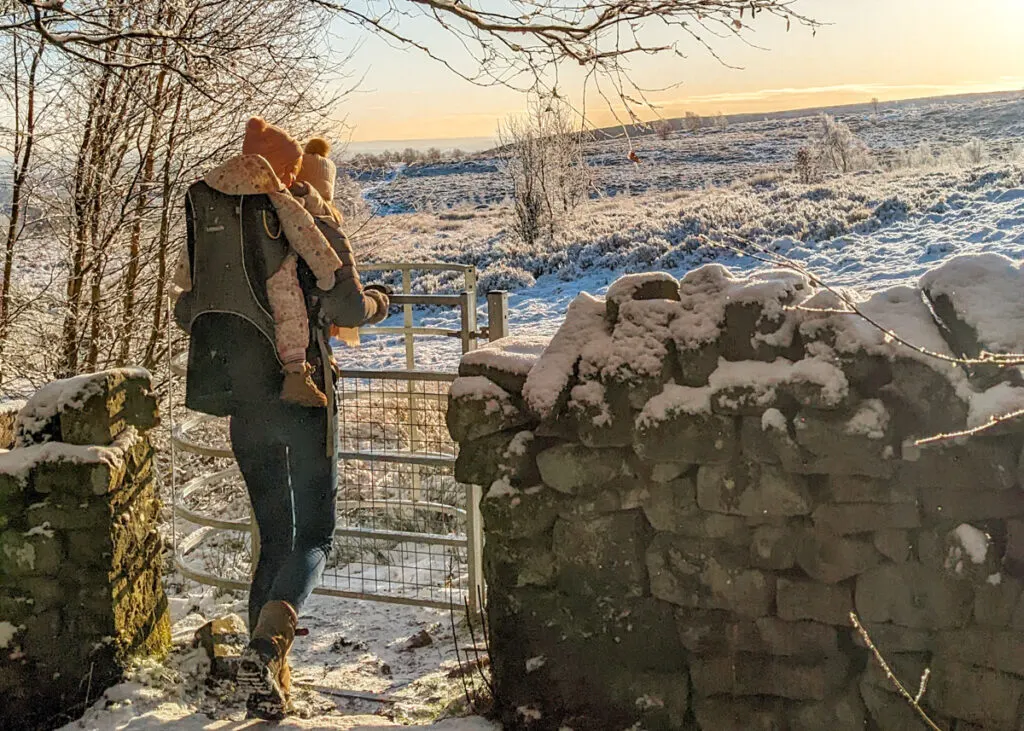 During the winter months, it's important to be extra prepared and safe when out walking and adventuring in the Peak District. The weather can change so quickly, especially on the exposed escarpments, and we don't want you to get caught out.
Read our top tips for safe winter walking with the kids.
FOLLOW US:
PARKING INFORMATION: Please do not rely solely on the postcode for parking directions. In the National Park, a postcode can cover a large area. Postcodes are only provided as guidance. Please either use the Google Maps point provided for every walk, or what3words.
Do check out our top tips for hiking with young kids, as well as our essential items to take on a family hike in the Peak District.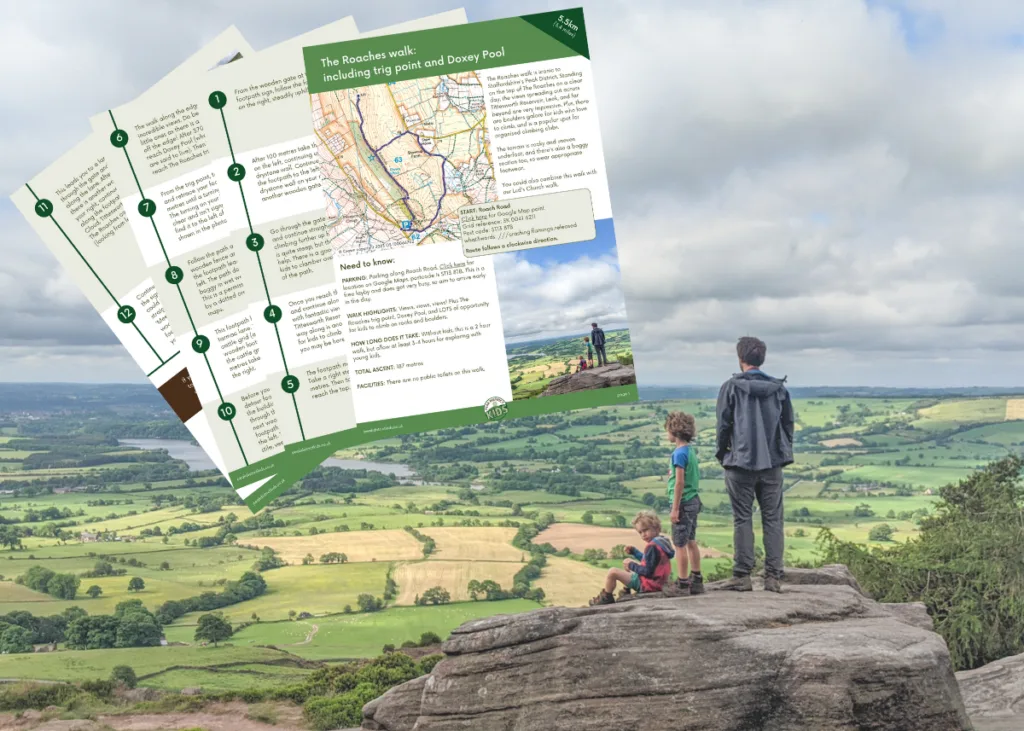 Download and print out our walking guides ready for your family walk. There are over 80 downloadable walk guides available, and these include all the main Peak District family walks, pram-friendly walks, and toddler walks.
Each printable download is just £1.50, whether it's a short 1km stroll or an epic walk up Kinder Scout.
Map of the Bakewell to Haddon Hall walk
On all Peak District family walks it's a good idea to have an Ordnance Survey paper map with you, even if you have your phone on you. For this walk you need the OS Explorer Active Map OL 24 (White Peak). It's also a good opportunity to show young kids the map features and get them started with map reading.
This route follows a clockwise direction.
Get a printable download of this walk
Want to print off this walk guide rather than rely on your mobile? Then click here to download the PDF to print out at home. Perhaps print out a copy for the kids to follow the step-by-step directions and/or photos? It's a great way to get them engaged with the walk and gives them a sense of responsibility.
All printable downloads are £1.50 each. Click here for the full list of Peak District Kids printable downloads.
Please note that your download link expires 72 hours from order, so make sure you save your PDF somewhere where you'll remember it. If you are unsure where your download folder is on your mobile device, we recommend you download the PDF on your laptop or desktop.
Need to know
DISTANCE OF WALK: 8.4km / 5.2 miles

TYPE OF WALK: circular river and farmland walk, passing an historical estate

PARKING: Don't try and park in Bakewell town centre, especially on a weekend or during the school holidays. Instead, head to the car park next to the Agricultural Business Centre. Click here for Google Map point, postcode DE45 1AH.

WALK HIGHLIGHTS: Bakewell, River Wye, Haddon Hall, rolling farmland views.

HOW LONG DOES IT TAKE: With young kids allow for 4 hours with this walk.

ACCESSIBILTY: Not pram or wheelchair friendly. There are stiles to cross and the footpath along the River Wye can be exceptionally muddy in wet weather.

TOTAL ASCENT: 136 metres

FACILITIES: Public toilets can be found in Bakewell car park, opposite Spar and Co-op. In Bakewell, you're spoilt for choice for eateries with a range of cafes and pubs.
The route
START: Bakewell Love Locks Bridge
Click here for Google Map point
Grid reference: SK 2198 6849
Post code: DE45 1EZ
what3words: ///perfect.commuted.spoons

Route follows an anticlockwise direction.
1. Cross over Love Locks Bridge, away from the town. Walk past the car park and over another little bridge towards the Agricultural Centre. Turn right at the Agricultural Centre.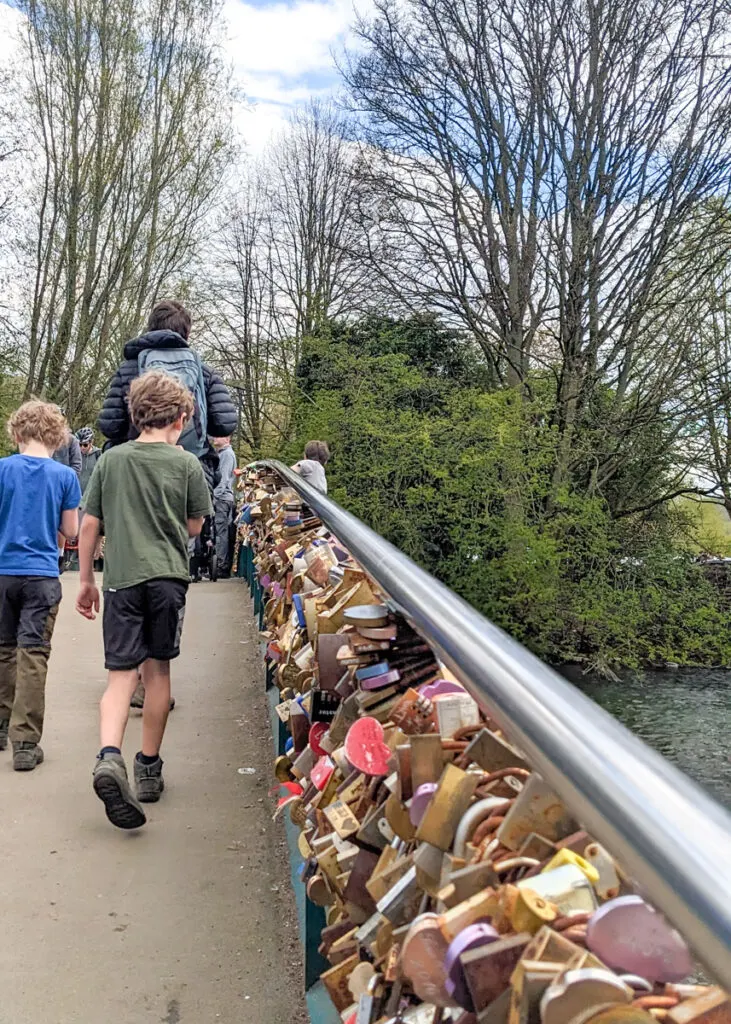 2. Where the road bends round to the left, there is a cattle grid. Walk to the side of the cattle grid and then take an immediate left through the wooden gate with a yellow arrow marking the footpath direction. Take this footpath. The road and large car park will be on your right.
3. Continue through a series of small gates. There's a small stream on your right and another footpath on the other side that runs parallel to the one you're on.
4. Where the footpath veers off to the left away from the stream, there is a footbridge on the right. Walk over this footbridge and continue along the steam on the other side.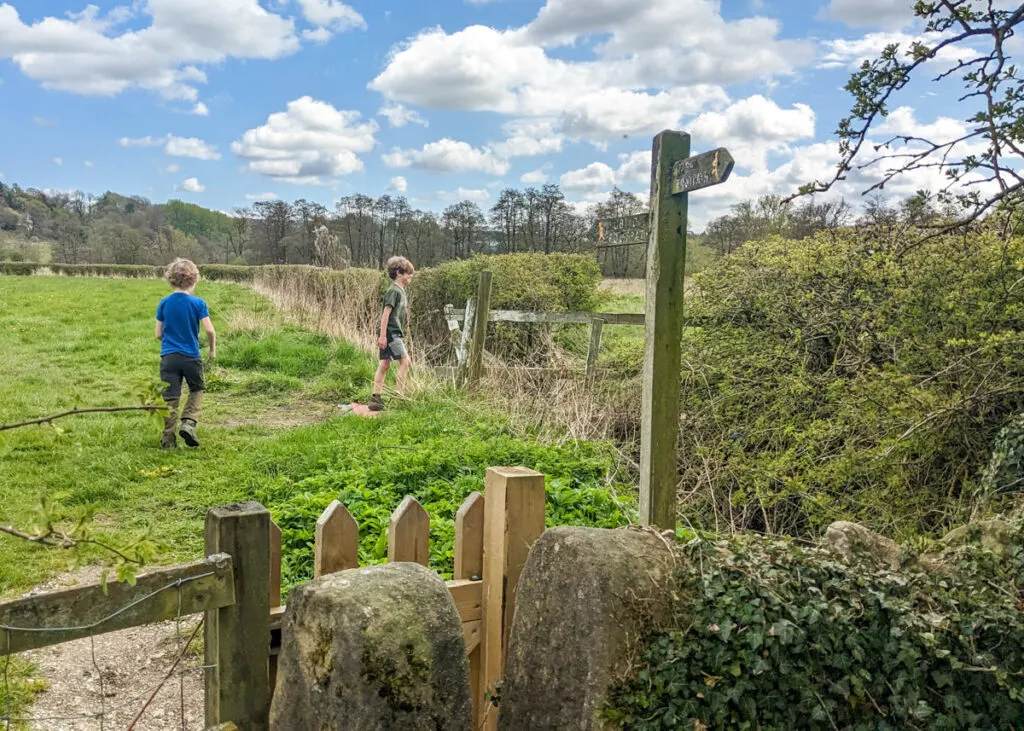 5. After a short while the River Wye joins you on the right of the footpath. Continue straight ahead keeping the river on your right.
6. The River Wye veers away from the footpath again and a little further on, you arrive to a tarmac lane. Take a right and then a left after 30 metres. Continue along this footpath with the River Wye immediately on your right again.
7. You will soon cross an old, stone, mossy bridge over the River Wye. Just 150 metres on from this, the footpath meets the A6, the main road leading into Bakewell from Darley Dale. Turn left at the main road and walk along the pavement towards the entrance to Haddon Hall. Take care as cars go quite fast along here.
8. Immediately opposite the main entrance to Haddon Hall, on the other side of the road, is the footpath you need to take. To cross the road, it's safer to use the island opposite the car park. Continue through two wooden gates and make your way uphill, following the white arrow, with the drystone wall on your immediate right. On your way uphill, make sure you stop to look at the views of Haddon Hall behind you.
9. Continue through a metal gate with a drystone wall now on your left. Near the brow of the hill there's a footpath sign where two footpaths cross. Continue straight ahead towards 'Youlgrave'.
10. After crossing over a stone stile, continue straight ahead to the farm buildings. Take a right along the track when you meet the farm buildings.
11. This track leads out to a road. Just before the road on the right, behind a drystone wall, is a trig to bag! This is on private property and there's double-barbed wire in the way. But with a long stick you can touch it!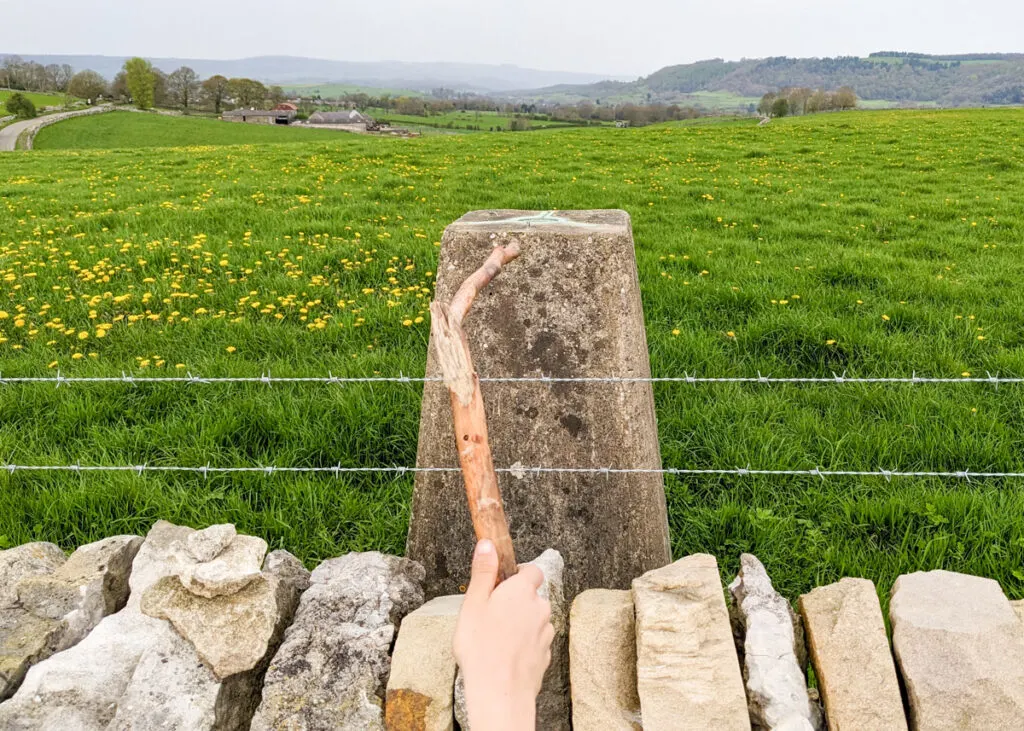 12. At the road, continue straight ahead, making your way downhill. There's a grass verge to the right, which is safer to walk along.
13. 200 metres past Noton Barn Farm there is a footpath sign on your right. Take the footpath that veers left across the field towards Bakewell. Keep following the arrows, which lead you down into the dale.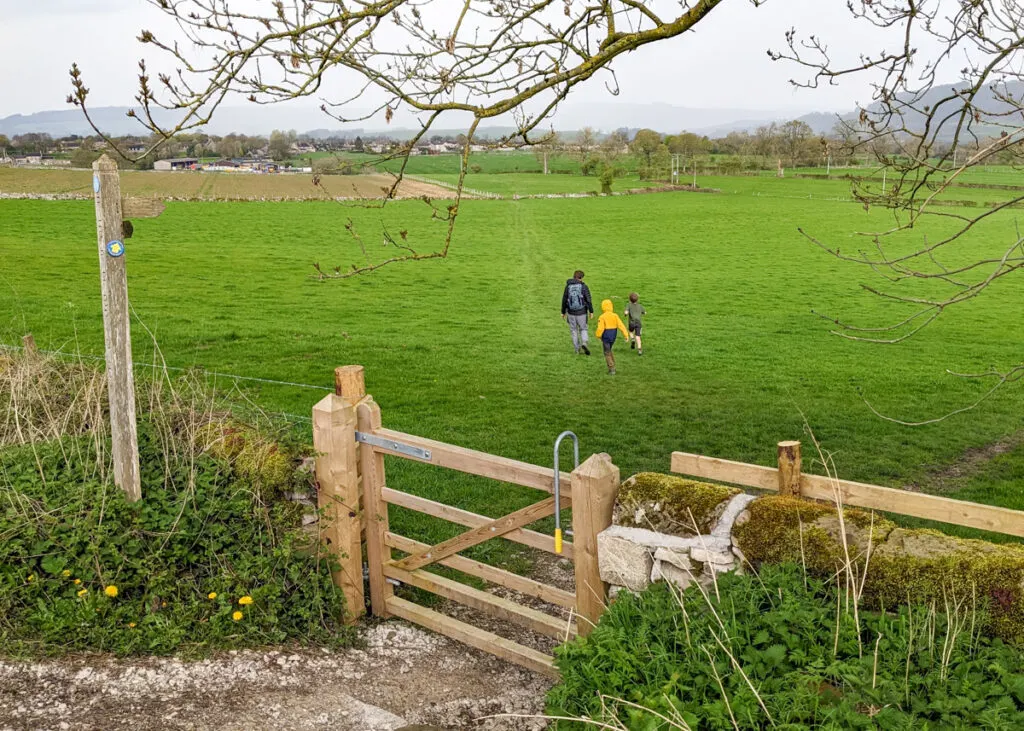 14. The footpath leads you to a school on your left. Opposite this is a footpath sign. Follow this narrow footpath downhill. Just before the steps is a opening on the left to enter the cemetery. Walk through the cemetery, passing two chapels on your left.
15. At the main entrance to the cemetery is a wide footpath on your right. Take this footpath and walk downhill.
16. 250 metres down this wide footpath is a smaller footpath on the left. Take this footpath which leads out onto another lane, and then onto a main road into Bakewell. Turn right at the main road and walk downhill to the town centre to complete this Bakewell to Haddon Hall walk.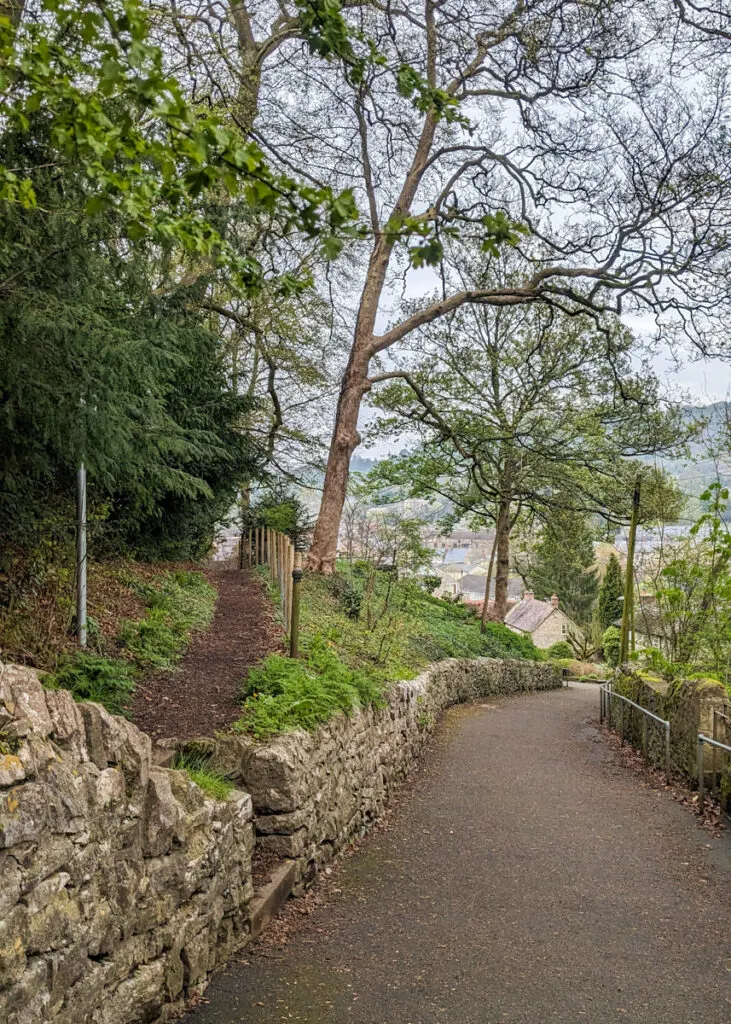 Wandering what there is to do in Bakewell after your walk? Check out our suggested top things to do in Bakewell.
---
You may also like to read:
Things to do in Bakewell
Bakewell to Ashford-in-the-Water walk
Bakewell to Chatsworth walk