Visiting the Peak District with kids is all about enjoying the great outdoors, and what better way to do this than camping! There are some fantastic family campsites in the Peak District; from basic ones by a river where you just rock up and pitch your tent in a field without prebooking, to more managed site that have shops, playgrounds and WiFi on site.
Camping is a fantastic budget option for Peak District family accommodation! So grab your tent and sleeping bags, and check out the best family camping in the Peak District suggested by parents on our Peak District Kids Facebook Group. These also include some of the best Peak District camping near pubs!
If you prefer a bit more comfort and luxury with your camping, check out our top Peak District glamping sites for families, or alternatively, have you considered staying at a Peak District YHA?
Now do be warned that the weather here can be unpredictable, so always pack layers, bring the wellies, and don't expect campsites to be open in the winter months. But on a warm summers day, there is no better place in the world and camping is one of our favourite things to do in the Peak District.
Also note that during the months of April to September many campsites have a 2 night minimum stay at the weekends and 3 night minimum stay on the bank holiday weekends.
1. Hayfield Camping and Caravanning Club, Hayfield
Click here to read our full review of Hayfield Campsite.
📅 OPEN YEAR ROUND
If you're planning on hiking up to the Kinder Plateau, this campsite is perfectly positioned. Pitch up at the far end, and you can even see the summit on a clear day.
Hayfield campsite is in a secluded location, just one kilometre from Hayfield village, with a stream running alongside and mostly surrounded by woodland. Split in two sections via a public footpath, one side has hard standing pitches, and the other has grass pitches. Electric hook ups are available both sides.
There is a playground, but there is a strict 'no ball games' rule. Dogs are very welcome.
The Sportsman (just a 3 minute walk from the campsite entrance) does excellent food, and there's also a fab fish n chippy.
Pricing is dependant on whether you're camping in a tent, camper or motorhome. Significant discount if you're a Camping and Caravanning Club Member. Check website for prices, but they start from £23 per night.
2. Bank House Farm Campsite, Hulme End
Click here to read our full review of Bank House Farm Campsite.
📅 OPEN 1ST FEBRUARY TO 31ST OCTOBER
Another but very different campsite in Hulme End is Bank House Farm Campsite, which has more facilities. It's very relaxed, has great (brand new) facilities, a pub opposite, and there's a stream running through the site where the kids can paddle/splash/get muddy! It's also only a few hundred metres from the start of the Manifold Way, a (mostly) traffic free Peak District cycle trail.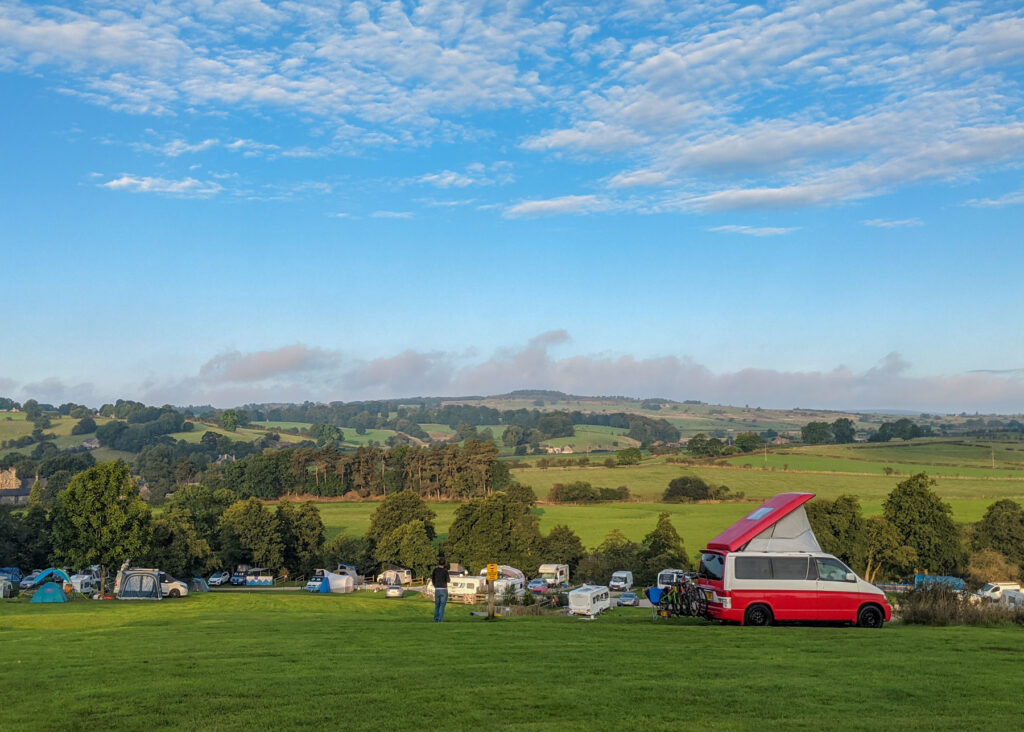 The site is gently undulating and two of the three fields are positioned adjacent to the River Manifold. The main area where you book in at reception has EHU pitches that are all marked out. There are nine hard standing pitches and a further 28 grass pitches all with 16 amp hook up. This is where the toilet and shower block is located.
Above this is the Top Field; a freestyle camping area with no EHU. The views here are stunning, but it can be tricky to find a flat section during busy times. You may want to bring your chocks if camping in this field.
Then there is the Meadow field, just over the bridge on the other side of the road. You can also pitch freestyle here and there is the River Manifold gently meandering through. There are fresh water taps in this field but no toilet or shower facilities; you need to make the 5-minute stroll back across to the main site near the reception area.
Campfires are allowed if they're in a firepit and dogs are very welcome (on a lead). Fishing is available by arrangement. A fridge/freezer and tumble dryer are available and they can even also store bikes during your stay. They really have thought of everything, including a pile of board games you can borrow for a rainy day!
Great local walks and a pub at the end of the drive. Pizza and fish and chip van there over the weekends. The children loved the new tuck shop – really reasonably priced. Great field for kids and dogs to play on.

Lynsey, member of the Peak District Kids FB group.
Prices starts from £20 for a car, tent and two adults, kids are £3
Click here for website.
3. Pomeroy Caravan & Camping Park, near Buxton
📅 OPEN 1ST APRIL TO 31ST OCTOBER
This is a small, family-run camping and caravan site ideally located just off the A515 and the High Peak Trail, and was one the favourite sites over the summer for members in the Peak District Kids Facebook Group.
All touring caravans, motor homes, trailer and family tents are welcome to Pomeroy Caravan Park. There are well maintained EHU Grassland pitches for touring caravans and tents, and an open plan area for tents without EHU. The shower and toilet facilities are spotless, and there are also washing and drying facilities.
You MUST try the homemade ice-cream on site, it's delicious! There's also a vending machine for raw milk, and little ones will love meeting the onsite goats full of character.
Make sure you bring your bikes, as there is direct access to the High Peak Trail; this is a traffic-free path and also suitable for prams and pushchairs. The Victorian spa town of Buxton is only a ten minute drive away (check out our guide to visiting Buxton with kids), and nearby walks include our Longnor walk and Lathkill Dale walk.
We love Pomeroy Caravan Park! Large pitches, lots of space for kids to play with a separate ball field and also a dog walking field. Excellent facilities and the best part was the ice cream made on site. There is also a little farm bit at the front now with goats and alpacas direct access to the high peak trail meant an easy walk to the Royal Oak at Hurdlow for dinner .

Angela, member of the Peak District Kids FB group.
Click here for prices and to check availability.
4. Newfold Farm, Edale
Click here to read our full review of Newfold Farm Campsite.
📅 OPEN YEAR ROUND
Sandwiched between Great Ridge and the Kinder Plateau in the Peak District, with a direct train from Manchester and Sheffield, the village of Edale is a fantastic base for hikers, and a popular campsite for families here is Newfold Farm.
The views of Great Ridge are incredible! Plus, campfires are allowed here (as long as they're 30cm off the ground – we recommend and use this foldable fire pit); which is just what you need to warm up after a long hike in the hills.
There's no playground here, but with so much wide open space on your doorstep and other kids to play with, that's really not a problem. And here's hoping that a hike up Kinder or Mam Tor will have knackered them out anyway 😉. Plus, ball games and kite flying is allowed; just make sure that the kids (and adults) be respectful and keep their distance from people's pitches.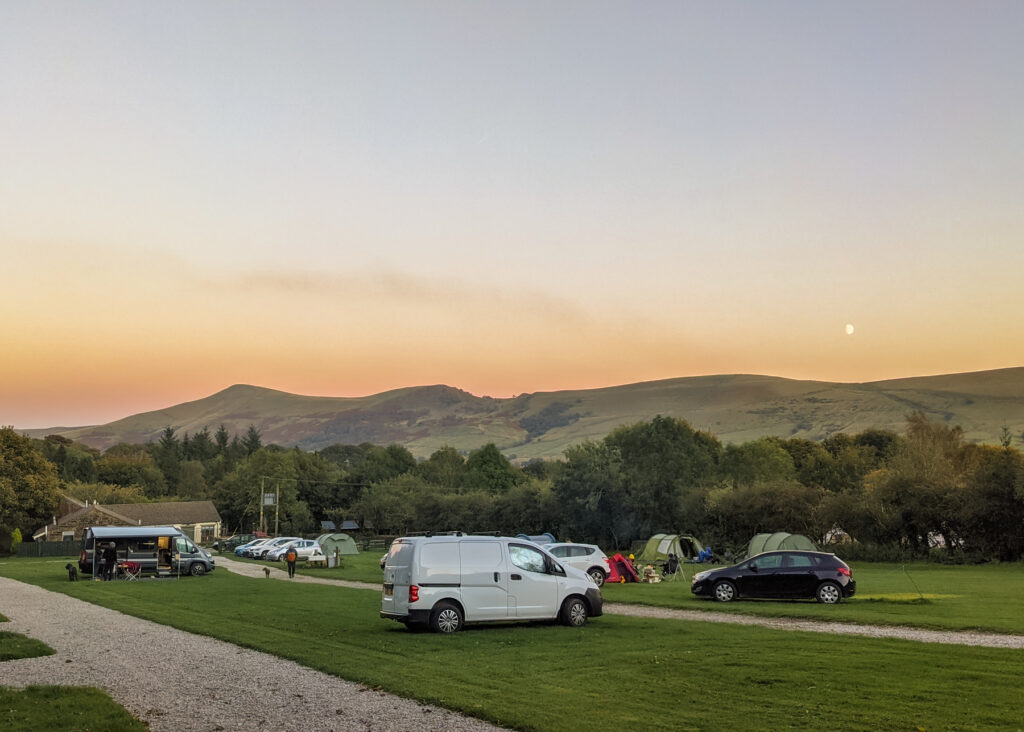 The views from the tent are fabulous. You can see most of the ridge. You can say to the kids "Let's go up there," and show them and then usually at some point on the ridge you can spot the tent. You can have campfires, the owners are so friendly and there's woodfired pizza on certain evenings. It's really family friendly and not noisy after 10pm.

Louise, member of the Peak District Kids FB group.
Camping for 2 adults and 2 kids starts from £30.
Click here to check pricing and availability.
5. Lathkill Dale Campsite, Monyash
📅 OPEN APRIL TO NOVEMBER
The lovely family campsite just outside the village of Monyash has great facilities (free hot showers), nice big spaces for groups and individual places for families. A big bonus is that it's just a three minute walk to the The Bulls Head, which has a large beer garden overlooking a fantastic playground. There's also a tea shop next door selling ice-creams.
Arrival times are currently between 1pm and 6pm, although arrival is possible outside of these times by arrangement. Check out is 12pm.
BBQs are allowed, as well as fire baskets (these must be off the ground). Electric hook-ups are available, and there's also a fridge and freezer available on site.
There is a lovely walk from the campsite down into Lathkill Dale, past caves, along the River Lathkill to the waterfall, and back again across the fields above the dale. Check out our Lathkill Dale walk from Monyash. Alternatively, our Magpie Mine walk or Over Haddon walk is nearby.
Prices start at £10 a night for a one person tent, campers and motorhomes from £20.
Click here for website.
6. Knotlow Farm, Flagg
📅 OPEN 1ST APRIL TO 31ST OCTOBER
Located just outside the hamlet of Flagg, this family-friendly campsite is in a traditional Peak District farmyard setting. Expect to see Aberdeen Angus cattle, and pedigree Dorper sheep grazing in the fields during the warmer months. The Limestone Way alos cuts through the land, which is a great path for a walk or family bike ride.
The camping site caters for both tents and caravan campers, with electric hook-ups, pot washing facilities, toilets and hot showers (20 pence for two minutes). There is a small shop onsite, where you can get basic groceries and sweets, and they even run a home-made pizza service every evening! You can also hire fire baskets to bring that extra bit of ambience! And if glamping is more your thing, there are glamping pods available.
Whilst there isn't much to do in the hamlet of Flagg itself, the fabulous preschool garden is kindly open for play out of school hours. It's also a lovely walk down to the pub and playground at Monyash.
If you've had enough of camping, maybe try out the camping pods (each complete with its own hot tub) or book a traditional Mongolian yurt experience at Knotlow Farm. It's one of the best Peak District glamping sites.
£27 per night based on 2 people sharing, minimum stay two nights For extra occupants: adults £12 per night, children age 5-16 years £5 per night
Click here for website.
7. The Royal Oak, Hurdlow
📅 OPEN ALL YEAR ROUND
Set behind the traditional Royal Oak pub in Hurdlow, is a lovely open and grassy camping ground. There are 20 pitches on two levels, with direct access to the Tissington and High Peak Trail (which are great for a family bike ride). Plus the food in the pub is amazing, so you don't really have to pack the camping stove.
The campsite has separate male and female toilets each with hot showers (shared with the Bunk Barn accommodation) and there are also outside washing up facilities. However, there is no electric hook up available, so make sure you bring some power packs with you, or perhaps just switch off for the weekend.
There are designated pitches which are marked out so that you know you have a specific space for both your tent and car. A standard pitch is 6 metres x 8 metres and a large pitch is 8 metres x 10 metres. You can also upgrade to a super pitch which is 8 metres x 12 metres and includes a picnic bench and fire pit for your private use.
The Royal Oak campsite does not allow motorhomes and only accepts small campervans. Nothing larger than a VW camper will be admitted on to the site as they cannot guarantee access due to weather conditions.
Prices start from £14 per tent per night. But you can check the online booking system for an accurate quote.
Click here for website.
8. Dale Farm, Great Longstone
📅 OPEN JANUARY TO OCTOBER
A quiet campsite on a working farm. There are pitches for tents, campervans, motorhomes and trailer tents (no caravans without prior approval), as well as bell tents for 2-4 people which are fully kitted out so you can camp in style whilst only having to bring minimal camping gear. Fires are allowed in firepits. Bring your own, or rent one on site.
A brand new eco-friendly wash block was built in 2021 for showers, toilets and pot washing. On site there is a farm shop selling farm meats, jams and chutneys (when available), cakes and treats, plus local eggs, as well as fire wood, kindling, fire lighters etc.
There are 4 pubs within walking distance. The White Lion and Crispin are just in the village, and behind The White Lion is a big playground, a cricket pitch, and tennis courts.
Our Monsal Head walk is nearby, as well as our pram-friendly Cressbrook Mill to Litton walk. And the Monsal Trail is also close by for a traffic-free family bike ride.
Click here for website and to book online.
9. Beech Croft Farm, Taddington
📅 OPEN ALL YEAR ROUND
With two fantastic children's play areas, this Peak District campsite is a winner for families. One play area is for under 6s, and then a separate one for the over 7s with a ball games area, zip wire and climbing frame. There's also a separate exercise field for four-legged family members.
There are 30 hardstanding caravan pitches which all include 16 amp electric hook ups, water tap and TV socket providing a digital signal. For visitors with tents, there are three camping areas where you can choose where to pitch. There are 10 amp electric hookups available which can be used by purchasing a prepayment card.
The park offers excellent facilities including toilet and shower block with underfloor heating, and there is a shop on site offering basic provisions that also sells Calor and Camping Gaz.
Our Chee Dale walk is nearby. Or you may want to bring your bikes for cycle on the Monsal Trail.
Prices start from £20 for a car, tent and two adults. Children aged 6-18 are an £3.50 and 5s and under are free.
Click here for website.
10. Hulme End Campsite, Hulme End
📅 OPEN 8TH APRIL TO END OF OCTOBER
Situated in the beautiful Manifold Valley, just behind the Manifold Inn. Hulme End Campsite, not to be mistaken with Bank House Farm Campsite across the road, is in a large field behind the pub and facilities are basic. There isn't much besides a portacabin with a loo and a cold tap (soap and toilet paper are provided), and an outside washing up area with a cold tap over a plastic trough to use as a sink and a wooden surface to set your things on.
Fires are allowed providing they are up off the ground and metal drums are provided to put your fires in/on. There are no showers, no hot water and no electrical hookups.
The main advantage of this place though it that it's cheap! There is no reception. Just pitch up (no later than 9 pm) and the warden will come around later in the day to collect the money.
Prices are £6 per person per night and under 5s are free.
Click here for website.
11. Chatsworth Park Caravan Club Site
📅 OPEN ALL YEAR ROUND
Set in the beautiful location of an old walled garden on the picturesque Chatsworth Estate, the Chatsworth Park Club Site in Bakewell offers nostalgic views of the sheep-cropped rolling countryside, with some lovely walks – try our Baslow to Chatsworth walk, and perhaps extend it to include our Chatsworth Hunting Tower and Aqueduct walk.
The washblocks onsite are spotless, and there's also a kids playground.
Click here to check prices and availability.
---
You may also like to read:
Top things to do in the Peak District with kids
Best family walks in the Peak District
Best cafes and pubs in the Peak District with a playground