This relatively flat, circular Longnor walk is away from the tourist hotspots, across classic White Peak farmland, and takes you right through working farms. It's one of our quiet Peak District walks as you are unlikely to see many others on this walk (although you're guaranteed to see lots of sheep and cows!)
As you walk through the farmyards, please stick to the footpaths and pass through quietly; these are working farms, with machinery, farming products, and livestock around. There are obvious safety hazards, but it goes without saying, stick to the path and don't let your kids play on the machinery. Also, the footpaths can get muddy around the farms when it's been raining.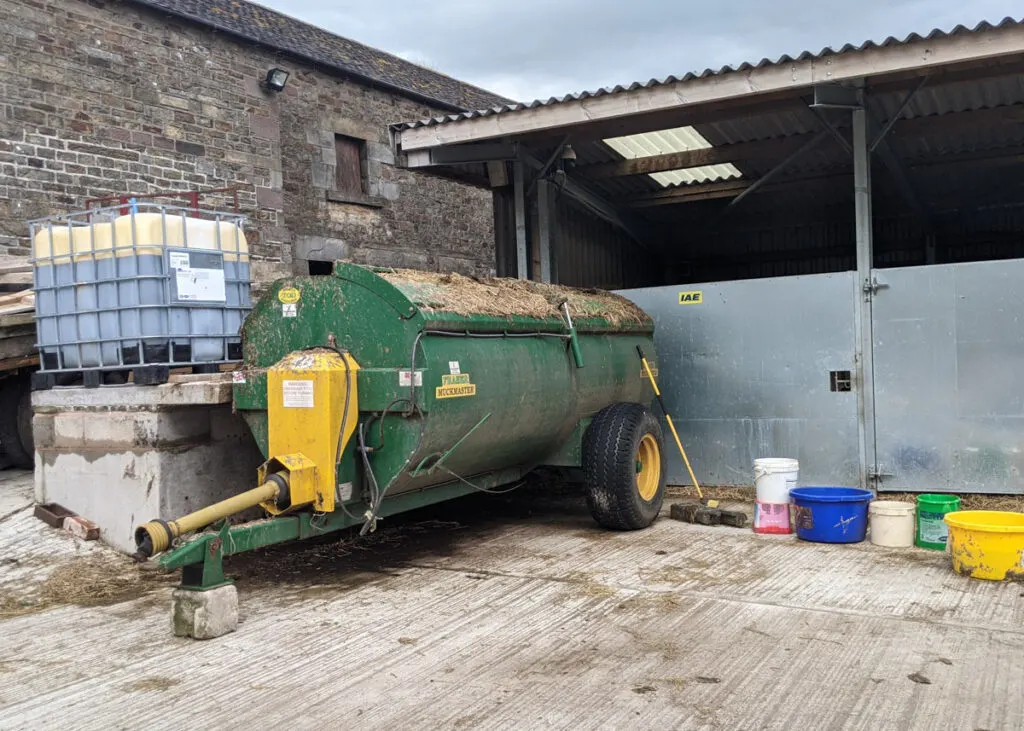 This Longnor walk is very easy-going and takes around 1.5 hours with kids (longer if they want to play at the River Manifold). Reward your efforts with a stop at Ye Olde Cheshire Cheese afterwards (there is a small beer garden, kids and dogs are welcome), or a hot chocolate and one of the cafes around the market square.
Disclaimer: This post contains affiliate links. Should you click to purchase, it is at no additional cost to you, but I receive a small commission.
If you are planning a visit to the National Park, please arrive early or late in the day to avoid crowds if visiting over sunny weekends or school holidays. Please also take all litter home with you, don't bring BBQs and park your car in designated parking areas. Also, please use these walks as a guide; access and stiles may change.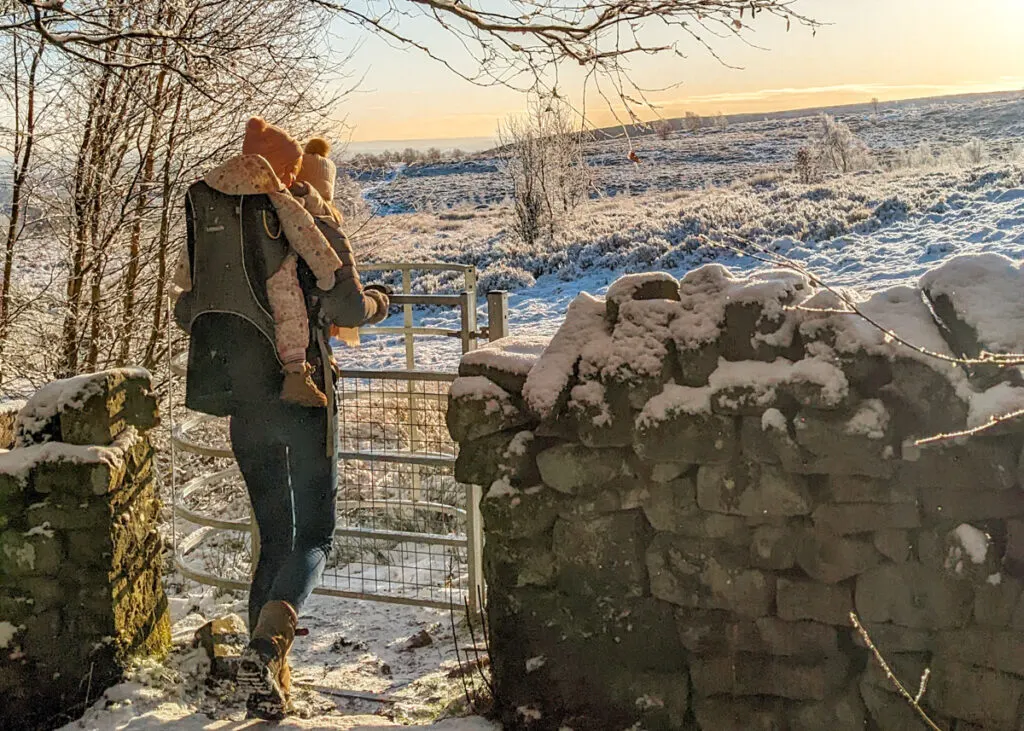 During the winter months, it's important to be extra prepared and safe when out walking and adventuring in the Peak District. The weather can change so quickly, especially on the exposed escarpments, and we don't want you to get caught out.
Read our top tips for safe winter walking with the kids.
FOLLOW US:
PARKING INFORMATION: Please do not rely solely on the postcode for parking directions. In the National Park, a postcode can cover a large area. Postcodes are only provided as guidance. Please either use the Google Maps point provided for every walk, or what3words.
Do check out our top tips for hiking with young kids, as well as our essential items to take on a family hike in the Peak District.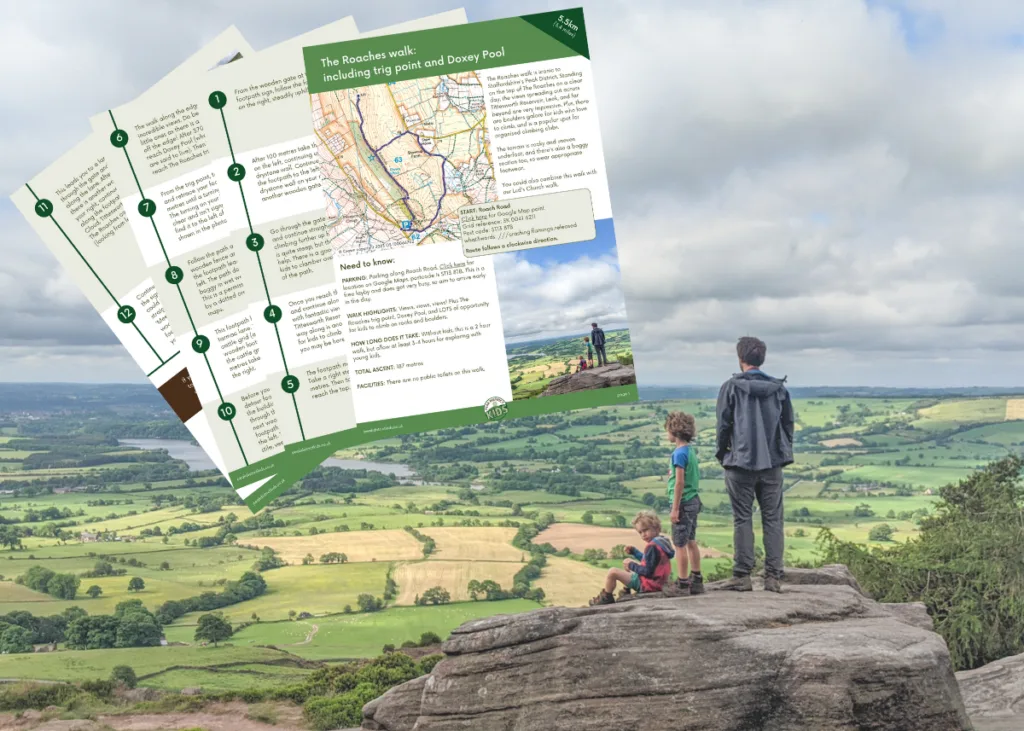 Download and print out our walking guides ready for your family walk. There are over 80 downloadable walk guides available, and these include all the main Peak District family walks, pram-friendly walks, and toddler walks.
Each printable download is just £1.50, whether it's a short 1km stroll or an epic walk up Kinder Scout.
Longnor walk map
On all Peak District family walks it's a good idea to have an Ordnance Survey paper map with you, even if you have your phone on you. For this walk you need the OS Explorer Active Map OL 24 (White Peak). It's also a good opportunity to show young kids the map features and get them started with map reading.
The route directions below follow this map in an anti-clockwise direction, starting from Longnor Market Square (between Cobbles Café and the Longnor Fish and Chips).
Get a printable download of this walk
Want to print off this walk guide rather than rely on your mobile? Then click here to download the PDF to print out at home. Perhaps print out a copy for the kids to follow the step-by-step directions and/or photos? It's a great way to get them engaged with the walk and gives them a sense of responsibility.
All printable downloads are £1.50 each. Click here for the full list of Peak District Kids printable downloads.
Please note that your download link expires 72 hours from order, so make sure you save your PDF somewhere where you'll remember it. If you are unsure where your download folder is on your mobile device, we recommend you download the PDF on your laptop or desktop.
Need to know
DISTANCE OF WALK: 3.3km / 2 miles

TYPE OF WALK: a relatively flat, circular walk across farmland

PARKING: Free parking at Longnor Market Square (between Cobbles Café and Longnor Fish and Chips). Click here for Google Map point, postcode SK17 0NS. There is also parking behind Ye Olde Cheshire Cheese (for patrons only).

WALK HIGHLIGHTS: Seeing sheep and cows, walking through working farms, River Manifold, and a quiet walk where you're unlikely to see many other hikers.

HOW LONG DOES IT TAKE: Without kids, this is a 1 hour walk, but with young kids allow about 2 hours.

ACCESSIBILTY: This walk is not pram or wheelchair friendly. There are a lot of stiles and gates to pass through. None of the stiles are particularly steep, but a couple of the squeeze stiles are rather tight. We last did this walk in May 2021, and found that the gate was locked at the farm at Crofts Farm. This shouldn't be locked as it's a public right of way. We checked with staff at the farm and they were happy for us to climb over the gate.

TOTAL ASCENT: 61 metres

PUBLIC TOILETS: There are public toilets at the market square in Longnor as well as cafes and Ye Old Cheshire Cheese. Although you won't find any other facilities along the walk.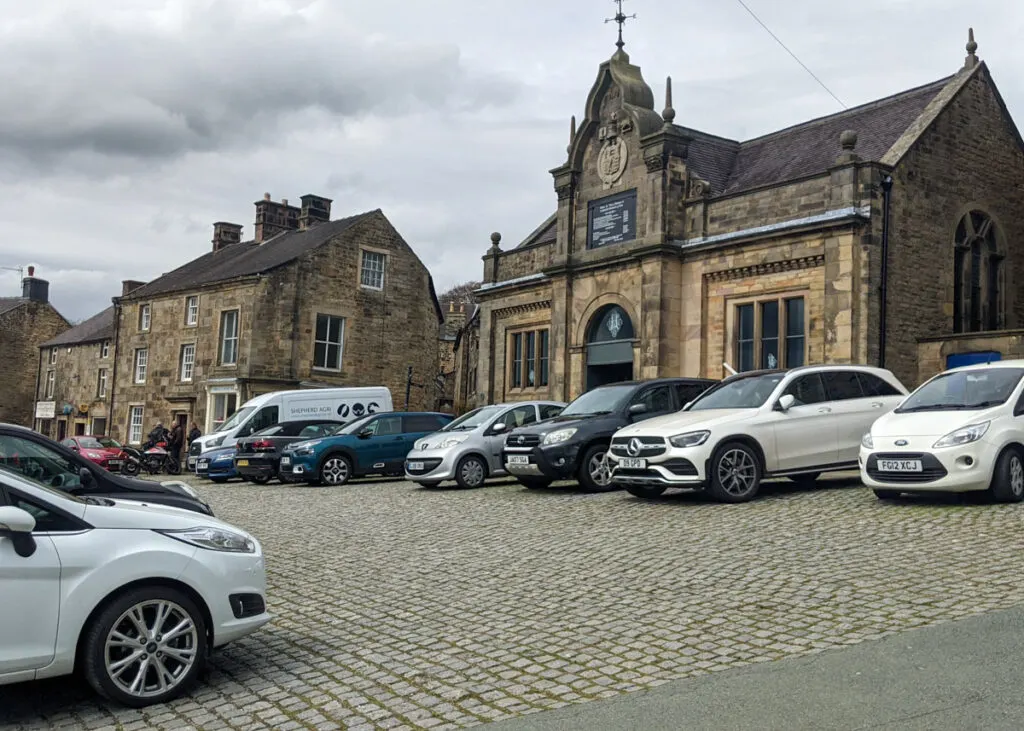 The route
START: Longnor Market Square
Click here for Google Map point
Grid reference: SK 0889 6492
Post code: SK17 0NS
what3words: ///vowel.fork.award

Route follows an anticlockwise direction.
1. Start from the market square in Longnor village. With your back to the car park, take a left and walk along the pavement past the fish and chip shop and Ye Olde Cheshire Cheese.
2. 50 metres along the road from the pub there is a footpath on your right. Take this footpath and walk through Folds End farm, veering left and following the footpath signs.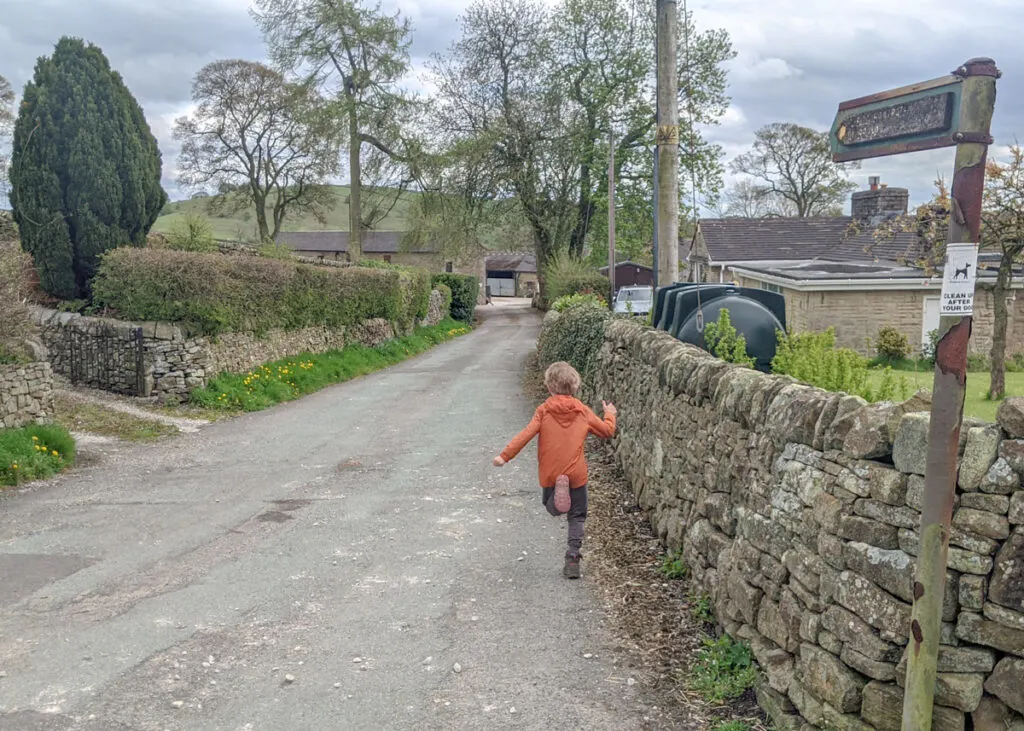 3. Walk through the metal gate next to the cowshed, and take the footpath to the right that leads you to a wooden gate and a stile.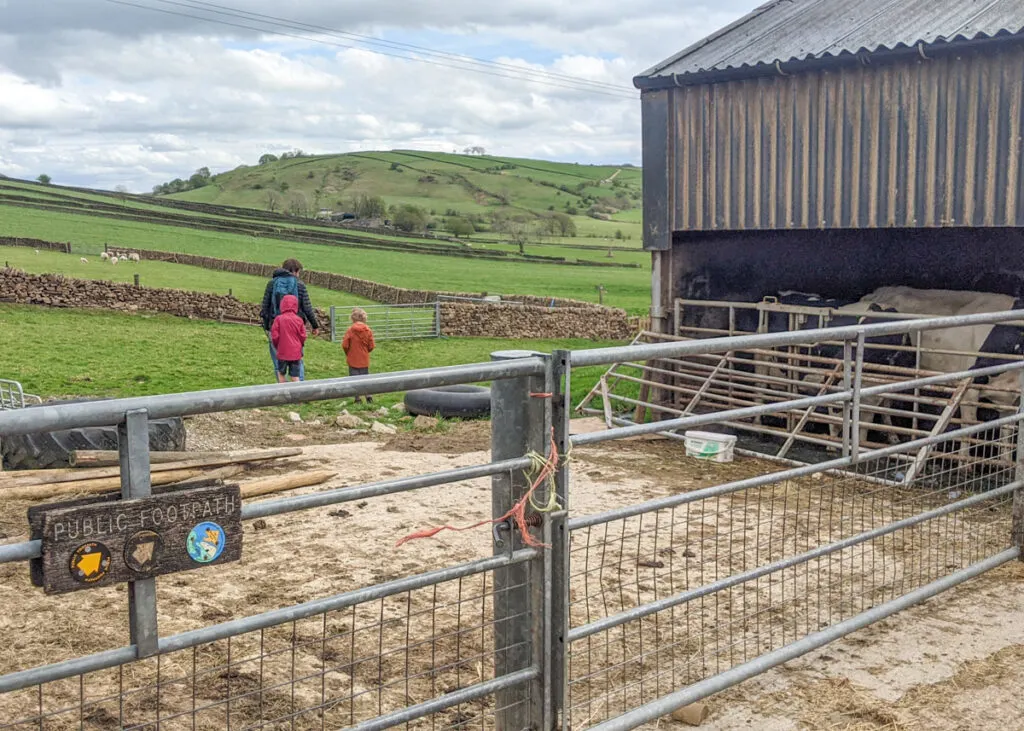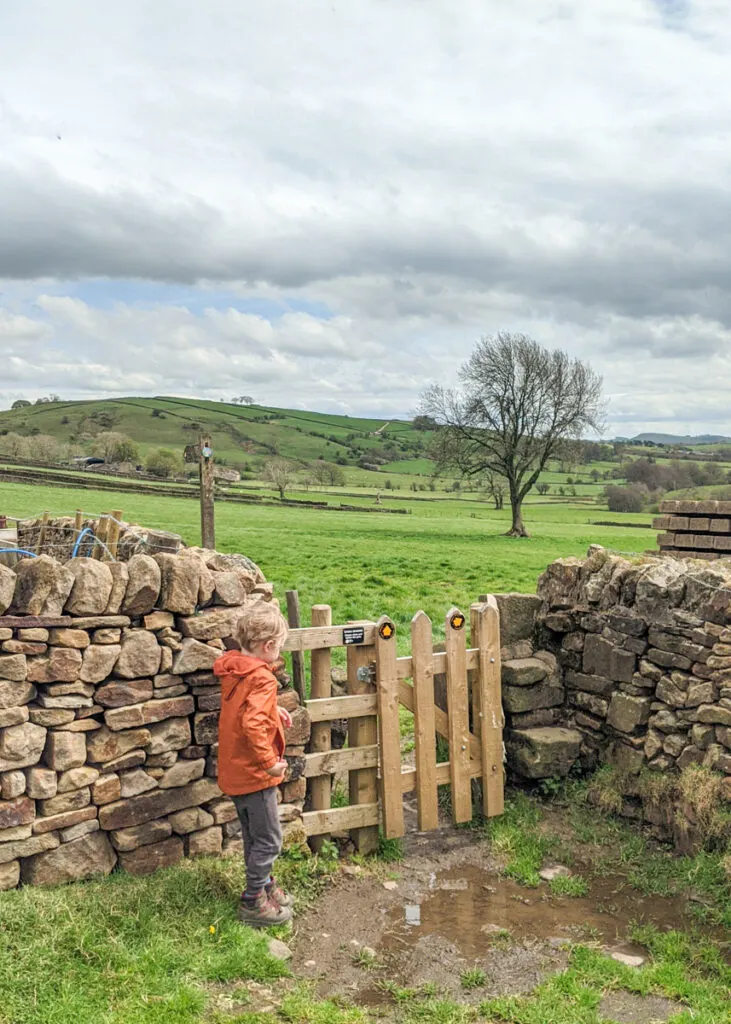 4. Once you're through the gate, take the footpath pointing right that leads down the hill to the River Manifold. Walk through the first squeeze stile and then veer left to the next squeeze stile. The River Manifold will be on your right.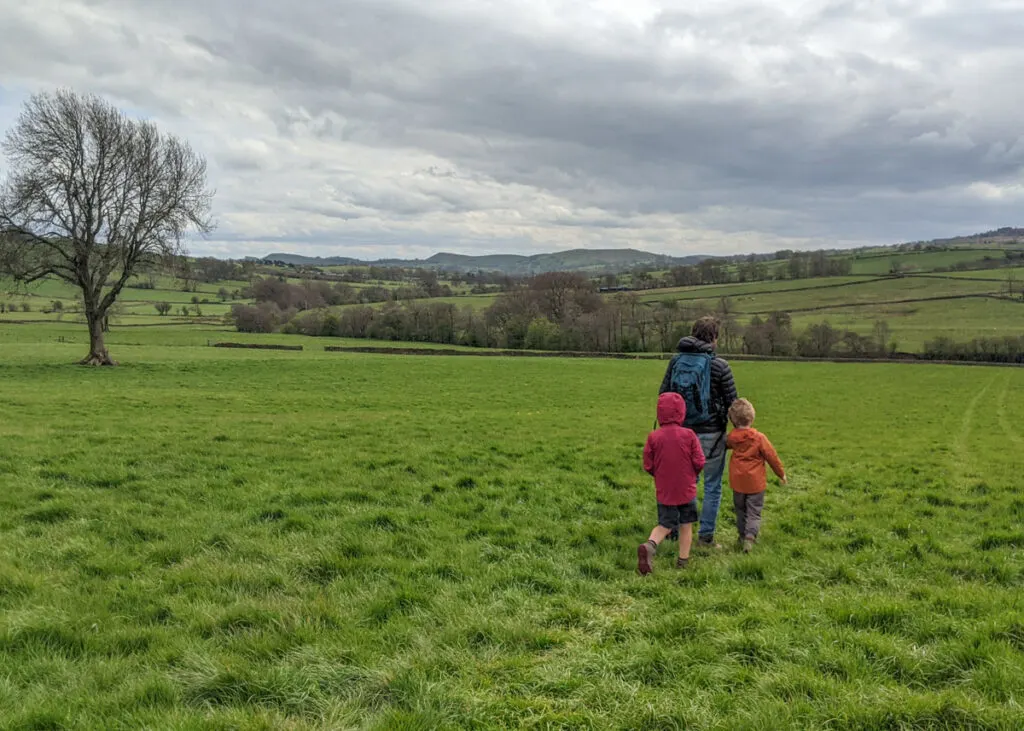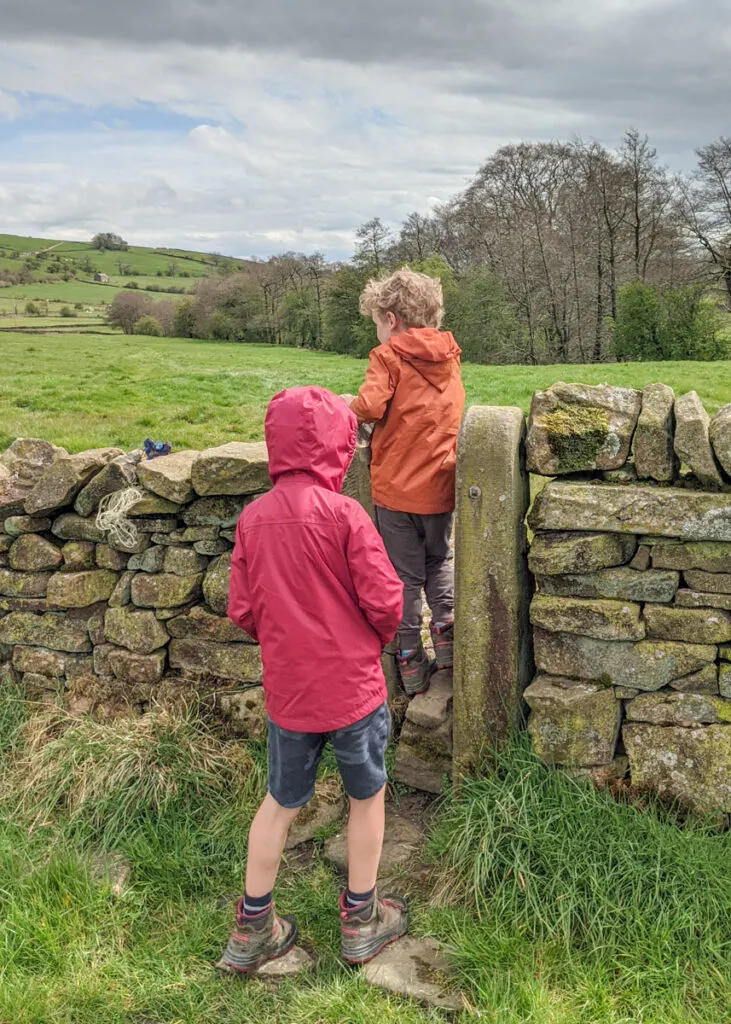 5. Continue walking straight ahead. You will walk though one wooden gate, over a small wooden footbridge, then two more wooden gates.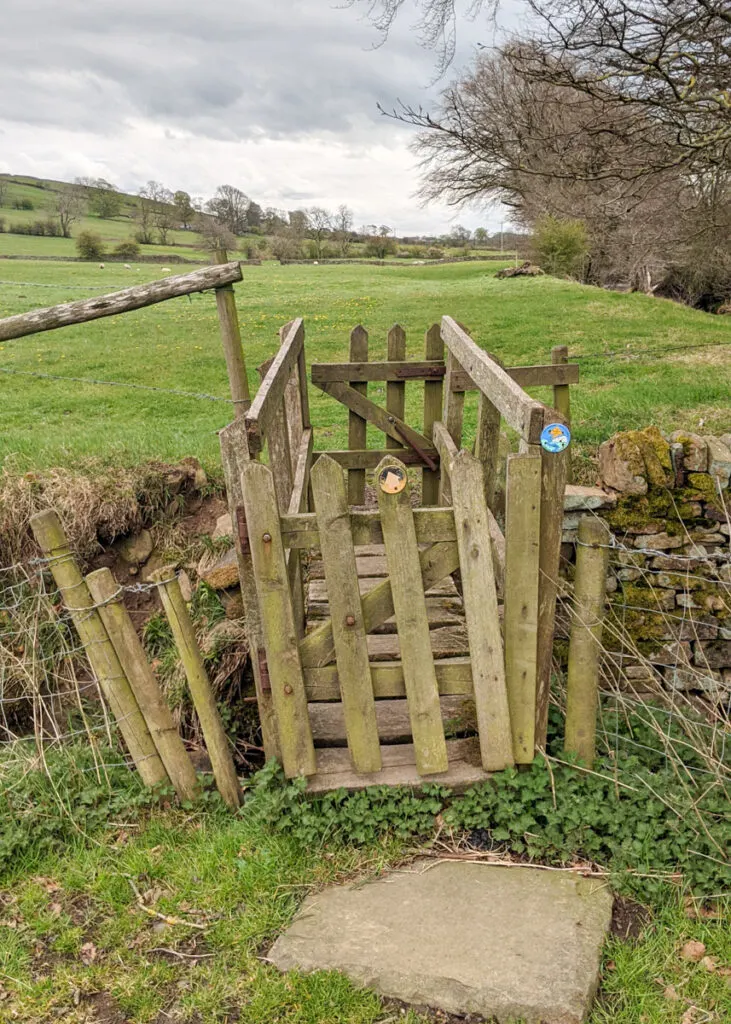 6. 140 metres after the last wooden gate, a stone column (1 metre high) marks where you turn left. Follow the gravel footpath for 250 metres to Over Boothlow Farm.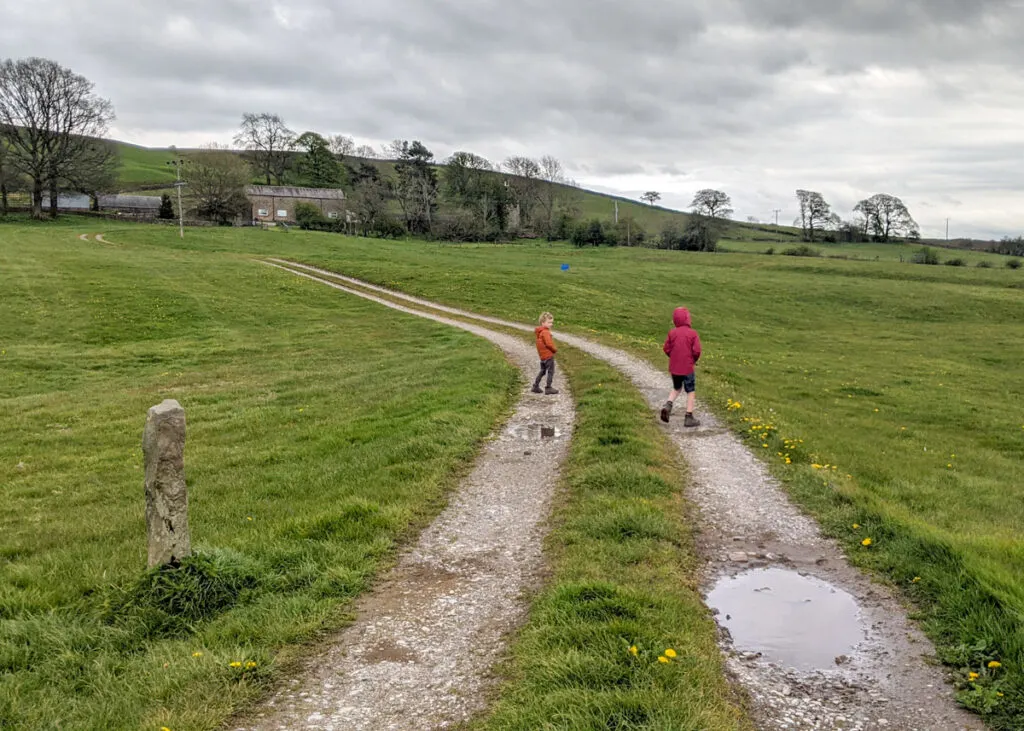 7. Follow the gravel path around to the left (ignore the lane on the right). Then just past the farm buildings you will see a yellow arrow footpath marker on your right. Walk through this gate and cross the field to the stone stile.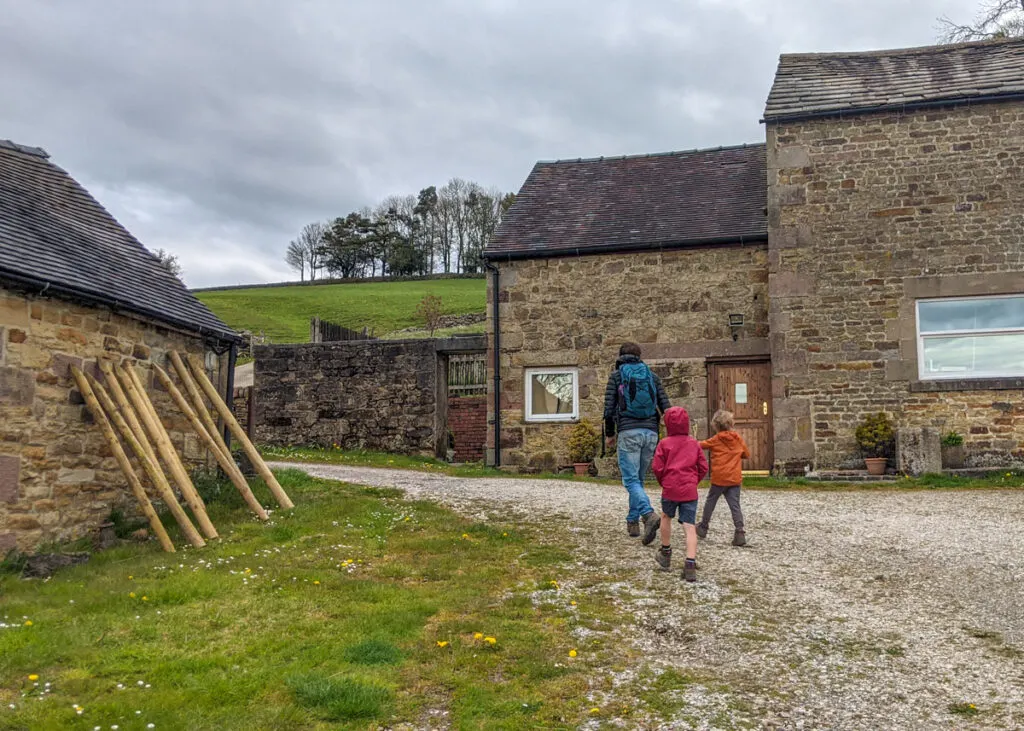 8. You are now making your way back towards Longnor. Continue the footpath straight ahead, keeping left to the building shown in the photo below.
9. In the next field, the footpath keeps right next to the drystone wall. The stile to the next field is just hidden in the corner behind the bushes (you will spot it as you get closer).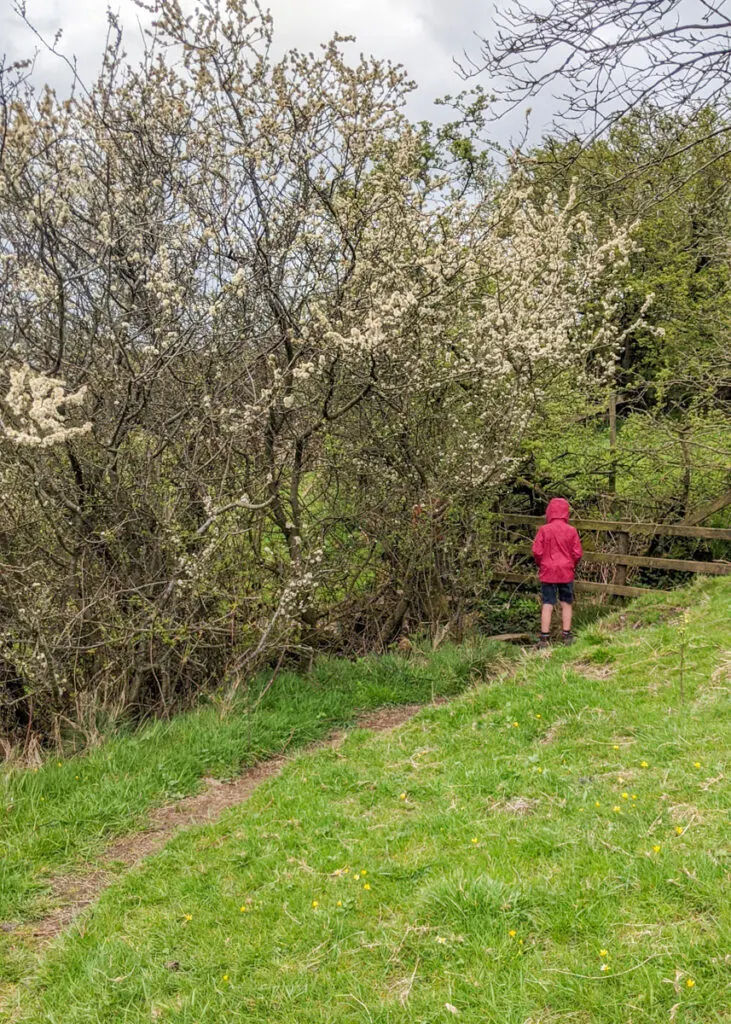 10. Continue walking straight ahead. But as you approach Crofts Farm, there is a yellow arrow pointing to a stile on the left. Cross the stile.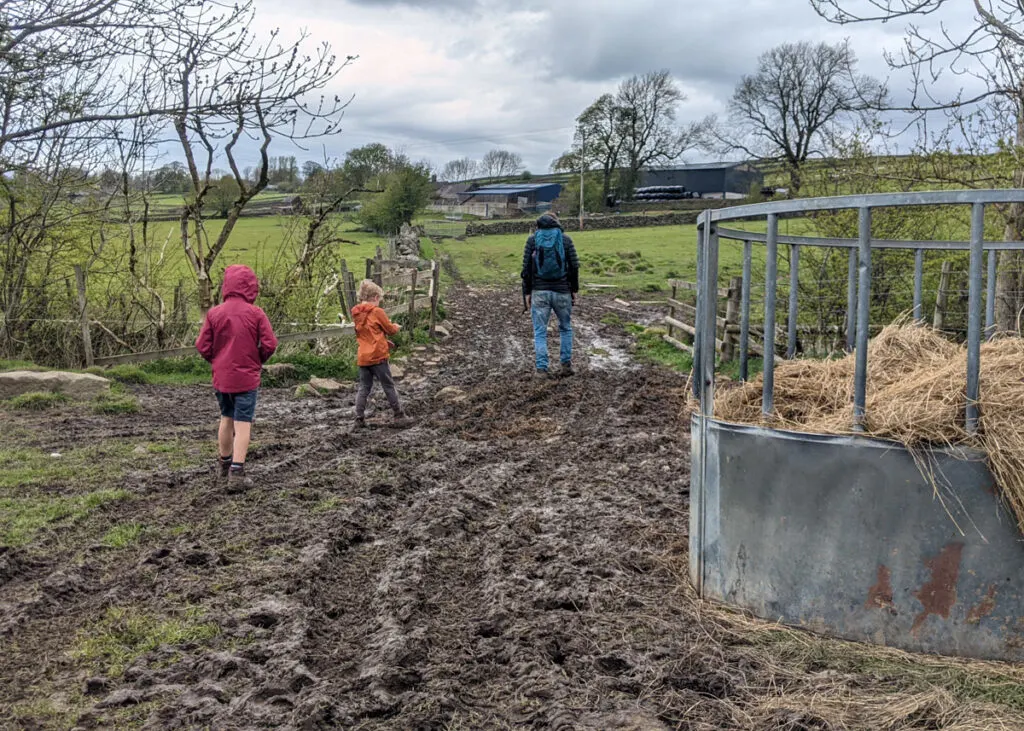 11. At the farmhouse buildings, veer right and walk up to the metal gate (to the left of the farm buildings). This gate is sometimes locked, but shouldn't be as it's a public right of way. We checked with staff at the farm and they are happy for walkers to climb over the gate when locked.
12. Take the footpath on the left almost immediately after the gate. Follow this straight ahead, back towards Longnor, shortly arriving back at Folds End Farm. Retrace your steps back to the car park.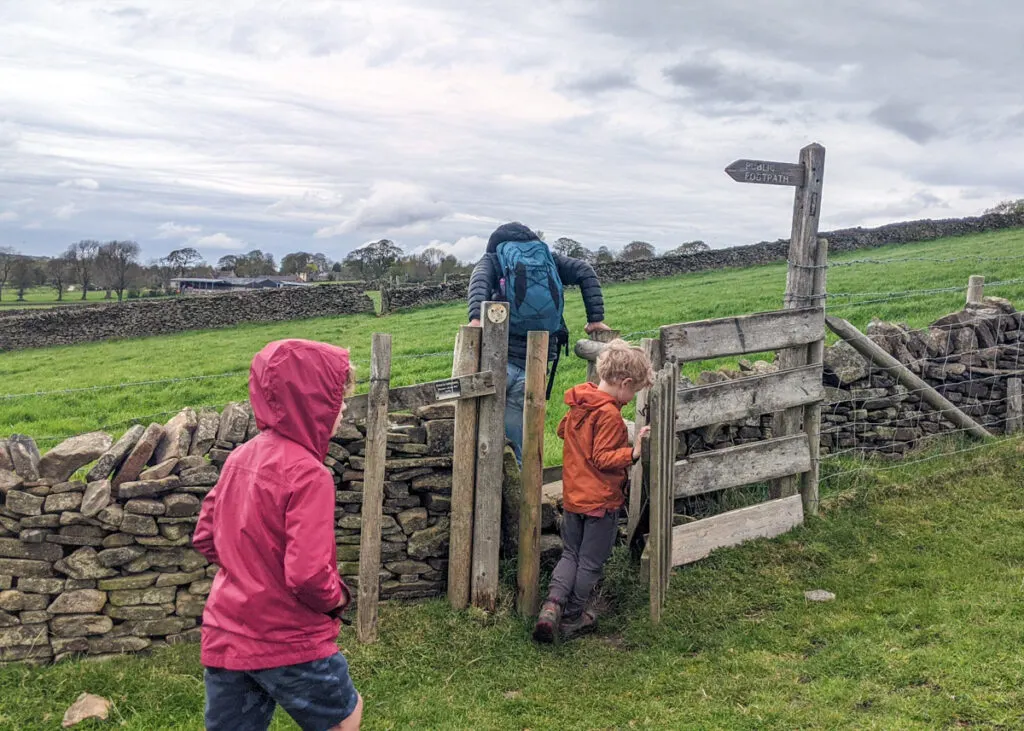 After your Longnor walk
Enjoy a bite to eat at the characterful Ye Olde Cheshire Cheese (there is a small beer garden, and kids and dogs are welcome), or a hot chocolate and one of the cafes around the market square.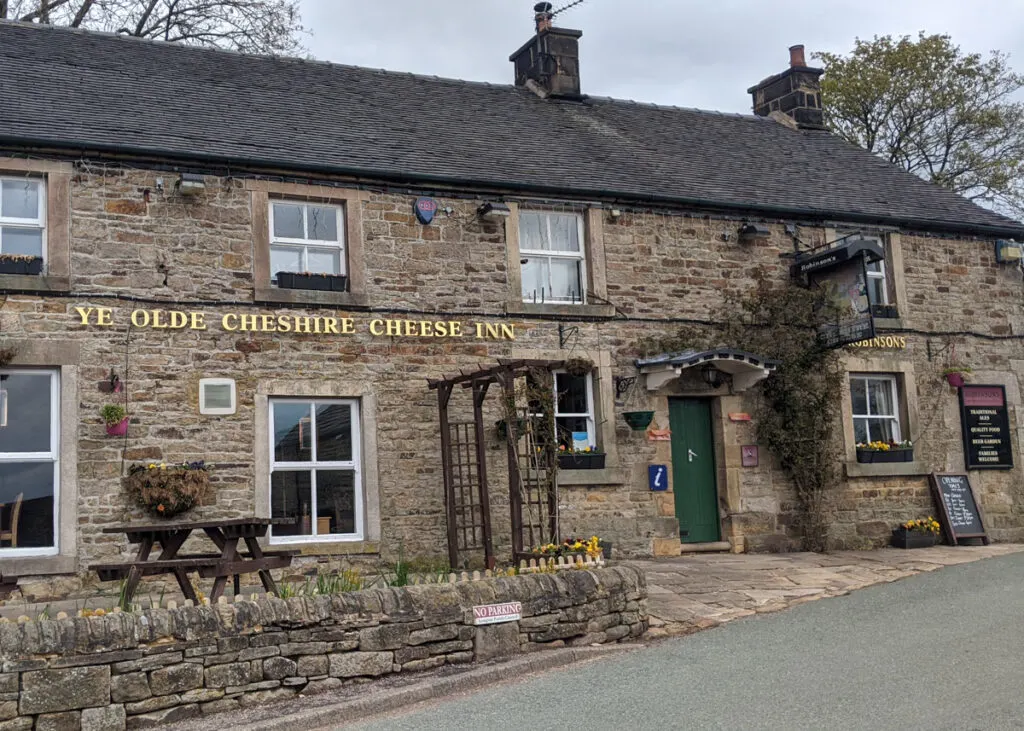 There is also a fantastic playground in Longnor, just behind Longnor Primary School and the Fire Station. This is a lovely spot with gorgeous views. There's a zip wire here, and older kids will love the climbing cube. For a small village, this really is a great little playground, and is featured as one of the best Peak District playgrounds.
---
You may also like to read:
Stepping stone walks in the Peak District
Shutlingsloe walk (4.6km): a great starter hill for little legs
Hartington walk to caves (4.3km)