A visit to the Peak District is all about taking in those expansive views and feeling like your on top of the world! But where are the best Peak District walks for views and how do you get to them? For many of these walks, it's about getting to the Peak District Edges (the gritstone escarpments), such as Baslow Edge, Stanage Edge, and The Roaches to name a few.
Here we've compiled the best walks in the Peak District for views from the family walks featured on this website.
Disclaimer: This post contains affiliate links. Should you click to purchase, it is at no additional cost to you, but I receive a small commission.
If you are planning a visit to the National Park, please arrive early or late in the day to avoid crowds if visiting over sunny weekends or school holidays. Please also take all litter home with you, don't bring BBQs and park your car in designated parking areas. Also, please use these walks as a guide; access and stiles may change.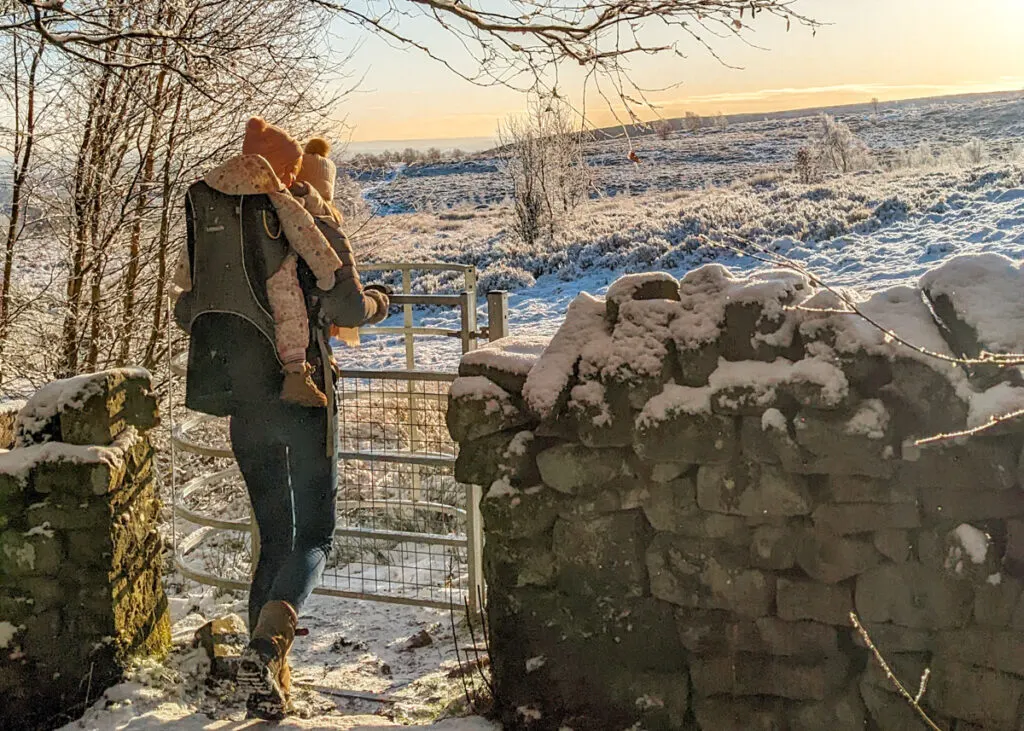 During the winter months, it's important to be extra prepared and safe when out walking and adventuring in the Peak District. The weather can change so quickly, especially on the exposed escarpments, and we don't want you to get caught out.
Read our top tips for safe winter walking with the kids.
FOLLOW US:
PARKING INFORMATION: Please do not rely solely on the postcode for parking directions. In the National Park, a postcode can cover a large area. Postcodes are only provided as guidance. Please either use the Google Maps point provided for every walk, or what3words.
Do check out our top tips for hiking with young kids, as well as our essential items to take on a family hike in the Peak District.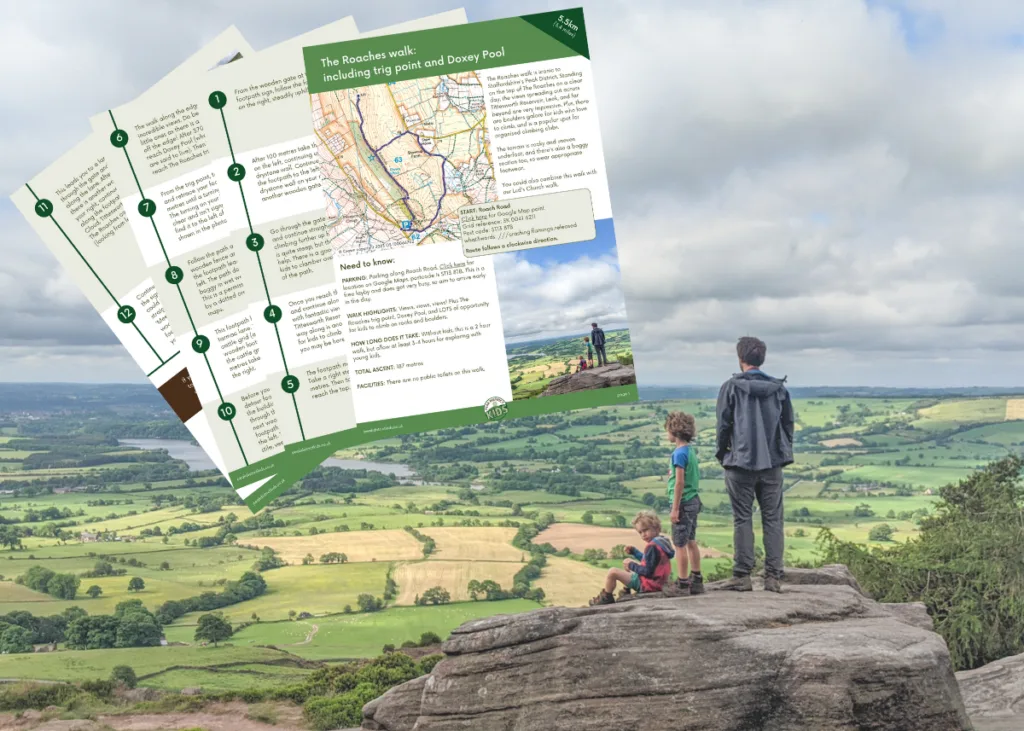 Download and print out our walking guides ready for your family walk. There are over 80 downloadable walk guides available, and these include all the main Peak District family walks, pram-friendly walks, and toddler walks.
Each printable download is just £1.50, whether it's a short 1km stroll or an epic walk up Kinder Scout.
Map of our Peak District best view walks
Use the map below to see where our Peak District view walks are located.
Don't leave home without your Peak District OS Map!
Sale
1. Birchen Edge – 2.6 km
Birchen Edge walk guide
Click here for start point
Printable download
This is a great little Peak District pub walk for views and rocks to climb, and it starts at The Robin Hood pub, where kids eat free Monday to Friday! Plus there's also the Birchen Edge trig point to bag en route.
Park in the pay and display car park next to the Robin Hood Inn (not in their actual car park, unless you're stopping there for lunch), and walk up the road just for 20 metres, where you will see a footpath sign and gate that leads you to Birchen Edge.
We take the lower footpath first and after about 1km, before you see Nelson's Monument on the hill top, you can climb up the rocks to the top. Or, there is a path if you don't fancy the climb; just follow straight ahead. Once at the top, the views are fantastic and kids will love climbing up and over the big boulders.
Follow the footpath along the top of Birchen Edge to get back to the car park. There's a steep descent right at the end, which can be quite slippy when wet. Take care.
2. Thorpe Cloud – 2.5km
Thorpe Cloud walk guide
Click here for start point
Printable download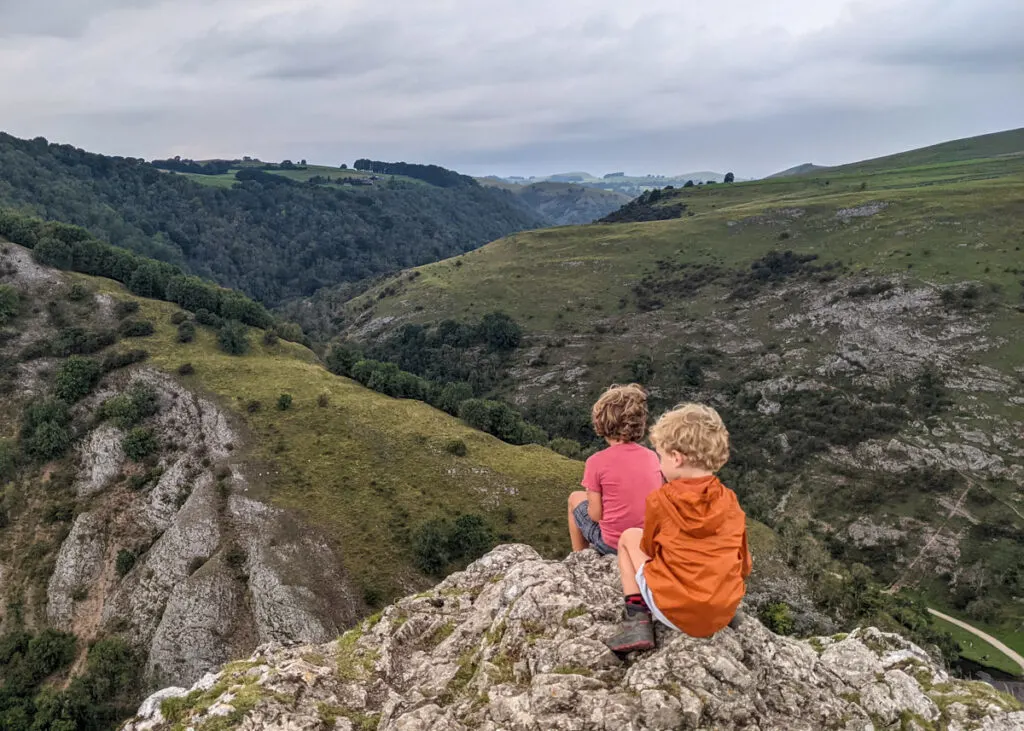 Thorpe Cloud, in the far south of the Peak District National Park, is a fantastic starter hill for little legs. It's a short, steep hike up there, and the views from the top are incredible. Plus you get to traverse Dovedale Stepping Stones along the way on this Thorpe Cloud walk!
There's a bit of a scramble getting up the rocky outcrop of Thorpe Cloud; with the steep drops at the summit you will need to hold the hands of little ones, and you may want to avoid this walk on exceptionally windy days. The footpath can also get rather slippy underfoot in wet weather. But adventurous kids will absolutely love this walk! Make sure everyone is wearing hiking boots, or at least trainers with very good grip.
Please note that the footpath up to Thorpe Cloud often changes to alleviate footpath erosion. Only take the marked trails up, and don't veer off to form your own path. Also, Dovedale car park (where this Thorpe Cloud walk starts) gets exceptionally busy over school holidays, bank holiday weekends, and sunny weekends; aim to arrive at 9am or after 4pm. Otherwise you can access Thorpe Cloud via this Dovedale walk from Thorpe.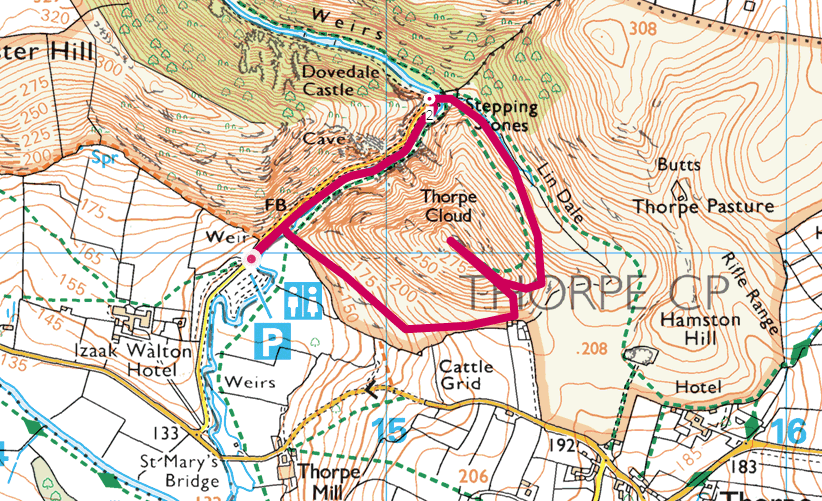 3. Baslow Edge – 2.7km
Baslow Edge walk guide
Click here for start point
Printable download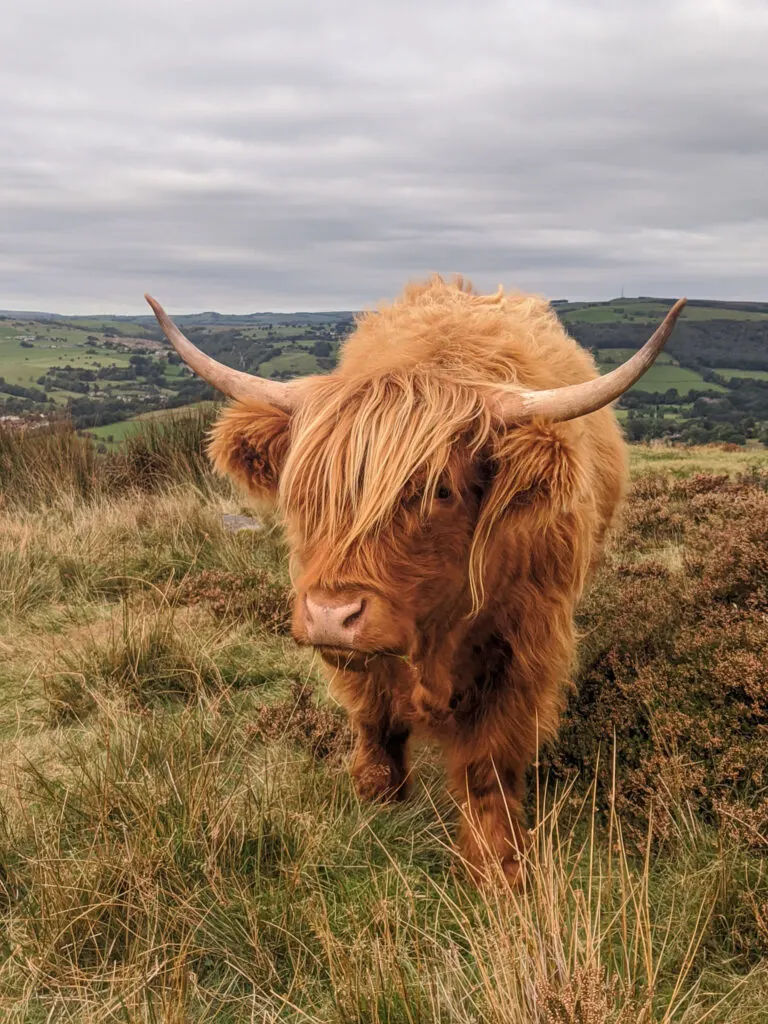 Baslow Edge is a great place to see Highland Coos and the views are fantastic; standing on Baslow Edge on a clear day you can see Chatsworth House to the left and then Kinder Plateau in the far distance to the right.
Our short Baslow Edge walk offers an easy loop from Curbar Gap car park, perfect for little legs. There are lots of fun boulders to climb over, under and through, and our boys always love seeing the Highland cattle here (you're almost guaranteed to spot them!) And did we mention the views?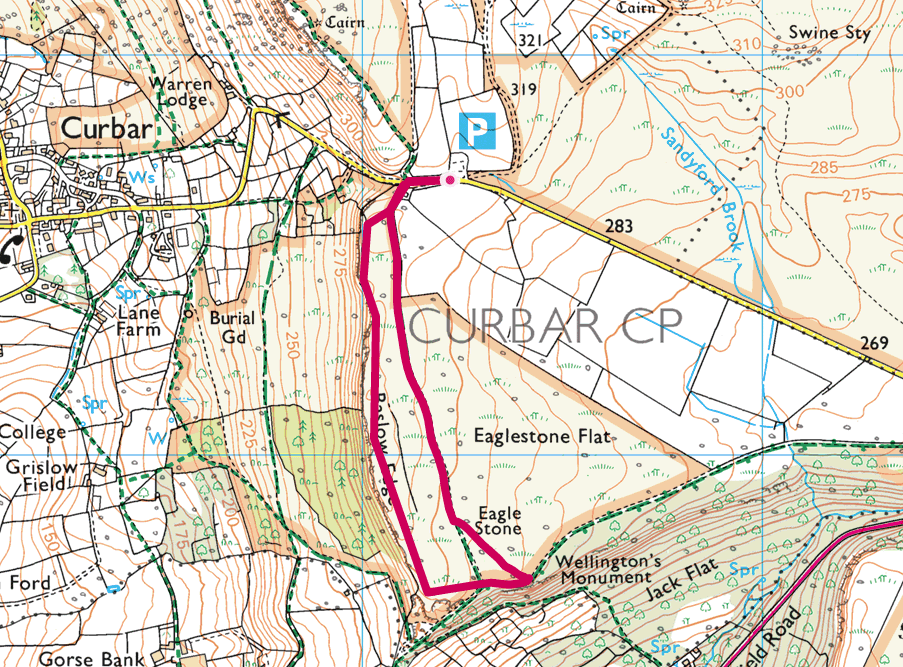 4. Monsal Head – 2.4km
Monsal Head circular walk guide
Click here for start point
Printable download
Monsal Head is one of the most iconic beauty spots of the Peak District. This is where the impressive Headstone Viaduct, which forms part of the Monsal Trail, straddles the verdant Monsal Dale and the River Wye meanders aimlessly through.
Our short Monsal Head circular walk takes you from the main view point by the Monsal Head Hotel, down into the dale to the weir, then across the other side of the River Wye to emerge under the viaduct, with a climb back up to the view point. As this walk loops to the weir along the River Wye, we sometimes call this the 'Monsal Head waterfall walk'. Footwear with good grip is essential as this walk can get very muddy in wet weather, and arrive early to secure parking during weekends and school holidays as this is a Peak District hot spot.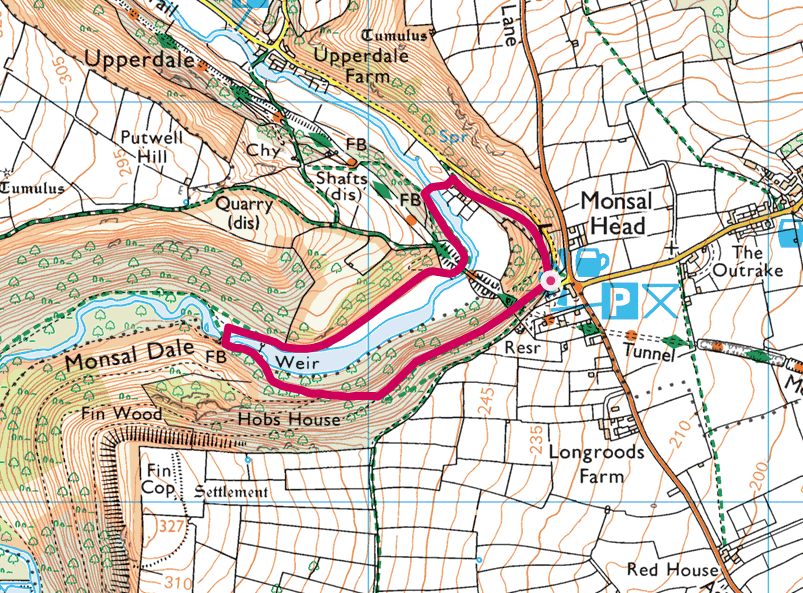 5. Mam Tor – 4.1km (or 1.1km if you're just going to the summit and back)
Mam Tor walk guide
Click here for start point
Printable download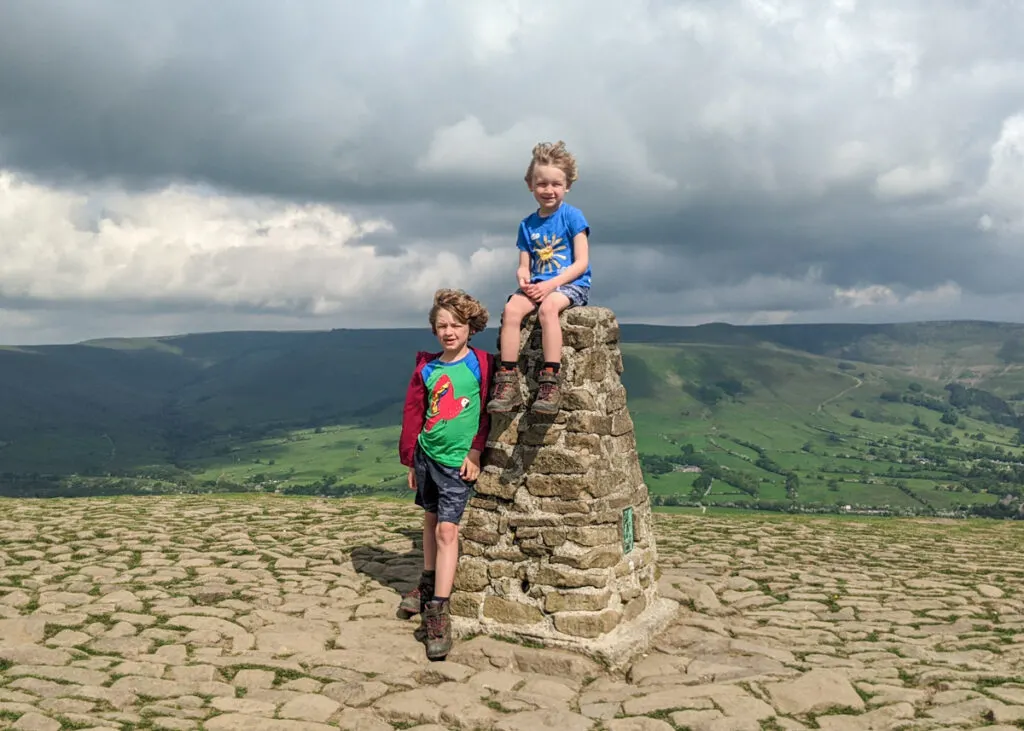 Mam Tor, meaning 'Mother Hill', is a 517 metre high hill overlooking Castleton and is one of the most popular family walks in the Peak District. The views from the top are spectacular, although arrive early during school holidays and weekends to avoid the crowds.
You don't actually have to endure a long hike to get to Mam Tor trig point itself. If you park at this car park it is just a short (but steep) 550 metre walk uphill. Click here to read all about the quick and easy route to Mam Tor trig point.
Our 4.1km Mam Tor walk takes in the classic loop along Great Ridge and Broken Road. Starting at the Mam Tor National Trust car park it's a short climb to the top of Mam Tor (517m). From here, the walk leads you down to Hollins Cross, and then down through the woodlands to meet Broken Road (which is a very broken road that was abandoned due to landslides in the 1970s). Following Broken Road the walk leads you up past the entrance to Blue Johns Cavern, before returning back to the car park.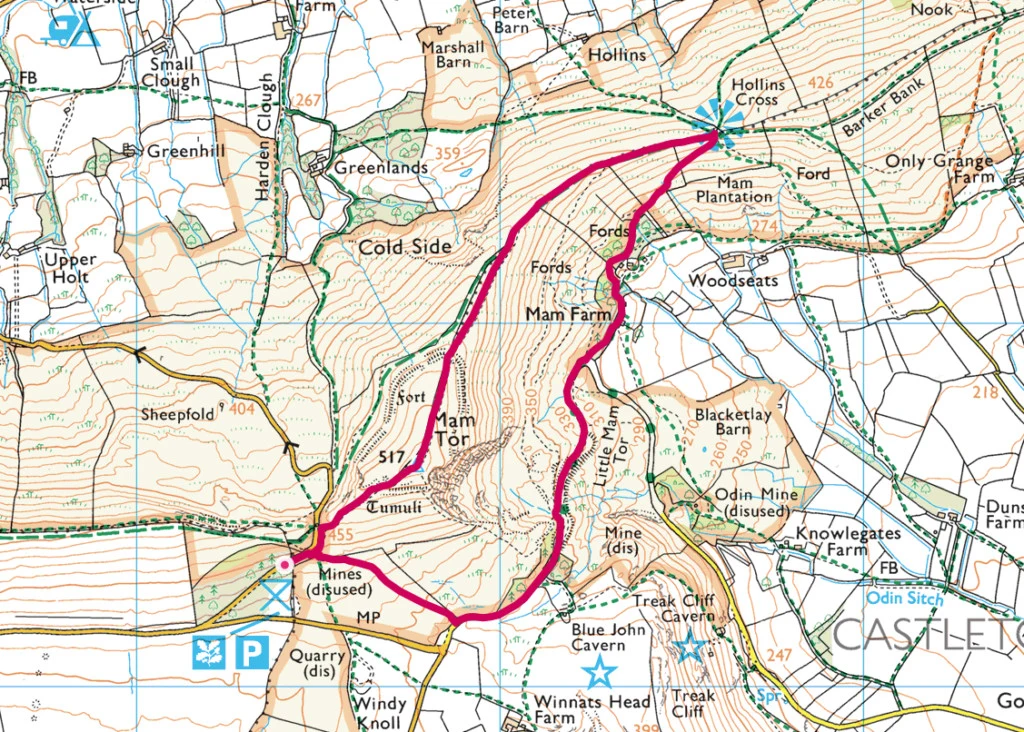 6. Solomon's Temple walk, Buxton – 2.4km
Solomon's Temple walk guide
Click here for start point
Printable download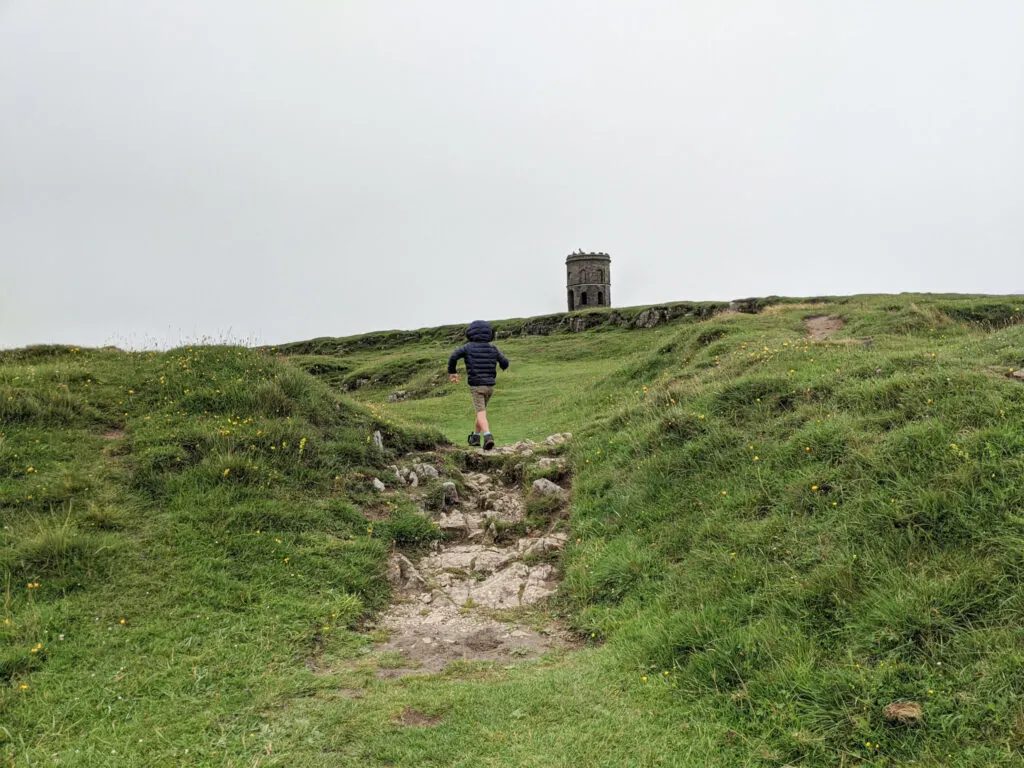 Perched high over the Victorian town of Buxton stands Solomon's Tower proudly on the summit of Grin Low. This is a viewpoint tower built in 1896 on the site of a tumulus, which is a Neolithic burial mound. The views from the top are very impressive, and on a very clear day you can even see across to Mam Tor.
It's an easy walk through woodland from the Poole's Cavern car park to the summit. The footpath is waymarked, following the yellow route up and the green one back. There is a slight incline through the woods, but kids will be distracted by woodland carvings and information boards.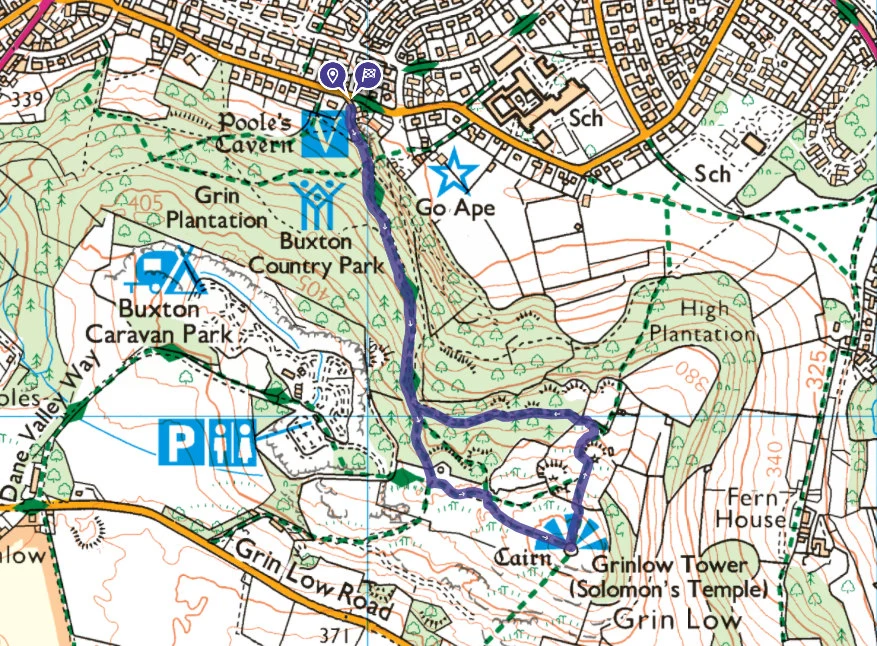 7. Higger Tor – 4.5km
Higger Tor walk guide
Click here for start point
Printable download
This Higger Tor walk is all about the superb expansive views, so save this one for a clear day. When the clouds roll in, visibility makes navigation tricky, especially through the boggy section half way through. It's also very exposed, so wear layers and bring appropriate clothing. And if you have kids who love climbing, there are boulders galore on this walk, so we suggest at least three hours for this walk to allow for Spiderman training.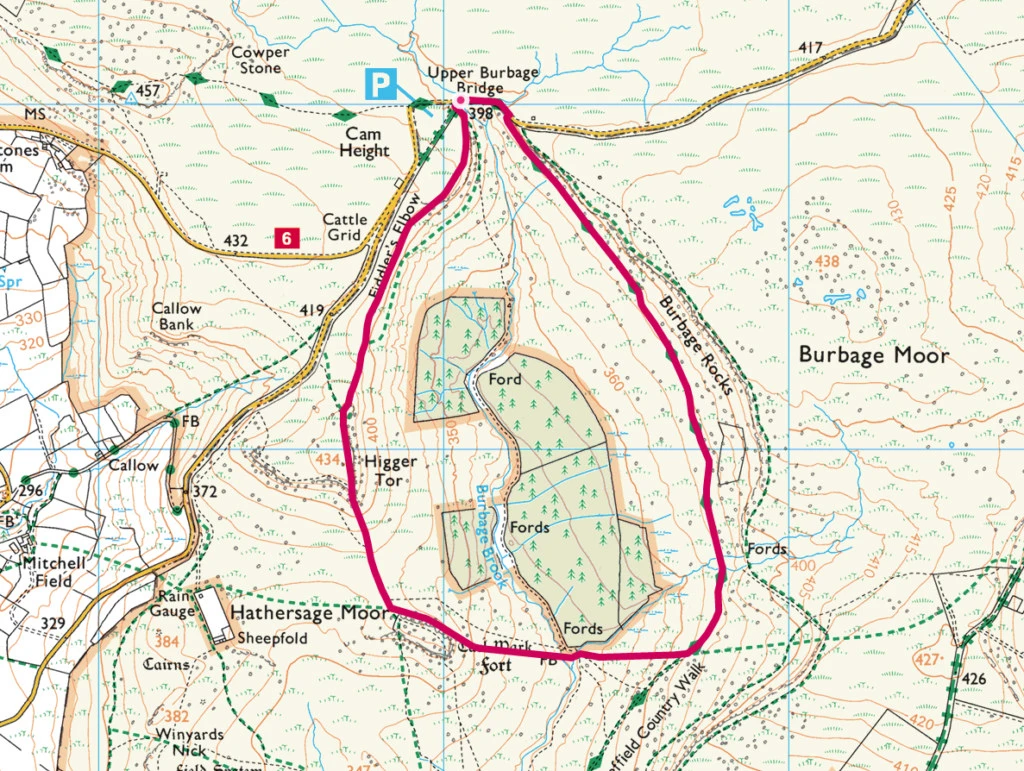 8. Shutlingsloe – 4.8km
Shutlingsloe walk guide
Click here for start point
Printable download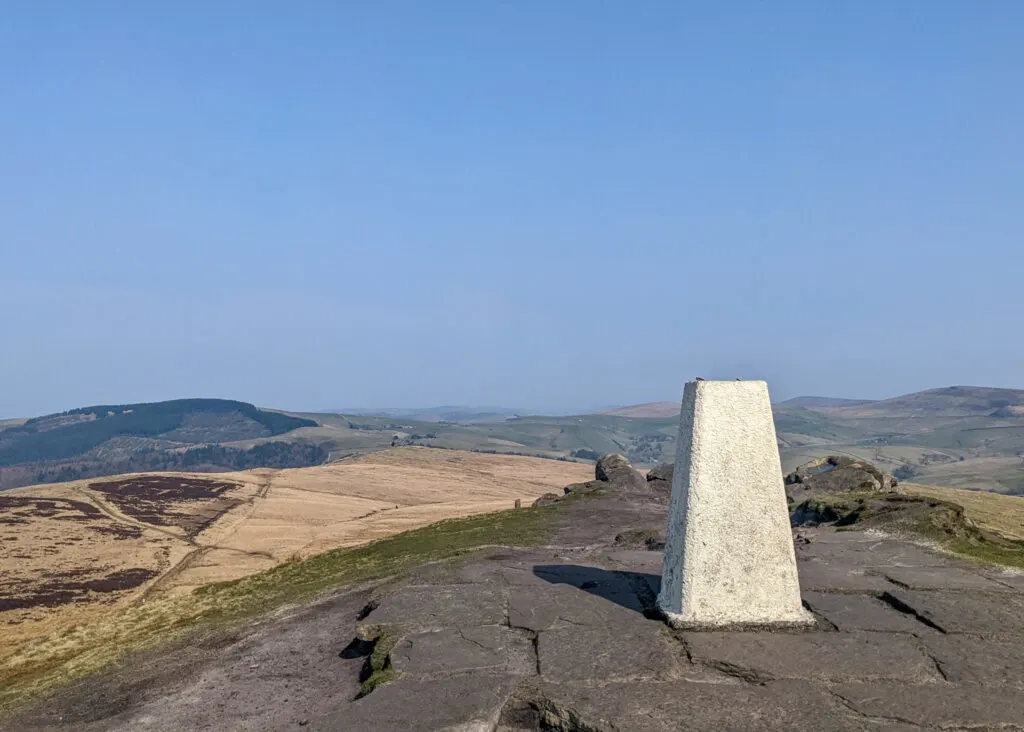 Nicknamed the 'Matterhorn of Cheshire' due to its similar shape to the Matterhorn in Switzerland, Shutlingsloe (506 metres) is a great starter hill for little legs. This linear Shutlingsloe walk, right on the edge of the Peak District border in Cheshire, with a steady ascent of 245 metres, is a rewarding Peak District family walk that takes in forests, a trig point, and incredible 360 degree views.
This is a walk that enables little ones to to feel like they have climbed a mountain to stand on top of the world! From the top of Shutlingsloe, you will see The Roaches, Shining Tor (the highest hill in Cheshire), Macclesfield, and even across to Wales on a very clear day.
But this Shutlingsloe walk isn't just about the views. The start of this walk takes you through Macclesfield Forest, which is home to the native broad-leaved tree, but mostly contains pine trees. Lately, work has been ongoing to fell sections of the forest to replant the broad-leaved tree, to retain its natural heritage.
Also, the largest heronry (breeding ground for herons) in the Peak District can be found in Macclesfield Forest and it is also home to a number of other animals. If you are in the forest early in the morning, you may be able to spot badgers, weasels or even red deer.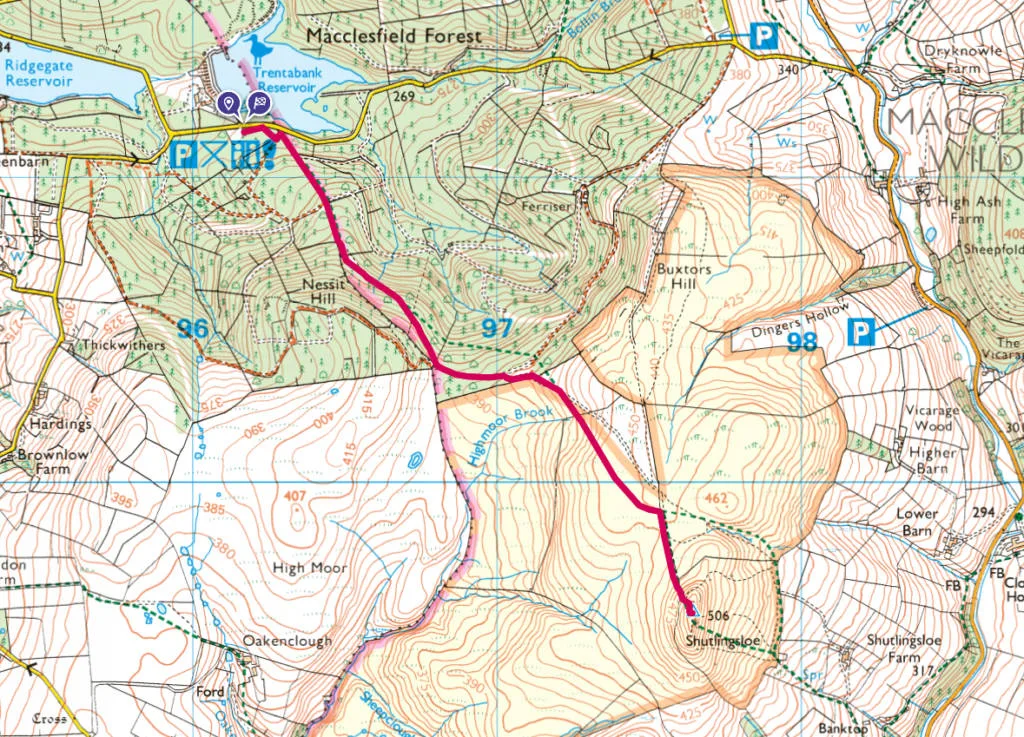 9. The Roaches – 5.5km
The Roaches walk guide
Click here for start point
Printable download
The Roaches walk is iconic to Staffordshire's Peak District. Standing on the top of The Roaches on a clear day, the views spreading out across Tittesworth Reservoir, Leek, and far beyond are very impressive. Plus, there are boulders galore for kids who love to climb, and is a popular spot for organised climbing clubs.
The footpath along the top of The Roaches to the trig point can get busy, but the second half of this short circular Roaches walk is much quieter. The terrain is rock and uneven underfoot, and there's also a boggy section too, so wear appropriate footwear. Also, as this is a Peak District tourist hot spot (and understandably so), aim to arrive by 9am to secure a parking space (and only park in designated parking areas).
You could also combine this walk with our Lud's Church walk. Combining the two walks into a Roaches and Lud's Church walk makes a total distance of 12.6km.
10. Win Hill – 6.2km
Win Hill walk guide
Click here for start point
Printable download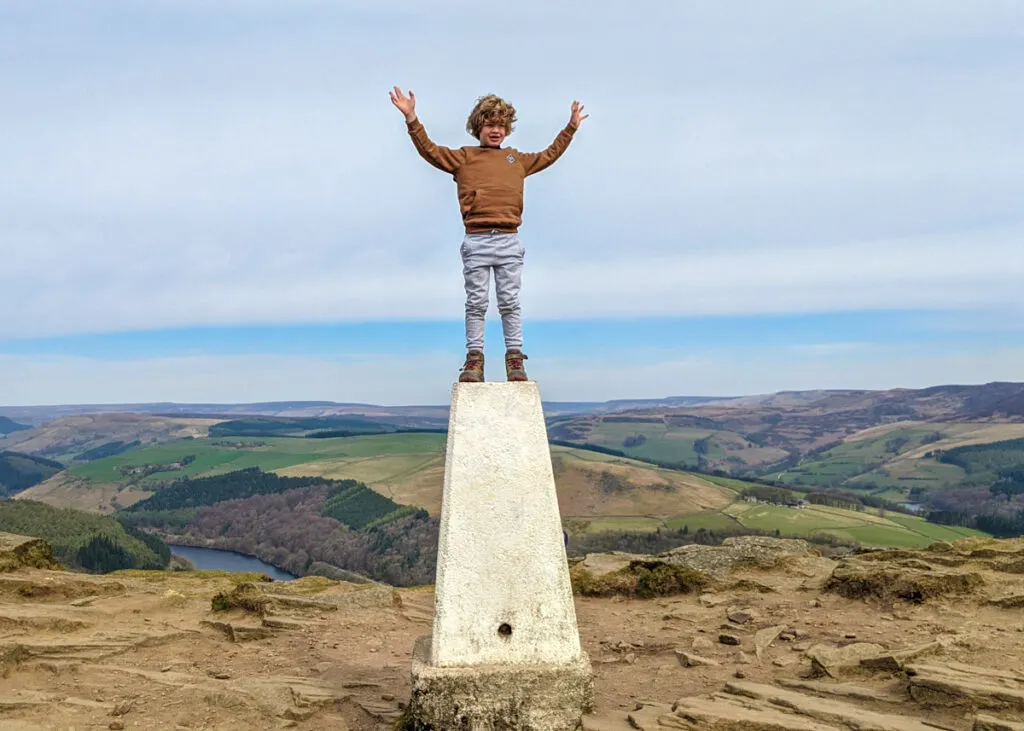 The Peak District views from Win Hill (462m) over Ladybower Reservoir and the Great Ridge in the Dark Peak are superb on a clear day. Whilst the direct route up to the summit is rather steep, this circular Win Hill walk allows for a steadier incline through the pine forest, more suitable young families. There is, however, a steep decline from the summit; whilst kids will probably bound down, parents may want to use walking poles, and it may be tricky for those with little ones in carriers.
This Win Hill walk is super fun, with woodland explorations, incredible views, boulders to scramble up to the summit, and a family snap at the Win Hill Trig point is a must! Starting from Heatherdene car park, this walk crosses over Ladybower Dam, meaning that you will also pass the Ladybower plugholes (technically known as shaft spillways), which drain water when the reservoir becomes full after heavy rains.
Make sure you have change for parking at Heatherdene car park (the machine doesn't take cards). And on weekends and school holidays, arrive before 10am to get a parking space, as this car park does get exceptionally busy.
11. Shining Tor walk – 6.3km
Shining Tor walk guide
Click here for start point
Printable download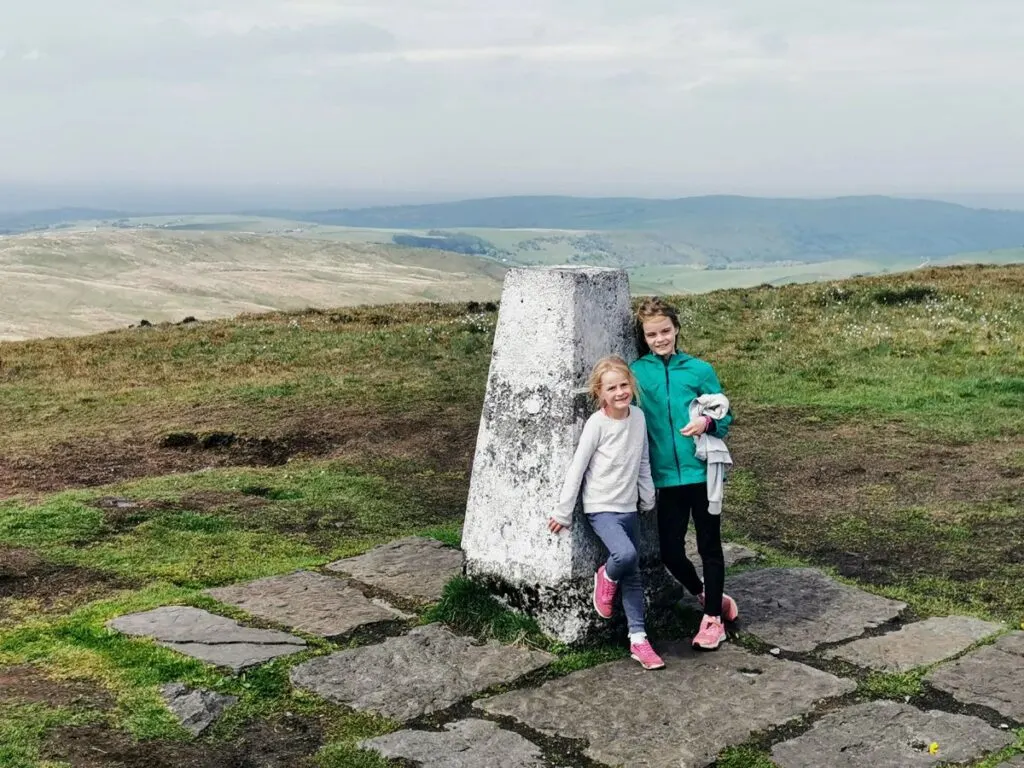 Shining Tor is the highest hill in the Cheshire Peak District at 559 metres, yet this 6.3km linear walk allows you to feel on top of the world without too much of an uphill challenge. Indeed, this is one of the best view walks in the Peak District.
You can extend this walk and increase the ascent by starting lower down at Errwood Reservoir. However, this walk starts from the beautifully located Pym Chair car park at 461 metres, meaning you can reach the summit of Shining Tor fairly easily.
Completing the full Shining Tor walk rewards you with a trig point at summit along with fantastic views from the rocky outcrops along the ridge. You'll be able to see the distinctive Shutlingsloe peak in the distance and on a clear day, you may even be able to make out the Wrekin in Shropshire, the mountains of Snowdonia in Wales and Jodrell Bank.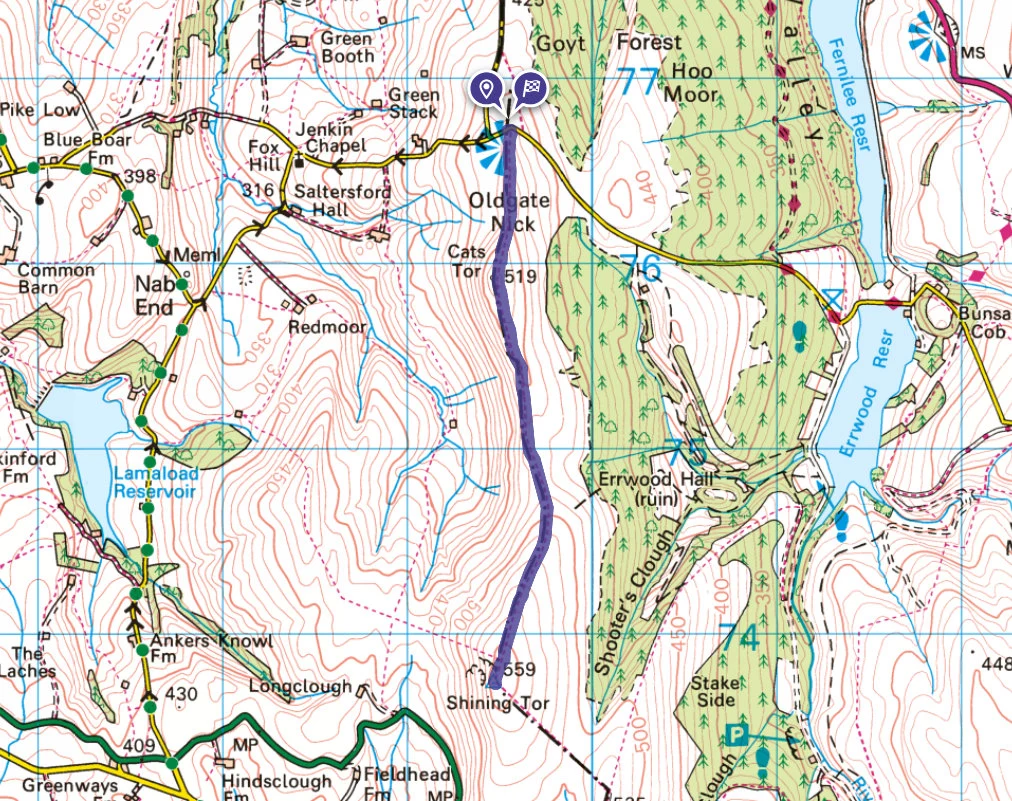 12. Derwent Dam up to Pike Low – 6.8km
Derwent Dam walk guide
Click here for start point
Printable download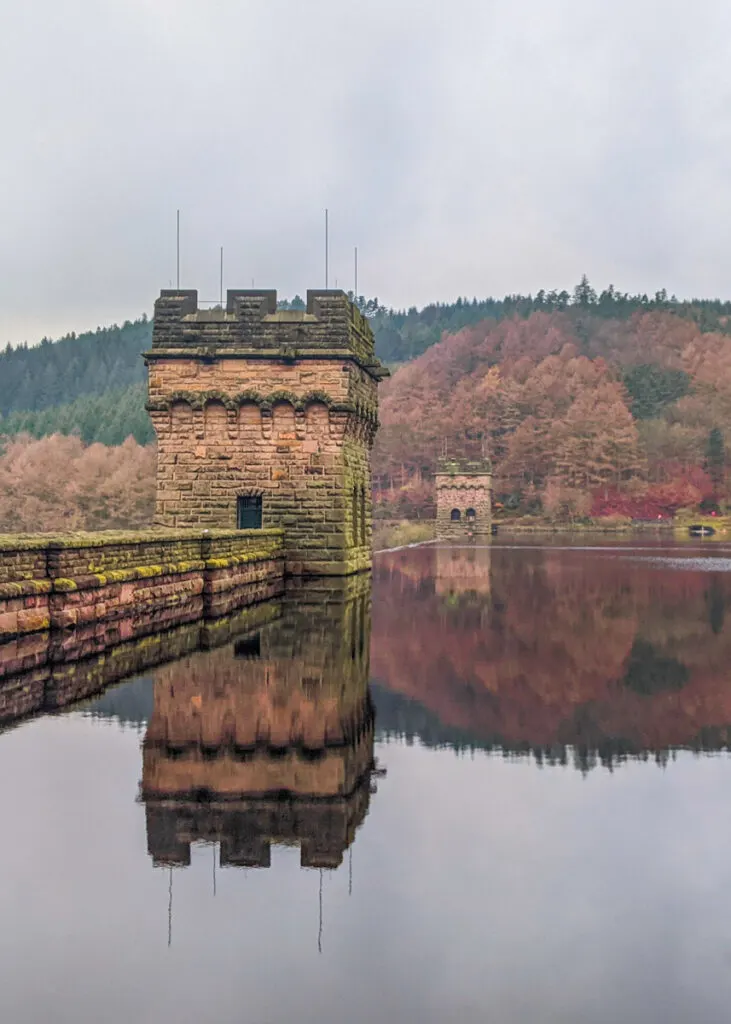 This is one of our more challenging Peak District family walks as it is steep, muddy and rocky in places. But the views from Pike Low down on to the reservoirs on this Derwent Dam walk are simply stunning and make it all the worthwhile.
Starting from Fairholmes car park, this walk takes you right up to Derwent Dam, then along the shores of Derwent Reservoir, climbs steeply up to Pike Low and across the open moors of the Dark Peak, to then descend back down to Ladybower Reservoir with an easy walk back to the start.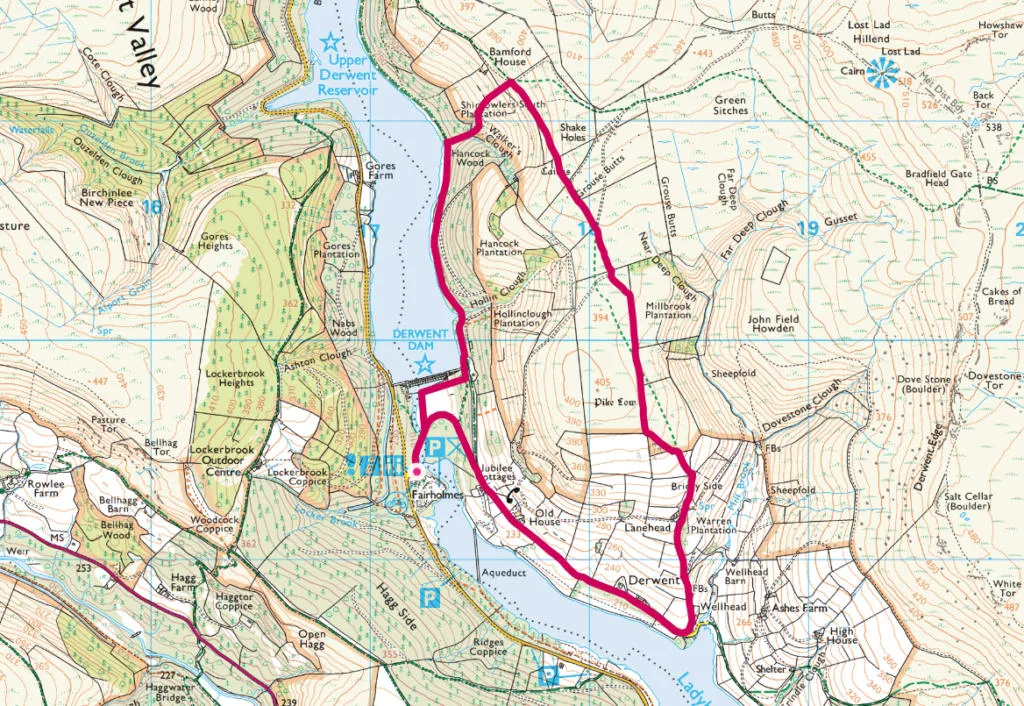 13. Stanage Edge – 7.7km
Stanage Edge walk guide
Click here for start point
Printable download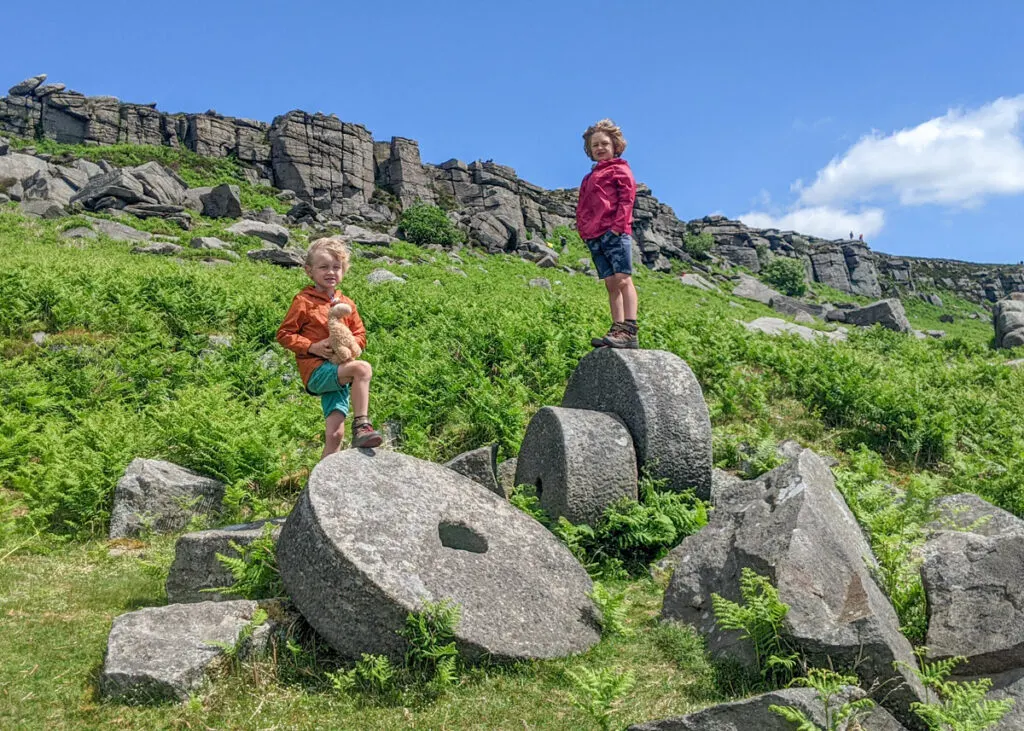 The Stanage Edge walk is all about taking in the superb views from arguably the most impressive gritstone escarpment in the Peak District. On a clear day, you can see across to Kinder Plateau and Mam Tor, with the angular summit of Win Hill protruding from the foreground, and further along this walk, you will get a glimpse of Ladybower Reservoir. Hathersage can also be easily spotted as Stanage Edge stands over this picturesque village. And for kids, there are LOTS of opportunities to play on the boulders (just keep an eye on them and make sure they don't go too close to the edge!)
This Peak District family walk starts from the Hollins Bank car park (at the base of Stanage Edge), which is just a short, steady climb to the top. You then follow the footpath along the top, passing High Nebb trig point, right to the end of the escarpment (aptly named Stanage End), before descending to the footpath below and following it all the way back to the car park.
Even on a warm summers day, it gets very blustery up on Stanage Edge, so take an extra layer with you. The footpath is also very uneven underfoot, so take care; kids will love playing 'the floor is lava'.
Standage Edge features in the latest BBC adaptation of Pride & Prejudice (where Keira Knightly stood windswept and pensive over the landscape). And whilst we can't guarantee you'll find Mr Darcy on this walk, you will see lots of discarded millstones on the latter half of this walk, many still in tact from their industrial heyday.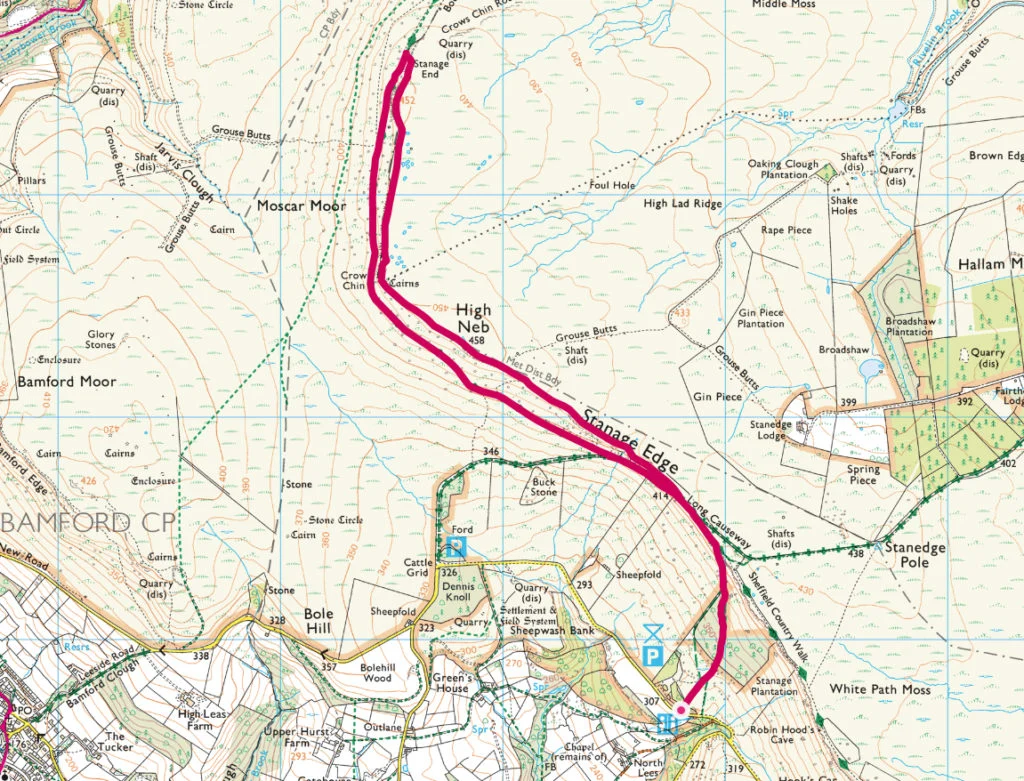 14. Bamford Edge – 7.9km
Bamford Edge walk guide
Click here for start point
Printable download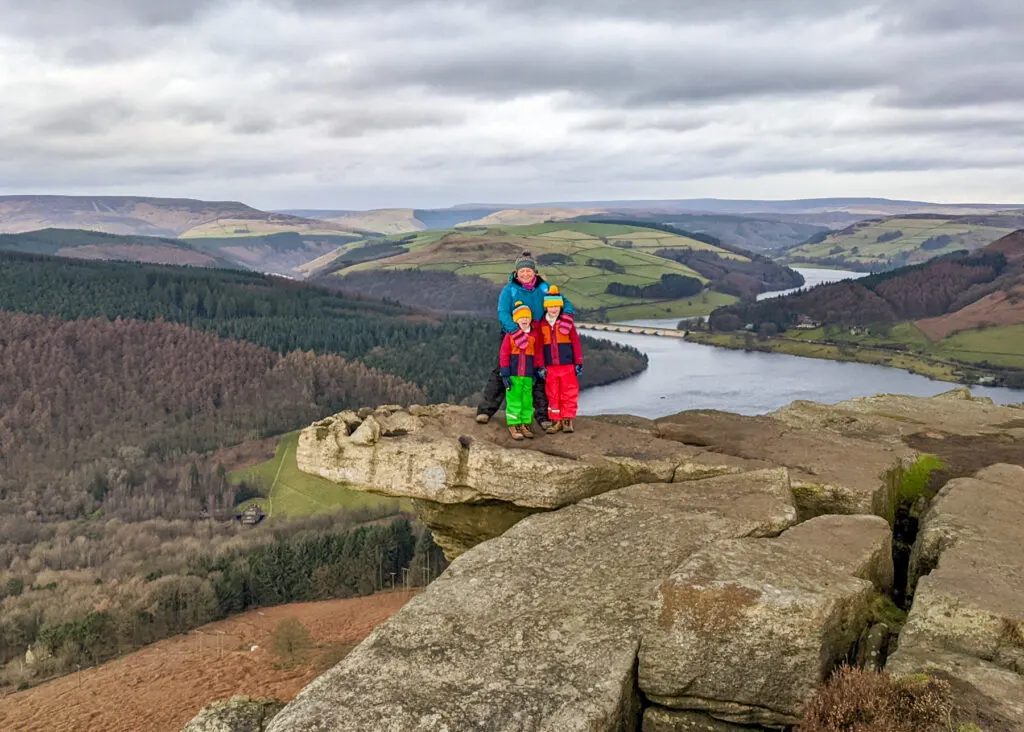 Bamford Edge is one of the most iconic spots in the Peak District. You may have see a fair few posts on Instagram of someone stood on that rock overlooking Ladybower Reservoir, more often than not at sunset?
Many people head up to this spot, grab a photo, and then head back down again (check out our guide: How to get to Bamford Edge). But here we offer a lovely Bamford Edge circular walk, which includes epic views, Ladybower Reservoir (and plug holes), wood carvings for kids to find, Bamford stepping stones, and The Anglers Rest (which is the village pub, café, and post office).
There's a steep climb at the end of this walk, but doing this walk anticlockwise will be easier for little legs. We've also provided an alternative gentler route back from the pub at the end, which adds 1.1km to the walk.
15. Curbar Edge, including White Edge and Froggatt Edge – 9.4km
Curbar Edge walk guide
Click here for start point
Printable download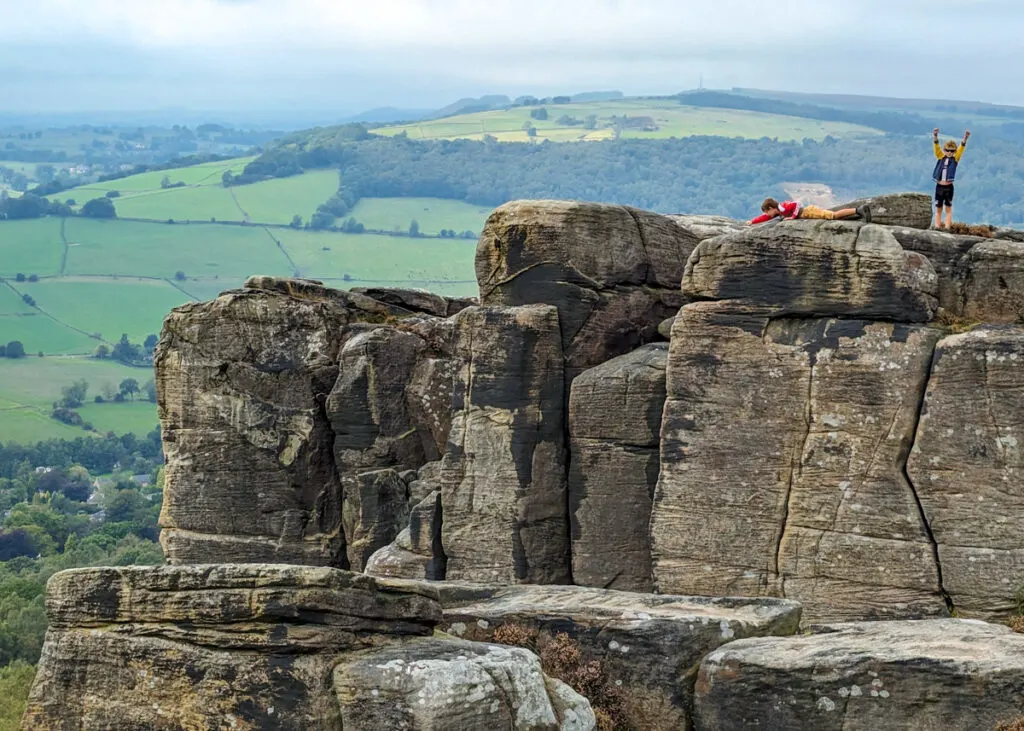 The circular Curbar Edge walk, which also takes in Froggatt Edge and White Edge, is a classic Peak District walk offering epic views, a trig point to bag, and a half-way pub stop. It's one of our longer Peak District family walks, but kids will love the clambering on the boulders, which we save for the end of the walk (just watch out for those drops).
Please note that you are very exposed on this walk, and the weather can be wilder along these edges than down in the valley, so bring an extra layer of clothing with you.
But this walk really is all about the stunning Peak District views along the edges.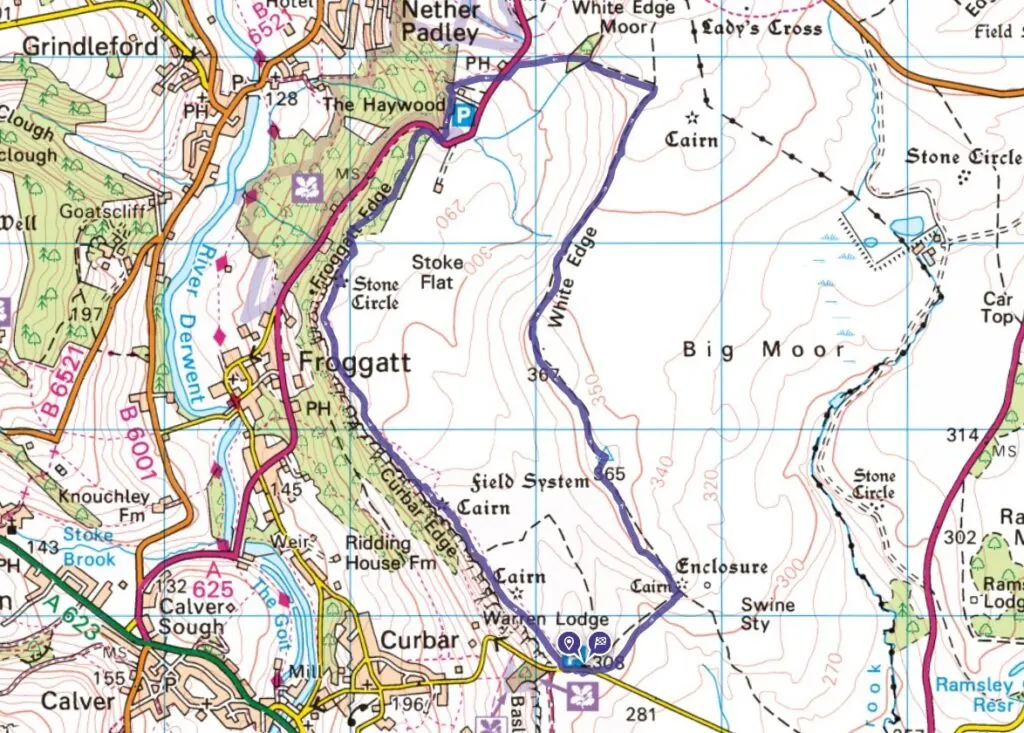 16. Kinder Scout from Edale – 12.7km
Kinder Scout walk from Edale guide
Click here for start point
Printable download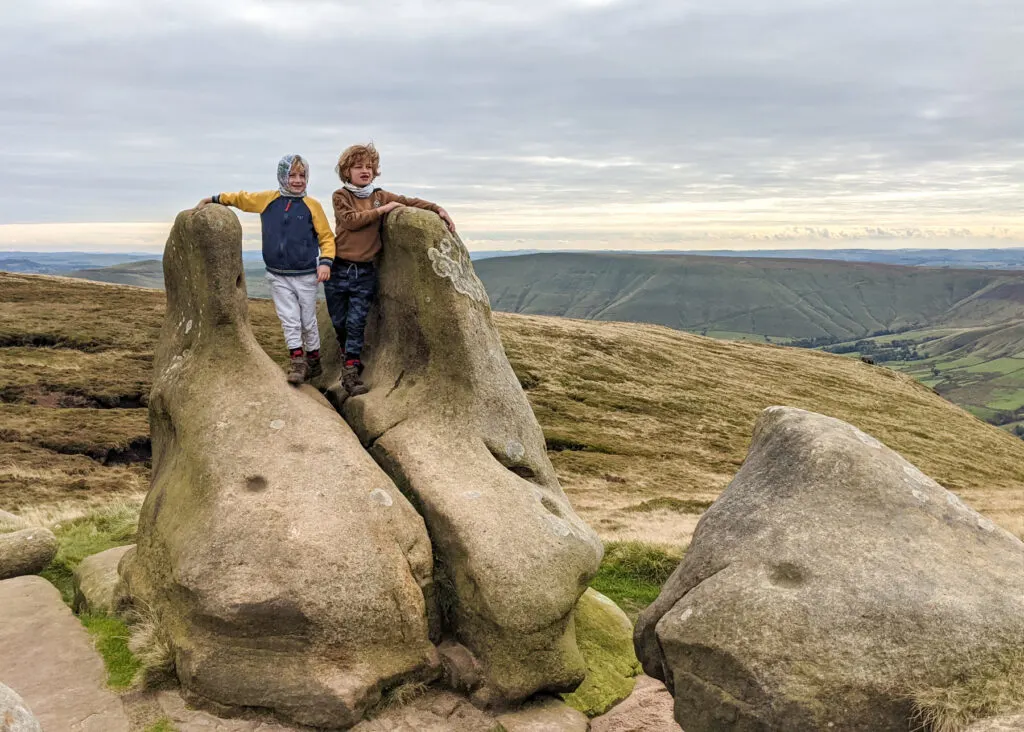 Kinder Scout is arguably the most impressive place to walk in the Peak District and many people have this on their bucket list. The views from the plateau on a clear day are incredible and the landscape feels wild and untouched.
This Kinder Scout from Edale walk takes a circular route starting with the climb up Grindsbrook Clough, then along the Kinder Plateau passing Pym Chair and Noe Stool. The route then meets up with the Pennine Way and follows this all the way back down into Edale via Jacob's Ladder to The Old Nags Head (where we wholeheartedly recommend popping in for a burger and pint / Fruit Shoot to reward your efforts).
Please only attempt this Kinder Scout walk with young kids if they are used to hiking. This is a challenging walk with some scrambling required in places, and once you're up on the Kinder Plateau, it's very exposed.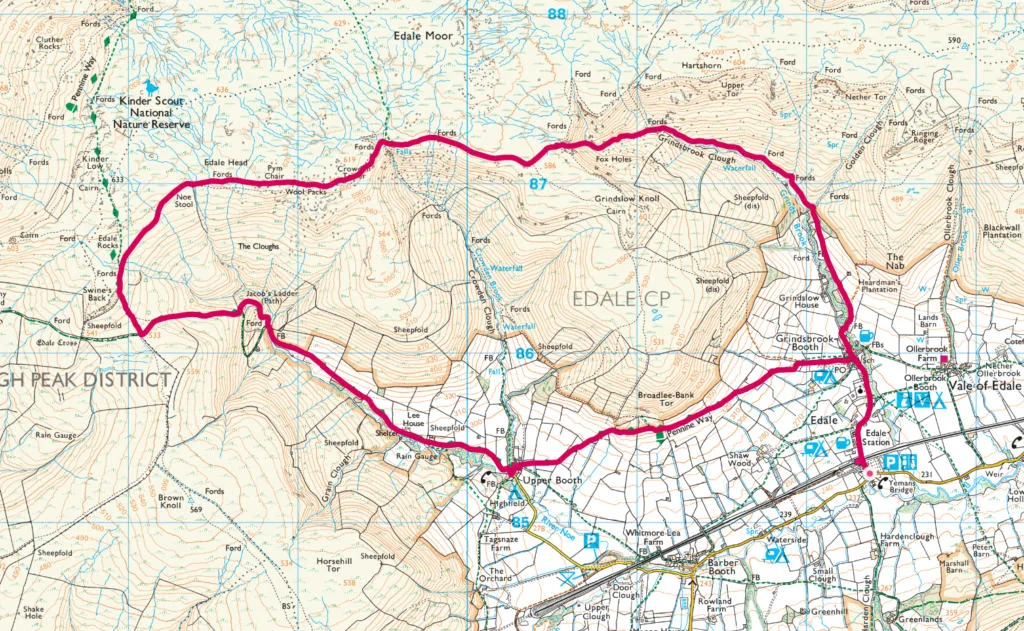 17. Kinder Scout from Hayfield – 14km
Kinder Scout from Hayfield walk guide
Click here for start point
Printable download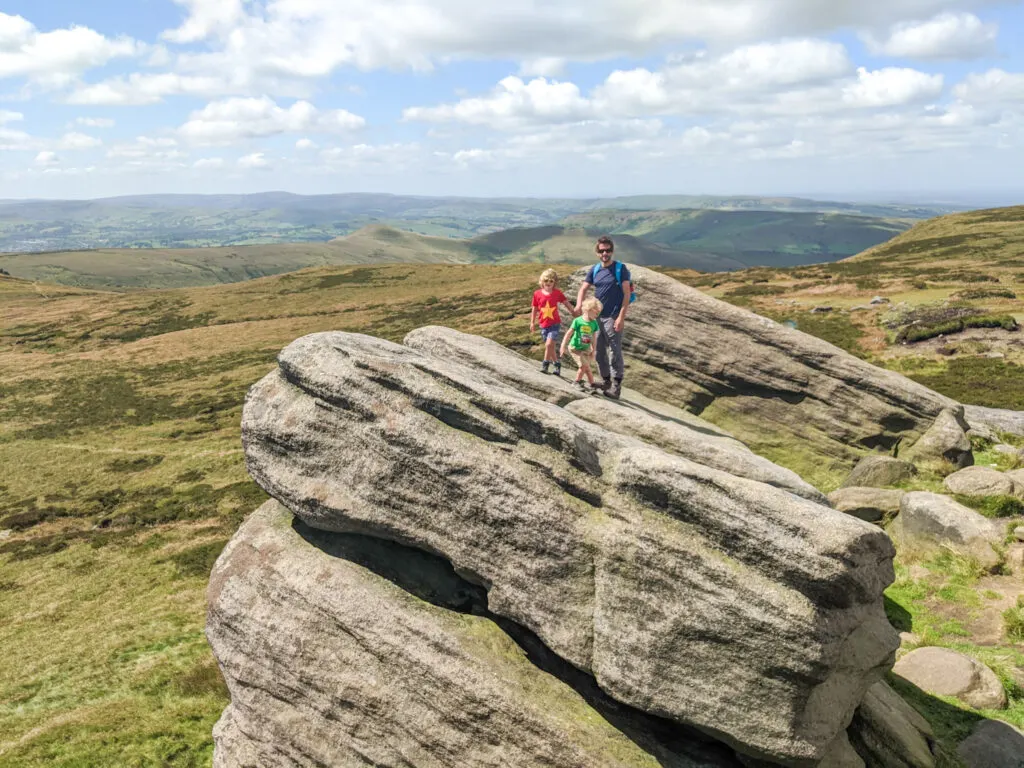 Alternatively, you could take on Kinder Scout from Hayfield instead. Part of this route is where 500 walkers trespassed en masse and walked from Hayfield to Kinder Scout to secure access right to open country for all to enjoy forever in 1932. It is an iconic hike, which is remote and technical in places, and on a very clear day you can see across to Manchester.
This Kinder Scout from Hayfield walk takes a gradual ascent up to Edale Rocks, then across the Kinder Plateau to Kinder Low trig point and Kinder Downfall (the waterfall and the halfway point). A little further on, you descend down William Clough towards Kinder Reservoir
---
You may also like to read:
Best pub walks in the Peak District
Best river walks in the Peak District
Peak District stepping stone walks