Updated by Jenny, Editor of Peak District Kids. Originally written by Zoe from An Ordinary Family of Five.
Nicknamed the 'Matterhorn of Cheshire' due to its similar shape to the Matterhorn in Switzerland, Shutlingsloe (506 metres) is a great starter hill for little legs and one of the best Peak District trig point walks.
This linear Shutlingsloe walk, right on the edge of the Peak District border in Cheshire, with a steady ascent of 245 metres, is a rewarding Peak District family walk that takes in forests, a trig point, and incredible 360 degree views.
This is a walk that enables little ones to to feel like they have climbed a mountain to stand on top of the world! From the top of Shutlingsloe, you will see The Roaches, Shining Tor (the highest hill in Cheshire), Macclesfield, and even across to Wales on a very clear day.
But this Shutlingsloe walk isn't just about the views. The start of this walk takes you through Macclesfield Forest, which is home to the native broad-leaved tree, but mostly contains pine trees. Lately, work has been ongoing to fell sections of the forest to replant the broad-leaved tree, to retain its natural heritage.
Also, the largest heronry (breeding ground for herons) in the Peak District can be found in Macclesfield Forest and it is also home to a number of other animals. If you are in the forest early in the morning, you may be able to spot badgers, weasels or even red deer.
Disclaimer: This post contains affiliate links. Should you click to purchase, it is at no additional cost to you, but I receive a small commission.
If you are planning a visit to the National Park, please arrive early or late in the day to avoid crowds if visiting over sunny weekends or school holidays. Please also take all litter home with you, don't bring BBQs and park your car in designated parking areas. Also, please use these walks as a guide; access and stiles may change.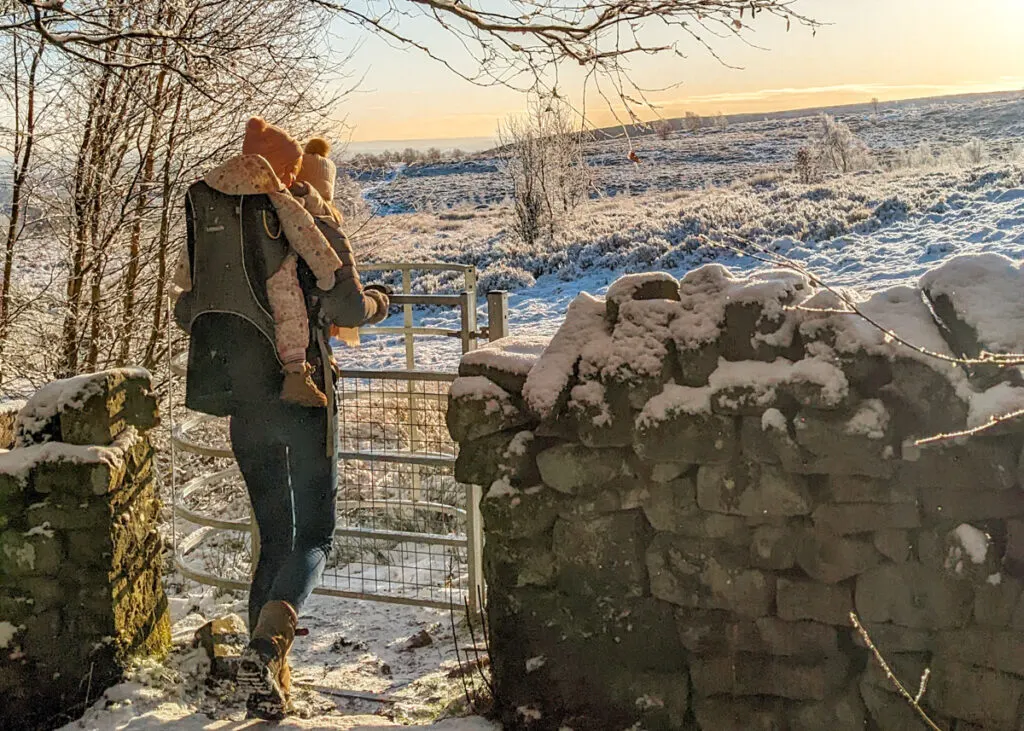 During the winter months, it's important to be extra prepared and safe when out walking and adventuring in the Peak District. The weather can change so quickly, especially on the exposed escarpments, and we don't want you to get caught out.
Read our top tips for safe winter walking with the kids.
FOLLOW US:
PARKING INFORMATION: Please do not rely solely on the postcode for parking directions. In the National Park, a postcode can cover a large area. Postcodes are only provided as guidance. Please either use the Google Maps point provided for every walk, or what3words.
Do check out our top tips for hiking with young kids, as well as our essential items to take on a family hike in the Peak District.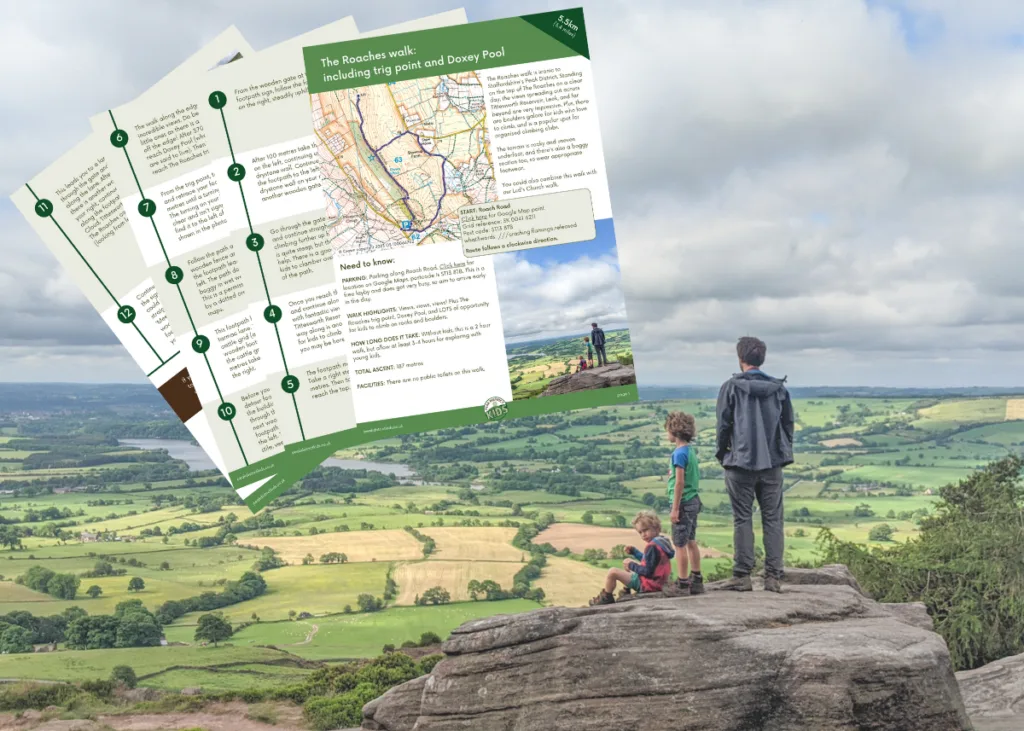 Download and print out our walking guides ready for your family walk. There are over 80 downloadable walk guides available, and these include all the main Peak District family walks, pram-friendly walks, and toddler walks.
Each printable download is just £1.50, whether it's a short 1km stroll or an epic walk up Kinder Scout.
Shutlingsloe walk map
On all Peak District family walks it's a good idea to have an Ordnance Survey paper map with you, even if you have your phone on you. For this walk you need the OS Explorer Active Map OL 24 (White Peak). It's also a good opportunity to show young kids the map features and get them started with map reading.
This Shutlingsloe walk is a linear route, 2.4km Shutlingsloe Trig point and then 2.4km back to Trentaback car park.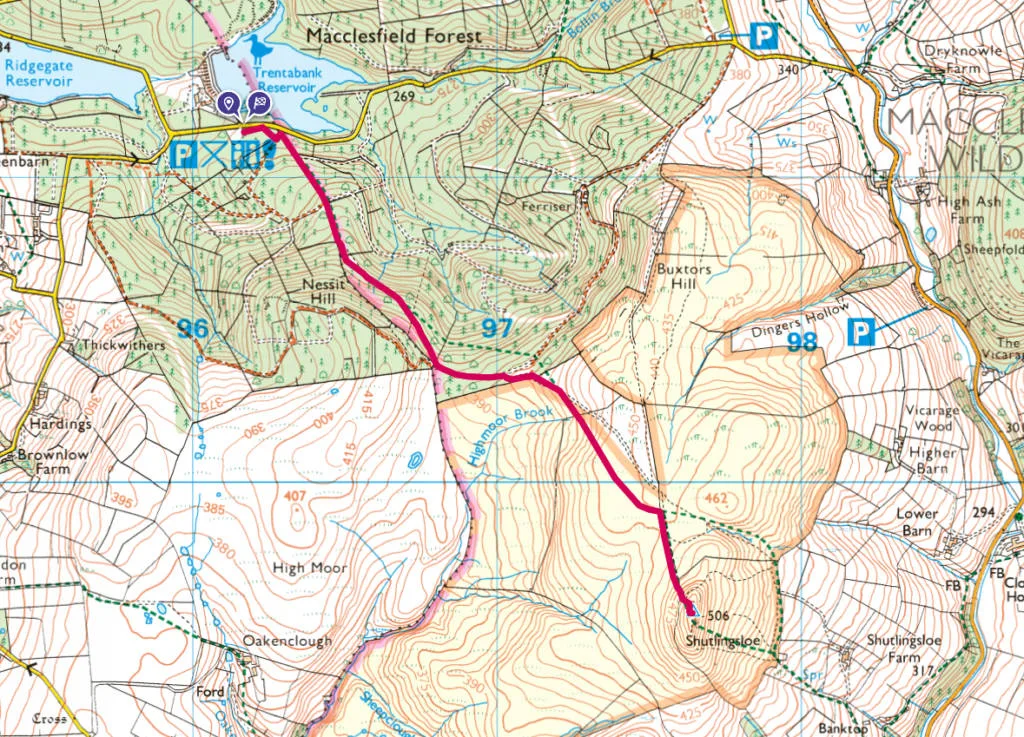 Get a printable download of this walk
Want to print off this walk guide rather than rely on your mobile? Then click here to download the PDF to print out at home. Perhaps print out a copy for the kids to follow the step-by-step directions and/or photos? It's a great way to get them engaged with the walk and gives them a sense of responsibility.
All printable downloads are £1.50 each. Click here for the full list of Peak District Kids printable downloads.
Please note that your download link expires 72 hours from order, so make sure you save your PDF somewhere where you'll remember it. If you are unsure where your download folder is on your mobile device, we recommend you download the PDF on your laptop or desktop.
Need to know
DISTANCE OF WALK: 4.8km / 3 miles (2.4km / 1.5 miles each way)

TYPE OF WALK: A linear hill climb to a trig point

PARKING: Pay and Pay and display parking at Trentabank Car Park. Click here for Google Map point, postcode SK11 0NS. Charges are £4.75 all day at the car park and the machine ONLY takes coins. There is no card payment option and the authorities are very strict on issuing fines, so make sure you have coins with you. If you are visiting on a quiet day, there is FREE roadside parking just past the entrance to the car park. Please only park in designated parking spaces.

WALK HIGHLIGHTS: Incredible 360 degree views, Shutlingsloe Trig Point, Macclesfield Forest.

HOW LONG DOES IT TAKE: This is a 2 hour walk for adults. If you are walking this with younger kids, allow 3-4 hours for the return walk to Shutlingsloe trig point and back. The kids will probably bound back down. Parents, you may struggle to keep up 😉

TOTAL ASCENT: 254 metres

FACILITIES: There are toilets at Trentabank Car Park. Please note that these are locked at 6pm. On busy days, there is a refreshments van in the car park.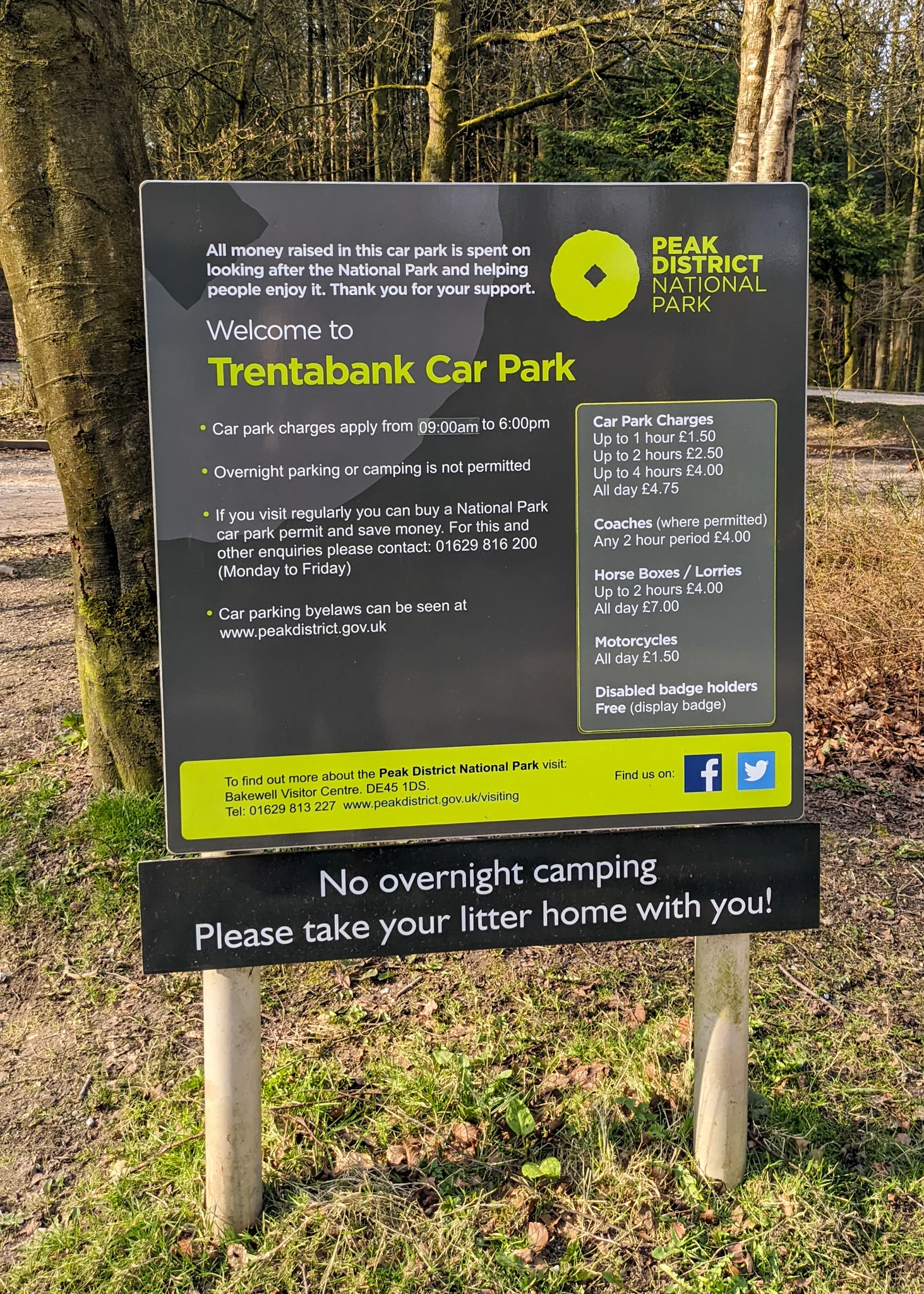 The route
START: Trentabank Car Park
Click here for Google Map point
Grid reference: SJ 9616 7114
Post code: SK11 0NS
what3words: ///pets.farmer.stall

This is a linear route.
1. Take the footpath that goes between the road and the toilet block. This takes you past a large Macclesfield Forest sign and through some rather odd-looking green gates (to restrict bikes) as seen in the photo below.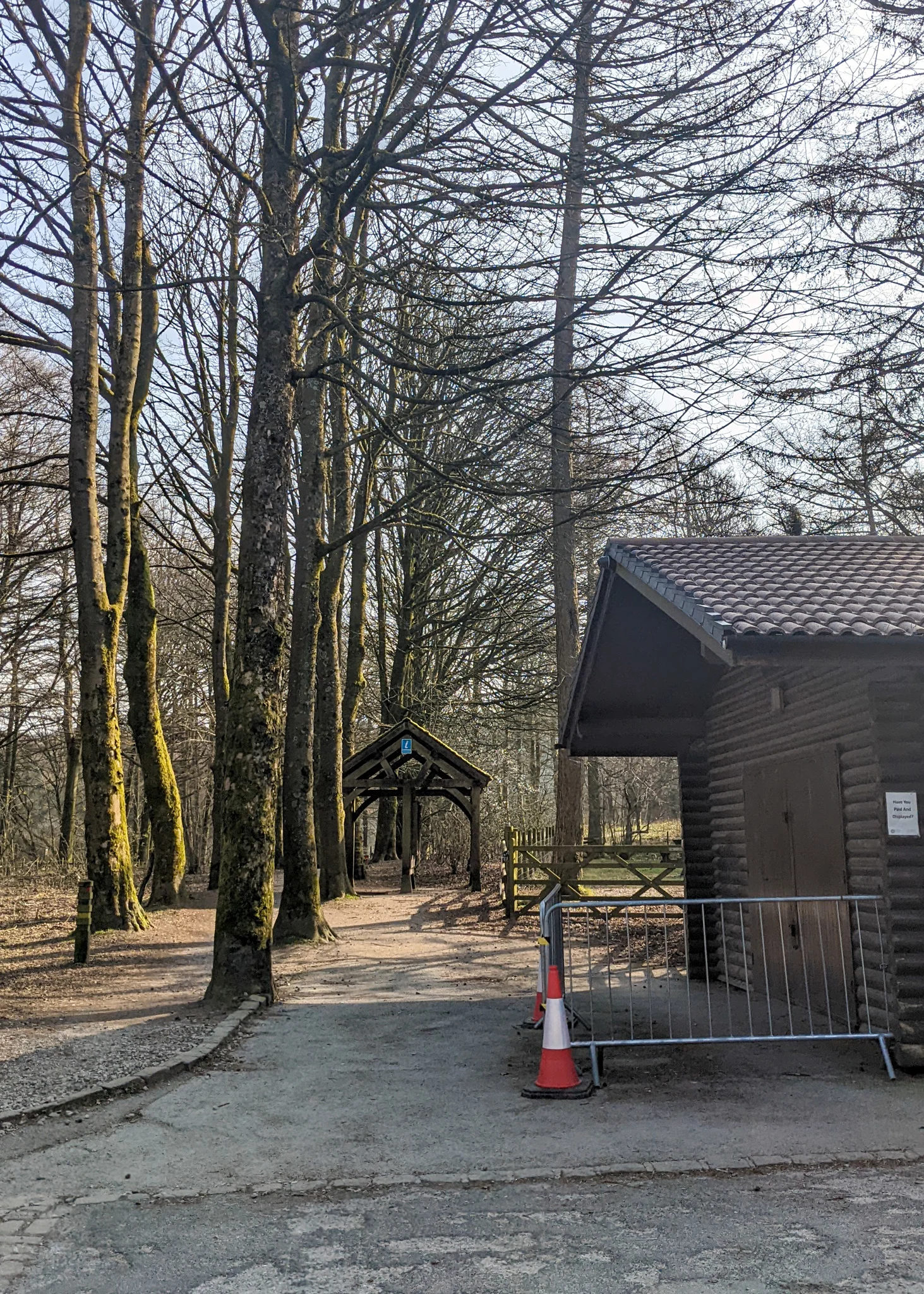 2. Continue straight ahead with the wire fencing on your left. After 50 metres, take the footpath on your right, signposted 'Shutlingsloe'. Continue in the direction of the sign, straight ahead. Do not take any footpath detours either side. There is a slight ascent as you marvel at the heights of the trees around you.
3. After 900 metres you reach a wooden gate with the green metal 'gate' to the left hand side. Walk through and continue straight ahead, following signs to 'Shutlingsloe, Standing Stone'. You are now on the edge of Macclesfield Forest.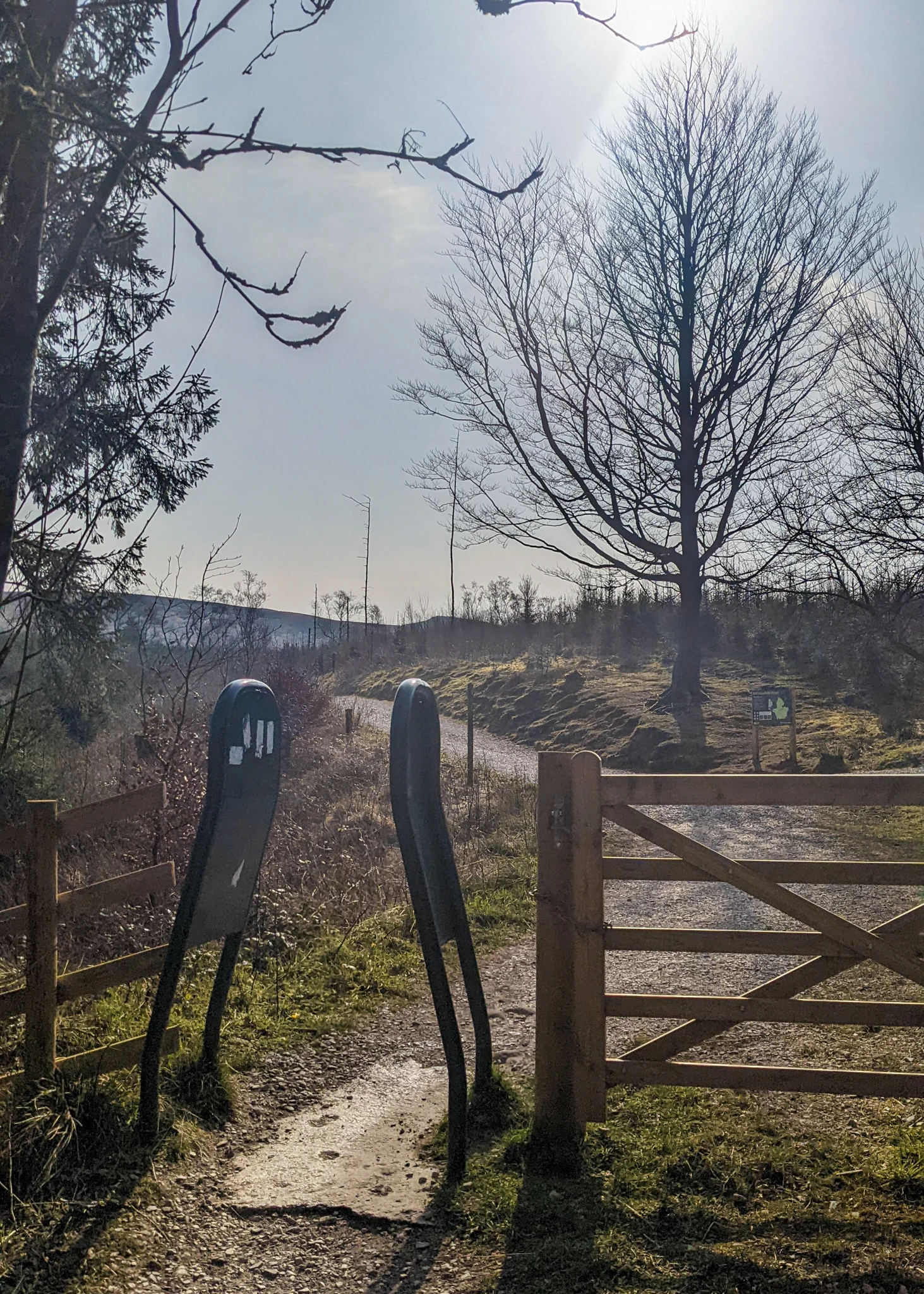 4. Just 200 metres on is another wooden signpost. A right arrow points to 'Shutlingsloe'. This is the footpath to take. There are a couple of wooden benches along this footpath, if you're in need of a snack spot (the second one further up in the left has the beter view).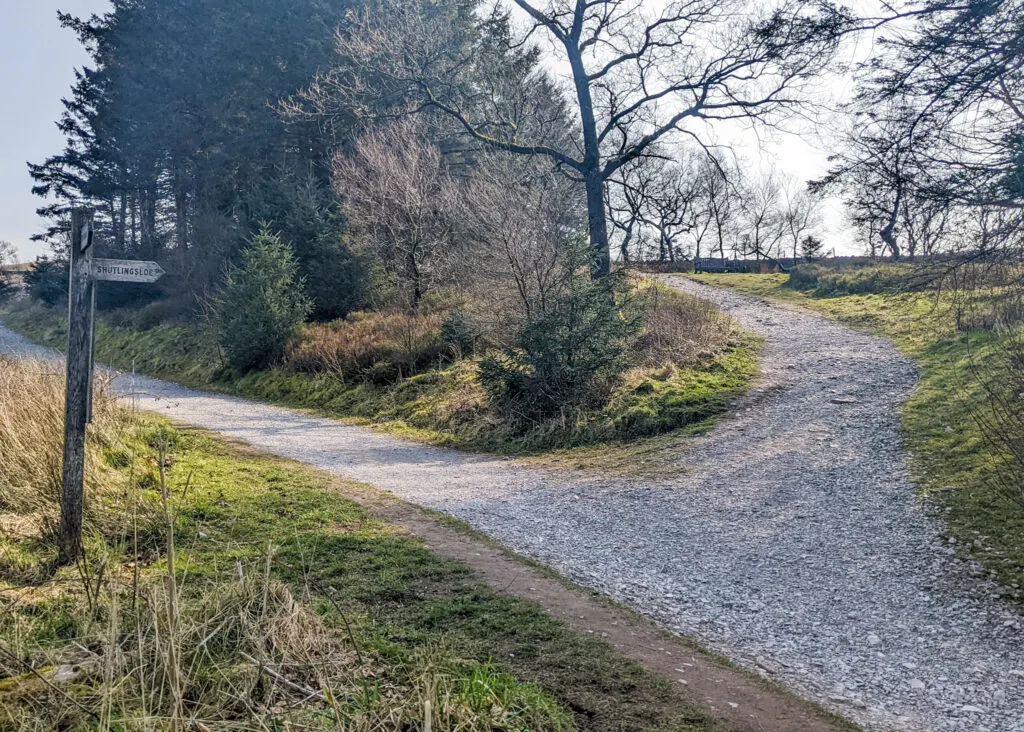 5. Walk through the next wooden gate and continue straight ahead, steadily up the flagstones. The views really open up here. If you're doing this Shutlingsloe walk on a clear day, the summit of Shutlingsloe and even the trig point, will soon come into view. Keep heading that way!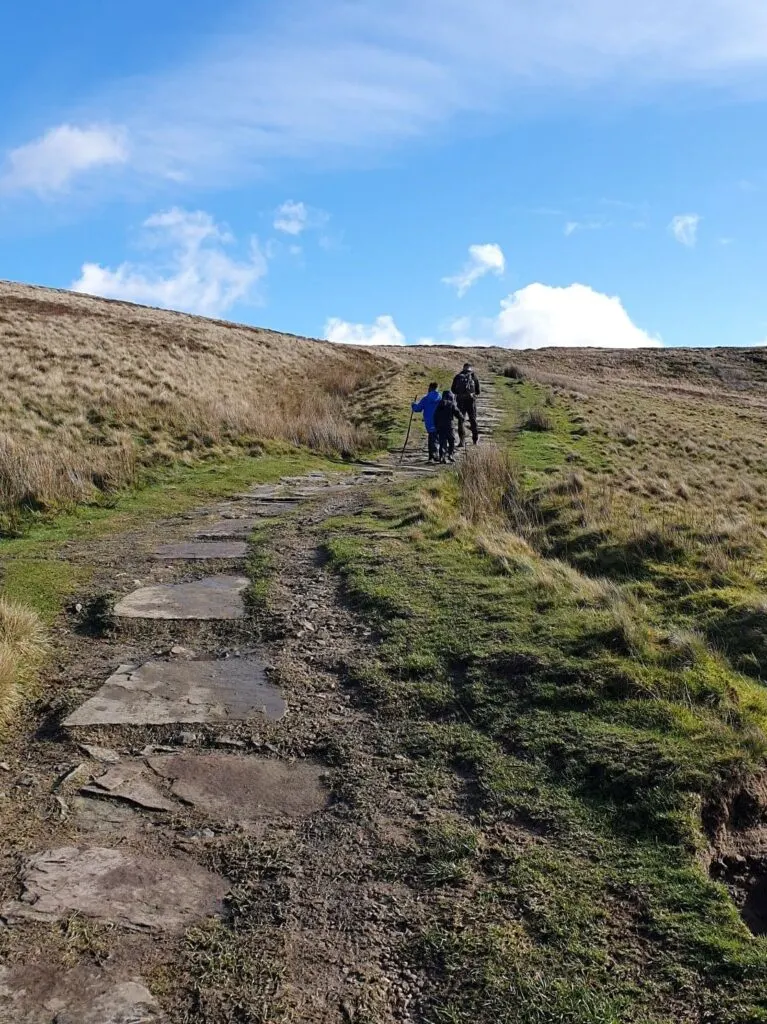 6. When you meet a metal gate, walk through and take the footpath on the right, along the wire fencing and drystone wall, towards Shutlingsloe Trig point. There is then a steep stone stile to cross, before a short, steep climb (there are big stone steps here, which are tricky, but manageable for little legs)… and you've made it!
7. Take in those awesome views. You may need to put an extra layer on as it gets rather windy up at Shutlingsloe Trig point. At 506m, it may not be the highest hill, but the views are 360 degrees; The Roaches can be seen, Shining Tor (the highest hill in Cheshire), as well as many miles across the moorland.
8. To return to the beginning of this Shutlingsloe walk, turn around and follow the same route back to your car. The kids will probably bound down. Parents, just try to keep up! Don't forget to take a left at the signpost below, back to Trentabank.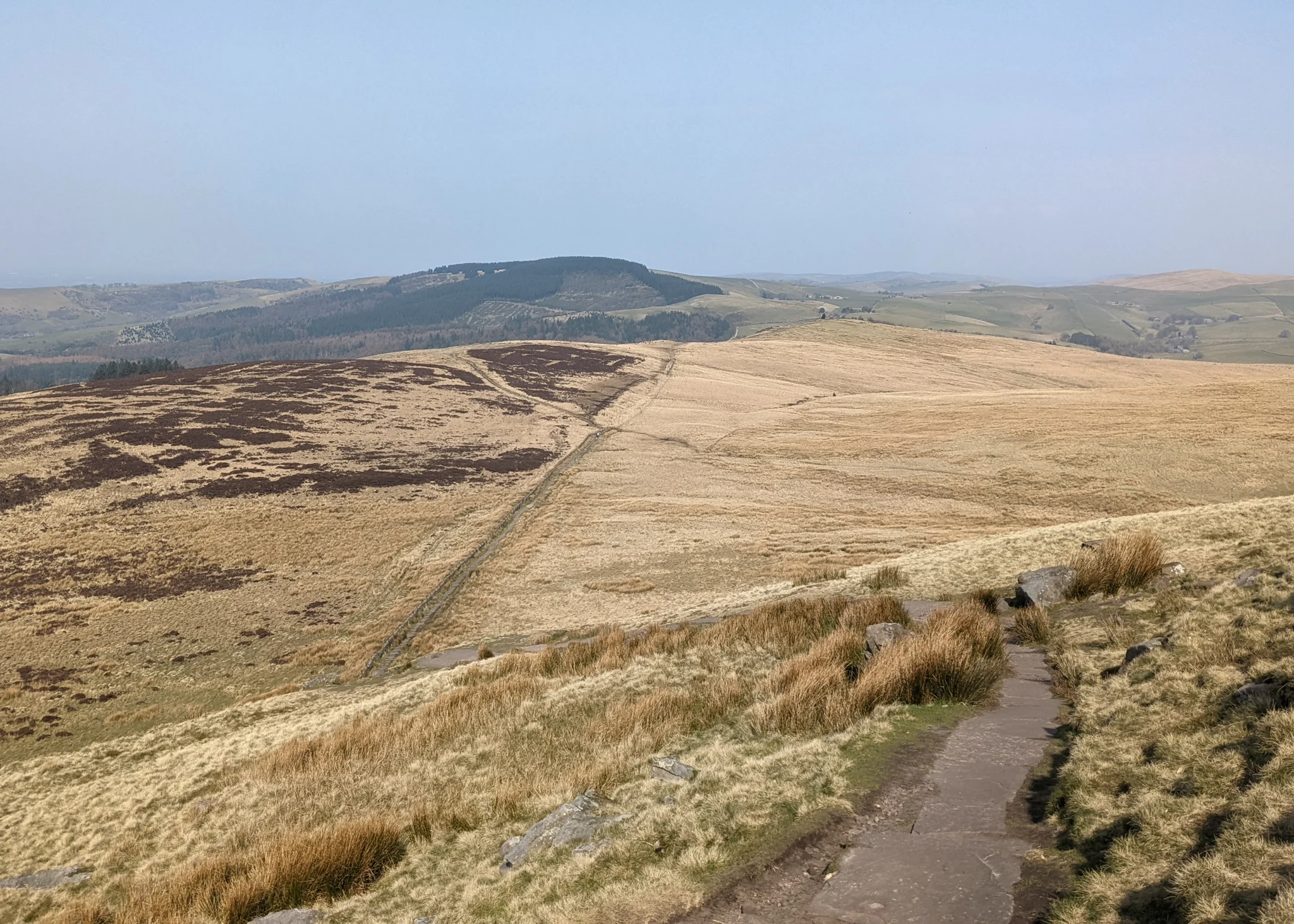 After your Shutlingsloe walk
On busy days, a refreshments van welcomes you back at Trentabank car park, with an array of drinks and snacks. Macclesfield forest has trail walks and the Trentabank Reservoir is accessible to check out the wildlife too.
Or you may want to combine your walk with a visit to Blaze Farm, which is just a 15 minute drive away and sells some of the best homemade ice-cream in the Peak District.
An alternative Shutlingsloe walk
If you want a climb that's slightly easier, you can instead go from Standing Stone car park (free parking). This is a 200m ascent (rather than 245m), and only adds 400 metres to the total walk length (5.2km walk in total). But you do miss out Macclesfield Forest, which is magical and a fascinating contrast to the wide open summit of Shutlingsloe, and adds a bit of variety for kids.
The photo below is Standing Stone car park. Click here for Google Map Point. Post code: SK11 0BE. This car park is free and gets full very quickly.
Alternative Shutlingsloe walking route
1. Take a right out of the main car park entrance. At the road junction, follow the footpath straight ahead through the metal gate.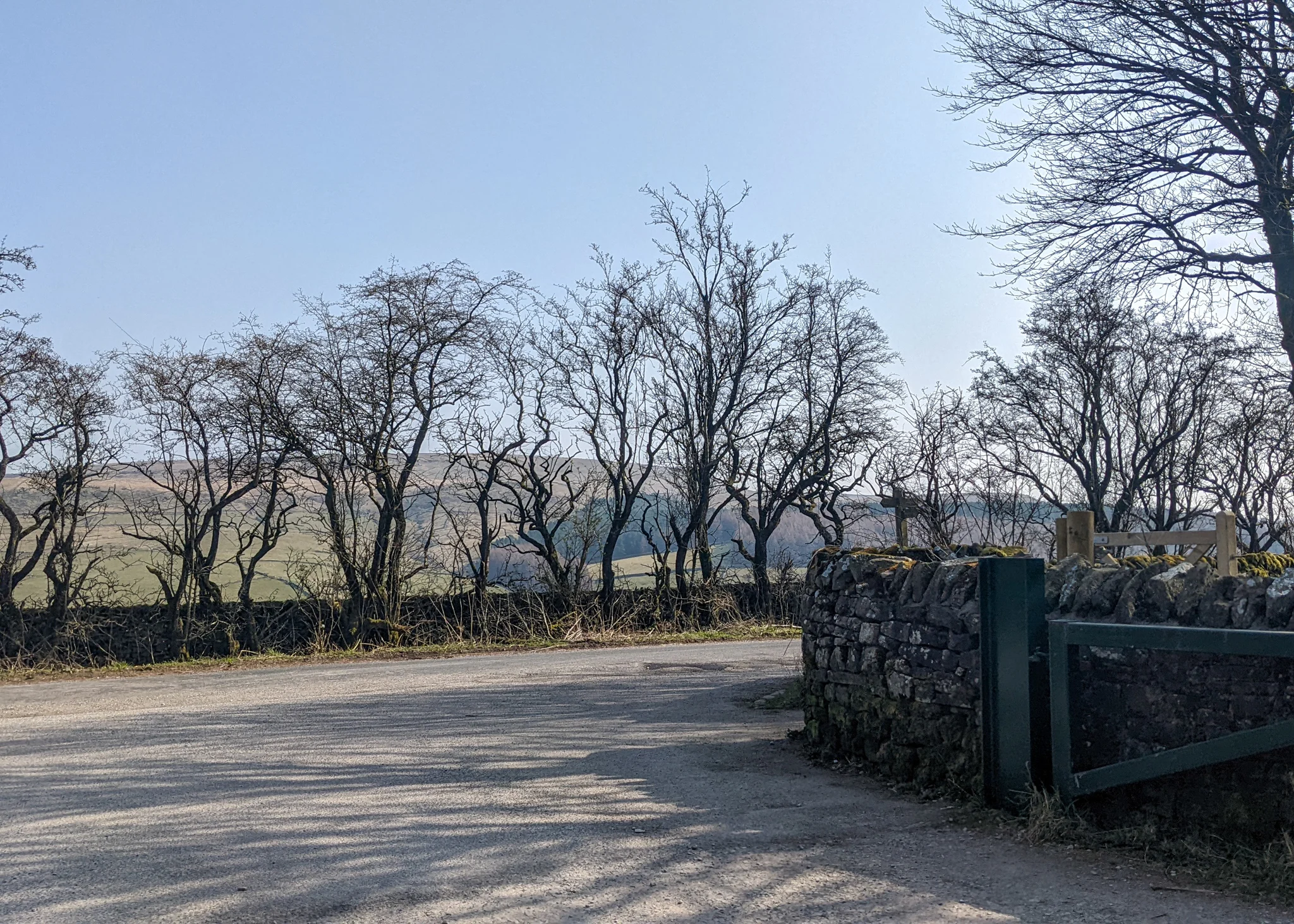 2. At the next gate, take the footpath going up on the left. Continue the signs to Shutlingsloe to step 4 above, and then continue the Shutlingsloe walk detailed above.
---
You may also like to read:
The Roaches circular walk
Three Shires Head walk
Padley Gorge walk