As you descend into the rocky depths of Lud's Church, it feels like you've entered another world, away from the typical green rolling dales and farming land of the Peak District. Parents – this Lud's Church walk is your opportunity to release your inner Indiana Jones… in Staffordshire. Created by a giant land-slip, this deep, moss-covered chasm is full of history and myths and makes for a fantastic family walk.
Lud's Church is 18 metres deep and 100 metres long. Somehow trees have found a home on the dark, narrow cliff face and reach up for the light. And even though there is no steeple in site, it was used as a secret place for worship for people who would have otherwise been prosecuted in the fifteenth century. It's also believed that Robin Hood and Friar Tuck once used it as a hiding place from the authorities.
You could combine this walk with our Roaches walk. Combined, this makes a 12.4km Roaches and Lud's Church walk.
Gradbach parking is where most people park to visit Lud's Church. However, at weekends and holidays, this parking gets full very quickly and you must plan on arriving early (before 9am). So alternatively, this walk starts at layby parking between The Roaches and Lud's Church. Click here for Google Maps location on your phone. Please park with consideration and note the parking point below as a local farmer has complained that satnavs using only a postcode are directly people to his private land.
Disclaimer: This post contains affiliate links. Should you click to purchase, it is at no additional cost to you, but I receive a small commission.
If you are planning a visit to the National Park, please arrive early or late in the day to avoid crowds if visiting over sunny weekends or school holidays. Please also take all litter home with you, don't bring BBQs and park your car in designated parking areas. Also, please use these walks as a guide; access and stiles may change.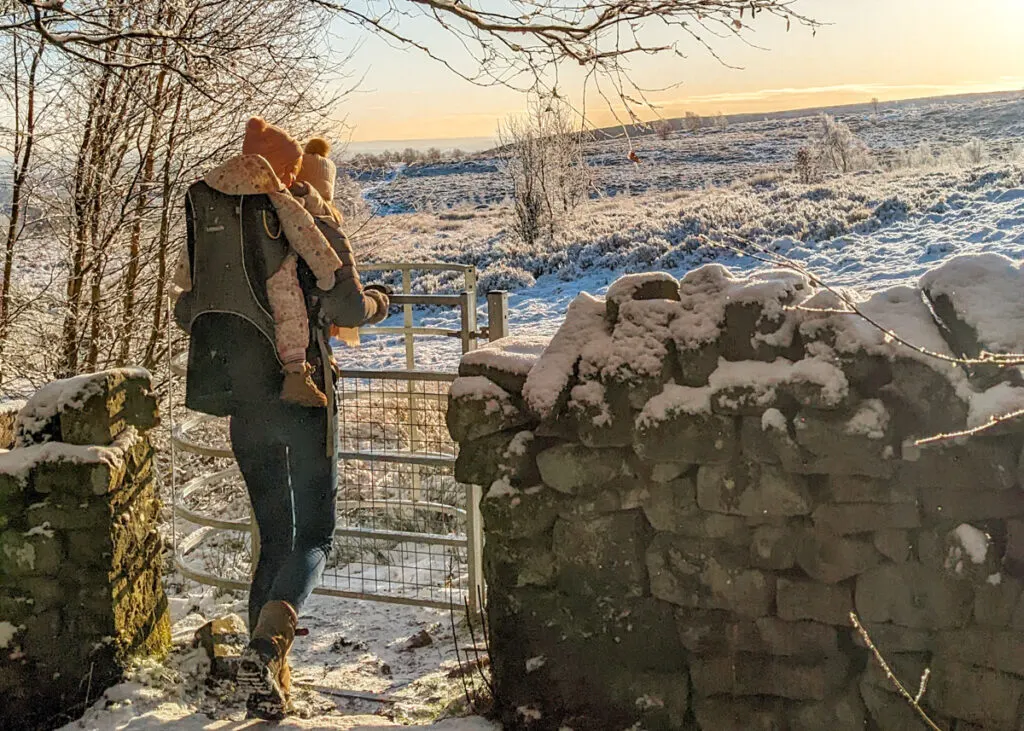 During the winter months, it's important to be extra prepared and safe when out walking and adventuring in the Peak District. The weather can change so quickly, especially on the exposed escarpments, and we don't want you to get caught out.
Read our top tips for safe winter walking with the kids.
FOLLOW US:
PARKING INFORMATION: Please do not rely solely on the postcode for parking directions. In the National Park, a postcode can cover a large area. Postcodes are only provided as guidance. Please either use the Google Maps point provided for every walk, or what3words.
Do check out our top tips for hiking with young kids, as well as our essential items to take on a family hike in the Peak District.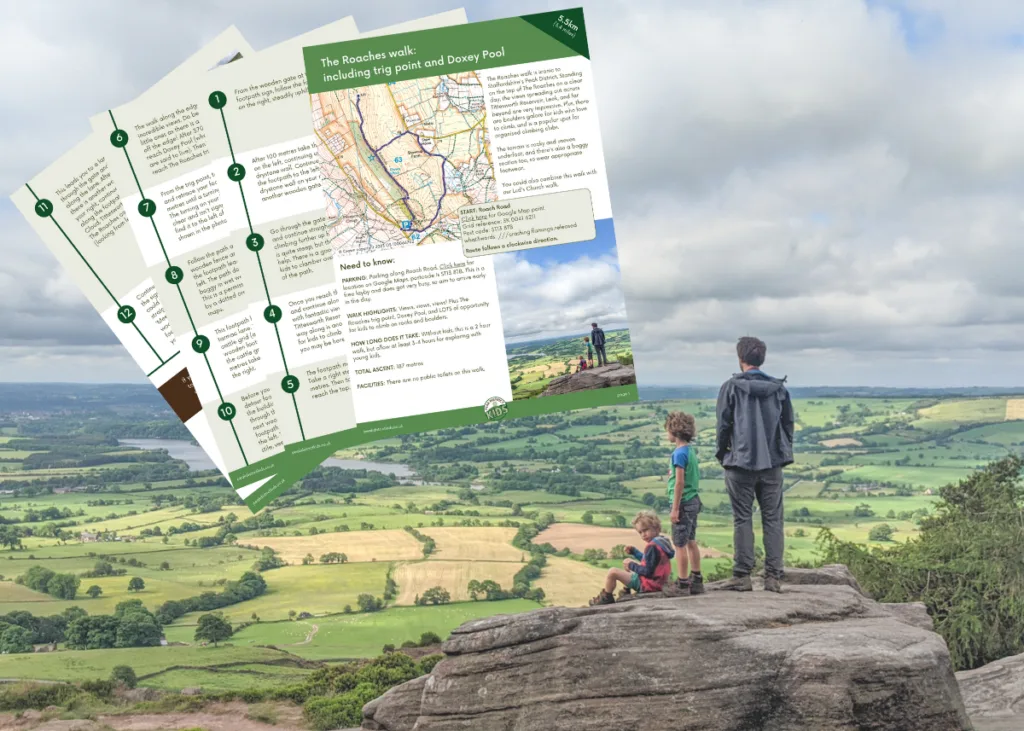 Download and print out our walking guides ready for your family walk. There are over 80 downloadable walk guides available, and these include all the main Peak District family walks, pram-friendly walks, and toddler walks.
Each printable download is just £1.50, whether it's a short 1km stroll or an epic walk up Kinder Scout.
Lud's Church walk map
On all Peak District family walks it's a good idea to have an Ordnance Survey paper map with you, even if you have your phone on you. For this walk you need the OS Explorer Active Map OL 24 (White Peak). It's also a good opportunity to show young kids the map features and get them started with map reading.
Get a printable download of this walk
Want to print off this walk guide rather than rely on your mobile? Then click here to download the PDF to print out at home. Perhaps print out a copy for the kids to follow the step-by-step directions and/or photos? It's a great way to get them engaged with the walk and gives them a sense of responsibility.
All printable downloads are £1.50 each. Click here for the full list of Peak District Kids printable downloads.
Need to know
DISTANCE OF WALK: 5.3km (3.3 miles)

TYPE OF WALK: A circular walk, rocky in places. Not suitable for pushchairs.

PARKING: Free roadside parking on Clough Head Lane. Click here for Google Maps location on your phone. Post code is ST13 8UQ (although this covers a large area, so please note the exact parking point before arrival as a local famer has complained visitors are going onto his land). Lat/long 53°10'39.1″N 2°00'28.3″W. We still urge you to get there early as this is a popular walk.

WALK HIGHLIGHTS: Lud's Church, and stunning views over to the Roaches.

HOW LONG DOES IT TAKE: Without kids this is a 2 hour walk. But allow a good 3+ hours with young kids as there are many adventures to be had in the deep chasm that is Lud's Church.

TOTAL ASCENT: 196 metres

PUBLIC TOILETS: There are no toilet facilities on this walk. But there is often an ice-cream van (which accepts cards!) at the start/end point of this walk.
The route
START: roadside parking on Clough Head Lane
Click here for Google Map point
Grid reference: SJ 9956 6450
Post code: ST13 8UQ
what3words: ///direct.skins.kidney

Route follows an anticlockwise direction.
1. Follow the bridal track downwards for 100 metres. On the left you will see a squeeze stile. Don't miss it (check second photo)!! Breathe in as you squeeze through the stile.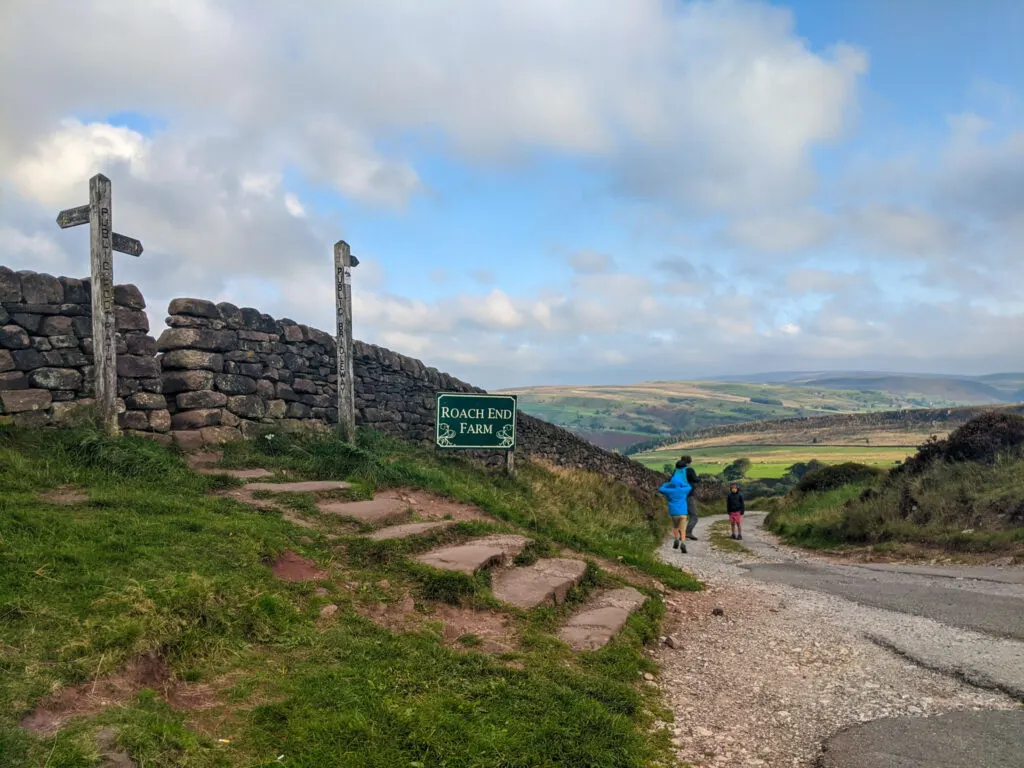 2. Continue the rocky path downwards in to the forest (it can get quite muddy here) until you meet a junction.
3. Follow the sign to the left towards Lud's Church. In season, there are lots of blackberries to be found along here. This section is relatively flat.
4. After 1.2km you will reach another sign to Lud's Church. Take this left footpath for 50 metres until the next sign.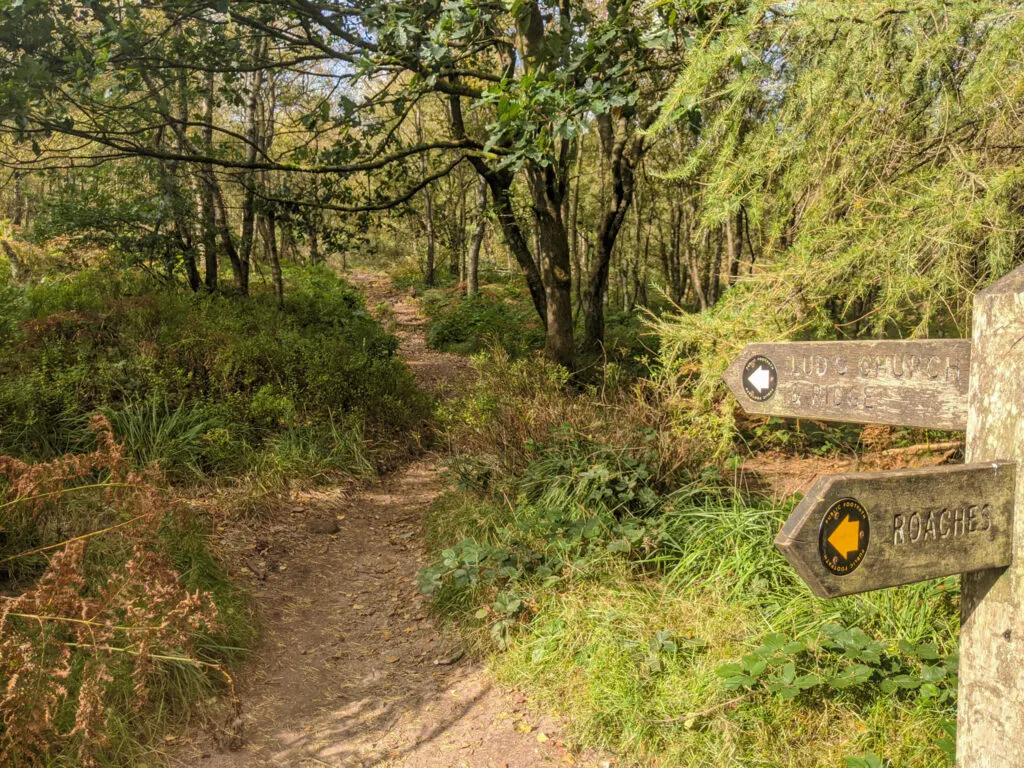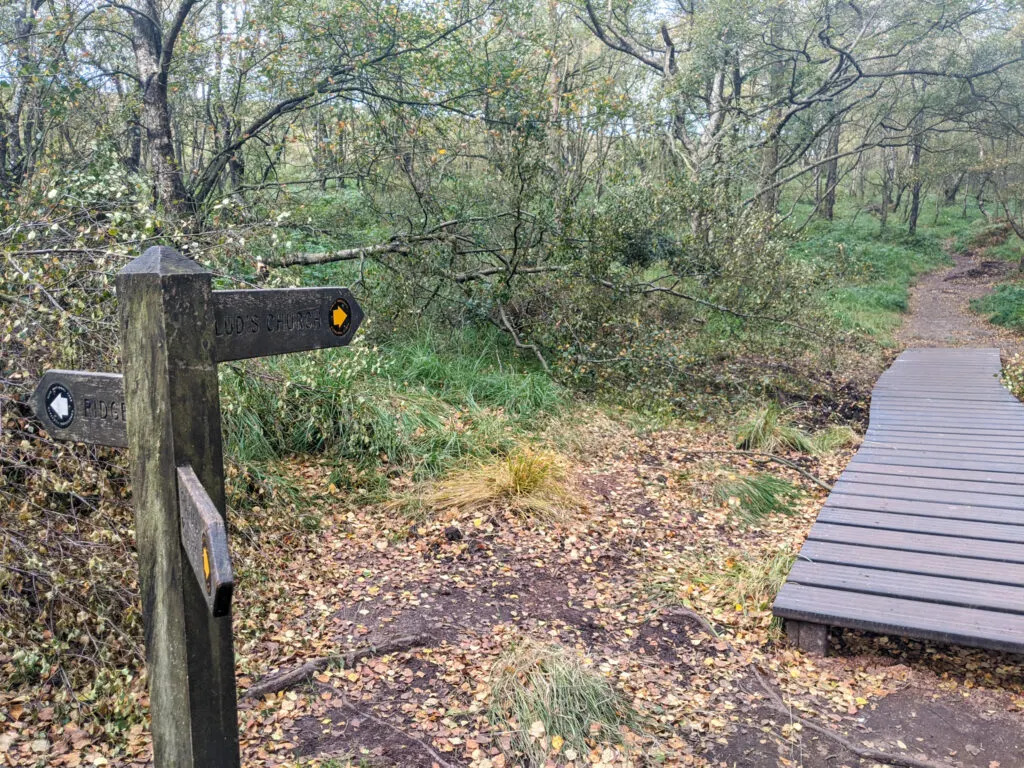 5. At this next sign, take a right and follow the yellow markers along the boardwalks for 100 metres until you reach the top of Lud's Church on your right.
6. Descend into the chasm. It's steep and rocky in places, and in wet weather it can be slippy, so take your time. You will notice it suddenly becomes much darker.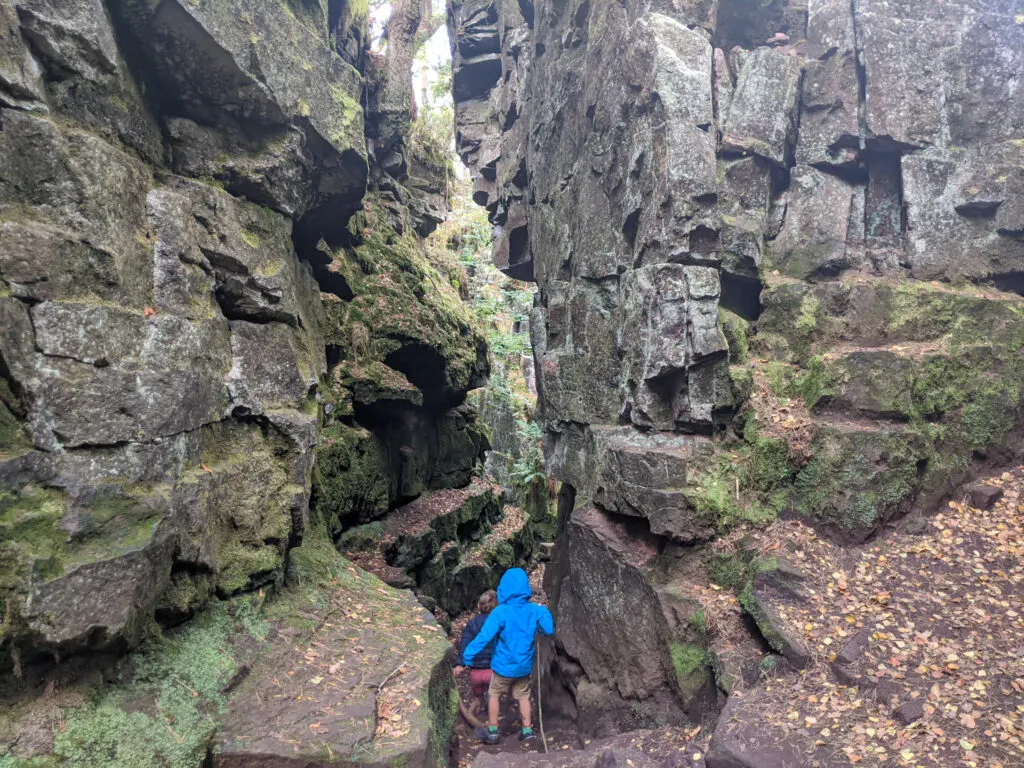 7. It's a 100 meter walk through Lud's Church, but allow time to explore. Seeing the trees cling on at the top is fascinating, and kids will love finding little hiding places in the rocks.
8. As you venture out of Lud's Church, take the turning to the left and follow this path for 300 metres until you reach another sign. To the right leads on to Gradbach car park, but you continue straight on.
9. After a 300 metres, the landscape opens out to the more recognisable Peak District farming landscape. Keep going for another 500 metres until you reach a junction on your left, signposted 'The Roaches'.
10. Follow this path up and along the hill tops. It can get very windy up here, but the scenery is fantastic and such a contrast to the woodland and chasm of Lud's Church below. Keep following this path straight ahead (towards The Roaches) back to the starting point. From the junction back to the start point is 2.2km.
11. Once you're back again at the start point, the ice-cream van is hopefully waiting for you! And a bonus is that if you don't have cash on you, he does take cards (well he did last time we visited).
12. If little legs are still feeling strong, you may want to continue on the path straight ahead that leads up to The Roaches; you can follow our Roaches circular walk here. The views are fantastic, but perhaps an excuse to return another day.
---
You may also like to read:
Solomon's Temple walk near Buxton (1.8km)
Three Shires Head walk (6.2km)
Padley Gorge walk (2.7km)