This is one of our more challenging Peak District family walks as it is steep, muddy and rocky in places. But the views from Pike Low down on to the reservoirs on this Derwent Dam walk are simply stunning and make it all the worthwhile.
Starting from Fairholmes car park, this walk takes you right up to Derwent Dam, then along the shores of Derwent Reservoir, climbs steeply up to Pike Low and across the open moors of the Dark Peak, to then descend back down to Ladybower Reservoir with an easy walk back to the start.
If you're looking for a more gentle stroll with the kids, check out our pram friendly Ladybower Reservoir walk, which does a 9.1km loop and is well surfaced all the way around.
Derwent Dam walk map
On all Peak District family walks it's a good idea to have an Ordnance Survey paper map with you, even if you have your phone on you. For this walk you need the OS Explorer Map OL1 (Dark Peak). It's also a good opportunity to show young kids the map features and get them started with map reading.
Need to know
DISTANCE OF WALK: 6.8km
TYPE OF WALK: A circular walk with a steep rocky climb
PARKING: Fairholmes car park at Upper Derwent Visitors Centre. Click here for Google Map Point. Postcode is: S33 0AQ. All day parking is £5 (or £3 up to 2 hours). If you want to pay by card, you need to go into the Visitors Centre to pay at the desk. This car park is owned by Severn Trent, so if you have a Peak Distrticy National Park car parking permit it is not valid here.
WALK HIGHLIGHTS: Derwent Dam, walking alongside Derwent Reservoir and Ladybower Reservoir, incredible open views from Pike Low.
HOW LONG DOES IT TAKE: Without kids this would be a 2.5 hour walk, but this took us close to 4 hours.
ACCESSIBILTY: The paths alongside both reservoirs is flat and easy for a pram. But once you climb up into the hills, it's not at all pram friendly and is a steep climb. A couple of stiles along the way.
TOTAL ASCENT: 298 metres
PUBLIC TOILETS: At Upper Derwent Visitors Centre there are toilets, and a small takeaway café with outdoor picnic benches. There are no other facilities along this Derwent Dam walk.
The route
1. From Fairholmes car park, with the Visitors Centre on your left, follow the waymarked path toward Derwent Dam. You can walk across the grass to stand right in front of it. When there's been a lot of rain, it's an amazing site to see the dam overflowing.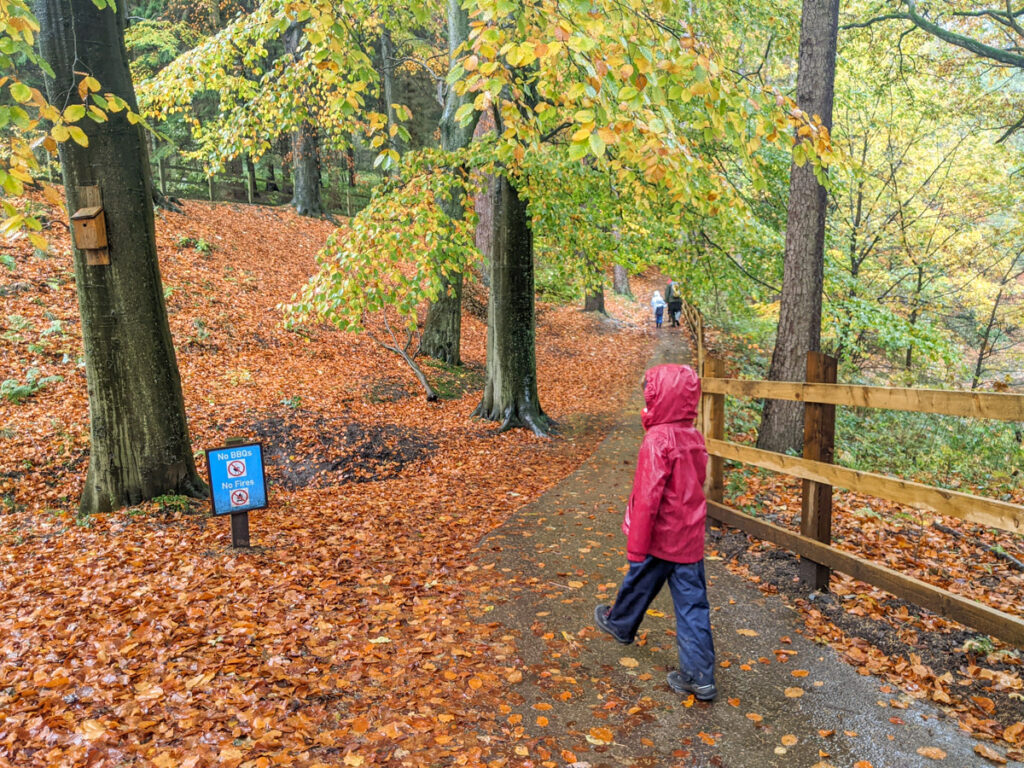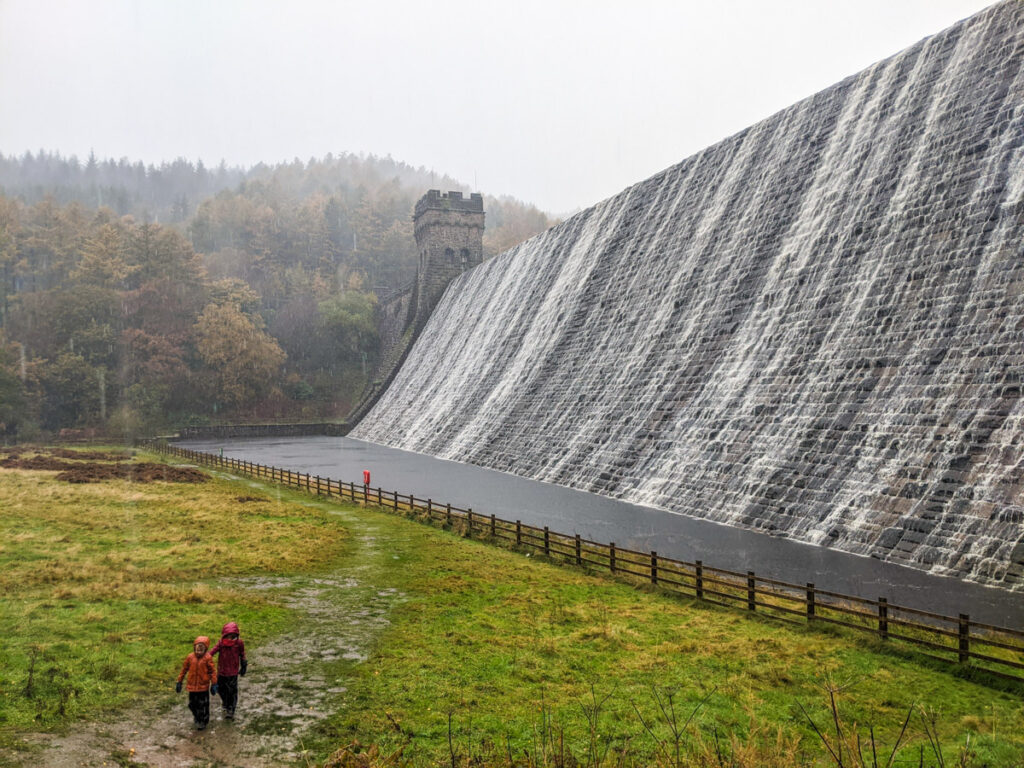 2. Walk along the edge of Derwent Dam to the steps at the right, and climb up.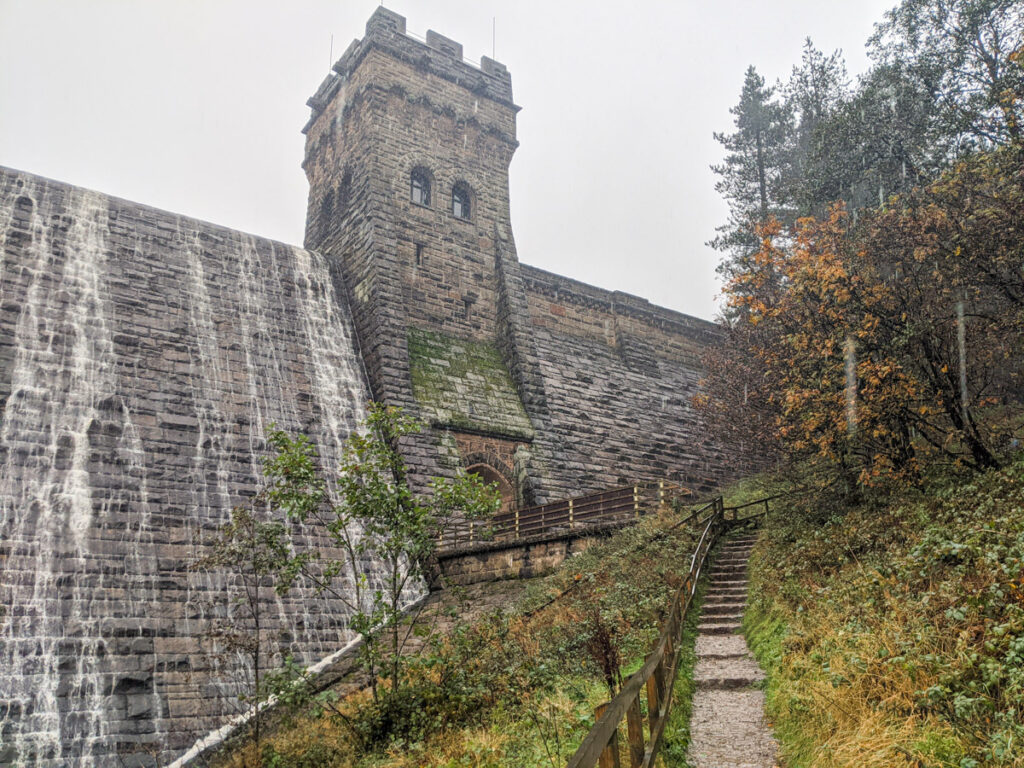 3. At the top of the steps take a left, walk through the wooden gate, and follow the edge of the reservoir along an easy flat path for 1km.
4. You will then notice a footpath sign on your right, just next to a little brook. Follow the footpath up the hill, taking the fork on the right (see photo below), and then through the wooden gate.
5. Keep following the footpath up, following the way marked signs. This section is quite steep, so take lots of breaks to appreciate the view. The footpath veers left towards the top.
6. Once you reach the top at this main footpath sign (see below photo), take a right.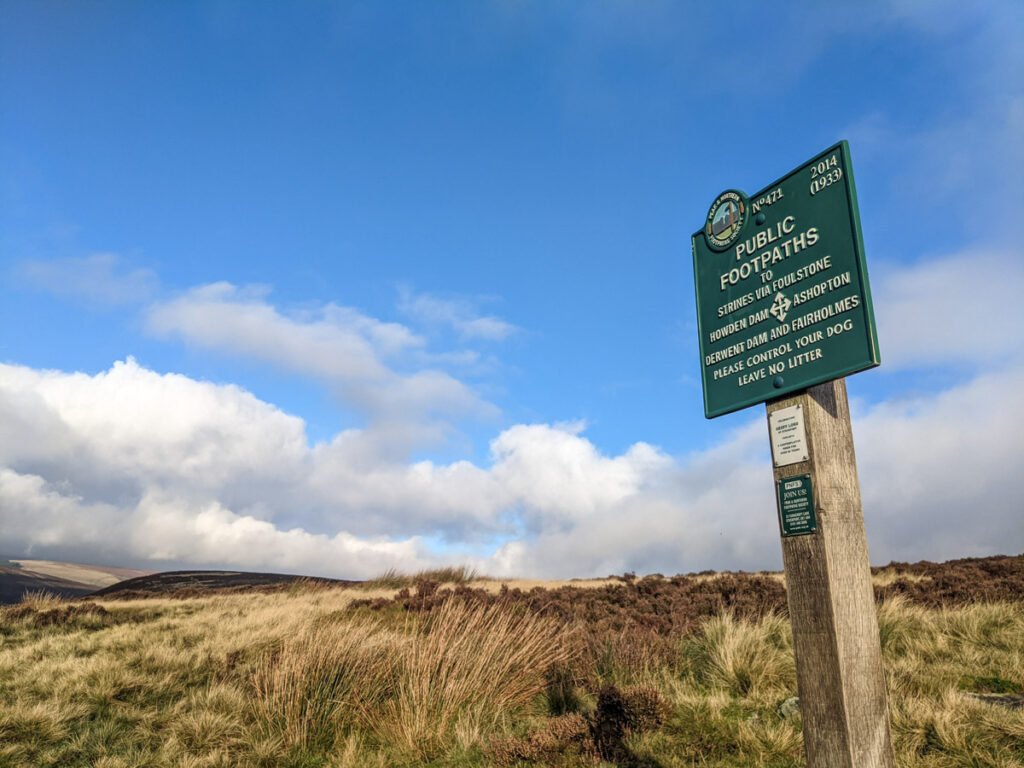 7. Continue along this footpath for 400 metres, climbing slightly, to this stile below. Look back for final views of Derwent Reservoir.
8. Cross over this stile, walking straight ahead, and continue to follow the footpath signs that lead towards Ladybower Reservoir.
9. After 700 meters, you will walk alongside this wall.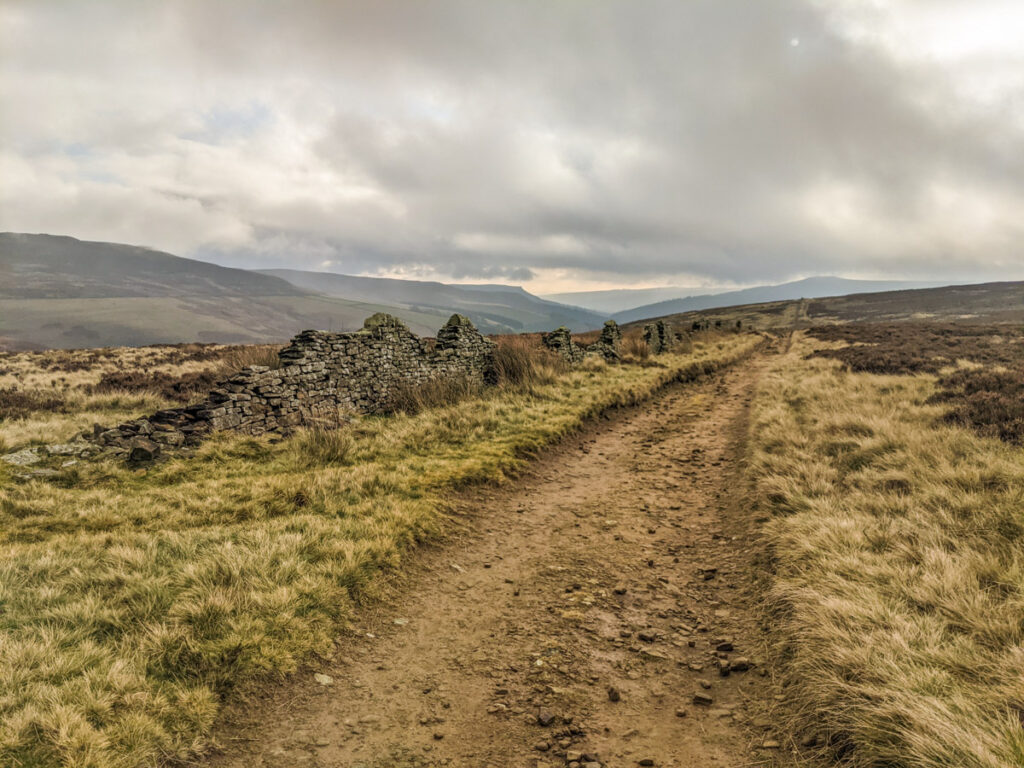 10. Just as the footpath veers to the left, Ladybower Reservoir comes into view. Keep following the footpath back down.
11. Once you reach the tarmac lane, take a right, and follow this all the way back to the car park for 1.9km, passing Derwent Dam again.
---
You may also like to read:
Pram friendly Ladybower Reservoir walk (9.1km)
Hathersage Stepping Stone walk (4.9km)
Hiking Kinder Scout with kids from Hayfield (14km)