This Ladybower cycle route takes you around one half of the Y-shaped reservoir along paved and gravel paths, and is one of our favourite Peak District cycle routes for families. It follows a similar route to our Ladybower Reservoir walk (which is pram friendly), however, this route keeps to the road on the Western side as the footpath is rather narrow for passing walkers. This doesn't mean that kids need to cycle on the road. Instead, use the pavement, which is clear of walkers as the majority use the footpath alongside the reservoir.
Similar to the Carsington Water cycle route, there are a few hills to negotiate. So kids will need bikes with gears, and need to know how to use them. There were a few places our boys (aged 5 and 7) had to get off their bikes to push them. If you're looking for a flatter ride in the Peak District, perhaps check out the Monsal Trail instead.
Disclaimer: This post contains affiliate links. Should you click to purchase, it is at no additional cost to you, but I receive a small commission.
If you are planning a visit to the National Park, please arrive early or late in the day to avoid crowds if visiting over sunny weekends or school holidays. Please also take all litter home with you, don't bring BBQs and park your car in designated parking areas. Also, please use these route descriptions as a guide; access may change.
Click here to check out more family cycle routes in the Peak District
FOLLOW US:
PARKING INFORMATION: Please do not rely solely on the postcode for parking directions. In the National Park, a postcode can cover a large area. Postcodes are only provided as guidance. Please either use the Google Maps point provided for every walk, or what3words.
If you're looking to cycle Ladybower Reservoir with kids, then read on for everything you need to know…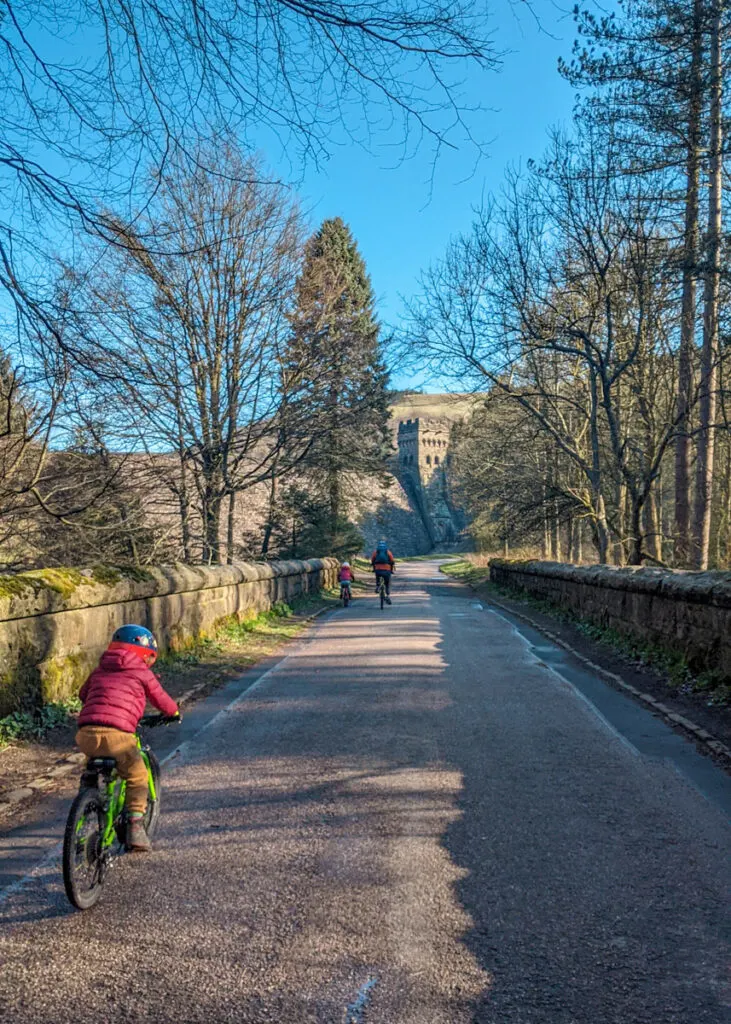 Ladybower Reservoir parking
There is pay and display parking at Fairholmes car park at the Upper Derwent Visitor Centre. Click here to see location on Google Maps. Postcode is: S33 0AQ.
All day parking is £6 (or £3.50 up to 2 hours). If you want to pay by card, you need to go into the Visitors Centre to pay at the desk. This car park is owned by Severn Trent, so if you have a Peak District National Park car parking permit it is not valid here.
There is also limited free roadside parking on the road as you approach Fairholmes car park.
On weekends and bank holidays, aim to arrive by 9am to secure a parking space. On busy day, Fairholmes car park is often full by 10:30am.
Ladybower Reservoir cycle route and map
Our Ladybower cycle route starts from the free parking bay on the right, just before Fairholmes car park, and follows a clockwise direction around the reservoir.
Allow two hours for cycling around Ladybower Reservoir with young kids, and add on more time for picnic and play stops. The woodland area just by Derwent Dam is a lovely spot for a picnic, with it's shady trees and carved woodland creatures.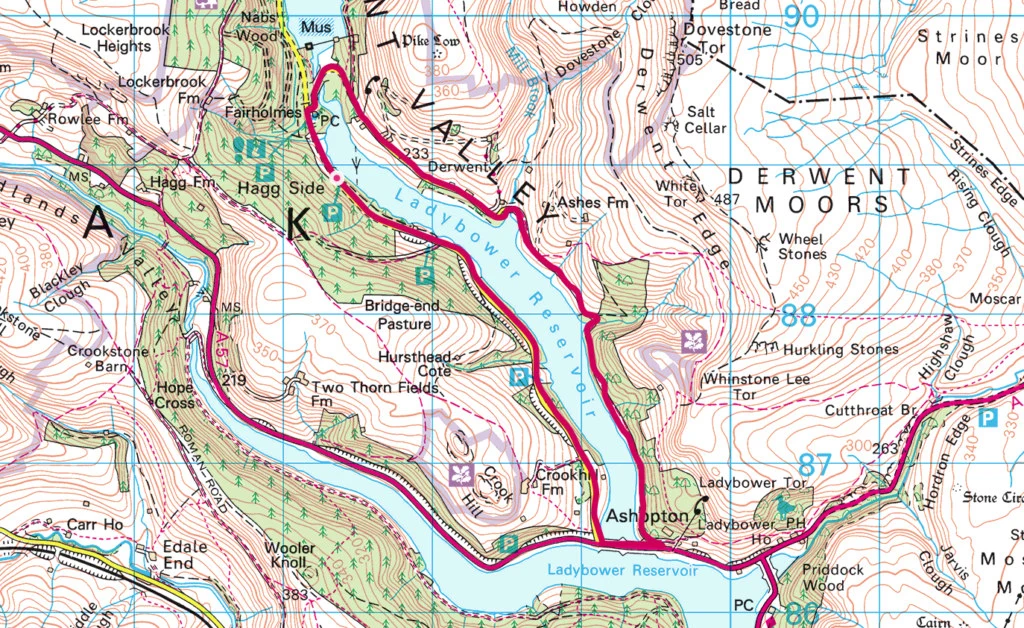 1. From the parking layby, cycle down the hill towards Fairholmes car park (Ladybower Reservoir is on your right).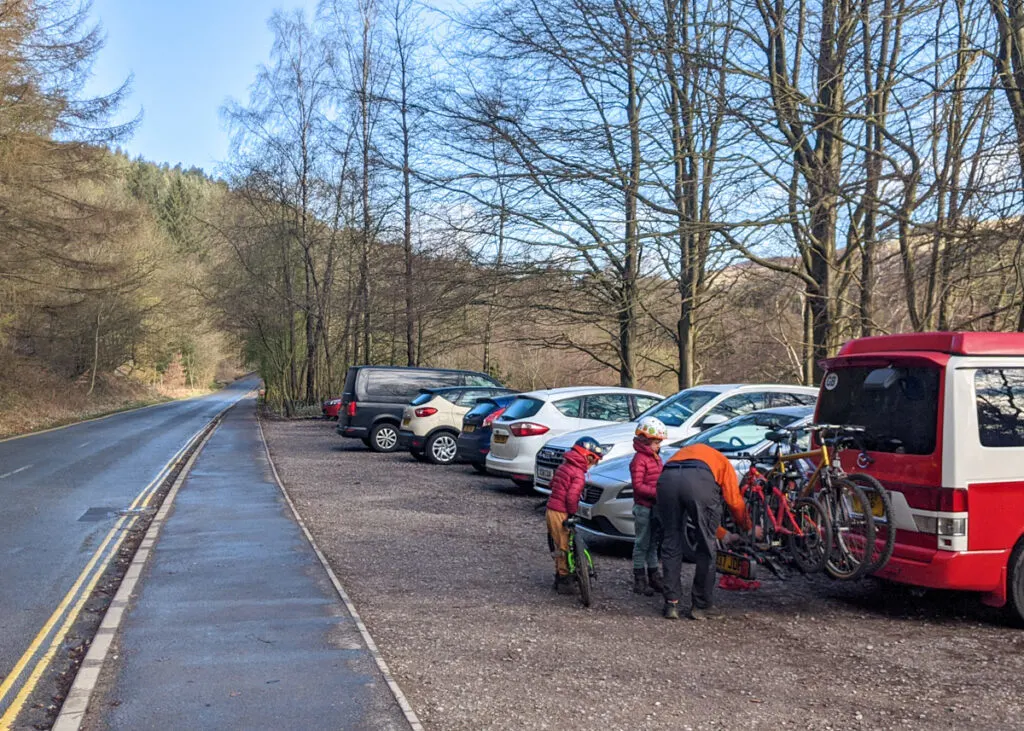 2. 500 meters along, the road ends at a roundabout. Take a right and head through these gates in the photo below. Don't head down to the Visitors Centre (unless you fancy a cuppa that is). Then follow the road down to Derwent Dam.
3. The road then leads around to the right to bring you to the other side of Ladybower Reservoir. Follow this road for 2km to the end. You may see the odd resident car or farm vehicle along here, but this road is very quiet as it's closed to public vehicles.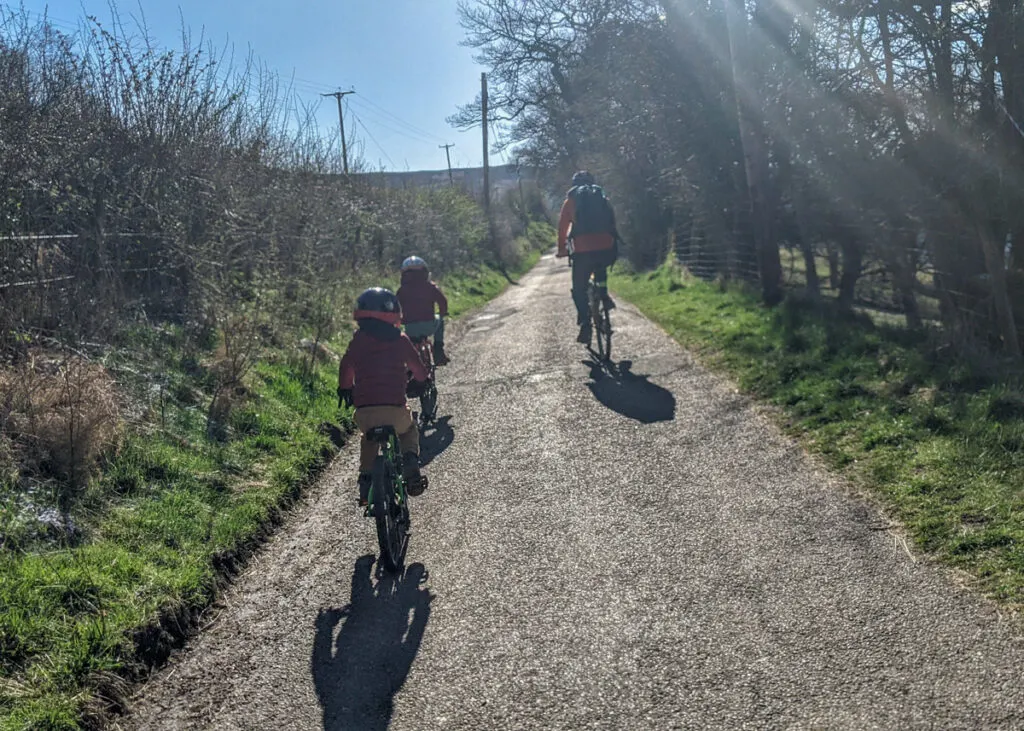 4. Where the road ends, a gravel path continues along the eastern edge of Ladybower Reservoir. Go through this gate and continue straight ahead. There are a few hills, so get those gears and thighs working.
5. This gravel path brings you out onto the A57 road (Snake Pass) after 2.7km. This is a very busy road, but there is a designated cycle path on the wide pavement that takes you across the Ashopton Viaduct on the right. It's a short 400 metre cycle and brings you to the western edge of the Reservoir.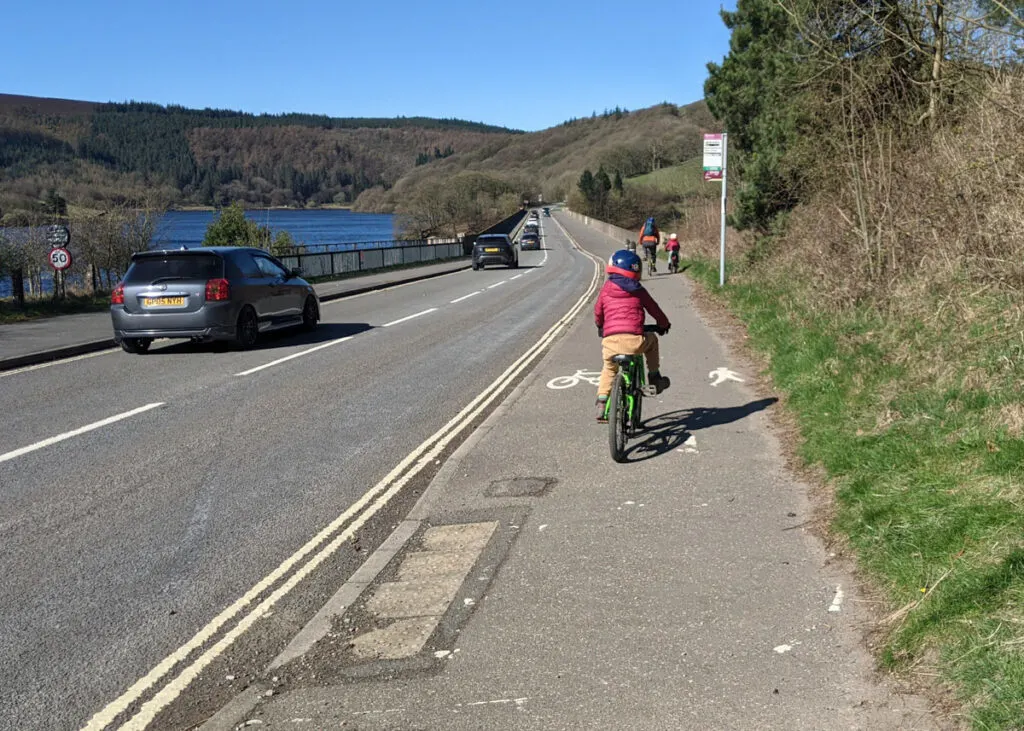 6. Bikes are not permitted on the footpath immediately on the right. Instead, stay on the pavement, get into a low gear, and pedal up the hill.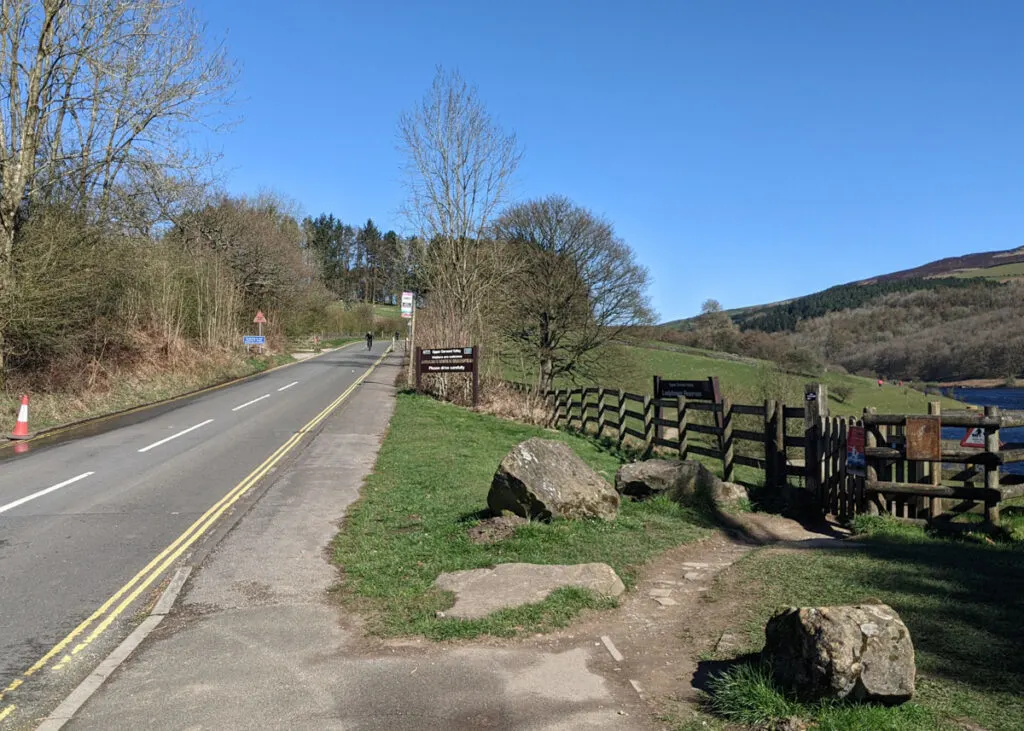 7. Just after the first layby on your right, where there is a bus stop, there is a grassy footpath that leads down to the footpath running alongside the edge of the reservoir. DO NOT TAKE THIS ROUTE. This is the route our pram-friendly Ladybower Reservoir walk takes. This path is very rocky in places, but more importantly it is narrow; so you will need to stop frequently get around pedestrians or let them pass.
Instead, continue on the road, staying on the pavement. It's just a little more uphill and then a steady downhill section, making an easy finish to your cycle around Ladybower Reservoir.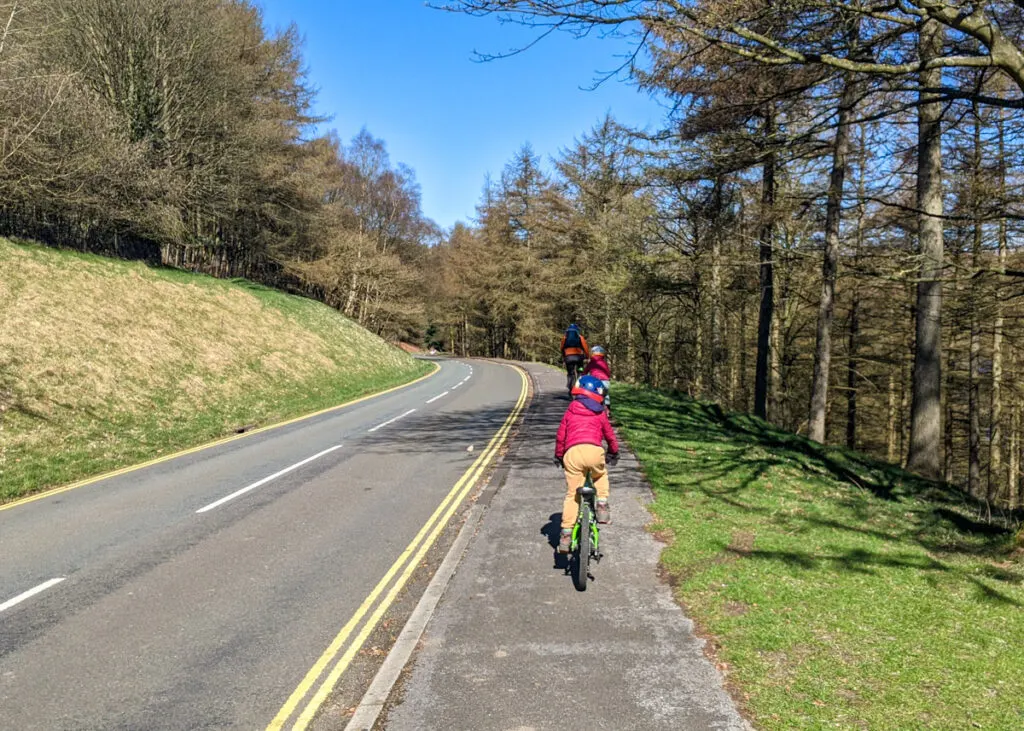 Ladybower Reservoir bike hire
If you don't have your own bike, head over to Derwent Bike Hire at the Visitors Centre. Adult bikes are £19, and kids bikes are £14 for a full day. They are open everyday from 29 March 2021 until 31 Oct 2021 (although do check their website for up to date information).
Booking is not required; it's done on a first come first serves basis, so just turn up on the day. They have A LOT of bikes, and so rarely run out. Although do call to book accessible bikes and electric bikes due to the limited number available.
---
Peak District Kids is a free online resource. If you enjoyed this bike ride, you can show your support by buying me a coffee. Thanks so much! You may also want to share your own photos from our walks in our Peak District Kids Facebook Group.
Or visit the Peak District Kids shop. £1 from every sale of the iron-on patches goes towards the Peak District National Park Foundation, a registered charity established to raise funds to care for The Peak District National Park.
Also, feel free to share your walk photos with us on Instagram. Please follow us and tag @peakdistrictkids in your posts so we can share them with our wider community.
Want more ideas for family bike rides?
Check out our Best family bike rides in the Peak District
or come and join our friendly Peak District Kids Facebook Group
You may also like to read:
Ladybower Reservoir walk (pram friendly)
Derwent Reservoir walk up to Pike Low (6.8km)
Cycle Carsington Water with kids