Carsinton Water is a large reservoir operated by Severn Trent Water that lies to the east of the Peak District National Park. There's a big visitors centre, with eateries and a huge playground, and it's great for watersports, including windsurfing, sailing, kayaking and SUP. But the main thing we recommend doing is cycling around Carsington Water!
There is a traffic-free designated cycle path that loops all the way around Carsington Water. Just follow the blue signs, you honestly can't get lost. But be warned, it is very undulating and kids will need to be riding a bike with gears to get up the hills. And even thought it's just outside the National Park, we include it in our top family Peak District cycle routes.
The Carsington Water cycle route around the reservoir also differs slightly from the Carsington Water walk. Whilst they do join at points around the reservoir, they are generally separate for safety purposes.
And if you enjoy cycling around reservoirs, why not try our Ladbower Reservoir cycle route.
Disclaimer: This post contains affiliate links. Should you click to purchase, it is at no additional cost to you, but I receive a small commission.
If you are planning a visit to the National Park, please arrive early or late in the day to avoid crowds if visiting over sunny weekends or school holidays. Please also take all litter home with you, don't bring BBQs and park your car in designated parking areas. Also, please use these route descriptions as a guide; access may change.
Click here to check out more family cycle routes in the Peak District
FOLLOW US:
PARKING INFORMATION: Please do not rely solely on the postcode for parking directions. In the National Park, a postcode can cover a large area. Postcodes are only provided as guidance. Please either use the Google Maps point provided for every walk, or what3words.
If you're looking to cycle Carsington Water with kids, then read on for everything you need to know…
Carsington Water cycle route
Below is a screen shot from Google Maps of the cycle route around Carsington Water. There is also a pdf of the Carsington water bike ride (click here).
To do the full loop it is almost 8 miles (12.4km). You start from the Visitors Centre and follow the blue signs around the reservoir. Some sections of the cycle route are shared with walkers, whilst other sections are separate from walkers.
How long does it take to cycle around?
Whilst Google maps says you can do it in 48 minutes, with our boys (age 5 and 6) it took just over two hours (our youngest doesn't have gears on his bike and had to keep getting off to push his bike up hill).
Also allow time to stop and take in the view, for snacks, and to also play on the shoreline.
Should we cycle clockwise or anti-clockwise?
You can do the Carsington Water bike ride clockwise or anti-clockwise. It really doesn't make too much difference. But, we prefer to do it clockwise as there is a long straight flat section (along the dam wall) on the southwest shores of the reservoir, and this makes for an easier finish.
How difficult is the Carsington Water bike ride?
It is actually very hilly in places, especially on the eastern side, across from the Visitors Centre. You do need a bike with gears to get up the hills. Our youngest has the Frog 48, which is a great bike for little ones, but it doesn't have gears (he's due an upgrade!) He had to jump off his bike on most of the steep sections and push his bike up the hill. He was still smiling all the way around though as he knew a steep section was always balanced out with a fun downhill section. We did see some parents cycling alongside their kids to push their kids up the hills. This is a good solution if parents are steady on their bike.
The path is also rocky and muddy in places. Thick tyres are best, and wear clothes that you don't mind getting covered in mud. There is loose gravel on some of the downhill sections, so take care.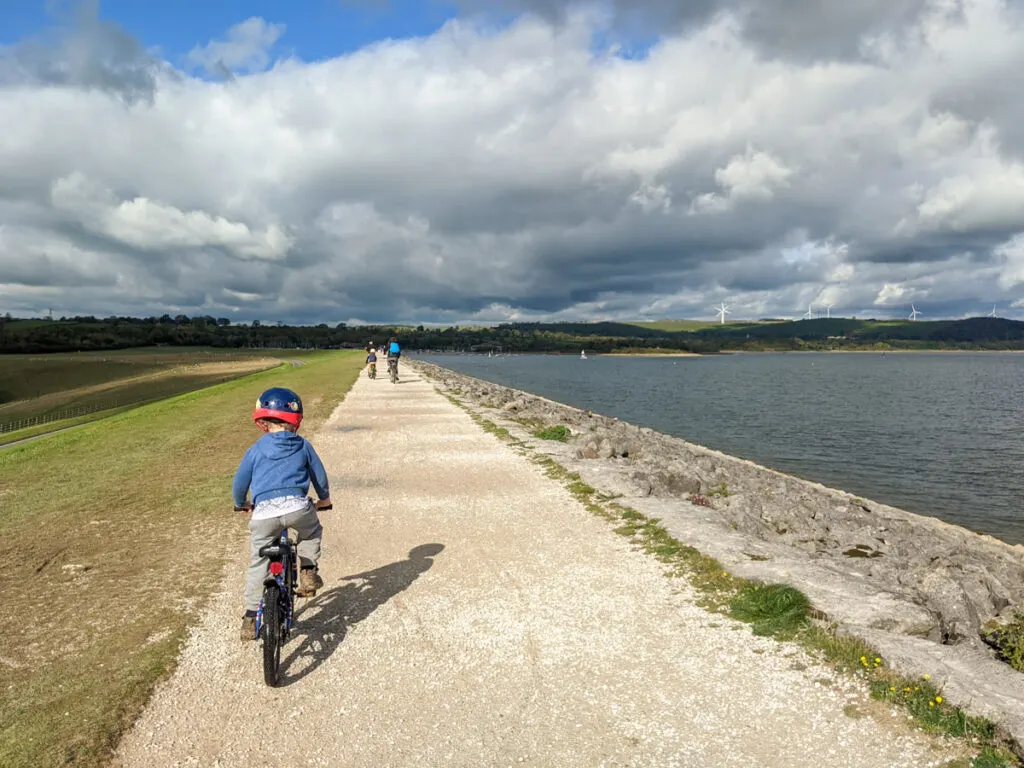 The long flat section on the southwestern edge is very easy to cycle on. This is a good place for very little ones to practice their cycling and can easily be reached from the Visitor Centre. Although in the afternoon this section does get busy with walkers.
Do you get views of Carsington Water all the way around?
Not all the way around. Much of the northern half of the Carsington Water cycle path is in woodland, although there are little clearing sections with a bench inviting you to sit and take in the view.
The views on the southern section of the loop are better. On this section you can also walk down to the waters edge (it's very muddy with clay).
Parking at Carsington Water
Since February 2020, there is a new automatic number plate recognition (ANPR) car parking system at Carsington Water. This is a system that will capture vehicle registration numbers on entry to the Carsington Visitor Centre and Millfield car parks.
PLAN TO ARRIVE EARLY IN THE DAY AT WEEKENDS AND SCHOOL HOLIDAYS TO GET A PARKING SPACE. CAR PARKS GET FULL ON BUSY DAYS.
You do not need to pay for your parking until you are ready to leave the car park, so no need to stress about how much time you'll be cycling around Carsington Water. Simply park up, head off on your bikes and return to the payment terminals at the end. Your time of entry to the car park will be recorded, so you'll just need to enter your vehicle registration number and the system will tell you how much to pay. Cash and cards are accepted. If there's a queue, you can pay at home using this link.
For up to date parking charges, please check this page. If you're a regular to Carsington Water, you can even purchase an annual parking permit for £49.
Carsington Water bike hire
Cycle hire is available at Carsington Sports and Leisure but you must book in advance. The cycle hire is open from 10am every day apart from Christmas Day and New Years Day. All bikes have to be returned by 5.30pm during the main season and earlier during autumn and winter.
Mountain bikes can be hired for £20 for a day, and they also hire out electric bikes, as well as child seats and tow buggies.
What else is there to do at Carsington Water?
There's a large playground area with equipment geared for toddlers right through to ages 12+, and we love having a wander around the interactive visitors centre. Toilets and eateries can be found at the Visitors Centre. Watersports are on offer throughout the year (check out Carsington Sport & Leisure website).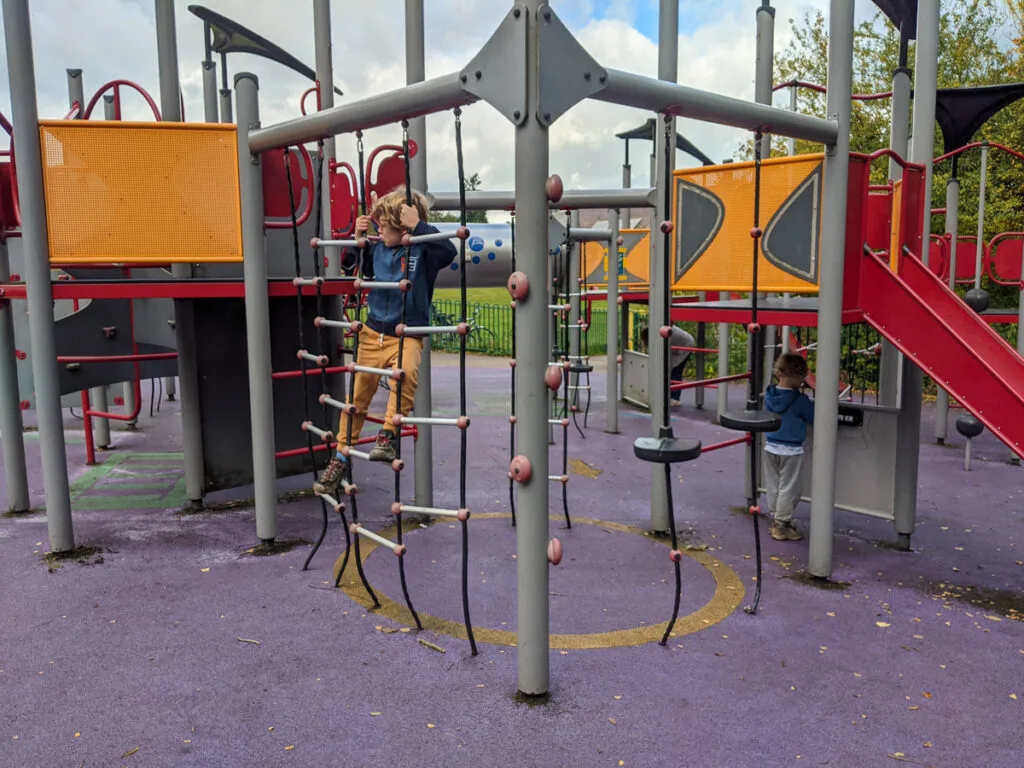 Top tips for cycling around Carsington Water with kids
Arrive early to secure parking as the car park does get full on weekends and school holidays.
Pack snacks and enough water for the entire loop as there are no shops until you return to the Visitors Centre.
Consider taking a packed lunch. The queue for the takeaway food when we last visited was extremely long.
Allow for some time to play in the playground at the end of your bike ride.
The Carsington Water cycle path is rocky and muddy. Wear clothes that you don't mind getting dirty and take care on the descents as there is often loose gravel.
Pack layers as the weather can change quickly.
Consider whether your kids are up to the challenge of the full circuit, especially if they don't have gears on their bike.
Make sure your bike has a bell to warn walkers ahead.
Take a bike pump with you.
Looking for accommodation near to Carsington Water?
We recommend Knockerdown Holiday Cottages, which offers sixteen self-catering cottages and there's a playground, games room, and heated indoor swimming pool onsite. There's a 1km cycle path that leads from Knockerdown Holiday Cottages to Carsington Water Visitors Centre.
---
Peak District Kids is a free online resource. If you enjoyed this bike ride, you can show your support by buying me a coffee. Thanks so much! You may also want to share your own photos from our walks in our Peak District Kids Facebook Group.
Or visit the Peak District Kids shop. £1 from every sale of the iron-on patches goes towards the Peak District National Park Foundation, a registered charity established to raise funds to care for The Peak District National Park.
Also, feel free to share your walk photos with us on Instagram. Please follow us and tag @peakdistrictkids in your posts so we can share them with our wider community.
Want more ideas for family bike rides?
Check out our Best family bike rides in the Peak District
or come and join our friendly Peak District Kids Facebook Group
You may also like to read:
Peak District cycle routes for families
Things to do in Matlock and Matlock Bath
Cycle the Monsal Trail with kids