When your day starts with a massage, and ends with a jump in a private pool, you know you're onto a good thing. Knockerdown Holiday Cottages, just a stones throw from Carsington Water and on the edge of the Peak District National Park, goes beyond being a home from home holiday accommodation. The onsite facilities make it especially perfect for families, with a swimming pool, games room, and playground, and parents will certainly appreciate a little time out at the spa. Plus the location is absolutely spot-on for outdoor-loving families.
Peak District Kids were offered a complimentary 3 night stay at Knockerdown Cottages in return for an honest review and social media coverage, including our Facebook Group.
There are sixteen self-catering cottages at Knockerdown Holiday Cottages to choose from, and each cottage has its own personality with individual style, sleeping between four and six people. We stayed in Butteron, which sleeps four.
Check out our top suggestions for Peak District family accommodation
The facilities
The onsite facilities at Knockerdown Holiday Cottages are really what makes a stay here. From the central playground that leads from the back door of the cottages, to the heated indoor swimming pool, to the games room (you need to bring your own rackets for table tennis). There is also a treatment and massage room onsite. Parents – I very much recommend booking in a massage with Laura at Knockerdown Treatment Rooms.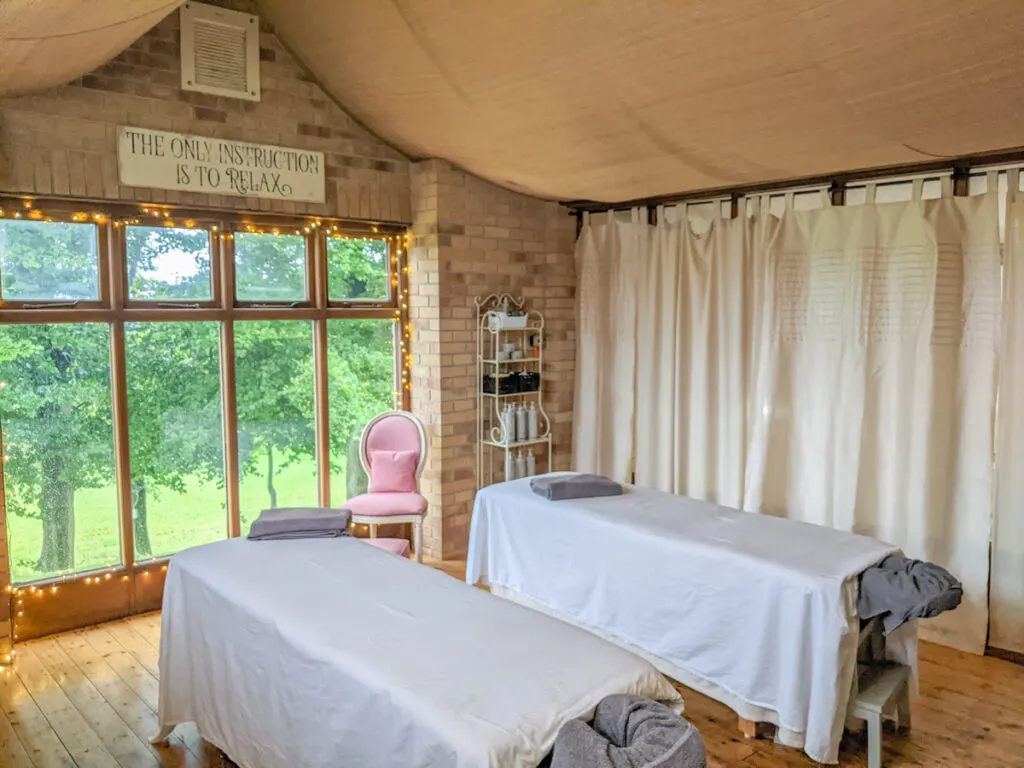 But for our boys (age 5 and 6) the swimming pool was definitely their favourite thing about our stay. COVID restrictions mean that guests have to book a thirty minute time slot for the pool the evening before. This time slot is for your group only, and no one else, so you get to enjoy a private pool session just for your family!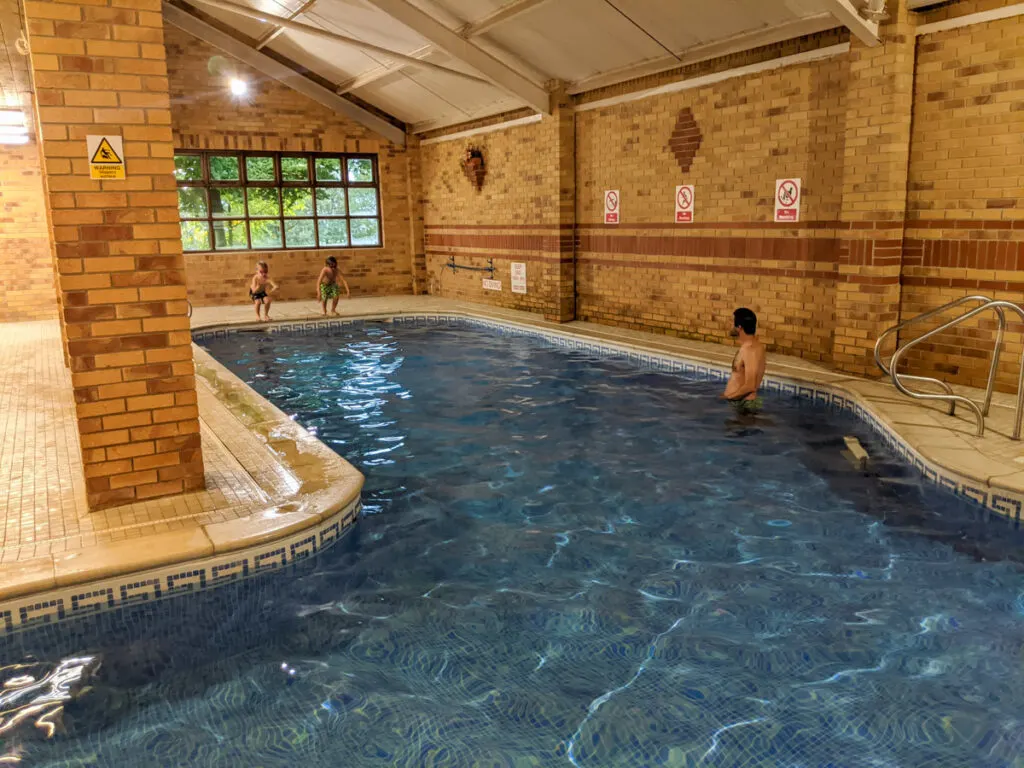 Butterton Cottage
We stayed in two bedroomed Butterton Cottage, which sleeps four. Beds can be arranged into doubles or singles, and the main bedroom has an ensuite shower and toilet. The bedrooms are upstairs along with a separate bathroom.
Downstairs is an open plan kitchen, dining room, and lounge, with back doors that open out to the playground. On a warm summers day, I imagine it's rather lovely sat at the outdoor dining table on the patio with a glass of wine in hand, watching the kids play on the playground. Whilst we did enjoy some sunshine during our stay, it was a rather cold autumnal weekend, and I was very grateful of the excellent heating in the cottage.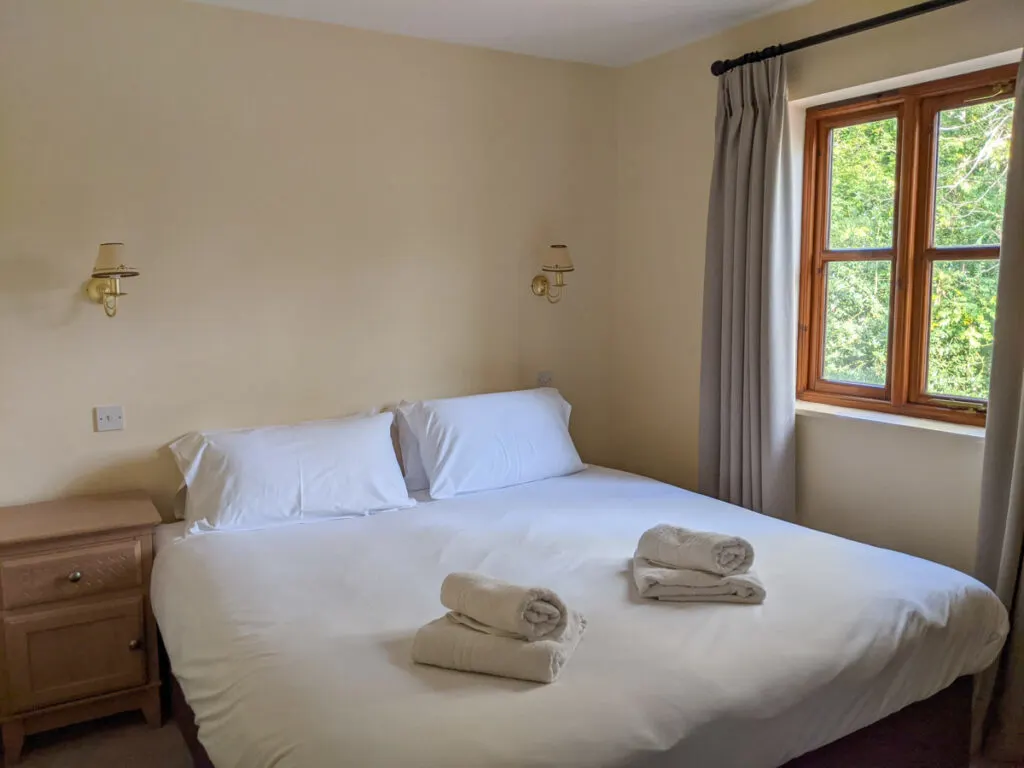 The kitchen has a fridge, oven and microwave, plus all the pots, pans and crockery you need. There is no washing machine or dishwasher in the cottage, although there is a communal laundry room onsite.
One thing I would say about Butterton is that whilst it is extremely comfortable, it does perhaps lack the character one might expect of a Peak District holiday cottage, such as old wooden beams and a log burner. However, there are other cottages available onsite should this be what you're looking for in a cottage.
What to do in the area
With Carsington Water and the Peak District on your doorstep, you really are spoilt for choice. Plus the tourist town of Matlock Bath (often dubbed Derbyshire-on-Sea) is just a 15 minute drive away. There is more than enough to do to fill a week long stay. Do check out our guide for top things to do in the Peak District with kids, and also our guide for things to do in Matlock.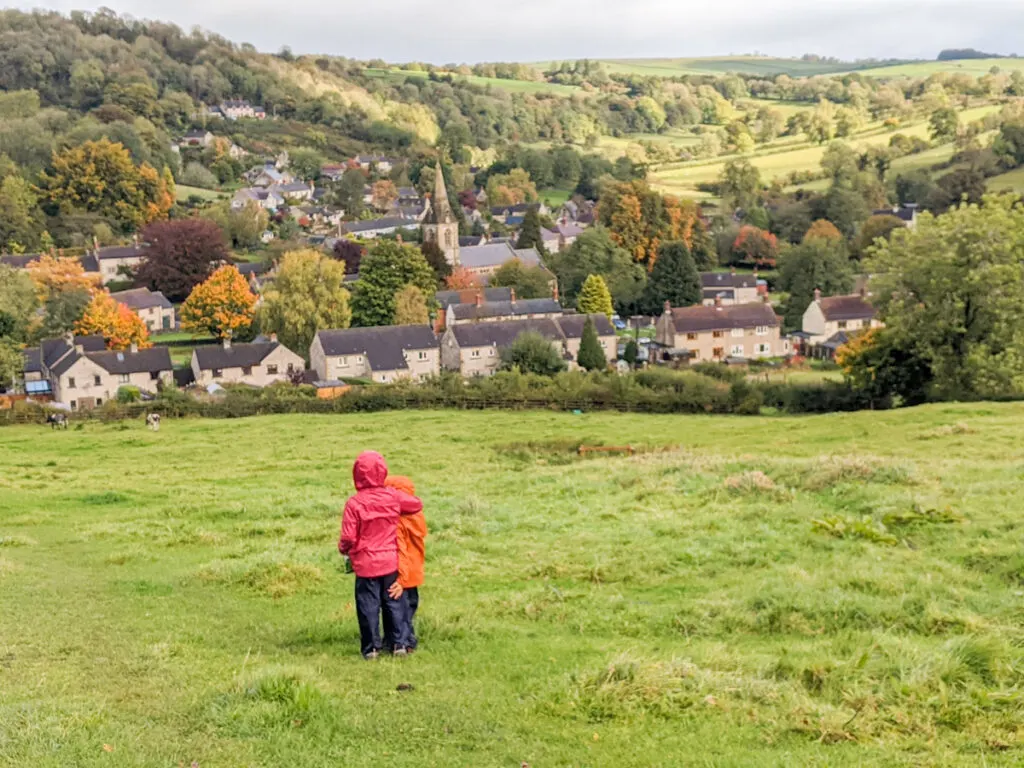 But for our weekend stay, we decided to do a pub walk in the Peak District on the Saturday (we did a circular walk from Tissington to Parwich), and then on the Sunday we cycled around Carsington Water.
There is a 1km cycle track that leads you down to Carsington Water, almost directly from Knockerdown Holiday Cottages. Just walk 100 metres down the road to the right of the main entrance, and you'll see the path on the left. Once you reach the Visitors Centre at Carsington Water you can follow the blue arrows for the designated cycle track that takes you right the way around the reservoir. It's 11km, but very undulating (kids will need bikes with gears).
Read our full review: Cycling around Carsington Water with kids
Don't worry if you haven't got the bikes, you can hire them from Carsington Water. Alternatively, there is also a Carsington Water walk around the reservoir. This takes a slightly different route from the cycle path and is also a pram-friendly walk.
There's also a large playground area at Carsington Water with equipment geared for toddlers right through to ages 12+. Watersports are on offer throughout the year, and cycle hire is also available with Carsington Sport & Leisure. There are also a range of cafes and The Mainsail Restaurant.
Alternatively, you could eat at the Knockerdown Inn, which is directly across the road from Knockerdown Holiday Cottages. We didn't eat here, although I hear they serve hearty pub meals (including a kids' menu) and I also noticed a playground in their beer garden.
Tips for your stay at Knockerdown Holiday Cottages
Some items that we would suggest packing:
Flip flops to slip on your feet to go to and from the pool
DVDs to watch a film in the evening. There is no Netflix or DVDs, only live Freeview TV.
If you're travelling with very little ones, consider packing plastic bowls, plates and cups as these aren't provided.
Oven gloves (these weren't provided in our kitchen)
A highchair and cot can be provided on request.
And if you're planning a walk in the Peak District, check out our essential packing list for a Peak District family walk.
Final thoughts on Knockerdown Holiday Cottages
Even though we were just 30 minutes down the road from our home in the Peak District, our stay at Knockerdown Holiday Cottages felt like a lovely little holiday. A true staycation! And the reason for this was not just the change of scenery, but the fantastic facilities on site. Once we were back from our day out adventuring, we still had a private pool session to look forward to, or the boys would run out to play in the playground whilst us parents had a cuppa.
If you're looking for family friendly accommodation that is well situated for lots of different days out, from cycling around Carsington Water, hiking in the Peak District, or the attractions around Matlock (such as Heights of Abraham and Gullivers Kingdom Matlock), you can't really beat the location.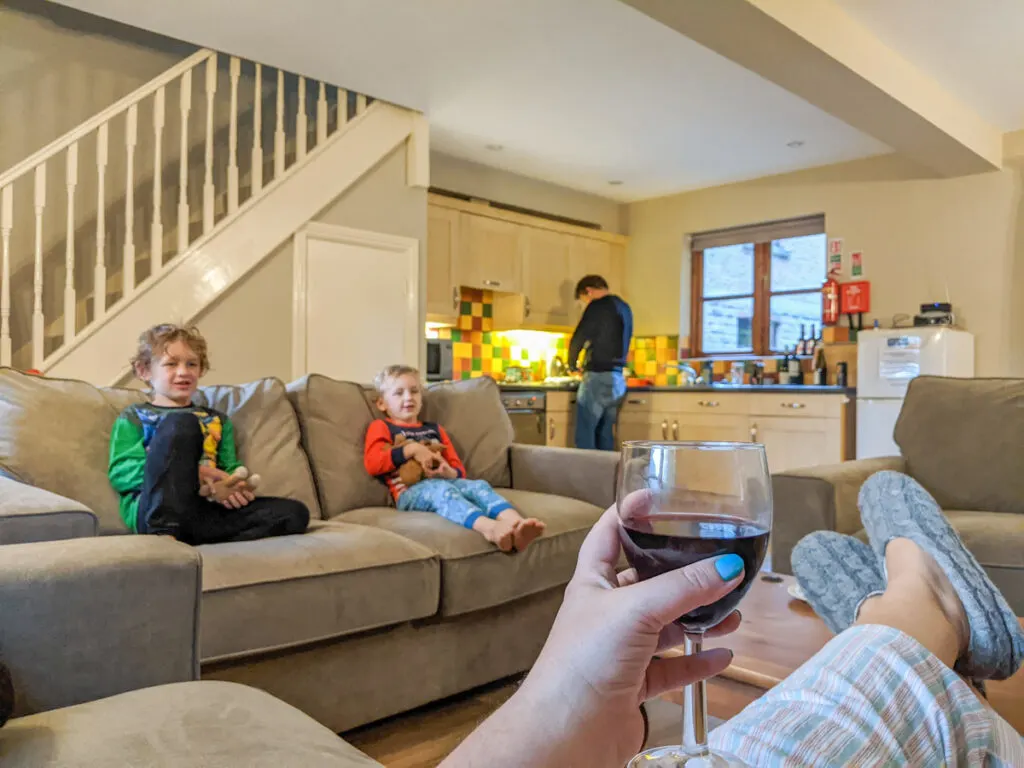 How to book
Head over to the Knockerdown Holiday Cottages website to book.
---
You may also like to read:
Days out in the Peak District with kids
Cycling around Carsington Water with kids
Things to do in Matlock and Matlock Bath