Perched on a steep hillside overlooking the tourist town of Matlock Bath (often called 'Derbyshire-on-Sea') is Gulliver's Kingdom Matlock. Whilst it may not live up to the expectations of Alton Towers' big, adrenaline rides, there's a dated charm to this small park and it's especially suited to primary aged kids. Featuring 17 rides, from the Log Flume to the Log Roller Coaster, the Pirate Ship to Gully's Pirate Adventure and lots more, these gentler rides keep the whole family smiling. Plus, the views are pretty special.
For those families looking for days out in the Peak District, a trip to Gulliver's Kingdom Matlock (just outside the National Park) is a great choice, and a nice balance if you've been doing lots of Peak District family walks on your holiday. Click here if you're looking for other things to do in Matlock and Matlock Bath.
Here are our top 10 tips for visiting Gulliver's Kingdom Matlock:
1. Pre-book your tickets
All tickets must be pre-booked online (click here). You can cancel or move your booking up to three days in advance of your visit, and there is no processing fee.
Don't try and turn up on the day without a ticket.
Prices for 2022 are:
| | Online advance* |
| --- | --- |
| Adult / child | £18 |
| Senior | £16 |
| Under 90cm | FREE |
| Concessionary | £13 |
* For best prices book online 2+ days in advance
2. Book the earliest timeslot
The park is at its most quiet first thing in the morning, and starts to get busier around lunch time. Beat the queues and book your ticket for the earliest time slot (10:30am).
3. Check your the height of your children before you go
There are height restrictions on many of the rides, yet there are no height markers at the start of the queue to check if your kid is able to ride. Instead this is done by staff just before you go onto the ride.
To manage your kids' expectations and avoid any meltdowns, measure the height of your children before your visit. You can check which rides your kids can go on here on the website.
4. Wear comfortable shoes
You are on your feet all day, so make sure you're feet are comfortable and dry. Leave the flip flops at home and wear sturdy trainers; or even better, your hiking boots.
5. Head straight to Riggers Revenge First
We barely had to queue for any of the rides. However, Riggers Revenge (a zip line course) was an exceptionally long wait; we queued for 1.5 hours for the 10 second ride. It was the boys' favourite ride, but the queue was painfully slow as each rider has to get individually rigged up into a harness.
We tried waiting to the end of the day, thinking that the queue would die down. It never did. So we advise going first thing.
6. The chair lift doesn't take you all the way back to the top
Some people are often mistaken that the chairlift takes you all the way back to the top. In fact, just a bit further up the hill is Western World and worth a visit, at least for the log flume! Just walk through Safari Kingdom, take a right, and a travellator takes you further up the hill.
A logical way to work your way through the park is to head downhill to the bottom, get the chairlift up, then head to Western World, to the work your way back down again for any rides you missed or want to do again.
However, we found the queue for the chairlift to be a very long wait. In all honesty, as there are lots of rides to go on as you make your way back up hill, the climb back up isn't that laborious. So if you want to avoid the chairlift queue and still want to ride it, take the chairlift down and then work your way up. Plus, it means you're facing the views on the way down!
7. Allow for a full day
Even though it's a small town, there are so many things to do in and around Matlock (including Heights of Abraham and Matlock Farm Park). Don't be tempted to do half a day at Gullivers Kingdom Matlock, and then the other half elsewhere. Kids (and parents!) will be shattered.
You can easily spend a full day at Gulliver's Kingdom Matlock. So don't rush it. Save the other attractions for another day.
8. Age 6-9 is the perfect age
Whilst Gulliver's Kingdom Matlock is geared for kids aged 2 to 13, ages 6-9 is the perfect age (although it's more about the height really). Kids who are 110cm+ will be able to go on all of the rides (mostly with an adult). Kids who are 140cm+ will be able to go on all rides without an adult.
There are still lots to do for younger kids, so don't worry about them being bored! Toddlers especially will enjoy the JCB Zone. Plus, kids under 90cm are FREE!
Gulliver's Kingdom Matlock does lack the big, thrill rides more associated with Alton Towers. And kids who have been on the big rides at Alton Towers, may feel that Gulliver's Kingdom Matlock doesn't quite live up to expectation.
9. Bring a packed lunch to save money
There are food outlets all over the park. But there are also lots of benches and tables for those that want to bring their own packed lunch. Although by bringing your own food, it means that you can snack in the queues for the rides and keep everyone's energy levels up when needed.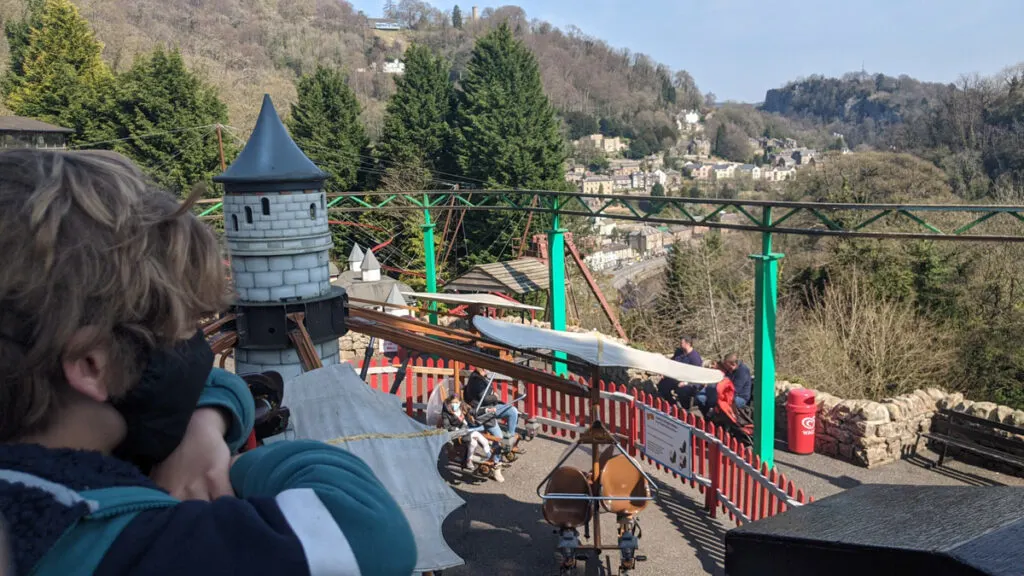 ---
You may also like to read:
Top things to do in Matlock and Matlock Bath
Heights of Abraham REVIEW
Crich Tramway Village REVIEW