With so many farms dotted around the Peak District, you'd be surprised to learn that the only place where you can actually feed farm animals is Matlock Farm Park. Technically, it is situated just outside the National Park boundary, but it's a fantastic day out if you're visiting the Peak District or staying near Matlock, especially for younger kids.
Peak District kids were provided with complimentary passes at Matlock Farm Park in exchange for this honest review and social media coverage.
But there's more to Matlock Farm Park than just feeding the farm animals. There are no less than three outdoor play areas, pony rides and horse riding lessons, go karts, an indoor play area (which is currently closed due to COVID-19), as well as meerkats and wallabies to meet!
Plus, this is one of the very few Peak District attractions that doesn't require prebooking of tickets. Being an outdoor attraction, this is very handy as you can decide on the day if the weather is in your favour. However, this does mean you may be queuing to enter.
Our latest visit to Matlock Farm Park was 3rd August 2020, after the reopening from lockdown.
Getting to Matlock Farm Park and parking
Despite the name, Matlock Farm Park is actually a good 10 minutes drive from Matlock itself, and is set in wide open countryside. There is ample parking right next to the entrance, and also an overflow car park. There is a train station in Matlock, but really you need a car to get here.
Click here for Google Maps location.
Tickets
Matlock Farm Park is open year round, except Christmas Day and Boxing Day. There is no prebooking online, you just turn up on the day. However, we arrived shortly after opening time of 10am and we did have to queue for a good 20 minutes before entering the park. I usually suggest getting to places early, but as Matlock Farm Park is popular to small kids (who may be nap in the afternoon), it may be an idea to visit later in the day if you can.
Check their website for up to date ticket pricing.
On top of this, you will want to purchase a bag of animal feed. This is £1 per bag. My boys had one each, but one bag between them would have been more than enough. Pony rides are £3.50 per child (minimum age 3) and must be paid for at the entrance.
How much time should you allow?
Allow a good three hours at Matlock Farm Park.
Can you take a pram to Matlock Farm Park?
There were lots of prams and buggies during our visit, and the whole park is very pram friendly.
What age is it suitable for?
Matlock Farm Park is a great day out for all the family (grandparents included, as there's not too much walking). However, with the animal feeding and play areas, it is especially perfect for younger kids. My boys are 5 and 6 years old and they absolutely loved it. Although most kids there seemed to be their age or younger.
What to bring
Aside from the Rainforest indoor play, Matlock Farm Park is entirely outside. So do check the weather before your visit and dress accordingly. It's always a good idea to pack a rain jacket, and wear wellies in the wetter months as it does get muddy.
Also bring £1 coins for the electric pedal cars.
There are picnic benches throughout the park for your to enjoy a picnic. Or bring a picnic blanket and find a spot on the grass.
Things to do at Matlock Farm Park
Matlock Farm Park is much more than a farm!
Feed the animals
Follow the one way system around all the farm animals to feed lots of sheep, goats, pigs, donkeys, and llamas. Using the the grass nuts food from a bag purchased at reception, hold out your hand nice and flat to feed them. If you are feeding the donkeys or pigs, it's best to throw the food on the ground in front of them.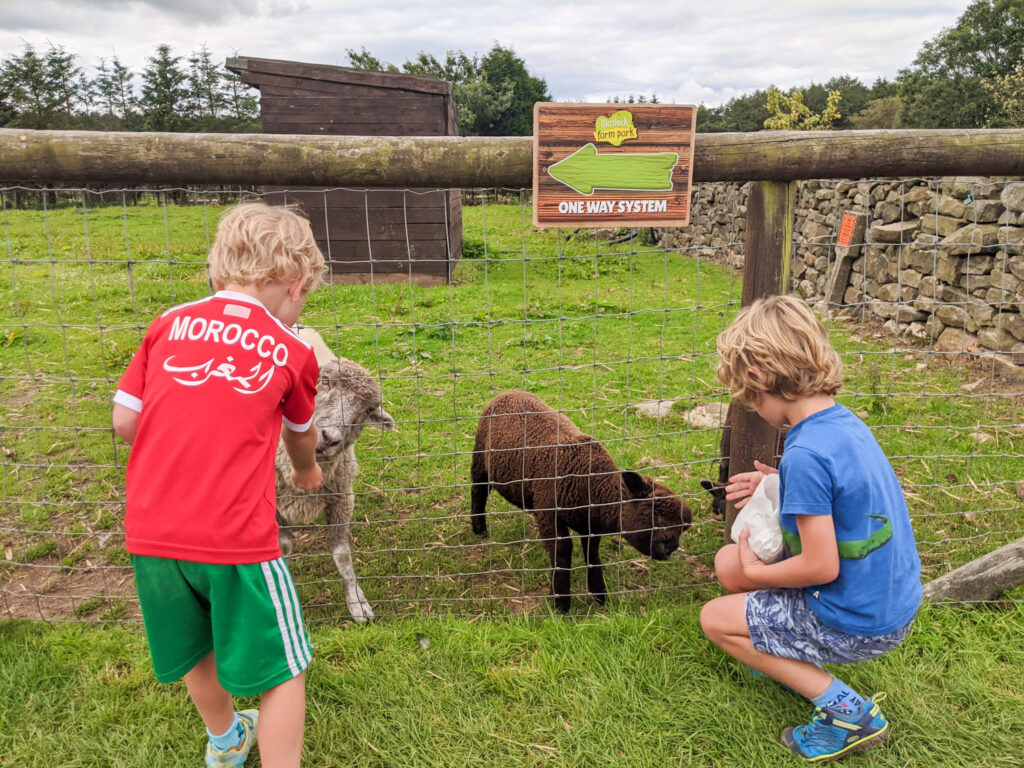 From Spring until early Summer there are cade lambs for bottle feeding and tiny fluffy chicks to hold.
And don't forget to check in on the meerkats and wallabies!
Play in the playgrounds
There are no less than three playgrounds dotted around the park. This includes a tots area, complete with wooden pirate ship and a sand pit.
The indoor Rainforest playbarn is currently shut. But when it does open again, kids will love going wild on the indoor climbing frame with various slides and scramble nets, and younger ones will enjoy the underwater-themed soft play area complete with an amazing interactive eye-spy panel and soft building blocks.
There is so much green open space for kids to run around freely and practice cartwheels, and there's even a giant chess set.
Ride the go-karts
The go-karts are £1 per go and lots of fun. These are coin operated, so make sure you bring some £1 coins with you.
There are also ride along tractors here, which was a saviour for me as I didn't have any coins and the boys were still happy playing on these for free.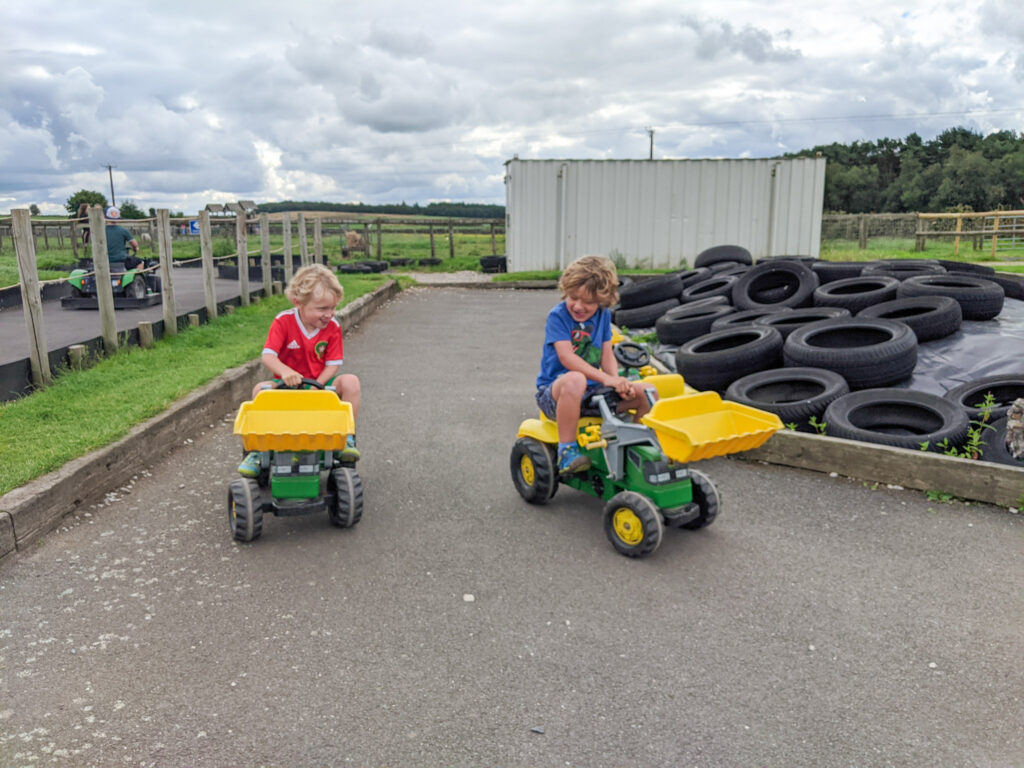 Pony rides
Pony rides are £3.50 per child and the minimum age is 3. Pony ride tickets must be paid for when you first arrive at the entrance. There are timed sessions for the pony rides.
However, we had no idea how busy this would be. We planned to go to the 11am to 12:30pm time slot and arrived at 11:20am. There was a huge queue (probably looked longer due to social distancing), but we had to wait until 12:10pm for the boy's turn! This really wasn't a problem for the boys as they had their picnic lunch on the grass and were happy to run around, but I felt this to be rather a long wait.
The boys absolutely loved the pony ride though! Riding hats are provided, and a staff member leads the pony around the paddock a couple of times (lasting about 3 minutes).
Horse riding lessons
Matlock Farm Park's Riding School & Trekking Centre is part of Matlock Farm Park. You can book anything from a 30 minute to 2 hour lesson. All lessons include free entry into Matlock Farm Park for the rider for the day. This is a very good deal seeing that a 30 minute lesson costs £20, and child entry (4-14 years) would be £8.50.
Check their website for further details of horse-riding lessons.
Final thoughts
Matlock Farm Park is a wonderful multi-generational day out, and young kids will especially enjoy feeding the animals and the playgrounds.
As it's geared more to younger kids, the park is busier in the morning. It may be an idea to visit later in the day. There was no-one queuing at all to get in when we left at 1pm and other families were starting to leave too. And if you are doing the pony rides, aim to get there just before they start, so you hopefully don't have to queue as long as we did.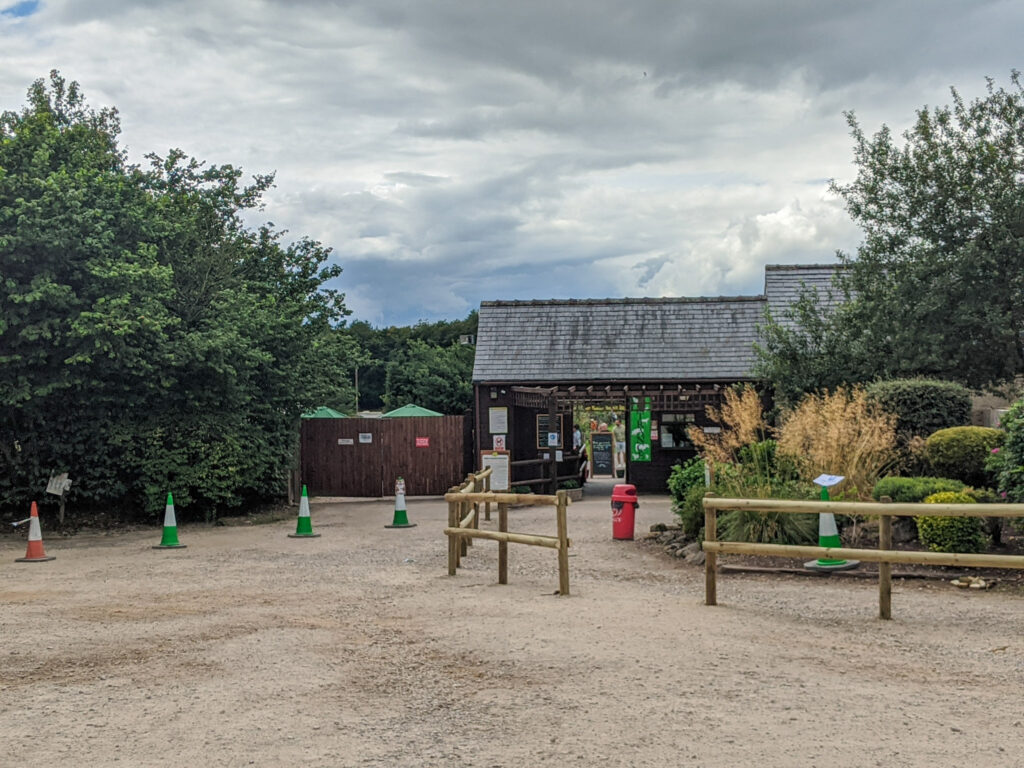 The team at Matlock Farm Park have done a fantastic job with implementing COVID safety measures. The one-way system is very clear and there is always a hand sanitiser in sight. Plus social distancing is very easy as there is so much space. It can get a little busy at the playgrounds, but there's always somewhere else to go for some space. Furthermore, it's very handy that you don't have to pre-book tickets, so you can rock up on the day if you fancy it!
If you are looking to spend more time in Matlock, check out our top things to do in Matlock!
---
You may also like to read:
Heights of Abraham review
Top things to do in Matlock
Best Peak District family camping