This Baslow to Chatsworth walk, which leads through one of the grandest estates in the UK, has to be our absolute favourite pram friendly walk in the Peak District. Starting from this pay and display car park in Baslow, you follow an even, flat path towards Paine's Bridge by Chatsworth House, and then detour up the hill to Edensor (pronounced 'Enza') for halfway treats of cake and a cuppa at Edensor Tea Cottage, before retracing your steps back to Baslow.
And it's FREE to enter Chatsworth Estate. However, if you choose to visit the gardens, farm, adventure playground, or the House, you will need to pre-book online.
If you're looking for a longer pram friendly Chatsworth walk, you could add our pram friendly Stand Wood walk to this Baslow to Edensor walk. Just take a detour up to the House when you get to Paine's Bridge and walk up through the car park, following signs for the Farmyard & Adventure Playground.
A huge thank you to Polly from Follow Your Sunshine who modelled the photos for this walk whilst her baby slept peacefully in the pram.
If you are planning a visit to the National Park, please arrive early or late in the day to avoid crowds. Please also take all litter home with you, don't bring BBQs and park your car in designated parking areas. Also, please use these walks as a guide; access and stiles may change.
Disclaimer: This post contains affiliate links. Should you click to purchase, it is at no additional cost to you, but I receive a small commission.
FOLLOW US:
Do check out our top tips for hiking with young kids, as well as our essential items to take on a family hike in the Peak District.
Baslow to Chatworth walk map
On all Peak District family walks it's a good idea to have an Ordnance Survey paper map with you, even if you have your phone on you. For this walk you need the OS Explorer Active Map OL24 (White Peak). It's also a good opportunity to show young kids the map features and get them started with map reading.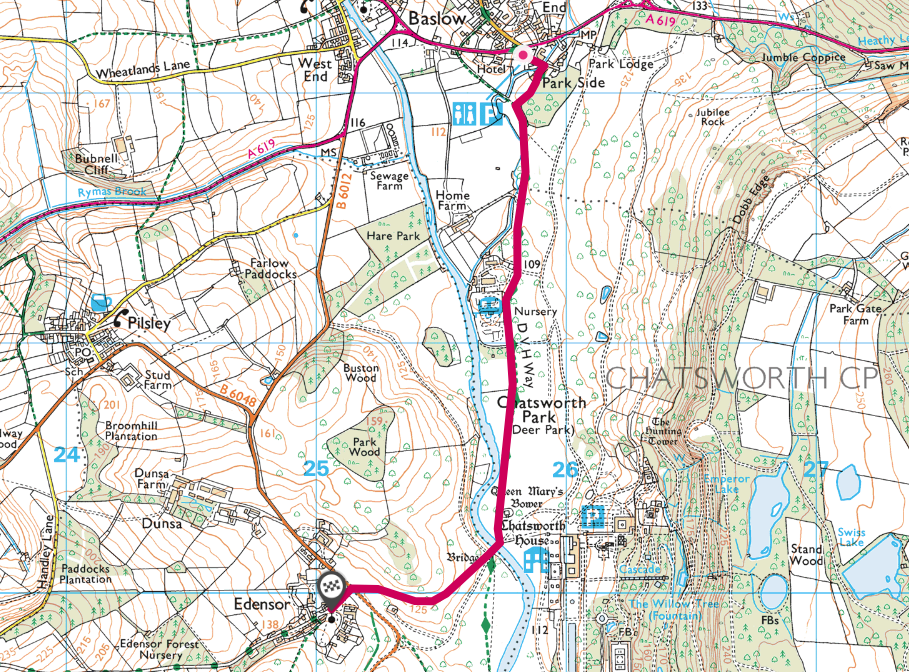 Need to know
DISTANCE OF WALK: 5.8km (2.4km each way)
TYPE OF WALK: linear, pram/buggy friendly, easy going, gravel paths
PARKING: Use the pay and display car park in Baslow called Nether End Car Park. Click here for Google Maps location, postcode: DE45 1SR. Parking is £4 for 3 hours, £5.20 for 4 hours, or £6.20 all day.
WALK HIGHLIGHTS: Walking through the Chatsworth Estate, spotting lambs or deer along the way, and cake at Edensor Tea Cottage.
HOW LONG DOES IT TAKE: Allow 2 hours if its just adults with a child in a buggy or pram. But allow a bit longer if you have young kids walking with you too.
ACCESSIBILTY: Pushchair and wheelchair friendly. It's a flat even path towards Chatsworth House, and then a slight hill from Paine's Bridge towards Edensor.
TOTAL ASCENT: 62 metres
PUBLIC TOILETS: There are public toilets at Nether End Car Park where this walk begins, plus the café of Edensor Tea Cottage.
The route
1. Starting from Nether End Car Park in Baslow, walk right out of the car park along Church Lane and over the bridge.
2. Once over the bridge, take the footpath on the right which leads to the metal gates of Chatsworth Estate after 500 metres.
3. From these gates, it's an easy stroll to Paine's Bridge by Chatsworth House for 1.4km.
4. Walk over Paine's Bridge, and follow the footpath to the right of the road that leads up and over the hill.
5. From the top of the hill you will spot the picturesque village of Edensor. Continue downwards along the footpath, and cross the road into Edensor. The easiest way to get through the entrance to Edensor with a pram is through the large gate, to the right of the cattle grid. Edensor Tea Cottage is just before the church on the left hand side.
A fun Peak District fact: The village of Edensor was originally much closer to Chatsworth House. The Fourth Duke of Devonshire felt that the village spoiled his view so he had the entire village (apart from one house) moved!
6. After tea and cake, retrace your steps back towards Baslow.
---
You may also like to read:
Baslow Edge walk (2.7km): highland coos and epic views
Chatworth Hunting Tower and Aqueduct walk (1.9km)
Pram friendly walks in the Peak District