The Manifold Way (not to be mistaken with the Manifold Trail) is a mostly traffic-free footpath and cycle route in the Peak District, that's great for families. It runs for 12.7km (7.9 miles) through Staffordshire's Peak District, from Hulme End to the north and Waterhouses to the south, following the route of the disused Leek and Manifold Light Railway (which operated between 1904 to 1934), alongside the River Manifold and River Hamps.
It is a beautiful ride through the lush Manifold Valley, and a much quieter alternative to the Monsal trail. Half way along you can stop for an ice-cream or slice of cake at Wetton Mill. Plus, you pass right underneath Thor's Cave, where it's believed that humans lived 10,000 years ago!
Disclaimer: This post contains affiliate links. Should you click to purchase, it is at no additional cost to you, but I receive a small commission.
If you are planning a visit to the National Park, please arrive early or late in the day to avoid crowds if visiting over sunny weekends or school holidays. Please also take all litter home with you, don't bring BBQs and park your car in designated parking areas. Also, please use these route descriptions as a guide; access may change.
Click here to check out more family cycle routes in the Peak District
FOLLOW US:
PARKING INFORMATION: Please do not rely solely on the postcode for parking directions. In the National Park, a postcode can cover a large area. Postcodes are only provided as guidance. Please either use the Google Maps point provided for every walk, or what3words.
Manifold Trail map
Click here to see the Ordnance Survey map of the Manifold Way.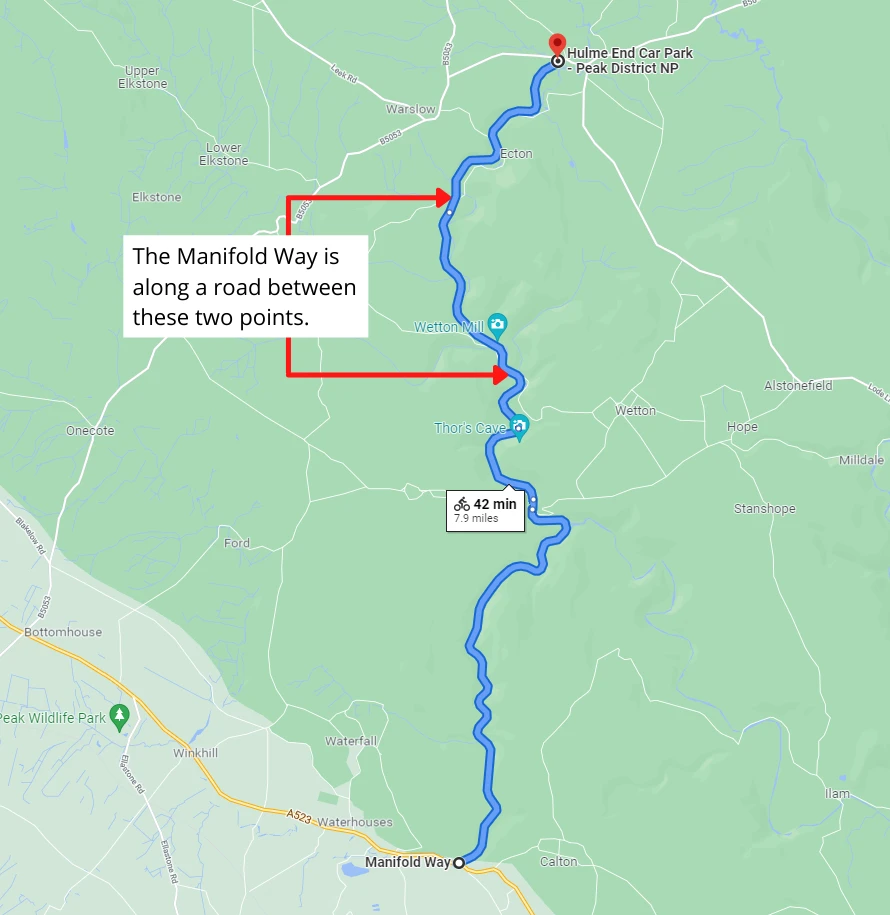 Do note that the Manifold Way is not entirely traffic-free. There's a 2.6km (1.6 mile) section from the tunnel just south of Ecton, down to just past Wetton Mill, that's along a road. This road is very quiet, although at weekends, you are likely to at least pass a few cards making their way to the tea rooms and parking at Wetton Mill.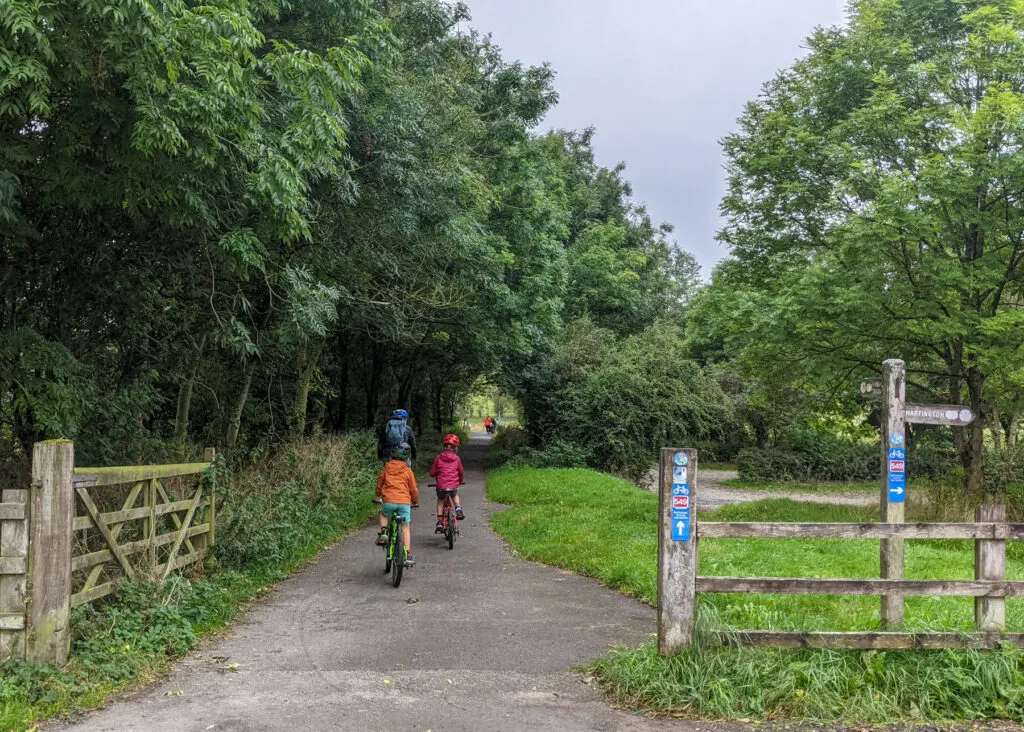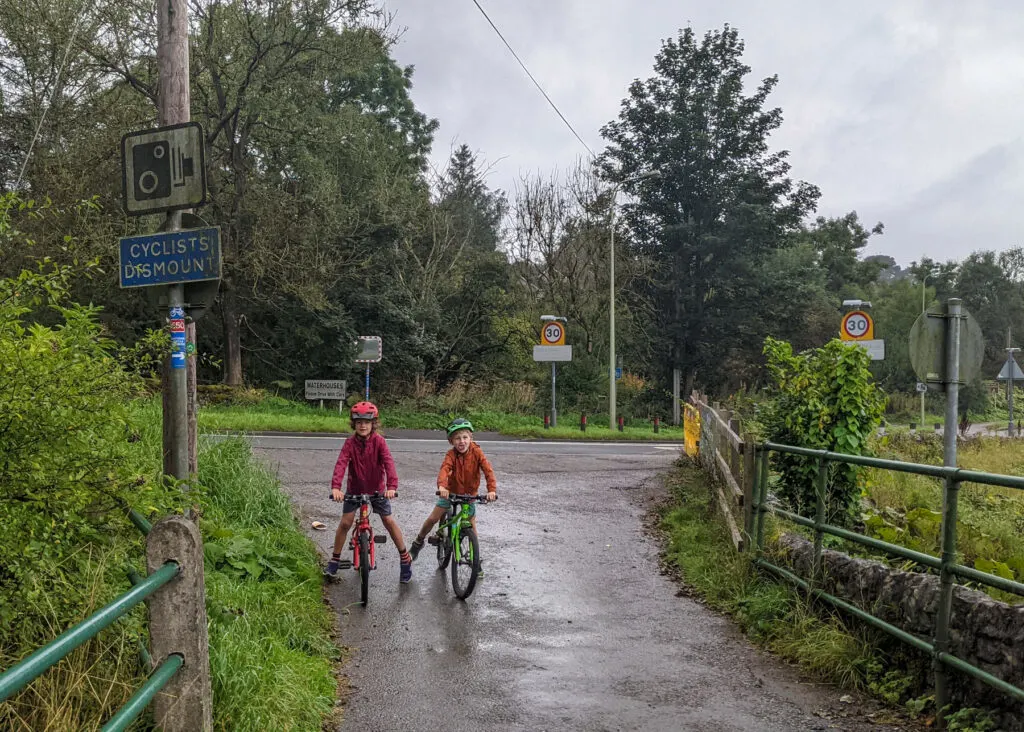 Is the cycle route flat?
No, the Manifold Way is not entirely flat, but it is relatively easy-going and suitable for families.
From Hulme End to Wetton Mill there is a gradual descent. Then from Thor's Cave to Waterhouse, there's a gradual ascent.
Kids will need to have gears on their bikes and know how to use them to keep going on the uphill sections. If they drop down to an easier gear, they will be absolutely fine.
Click here to see the elevation for the Manifold Way on Ordnance Survey.
What's the surface like?
The trail is paved all the way, although in places it's in need of repair and there are quite a few pot holes to negotiate, plus small gravel sections.
Also, the track isn't as wide as you may have experienced on other Peak District cycle routes. Passing can be tight in places.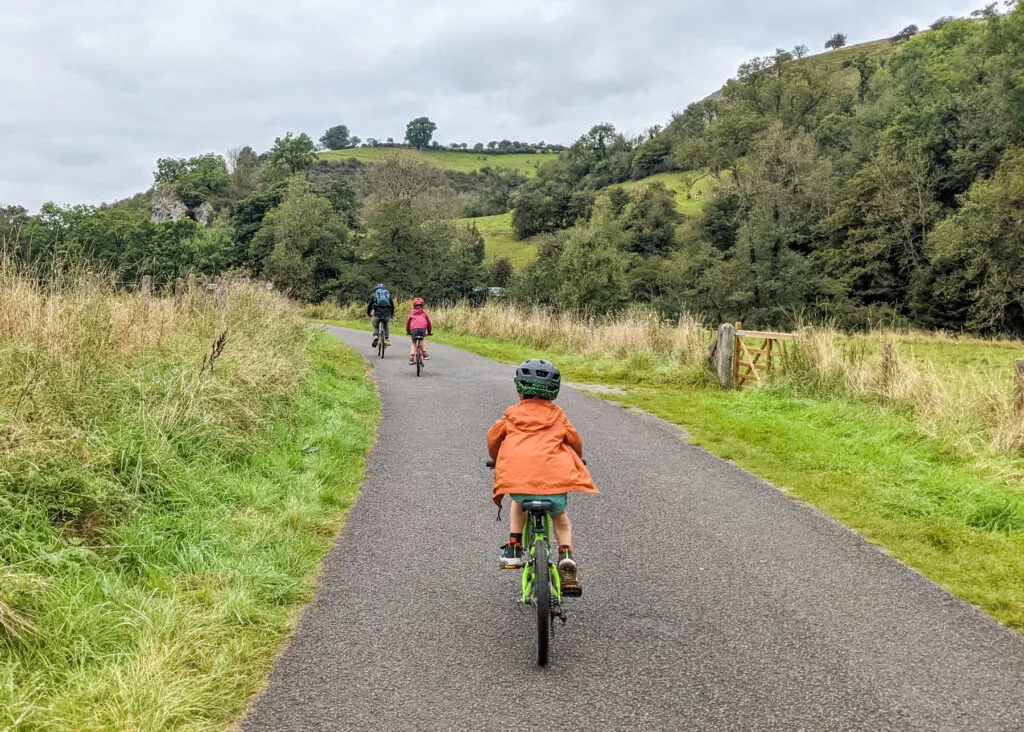 Is the Manifold Way the same as the Manifold Trail?
Even though many other Peak District cycle routes are called 'Trails' (e.g. Monsal Trail, Tissington Trail, High Peak Trail), the Manifold Way should not be confused with the much longer Manifold Trail.
The Manifold Trail is a 37km (23 miles) walk between Flash and Dovedale that is inaccessible for cyclists. Although the Manifold Way and the Manifold Trail do share the same route for some distance.
Where to park
There are four car parks along the Manifold Way; one at either end of the Manifold Way, and two in the middle-ish.
1. Hulme End (click here for location on Google Maps)
This is the northern end of the Manifold Way. When you turn off the road to park, there is the pay and display car park to the right. The car park on the left is only for those eating at the café. The former station here has been turned into a Visitor Centre (open most weekends and school holidays). You will also find public toilets here. This car park is run by Peak District National Park. It's pay and display (coins only), although FREE for annual pass holders.
2. Waterhouses (click here for location on Google Maps)
This is the southern end of the Manifold Way. Parking is behind Ye Olde Crown Hotel. This car park is also run by Peak District National Park. It's pay and display (coins only), although FREE for annual pass holders.
3. Wetton Mill (click here for location on Google Maps)
This is half way along the Manifold Way, and a good option if you want to avoid kids cycling most of the road section. Parking is very limited here, and it's actually the free parking for the tea rooms. So if you do park here, make sure you buy something from the tea rooms (the cakes are amazing!) There is also road side parking before crossing the bridge to the tea rooms, but please park considerately.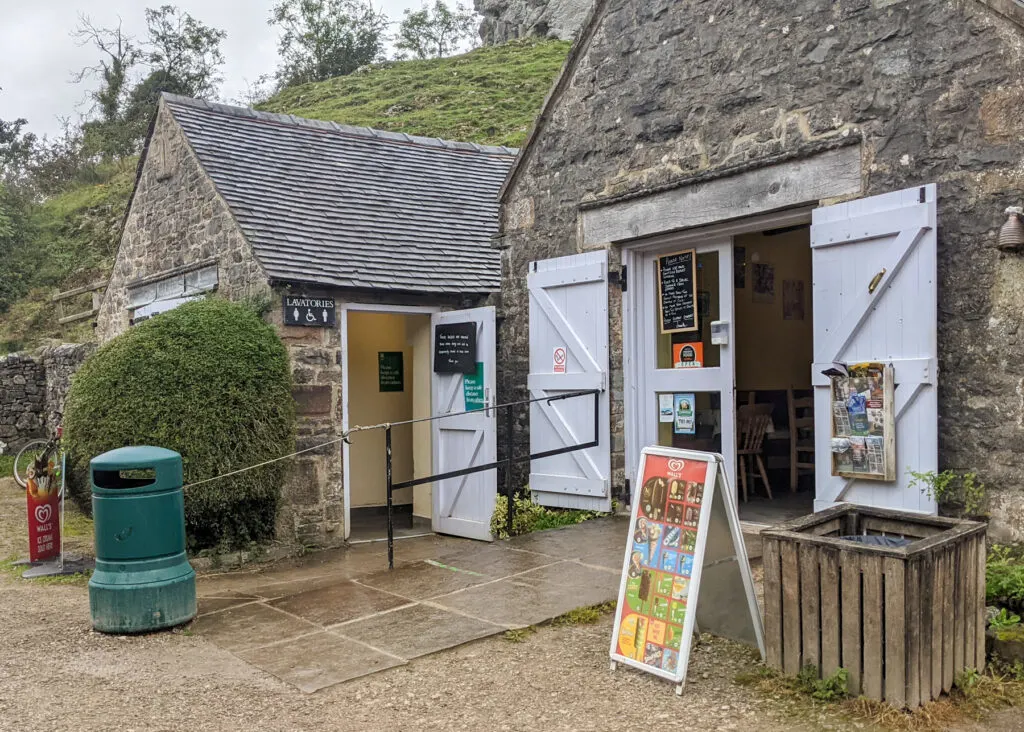 4. Larkstone Lane (click here for location on Google Maps)
This is just south of Thor's Cave and a free parking layby.
How long does it take to cycle the entire length of the Manifold Way?
The Ordnance Survey suggests that it's a 40 minute cycle each way from Hulme End to Waterhouses. That's 1 hour 20 minutes for the total 25km there are back. To be honest, this would require a very high level of fitness to achieve this time.
With younger kids, you will want to make a whole day of it if you intend to do the entire length back and forth (25km total). With stops along the way to play, and cake at Wetton Mill, it took us 5 hours there and back (our boys are aged 6 and 7).
Which direction is best to cycle?
If you intend to cycle the Manifold Way with kids, it doesn't really matter which end you start. However at Hulme End, there is parking immediately next to the Manifold Way. If you start at Waterhouses, it's a 600 metre cycle along a cycle track (along a very busy road) to the start of the Manifold Way, which adds on a little more distance.
Is there are shorter section for younger kids?
Start at Wetton Mill (which is almost half way) and cycle south towards Thor's Cave and Waterhouses. You still have to cycle a short way (600 metres) along the road, but you miss out 2km. Wetton Mill to Waterhouses is 7km. This then allows for a nice descent back down to Wetton Mill. So 14km in total.
Alternatively, park at Larkstone Lane, just south of Thor's Cave (click here for location on Google Maps). Very little ones may just want to go from here to Wetton Mill and back, which is just 2.6km each way (5.2km in total).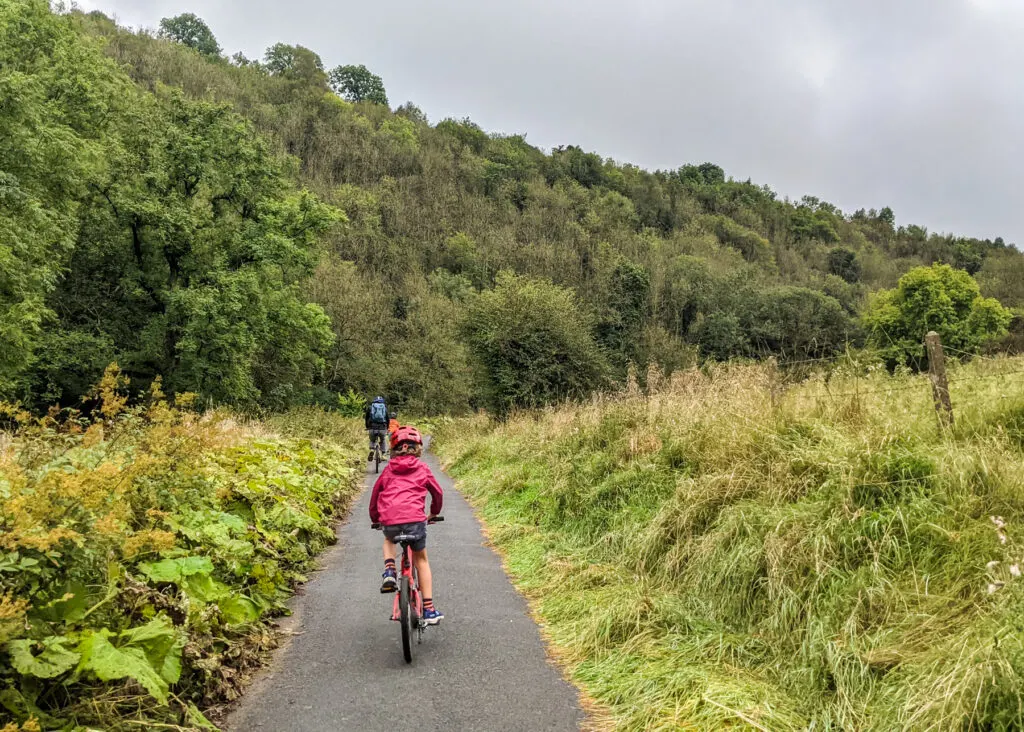 Points of interest along the way
The Manifold Way is such a beautiful ride, and at times it feels like you're cycling through a jungle!
There are not any notable villages along the way. In fact it's been reported that an ex-railway worker described it as 'a line that starts in the middle of nowhere, and ends up in the same place'.
But the tunnel south of Ecton is very fun to cycle through, and a stop at Wetton Mill for an ice-cream or cake is a must (this is also a good spot for kids to paddle in the warmer months)
Plus, the Manifold Way passes right underneath Thor's Cave. If you have the energy, park and lock your bikes up, and then take the steep (and slippery) path up to the cave. Make sure you take a torch for exploring inside! Although, please note that Thor's Cave does get exceptionally busy at weekends and school holidays. We advise visiting at quieter times to avoid queuing to get in for the insta-worthy photo.
Cycle hire
Cycle hire is available at Visitor Centre at Hulme End. You don't need to book, just turn up! Although do note the opening times, as they tend to only be open during peak season and some weekends.
Cycle hire is also available at Brown End Farm (Waterhouses). The website doesn't seem to work, but they do have a Facebook page.
Although if you do need to hire bikes for the Manifold Way, the Visitors Centre at Hulme End is your best bet.
Is there a good pub nearby?
There's an excellent pub in Hulme End. The Manifold Inn, just 500 metres from the start of the Manifold Way. There are vegetarian, vegan, and gluten free options, a children's menu, and a beer garden.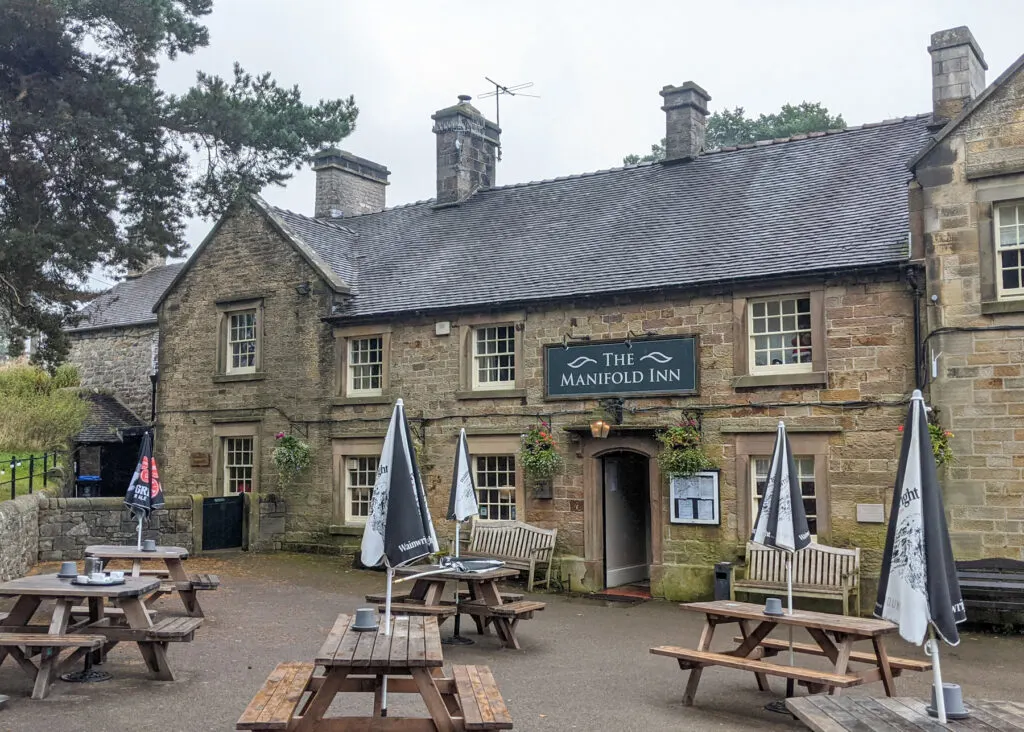 How about a good campsite nearby?
There is a fantastic campsite close to the Hulme End end of the Manifold Way. Check out our review of Bank House Farm Campsite. This is one of our favourite family campsites in the Peak District. Check out the view!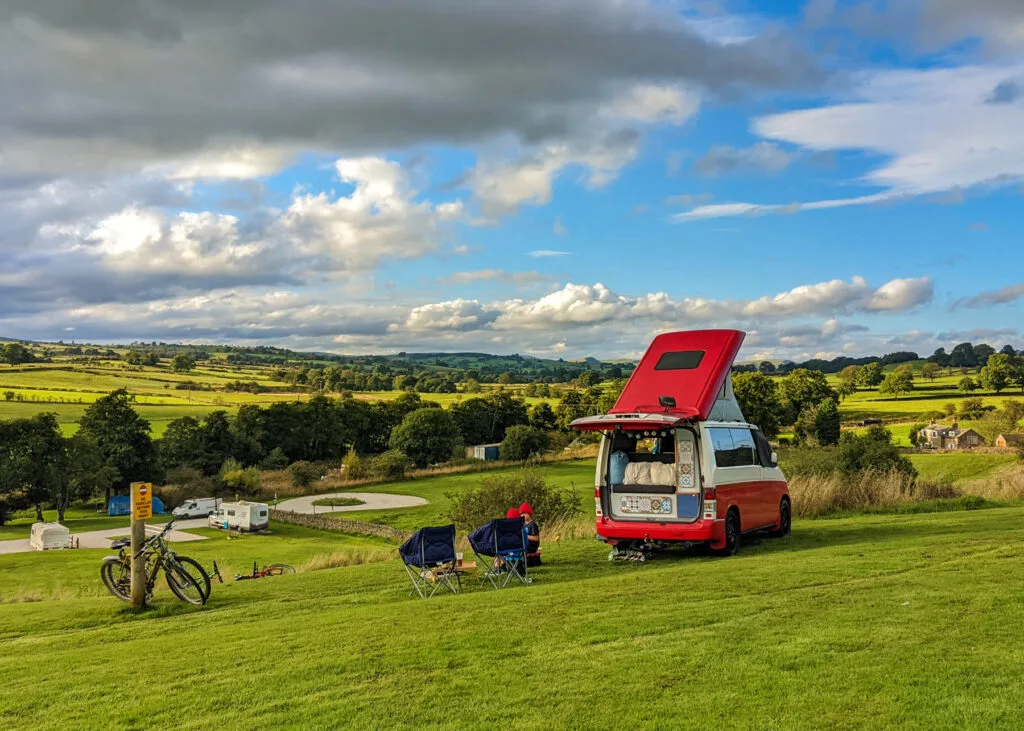 ---
Peak District Kids is a free online resource. If you enjoyed this bike ride, you can show your support by buying me a coffee. Thanks so much! You may also want to share your own photos from our walks in our Peak District Kids Facebook Group.
Or visit the Peak District Kids shop. £1 from every sale of the iron-on patches goes towards the Peak District National Park Foundation, a registered charity established to raise funds to care for The Peak District National Park.
Also, feel free to share your walk photos with us on Instagram. Please follow us and tag @peakdistrictkids in your posts so we can share them with our wider community.
Want more ideas for family bike rides?
Check out our Best family bike rides in the Peak District
or come and join our friendly Peak District Kids Facebook Group
You may also like to read:
Cycling the High Peak Trail
Pram friendly Wetton Mill walk
Thor's Cave and the Manifold Way walk