We absolutely love the various traffic-free trails around the Peak District for a family bike ride. However, more often than not, it's a linear route, where we cycle as far as we fancy and then back again. These are always a lovely ride, but there's something a bit more enjoyable about doing a circular bike ride.
Starting and ending at Friden car park (free parking), this Peak District cycle route links up the High Peak Trail and Tissington Trail to form a 14.8km loop. There's a 800 metre section that's a bit tricky for little ones (slight incline and rocky), but aside from that, it's very easy cycling and the open views are stunning. You can also stop enroute at either Hartington or Parsley Hay for a snack from their respective cafés.
Please respect other visitors on the trails; keep left at all times, slow down when approaching horses, and ring your bell before overtaking walkers.
Disclaimer: This post contains affiliate links. Should you click to purchase, it is at no additional cost to you, but I receive a small commission.
If you are planning a visit to the National Park, please arrive early or late in the day to avoid crowds if visiting over sunny weekends or school holidays. Please also take all litter home with you, don't bring BBQs and park your car in designated parking areas. Also, please use these route descriptions as a guide; access may change.
Click here to check out more family cycle routes in the Peak District
FOLLOW US:
PARKING INFORMATION: Please do not rely solely on the postcode for parking directions. In the National Park, a postcode can cover a large area. Postcodes are only provided as guidance. Please either use the Google Maps point provided for every walk, or what3words.
High Peak Trail and Tissington Trail circular cycle route map
Our High Peak Trail and Tissington Trail circular cycle route follows this below OS Map clockwise, starting at Friden car park. The full route round is 14.4km (9 miles).
If cycling this route with younger kids it is advised to follow this clockwise, as there is just one short steep bit and the rest is flat or gradually downhill.
On all Peak District bike rides it's a good idea to have an OS Map with you. For this route you need the OS Explorer Active Map OL24 (White Peak). We also like pointing out the features on the map to the kids, to help them get them used to map reading.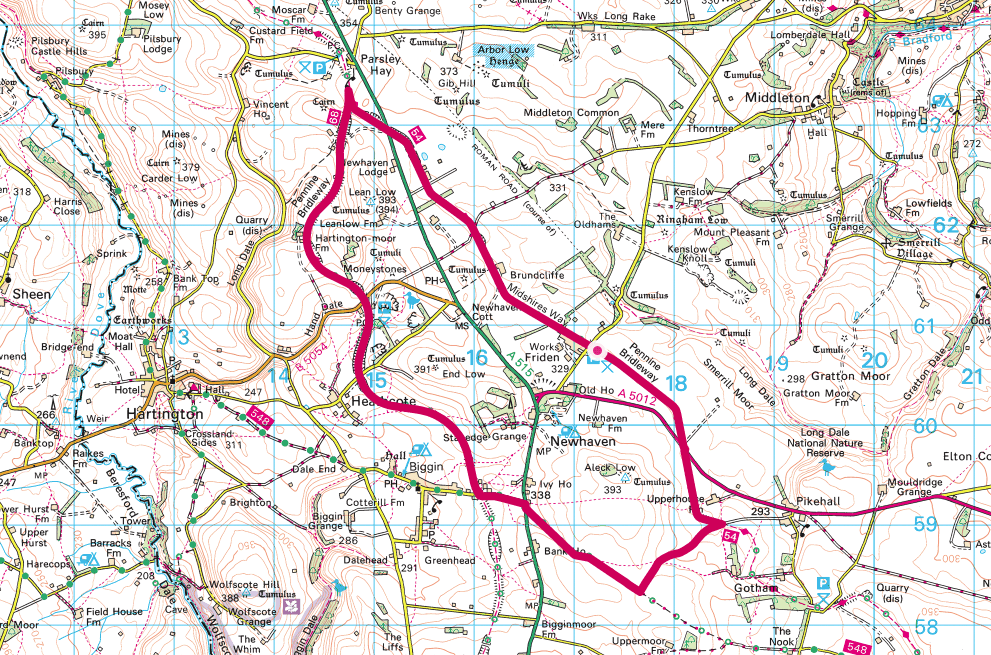 Need to know
DISTANCE OF CYCLE ROUTE: 14.4km

TYPE OF BIKE ROUTE: Circular, traffic free, and mostly along trails that are disused railway lines.

PARKING: At Friden car park (click here for Google Map location on your phone, postcode: SK17 0DX). This is a free car park run by Peak District National Park Authority. There are no facilities, but there is a picnic bench.

WALK HIGHLIGHTS: Open views whilst cycling along both the High Peak and Tissington Trails.

HOW LONG DOES IT TAKE: Without kids this would be a 1 hour cycle, but we took about 2.5 hours with stops along the way.

ACCESSIBILTY: traffic free and mostly gravel. There's a 800 metre section that's a bit tricky for little ones (slight incline and rocky).

TOTAL ASCENT: 202 metres

PUBLIC TOILETS: There is a toilet and small takeaway café at Hartington Station car park and Parsley Hay.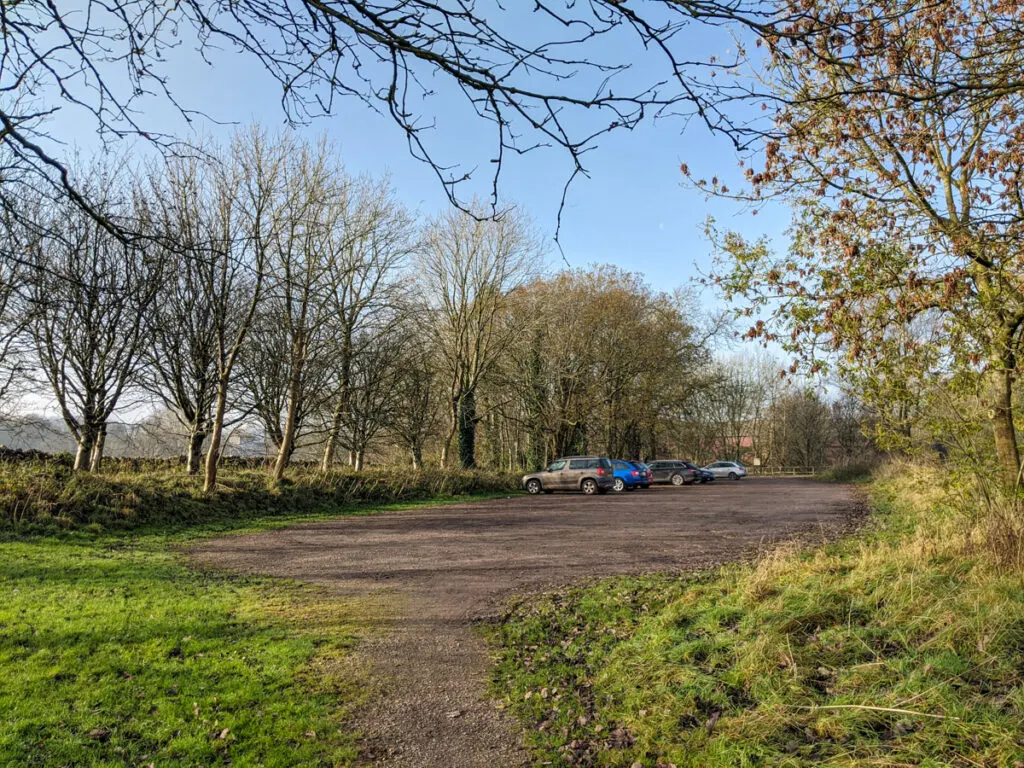 The route
1. From Friden car park, turn right along the High Peak Trail, passing through a wooden gate.
2. Follow this for 1.4km until you reach the road crossing. This is a very fast road, so take care with little ones. I left Dad to walk everyone's bikes over, and then I walked over with the boys holding their hands.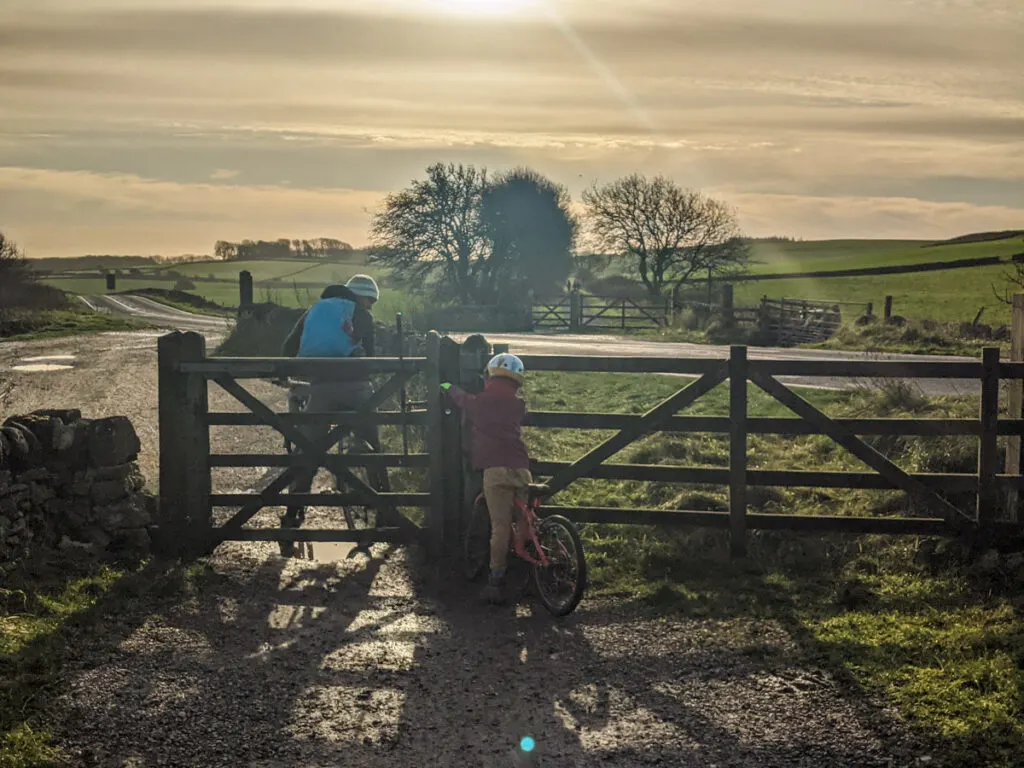 3. Continue along the High Peak Trail for another 1km, crossing a small lane along the way. At this point (shown in photo below), take a sharp right turning and leave the High Peak Trail.
4. This is the short, rocky section that younger kids may find difficult as there's a slight incline and they need to be sturdy to navigate the rocks. Make sure they drop down in to the lowest gear. Our 7yo managed it in short bursts, but our 5yo had to get off and push his bike. This is only a 800 metre section though, and the remainder of the bike ride is very easy in comparison.
5. At the top of the hill, you'll meet a T-junction. Take the right turning towards Biggin, along Cardlemere Lane. It's a steady descent (a little rocky in places) to meet the A515.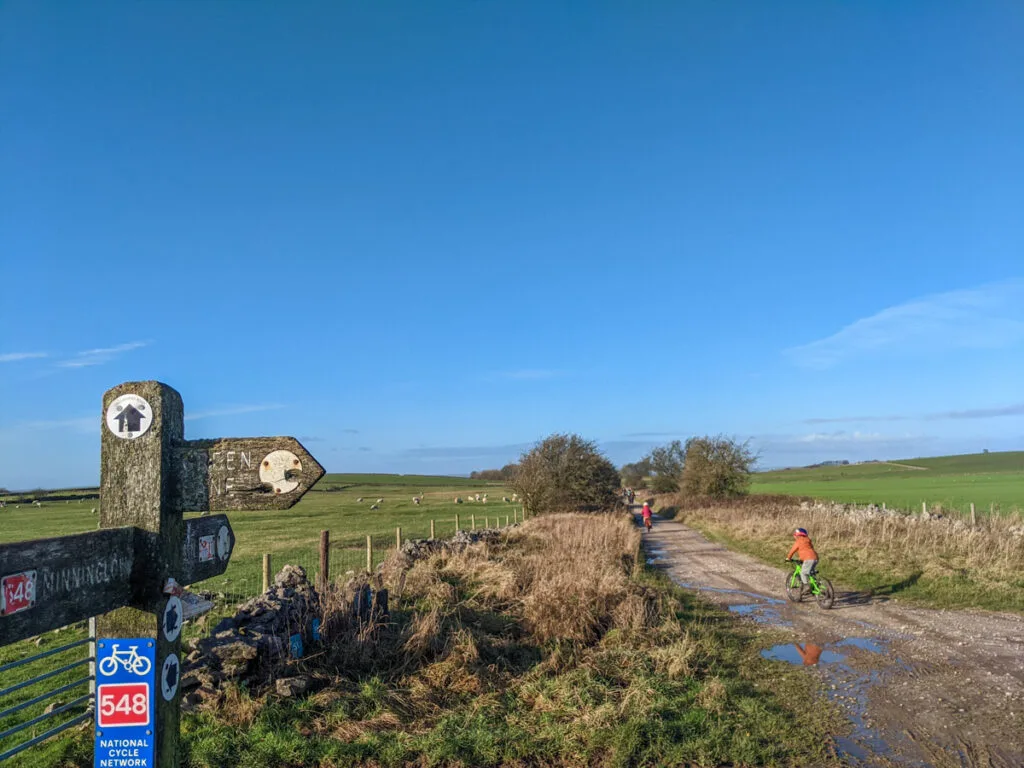 6. When you meet the road, you need to cycle 50 metres to the right and then cross the road to take the turning on the left. There's a little footpath on the grass to avoid cycling on the road.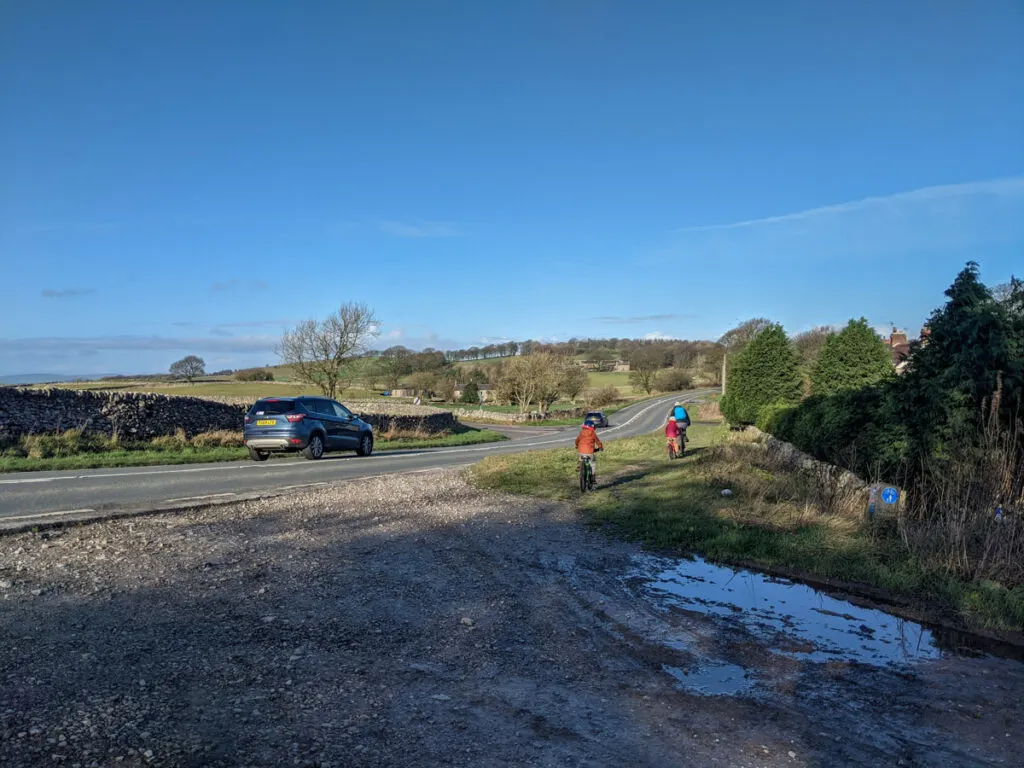 7. Once you've turned off the A515, it's then a 500 metre cycle along the road to meet the Tissington Trail. If you don't want the kids to cycle along the road, there is a little footpath on the right hand side that then turns into a pavement.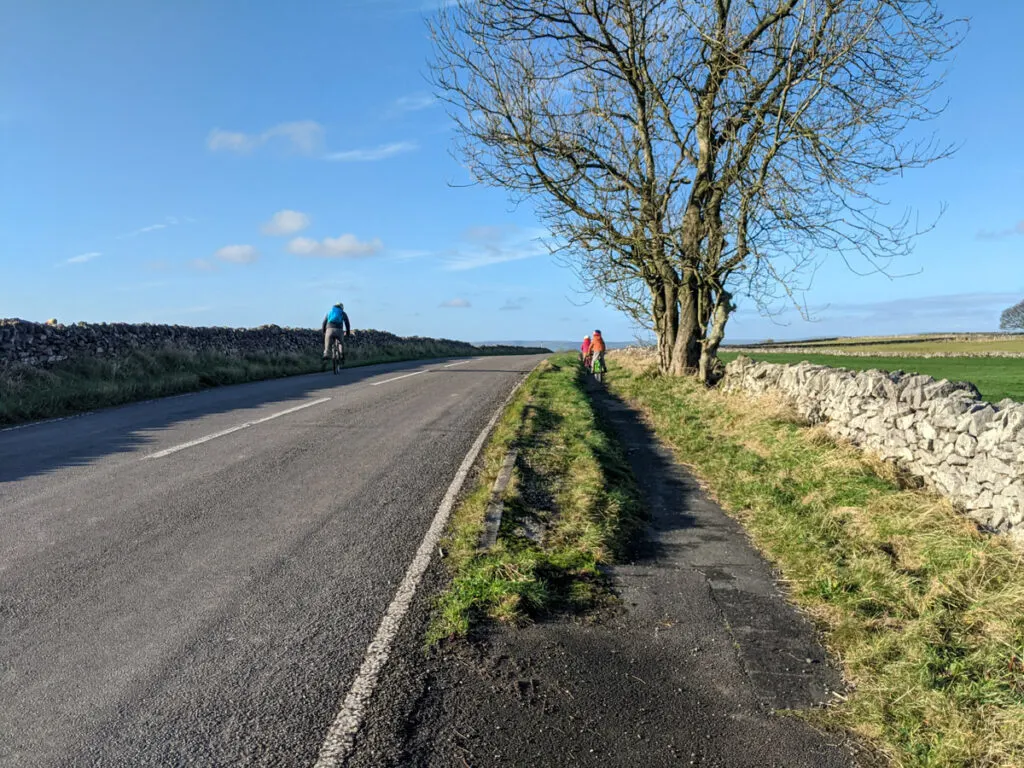 8. Walk through the gate on the right and take the short footpath that meets up to the Tissington Trail.
9. It's then an easy 5km cycle to where the Tissington Trail meets the High Peak Trail, just before Parsley Hay. About 4km along this section you will pass Hartington Station car park. There are toilets and a small takeaway café here.
10. Once you reach the intersection of the Tissington Trail and High Peak Trail, take a right along the High Peak Trail, back towards Friden. It's a 3.6km cycle and you pass through a few gates along the way. There is a very slight downhill, which will hopefully help the kids with a strong finish to their bike ride. You will spot a series of large industrial-looking buildings on the right, just before you reach the car park.
---
Peak District Kids is a free online resource. If you enjoyed this bike ride, you can show your support by buying me a coffee. Thanks so much! You may also want to share your own photos from our walks in our Peak District Kids Facebook Group.
Or visit the Peak District Kids shop. £1 from every sale of the iron-on patches goes towards the Peak District National Park Foundation, a registered charity established to raise funds to care for The Peak District National Park.
Also, feel free to share your walk photos with us on Instagram. Please follow us and tag @peakdistrictkids in your posts so we can share them with our wider community.
Want more ideas for family bike rides?
Check out our Best family bike rides in the Peak District
or come and join our friendly Peak District Kids Facebook Group
You may also like to read:
Cycling the High Peak Trail with kids: Hurdlow to Friden
Cycle the Monsal Trail with kids
Cycling around Carsington Water with kids