What a fantastic time we had canoeing in the Peak District with Peaks and Paddles! A two hour family canoe session takes you along the Cromford Canal near Matlock, with expert tuition on paddle technique and some very fun games. Our boys (ages 5 and 6) had an absolute blast, and my mind was completely blown at being taught proper paddle technique.
Peaks and Paddles provided a complimentary 2 hour session to Peak District Kids in return for social media coverage and this honest review. As always, these are all my own words.
I only found out about this company when one of the members in our Peak District Kids Facebook Group mentioned them, and I'm so pleased they did as I've now added it as one of our top things to do in the Peak District with kids!
Need to know
WHERE: Cromford Canal, outside Matlock
HOW FAR DO YOU PADDLE: 2.4 miles (3.9 km) return
HOW LONG IS THE LESSON: 2 hours
MINIMUM AGE: 5 years
EQUIPMENT: Canoes, paddles and life jackets are all provided
WHAT TO BRING: Comfortable clothes and footwear you're happy to get wet, snacks for the kids, and drinking water. Also take waterproof jacket and trousers if it's a cold day. Leave a change of clothes and towel in the car, just in case you fall in.
PARKING: Paid parking at Cromford Wharf car park (bring coins, as the machine doesn't take cards)
PUBLIC TOILETS: Public toilets are available Cromford Wharf car park
Where is it?
We did the ​Flat Water Canoe Adventure on the Cromford Canal, just outside Matlock, and met our instructor (Chris) at the Cromford Wharf car park. Make sure you bring coins for parking, as the machine here doesn't take cards. It's £1.60 for 2 hours parking.
The Cromford Canal is the perfect place for little ones to learn to canoe as the water is very shallow (if they fall in they can stand up easily) and it's very flat with barely any current. Our instructor (Chris) took us along the canal from Cromford Mills up to just past The Wharf Shed 1.2 miles away, and then back again. The whole lesson lasted two hours.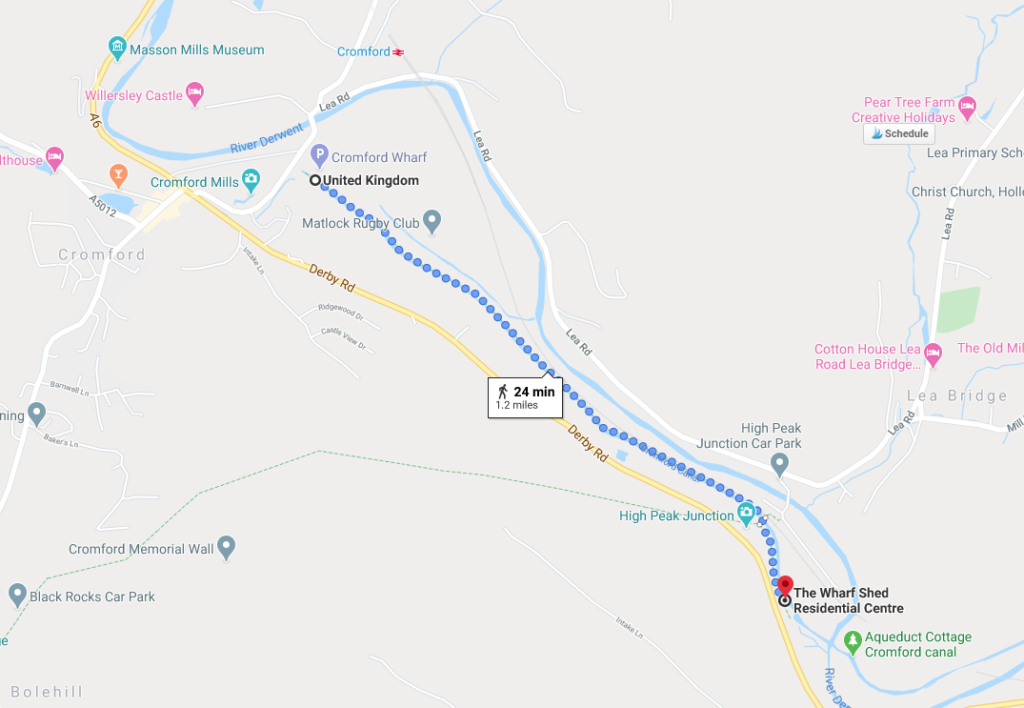 Also, only a very limited number of canoes and kayaks are allowed on the Cromford at any one time, so the waters will be quiet. Perfect for social distancing!
Our family canoeing lesson
Peaks and Paddles offer a 2 hour guided lesson with instruction from Chris, rather than a hire facility. We had previously taken the kids canoeing in Kent and in France, but we had always hired the canoe and then were left to our own devices to pootle downstream. Whilst we always had fun, there's nothing like getting proper tuition on how to actually do something properly! Kids included!
This was a one on one lesson with just our family and Chris, so he was able to totally tailor the lesson to us.
We started with a quick chat on how to sit in a canoe properly. This totally opened up my eyes! It's not a case of plonking your bum down with your feet out in front, as this promotes bad posture and can lead to back ache. Instead you sit on your knees with your bum resting on the seat. This means you keep a straight back and it's actually much more comfortable! Well I found it comfortable, Jay (hubby) who has long legs and knobbly knees didn't find it quite as comfortable.
Then Chris talked us through the correct paddle technique. This totally blew my mind! It's really not a simple case of rowing, and you don't keep swapping sides. Instead you keep the paddle on one side and stroke it through the water with a nifty turn at the end to act as a rudder. Clever stuff! Time to put it in to practice…
Getting in the water
It's relatively easy getting in to the canoe. The kids are so light and nimble that they pretty much jump in, barely rocking the canoe. Us adults have to hold on to either side of the canoe, distribute weight evenly, then sit in.
I went with Ezra (age 5) in one canoe, and Jay went in the other canoe with Arthur (age 6). Chris (instructor) went in a canoe to himself.
Off we went along the Cromford Canal. Such a beautiful spot, the water is so clear you can see to the bottom and we saw lots of ducklings. We even spotted a Stegosaurus in the bushes just a little way along! Honest! And there were also raspberries to pick and eat, and I could see that blackberries would be coming soon.
It took a little while for me to get the hang of the paddle technique (especially with Ezra paddling the opposite way from me!) But with Chris' guidance I soon got the hang of it. The proper technique is very chilled and you glide along slowly. Easy and rather relaxing.
There are a couple of bridges to go under. The second one is so low that you have to hide right inside the canoe to get through. It's only a metre or so through, so you aren't doubled over for too long. The boys thought this was brilliant fun.
Games
Along the way, Chris introduced games. This was a great way to keep the kids engaged, and each game had a learning element that enabled you to better understand your balance in the canoe.
First up, the boys had to jump up in the air and shout 'Bananas!' and then swap over canoes. Then the kids had to duck down whilst us parents climbed over (this was trickier that I thought) and then vice versa. Thankfully we avoided falling in… just. We also had races, although my technique completely went out the window as my competitive nature took over.
Then some ball games right at the end!
Kids only canoe
Just as we were nearing the end, Arthur asked Chris if he and Ezra could go in a canoe without us parents. Chris didn't hesitate to say yes and us parents were happy to have a break from paddling with the kids (although in hindsight, it was easier paddling with Ezra rather than Jay!)
Chris was absolutely amazing with the boys. So very patient. He gave them instructions on how to paddle, and then kept pushing them along in a straight line so they felt they were getting somewhere, and they had fantastic fun throwing wet balls at us parents and then trying to get the balls back again. At all times they were totally safe as Chris was nearby; watching him manoeuvre his canoe in any direction with ease was extremely impressive.
Covid friendly
Chris takes social distancing measures seriously, which was another reason why we felt so safe with him. He has hand sanitiser in his van for use at the beginning, and the kids had to put on their own life jackets (with a little help from us parents).
Being in a separate canoe from us also allowed for easy social distancing, and on the rare occassion he had to come closer to steady a canoe, he would wear a mask.
It really is a fantastic activity for social distancing. And, of course, you're out in the open too!
How to book and pricing
Head over to the Peaks and Paddles website to book online.
For up to 5 people, the cost is £110. For any additional people its £20 per person. There is a maximum of 12 in a group. But you won't be mixed with other families. So once you're booked in to a slot, that lesson is for your family only.
Considering the standard of tuition a family receives for two hours and that all equipment is included, I think it's good value.
If you've got older kids, you may want to try out the ​River Derwent Canoe Trip (learn to navigate fast moving water), or the Canoe Adventure Day (a full 6.5 hours on the water). Though for our kids ages (5 and 6) the ​Flat Water Canoe Adventure was the perfect length of time and standard.
Peaks and Paddles also do Family Abseiling (minimum age 5).
After your canoeing adventure
There is a small cafe and seating at the start / finish point, and there's often an ice cream van in the car park on weekends and school holidays.
If you have time, perhaps pop in to the Cromford Mills Visitor Centre and take a tour around the mills to learn more about the industrial history of this area (although this is currently shut due to COVID-19).
Matlock Bath, sometimes referred to as 'Derbyshire-on-sea', is just a two minute drive away. Grab some fish and chips and head to the playground along the river. There are some fantastic attractions in and around Matlock, including The Heights of Abraham and Gullivers Kingdom. Check out our top things to do in Matlock and Matlock Bath.
Final thoughts
It really was a fantastic morning adventure! The boys absolutely loved the games and they also got to pick and eat wild raspberries along the way. Two hours was enough time though, as the boys were rather tired by the end.
We were extremely impressed with Chris' instruction. He has a great way with kids and is very patient with them.
Our morning canoeing in the Peak District with Peaks and Paddles gets a big thumbs up from all of us.
---
You may also like to read:
Top things to do in Matlock and Matlock Bath
A family visit to The Heights of Abraham
The best Peak District wild swimming locations