Review by Jenny Lynn, Peak District Kids Editor
Disclaimer: Peak District Kids was provided with a free bouldering and lunch at Substation Macclesfield for the purposes of this review. As always, these are all my own words and opinions, and I say it how it is.
The Peak District National Park offers lots of opportunities for kids to scramble and climb boulders in the natural environment, with favourite family walks for this being Robin Hood's Stride, Birchen Edge, and Higger Tor. But if you want to hone their techniques, and are perhaps looking for a rainy day activity, how about visiting Substation Macclesfield?
Substation Macclesfield is just an 8 minute drive from the western boundary of the Peak District National Park, and offers superb indoor bouldering tuition for all ages. Bouldering is a form of free climbing with no ropes or harnesses.
Over weekends, they offer family climbing sessions where the whole family can learn bouldering under expert tuition. The Peak District Kids team went to check it out.
Family climbing sessions at Substation Macclesfield
The family climbing sessions are ideal for families looking for a little extra introduction to the world of bouldering. A 30-minute private lesson with a coach will leave you confident to conquer any of the climbing walls at Substation Macclesfield.
There's a £29.00 fixed price is for up to 6 people. This includes a 30 minute lesson, climbing day pass for each person, climbing shoes, and chalk bag hire. All participants under the age of 18 need to be supervised by an adult; 1 adult per 2 children. There is no age restriction!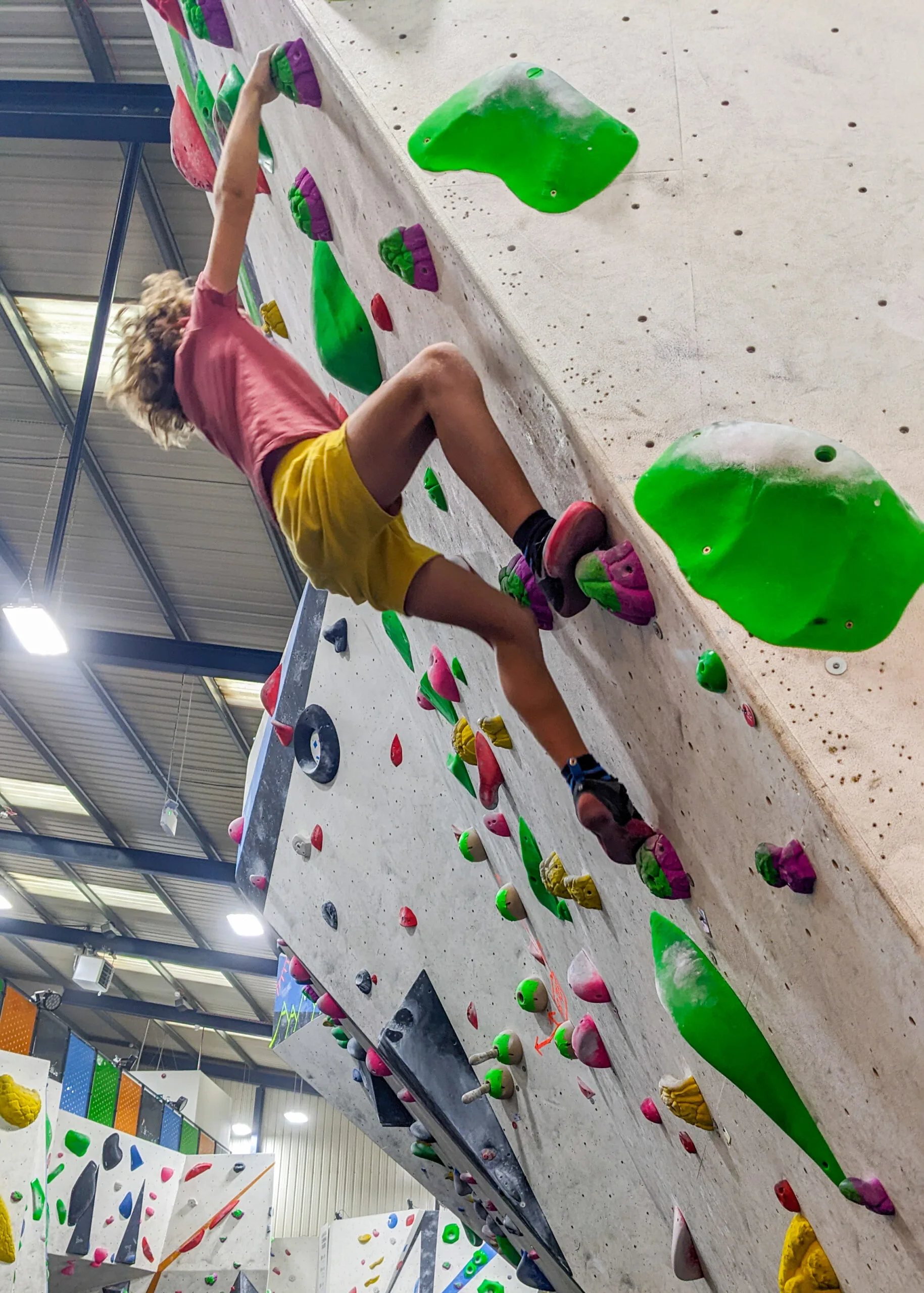 Arriving to Substation Macclesfield
There's plentiful parking outside Substation Macclesfield and it's free.
At reception, you sign in and a parent needs to sign a waiver form (there are online forms to sign before you arrive too).
The boys were then handed climbing shoes to put on. There's a cloakroom area to leave any bags and coats etc (no lockers). This is where you'll find the unisex toilets too.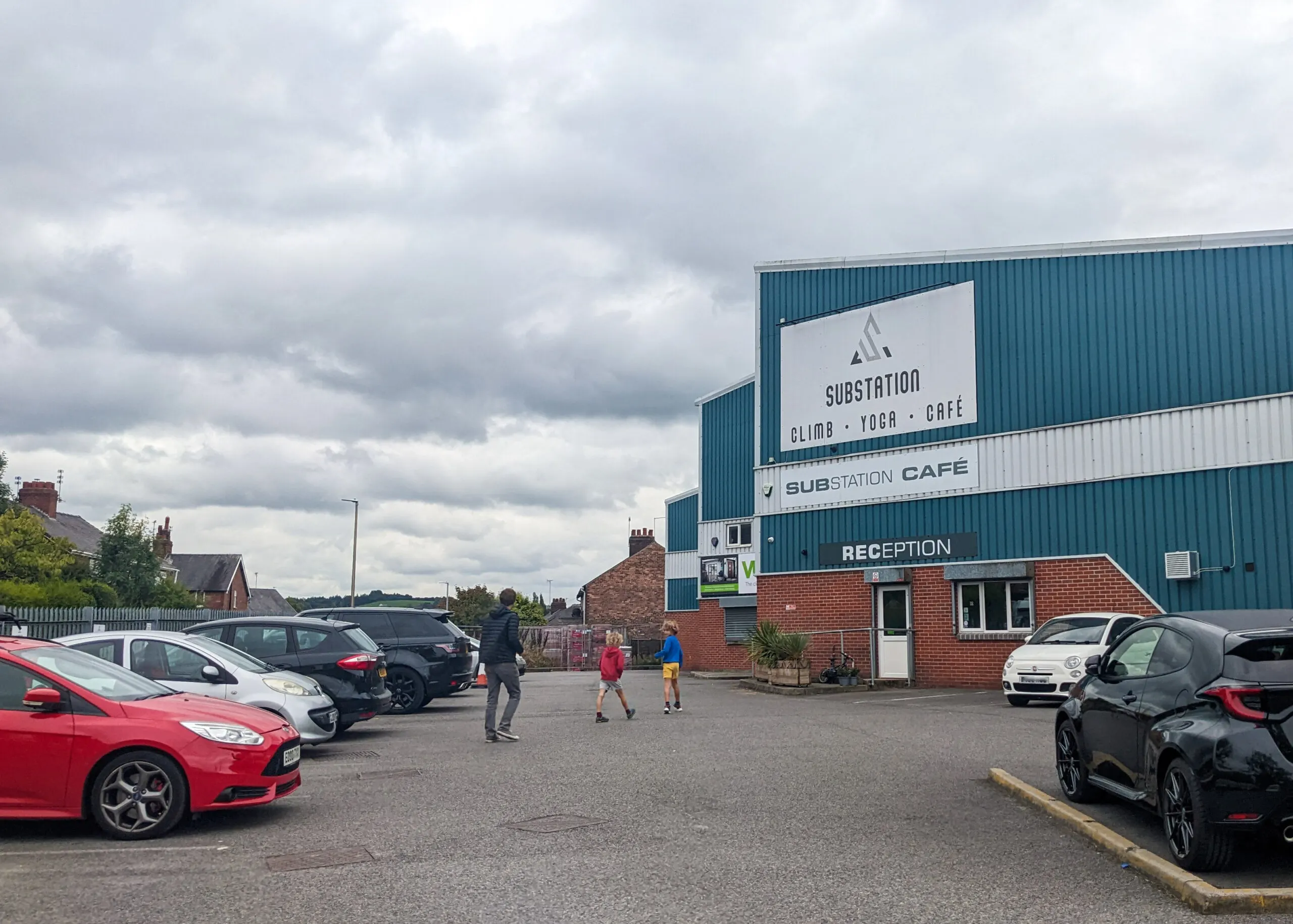 The climbing lesson
Helen, the boys' instructor, led the boys upstairs for their climbing tuition. This is a designated area for lessons.
First there was a safety briefing, including how to get safely down from the wall, where to go on the mats to be safe, and how to behave appropriately in the climbing area. This is provided in a really fun way, with asking the kids questions and engaging them.
Then after a quick warm up (getting bottoms on as many blue holds as possible!), it's time to get climbing.
Bouldering involves no ropes at all, and the holds on the climbing wall are coloured to indicate different levels (purple / green and black being for beginners). Helen was fantastic in instructing and encouraging the boys (age 7 and 8), who were in their element.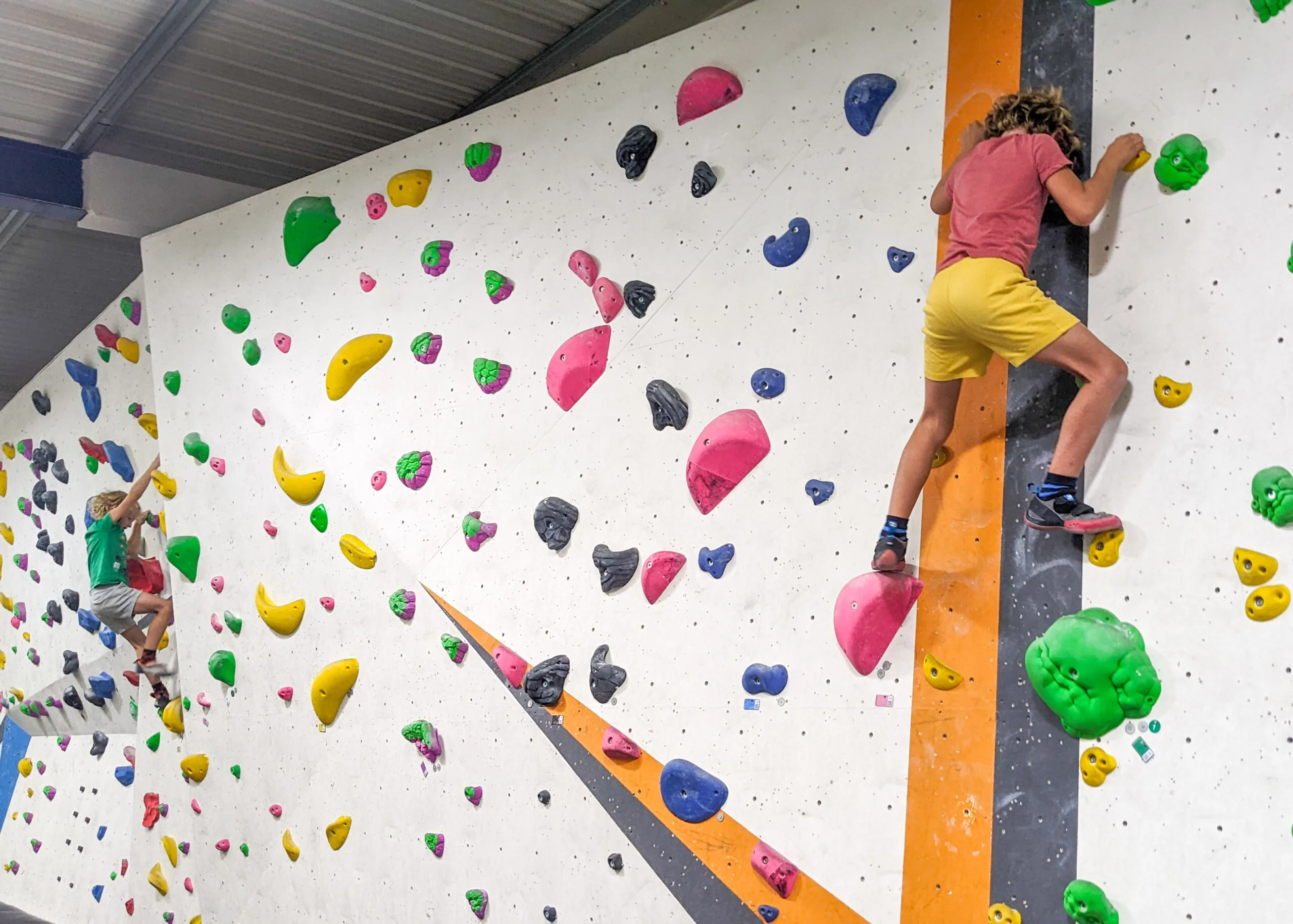 After the climbing lesson
After the 30 mins tuition, it's downstairs to the main climbing area. There's another quick safety briefing here too as some of the walls are at an angle and overhanging, plus there are much bigger people down here (adults and pro climbers), so little ones need to be mindful.
You are left to climb here for as long as you want. Kids under 14 need to be supervised by an adult (one adult to two kids). The idea is to use only the one colour to reach the top; although do note that the colour codes down here in the main area are different to upstairs.
Our boys spent hours climbing in this main area, which makes the £29 entry fee for the entire family excellent value (even though us parents weren't climbing).
The onsite café
After two hours of continuous climbing, the boys were 'starving'.
The vegetarian and seasonal café is open during all climbing sessions, and offers a great selection of light bites, including toasties, woodfired pizzas, and homemade cakes. There are also teas, coffees, and a selection of local beers, gin, and wine.
Click here for the menu.
The dining area is modern, yet cosy, and the food tasted fantastically fresh and delicious. The boys all ordered a pizza each, and I ordered a toastie. The pizzas are huge, but there are takeaway boxes if you wanted to take leftovers home. However, my boys somehow gobbled them all up and still had room for a homemade vegan brownie each afterwards! Us parents very much appreciated the local beers on tap.
There's also free and decent WIFI in the café.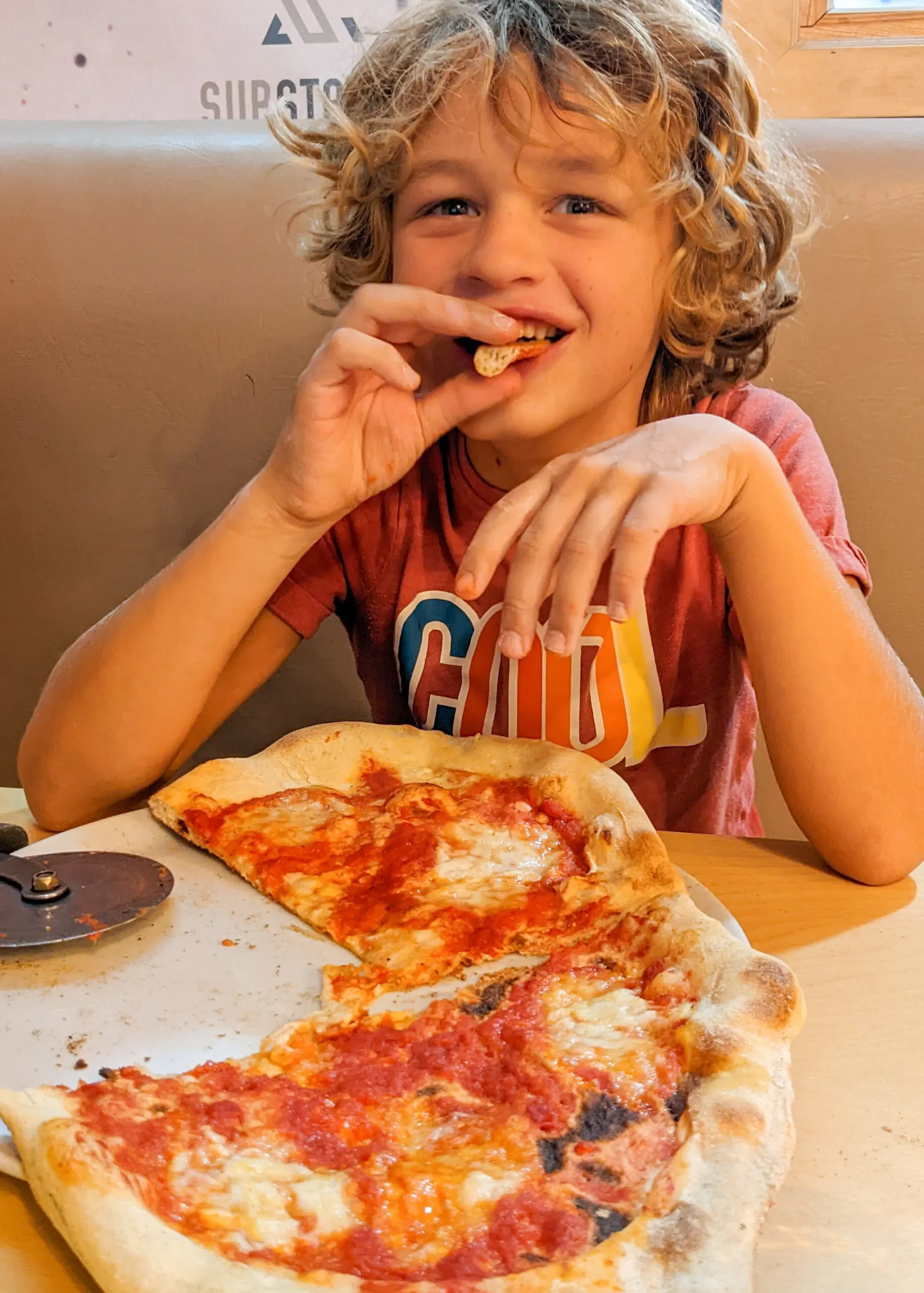 Do I need to pre-book
Yes you do. Click here to book online. You will then be asked to complete a online documents (for each member of the family) before your arrival.
Substation Macclesfield is open 9am to 7pm on Saturdays and Sundays.
Final thoughts on Substation Macclesfield
Substation Macclesfield really is excellent value for an outdoorsy rainy day activity. After your 30 minute instruction session, families can stay as long as they want, and the onsite café is reasonably priced and serves excellent food. Plus the staff are so kind and friendly.
Substation Macclesfield gets a huge thumbs up from us, we had a brilliant time, and will definitely be back again.
---
You may also like to read:
Rainy Day Peak District: things to do
Days out in the Peak District
Shining Tor walk