Robin Hood's Stride, close to Birchover and Elton, is one of the best locations in the Peak District to bring kids who love to climb boulders. This large rock formation offers little caves, nooks and crannies, as well as an easy climbing route to the top for fantastic views. This is one of Mother Nature's best playgrounds. So parents, bring a picnic blanket and a flask of tea/coffee on this Robin Hood's, Stride walk and let your little ones explore.
Very nearby is Cratcliffe Tor, another rock formation, with a small cave at the base know as a 'Hemit's Cave'. Here you will find a stone crucifix, which dates back to the 13th-14th centuries.
Plus there is also a stone circle close by (and they are much bigger stones than those at the Nine Ladies Circle on nearby Stanton Moor).
By combining Robin Hood's Stride, Hermit's Cave, and the Stone Circle, you have a great little 3km walk for kids who love exploring. However, as this is not a circular route and the points of interest all backtrack to/from the same path, you can pick and chose which order you visit these places of interest.
Disclaimer: This post contains affiliate links. Should you click to purchase, it is at no additional cost to you, but I receive a small commission.
If you are planning a visit to the National Park, please arrive early or late in the day to avoid crowds if visiting over sunny weekends or school holidays. Please also take all litter home with you, don't bring BBQs and park your car in designated parking areas. Also, please use these walks as a guide; access and stiles may change.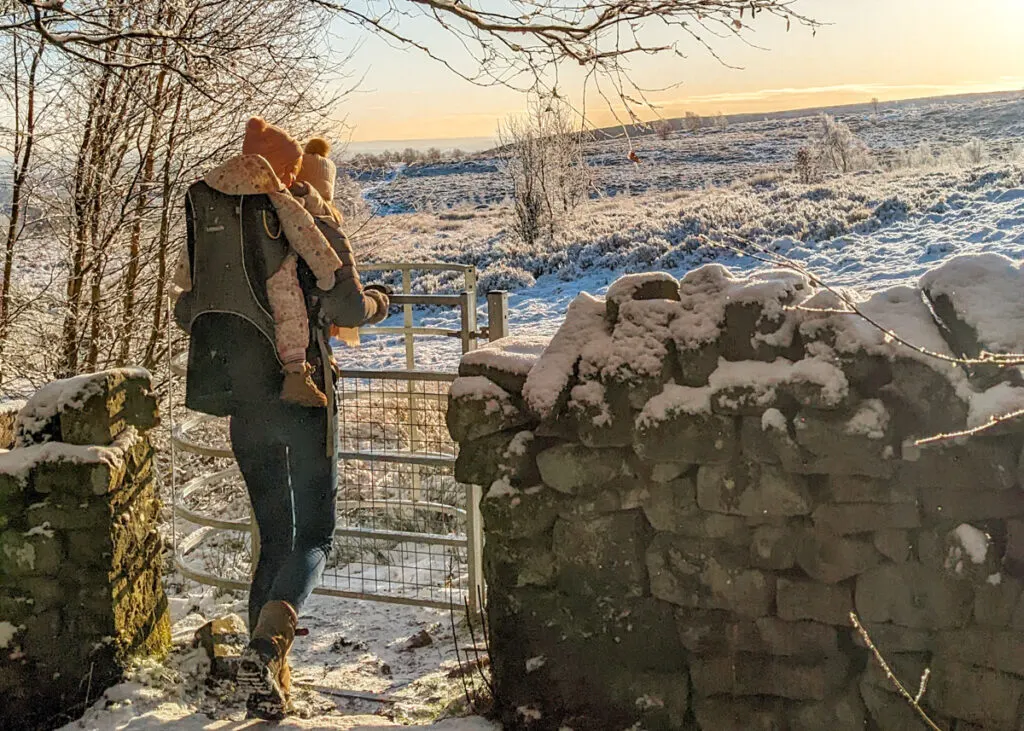 During the winter months, it's important to be extra prepared and safe when out walking and adventuring in the Peak District. The weather can change so quickly, especially on the exposed escarpments, and we don't want you to get caught out.
Read our top tips for safe winter walking with the kids.
FOLLOW US:
PARKING INFORMATION: Please do not rely solely on the postcode for parking directions. In the National Park, a postcode can cover a large area. Postcodes are only provided as guidance. Please either use the Google Maps point provided for every walk, or what3words.
Do check out our top tips for hiking with young kids, as well as our essential items to take on a family hike in the Peak District.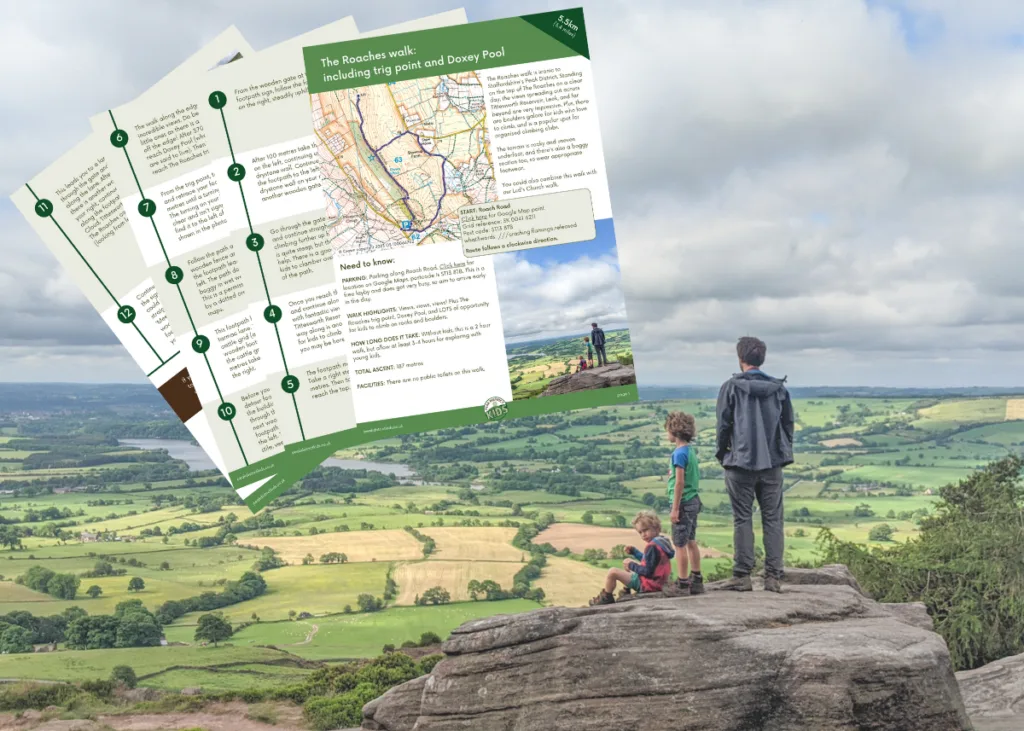 Download and print out our walking guides ready for your family walk. There are over 80 downloadable walk guides available, and these include all the main Peak District family walks, pram-friendly walks, and toddler walks.
Each printable download is just £1.50, whether it's a short 1km stroll or an epic walk up Kinder Scout.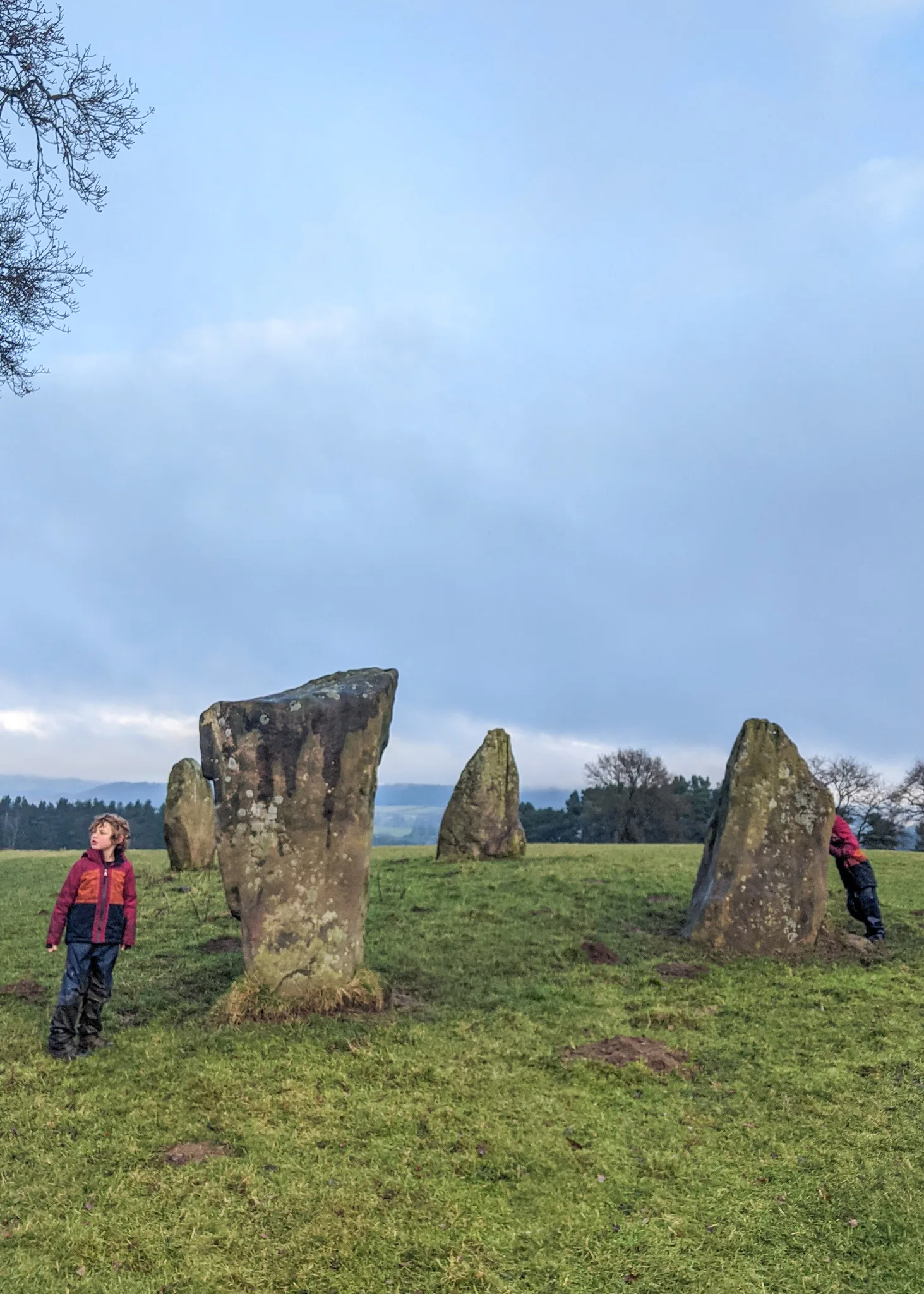 Map of the Robin Hood's Stride walk
On all Peak District family walks it's a good idea to have an Ordnance Survey paper map with you, even if you have your phone on you. For this walk you need the OS Explorer Active Map OL 24 (White Peak). It's also a good opportunity to show young kids the map features and get them started with map reading.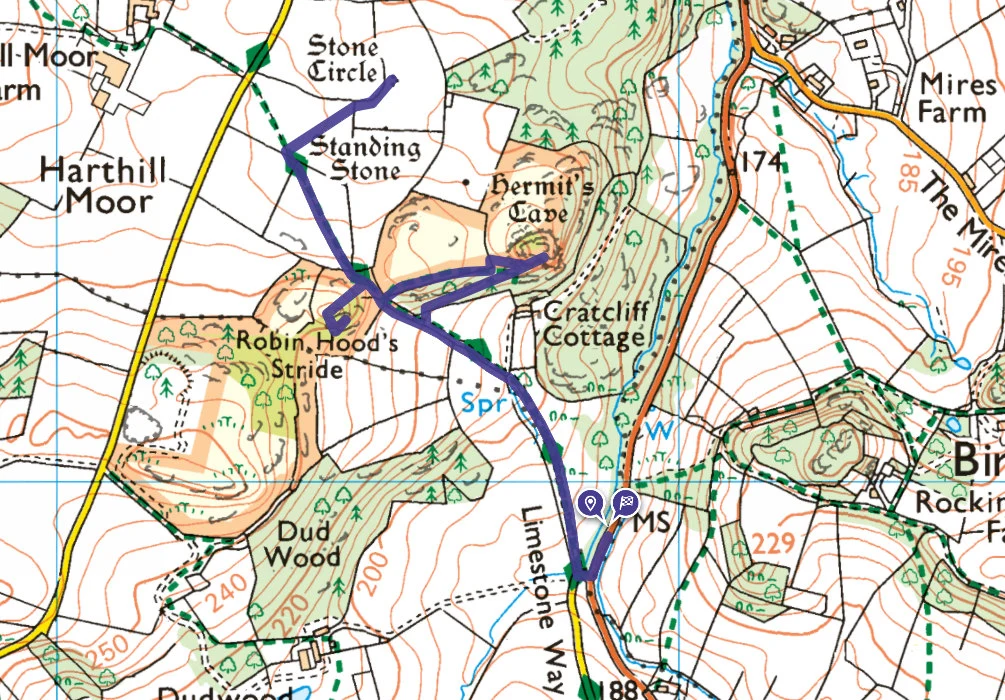 Get a printable download of this walk
Want to print off this walk guide rather than rely on your mobile? Then click here to download the PDF to print out at home. Perhaps print out a copy for the kids to follow the step-by-step directions and/or photos? It's a great way to get them engaged with the walk and gives them a sense of responsibility.
All printable downloads are £1.50 each. Click here for the full list of Peak District Kids printable downloads.
Please note that your download link expires 72 hours from order, so make sure you save your PDF somewhere where you'll remember it. If you are unsure where your download folder is on your mobile device, we recommend you download the PDF on your laptop or desktop.
Need to know
DISTANCE OF WALK: 3.1 km / 1.9 miles

TYPE OF WALK: a walk for kids who love to climb and explore

PARKING: There is roadside parking at Cratcliffe Parking Area on the B5056. This is a free layby and spaces are limited, so aim to arrive early in the day (before 10am). Click here for Google Map point, postcode DE4 2LZ.

WALK HIGHLIGHTS: Robins Hood's Stride, Hermit's Cave, Stone Circle

HOW LONG DOES IT TAKE: Without kids this is a 1.5 hour walk. Allow a good few hours if visiting all three sights with young kids.

TOTAL ASCENT: 127 metres

STILES: Yes.

FACILITIES: There are no facilities on this walk.
The route
START: Cratcliffe Parking Area
Click here for Google Map point
Grid reference: SK 2288 6191
Post code: DE4 2LZ
what3words: ///jubilant.customers.zone

This is a linear route with detours.
1. With the parking area on your left, walk 50 metres along the road to the lane on the right. Cars whizz down this road, so hold on to little hands and take care.
2. From this lane, take the footpath to the right that leads over the cattle grid and walk gradually uphill for 350 metres.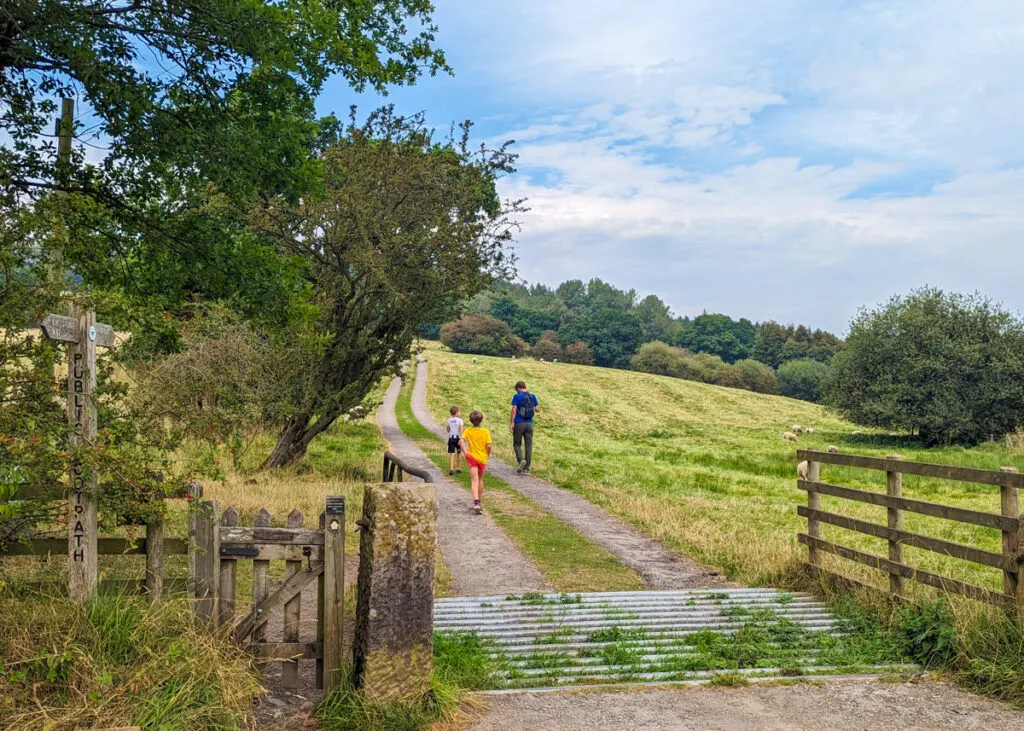 3. When you reach the wooden signpost, take the footpath on the left along the grass to a gate. Walk through the gate. 80 metres further on is another wooden gate on your left that leads to Robin Hood's Stride (that's the big rocky outcrop straight in front of you).
4. To go to the stone circle first (the furthest point on this Robin Hood's Stride walk), continue 20 metres with the drystone wall on your right, and take a right over the the stone stile. Continue the footpath straight ahead across the field.
5. This leads to another stone stile. Climb over and take the footpath that crosses the field in the direction of the stone circle (the four large stones). At the corner of the field, walk through the gate to reach the stone circle.
6. Retrace your steps back towards Robin Hood's Stride.
7. Once you're back over the stone stile with Robin Hood's Stride right in front of you, follow the footpath around to the right of the outcrop. On the right-hand side is a easy route to scramble up to the top. Take a moment to let the kids play and find a rock to perch on to enjoy the 360° views.
8. Follow the route back down the way you came up and head to the wooden gate. Immediately opposite is another wooden gate. Walk through this as you're now on your way to find Hermit's Cave, which sits under Catcliffe Tor.
9. The path splits in two. Take the path on the left and follow it to a stile. Climb over and take the footpath down to the right.
10. This footpath zig-zags slightly to get down hill and meets up with a footpath on the left that leads you in front of the rocky outcrop. After 100 metres you will come across Hermit's Cave. Can you see the stone crucifix inside?
11. Retrace your footsteps back. Before taking a right back up the hill there is a gap in the fence marked by two wooden posts. Follow this footpath that leads you down through the woods. Footing can be a little tricky through here.
12. TThis footpath leads down to a wooden gate. Follow the footpath back down the hill and retrace your steps to your car to complete this Robin Hood's Stride walk.
---
You may also like to read:
Stanton Moor walk
Birchen Edge walk
Alport to Youlgreave walk