Step back in time with a stroll around Crich Tramway Village, ride a vintage tram through the Derbyshire Dales and enjoy one of the best things to do in the Peak District with kids. As Peak District locals, Crich Tramway Museum has to be one of our favourite days out. We regularly take our boys who are 5 and 6 years old and it's a must do if visiting the Peak District with kids.
Although for YEARS before moving to the area I pronounced Crich incorrectly. For those who aren't local, it's actually pronounced 'cry-ch'!
Just a 15 minute drive from Matlock, Crich Tramway Museum is one of those perfect multi-generational family days out as kids will love the Woodland Walk and Sculpture Trail, as well as the adventure playground and indoor play area, parents and grandparents will enjoy the history, and everyone will enjoy the unlimited rides on the trams!
So what can you expect from a family day out at Crich Tramway Museum?
Tickets and opening times
Crich Tramway is closed over the winter months, opening in time for the Easter holidays and then closing at the end of October half term.
Ticket prices for 2023 are below:
Adults – £22.00
Children 4-15 years – £14.00
Children under 4 years are FREE
Family ticket (2 adults / 3 children or 1 adult / 4 children) – £49.50
Your ticket lasts for 12 months, so you can return time and time again! If you're are visiting the Peak District for a week-long holiday, it would be worth visiting at the beginning of your week and then returning again later in the week for free. Another good reason for this is that if you have rainy days towards the end of your holiday, there are some great rainy day activities still to do at Crich Tramway Museum.
Do check the Crich Tramway Museum website though for up to date ticket pricing and opening times.
What to do at Crich Tramway Museum
There are so many little areas and activities to Crich Tramway Museum that it can be difficult to know where to start. However, if you have arrived early (which we recommend) we suggest making a bee line to the tram stop opposite the entrance and riding a tram to the end at Glory Mine (opposite end to Terminus Town End). As the day gets busier, you may find you have to queue to get on to a tram, so best to get in a ride or three before the crowds arrive!
From Wakebridge you can then make your way back on foot through the woodland walk to the adventure playground, and then on to the exhibition hall and village area.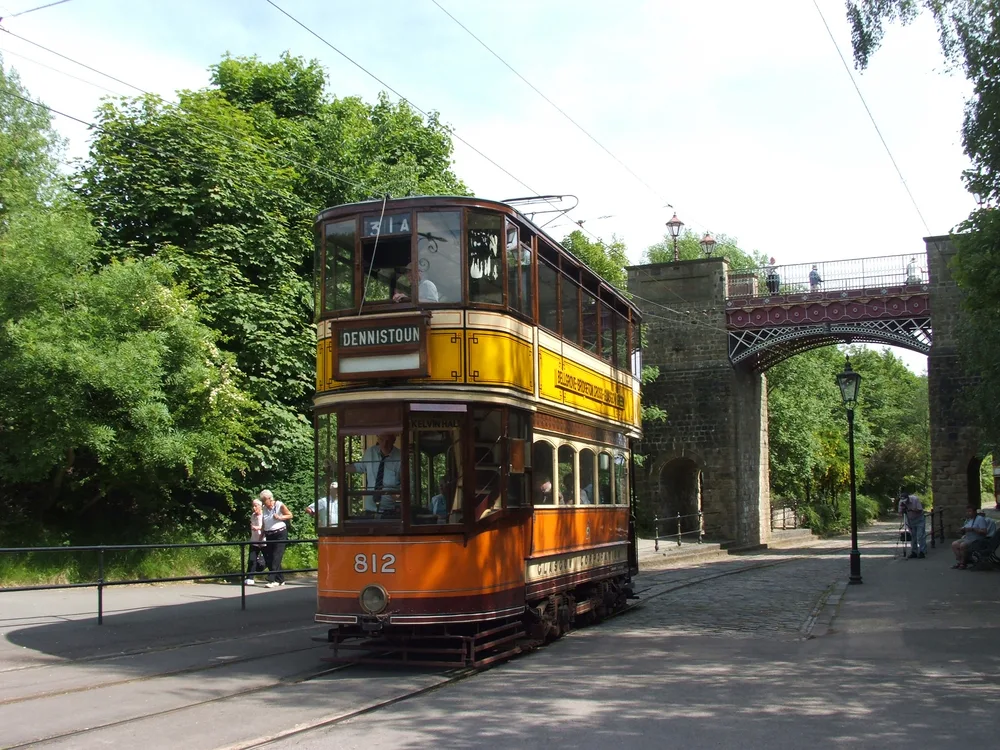 Ride the trams
Riding the vintage trams is the top thing to do at Crich Tramway Museum. Alight at a tram stop and find a seat. A conductor will then come round to take your fare (old coins will be given to you at the entrance when purchasing your tickets) and present you with a ticket stub, which you can keep and take home.
You can ride the trams as many times as you like up and down the 1 mile track. The scenery along the way is beautiful, and on a sunny day, they may even have the open top trams on the tracks!
Do note though that buggies and pushchairs cannot be taken on the trams. These have to be left at the Buggy Shelter at Town End while you enjoy your tram ride. If you are a wheelchair user, there is a specially adapted tram, which operates on request.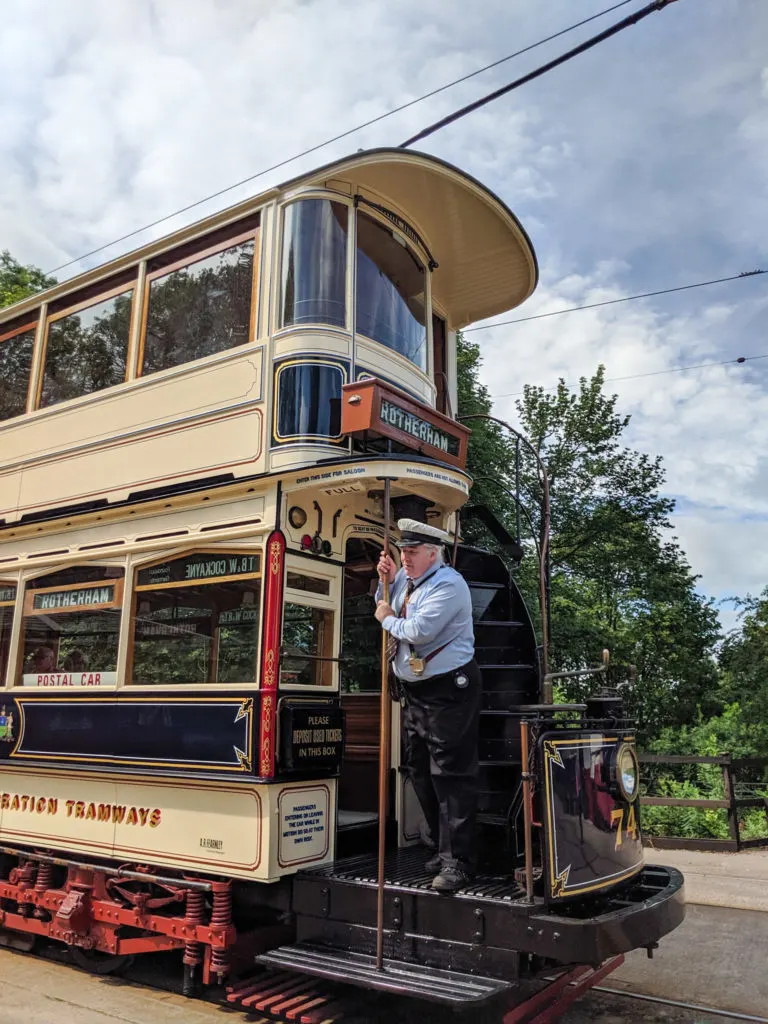 Woodland Walk and Sculpture Trail
Alight at Wakebridge for the start of the Woodland Walk. Although before you get going, you may want to check out the small lead mining display just by the tram stop and try and make the mechanical face move!
Cross over the tram tracks and follow the signs to start the Woodland Walk. This is a short walk about 1km long, that leads through to the adventure playground. Along the way you will discover mystical creatures, including a giant ant, troll, wizard, a book tree, plus lots more! It's really quite magical and very cleverly done. Make sure you take the short detour to the views across the Derwent Valley, just beautiful.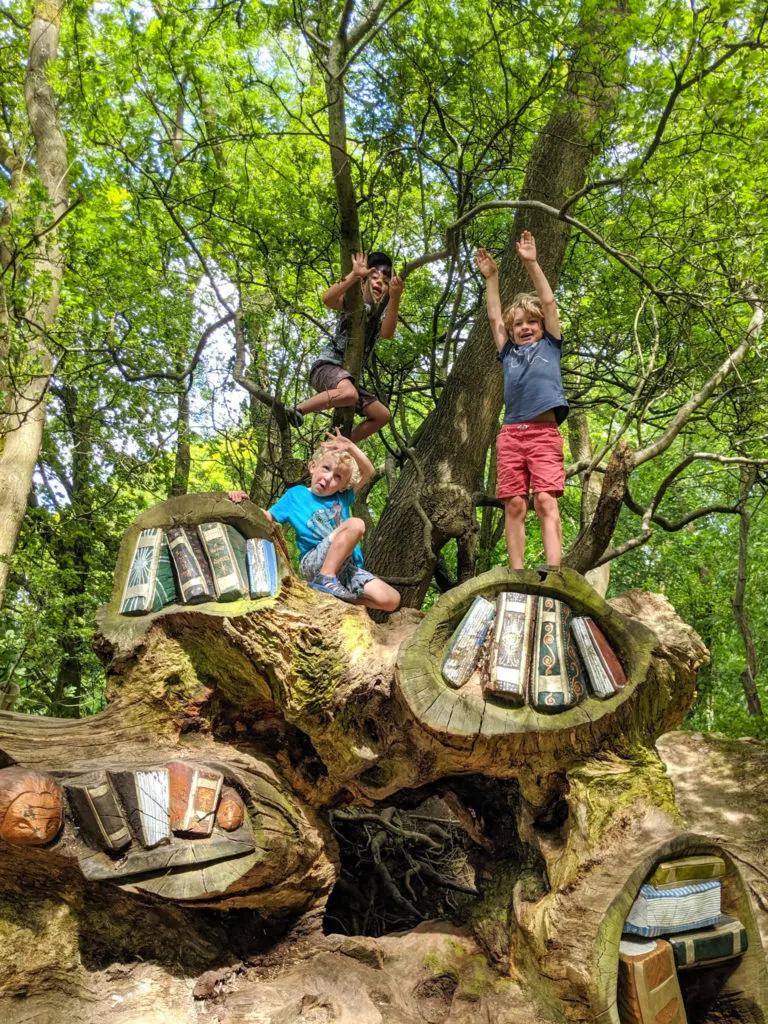 The walk then opens out to a large grassy area, perfect for a picnic. There are picnic benches here, but it may be an idea to bring a picnic blanket to sit on the grass. You will find some more sculptures here, as well as a big labyrinth made from rocks, perfect for jumping and hiding!
Adventure Playground
The end of the woodland walk brings you out to the adventure playground complete with climbing robes, assault courses and a zip wire! There's lots of space here for kids to play and let off some steam. There are a couple of picnic benches and it's also shady.
Exhibition Hall
The large exhibition hall showcases an array of trams from 1860 to 1960, including horse trams, steam trams and electric trams. You can't go on the majority of these, although a couple are open to sit in the main downstairs seating compatment. There are displays scattered around the hall providing historical context.
There are also more trams in large warehouses to the left of the main exhibition hall. You can also walk around these, but not go inside.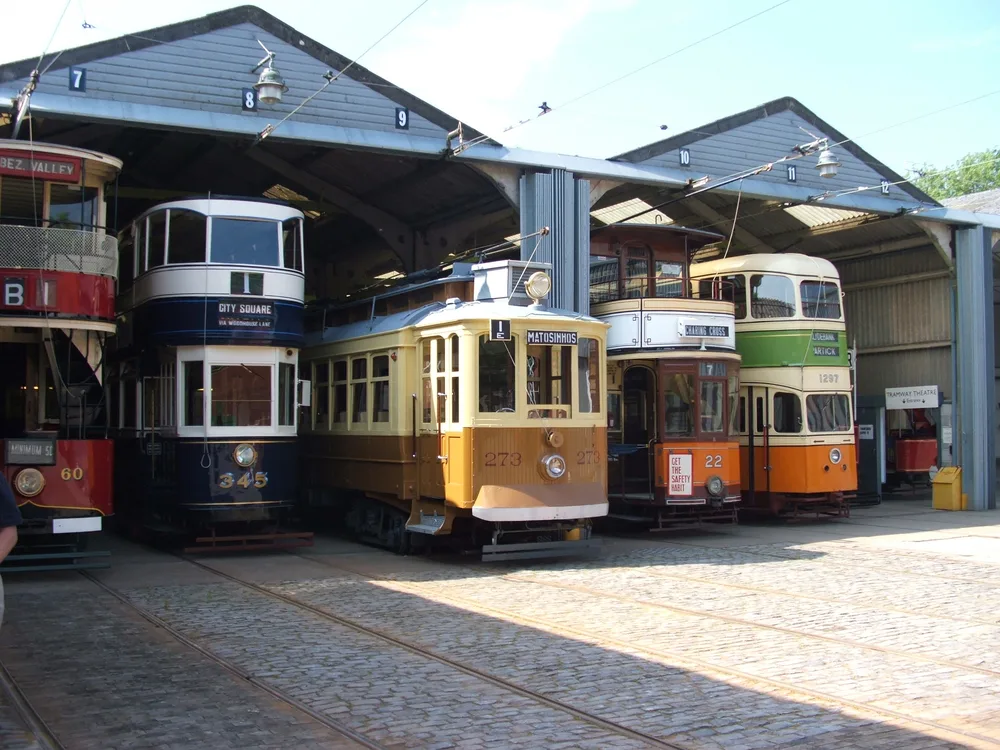 A door into the Derby Assembly rooms, just opposite the main terminal, takes you into a small but interactive museum area. Here you can learn more about the trams across the UK and kids can even dress up as a conductor.
Indoor Play Area
To the right of the main exhibition hall is a small indoor play area suitable for kids aged 8 and under. This is a handy place to come for the kids to play whilst the other parent or grandparent takes in the written displays from the main exhibition hall. It's also a handy space to retreat to if it's raining.
Crich Tramway Village and places to eat
The main village area takes you back in time and is beautifully done. Many of the buildings along the street have been rescued from towns and cities across the UK, such as the Derby Assembly Rooms façade which came to Crich after a tragic fire, and the Red Lion Pub and Restaurant came all the way from Stoke and was re-built brick by brick.
This is where you can pick up some snacks, or sit down for some food:
Pop in to the Red Lion for a pint of Peak Ale and a pub lunch.
Rita's Tea Rooms offers for a warm cuppa, sandwiches and cakes.
Barnett's Sweet Shop has a fantstic array of traditional sweets on sale.
The Ice Cream Parlour serves Matlock Meadows traditional ice cream and hot drinks from 11:30am.
Events at Crich Tramway Museum
There are some fantastic events held throughout the year at Crich Tramway Museum, it's worth checking the website to see if your visit coincides. Special kids activities are also held during the school holidays.
How long should you allow to see everything?
We usually arrive for 10 am opening time and on a sunny day, the kids are still playing in the adventure playground at 3pm. So I advise allowing for a full day.
However, don't forget that your ticket allows for unlimited entry for 12 months. So if you only have a morning to spare, you can always come back another time.
---
You may also like to read:
Top things to do in the Peak District
Things to do in Matlock
Best pubs and cafes with a playground in the Peak District