An open air swimming pool is perhaps one of the last things you would expect in a Peak District village. But thanks to a local business man and philanthropist, Mr George Lawrence, Hathersage has had it's very own outdoor pool since the 1936, and it's heated! With views of Stanage Edge, Hathersage Church and the surrounding hills, it really is a beautiful setting, and the old bandstand still standing poolside transports you to times gone by.
It's a fantastic place to swim in all weathers, and even though it's open air, it's still great for a Peak District rainy day as it really doesn't matter that it's raining when you're in a swimming pool. Offering public swim sessions open to families, Hathersage swimming pool is one of our top things to do in the Peak District with kids. Just make sure you book well in advance, as the one hour family sessions do get booked up quickly.
Hathersage swimming pool is also a great activity after a walk up Stanage Edge or to Hathersage Stepping Stones. Or perhaps combine your swim with a visit to Hope Valley Ice Cream, just outside Hathersage, where you can meet farm animals, play in sandpits in old tractor wheels, enjoy a short walk around the farm, and taste some of the best homemade ice-cream in the Peak District.
Is the water cold?
The water is heated to a constant 28°C all year round. I wouldn't call it warm, but it is comfortable. We suggest putting kids in wetsuits.
Very small children will probably find the one hour session enough, unless it's a hot summer day.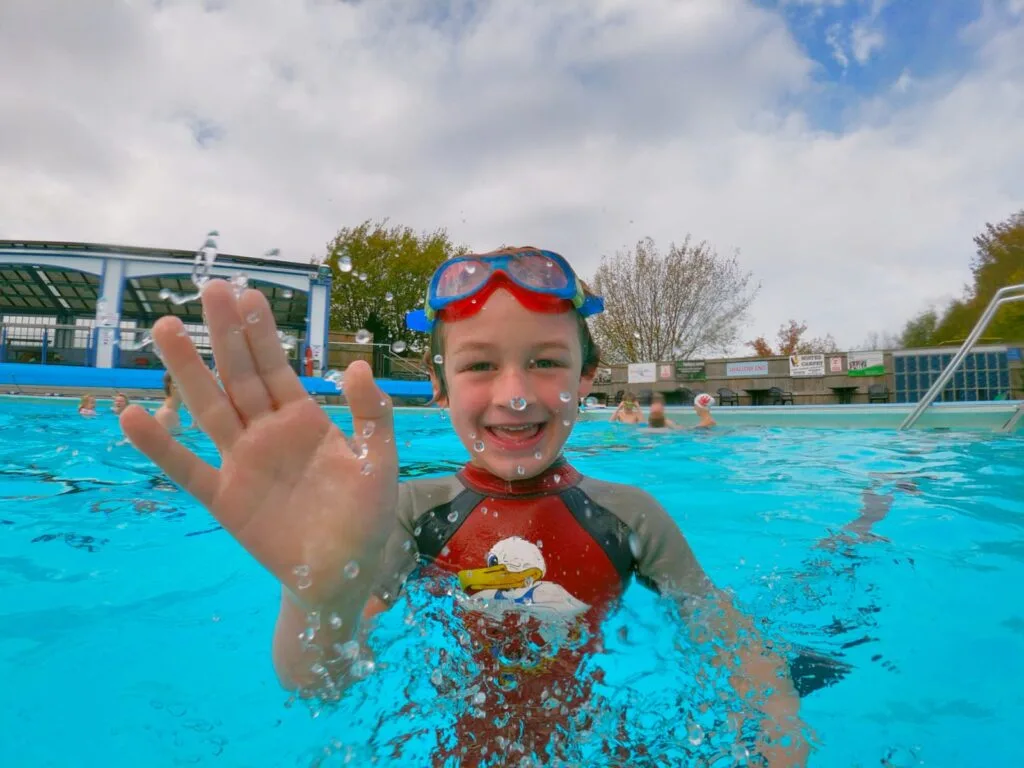 Are there changing rooms?
Yes, there are separate changing rooms, as well as toilets. However, during these COVID times, it's advisable to turn up 'pool ready', and shower at home afterwards. Our boys wear their onesies over their wetsuits pre-swim. Then post-swim, we just take their wetsuits off, towel-dry them, and then the onsies go back on.
Family swim session
If you are visiting with younger kids, you will want to book into a public swimming session, rather than a lane swimming session. During these sessions, the lanes are removed and swimmers are free to swim where the want in the pool. Bring any arm bands, swimming aids and swim toys with you.
Children must be supervised at all time by a responsible adult (16+) in and around the pool area. All children under the age of 8 years must be accompanied into the pool by a responsible adult. The responsible adult must enter the water with the child or children, and maintain a close watch over them at all times.
Any children who are weak or non swimmers should wear suitable recommended buoyancy aids, stay in close contact with the supervising adult and remain in the shallow end at all times. Parents are requested to ensure that their children wear aqua nappies where appropriate. These are available to purchase from the pool office. You can also purchase arm bands from the pool office if needed.
Admission Guidelines
Under 4 years: 1 to 1 with adult, however if children wear armbands the ratio moves to 2 to 1.
4 to 7 years: 2 to 1 with adult, however if children wear armbands the ratio moves to 3 to 1.
8 years +: unsupervised.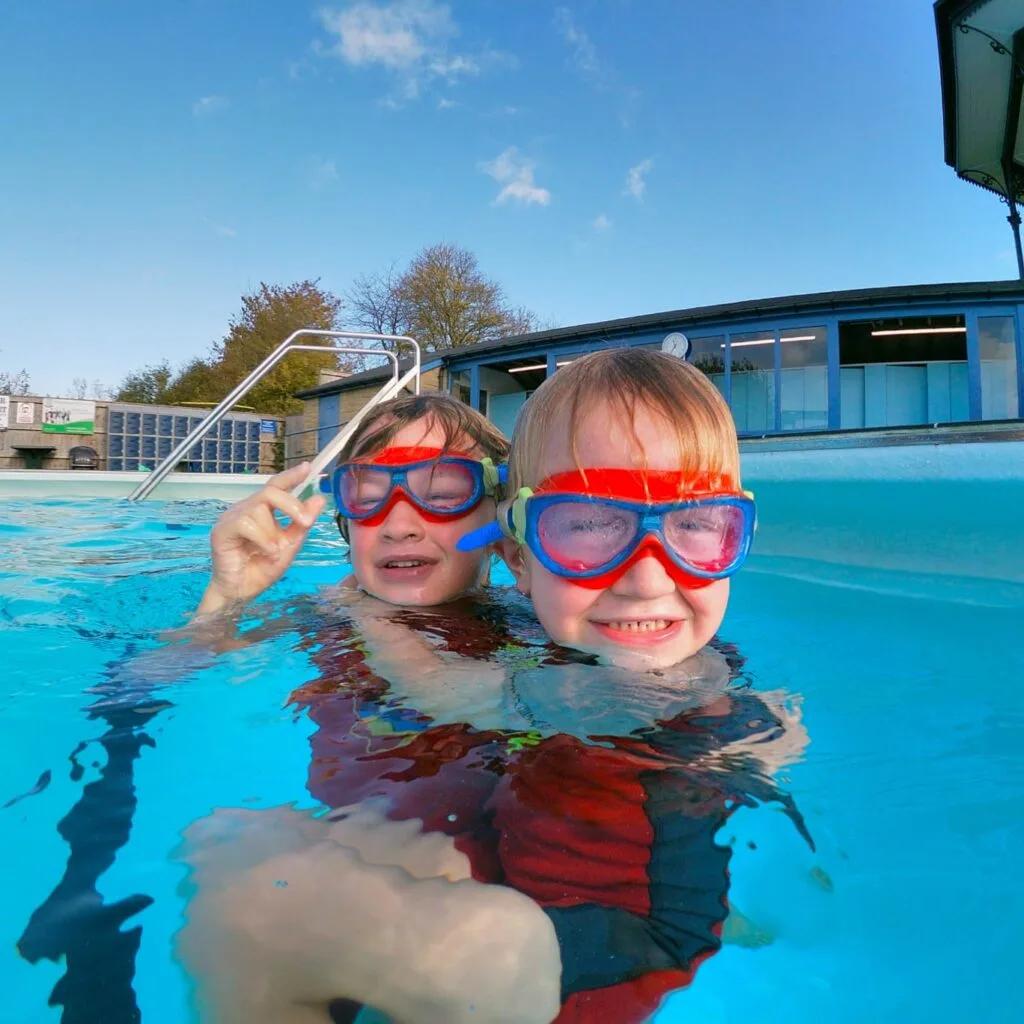 How to book
You need to prebook your tickets online for a timed session. These book out very quickly and you may need to book weeks in advance.
Click here to view the swim timetable.
Click here to book your swim session.
Current pricing for Hathersage swimming pool:
| | Price |
| --- | --- |
| Adult (18 – 64) | £7 |
| Concession (65 years and over, Disabled swimmers and Students) | £6 |
| Junior (Aged 4 – 17 years) | £4 |
| Under 4's | Free |
| Family (2 Adults & 2 Juniors) | £20 |
| Spectator | £3 |
Hathersage Pool Café
After your swim, why not head for a warm cuppa and bite to eat at the Hathersage Pool Café. This is a family run café (separate to the swimming pool), serving snacks plus freshly prepared and homemade meals. There's a covered seating area outside and they also do kids' meals.
They also do takeaway, so you could grab a drink and food and head to the playground, just behind the swimming pool.
Getting to Hathersage swimming pool and parking
Click here for the Google Map location of Hathersage Swimming Pool. The postcode is: S32 1DU.
If arriving by car during weekends and school holidays, allow yourself extra time to find a parking space. There is limited parking at the swimming pool, as well as the pay and display car park immediately opposite the entrance along Oldfellows Road. It's not always easy to find a space and you may have to drive around to find road side parking instead.
There is the station car park around the corner. However, this can only be used if you're actually using the train.
If you're coming from Sheffield or Manchester, it's a good idea to arrive by train. It's just a 350 metre walk from the station to Hathersage Swimming Pool.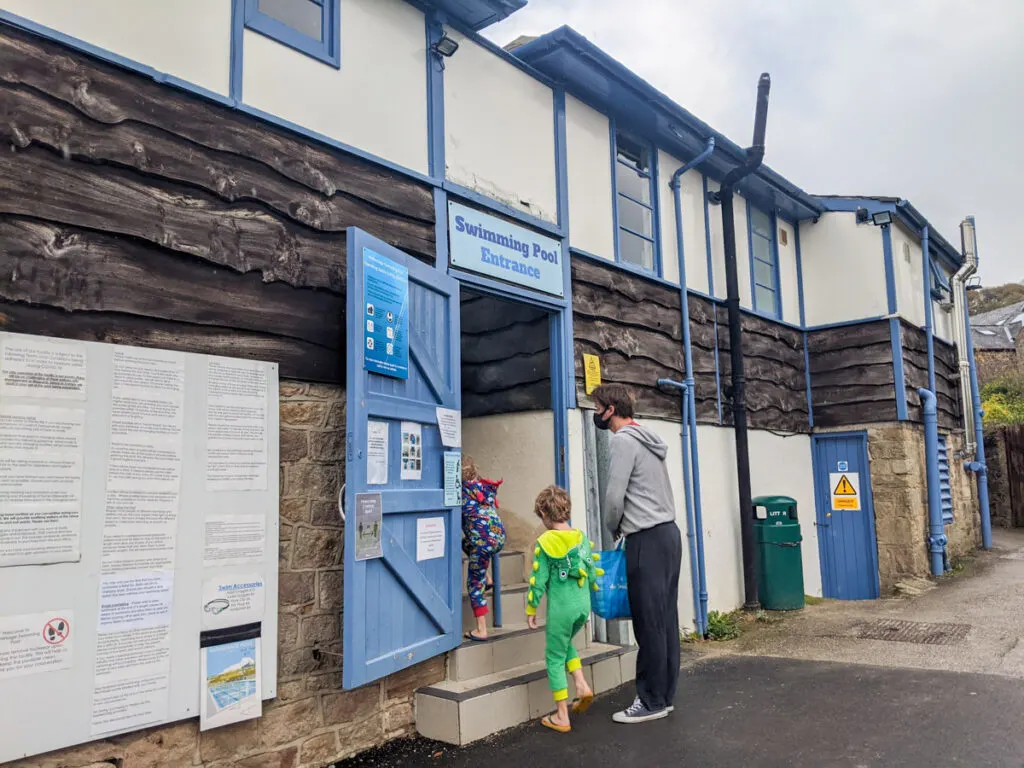 ---
You may also want to read:
Hathersage Stepping Stones walk (4.9km)
Padley Gorge walk including Longshaw Estate (2.7km)
Top playgrounds in the Peak District