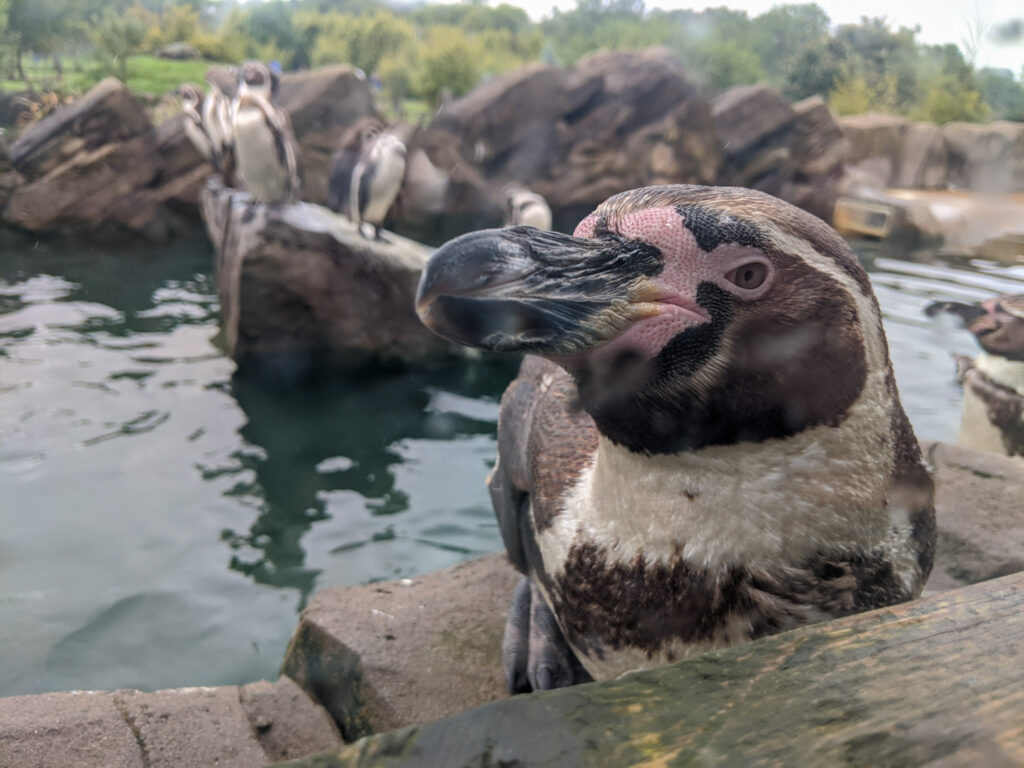 Come face to face with exotic and endangered animals from across the world, including penguins, lemurs, meercats, zebras, deer and lots of farm animals at Peak Wildlife Park! It's one of our top days out in the Peak District. We love the walk through areas where you can venture inside animal enclosures, and my boys always enjoy petting the farm animals.
This isn't a normal zoo to see the 'big five'. Instead it is an immersive experience to enjoy walking amongst less ferocious animals. Its a fantastic day out for little ones especially as they can be hands on with some of the tamer residents
Peak Wildlife Park is just 1km outside the National Park boundary near Leek in Staffordshire.
Our family visit to Peak Wildlife Park was paid for ourselves.
Pre-booking tickets
Due to safety measures around COVID-19, all visitors must pre-book a time slot for £1 per person, whether you have an annual pass or not. Once you've booked your time slot you can then go ahead an book your tickets on line, if you haven't got an annual pass.
Click here to book your Peak Wildlife Park tickets online. Current prices are:
Day entry tickets:
Adult (17 to 64 years old) – £12.95
Child (2 to 16 years old) – £10.95
Under 2s – FREE
Senior Citizens from 65 and students with valid card photo ID – £10.95
Carers – FREE
Annual pass:
Adult (17 to 64 years old)- £35.99
Child (2 to 16 years old) – £29.99
Senior Citizens from 65 and students with valid card photo ID – £29.99
Do note that the hourly talks and feeds have been cancelled due to COVID-19 until further notice.
Our visit to Peak Wildlife Park with new social distancing measures
On our most recent visit we picked a rather wet and drizzly day. But we went prepared with rain jackets and wellies! You will be outside for your entire visit, so make sure you check the weather and go prepared.
We arrived just before our booked time of 11 am. Finding a parking space was straight forward and it's just a short walk to the entrance.
As soon as you walk through the gates, there are markers on the ground so that everyone keeps 2 meters apart. Although there was no queue to show our pre-booked tickets at the counter.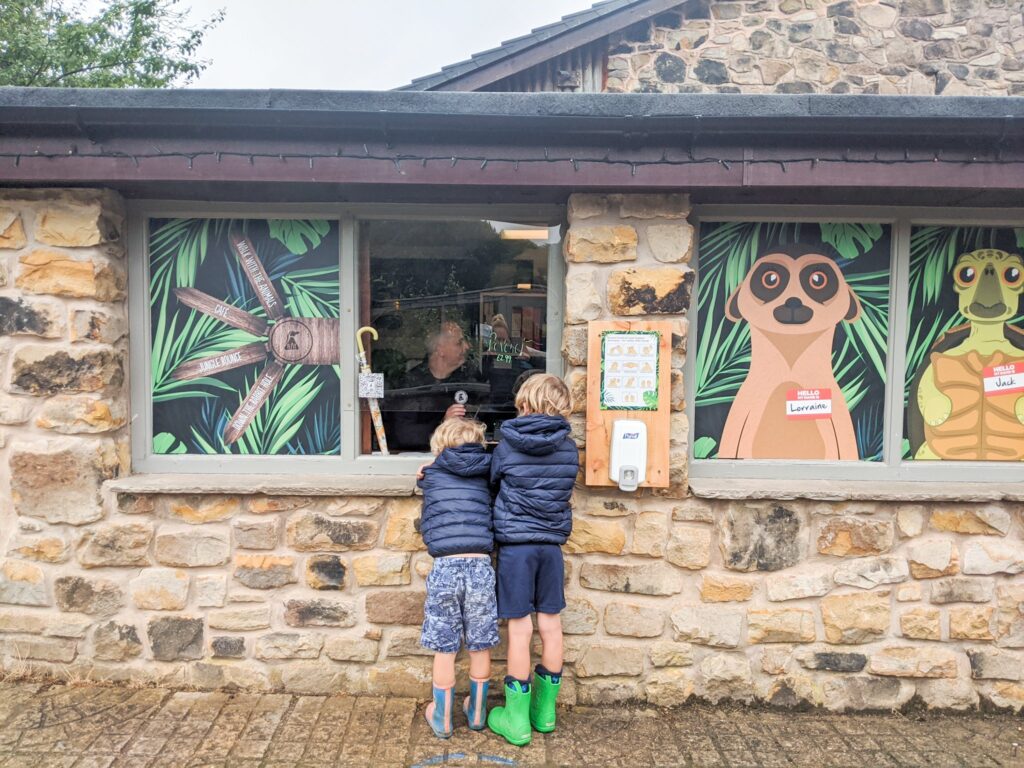 One way system
A one way system leads visitors around the park. Follow the blue footprints painted on the ground, and then later the yellow ones. There are also signs up as reminders of the one-way system.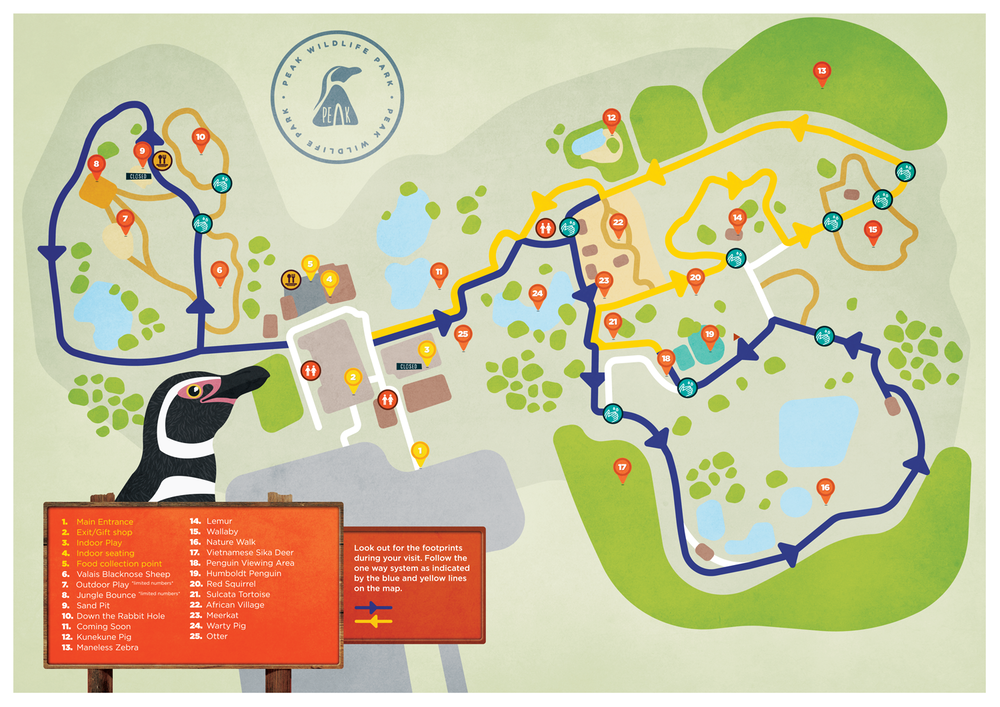 The one-way system means that you don't miss out on seeing any animals and avoids people back tracking and bumping in to one another. However, this does mean that you feel part of a conveyor belt at times; we were conscious that there were people always coming up just behind us and we should keep moving. But this is something we all have to get used to now when visiting at zoos and wildlife parks up and down the country.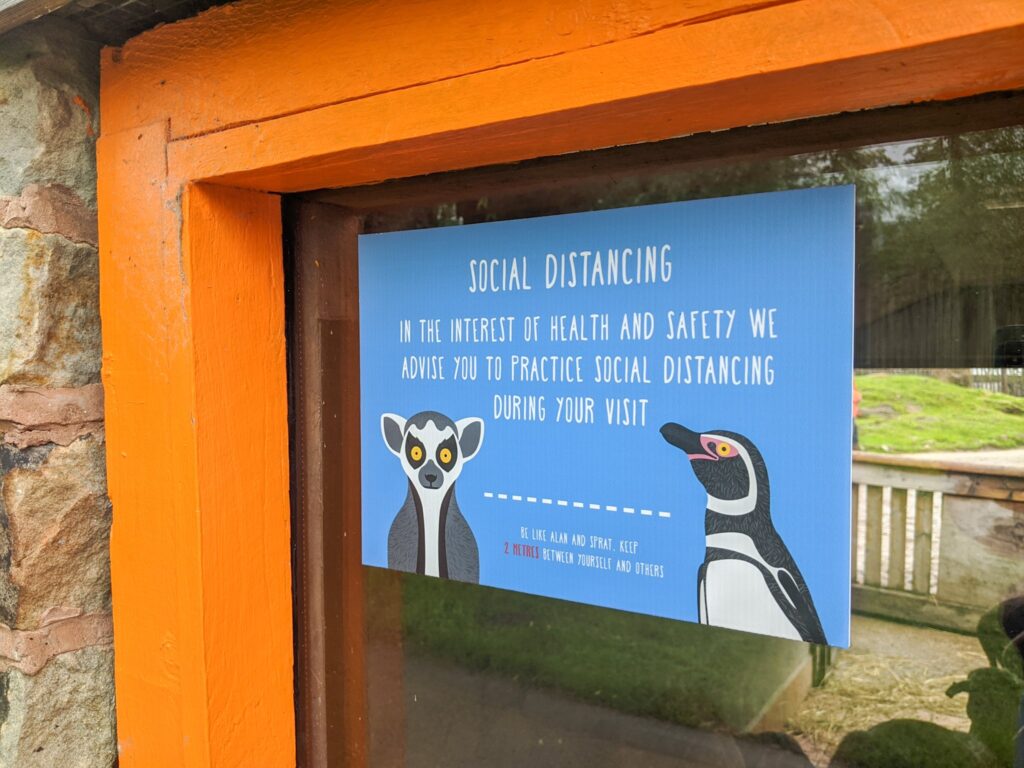 However, there were a couple of occasions when it wasn't clear which way to go. One was with the ramp up to the penguin viewing platform. There is no sign to lead you up there, and I was unsure if it was 'allowed'. I was thinking there must be another place on the one way system to bring you to the viewing platform, but I didn't want us to miss out on seeing the penguins if that wasn't the case. I asked some other mums coming down and they said that they had just been up and down the platform to see the penguins, so we followed suit. The penguins had all congregated next to the viewing platform during our visit, so I'm so pleased we took the detour to see them! This was indeed the right way to go!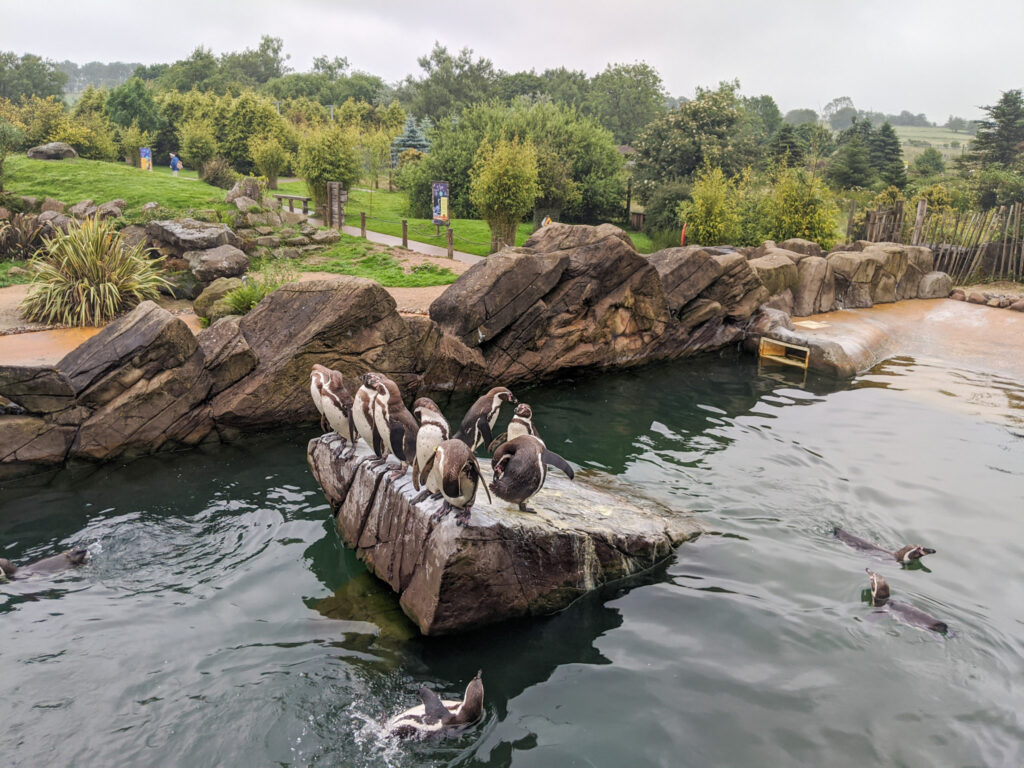 Secondly, when you enter the walk-in enclosures it's not always clear which way to walk around. There is often a circular path to exit the opposite side, and you can walk left or right. Some enclosures have staff on hand to tell you which way to walk around, but there were a few occasions when people were walking in opposite directions to then converge. However, it was easy enough to find space to pass each other.
There are also sanitiser stations dotted throughout the park and lots of reminders to wash your hands before and after going in to each enclosure. It's the most my boys have ever washed their hands in a day!
Eating
We took a picnic, but that went quickly and the boys were still hungry (aren't they always?) The full cafe menu at Peak Wildlife Park is available using their click and collect online service. I made an order for pizza and gingerbread men the day before, and it was waiting for us at our booked time of 12:30! Plus, there was no queue to wait.
The pizza was delicious!
In this restaurant area (near the entrance) there is also an indoor family room with tables, a baby changing room, toilets, and an outside picnic area with benches nicely spaced out. We packed our Peak District Pacmat picnic mat to use as a tablecloth.
Play areas
The climbing frame and huge bouncy castle were open for our visit.
There is a sign to encourage kids to wash their hands before and after going on the bouncy castle, and numbers are limited to 6 kids for 5 minutes at a time. There was a member of staff watching and making sure rules were adhered to. However, it seemed rather optimistic to expect kids to social distance on a bouncy castle.
The climbing area got rather busy around 1pm, so we left and played with the bunnies next door. When we returned a little later, the boys had the climbing frame to themselves.
Toilets
Toilets were open with additional toilets spread around the park. They were clean during our visit.
How busy was it?
In all honesty, it was a tad busier than I had expected it would be. Pre-COVID I would have said it was very quiet, but around the play area and the penguin viewing point, things were a little congested considering the current climate. However, it's just a case of waiting back for there to be space, and we returned to the play area when it was quieter.
In general people were social distancing, washing hands, and adhering to the one way system. But there were a small handful of visitors that didn't, which was frustrating at times.
How long should you plan to spend at Peak Wildlife Park?
We arrived at 11 am and were there for a three hours. We spent 1.5 hours in the main section of the park with the penguins, lemurs, meercats, zebra (although these were in the distance in a separate enclosure) and the African Village animals (petting the goats and sheep). This was the perfect amount of time to then arrive to collect our pre-ordered pizza at 12:30pm.
After lunch, we spent just over an hour in the play area and petting the giant rabbits before heading home. Be warned parents, the exit is through the gift shop!
In conclusion
It was a great day out and a nice change of pace to all the family walks and bike rides we've done during lockdown. The park isn't too big, so my boys (age 5 and 6) didn't get tired at all walking around. The penguins and meercats are always the most entertaining, and being able to pet the farm animals is lovely. It also felt good to be supporting Peak Wildlife Park as it has been a difficult time for them during lockdown with managing the costs of looking after the animals.
Our advice is to book an early arrival time to see the animals when it's most quiet, and to avoid the play area around lunch time when it gets busy. And make sure you pre-order your pizza – it's delicious!
---
You may also like to read:
Top family days out in the Peak District
A family visit to The Heights of Abraham
A family visit to Crich Tramway Museum