Peak District Kids writer: Gemma from Families Can Travel
If you're looking for a unique indoor experience where kids can let their imaginations run free, then you'll love The Play Village in Ashbourne, just outside of the South Peak District border.
Completely different to soft play, this experience is centred around the magical art of role play. There are eight play pods set up as life-like settings designed to ignite the imagination.
Disclaimer: The Play Village Ashbourne kindly provided Peak District Kids with complimentary entry and lunch for our writer and her family to cover costs for this review and social media coverage.
Whilst the kids play, parents can relax in the tastefully designed cafe and enjoy the amazing food and drink. The menu is really refreshing for a kids' play centre with everything prepared freshly from locally sourced produce where possible and the coffee is good too!
The sessions are at set times and last for two hours and 15 minutes. Booking is essential to ensure that the maximum number of children per session isn't exceeded. This is a great Peak District rainy day activity or if you just want some time to relax and enjoy good food and drink whilst keeping the kids entertained.
Booking your visit to The Play Village, Ashbourne
The Play Village Ashbourne is open every day and offers three sessions at 09:30, 12:15 and 15:30. Each session lasts two hours and 15 minutes and booking is essential as the maximum number of children they allow is 30 per session.
The cost is £9.95 per walking child and an adult is free per paying child. Babies are free or it's £5 for one adult with a baby, and additional adults are £2.50.
Booking online is the easiest way to reserve your session. You'll receive an email confirmation and then all you have to do is arrive 5 minutes before the session is due to start.
There is free parking available for up to 22 cars.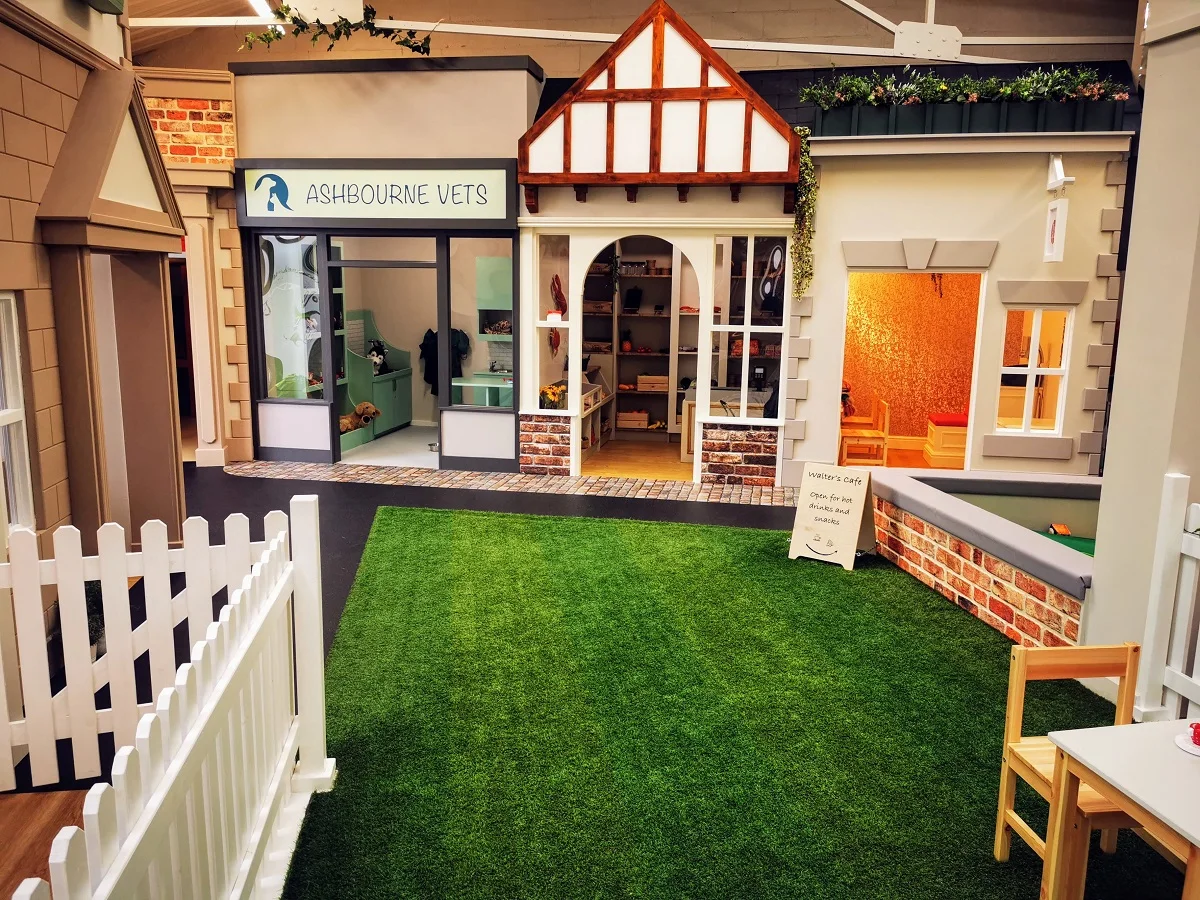 What to expect from your visit to The Play Village, Ashbourne
When you enter The Play Village, you can choose somewhere to sit and wait for the session to begin. When the session is about to start, the play supervisor calls the kids over and the gate to the village is opened. All of a sudden the music starts and the play supervisor encourages them to join in with singing and dancing to wake the village up.
After a few words on safety, they're set free to explore. There are eight play pods which include a building site, cafe, fire station, hairdressing salon, hospital, office, supermarket and veterinary surgeon. All have plenty of toys, props and dressing-up clothes to allow your child to really immerse themselves into the role play.
Adults are welcome to join their kids in the village and encourage their creativity but the play supervisor is also there and does a great job interacting with the kids. There's also a baby play area for babies and toddlers.
My three girls ages are aged 9, 5 and 1 but all three loved it and apart from a quick break for some lunch, they spent the whole two hours and 15 minutes playing.
At the end of the session, another song comes on to let the kids know their playtime is over and encourages them to tidy up. I've been told that it doesn't work at home but amazingly the song instantly turns them into tidy-up mode and they start whizzing around putting all of the toys back.
Eating at The Play Village, Ashbourne
The cafe area is a lovely, modern space for parents to relax and the menu is really good compared to many kids play centres.
All of the food is freshly prepared and made using locally sourced ingredients where possible. There are great options that work well for all three sessions. From baked eggs with salmon or granola and yoghurt for breakfast, to sandwiches, pizza, flatbreads and platters for lunch or dinner.
I'd definitely recommend the rocket & falafel flatbread and the cakes and coffee are very good too!
There is a separate kids menu and to avoid waste, everything comes in two different portion sizes for both kids and toddlers.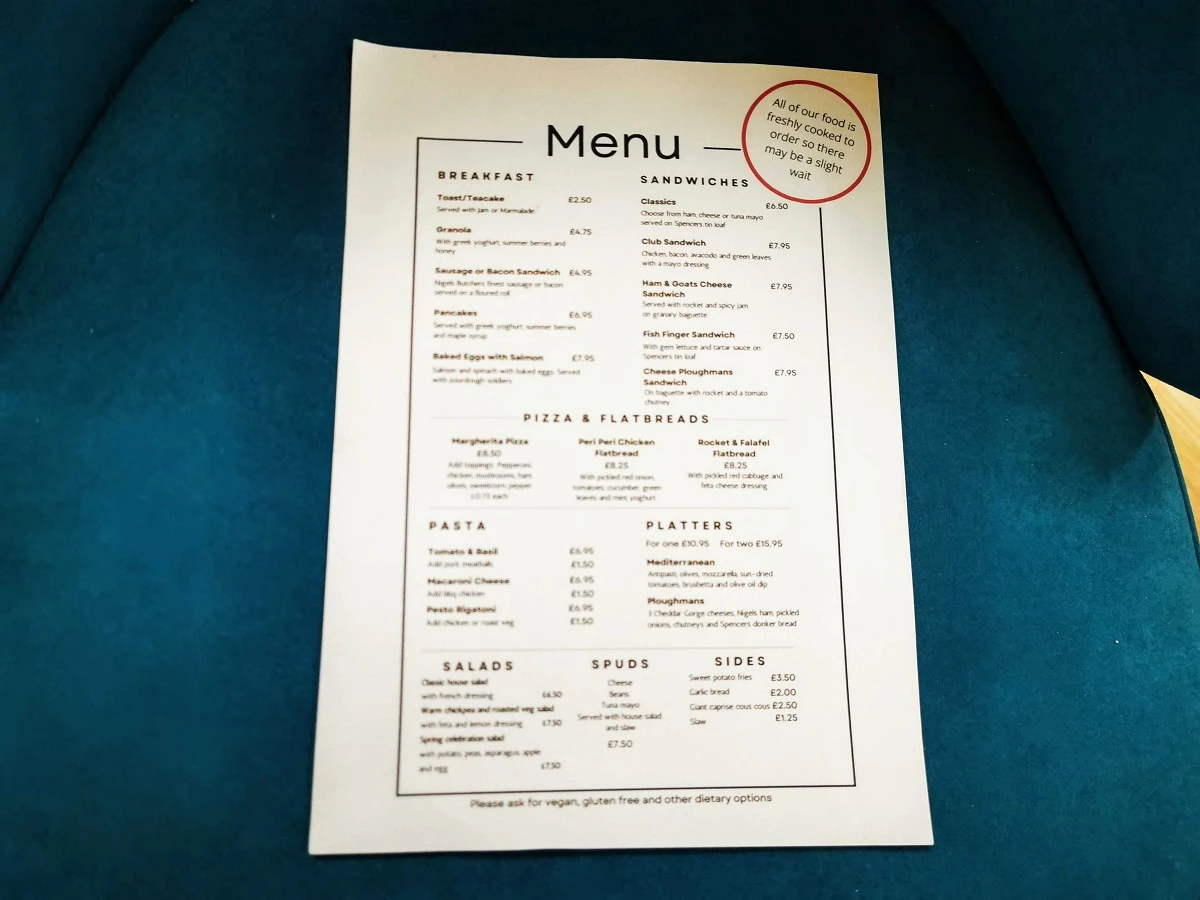 Where to find The Play Village, Ashbourne
The Play Village is conveniently located in the centre of Ashbourne with parking for up to 22 cars.
Click here for the location on Google Maps; postcode is DE6 1DE.
What else is there to do nearby?
If you're looking for other things to do nearby, then Ashbourne itself is a lovely market town to explore with direct access to the start of the Tissington Trail. Along the trail, you can reach the beautiful village of Tissington, which is the start of our Tissington to Parwich walk (an excellent Peak District pub walk).
Closeby, you also have Ilam Park and Dovedale, where you'll find the stepping stones and Thorpe Cloud hill.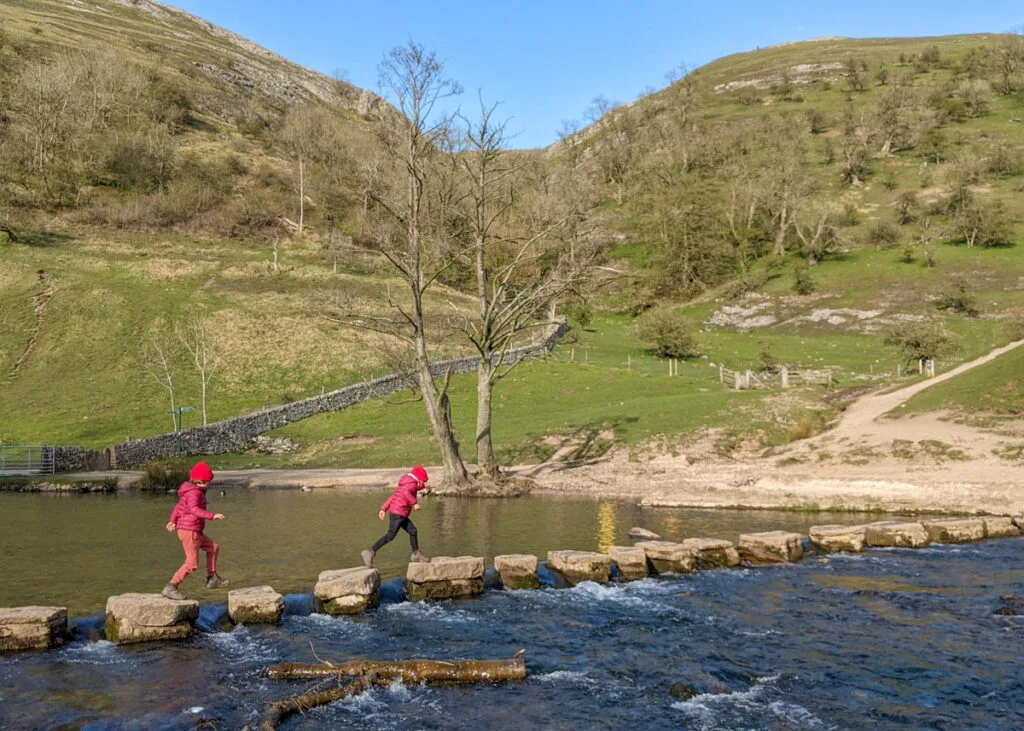 Carsington Reservoir also has some great walking and cycling routes:
---
You may also like to read:
Brick Corner: Lego fun at this quirky Buxton café
High Peak Bookstore and Café: what to expect from your visit
Best playgrounds in the Peak Disrtict