Peak District Kids writer: Gemma from Families Can Travel
A lovely, leisurely pram-friendly walk in the beautiful setting of Ilam Park and picturesque Dovedale. The walk starts by crossing the parkland and dropping down towards the River Manifold. It then follows the 'Paradise Walk' path along the river to St. Bertram's Bridge, which used to be the main route into Ilam. This attractive section of the walk was known for its carriage rides for visitors during Victorian times. Finish off by heading back to the hall and formal Italian Gardens, enjoying the stunning and iconic views of Thorpe Cloud and Bunster Hill.
Kids will love this walk as there's plenty of fun places to run around and explore including the wavy 'ridge and furrow' fields created by medieval ploughing. There's also a small natural play-trail and, on the way, they can spot the boil holes where the river has travelled through caves and bubbles up out of the rocks.
As this is such a short walk with lots to explore, you may actually want to ditch the pram/buggy for this walk. Indeed this Ilam park walk features on our best walks for toddlers and pre-schoolers in the Peak District.
Disclaimer: This post contains affiliate links. Should you click to purchase, it is at no additional cost to you, but I receive a small commission.
If you are planning a visit to the National Park, please arrive early or late in the day to avoid crowds if visiting over sunny weekends or school holidays. Please also take all litter home with you, don't bring BBQs and park your car in designated parking areas. Also, please use these walks as a guide; access and stiles may change.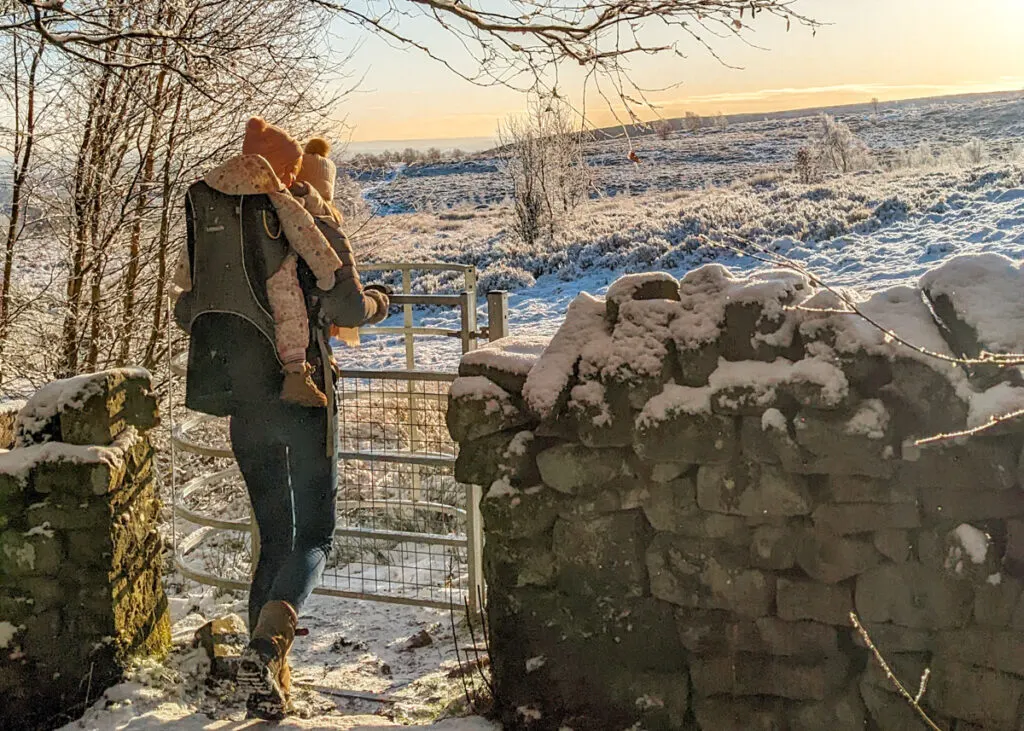 During the winter months, it's important to be extra prepared and safe when out walking and adventuring in the Peak District. The weather can change so quickly, especially on the exposed escarpments, and we don't want you to get caught out.
Read our top tips for safe winter walking with the kids.
FOLLOW US:
PARKING INFORMATION: Please do not rely solely on the postcode for parking directions. In the National Park, a postcode can cover a large area. Postcodes are only provided as guidance. Please either use the Google Maps point provided for every walk, or what3words.
Do check out our top tips for hiking with young kids, as well as our essential items to take on a family hike in the Peak District.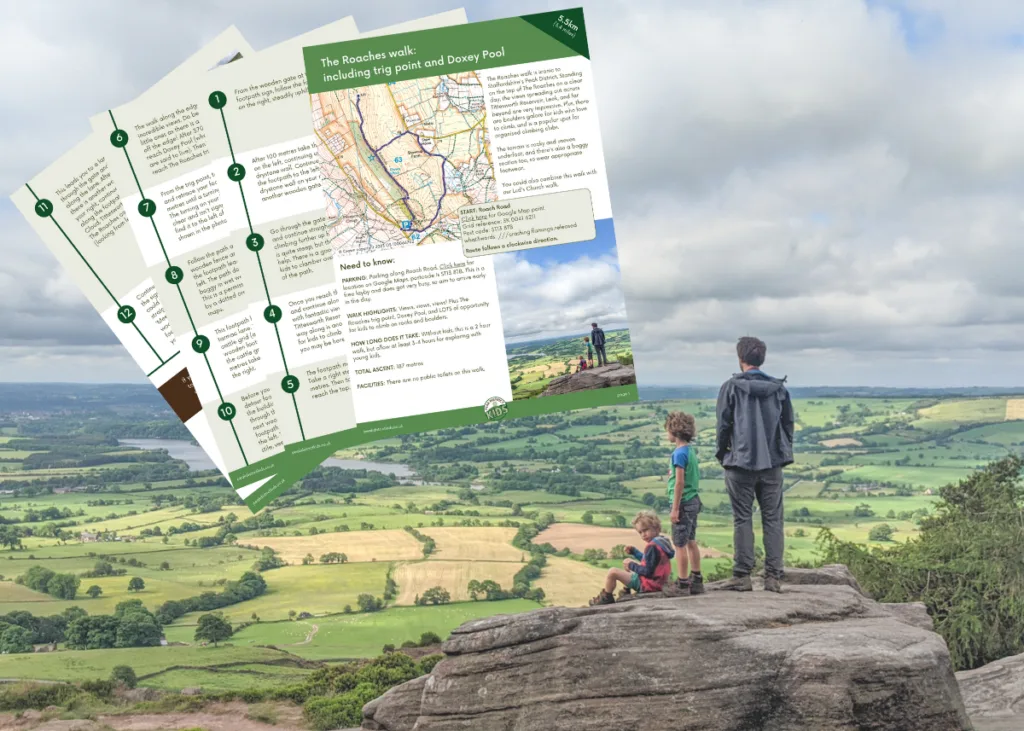 Download and print out our walking guides ready for your family walk. There are over 80 downloadable walk guides available, and these include all the main Peak District family walks, pram-friendly walks, and toddler walks.
Each printable download is just £1.50, whether it's a short 1km stroll or an epic walk up Kinder Scout.
Ilam Park walk map
On all Peak District family walks it's a good idea to have an Ordnance Survey paper map with you, even if you have your phone on you. For this walk you need the OS Explorer Active Map OL 24 (White Peak). It's also a good opportunity to show young kids the map features and get them started with map reading.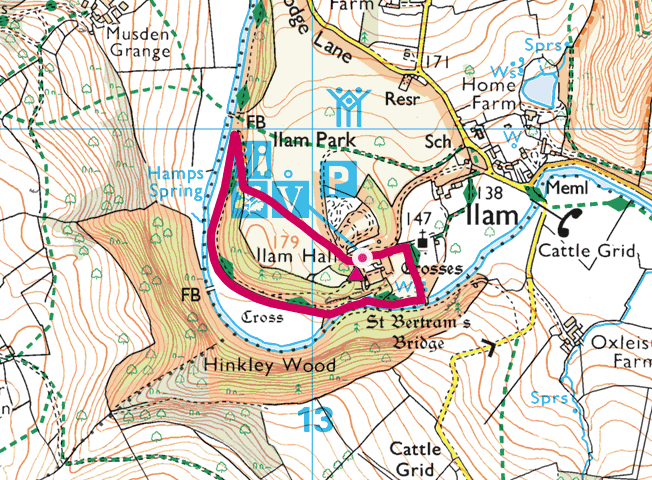 Get a printable download of this walk
Want to print off this walk guide rather than rely on your mobile? Then click here to download the PDF to print out at home. Perhaps print out a copy for the kids to follow the step-by-step directions and/or photos? It's a great way to get them engaged with the walk and gives them a sense of responsibility.
All printable downloads are £1.50 each. Click here for the full list of Peak District Kids printable downloads.
Please note that your download link expires 72 hours from order, so make sure you save your PDF somewhere where you'll remember it. If you are unsure where your download folder is on your mobile device, we recommend you download the PDF on your laptop or desktop.
Need to know
DISTANCE OF WALK: 1.6km / 1 mile

TYPE OF WALK: circular, pram/buggy friendly, easy going, parkland (one field), well maintained paths

PARKING: There is a National Trust car park at Ilam Park, which is free for National Trust members. For non-members, the charge is £3.50 for up to 4hrs or £5 for over 4hrs (coin machine or card payment in the 'Grab & Go' takeaway café). Click here for the Google Map point. The postcode is: DE6 2AZ. There are also a small number of roadside parking spaces in Ilam village but these get snapped up quickly. Dovedale is a very popular tourist destination so please remember to respect local residents.

WALK HIGHLIGHTS: Beautiful setting of Ilam Hall and Park, formal Italian gardens, riverside trails, stunning views across Dovedale.

HOW LONG DOES IT TAKE: This walk can be done in 30 minutes but with a couple of optional detours, the leisurely nature of the walk and of course, time for the kids to play, allow for 2 hours.

ACCESSIBILTY: Pram/buggy friendly, one wrought iron gate, one side opening gate, one field which can get wet but not usually muddy, well maintained paths.

TOTAL ASCENT: 31 metres

PUBLIC TOILETS: Toilet facilities and Grab & Go café are located in the Stableyard. There is also The Manifold Tea-room.
The route
START: Ilam Park National Trust Car Park
Click here for Google Map point
Grid reference: SK 1312 5067
Post code: DE6 2AZ
what3words: ///broad.united.swooned

Route follows an anticlockwise direction.
1. Walk towards the top left of the car park where you'll find a map of the park. After this, take a hard right and walk through the wrought iron gate onto the parkland.
2. Follow the stone path for 50 metres until it turns into grass terrain. At this point, bear left and walk 250 metres diagonally across the field. There is no clear track so look out for the dew pond surrounded by railings in the middle of the field. Keep this on your right and head towards the boundary trees.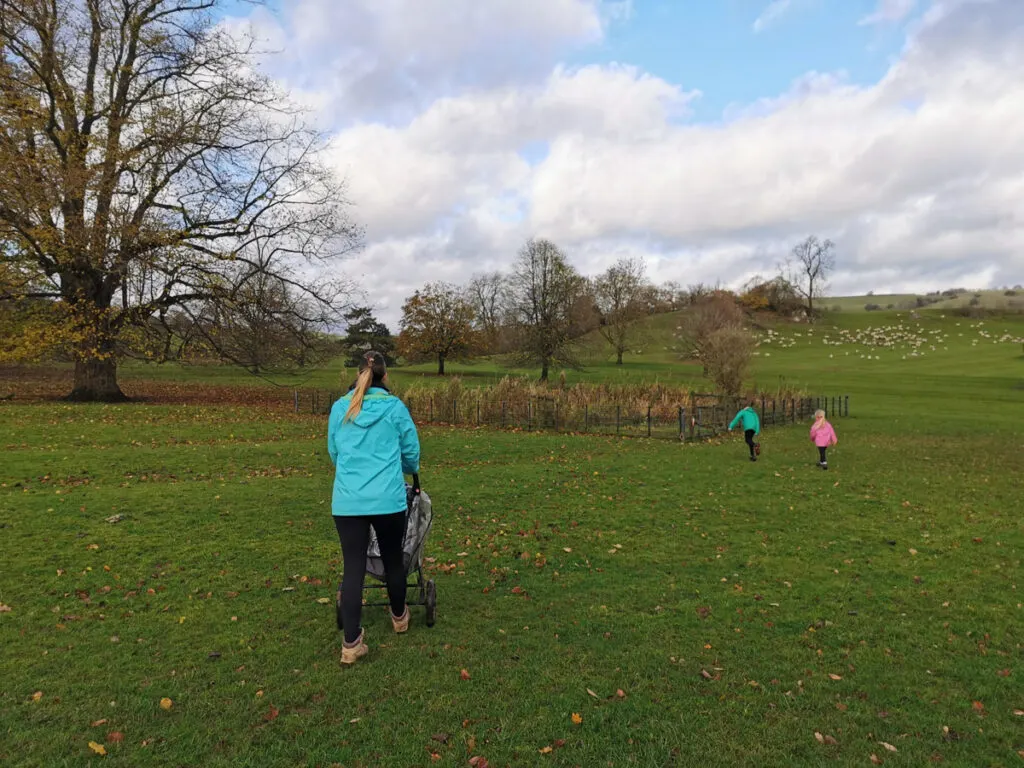 OPTIONAL DETOUR: For beautiful views over to Dovedale and Thorpe Cloud, head towards the rocky outcrop and climb up to the top of the hill. You might struggle to get your buggy up as it's quite steep but it's doable. This will add an extra 400 metres onto the walk. Look out for the corrugated appearance of the field known as 'ridge and furrow', a medieval ploughing technique. Kids will love running up and down the 'waves' in the field!
3. When you reach the field boundary, you'll see a track. Follow this for 130 metres down to the bottom where the path splits.
4. Turn left and walk through a wooden gate. Follow the path known as 'Paradise Walk' for 900 metres with the River Manifold on your right.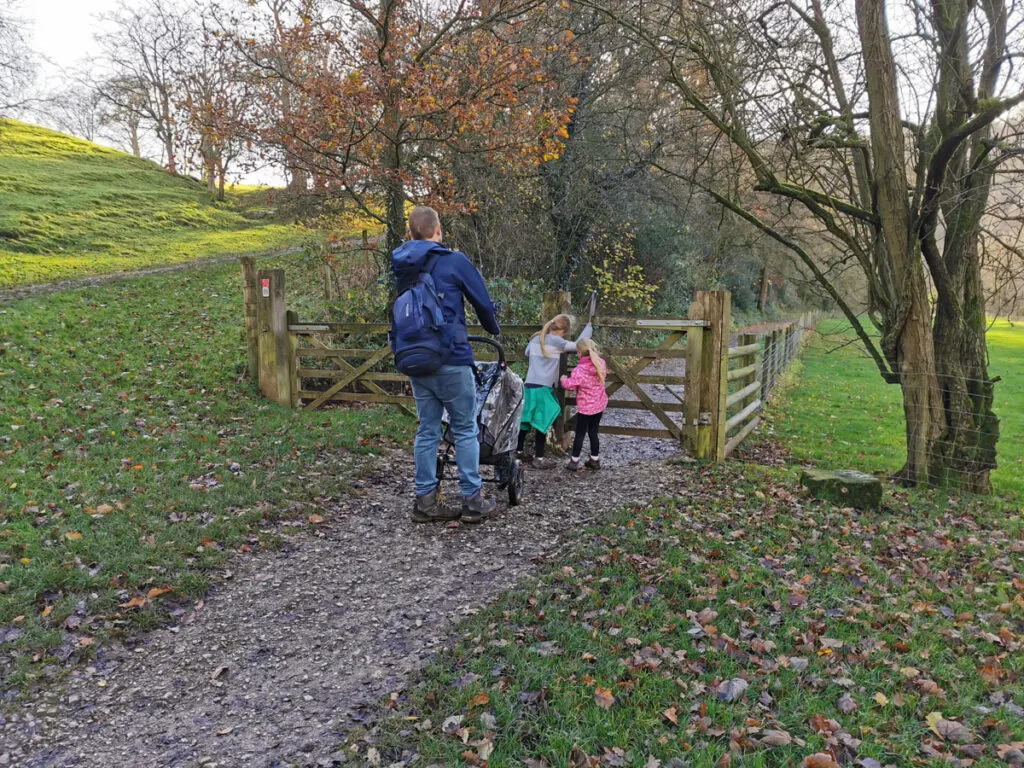 5. Halfway along, there is a path on your left leading up into the woodland. Ignore this and continue on the path straight ahead. Look out for the 'boil holes' where the river has travelled miles through caves and bubbles up out of the rocks and into the river.
6. Keeping the river close to you on your right, continue as the path turns to grass and head towards St. Bertrams Bridge. This used to be the main route into Ilam.
OPTIONAL DETOUR: Cross over the bridge stopping for an obligatory game of Pooh Sticks. Turn right for a short walk through Hinkley Hollow and back, adding 500 metres onto the walk. Here you'll find a short natural play-trail for the kids with wooden stepping stones.
7. Leaving the bridge behind you, walk towards the church with the hall on your left, passing a stone well on your right. Continue 130 metres until you reach the stone path.
8. Turn left and follow the path 140 metres towards the hall, through the courtyard and archway and back to where you started. From here you can follow the path round to the right for the car park or to the left for the toilets and Grab & Go café.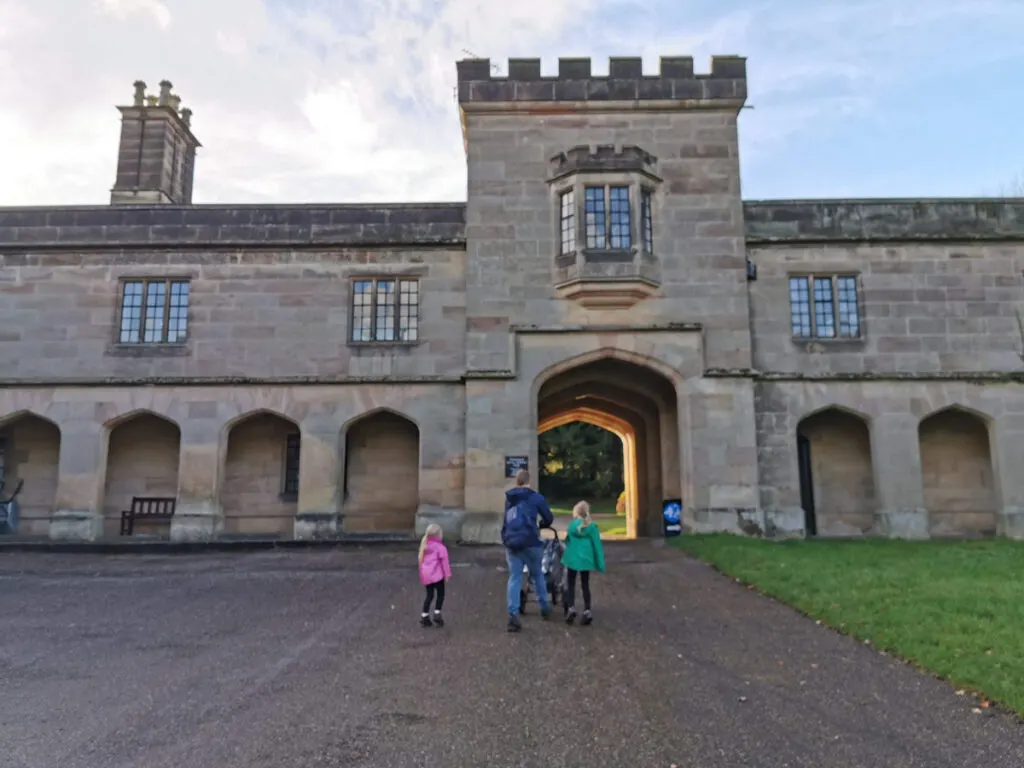 9. Finish off your walk in the formal Italian Gardens, taking in the beautiful views across Dovedale with the iconic Thorpe Cloud and Bunster Hill. There are benches to sit and enjoy a drink and something to eat whilst the kids play and explore. Little ones will have lots of fun running up and down the spiral steps in the turret. Please note that the hall itself is now a Youth Hostel and not open to the public.
You may also want to walk from Ilam Park to Dovedale. Our friends over at Mini Travellers have a lovely write up of this.
---
You may also like to read:
Pram friendly walk: Cressbrook Mill to Litton Mill (5.5km)
Dovedale circular walk (5.3km)
The 12 BEST Peak District walks for toddlers and pre-schoolers (age 1-4)