This picturesque Bakewell to Chatsworth walk is one of our longer family walks in the Peak District. It will lead you through pretty woodland to the sweeping open pastures of the Chatsworth Estate, where you'll perhaps spot deer and sheep, then along the River Derwent, before heading to Edensor for cake at the tea room, and back over to Bakewell where you can perhaps finish with a Bakewell Pudding or a pint of local ale in one of Bakewell's (no less than) nine pubs.
The walk can be muddy and slippy through the woodland, so please wear appropriate footwear, and there are steep climbs in places. Allow a good five hours to enjoy the walk with kids, but in the summer months, this walk can easily fill a whole day.
And if everyone is feeling energetic, you may want to extend this Bakewell walk to include our Chatsworth Hunting Tower and Aqueduct walk. This leads you behind Chatsworth House to the magical woodland of Stand Wood (we also have a pram friendly Stand wood walk). Although make sure you have enough steam for the climb up from Edensor to Bakewell (cake helps).
If you're based in Bakewell for a Peak District holiday, this is definitely one of the top things to do in Bakewell.
Disclaimer: This post contains affiliate links. Should you click to purchase, it is at no additional cost to you, but I receive a small commission.
If you are planning a visit to the National Park, please arrive early or late in the day to avoid crowds if visiting over sunny weekends or school holidays. Please also take all litter home with you, don't bring BBQs and park your car in designated parking areas. Also, please use these walks as a guide; access and stiles may change.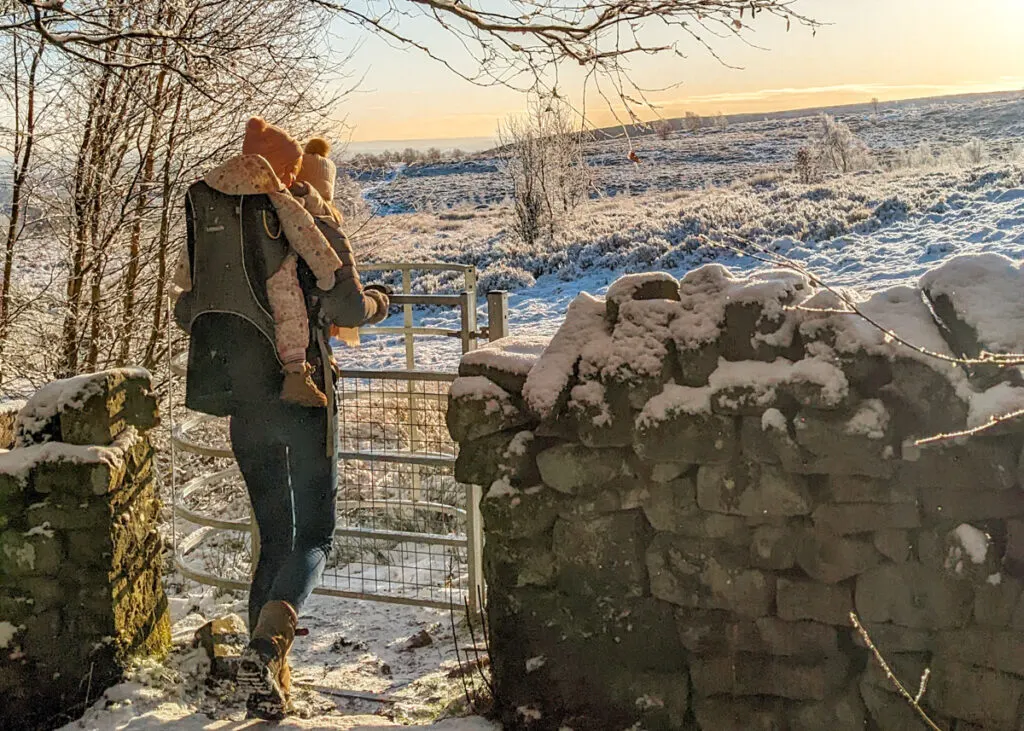 During the winter months, it's important to be extra prepared and safe when out walking and adventuring in the Peak District. The weather can change so quickly, especially on the exposed escarpments, and we don't want you to get caught out.
Read our top tips for safe winter walking with the kids.
FOLLOW US:
PARKING INFORMATION: Please do not rely solely on the postcode for parking directions. In the National Park, a postcode can cover a large area. Postcodes are only provided as guidance. Please either use the Google Maps point provided for every walk, or what3words.
Do check out our top tips for hiking with young kids, as well as our essential items to take on a family hike in the Peak District.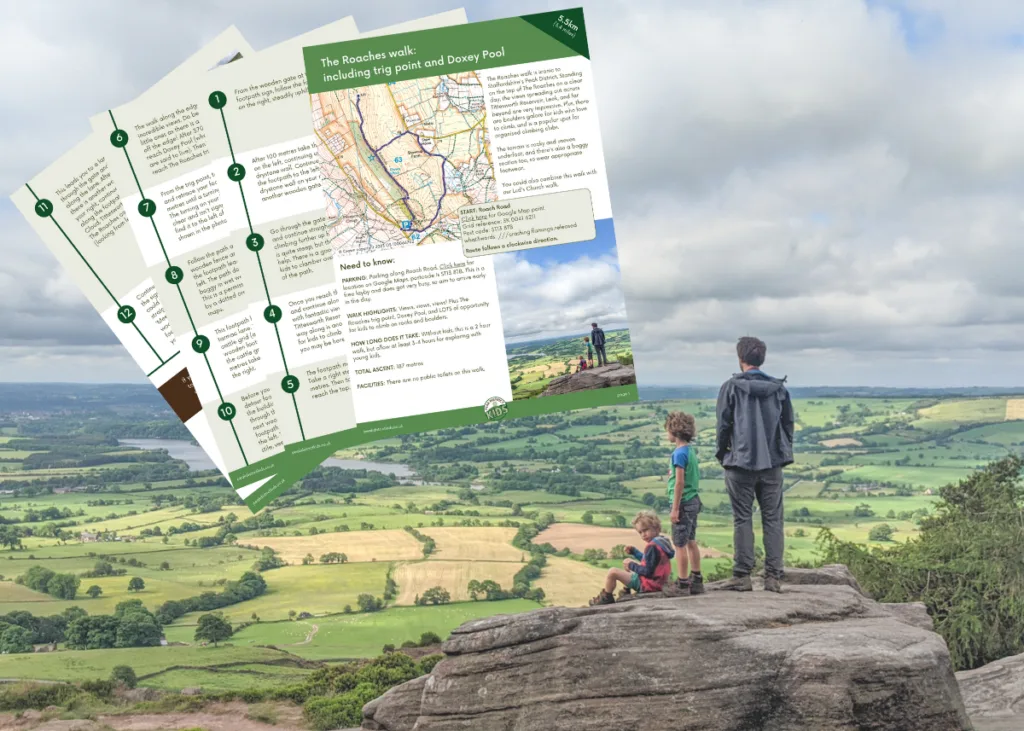 Download and print out our walking guides ready for your family walk. There are over 80 downloadable walk guides available, and these include all the main Peak District family walks, pram-friendly walks, and toddler walks.
Each printable download is just £1.50, whether it's a short 1km stroll or an epic walk up Kinder Scout.
Get a printable download of this walk
Want to print off this walk guide rather than rely on your mobile? Then click here to download the PDF to print out at home. Perhaps print out a copy for the kids to follow the step-by-step directions and/or photos? It's a great way to get them engaged with the walk and gives them a sense of responsibility.
All printable downloads are £1.50 each. Click here for the full list of Peak District Kids printable downloads.
Please note that your download link expires 72 hours from order, so make sure you save your PDF somewhere where you'll remember it. If you are unsure where your download folder is on your mobile device, we recommend you download the PDF on your laptop or desktop.
Bakewell to Chatsworth walk map
On all Peak District family walks it's a good idea to have an Ordnance Survey paper map with you, even if you have your phone on you. For this walk you need the OS Explorer Active Map OL 24 (White Peak). It's also a good opportunity to show young kids the map features and get them started with map reading.
This Bakewell walk follows the below OS map in an anticlockwise direction.
Need to know
DISTANCE OF WALK: 10km / 6.2 miles

TYPE OF WALK: woodland and historical estate

PARKING: Don't try and park in Bakewell town centre, especially on a weekend or during the school holidays. Instead, head to the car park next to the Agricultural Business Centre. Click here for Google Map point, postcode DE45 1AH. The start of this Bakewell to Chatsworth walk goes past the Agricultural Centre.

WALK HIGHLIGHTS: Bakewell, pretty woodland, Chatsworth, spotting deer, River Derwent, Edensor (and the Tea Rooms there).

HOW LONG DOES IT TAKE: This is a 4 hour walk without kids. Allow a good 5 hours to do this walk with young kids. Although on a warm summers day, this walk could easily fill an entire day (pack a picnic lunch).

TOTAL ASCENT: 342 metres

ACCESSIBILTY: Not pram or wheelchair friendly. Steep ascent and descent along muddy paths in the woodland. Rocky and uneven underfoot in places.

FACILITIES: Public toilets can be found in Bakewell car park, opposite Spar and by the entrance to Chatsworth House. For food options, there's often a food cart by the entrance to Chatsworth House, or walk over to the tea rooms at Edensor. In Bakewell, you're spoilt for choice; check out our summary of Bakewell pubs.
The route
START: Bakewell Love Locks Bridge
Click here for Google Map point
Grid reference: SK 2198 6849
Post code: DE45 1EZ
what3words: ///perfect.commuted.spoons

Route follows an anticlockwise direction.
1. Walk across Bakewell Love Locks Bridge, away from Co-op, and follow straight ahead to walk across another footbridge. Head toward the Agricultural Centre and walk around to the right of the building. Then take a left to walk along the road to meet Coombs Road.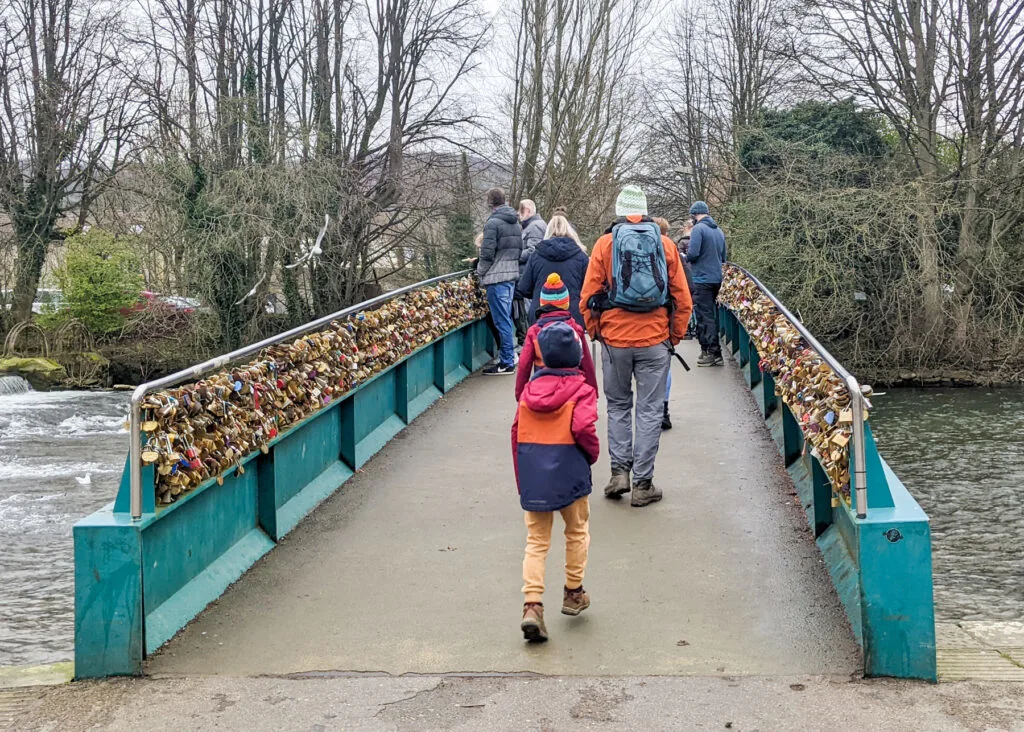 2. At Coombs Road, take a left and after 30 metres there is a gate on your right. This isn't an obvious footpath, but it is a public right of way. Follow this tarmac path uphill and round to the right through a wooden gate. This leads to the Monsal Trail.
3. Climb over the wooden stile and walk over the Monsal Trail. Continue straight ahead, through the golf course.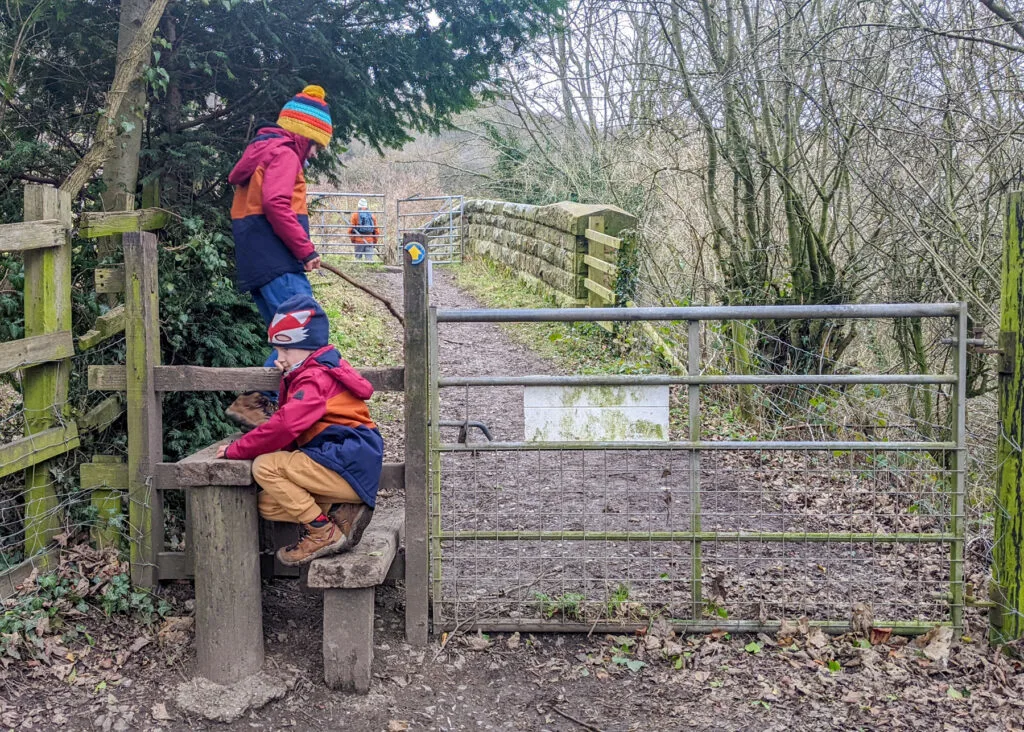 4. Follow the footpath through the trees as it snakes up the hill. You will soon cross a small stream. Don't follow the green Haddon Estate sign, instead continue uphill on the rocky path almost straight ahead. This footpath then crosses another stream; again cross over and continue straight uphill. Please note that there are fallen trees along this path. These may be tricky to navigate if you are carrying a child.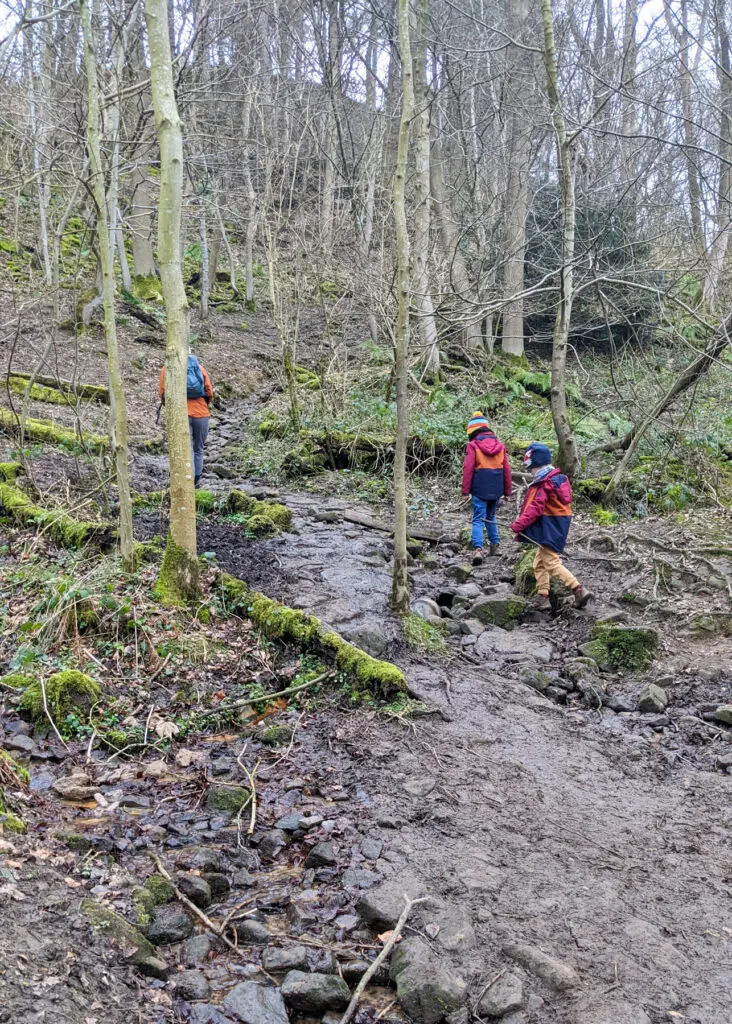 5. Finally at the top (well almost), you meet a small wooden gate. Walk through and follow the direction the yellow sign is pointing, slightly to the right. It's just a little further uphill to the right-hand corner of the trees. Once you've rounded the corner of the trees, walk directly ahead to the wooden gate, keeping the treeline immediately on your left (don't veer to the gate to the right). A large pond is to the left of the gate you're aiming for.
6. Walk through the gate and alongside the pond to the next wooden gate. Then follow the footpath to the right that leads between the large opening in the woodland. This leads to another wooden gate; walk through and continue onwards.
7. A barn and house comes into view. Just before the barn, two footpaths cross. Take the left turning that leads through the drystone wall into the woodland. Follow along the walled lane. Chatsworth House comes into view on the right through the trees. You don't need to walk up the steep stone stile at the end, the gate works fine. There are a few benches on the left to sit, enjoy the view, and have a snack.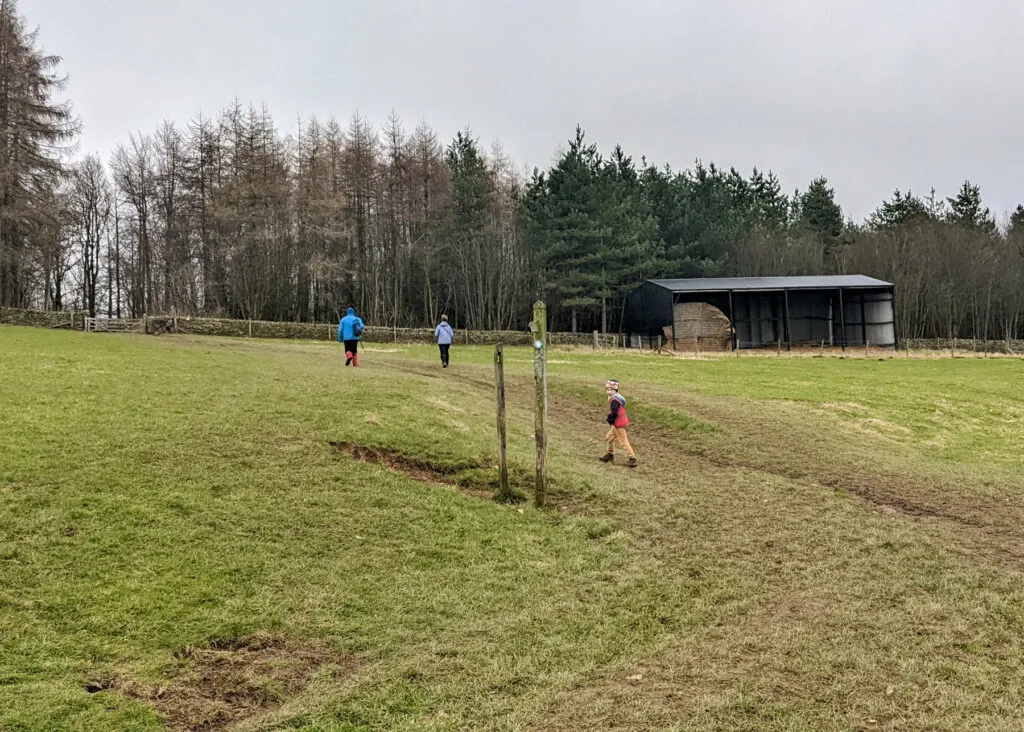 8. Continue downhill through Chatsworth Park towards the trees. Then after 140 metres, just before the trees, take a right (straight ahead cuts the walk short and takes you directly to Edensor). Follow this round and down to the main road that runs through the Chatsworth Estate (B6012).
9. Cross the road and walk straight downhill towards Chatsworth House and the River Derwent. When you reach the river, take a left and follow it for 500 metres to Paine's Bridge, keeping the river on your right.
10. At Paine's Bridge, if you want to extend this walk, you can take a right to Chatsworth House and perhaps venture up to Chatsworth Hunting Tower. Otherwise, to continue this Bakewell to Chatsworth walk, take a left, cross the road, and follow the footpath up and down into Edensor. Just before the crest of the hill is a fallen tree on the right; kids love playing on this and there are handy benches just to the side for you to enjoy the view whilst your little ones play.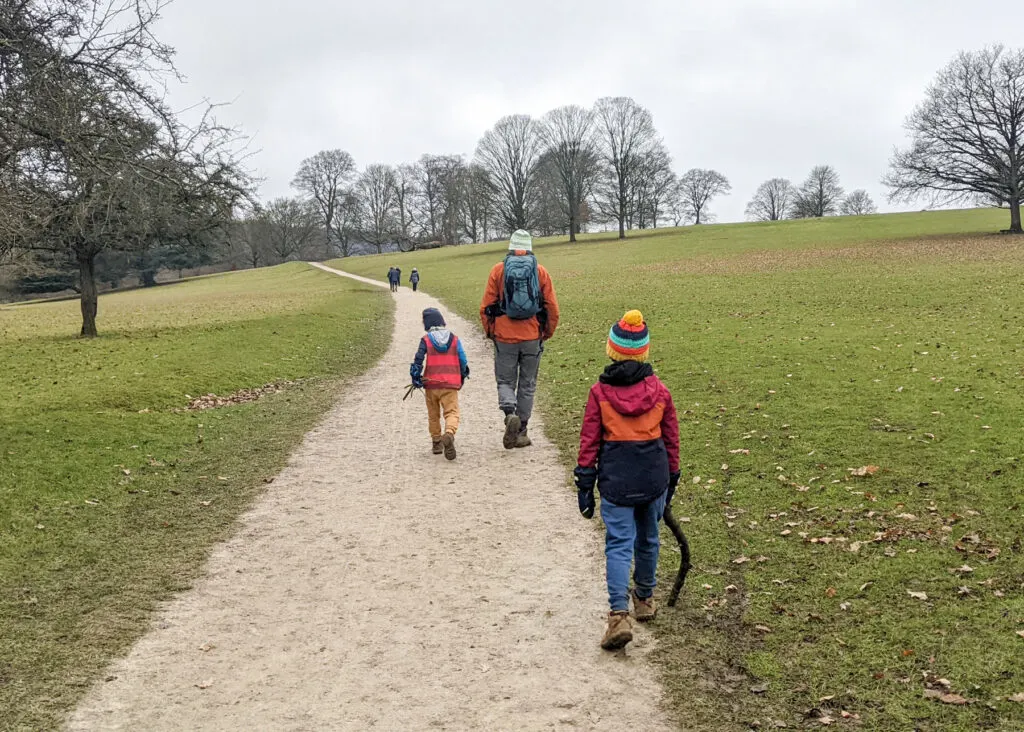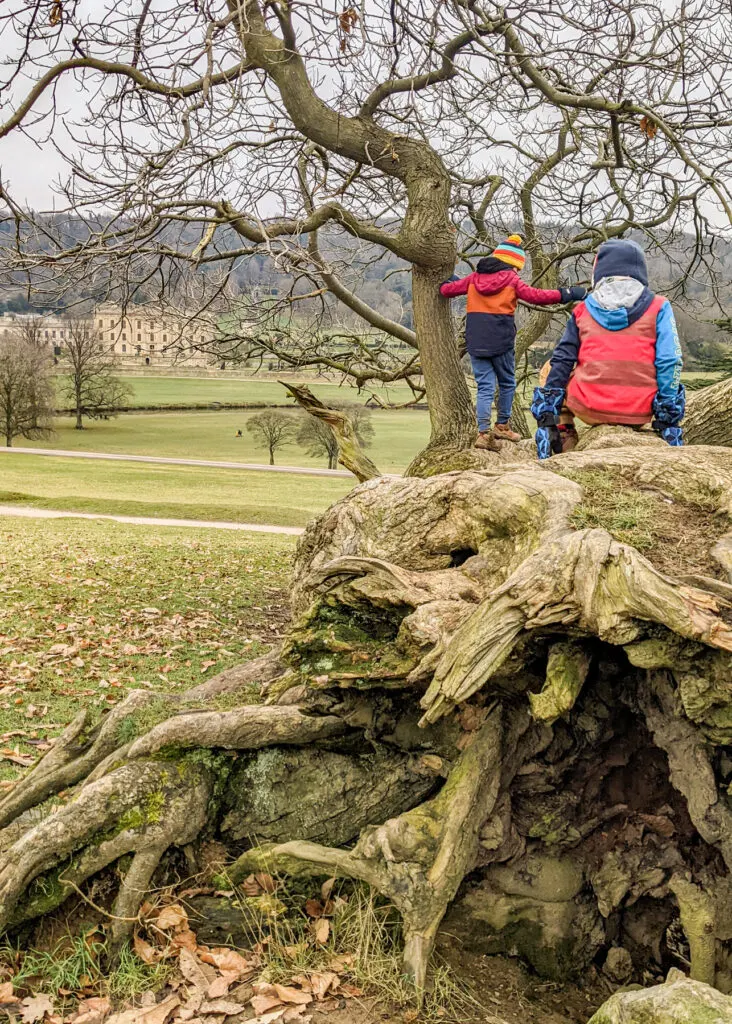 11. Just in front of the village of Edensor, you will need to cross the main road again. Walk through the swinging gate on the right of the cattle grid. The Edensor Tea Cottage is on your left if you need a warm cuppa and cake. Otherwise head straight ahead through the village, continuing uphill along the road.
12. At the top of the road, it veers right into a private driveway. Ignore this, and take the dirt track straight ahead, continuing to climb steadily uphill.
13. The top of the dirt track meets a road (a quiet lane). Take a left and walk 800 metres (still mostly going uphill) until you see the public bridleway sign on your left (just after the crest of the hill).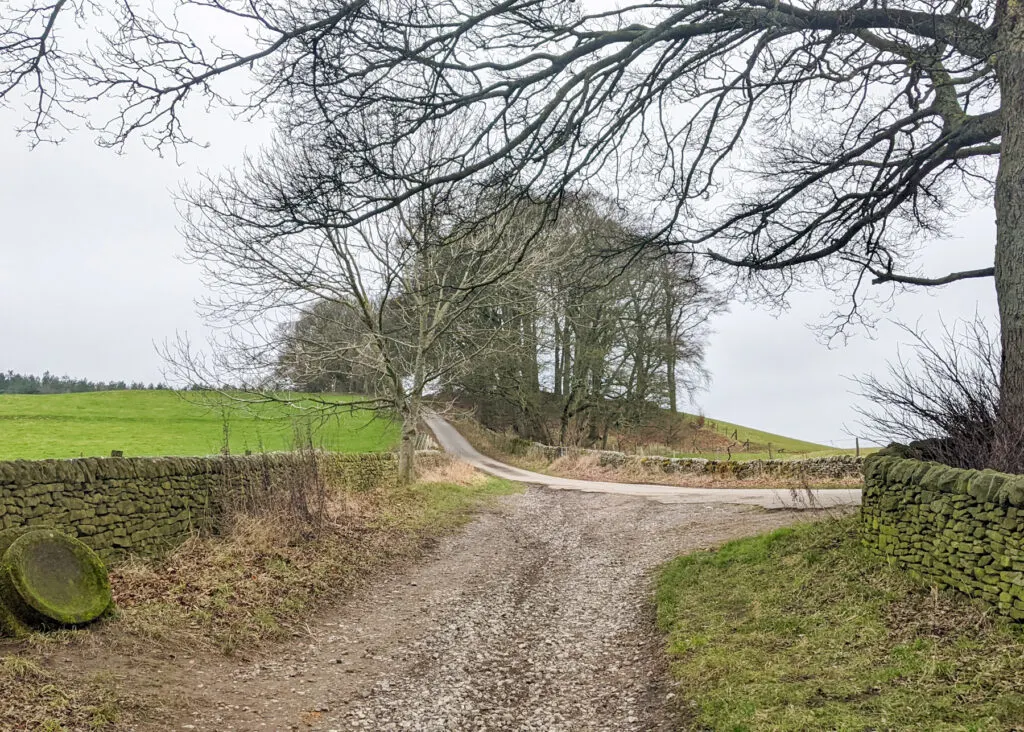 14. Follow this downhill through the woodland, continuing straight ahead where the footpaths cross 200 metres along. Take care as it's steep and muddy down here. This leads out to cross the golf course again; keep going straight towards Bakewell.
15. This footpath leads out onto Station Road. Turn left and walk down to the junction, passing over the Monsal Trail with Bakewell Station (disused) on your right. Take a left again at the road junction, continuing along Station Road. This leads you all the way down to Bakewell Bridge.
16. Once over the bridge, take a left along the river back to the Love Locks Bridge to complete this circular Bakewell to Chatsworth walk. Or continue straight ahead to treat yourselves to a well deserved dinner and drinks at one of the many pubs (there are no less than nine to choose from).
Wandering what there is to do in Bakewell after your walk? Check out our suggested top things to do in Bakewell.
---
You may also like to read:
Things to do in Bakewell
Bakewell to Ashford-in-the-Water walk
Visiting Chatsworth with kids: your ultimate guide