Direct from Grindleford railway station, this classic Peak District family walk shows off the fantastic natural diversity of the National Park; from the magical mossy woodland of Padley Gorge, to the sweeping views of Surprise View and Mother Cap with boulders beckoning to be scrambled on. With so many natural play areas, this circular Grindleford walk will easily fill a whole day despite only being 5.8km.
Disclaimer: This post contains affiliate links. Should you click to purchase, it is at no additional cost to you, but I receive a small commission.
If you are planning a visit to the National Park, please arrive early or late in the day to avoid crowds if visiting over sunny weekends or school holidays. Please also take all litter home with you, don't bring BBQs and park your car in designated parking areas. Also, please use these walks as a guide; access and stiles may change.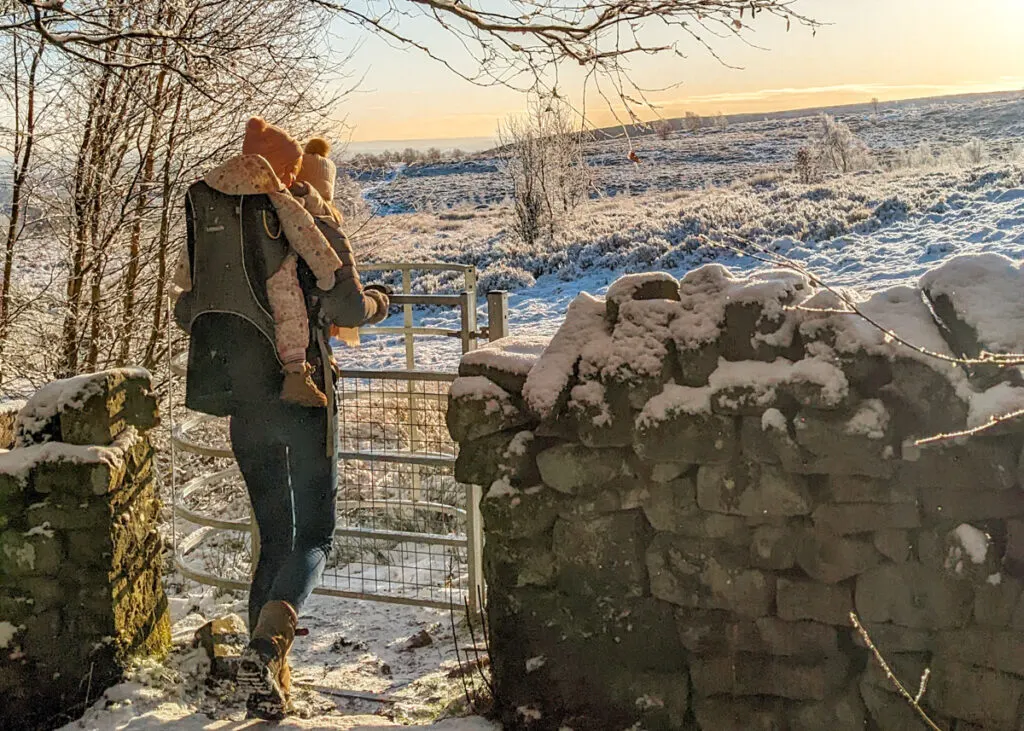 During the winter months, it's important to be extra prepared and safe when out walking and adventuring in the Peak District. The weather can change so quickly, especially on the exposed escarpments, and we don't want you to get caught out.
Read our top tips for safe winter walking with the kids.
FOLLOW US:
PARKING INFORMATION: Please do not rely solely on the postcode for parking directions. In the National Park, a postcode can cover a large area. Postcodes are only provided as guidance. Please either use the Google Maps point provided for every walk, or what3words.
Do check out our top tips for hiking with young kids, as well as our essential items to take on a family hike in the Peak District.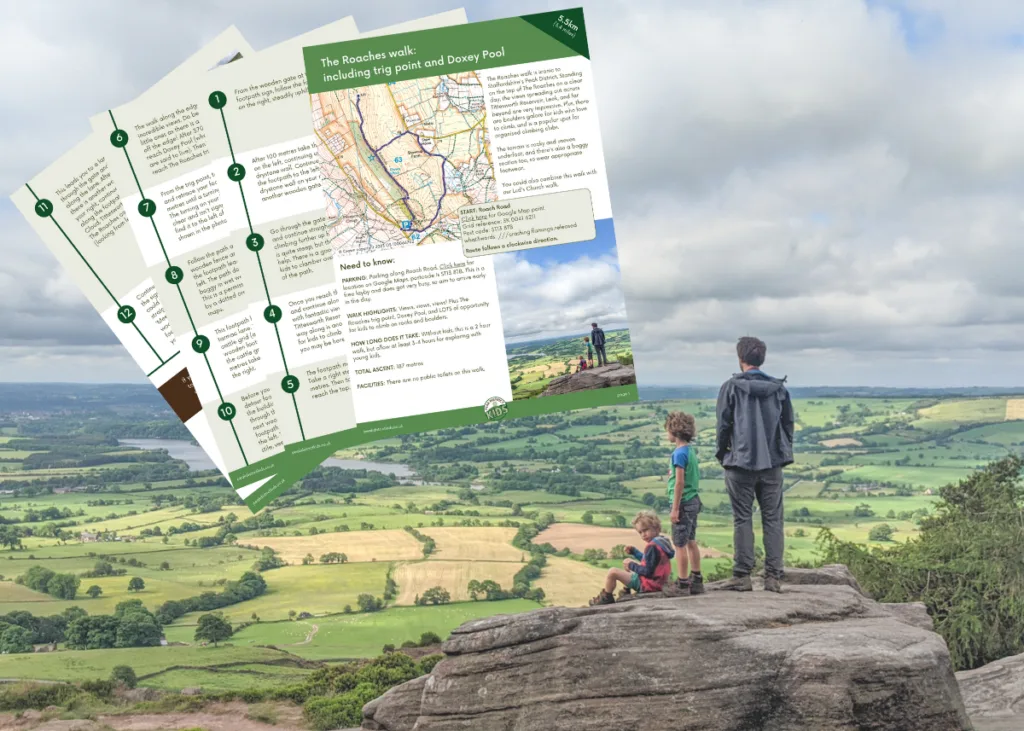 Download and print out our walking guides ready for your family walk. There are over 80 downloadable walk guides available, and these include all the main Peak District family walks, pram-friendly walks, and toddler walks.
Each printable download is just £1.50, whether it's a short 1km stroll or an epic walk up Kinder Scout.
This Grindleford walk starts by leading you through the twisted mossy trees of Padley Gorge with the sound of rushing water as your soundtrack. It's a magical setting with mushrooms to find and trees to climb, plus the water to play in. Then walking away from Padley Gorge you are led past Owler Tor, with views back down to Longshaw Estate, and onto the rocky outcrops of Surprise View and the domineering Mother Cap; this section is boulder climbing galore! A rocky path then leads you down to Millstone Edge with superb views over to Hathersage, Stanage Edge, Mam Tor, and beyond, before heading back down into Padley Gorge and returning to the train station for hot chips from Grindleford Station Café.
This is one of our more challenging Peak District family walks as the terrain is rarely flat and most paths are uneven underfoot. But take your time and embrace the stops for play, as this walk really does show off some of the best bits of the Peak District.
If you're looking for a shorter and more easy going Padley Gorge walk, click here.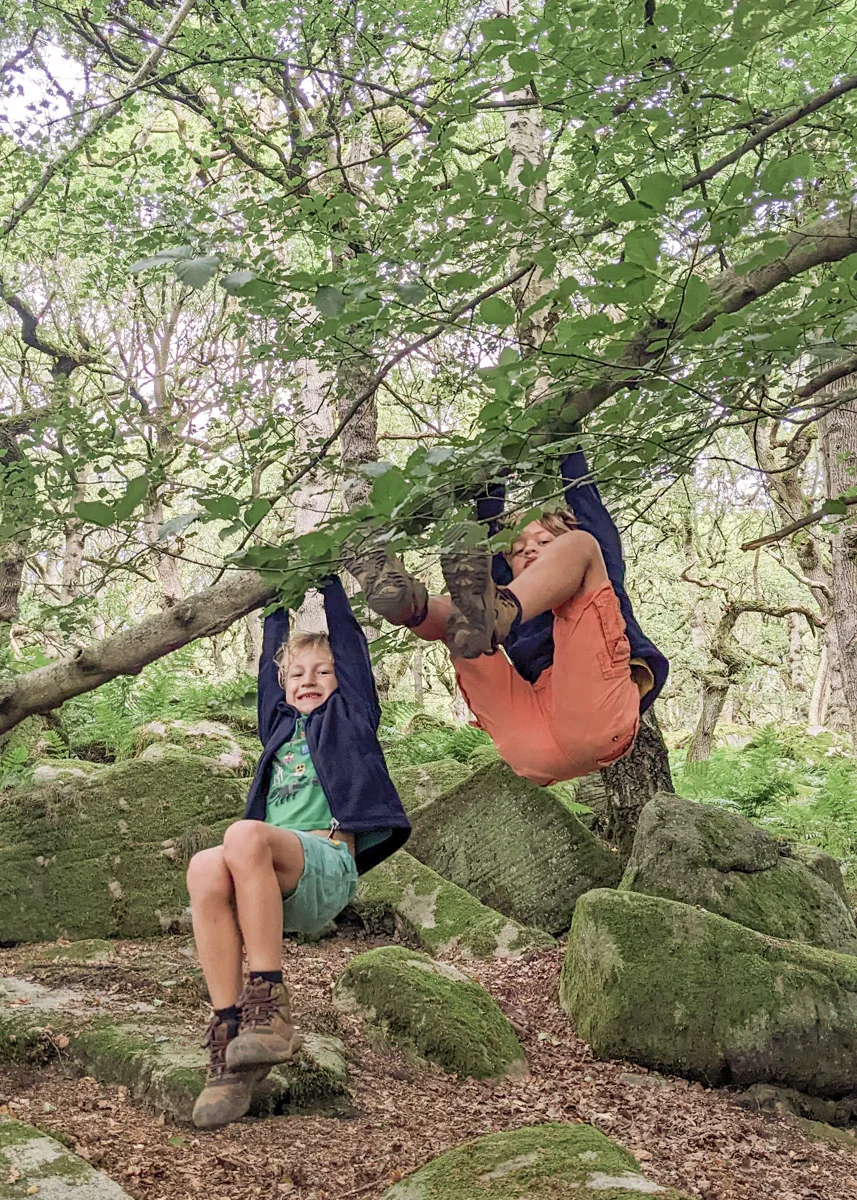 Map of Grindleford walk to Padley Gorge, Owler Tor, and Mother Cap
On all Peak District family walks it's a good idea to have an Ordnance Survey paper map with you, even if you have your phone on you. For this walk you need the OS Explorer Map OL 01 (Dark Peak). It's also a good opportunity to show young kids the map features and get them started with map reading.
This Grindleford walk follows the below map in an anticlockwise direction.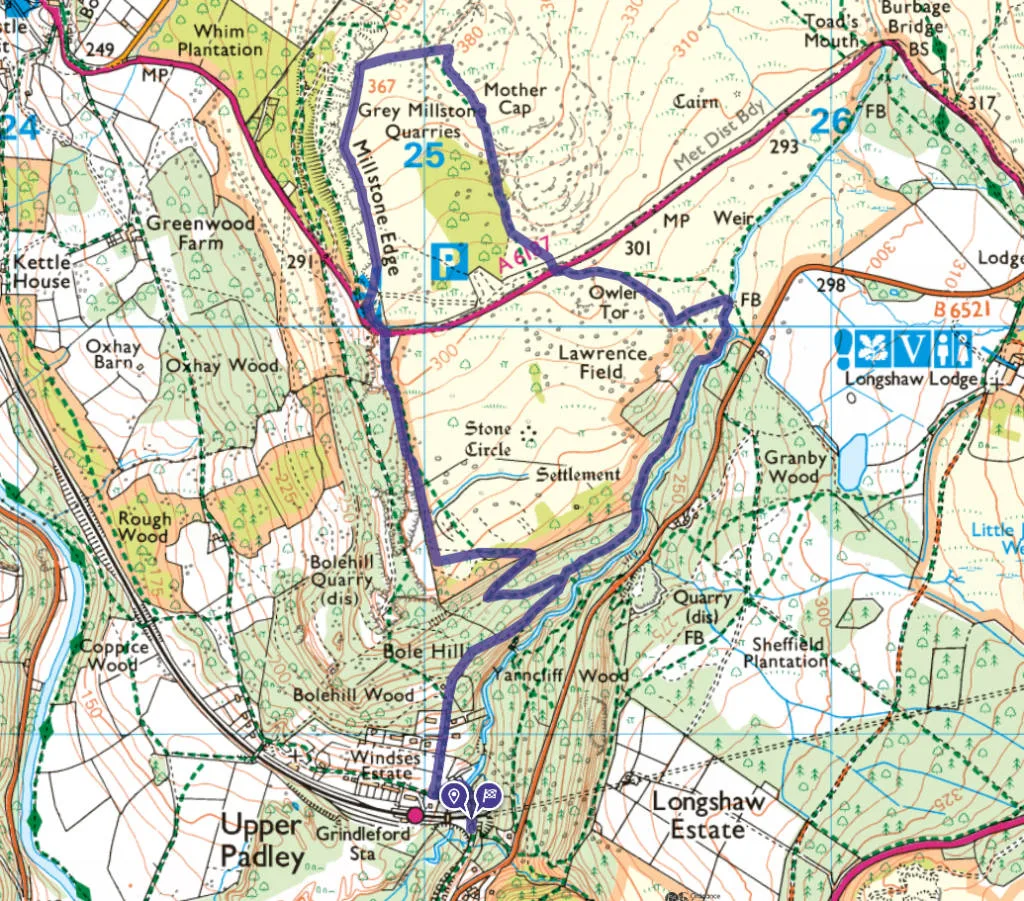 Get a printable download of this walk
Want to print off this walk guide rather than rely on your mobile? Then click here to download the PDF to print out at home. Perhaps print out a copy for the kids to follow the step-by-step directions and/or photos? It's a great way to get them engaged with the walk and gives them a sense of responsibility.
All printable downloads are £1.50 each. Click here for the full list of Peak District Kids printable downloads.
Please note that your download link expires 72 hours from order, so make sure you save your PDF somewhere where you'll remember it. If you are unsure where your download folder is on your mobile device, we recommend you download the PDF on your laptop or desktop.
Need to know
DISTANCE OF WALK: 5.8km / 3.6 miles

TYPE OF WALK: circular walk taking in woodland, moorland, and escarpment views

PUBLIC TRANSPORT: This walk is easily accessible via public transport as it starts and ends at Grindleford railways station, which is on the The Hope Valley line linking Sheffield and Manchester.

PARKING: If you are travelling by car, there is parking at Grindleford railway station. Click here for Google Maps location, postcode S32 2HQ. As you turn off the main road, there are designated parking spaces along the road to the station. Pay via the RingGo app, although be patient as internet signal isn't great here. £2 for the whole day.

WALK HIGHLIGHTS: Padley Gorge, Owler Tor, Surprise View, Mother Cap, Over Owler Tor, Millstone Edge.

HOW LONG DOES IT TAKE: Whilst this walk could be done by adults in 2.5 hours, with all the natural play areas along the way, we recommend allowing at least 5 hours with kids.

ACCESSIBILITY: This walk is not pram friendly as the paths are often rocky, and uneven with exposed tree roots. There are no stiles.

TOTAL ASCENT: 268m

FACILITIES: There are toilets at Grindleford Station Café for paying guests. The café also serves hot meals and beverages (cash only). There are no other facilities on this Grindleford walk.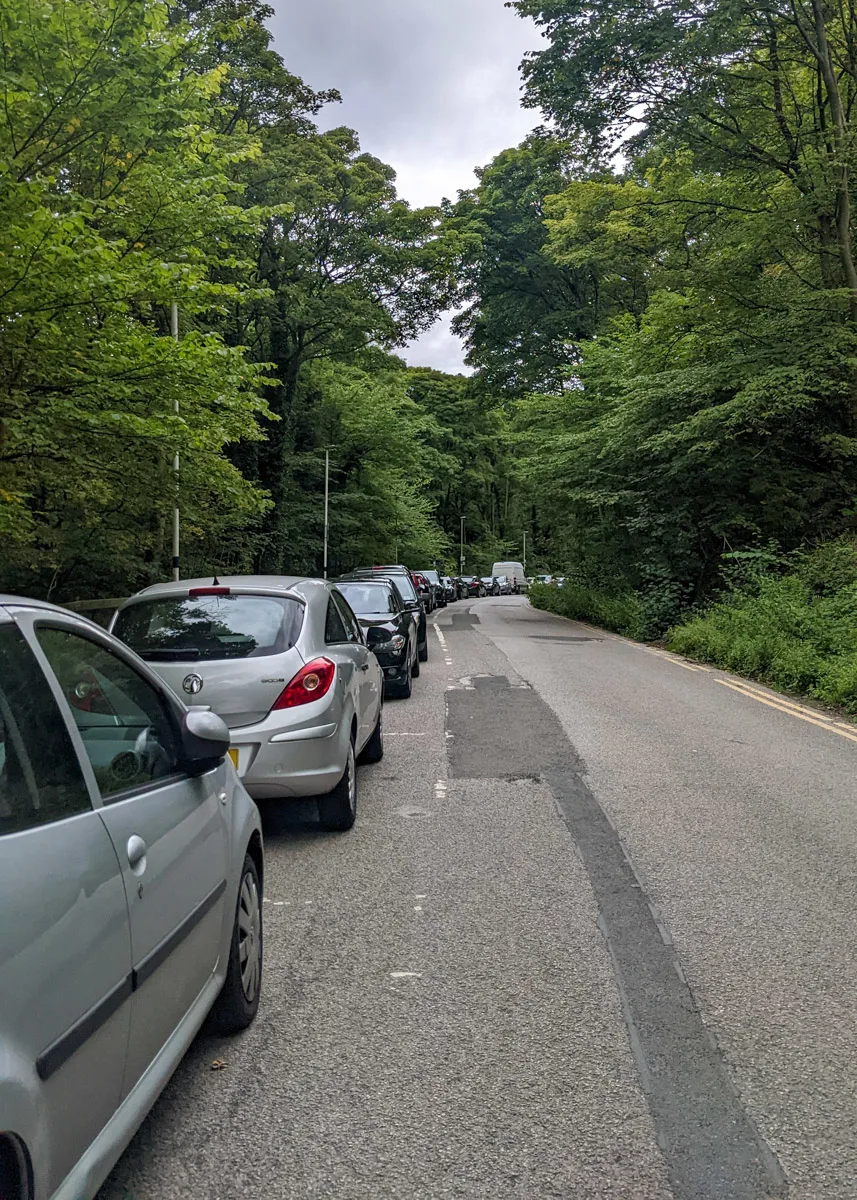 The route
START: Grindleford Station
Click here for Google Map point
Grid reference: SK 2511 7876
Post code: S32 2JA
what3words: ///kept.prime.rise

Route follows am anticlockwise direction.
This route isn't always obvious on the OS Map and sometimes follows footpaths that are not marked, so do follow the below directions carefully. This is also one of our trickier walks to navigate, so you may want to download the OS maps app and follow the route on there as a backup so you can see your exact position on the map.
1. Cross the bridge over the railway track, passing the café on your right. Then straight ahead along the public footpath, walking over the stream.
2. Passing pretty cottages on your right, continue walking up the track. 50 metres on, take the footpath signposted right leading uphill.
3. After 200 metres, walk through the gate, and continue uphill to Padley Gorge. Shortly on your right is a 'rock bed' beckoning you to chill. Keep on the flagstones and don't veer off to other paths. As you venture further upstream you venture further into the lush woodland.
4. When you reach this junction shown in the photo below, continue straight on and not down to the right. Shortly afterwards there is a sign on your left to Surprise View. Don't take this turning (you'll be coming down here later), continue straight ahead. Look out for the coin tree on your right walking up, just before you reach the metal gate.
5. As the woodland clears, there's a lovely spot by a wooden footbridge for kids to play in the river (snack time!). To continue up to Owler Tor and Surprise View, take the footpath veering to the left (NOT the footpath along the river, although they do almost lead to the same junction spot).
6. After 180 metres there's a wooden footbridge on your right. Ignore this bridge, and take the footpath on the left. Continue this up to the main road (A6186). There are a couple of different footpaths that lead up to the road, but they all lead to the same place. The rocky outcrop you pass on the left is Owler Tor and a good place to detour for the kids to play. Make sure to take time to look at the view behind you down to the Longshaw Estate.
7. Carefully cross the road and then through the wooden gate. Walk straight ahead for 20 metres and then take the footpath that veers to the left. Continue on, you will pass a big car park on your left.
8. The footpath leads out to a more obvious path. Take a right and walk uphill.
9. Make a beeline for these boulders shown in the photos below.
10. And then onto the very obvious cuboid rock shape of Mother Cap.
11. Continue onwards and just before the next big rocky outcrop, which is Over Owler Tor (and after a big boulder on the left), take the small footpath on the left (do look out for it as there is no sign and you can easily miss it).
12. After 160 metres this meets up with with a wire fence. From here you can see down into Hathersage, and across Mam Tor and Stanage Edge. Take a left and follow this footpath with the fence on your right, along Millstone Edge.
13. After 450 metres where the footpath bends round to the left away from the fence, make sure you ignore this and continue straight ahead, with the fence on your right.
14. You will then meet a small wooden gate, walk through and straight ahead. Keeping the stone wall and the road, on your right, follow the footpath down to the main road.
15. Cross the busy road (you emerge on a bend, so it may be a good idea to walk left a little for a safer crossing). Then take the footpath straight ahead, leading away from the road, and through the wooden gate.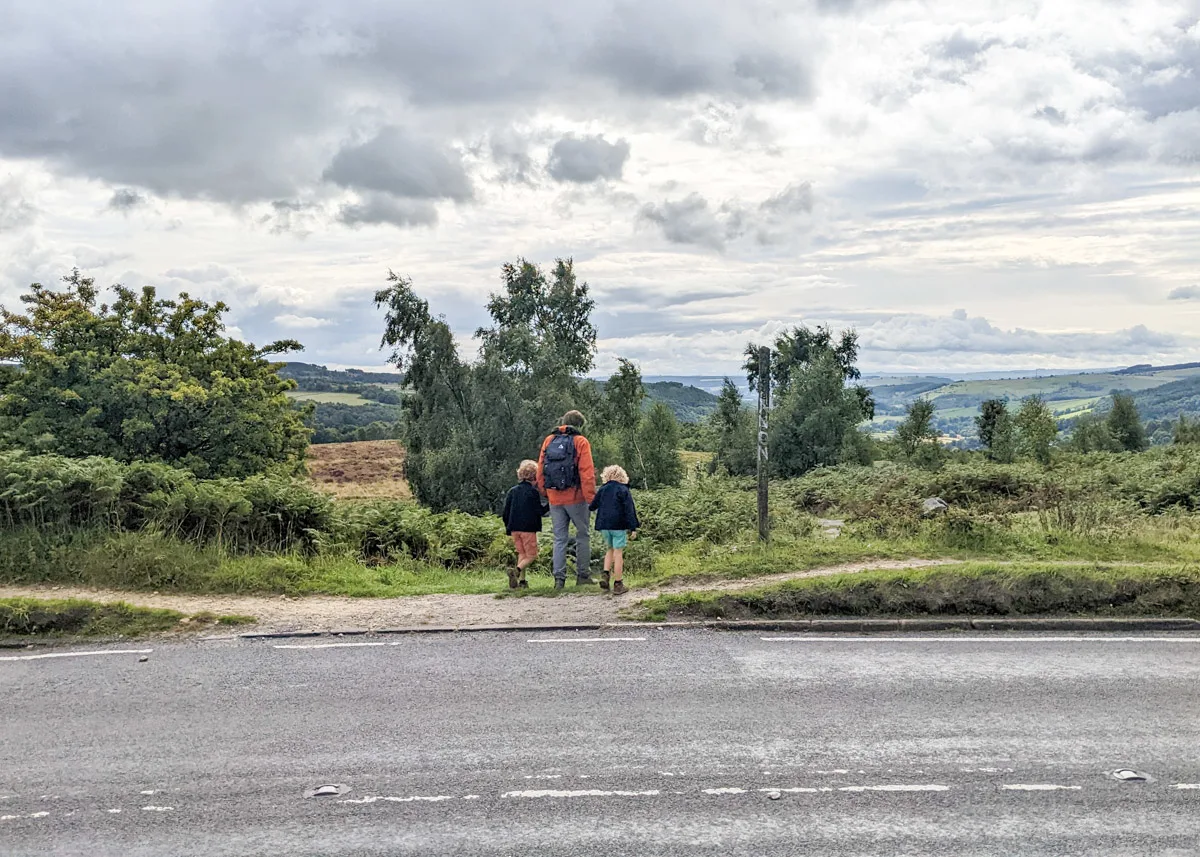 16. At the next wooden gate, continue straight ahead through the heather. Head to the treeline, and then just before you reach it, the path veers to the left. Follow this through the heather and into the woodland, eventually meeting a drystone wall on your right.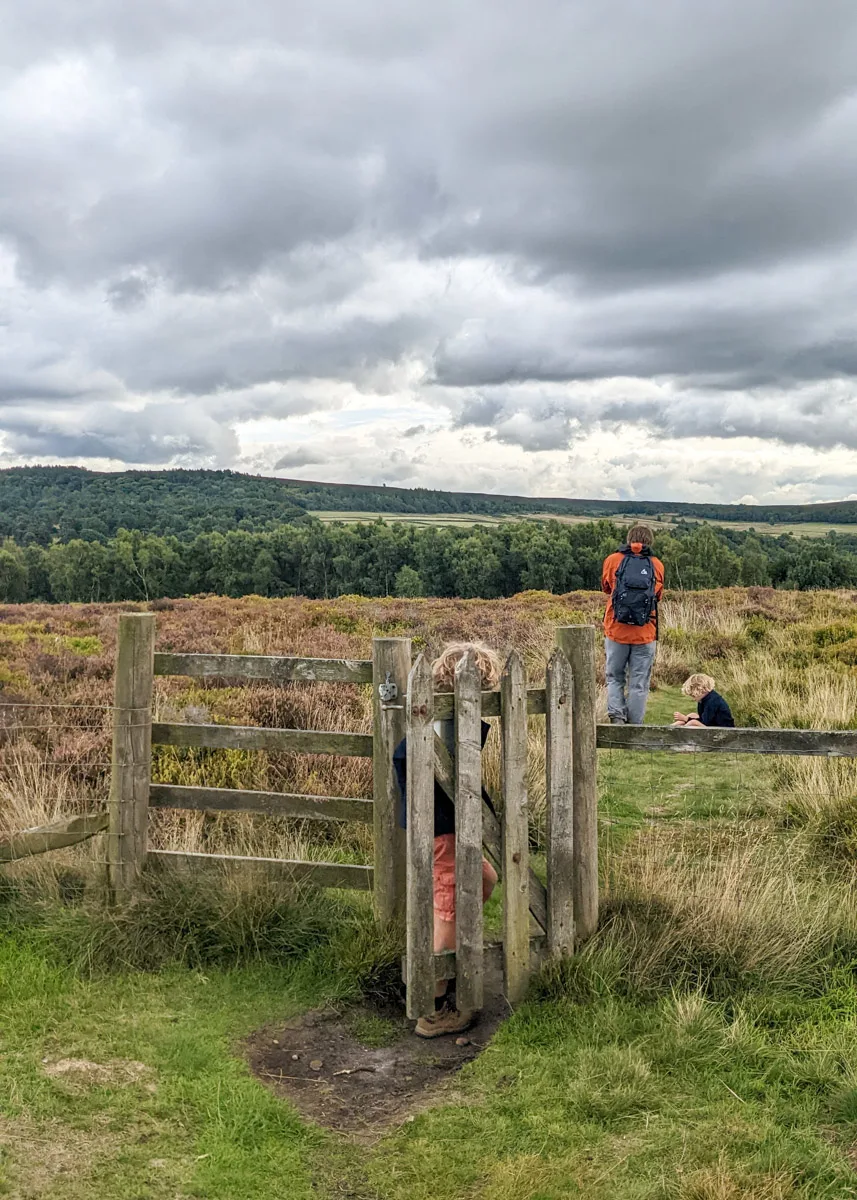 17. Very soon you will reach a wooden gate on your right. Walk through this and continue along the footpath down to the right through the trees. At the junction 160 metres on, turn left.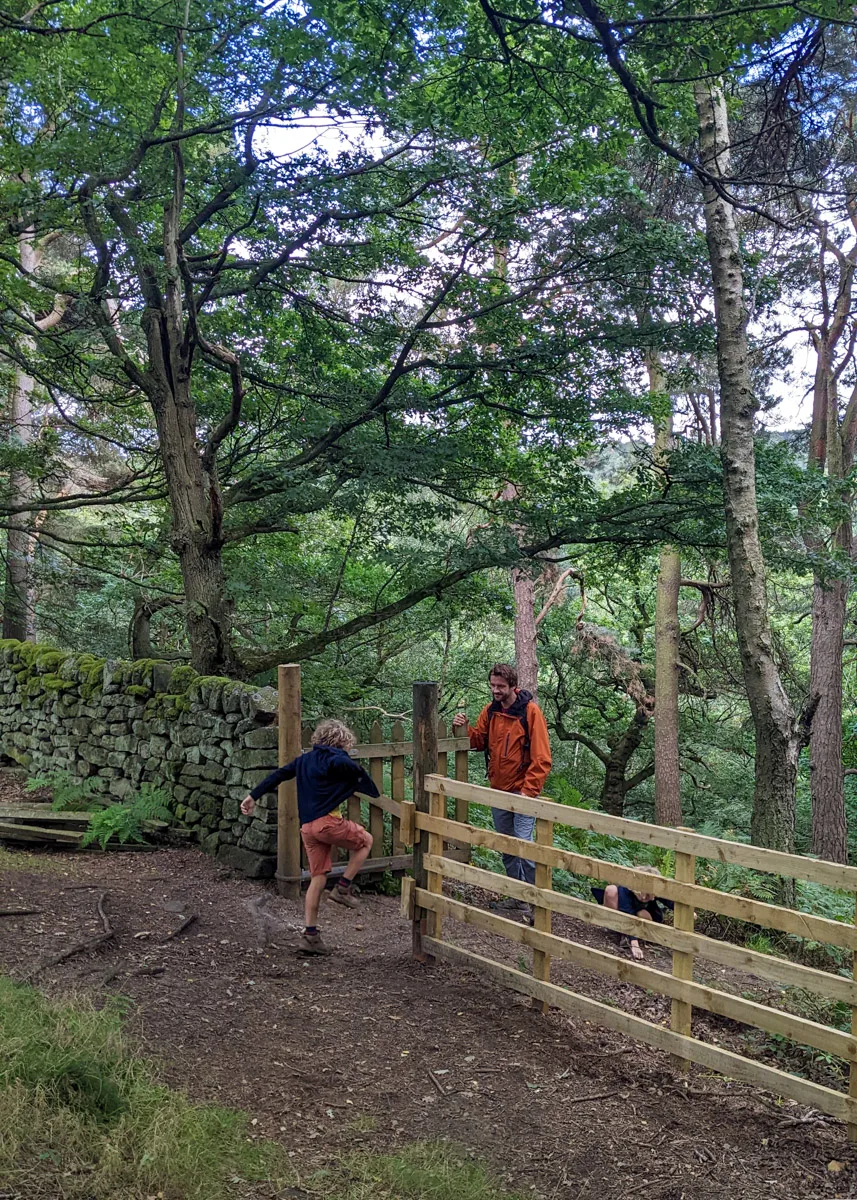 18. This then leads out back onto the path you were on at the beginning of this walk. Take a right and retrace your footsteps back to Grindleford Station. Make sure you take the correct path shortly after re-joining this track as there's a footpath junction. The path you want is on the right.
19. We reckon you all deserve a reward after this hike! Pop into Grindleford Station Café for a hot meal, ice-cream, and/or beverage (cash only); click here for their menu.
---
You may also like to read:
Padley Gorge walk (2.7km, circular)
Pram friendly Longshaw Estate walk (3.7km, circular)
Higger Tor walk (4.5km, circular)