This easy-going and flat River Derwent walk begins by the The Bridge Inn, Curbar, and leads along one side of the river to Froggatt Bridge, returning on the other side of the river, following a clockwise loop. It's one of the prettiest Peak District river walks and arguably one of the best flat walks in the Peak District.
On a clear day the imposing boulders along Curbar and Froggatt Edges are in view, and in spring the river banks are covered in daffodils and wild garlic. Half way is Calver Weir, a Grade 2 listed structure, built in the 19th century to provide water to power cotton spinning at Calver Mill.
You can shorten this walk by just doing the loop from Curbar to the A625 road crossing, just after the weir. This is a 2.4km loop.
Unfortunately, despite the even, flat footpaths, this River Derwent walk is not pram friendly. There are very narrow gates to pass through, and a steep stone steps at one of the bridges. Instead, take little ones in a carrier. Click here to check out our pram friendly walks.
Disclaimer: This post contains affiliate links. Should you click to purchase, it is at no additional cost to you, but I receive a small commission.
If you are planning a visit to the National Park, please arrive early or late in the day to avoid crowds if visiting over sunny weekends or school holidays. Please also take all litter home with you, don't bring BBQs and park your car in designated parking areas. Also, please use these walks as a guide; access and stiles may change.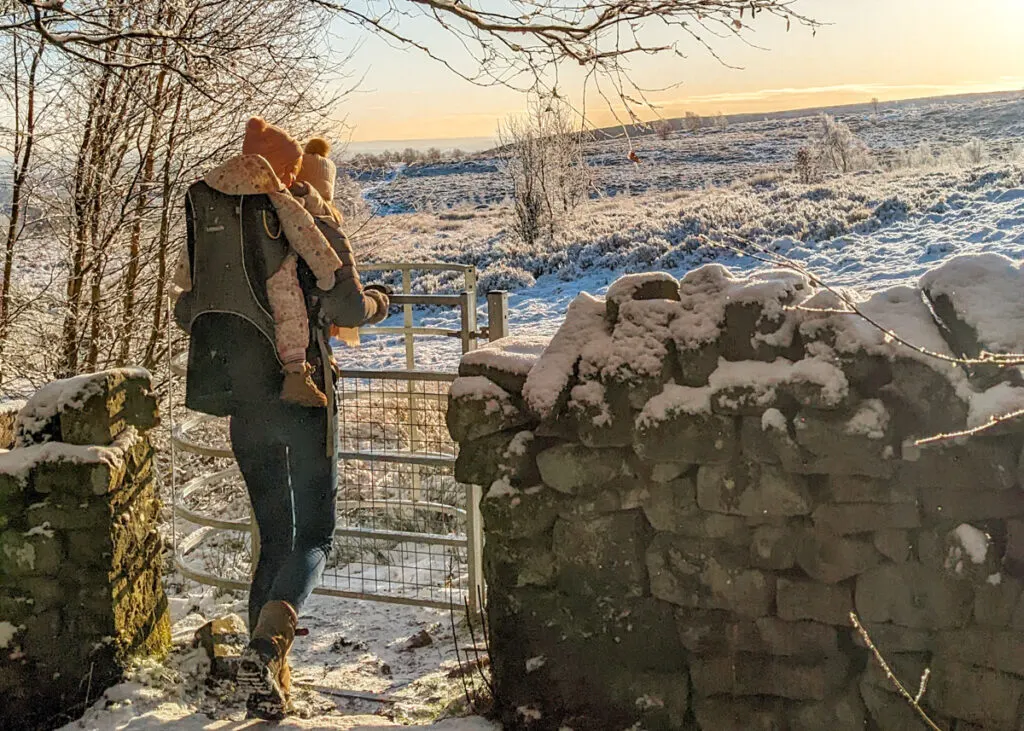 During the winter months, it's important to be extra prepared and safe when out walking and adventuring in the Peak District. The weather can change so quickly, especially on the exposed escarpments, and we don't want you to get caught out.
Read our top tips for safe winter walking with the kids.
FOLLOW US:
PARKING INFORMATION: Please do not rely solely on the postcode for parking directions. In the National Park, a postcode can cover a large area. Postcodes are only provided as guidance. Please either use the Google Maps point provided for every walk, or what3words.
Do check out our top tips for hiking with young kids, as well as our essential items to take on a family hike in the Peak District.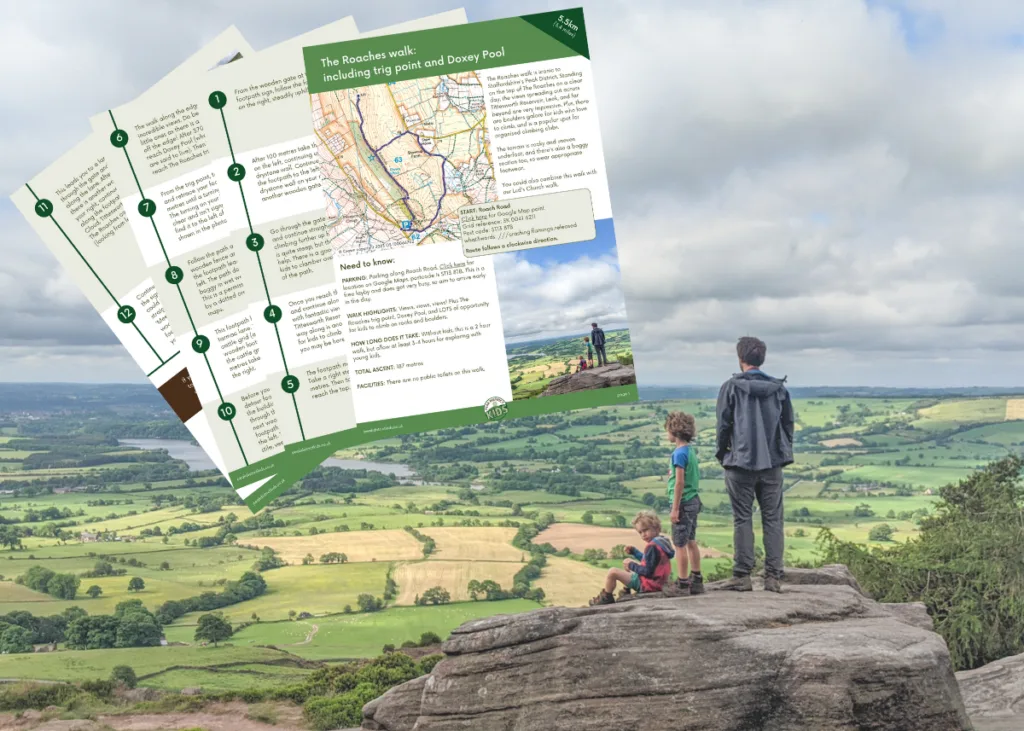 Download and print out our walking guides ready for your family walk. There are over 80 downloadable walk guides available, and these include all the main Peak District family walks, pram-friendly walks, and toddler walks.
Each printable download is just £1.50, whether it's a short 1km stroll or an epic walk up Kinder Scout.
River Derwent walk from Curbar to Froggatt map
On all Peak District family walks it's a good idea to have an Ordnance Survey paper map with you, even if you have your phone on you. For this walk you need the OS Explorer Active Map OL 24 (White Peak). It's also a good opportunity to show young kids the map features and get them started with map reading.
The route directions below follow this map in a clockwise direction.
Get a printable download of this walk
Want to print off this walk guide rather than rely on your mobile? Then click here to download the PDF to print out at home. Perhaps print out a copy for the kids to follow the step-by-step directions and/or photos? It's a great way to get them engaged with the walk and gives them a sense of responsibility.
All printable downloads are £1.50 each. Click here for the full list of Peak District Kids printable downloads.
Please note that your download link expires 72 hours from order, so make sure you save your PDF somewhere where you'll remember it. If you are unsure where your download folder is on your mobile device, we recommend you download the PDF on your laptop or desktop.
Need to know
DISTANCE OF WALK: 4km / 2.5 miles (or 2.4km / 1.5 miles if you turn back at the A625 bridge)

TYPE OF WALK: flat, easy-going, river side loop walk

PARKING: There is free road-side parking opposite The Bridge Inn and close to Curbar School. Click here for location on Google Maps, postcode S32 3XA. Please arrive early to secure a space and be mindful of local residents. If you are planning to eat at The Bridge Inn at the start or end of this walk, you can use the pub car park.

WALK HIGHLIGHTS: Views of Curbar and Froggatt Edge, Calver Weir, Froggatt Bridge, river paddling.

HOW LONG DOES IT TAKE: Without kids, this is a 1.5 hour walk, but allow a good couple of hours with little ones to play along the way.

ACCESSIBILTY: Despite being a flat and even path, this is NOT pram or wheelchair friendly as there are narrow gates to pass through. There are also steep stone steps to cross one of the bridges.

TOTAL ASCENT: 27 metres

FACILITIES: There are no public toilets on this walk. Although this walk starts and ends at The Bridge Inn, which has a fantastic menu (including a kids menu) and a beer garden with playground.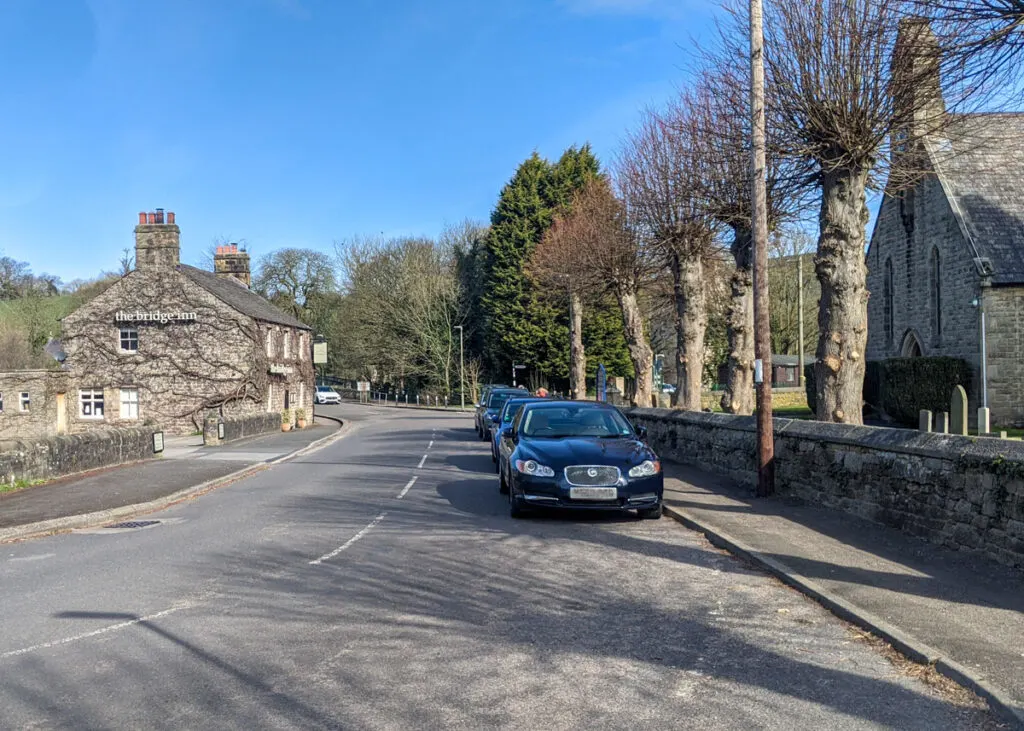 The route
START: The Bridge Inn Calver
Click here for Google Map point
Grid reference: SK 2471 7442
Post code: S32 3XA
what3words: ///letter.daisy.clutches

Route follows a clockwise direction.
1. With The Bridge Inn on your left, walk over the bridge that takes you across the River Derwent (there is a separate bridge for pedestrians).
2. Just after the bridge, take a right along Old Mill Lane, next to Calver Mill Gallery. Follow this lane all the way to the end, to Stocking Farm Caravan Site.
3. Walk through the wooden gates to the right of the buildings, and follow the footpath straight ahead. This leads you to a stream running alongside the River Derwent towards Calver Weir. The views of Calver Weir this side of the river are rather obscured. But don't worry, as you will get a better view from the other side later.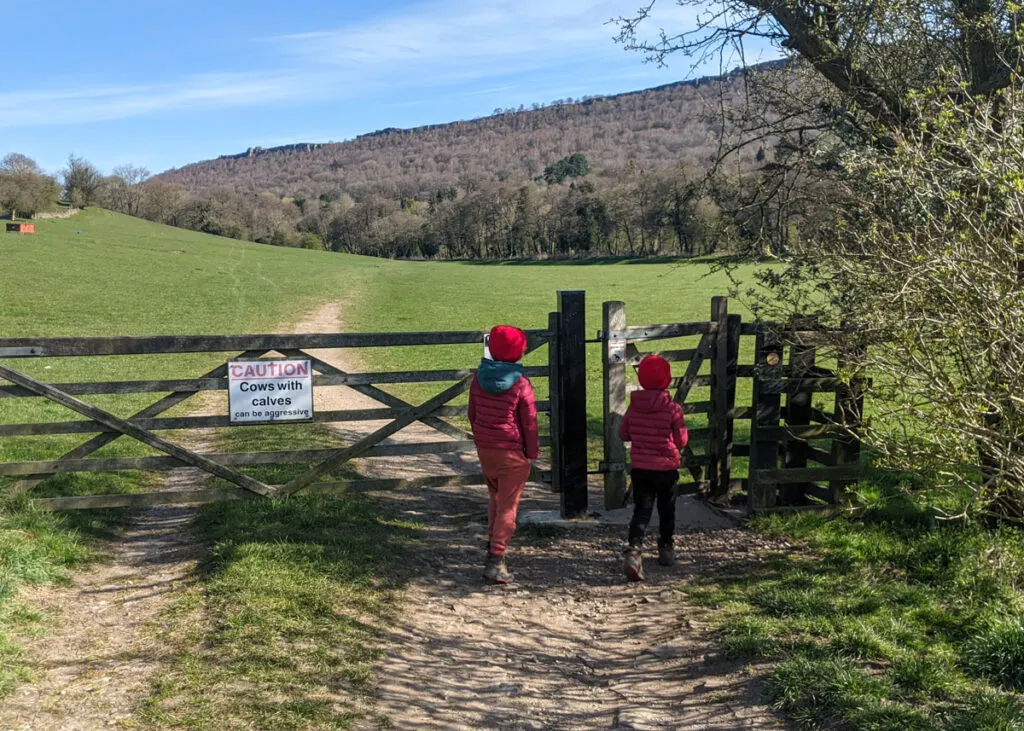 4. Just 100 metres along from the weir is the A625. If you would like to cut this walk short, cross over to the other side of the river here and make your way back to the car. This makes it a 2.4km loop. Otherwise, cross the road (take care as this is a busy road!) and take the footpath immediately opposite.
5. You will spot a sign for the Calver Marshes Project; this area is important for great crested newts. Shortly after this, there is a wooden footbridge on the right. Go over the footbridge and keep following the footpath along the River Derwent to the beautiful Froggatt Bridge.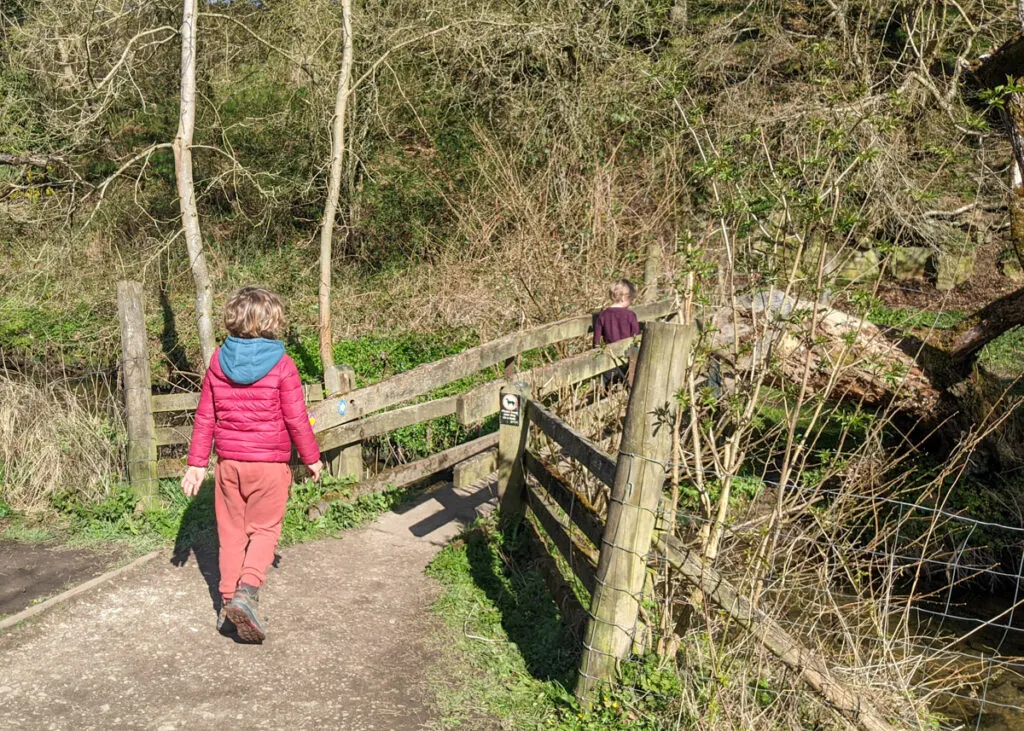 6. To cross Froggatt bridge there are stone steps. But a little further along to the left is a wooden gate, if that's easier for you. Cross over the bridge and take a right (signposted Sheffield).
7. There is a short 80 metre section on the road until you reach a footpath on the right that leads back along the other side of the River Derwent. Follow this all the way along, back to the A625.
8. Climb the steps that lead you up to the road (again, take care as this road can be busy), and take the footpath immediately opposite. Here, is where you get a much better view of Calver Weir.
9. Continue along the footpath for 900 metres. A wooden gate leads you out onto a road.
10. Take a right at this road, and walk the 300 metres back to The Bridge Inn. Perhaps it's time for a pint of Peak Ale for the parents and an ice-cream for the kids? There's a playground in the beer garden if they still have energy to burn!
After your walk
The Bridge Inn at Curbar really is fantastic for families. The menu caters for vegetarians and vegans, and there's a separate kids' menu. Inside there is a little corner table set up for kids with books to borrow, a few little toys, as well as colouring sheets and pens. Outside there is a grassy beer garden with lots of wooden benches for dining outdoors, plus a small climbing frame to keep little ones entertained whilst you treat yourselves to that extra pint.
The Bridge Inn is easily one of our favourite Peak District pubs with a play area.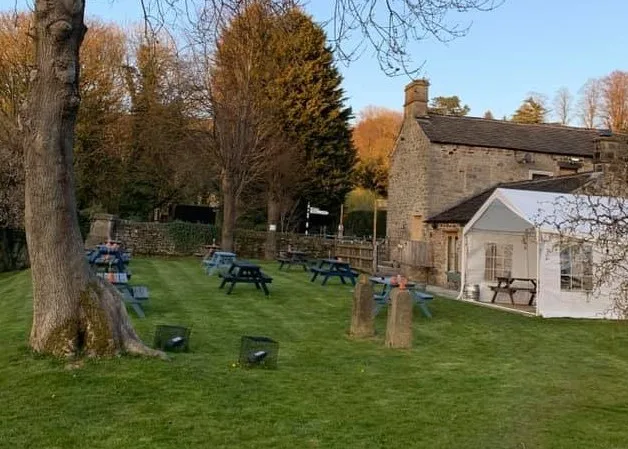 ---
You may also like to read:
Alport to Youlgreave walk along the River Bradford (3km)
Baslow Edge walk (2.7km): epic views and hairy coos
Padley Gorge walk including Longshaw Estate (2.7km)