Hathersage YHA might be one of the smaller YHAs in the Peak District, without the facilities you'll find at YHA Castleton Losehill for example, but it still makes for an enjoyable overnight stay, right in the heart of the Peak District in one of the area's most popular villages.
We stayed on the second night of our multiday hike from Edale to Grindleford and had a relaxing stay, just what we needed after a full day's hike from Castleton, via Win Hill and Hathersage Stepping Stones.
This article contains affiliate links. Should you click to purchase, it is at no additional cost to you, but I receive a small commission.
Click here to check availability and rates for YHA Hathersage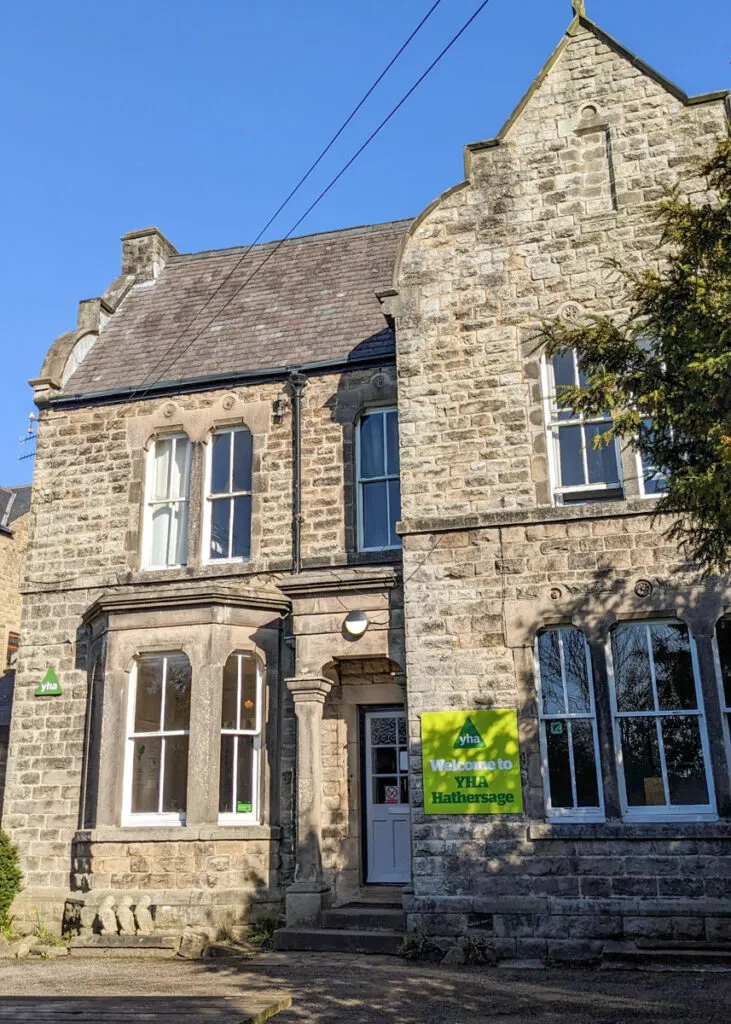 About Hathersage village
With its direct rail link to Sheffield and Manchester, Hathersage has long been a popular location for tourists and locals alike. One of the larger villages in the Peak District, it's packed full of facilities including pubs, restaurants, outdoor shops, B&Bs and, of course, the fantastic YHA Hathersage.
If you have any the energy after a day's hike, try to wander around the village centre, the architecture is interesting with plenty of well-preserved buildings, or maybe take a refreshing dip at Hathersage Outdoor Swimming Pool.
If you're looking for somewhere to eat and drink, there are plenty of pubs to choose from, plus a couple of restaurants which wouldn't be out of place in a large city. With the surrounding rolling hills and Stanage Edge escarpment overlooking the village, it's a pretty location to base yourselves for your Peak District family adventures.
How to get to Hathersage YHA
Hathersage sits on the Hope Valley Line, the well-known and well-used trainline through the Peak District linking Sheffield and Manchester.
Trains run every hour and take twenty minutes to Sheffield and one hour to Manchester. Tickets are cheap if you book in advance (as low as £2.50 to Sheffield and £5 to Manchester) but you will need to catch a specific train. Otherwise standard tickets are flexible and can be used on any train but will be two or three times as expensive. Check the Northern Rail website for times and to book tickets.
You can also take the 272 which runs between Sheffield and Castleton, stopping in Hathersage. It takes about forty minutes from Sheffield and thirty minutes to Castleton. The buses run every two hours apart from Sundays when they are hourly. You can check bus times here.
If you're driving to YHA Hathersage, there is a small car park accessed via Jagger's Lane, behind the main building for guests to use, although spaces are limited.
Of course, the best way to arrive is on foot as we did as part of our multiday hike from Edale to Grindleford. YHA Hathersage is centrally located so everything is easily accessible on foot once you arrive.
Arriving to Hathersage YHA
One common but frustrating feature of YHA's is that check-in usually isn't until 5pm. Other YHAs in the Peak District enforce this rule but there's usually an indoor common area or garden to relax in if you arrive early, which we found at YHA Eyam.
Unfortunately, Hathersage YHA was completely locked up when we arrived at 3pm, with only a small bench available to sit on, which wasn't much use as it was raining heavily. We were left with no choice to decamp to a pub in the village and wait out the rainstorm until 5pm.
Once reception was open though, it was a welcoming experience with a friendly person on reception ready to check us in and provide basic information about the YHA and surrounding area.
As with all YHA's we've stayed in, it was a relaxed and low-key (in a good way) process, more like you're being shown around your friend's house than checking in to a hotel.
What to expect from a family stay at YHA Hathersage
What we love about the YHAs is that they are very family friendly. There's always a separate lounge area with a box of toys and games to play with, and the atmosphere is very much 'make yourself at home, shout if you need anything'.
The building was formerly a residential home, so the main rooms are what you'd expect with large bay windows, mantlepieces and sofas to sit on. The communal area is light and airy, with views out to the garden and a good place to meet other guests. We imagine it would be popular on a cold winter's evening if you didn't fancy going into the village or back to your room too early.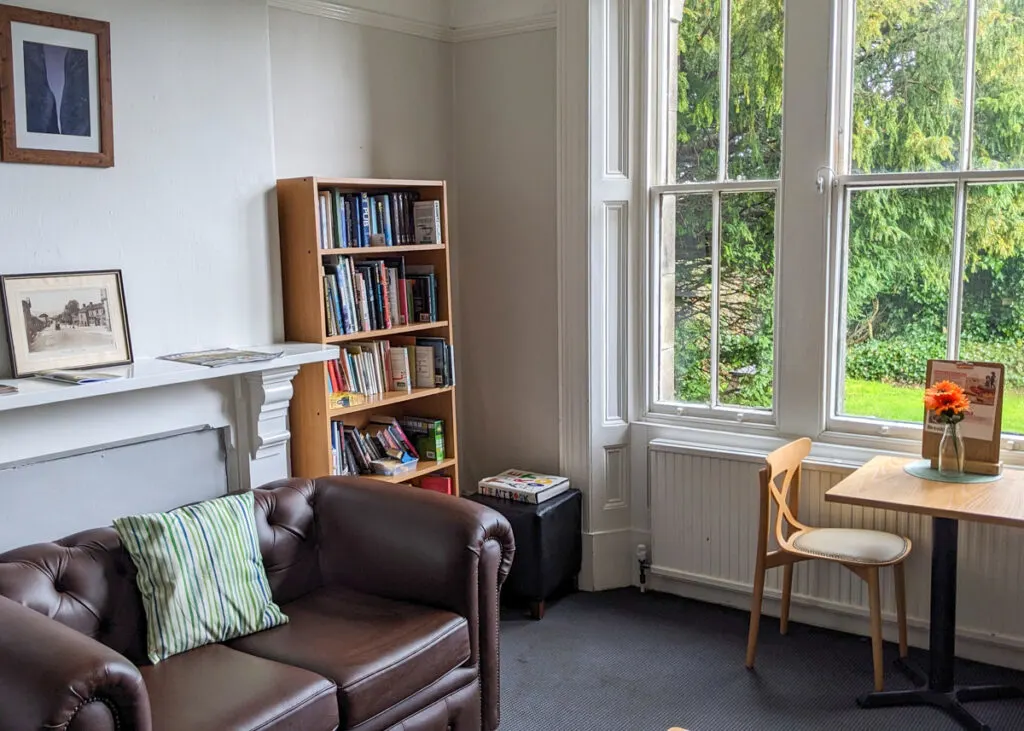 The family rooms are functional and quite basic, nothing too exciting. They're more of a place to sleep than relax.
Note that the family rooms aren't ensuite, so you have to head downstairs to use the toilet and shower area, although there is a sink and mirror in the corner of the room. We never had to queue to use the bathrooms but the YHA was fairly quiet during our visit, it might be more of an issue during peak season.
Ours had three bunk beds, giving a total of six single beds which was handy for our group of four people as it left some space to hang clothes out to dry. There wasn't any other space to hang our gear (no wardrobe, only a few hooks), so don't expect to be able to spread out. This is understandable when you consider the YHA target market and how they are likely to be using the room, more of a base and a place to sleep.
We were slightly disappointed with the overall upkeep of the room which was quite tired and in need of some renovation and maintenance (e.g. lots of flaking paintwork, some rotten wood, etc). They also weren't spotlessly clean, it felt like a hoover had been pushed around but not much else, although the sheets and pillowcases were freshly washed. Again, this is partly the aesthetic you might expect from a YHA but it felt like a little more TLC could have been applied.
Breakfast at Hathersage YHA
The breakfasts are a winner at the YHAs and a perfect start to a day of hiking. An 'Unlimited YHA breakfast' is £9.95 and under 10s eat free. It's very similar to the Premier Inn breakfasts with a full English fry-up, cereals, yogurts, croissants, hot drinks, juices etc. Vegetarians and vegans are catered for but let the staff know when you check in about your requirements.
There was a cook and receptionist on duty who were friendly and generous with the portions, always happy to provide extra sausages and hash browns when asked. The unlimited juice, tea and coffee was a huge winner as well, helping us to feel like we were fully setup to continue our multi-day hike.
It was a huge bonus and cost-saver to not have to immediately head to a shop or restaurant after checking out to get breakfast. The total cost of £20 for all four of us was far less than we'd normally spend.
What is there to do nearby
It's just a short walk into the village with lots of pubs and cafes, we particularly recommend the Little John Hotel with its family-friendly menu, local ales, pool table and TV. We originally planned to go to The George pub but it felt slightly too upmarket for us at that moment, mainly as we were in hiking gear and soaked from the recent rain shower. It looks lovely though, maybe one to consider if you're in the mood for a more expensive meal and drink.
You'll also find an outdoor swimming pool, quite a rarity now in the UK, let alone the Peak District, but don't worry too much about the temperature as it is heated(ish). It's a fun thing to do with no need to pre-book if you're visiting on a weekday, but do book ahead if visiting at the weekend.
Hathersage is also the closest village to the Hathersage Stepping Stones walk, a watery challenge and handy if you need your hiking boots washed!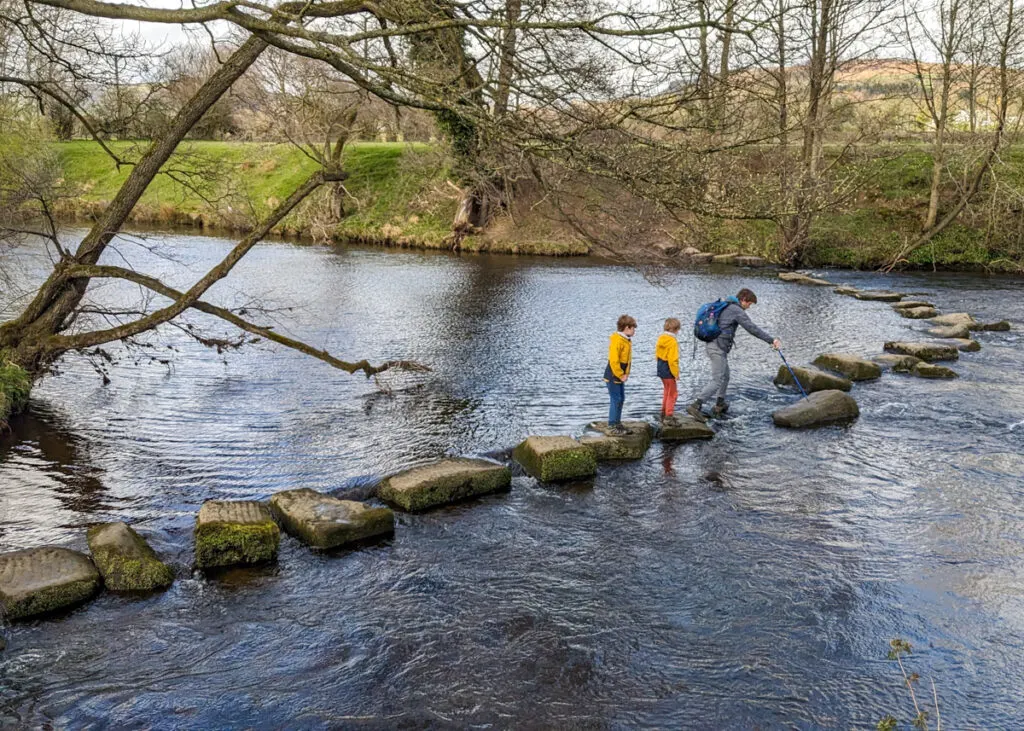 If you fancy something more adventurous slightly further afield, check out the epic views from the Stanage Edge walk. If that's too much of a challenge, or if you have toddlers with you and are looking for a shorter walk, head to Hope Ice Cream Farm, which serves the best homemade ice-cream around.
What we loved about Hathersage YHA
Sometimes, you just want a no-frills, friendly place to stay, especially one which encourages muddy trainers and rain-soaked backpacks. Hathersage YHA is just that place.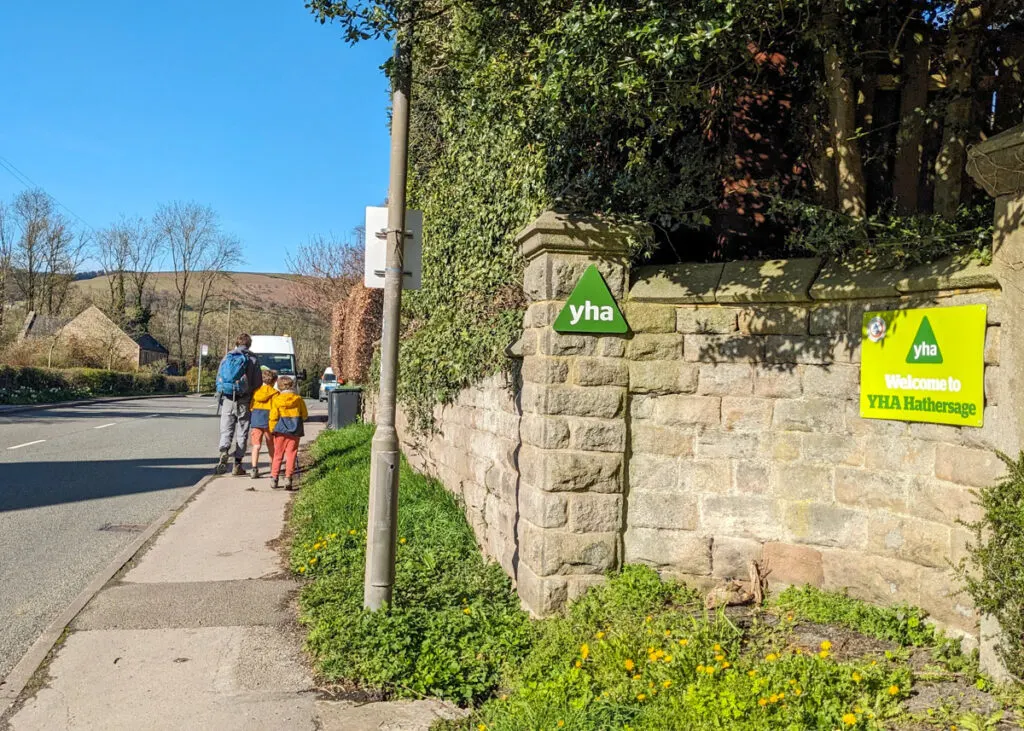 The staff are friendly and down-to-earth, the same can be said of the building itself; as we mentioned, it might not be the most pristine accommodation you'll ever stay in, but it somehow fits the mood and ambience of its surroundings.
The filling breakfast is a great start to the day and, at £20 for a family of four, it's never going to be beaten on price.
Click here to check availability and rates for YHA Hathersage
Final thoughts on Hathersage YHA
As long as you know what to expect, Hathersage YHA is a great place to stay in a fantastic location, perfectly placed for the hiking trails in the surrounding area. The village of Hathersage is easy to reach by public transport or on foot, with a few pubs to enjoy in the evening.
Accommodation in the Peak District can be expensive, usually limited to camping, a pub, or holiday cottage. So if you're looking for something a bit different, Hathersage YHA fills a gap in the market if you don't fancy a night under canvas, but also don't want to spend hundreds on a pub or cottage.
The building might be showing its age but in some ways this adds to its appeal, and the friendly staff more than make up for it.
---
You may also like to read:
Stanage Edge walk
Hathersage Stepping Stones walk
Hathersage to Grindleford walk