To complete it's seaside town status, landlocked Matlock Bath (often coined 'Derbyshire-on-sea') has a small aquarium amongst the row of fish 'n' chippies and arcades along it's 'promenade'.
Matlock Bath Aquarium is far from your standard Sea Life Centre experience; you won't see any sharks, penguins and rays. But, considering its size, you will find an impressive range of fish from around the world, and a large Victorian pool which has been transformed into a thermal pool for Mirror, Common and Koi Carp (this water is at a constant 20°C and comes from a spring believed to be 2000 ft below ground).
Check out our guide: Things to do in Matlock and Matlock Bath
Included in your admissions is also a hologram gallery, and a visit to the only remaining petrifying well in Matlock Bath; this is where thermal water was sprayed on to objects to turn them in to stone during the Victorian era. You can see almost 100 objects that have been petrified in the well including a bowler hat and pint glass, which are originals from the old Victorian wells.
Other exhibitions here include a worldwide gemstone and fossil display, the 'Past Times in Matlock Bath' Exhibition, and a new attraction for 2023 called 'Illuminate', which is a walkway of mirrored lights.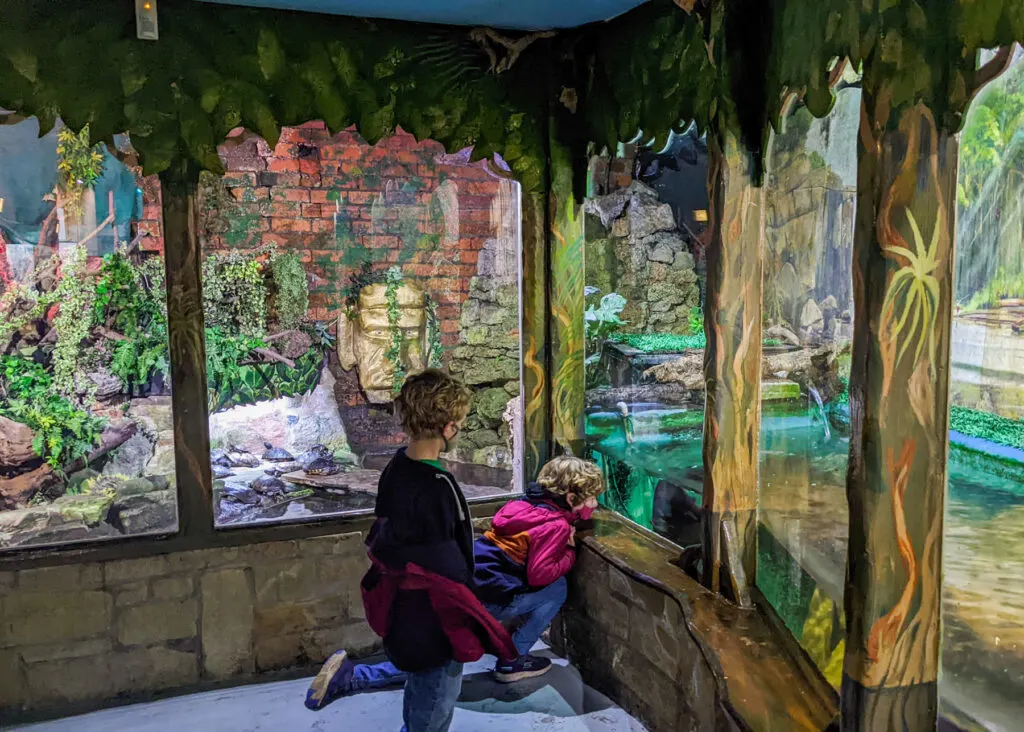 Combined with a some fish 'n' chips and a play in the playground across the river, a visit to Matlock Bath Aquarium is a great morning or afternoon out for the kids, and an affordable option if you're looking for things to do in the Peak District on a rainy day.
What to expect from your visit to Matlock Bath Aquarium
Petrifying Well
Start your visit with a visit to the petrifying well, to the right of the top of the stairs as you enter. The water is rich in minerals, particularly calcium from the local limestone. As the water evaporates from the objects it leaves a deposit of calcium carbonate, which makes it look like the objects have turned to stone.
In Victorian times, there were several wells in Matlock Bath and they were known as dripping wells. The 'petrified' objects, such as wigs, brooms and birds nests were very much in demand and the local people sold them as souvenirs to visitors.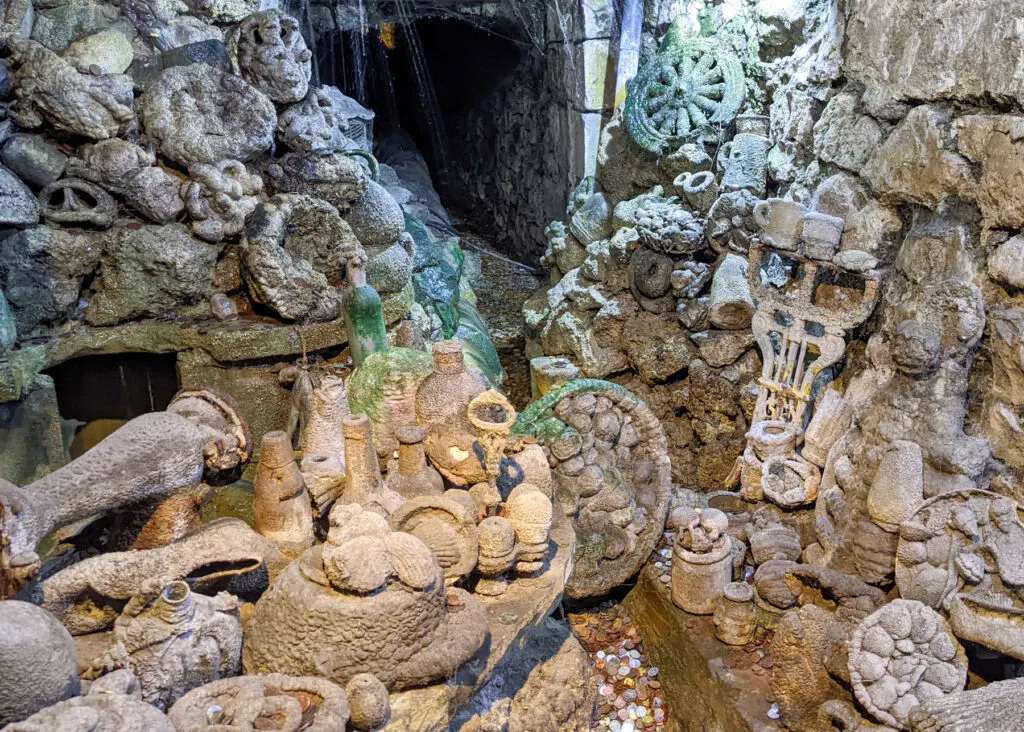 Aquarium
The door on the left leads into the aquarium. This houses different tanks displaying colourful fish from around the world. There's a map on the wall to show you where some of the different fish have come from.
Then at the end of the room is the turtle display.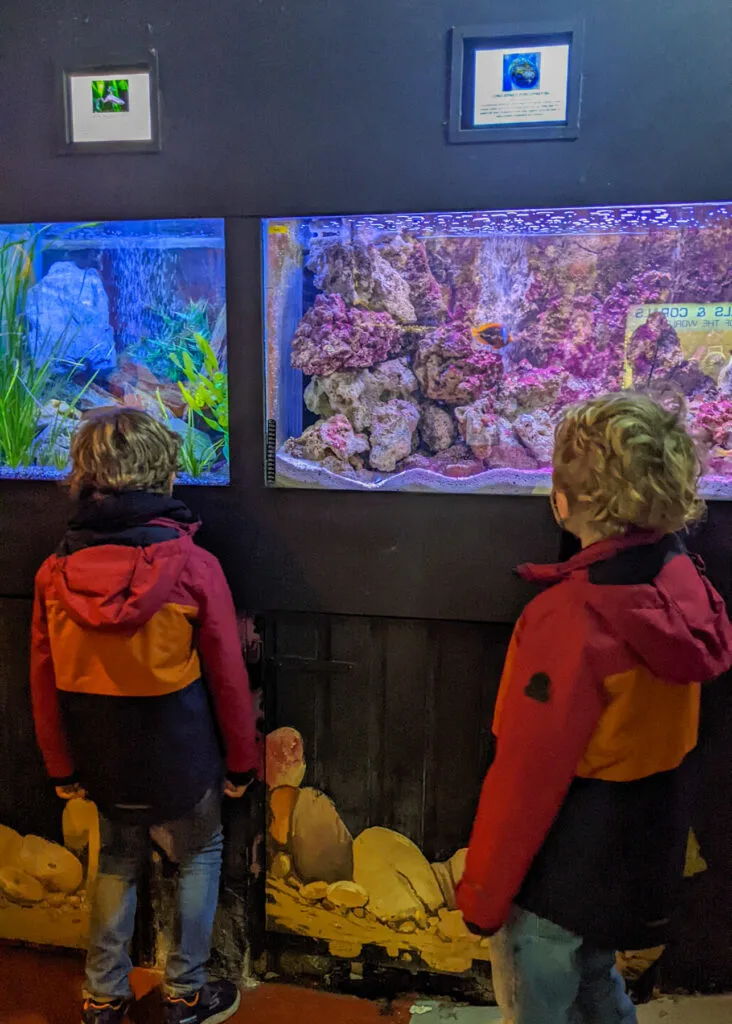 Thermal Pool
Through the next door is a man made pool from the Victoria era. The water here is fed by a thermal spring underground; 600,000 gallons of water daily, at a constant temperature of 20°C.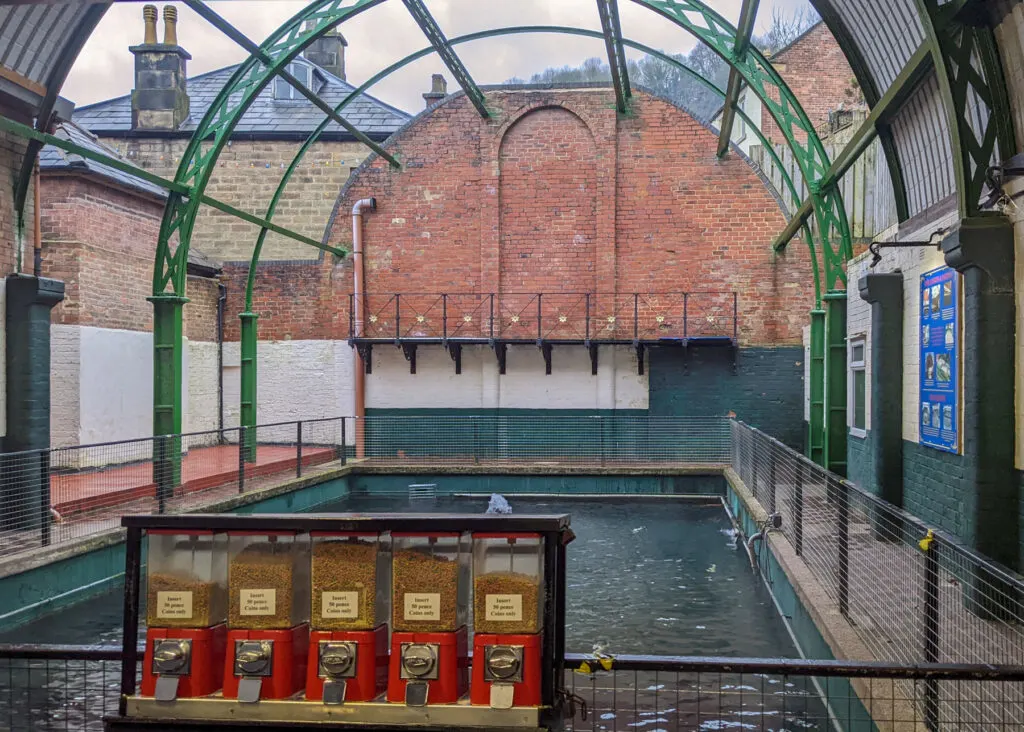 During the Victorian era, patients would immerse themselves in this pool to relieve rheumatic ailments and improve digestive disorders.
The waters are now enjoyed by large Mirror, Common, and Koi carp, some weighing over 30lbs.
Here you can buy food to feed the fish. Make sure you bring a 50 pence coin!
Hologram gallery
Just out the door and up the steps is the Hologram gallery. This was suprisingly a huge hit with our boys and they did three laps looking at the changing hologram figures as they went.
Some of the holograms can't quite be seen from a kids' perspective, so they may need to be lifted up. The website for Matlock Bath Aquarium states that they have recently lowered the images, but for kids under 10, some of the images are still a bit too high to see the full effects.
Arcades
As you exit, rather than a gift shop, you're led into a small arcade with penny machines and slot machines. Have a few coins handy if you think your kids would like to play.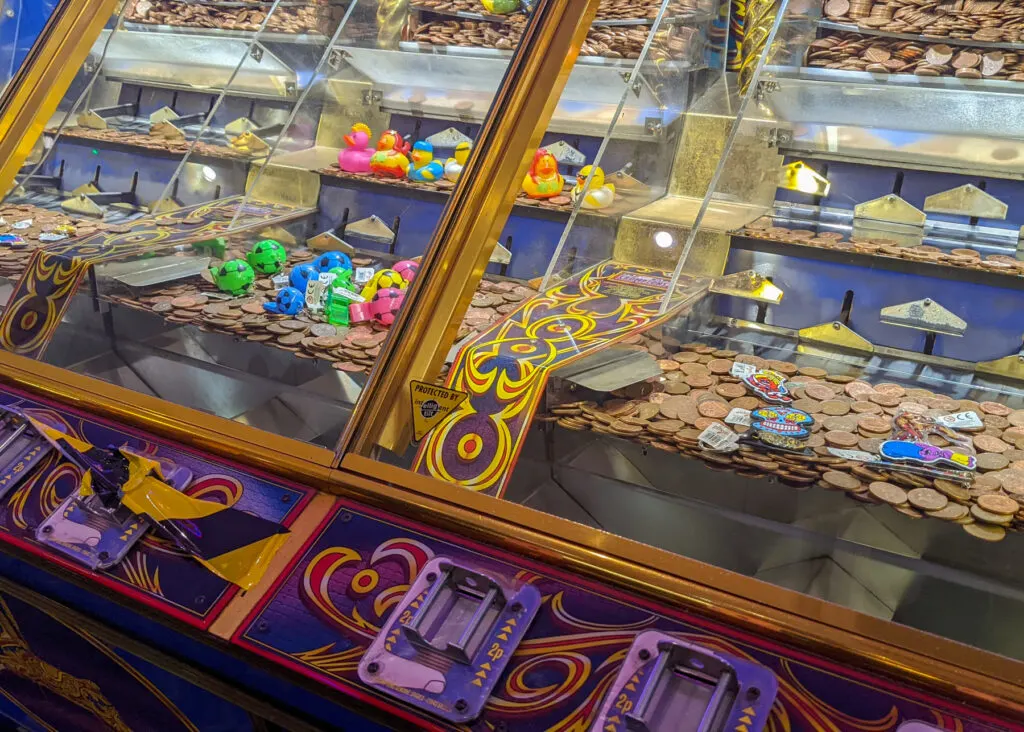 How much does Matlock Bath Aquarium cost?
Entry is £4.80 per person (same price for adults and children), and under 4s are free.
Do I need to book?
No need to book. Just turn up on the day and pay at the entrance.
Opening times
Matlock Bath Aquarium is generally open over school holidays and weekends (10am to 6pm). Do check their website for up-to-date opening times.
Where to park for Matlock Bath Aquarium
There is no allocated parking for visitors to Matlock Bath Aquarium. There are pay and display car parks at both ends of the village as well as 1 hour on street parking. Do bear in mind that on bank holiday weekends, and school holidays (especially in the sunshine), finding street parking is near impossible.
We suggest parking at Matlock Bath Station car park (click here for location on Google Maps). The parking machine accepts coins or cards, and you can also pay using an app. Click here for up to date parking charges.
How much time should I allow at Matlock Aquarium?
Allow 45 minutes to 1 hour for your visit.
Is it pram friendly?
Pushchairs are not allowed in Matlock Bath Aquarium. There is a limited storage area for buggies and pushchairs on arrival.
Facilities
There are no toilets or baby changing facilities. The nearest toilets are near in the gardens, across the road, between the War Memorial and The Midland pub. Click here for the toilet location on Google Maps. Please note that these toilets are coin operated.
Are dogs welcome?
Yes, on leads.
What to do after your visit
Grab some fish 'n' chips from one of the many restaurants and cafes along the main stretch, then head to the playground directly across the river (walk over Jubilee bridge).
Matlock Bath is also home to Heights of Abraham, Gulliver's Kingdom, and Matlock Farm Park. A visit for fish 'n' chips and Matlock aquarium after a morning at one of the main attractions, makes for a great day out. Or if you're in need of some ice-cream, pop to nearby Matlock Meadows.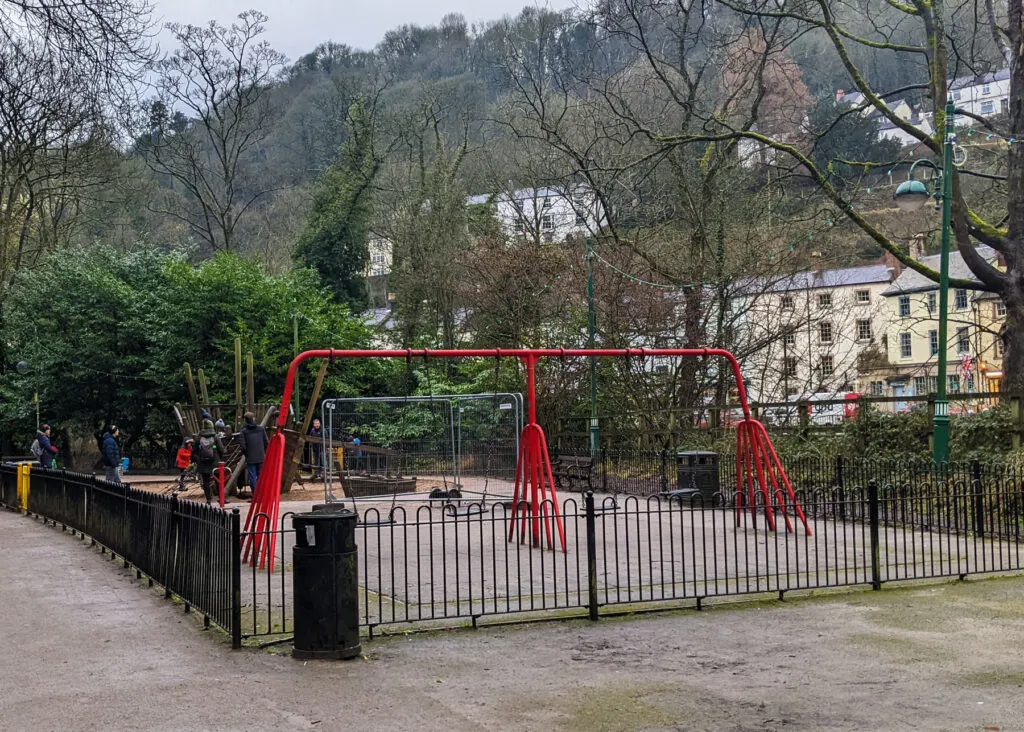 ---
You may also like to read:
Things to do in Matlock and Matlock Bath
Visiting Matlock Meadows
Visiting The National Stone Centre