Visiting a bookstore isn't just about picking a book off the shelf and walking to the till. It's a place you want to take your time browsing and aimlessly wandering, picking something up that takes your fancy, and then sitting in a cosy nook to flick through a few pages.
High Peak Book Store and Café in the Peak District, just outside Buxton, is a charming independent bookstore to while away a couple of hours. There is extensive and eclectic range of books, all very reasonably priced; indeed this is a discount book store and you can find some absolute bargains. But as it's so beautifully laid out, High Peak Bookstore is a fay cry from your bargain basement bookstore.
Themed in woodland décor, the children's section is an especially cosy area for young bookworms, you will find everything from baby board books, up to popular teenage reads.
As a primary school teacher and toddler Mum, we go every month after payday. They are discounted books, but it can be a treasure mine. It is not like regular bookshops with popular titles, so finding a gem of a book is a real delight. Sometimes they even have signed books in as well. It can be hit and miss, but I always leave with an armful for my little one and class. The high quality picture books in the middle are certainly worth it and it is great for children's classical literature. Been going for nearly 10 years, since before the cafe was even built. It is a place where reading for pleasure is certainly demonstrated by its warm and welcoming feel.

Niki Phillips, Peak District Kids Facebook Group
As you wander around the bookstore, there are also lots of beautiful gift items on sale from stationary to coasters, mugs to ornaments.
Next to the children's book room is a café offering simple, homemade food, locally sourced where possible, with plenty of vegan and gluten-free options. The cakes are delicious, and there is a fantastic choice of teas.
High Peak Bookstore is a must visit for any bookworms to the Peak District. It's perfect for a rainy afternoon activity, or as a little treat after a Peak District family walk.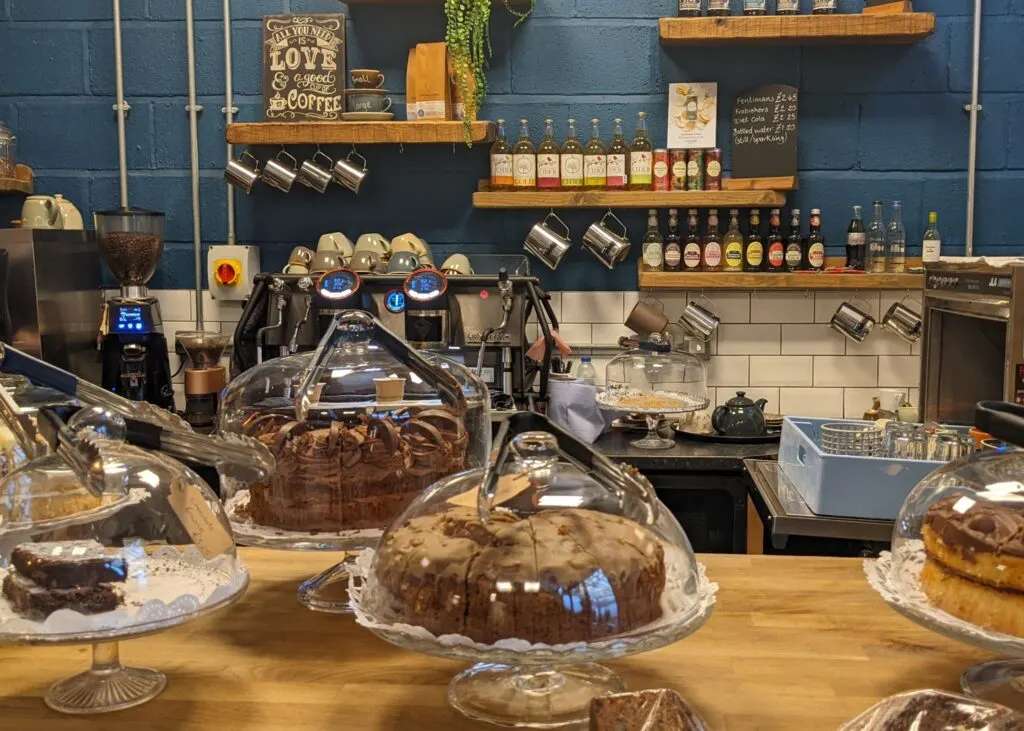 When is High Peak Bookstore and Café open?
Monday to Saturdays: 10.00am to 5.00pm (the café opens at 9:30am)
Sundays: 10.30am to 5.00pm (the café closes at 4:30pm)
Is there parking at High Peak Bookstore and Café?
There is ample and free parking right outside the bookstore.
Are dogs allowed at High Peak Bookstore and Café?
Dogs are allowed in on a lead.
Our recommended walks near to High Peak Bookstore and Café
---
You may also like to read:
Brick Corner: Buxton's LEGO café
Things to do in Buxton with kids
Rainy days out in the Peak District