February half term is probably the trickiest school holiday to keep kids busy. The days are still short and the weather is far from warm. So if you're looking for some inspiration to keep your little ones entertained for the Peak District February half term, you've come to the right place.
February half term dates for state schools in Derbyshire, Staffordshire, Cheshire and South Yorkshire are:
20th to 24th February
Check out the events calendar for details on what's on in the Peak District for families throughout the year.
If you are looking for ideas for general days out, rather than specific events, please check out our guide to Family Days Out in the Peak District, which provides lots of inspiration. Some attractions around Matlock are still closed for the winter months (including Gulliver's Kingdom and Peak Rail). However, all the caverns are open, Heights of Abraham re-opens from the winter, and Matlock Farm Park stays open pretty much year round.
Also, not much beats a long family walk in the Peak District armed with hot chocolate in your flask during winter. Do check out our safe winter walking tips.
As always, we'll be keeping this page updated as much as possible with news from these Peak District February half term events. But also keep an eye on the Peak District Kids Facebook Group and also our Instagram. Feel free to email us if you know of an event not listed here.
1. Chatsworth farmyard and playground opens for February half term
Saturday 11th February to Sunday 26th February
Parking is free at Chatsworth until 16th March
Click here to book tickets
Chatsworth farmyard and playground reopens for the Peak District February half term. In the farmyard you'll meet friendly animals, from pigs and horses to mischievous goats and guinea pigs, as well as a number of rare breeds including Suffolk Punch horses, Shire horses, Albion cattle, Gloucestershire Old Spot pigs, Bagot goats and Cream Legbar chickens.
From the farmyard, take the secret tunnel to the children's playground for exciting adventures, where little ones will enjoy playing on the swings, zip wire and climbing walls. There's also an Archimedes screw to fetch water from the stream, as well as a huge sand play area.
There will be animal handling and feeding, craft activities, and tractor rides into Stand Wood (10 minutes, £1 per person).
Carriage House Café, Farmyard café, Estate farm shop and café, Stables shop, and Farmyard shop are all open over February half term too.
Please note that the house and garden remain closed.
Combine your visit to Chatsworth farmyard and adventure playground with our Peak District Kids walk to Chatsworth Hunting Tower and Aqueduct in Stand Wood. We've also got a pram friendly version of this walk. Click here to read our full guide to visiting Chatsworth with kids.
2. Abseiling, caving and mining
Peaks and Paddles are running abseiling sessions over half term, both during the day and a few in the evening by torchlight. There's a 15% discount at checkout for booking 4 or more people. This is available to children aged 5+. Click here for our full review.
There are also underground sessions in caves and mines available. Family of 4 is £160 though book and pay over the phone (quote 'Peak District Kids caving' for an extra £10 off).
All can be booked through the website www.peaksandpaddles.org.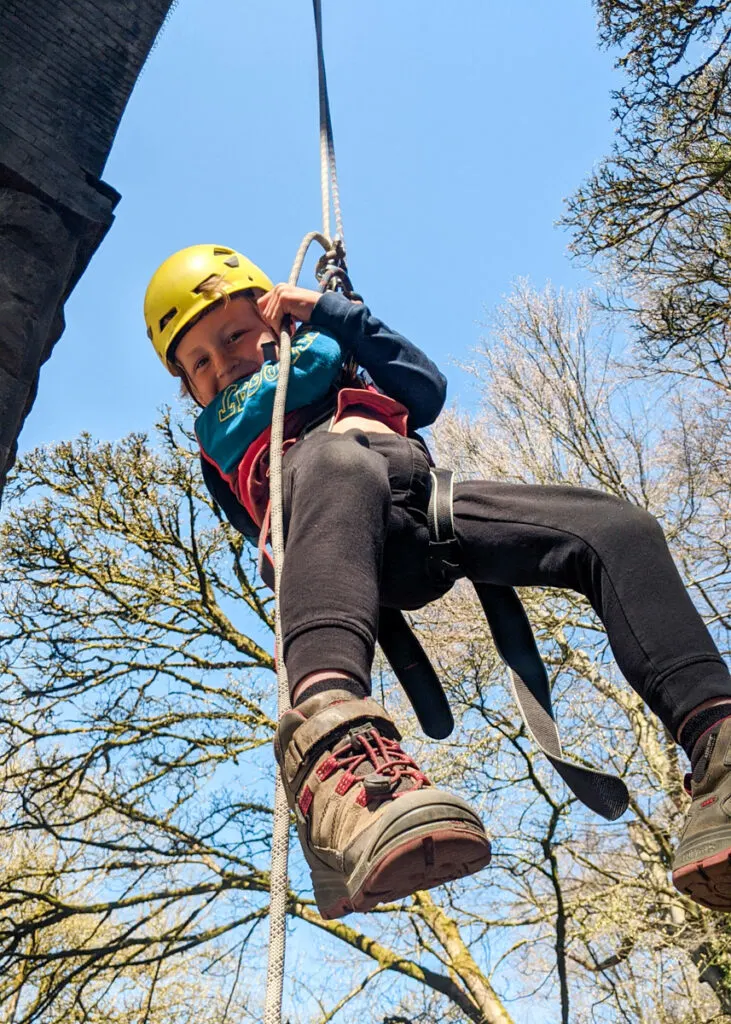 3. Explore The Heights of Abraham
Check the website for opening times and ticket prices
The Heights of Abraham has been closed for the winter months, and reopens on Saturday 11th February 2023, just in time for February half term.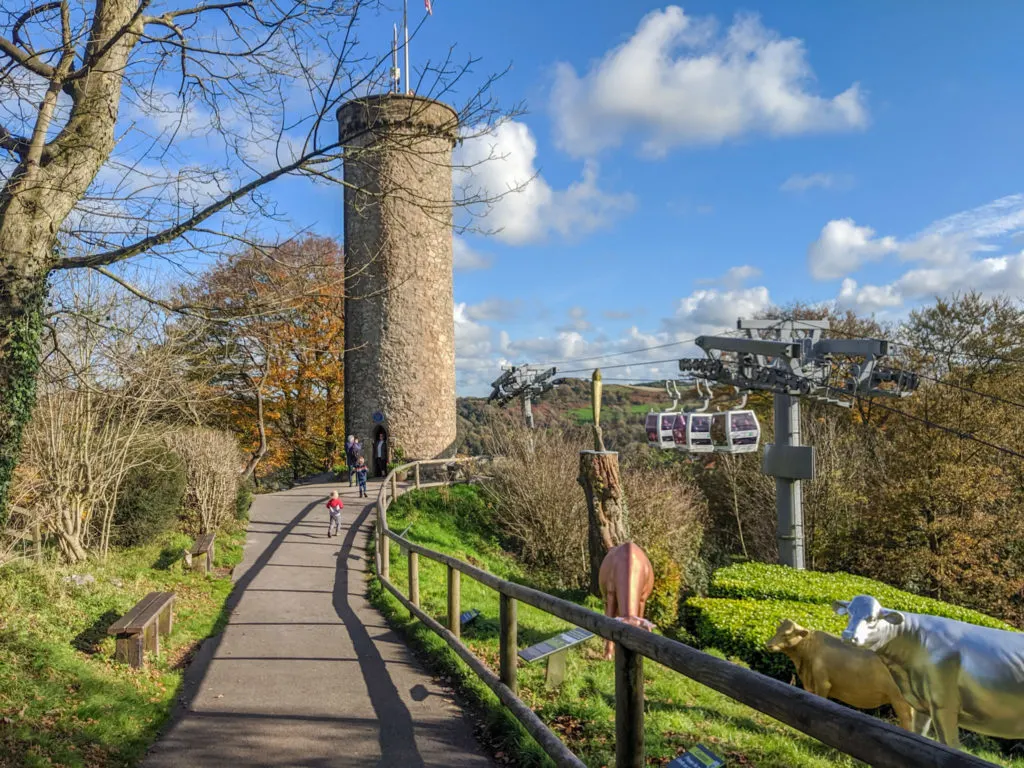 It is perhaps one of the best days out in the Peak District with kids, well just outside the National Park. A cable car takes you up to Heights of Abraham for some stunning views, and your ticket also gives you entry to two caverns where you venture deep under ground and learn about the history of lead mining in the area. You can also hunt for fossils and there are two adventure playgrounds. You can easily spend a full day here with kids on a dry day.
4. Lego build sessions at Brick Corner, Buxton
Click here for session times and to book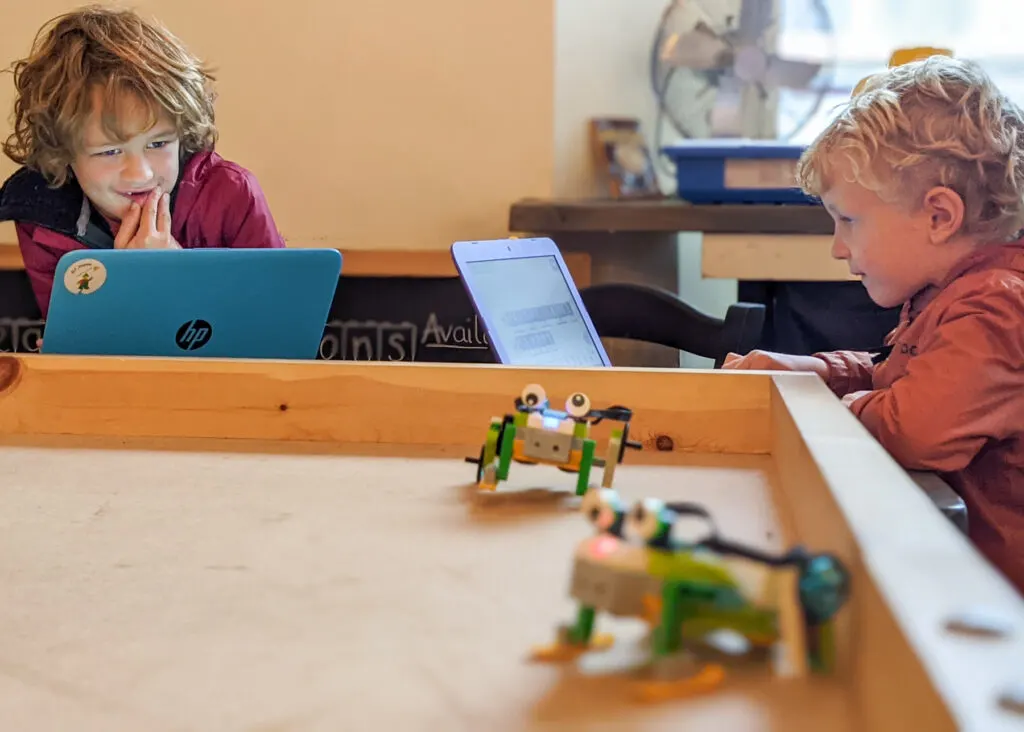 If your kids are Lego fans, then a visit to the family-run Brick Corner café in Buxton is an absolute must. Here there are boxes galore of Lego for your kids to play with and let their imaginations go wild, whilst parents sit back with a coffee and slice of cake in peace (although by all means, there are no age limits if parents want to get involved!)
And over the February half term, there are Lego robotic and coding sessions to get involved in. These are 90 mins (approx.) sessions where kids follow a guided Lego build, and then code their build to move!
This is one of our top things to do in Buxton with kids.
5. Family activities at White Hall Outdoor Activity Centre
White Hall Centre in Buxton are running outdoor adventure holiday packages for children aged 6 to 13 years old during February half term. There are two packages to sign up for:
Activity days for 9-13 year olds: 21st-23rd February (9:30am to 4:30pm) | £110 pp
Click here to sign up
Activity days for 6-8 year olds: 21st-22nd February 2023 | £74pp
Click here to sign up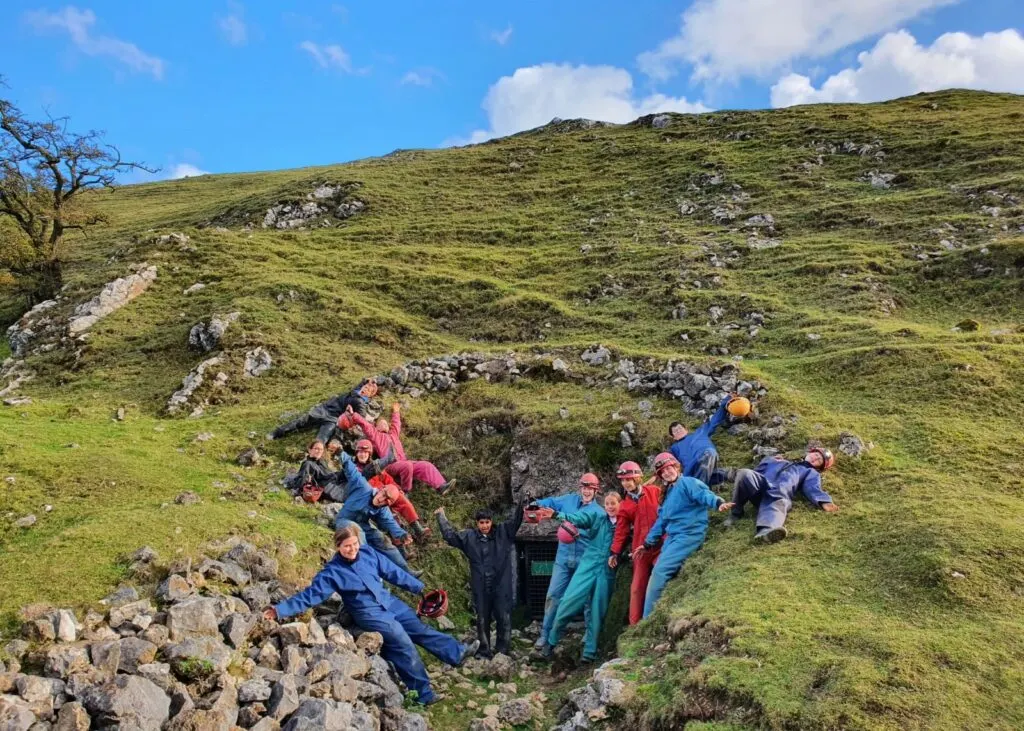 Activities on offer:
High and low ropes
Zip wires
Climbing walls
Mountain biking
Orienteering
Artificial cave
Problem solving
Shelter building
6. Thornbridge Gardens are free throughout February
It's FREE entry to Thornbridge Gardens over the February half term and the onsite smallholding's new 'Meet the Animals' area will be open in time!
To celebrate this opening, Thornbridge have planned a fun-packed animal-themed activities including:
🐑 animal Garden Trail
🐷 prizes for the best animal-themed fancy dress
🐐 animal crafts in the Orangery
🐑 pet animals (a Pigmy goat, piglet or sheep) in the new Meet The Animals area (there will be small bags of animal feed available to purchase).
Plus, there are rumours that the famous rubber ducks will be out of hibernation! Kids love (and will spend hours) fishing the ducks out of the fountain (purchase your net at the café).
There are always games and activities on the lawn around the fountain, as well as around the gardens themselves. It's a great place for young kids, and dogs are welcome too!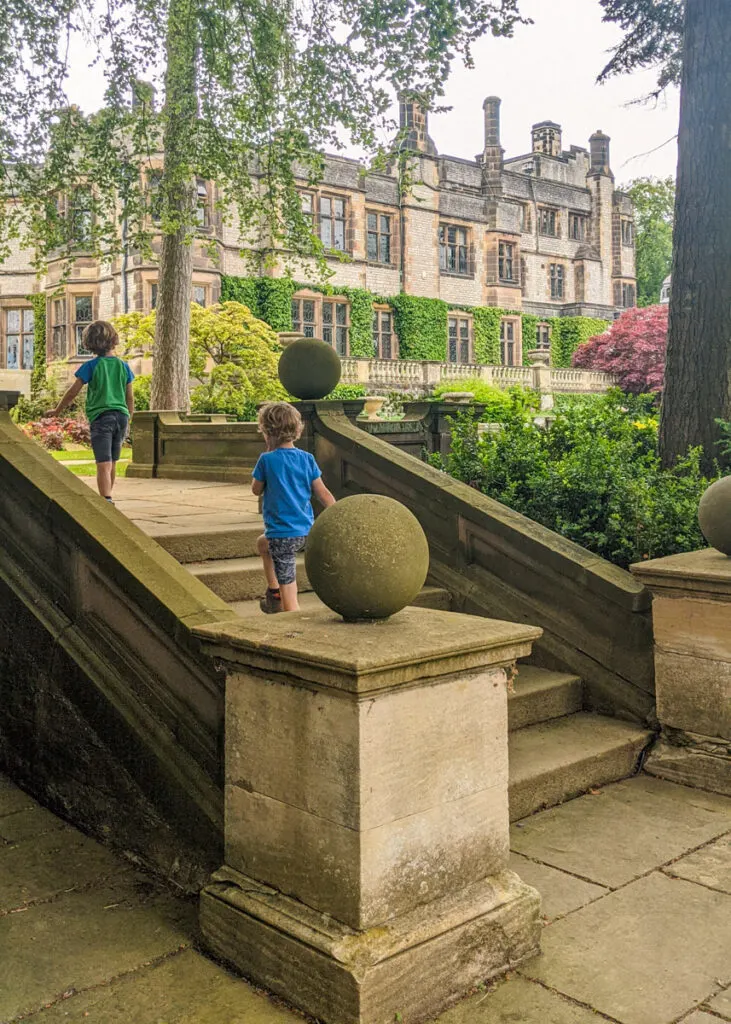 Thornbridge Gardens is open 10am to 4pm and parking is free (the entrance is on the road between Ashford-in-the-Water and Hassop Station (click here for Google Map point).
As it's just off the Monsal Trail (and you can access Thornbridge Gardens directly from the Monsal Trail), you may want to combine your visit with a Monsal Trail bike ride. Nearby walks include our short Monsal Head walk and our Ashford-in-the-Water to Monsal Head walk.
7. Go Ape in Buxton
Visit the Go Ape website for more information.
Go Ape Buxton will reopen on Friday 18th February in time for the Peak District February half term holidays. Venture up in to one of the highest Go Ape courses in the UK, featuring one of the biggest Tarzan Swings and a whole host of zip wires. There's even an exhilarating extended course with its own tree-to-tree section to fly through!
Please note that as this is one of the bigger and more challenging Go Ape courses, there is a minimum age restriction of 10 years and a minimum height restriction of 1.4 metres. One adult (18+) can supervise up to two children aged between 10-15 while on the course with them. 16 and 17-year-olds can supervise themselves (but not younger children).
The parking for Go Ape is shared with Poole's Cavern. So you can combine your visit to the cavern, and/or venture up to Solomon's Temple (click here for our walking guide)
8. Visit a show cavern
Over the Peak District February half term, it's pretty much guaranteed that it will rain at least one day. And what's the top thing to do in the Peak District on a rainy day (if you don't fancy donning the waterproofs for a family walk, that is)? Well it's a visit to one of the show caverns, as the weather on the surface doesn't matter when you're underground. And thankfully ALL the show caverns are open this February half term.
Where are the show caverns?
9. Matlock Farm Park
Matlock Farm Park is open all year round and have some fantastic activities laid on for February half term: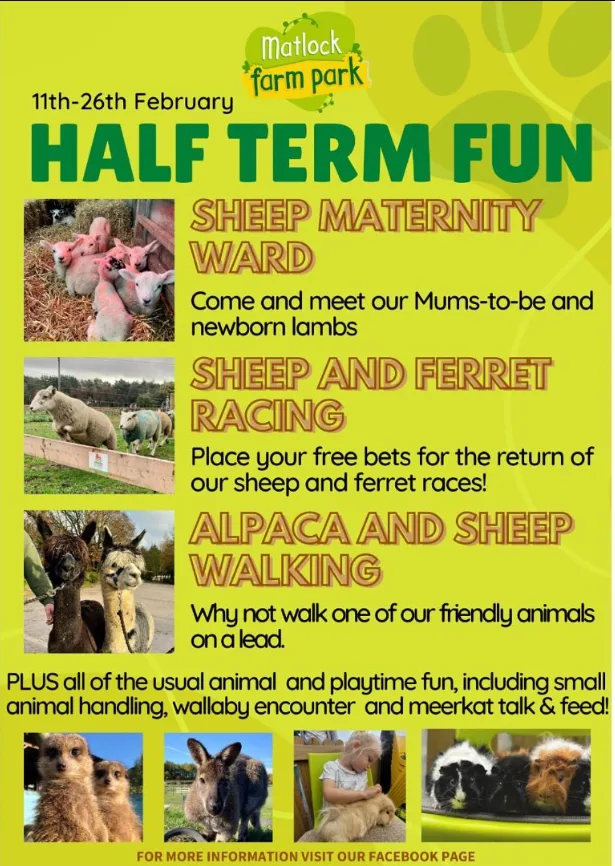 Aside from these events, it's a great day out for young kids to meet and feed the animals. There are also no fewer than three outdoor play areas, pony rides and horse riding lessons, go karts, an indoor play area, as well as meerkats and wallabies to meet! It's a fantastic day out for young kids.
10. Kids go FREE days at Peak Rail
15th, 18th, 19th February ONLY
Click here for further information
Peak Rail are pleased to announce that we will be running our steam train service between Rowsley and Matlock at half term, Wednesday 15th February, Saturday 18th, Sunday 19th and Wednesday 22nd , this will cover the school holidays in Derbyshire and the Sheffield area. We will be offering our popular 'Kids go Free ' for under 15s.
Train times are 11.00, 13.00 and 15.00 all steam hauled.
All children up to the age of 15 years are eligible to FREE travel on the shown dates when accompanied by a full paying adult or senior citizen.
11. Play LAB in Rowsley
Open Monday to Friday 9am to 5pm
12 January to 14 April 2023, and open over February half term
Tickets are FREE, but please book in advance – click here to book
Experience creative play both in the physical and digital world at Play LAB in Rowsley! Fill the room with 3D digital shapes and play with digital toys, in a laboratory like you've never seen before.
Play LAB uses large scale projection, screen-based visuals and physical objects. Once you have finished your lab experience, create your own colouring masterpiece to take home or have it added to the digital world.
And the best bit… it's FREE!
12. Pirate Takeover at Alton Towers
11th to 26th February
Click here for further details
Read our guide: Alton Towers for kids aged 6-10
Ahoy landlubbers! Set sail to Alton Towers Resort this February Half Term and join Captain Black and his motley crew as the infamous pirates of Mutiny Bay take over. Guests can enjoy a swashbuckling overnight stay with breakfast, live entertainment, entry to the Waterpark, nine holes of Extraordinary Golf, a treasure hunt and access to rides and attractions in Mutiny Bay. For the first time, guests can also enjoy an exciting pirate adventure for a few hours as Mutiny Bay and Towers Street open to day guests.
13. Ugly Duckling at Buxton Opera House
22nd February (2pm and 4pm)
Click here to book tickets
Don't miss Northern Ballet's hugely popular Ugly Duckling as it returns to the stage.
Ugly Duckling is lonely and fed-up, ignored by those around her who think she is too ugly to fit in. She tries to make friends with fellow ducklings as well as with frogs, cats and even a fox, but realising she is not like any of these animals, she is left sad and alone. Follow the duckling on her journey as she overcomes her troubles and realises that she was beautiful all along.
Retelling the famous Hans Christian Andersen fairytale, Ugly Duckling is the perfect opportunity for your little ones to enjoy live ballet, music and theatre for the first time. As seen on CBeebies, Northern Ballet's sell-out productions for children are not to be missed.
14. Go for a family walk
A family walk in the Peak District is really number one reason to visit the National Park, and you should at least fit in one of our family walks into your February half term.
With hundreds of public footpaths criss-crossing the National Park and gentle rolling hills that aren't too taxing on little legs, it's the perfect free activity.
On this website we have over 60 family walks, including pram friendly walks and toddler walks, to more challenging walks such as Stanage Edge or Win Hill. Or you may even want to take on our Kinder Scout walk from Edale.
15. Get out on the bikes
February half term is a good time to dust off the bikes stored away over the winter months, and head out on one of our Peak District cycle routes.
There are lots of old railway tracks that have been transformed into traffic free routes for walkers, cyclists, horse riders and wheelchair users through some of the Peak District's most spectacular limestone dales. As these are traffic free and relatively flat, they're a great place to go for a family bike ride.
Plus, there are also some lovely routes around the reservoirs (including Ladybower cycle route and Carsington cycle route), although kids will need bikes with gears for these ones.
Below are our top tried and tested Peak District family bike routes. Though remember, you don't have to do the whole route, you can always cut it short for tired legs.
---
You may also like to read:
Things to do on a rainy day in the Peak District
Short and easy family walks in the Peak District
Things to do in Matlock and Matlock Bath