Peak District Kids is all about inspiring and providing families the resources to go out exploring the National Park in all weathers. We love seeing all your posts on the #peakdistrictkids hashtag over on Instagram in sun, rain, hail, wind, snow, and everything in between.
This article contains affiliate links. Should you click to purchase, it is at no additional cost to you, but I receive a small commission.
But during the winter months, it's important to be extra prepared and safe. The weather can change so quickly in the Peak District, and we don't want you to get caught out!
So read on for our top tips for winter walking with kids…
1. Check the road conditions and weather forecast before you leave. It may look calm and dry at home, but it's often a different story when you get up into the hills.
2. Wear layers and remove them if you get hot walking. Sweating is one of the easiest ways to get cold!
3. Put on a layer when you stop and take a swig of hot chocolate from your flask.
4. Keep the kids' mittens attached in the coat sleeves with elastic.
5. Dress the kids in bright colours so you can see them better if the cloud rolls in.
6. Take a torch and a survival blanket.
7. Start your walk early in the day so you don't risk having to walk in the dark, and allow extra time to navigate muddy footpaths.
8. Take a paper OS Map (in a waterproof map case) in case your phone battery dies from the cold or rain. And make sure you know how to use it. The cold can zap the battery life of a phone. It's also a good idea to have a charged power bank with you, in case you need to call for emergency assistance.
9. Be prepared to turn back home if visibility is low.
10. Have a spare change of clothes back in the car to get changed into.
11. Have fun! Embrace the crazy weather; laugh about squelching in mud, being battered by the wind, and play in the snow!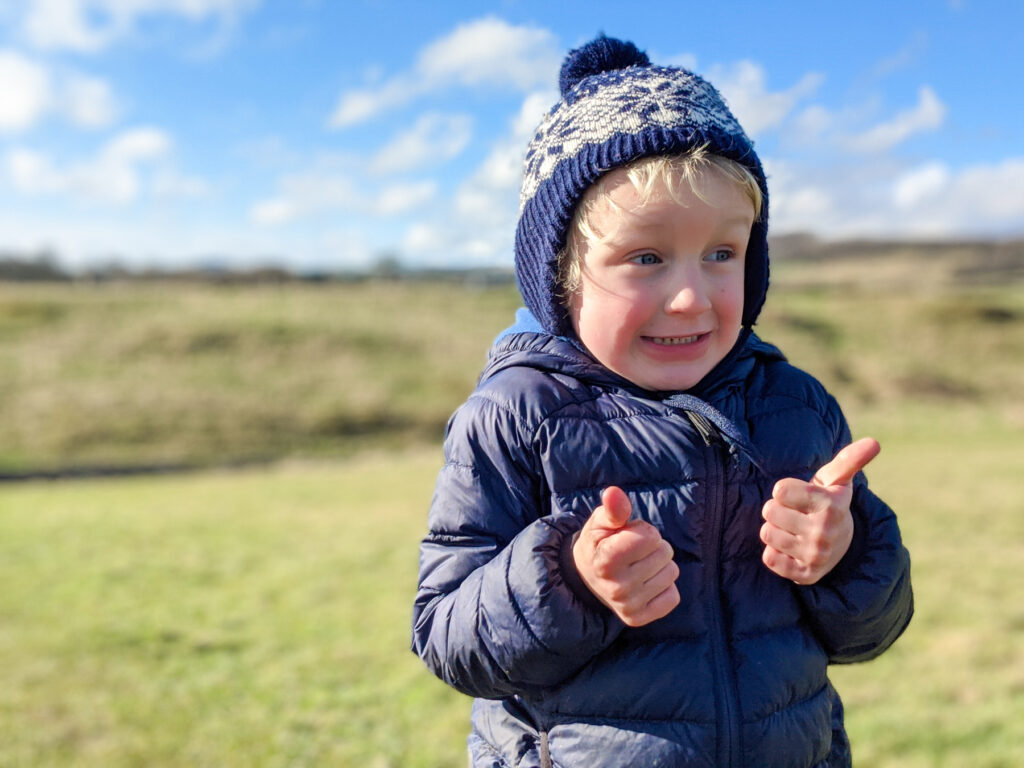 ---
You may also like to read:
Tips for hiking with young kids
Essential items for a family hike in the Peak District
What to do on a rainy day in the Peak District