Peak District Kids is all about inspiring and providing families the resources to go out exploring the National Park in all weathers. We love seeing all your posts on the #peakdistrictkids hashtag over on Instagram in sun, rain, hail, wind, snow, and everything in between.
This article contains affiliate links. Should you click to purchase, it is at no additional cost to you, but I receive a small commission.
But during the winter months, it's important to be extra prepared and safe. The weather can change so quickly in the Peak District, and we don't want you to get caught out!
So read on for our top tips for winter walking with kids…
1. Check the road conditions and weather forecast before you leave, and tell someone where you're going. It may look calm and dry at home, but it's often a different story when you get up into the hills.
2. Wear warm layers and remove them if you get hot walking. Sweating is one of the easiest ways to get cold!
3. Put on a layer when you stop and take a swig of hot chocolate from your flask.
4. Keep the kids' mittens attached in the coat sleeves with elastic.
5. Dress the kids in bright colours so you can see them better if the cloud rolls in.
6. Take a torch and a survival blanket.
Defender Lumos LED Torch – Compact Handheld Battery Powered…
Selected for Official UK Police use through the 2015/16 Personal Issue Torches Tender
Tough, durable, reliable. Length 123mm by 30mm diameter
Outstanding 230 lumens output, 120m beam distance
LED Cree XP-E2. 3 x AAA batteries supplied
IP54 Waterproof rating, wrist-strap included
Bramble – 2 Premium Emergency Thermal Survival Weatherproof…
🔥 Heat Retention: The Bramble Emergency Bivvy Bag keeps you warm with thermal insulation and…
🔦 Essential Survival Bag: Hypothermia is the greatest danger in any survival situation. This…
📏 Compact Size: The Bivvy Hiking Bag is incredibly compact, folding to just 7cm x 10.5cm and…
🚨 Use for Signalling Rescue: The bright orange exterior of the Emergency Bivvy Tent can be used…
💰 Money Back Guarantee: We offer a 100% money-back guarantee if you're not completely satisfied…
7. Start your walk early in the day so you don't risk having to walk in the dark, and allow extra time to navigate muddy footpaths.
8. Take a paper OS Map (in a waterproof map case) in case your phone battery dies from the cold or rain. And make sure you know how to use it. The cold can zap the battery life of a phone. It's also a good idea to have a charged power bank with you, in case you need to call for emergency assistance.
Anker Powerbank 10,000 mAh, 323 Power Bank with USB-C Port…
Always enough energy: Thanks to a capacity of 10,000 mAh, the power bank can charge your iPhone 14…
Double-sided charging: The USB-C port supports fast charging in both directions to make it easy for…
Especially safe to use: With a fireproof casing, high-density polymer cells, an intelligent circuit…
Simultaneous charging: Thanks to the ability to charge two devices simultaneously with a maximum…
Box contents: Anker 323 Powerbank (PowerCore PIQ), quick start guide (English language not…
9. Be prepared to turn back home if visibility is low.
10. Have a spare change of clothes back in the car to get changed into.
11. Have fun! Embrace the crazy weather; laugh about squelching in mud, being battered by the wind, and play in the snow!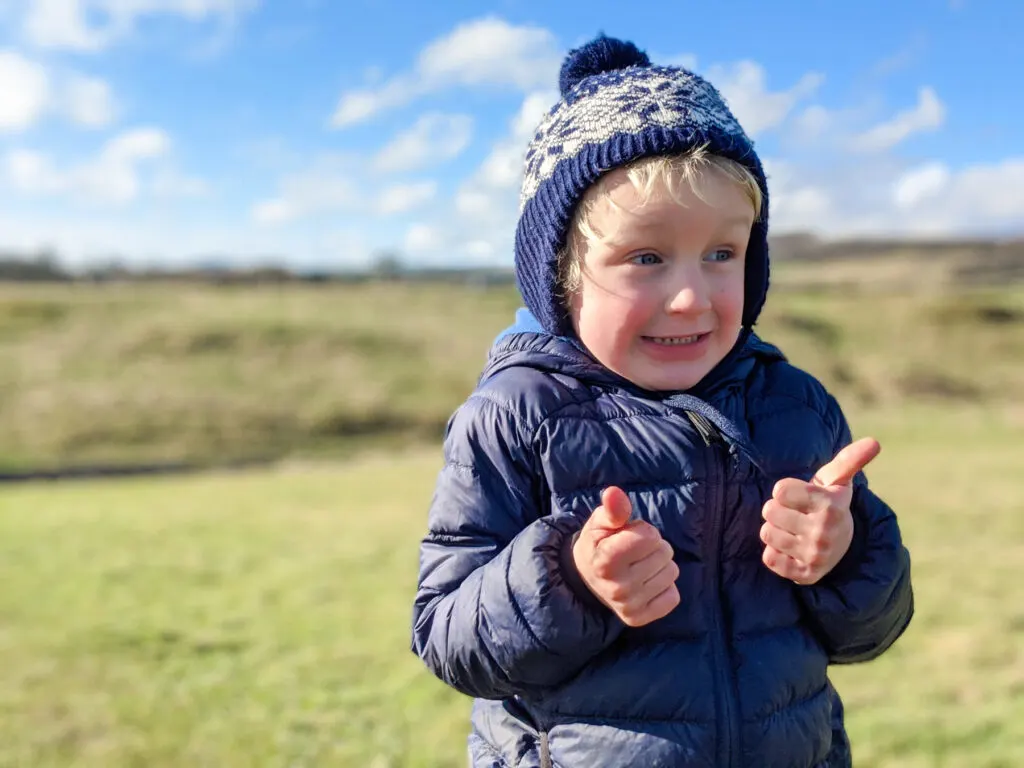 ---
You may also like to read:
Tips for hiking with young kids
Essential items for a family hike in the Peak District
What to do on a rainy day in the Peak District