Peak District Kids writer: Gemma from Families Can Travel
The Dovedale Stepping Stones are a popular destination for walkers, but further up the valley lies the sleepier hamlet of Milldale. This linear Milldale walk starts from the peaceful and pretty Milldale and follows the River Dove closely along the Dovedale Valley.
This has to be one of our favourite and prettiest pram-friendly Peak District walks. The kids will love climbing inside the impressive caves at Dove Holes before reaching the Ilam Rock, a 25-metre tall limestone pinnacle. From here you can return to Milldale the way you came and relax by the river with a drink from Polly's Cottage Takeaway Refreshment.
If you are planning a visit to the National Park, please arrive early or late in the day to avoid crowds. Please also take all litter home with you, don't bring BBQs and park your car in designated parking areas. Also, please use these walks as a guide; access and stiles may change.
Disclaimer: This post contains affiliate links. Should you click to purchase, it is at no additional cost to you, but I receive a small commission.
FOLLOW US:
Do check out our top tips for hiking with young kids, as well as our essential items to take on a family hike in the Peak District.
Milldale walk map
On all Peak District family walks it's a good idea to have an Ordnance Survey paper map with you, even if you have your phone on you. For this walk you need the OS Explorer Active Map OL24 (White Peak). It's also a good opportunity to show young kids the map features and get them started with map reading.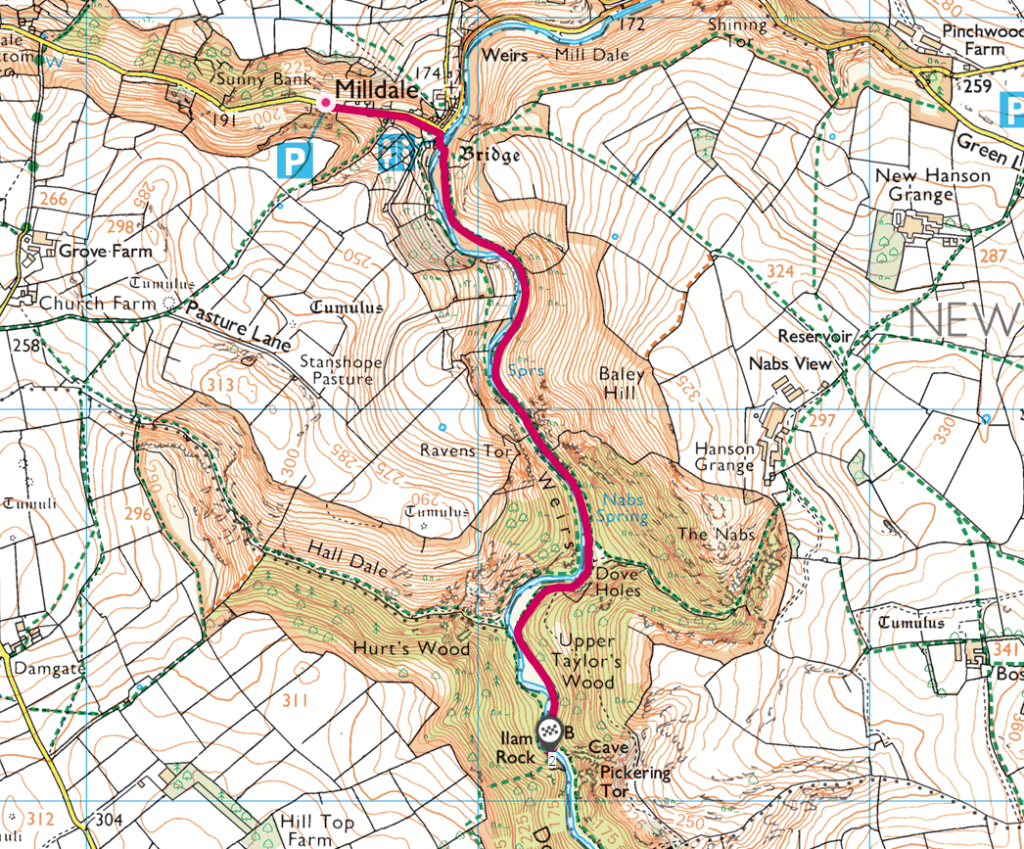 Need to know
DISTANCE OF WALK: 4.5 km (2.25 km each way)
TYPE OF WALK: flat, well-surfaced paths, pram friendly
PARKING: There is a free Peak District National Park car park in Milldale – click here to see location on Google Maps on your phone, postcode: DE6 2GB. This is a FREE Peak District National Park Authority car park.
WALK HIGHLIGHTS: Scenic riverside path, climbing inside the caves at Dove Holes, the impressive Ilam Rock
HOW LONG DOES IT TAKE: This walk can be done in 1.5 hours but taking it at a nice leisurely pace whilst the kids play by the river and in the caves, I would allow 2-3 hours.
ACCESSIBILTY: Pram friendly, flat, well-surfaced paths. The caves are not suitable for prams but they are right next to the path so the kids can easily explore whilst still in view.
TOTAL ASCENT: 80 metres
PUBLIC TOILETS: There are public toilets located at the start of the walk, just before the Viator Bridge. You can get takeaway refreshments and snacks from Polly's Cottage Takeaway Refreshment in Milldale.
The route
1. Starting from Milldale Car Park, leave the car park and turn left, continuing along the road for 300 metres through the hamlet of Milldale. You might meet some friendly ducks as you get closer to the river. Just before you reach the river, you'll notice a turning on your left and Polly's House on the corner where you can get takeaway drinks and snacks. You may want to grab something for the walk or save it as a treat for when you return.
2. Turn right and walk 50 metres past the public toilet building on your right and over Viators Bridge, an old stone packhorse bridge crossing the River Dove.
3. Walk through the gate at the other side of the bridge and follow the path to the right, signposted to Dovedale Car Park. Follow this scenic path alongside the river and through a couple of wooden gates.
4. After 1.3 km, you'll reach the caves at Dove Holes. You might want to spend some time here for the kids to explore the caves.
5. After exploring the caves, continue along the path keeping the river close for a further 600 metres. Before long you'll see the impressive Ilam Rock, a limestone pinnacle formed from millions of years of erosion.
6. To finish this walk, from the bridge at Ilam Rock simply return to Milldale along the path you came on.
EXTENDED ROUTE: For a longer pram friendly walk, continue along the path for a further 2.25 km to Dovedale Stepping Stones. This will extend the walk to a total of 9 km there and back.
After your walk
When you get back to Milldale why not treat yourself to a takeaway drink and snack from Polly's Cottage Takeaway Refreshment. There's a perfectly located bench right next to the river to sit and watch the kids play.
---
You may also like to read:
The best pram friendly walks in the Peak District
Pram friendly Ilam Park walk (circular, 1.6km)
Dovedale circular walk (5.3km)