Peak District Kids writer: Gemma from Families Can Travel
The High Peak Trail in the Derbyshire Peak District follows the old railway trackbed from Dowlow, near Buxton, to Cromford. This circular Minninglow walk starts by following the trail at Minninglow, high up on the embankment before cutting through the hillside. Kids will love playing in the old quarry and finding leftover sections of the railway track. There's also an old rusty crane to admire too, which would have been used to load limestone onto the trains.
From here, you can leave the trail to take an optional and worthwhile detour up to Minninglow Hill. At the top, you'll find an ancient neolithic burial site surrounded by a distinctive ring of trees. You can reach the site with a pram or buggy but you may need a little help over a small rocky section near the top.
The second half of the walk takes you back to where you started, along another gentle track with stone walls and fields either side. Apart from the small rocky climb up to Minninglow Hill (which can be missed out), the rest of the route is flat with well-surfaced paths so perfect for a Peak District pram friendly walk.
Disclaimer: This post contains affiliate links. Should you click to purchase, it is at no additional cost to you, but I receive a small commission.
If you are planning a visit to the National Park, please arrive early or late in the day to avoid crowds if visiting over sunny weekends or school holidays. Please also take all litter home with you, don't bring BBQs and park your car in designated parking areas. Also, please use these walks as a guide; access and stiles may change.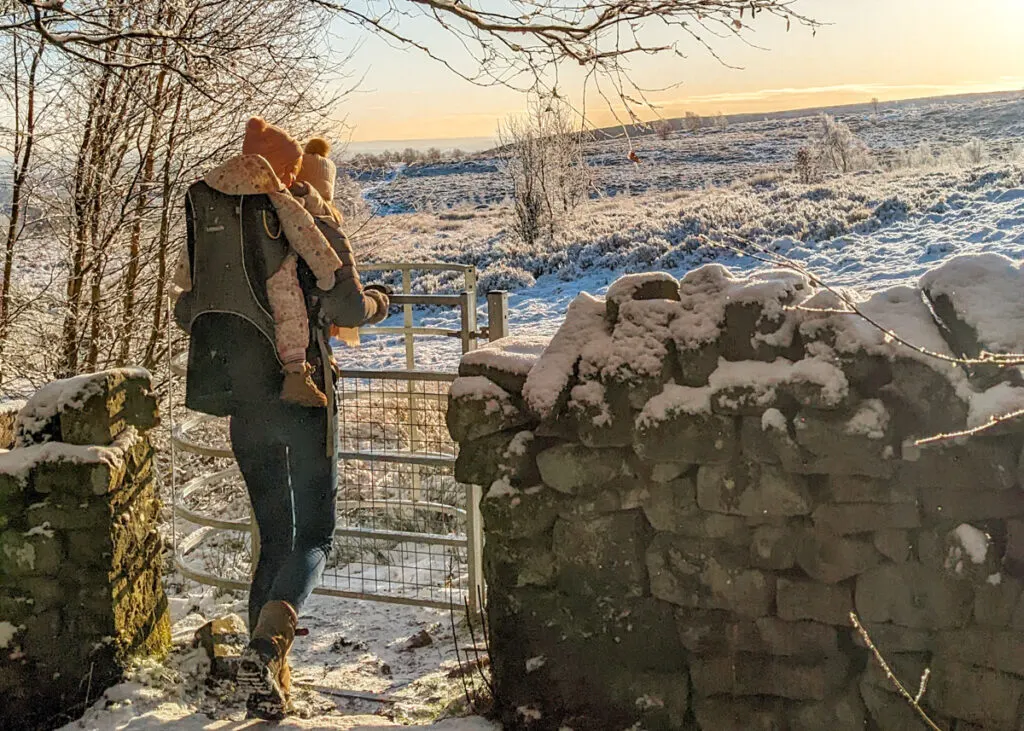 During the winter months, it's important to be extra prepared and safe when out walking and adventuring in the Peak District. The weather can change so quickly, especially on the exposed escarpments, and we don't want you to get caught out.
Read our top tips for safe winter walking with the kids.
FOLLOW US:
PARKING INFORMATION: Please do not rely solely on the postcode for parking directions. In the National Park, a postcode can cover a large area. Postcodes are only provided as guidance. Please either use the Google Maps point provided for every walk, or what3words.
Do check out our top tips for hiking with young kids, as well as our essential items to take on a family hike in the Peak District.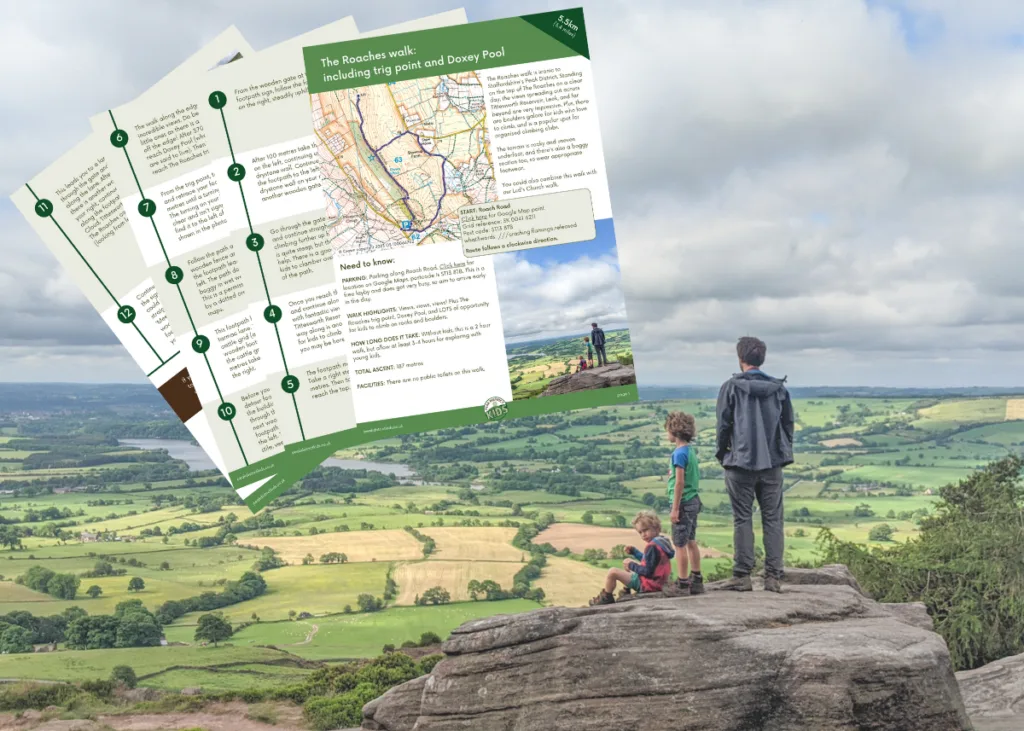 Download and print out our walking guides ready for your family walk. There are over 80 downloadable walk guides available, and these include all the main Peak District family walks, pram-friendly walks, and toddler walks.
Each printable download is just £1.50, whether it's a short 1km stroll or an epic walk up Kinder Scout.
Minninglow walk map
On all Peak District family walks it's a good idea to have an Ordnance Survey paper map with you, even if you have your phone on you. For this walk you need the OS Explorer Active Map OL 24 (White Peak). It's also a good opportunity to show young kids the map features and get them started with map reading.
This Minninglow walk follows the below map in a clockwise direction.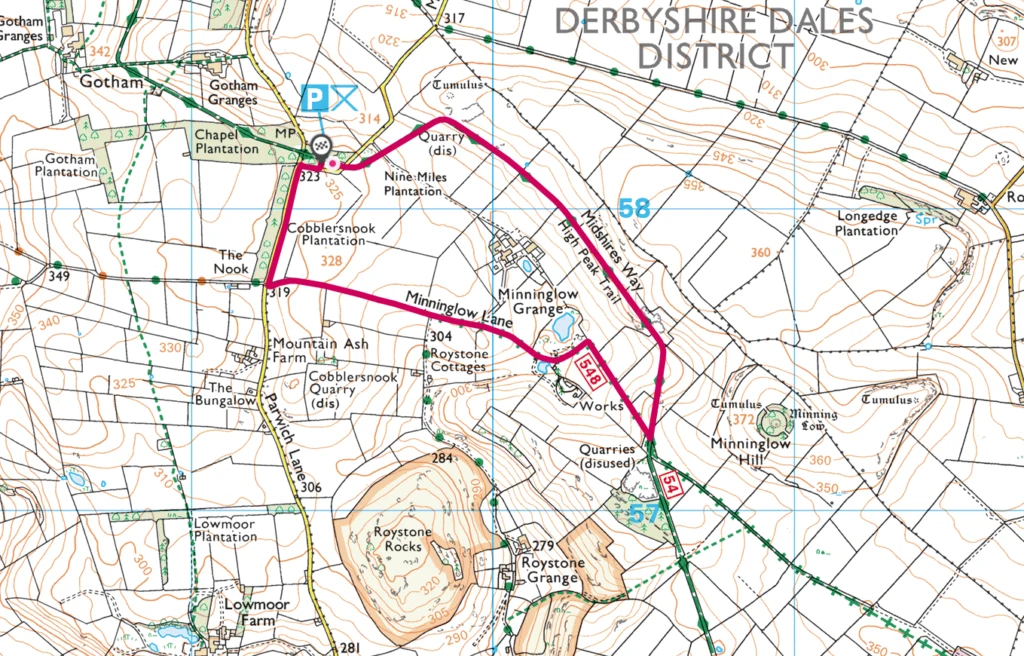 Get a printable download of this walk
Want to print off this walk guide rather than rely on your mobile? Then click here to download the PDF to print out at home. Perhaps print out a copy for the kids to follow the step-by-step directions and/or photos? It's a great way to get them engaged with the walk and gives them a sense of responsibility.
All printable downloads are £1.50 each. Click here for the full list of Peak District Kids printable downloads.
Please note that your download link expires 72 hours from order, so make sure you save your PDF somewhere where you'll remember it. If you are unsure where your download folder is on your mobile device, we recommend you download the PDF on your laptop or desktop.
Need to know
DISTANCE OF WALK: 3.8 km (add 1km for optional Minninglow Hill detour) | 2.4 miles (0.6 mile for detour)

TYPE OF WALK: easy going, well-surfaced paths and roads. The detour up to Minninglow Hill crosses fields with a small rocky section.

PARKING: There is free parking at Minninglow Car Park on Mouldridge Lane. Click here for Google Maps location, postcode: DE4 2PN. This is a FREE Peak District National Park Authority car park.

WALK HIGHLIGHTS: beautiful countryside views, exploring the quarry and its old railway track, chambered tombs at Minninglow Hill.

HOW LONG DOES IT TAKE: This walk can be done in an hour but with the optional detour to Minninglow Hill and extra time for the kids to play, we recommend allowing 2-3 hours.

ACCESSIBILTY: Pram friendly, flat, well-surfaced paths. The detour to Minninglow Hill crosses fields and can be done with a pram or buggy but there is a small rocky section where you may need help.

TOTAL ASCENT: 58 metres

FACILITIES: There are no public toilets or eateries on this walk. The nearest toilets are 6 miles away at Tissington, where you'll also find Herbert's Fine English Tea Rooms.
The route
START: Minninglow Car Park
Click here for Google Map point
Grid reference: SK 1946 5814
Post code: DE4 2PN
what3words: ///falls.juicy.toffee
Route follows a clockwise direction
1. With the road behind you, turn right and walk across the car park towards the wooden gate signposted to Middleton Top.
2. Cross over the narrow lane and follow the High Peak Trail for 1.4km. The first part of the trail passes across a high embankment so make sure the kids stick to the path, keeping away from the edge.
3. You'll notice the trail passes through a cutting in the hillside and immediately after you'll come across a rusty crane. This is a great place to let the kids explore the quarry to the left and spot the old railway track dotted around.
4. OPTIONAL DETOUR: 1km in total

4a. To visit the burial site leave the trail, following the path to the left that is signposted 'Concession Route to Minninglow'.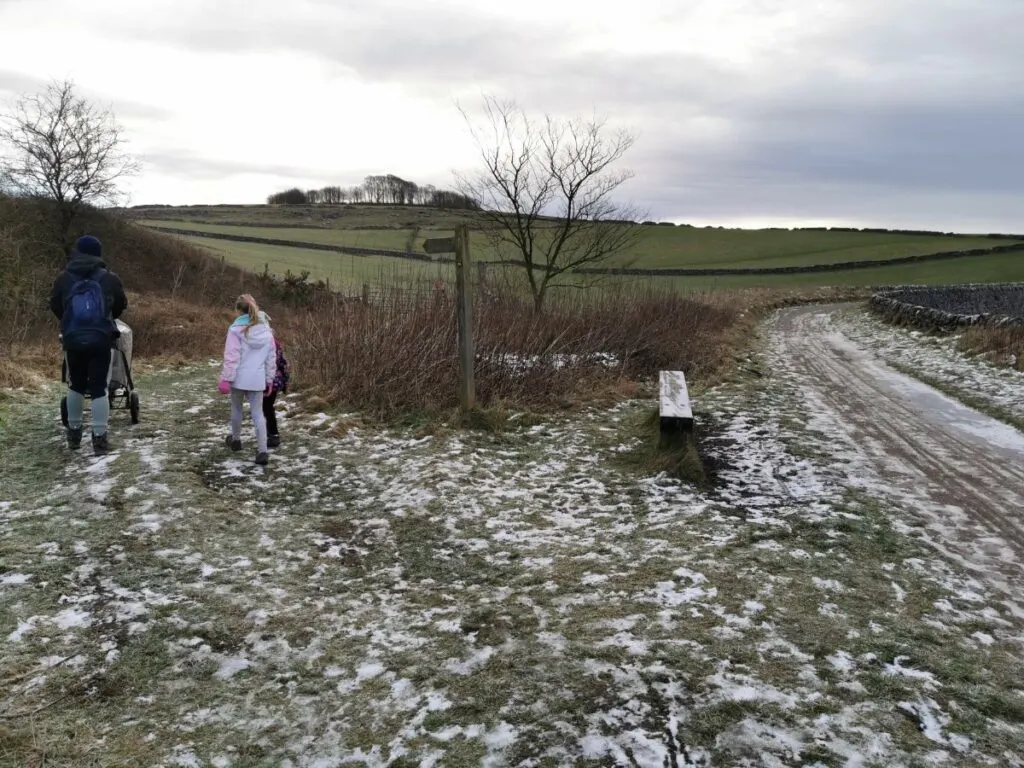 4b. Go through the metal gate and follow the path passing through a gap in the stone wall, or follow the stone wall up the field for a pram friendly opening into the next field.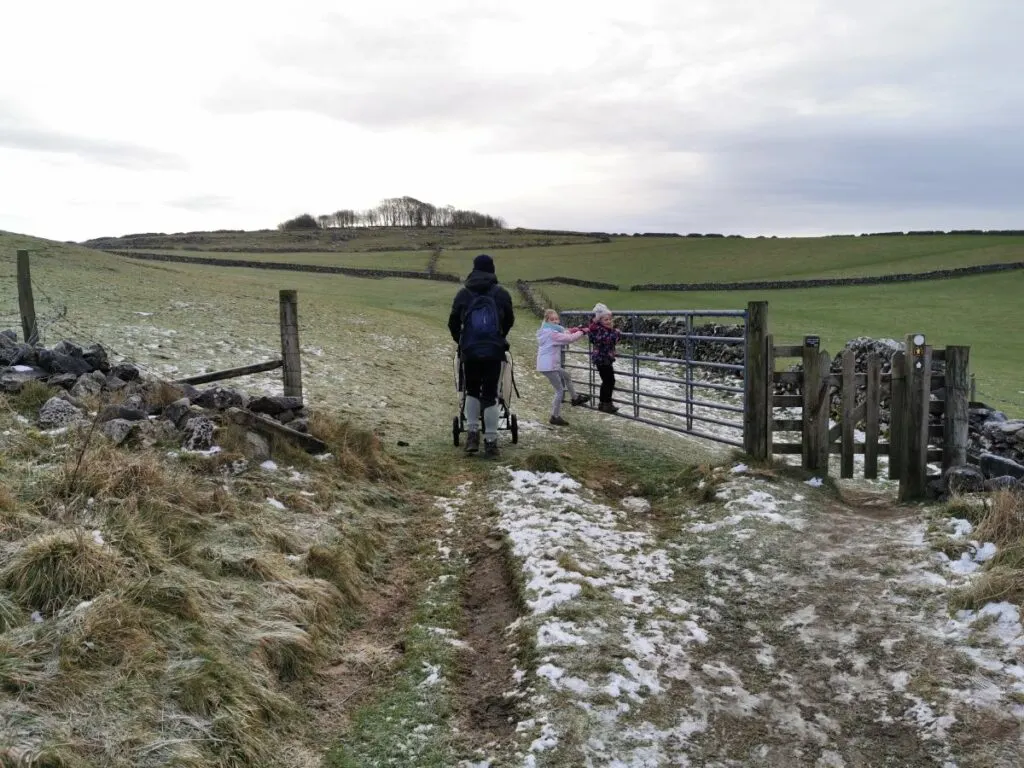 4c. Continue towards the ring of trees at the top of the hill, finding the least rocky route if you have a pram/buggy.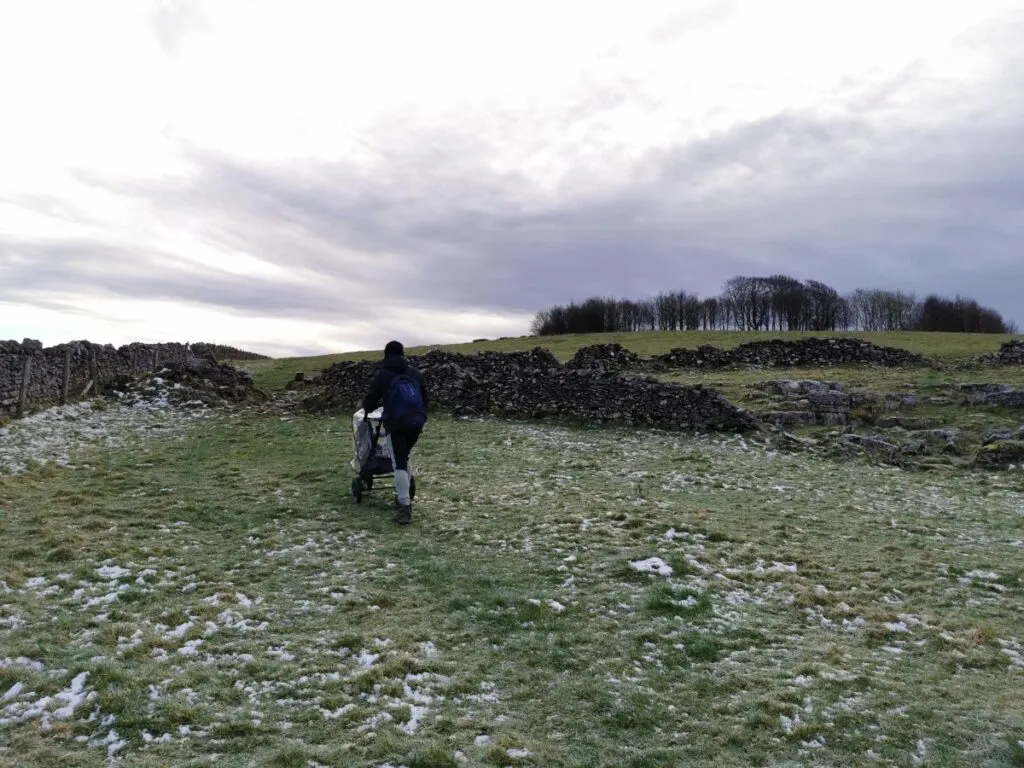 4d. Enter the burial site through a gate and take time to explore the area around the chambered tombs. This is a great spot for a picnic or hot drink.
4e. Leave through another gate on the opposite side and bear right, following the waymarked path. When you reach a wooden gate, walk through this and turn right to follow the track.
4f. When you reach the crossroad where the High Peak Trail intersects, continue straight ahead following the track signposted to Biggin. Continue to follow the route from step 6.
5. If you choose not to take the detour to Minninglow Hill, continue on the trail for a further 400 metres until you reach a crossroad in the paths. Turn right, leaving the High Peak Trail and follow the track signposted to Biggin.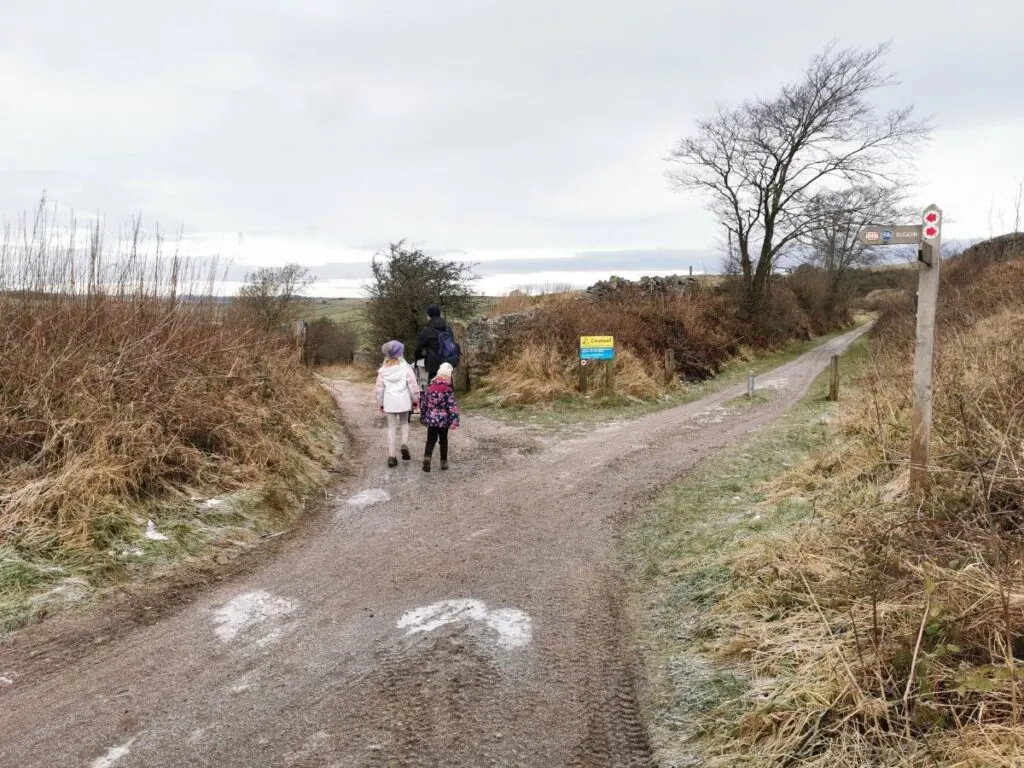 6. Continue on this track for 1.5 km as it bends round to the left and continues straight ahead, ignoring a turning both on the right and then further ahead on the left .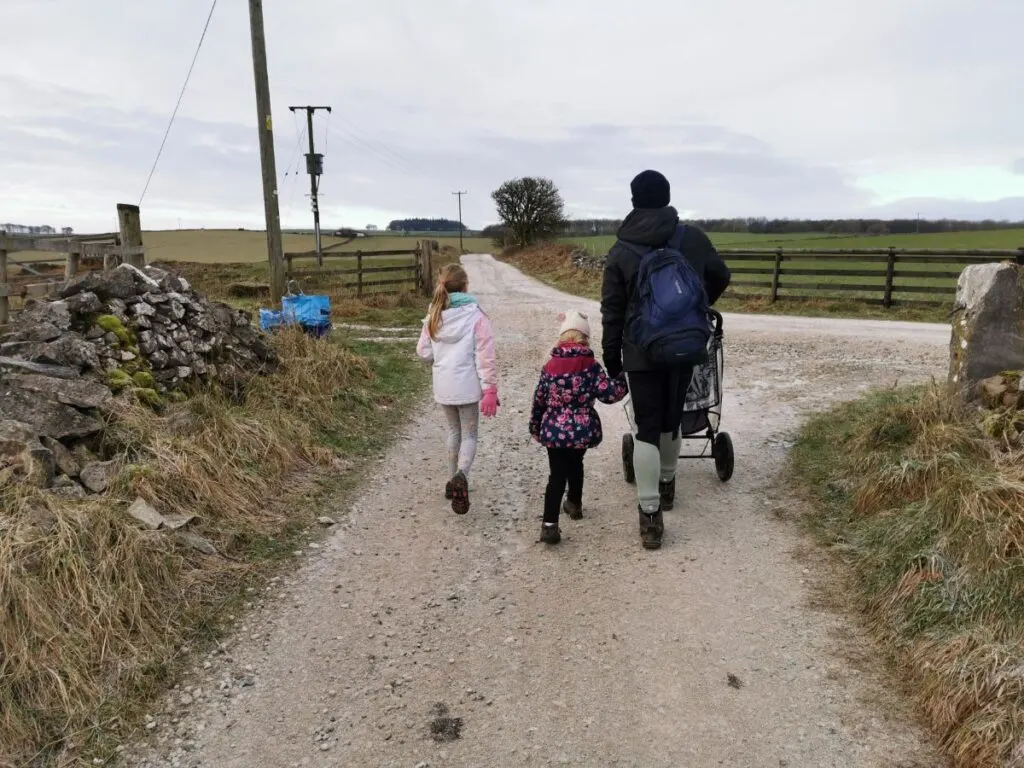 7. When you reach another crossroad, turn right and follow the quiet road for 400 metres.
8. Turn right just before the bridge following the sign for the car park and then walk 100 metres, turning left back into the car park.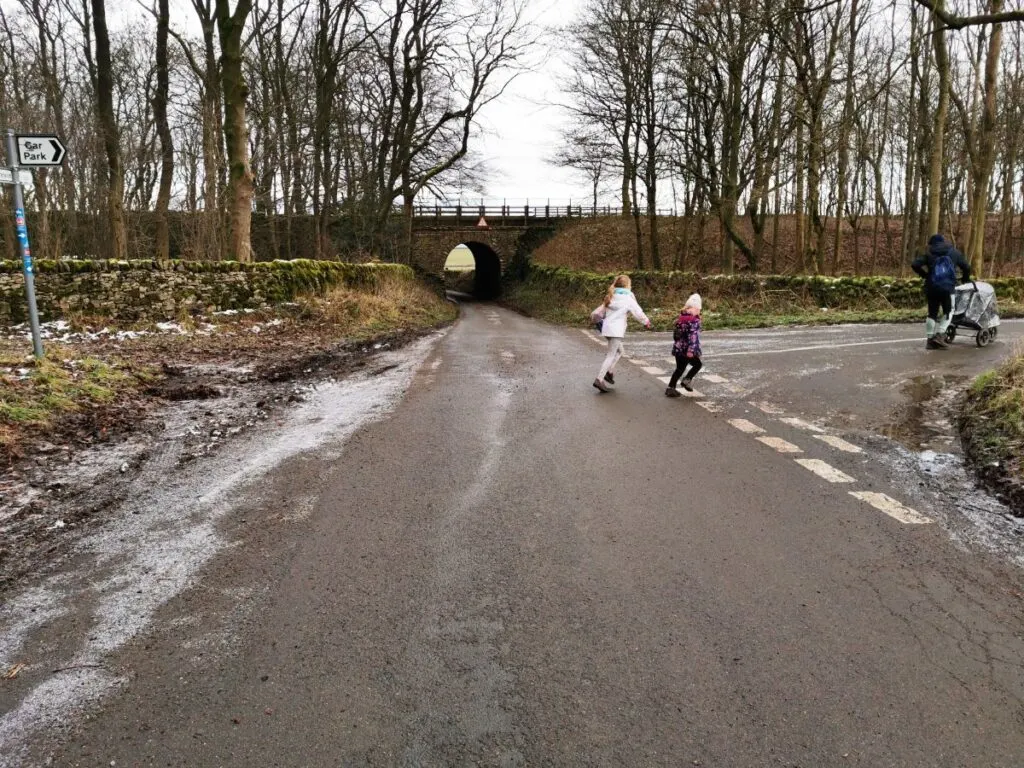 ---
You may also like to read:
Top pram friendly walks in the Peak District
Cycling the High Peak Trail with kids
Tissington walk to Parwich for a pub lunch (6.3km)