Peak District Kids writer: Gemma from Families Can Travel
If your based in the South of the Peak District over the spooky season, then Pumpkin Corner, just 3 miles from Ashbourne, is the place to go for pumpkin picking. Andy and Meg, who run the event, really put their hearts into Pumpkin Corner, expanding and introducing new ideas each year.
Pumpkin picking within the Peak District National Park is actually rather limited. Indeed Village Pumpkins in Barlow is really the only option, although this patch is technically one mile outside the National Park boundary between Sheffield and Chesterfield. So if you are based in or around the South of the Peak District, Pumpkin Corner is your best bet.
In the weeks leading up to the October half term, we look forward to our annual pumpkin picking day out. It's our third year of visiting a pumpkin patch and we'd never go back to buying from a supermarket again.
We dig out the wellies and head to our local pumpkin patch to search for the best-looking pumpkins we can find. Some for carving, some for decoration and some for cooking. It's such a fun experience for the kids, getting them outdoors and picking their pumpkins straight from the field.
Check out our guide to what's on this October half term in the Peak District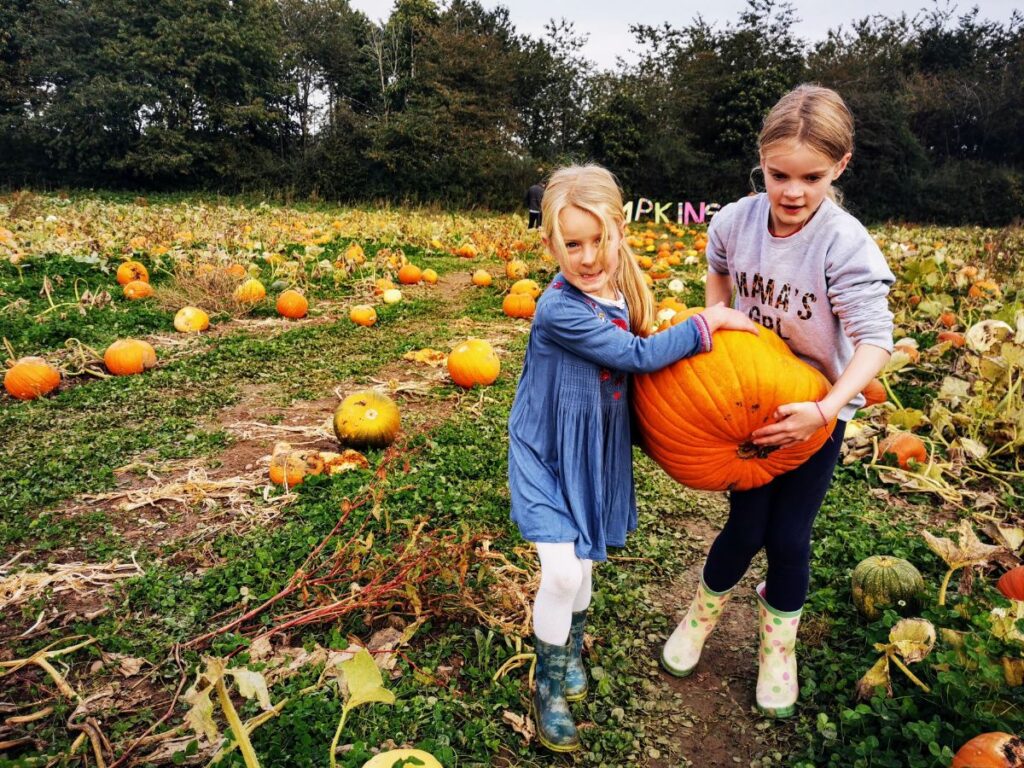 Arriving at Pumpkin Corner
Click here for Google Map location or use the app what3words: blueberry.prickly.bounded.
There are no buses to Pumpkin Corner so the best way to get there is by car. There are signs for Pumpkin Corner on both the A515 and A52 roads to help direct you there.
There is plenty of free parking available right next to the field where the pumpkins are so you don't have to walk far.
Your pumpkin picking experience
There's no need to book to go pumpkin picking and there is no entry fee either, you just pay for your pumpkins.
It sounds obvious but it is a field and it will be October and the ground is likely to be muddy, so wellies and appropriate clothing are highly recommended. We also recommend taking gloves as the pumpkin stems can be prickly.
Head to the entrance and collect your wheelbarrow or wheelbarrows. Our girls always like their own mini wheelbarrows and we take one of the big ones. There are clear paths that make pushing the wheelbarrows around easier, then you can jump into the pumpkin patch when you spot one that takes your fancy.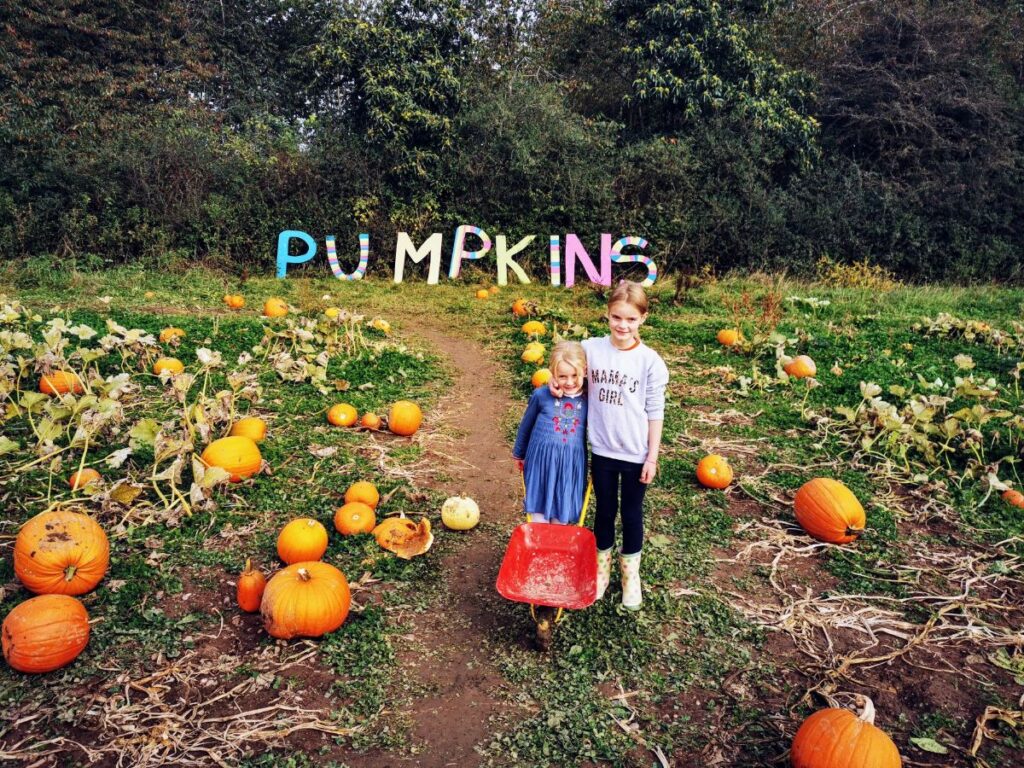 Pumpkin Prices
The entrance also displays a range of pumpkins and their prices, so you can decide beforehand what size you want to look for and what price to expect to pay. Prices range from £1 up to £12 and you can pay by both cash and card.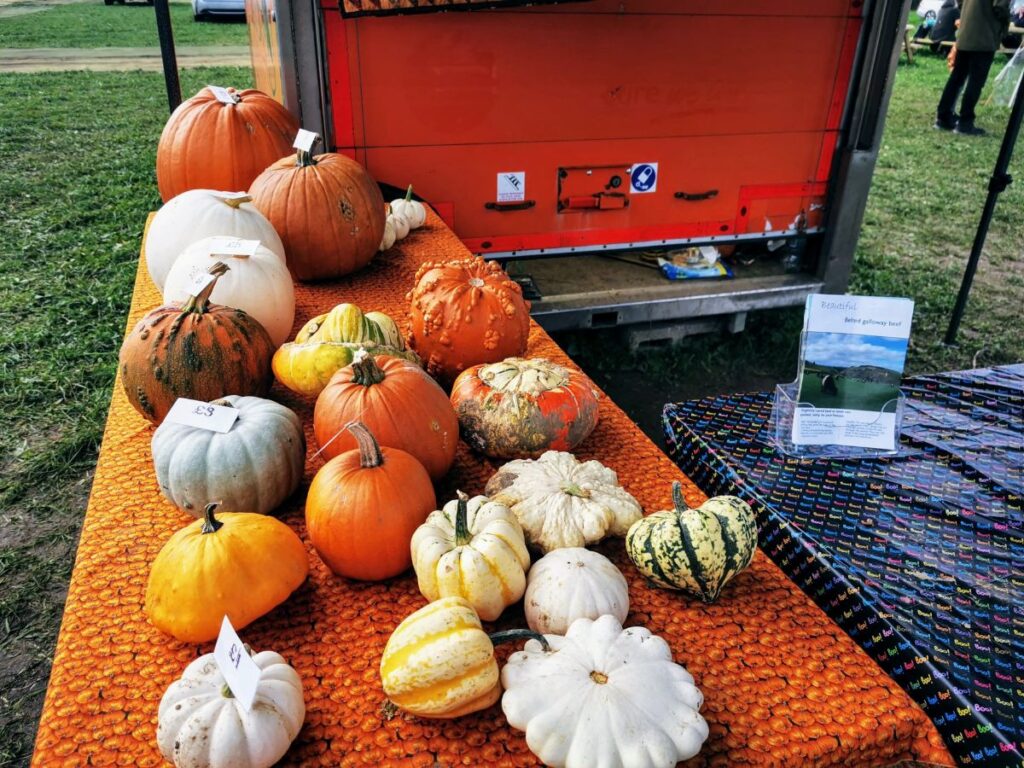 We love the wide range of shapes, sizes and colours and always get a mixture to decorate our home too!
This year we found some beautifully formed white ones, small stripy ones and pale blue ones which we've been told are the tastiest, so best for cooking with.
Photo opportunities and other activities
There are plenty of photo opportunities and props dotted around and we love to get some fun family photos. The wheelbarrows also come in handy for baby and toddler photos!
Each year, Pumpkin Corner seems to add more exciting things to entertain the kids. This year they had people in fancy dress and a 'spot the mummies' trail with fun jokes to find.
We always spend over an hour when we visit, searching for the best pumpkins and enjoying the activities and photo props.
Refreshments, food and toilets at Pumpkin Corner
We love the fact that Andy and Meg from Pumpkin Corner try and support new local businesses. This year (2021) they had La Gaufre, a unique trailer serving hot drinks, hot chocolates and waffles; and Glutopia, a vintage van named Honey serving hot drinks and delicious gluten-free treats.
There are plenty of benches to sit and enjoy these treats and there's a portaloo toilet available too.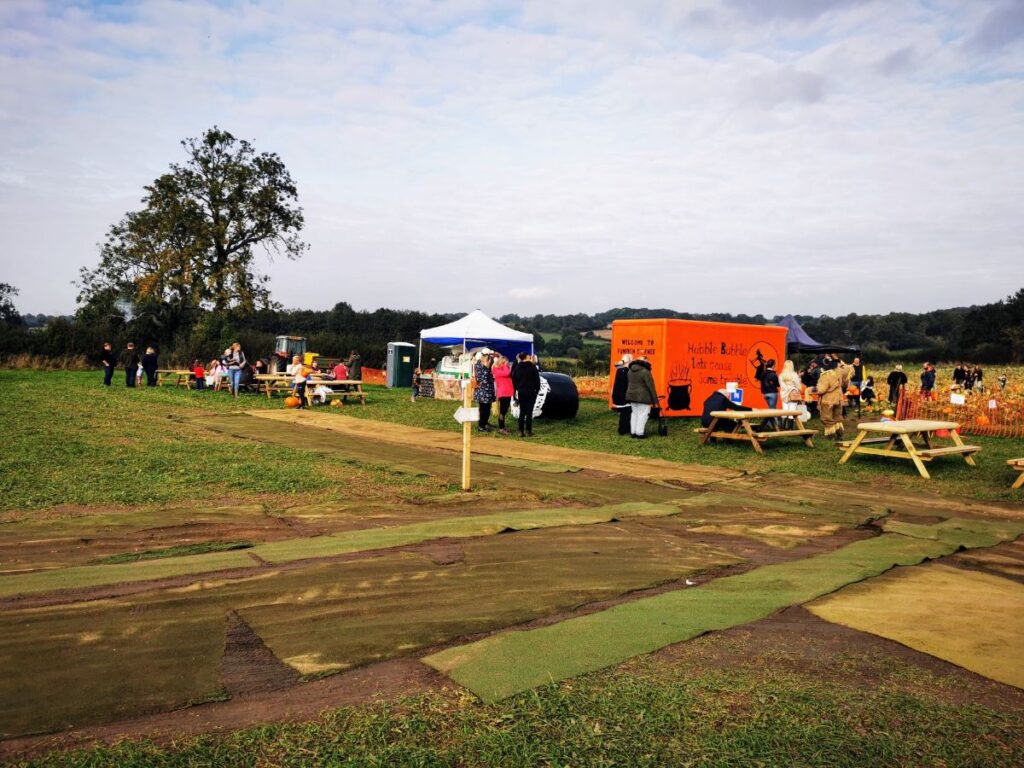 Opening times at Pumpkin Corner
Pumpkin Corner opens on Saturdays and Sundays (10am to 5pm) in October until they sell out of pumpkins. This year (2021), they were open for pumpkin pickers to visit from the first weekend in October. They update their Facebook page regularly so it's best to check before you go – click here.
There is no need to book either so just turn up with your wellies and have fun finding the perfect pumpkins!
Other events at Pumpkin Corner
Pumpkin Corner also offers PYO sunflowers in August and for those looking for a kid-free night out, they also have Date Nights in October. These are hosted evenings in an outdoor rustic field setting with ambient lighting, live music, food and drink.
---
You may also like to read:
Peak District October half term events 2021
Pumpkin picking at Village Pumpkins Barlow
Peak District Christmas 2021: the ULTIMATE guide