Over recent years in the UK, pumpkin picking has become a big tradition for many families on the build up to Halloween (nicely timed with October half term), and we absolutely love it! Dressed in wellies, it's guaranteed fun for littles one as they weave their wheelbarrow through the fields in search of that perfect pumpkin to then bring it home to carve into their Halloween masterpiece. Plus, picking your own pumpkins from a farm is much more rewarding than adding it to your online supermarket delivery; you know that your money is going direct to the farmer.
If you're looking for Peak District pumpkin picking options, the best place is Village Pumpkins in Barlow, which is strictly just a mile from the National Park boundary, between Chesterfield and Sheffield. We go every year!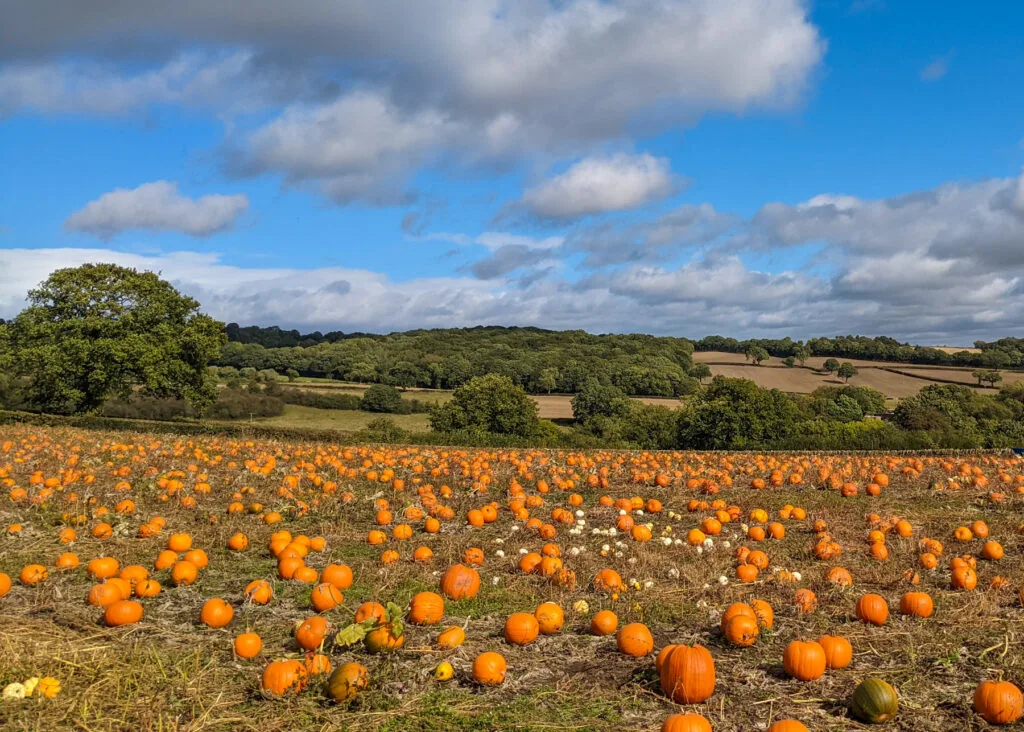 However, if you are based in or around the South of the Peak District, then Pumpkin Corner, near Ashbourne is your best bet.
Peak District October half term events guide
From the fireworks and bonfire at Chatsworth and Eyam and the stunning displays of Matlock Bath Illuminations, to pumpkin picking and Halloween trails, there is a lot going on in an around the Peak District October half term 2023, and we've rounded up all the events right here for you.
Arriving to Village Pumpkins
Click here for google map location. Address is: Johnnygate Ln, Barlow, Dronfield S18 7SE.
The easiest way to get to Village Pumpkins is by car. As you approach the farm you will notice lots of signs to point you in the right direction, so don't worry about getting lost!
Parking is on the field adjacent to the pumpkins. This can get very muddy towards the end of the month.
It is also possible to get to Village Pumpkins via bus. Stagecoach service 16 between Chesterfield and Dronfield via Holmesfield goes along New Road and stops at the bottom of Johnnygate Lane, only 5 minutes walk from Village Pumpkins. It runs roughly hourly throughout the day, Monday to Saturday (not Sunday). Click here to check the bus timetable.
New booking system for 2023
Village Pumpkins PYO has got very popular in recent years, so an online booking system has been introduced this year to ensure the patch doesn't get too busy. Indeed at weekends, it is ticket booking only. You cannot gain access without a ticket. During the week (Monday to Friday) no booking are necessary, but there will be an entrance fee on arrival.
Entry tickets are £3 per person over 12 for entry (under 12s are free) and include:
Car parking & entry to farm
Entry to the pumpkin patch
Farm animals to see
A fleet of wheelbarrows for you to use. To help you choose your perfect pumpkins from over 30 different varieties!
Sit on tractors
Photo opportunities
Colouring sheets for children
Picnic area with benches & grass to sit on
Our hay bale slide is staying for our pumpkin event! Along with tunnels & Sheldon the Snail 🐌
Please note that your ticket does not include a pumpkin.
Click here to book tickets online.
Your pumpkin picking journey
Make sure you're all wearing wellies as it gets very muddy, especially if it's raining. We dress our boys in waterproof jackets and trousers. Gloves and hats are a good idea for colder days.
Once you've checked in, grab a wheelbarrow and off you go in search of that perfect pumpkin! The perfect selection may take some time as there are so many to choose from in varying sizes and colour (there are even bluey-grey ones – my fave! – as well as classic orange ones).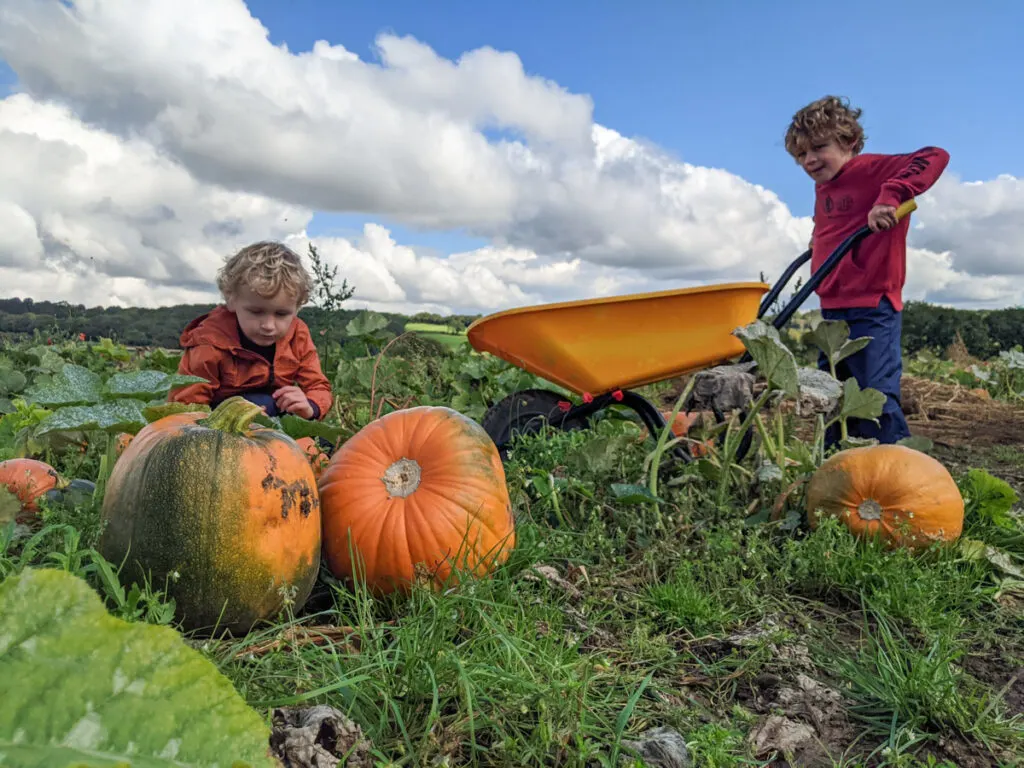 Along the way there are some fantastic photo opportunities: hop on the Village Pumpkin giant chair, sit on the vintage tractor, or just become a pumpkin. These make for lovely keepsake photos to look back on in years to come.
And make sure you don't miss seeing the chooks in their pen and animals in the barn!
Once you've finalised your selection (this can take time, of course), return to the hut at the entrance where you can reward your efforts with a hot chocolate and try some pumpkin cake or pumpkin soup! There's likely to be food stalls here too!
This is also where you need to pay for your pumpkins (payments by card are preferred, but you can still pay by cash).
To give you an idea, prices for 2022 were: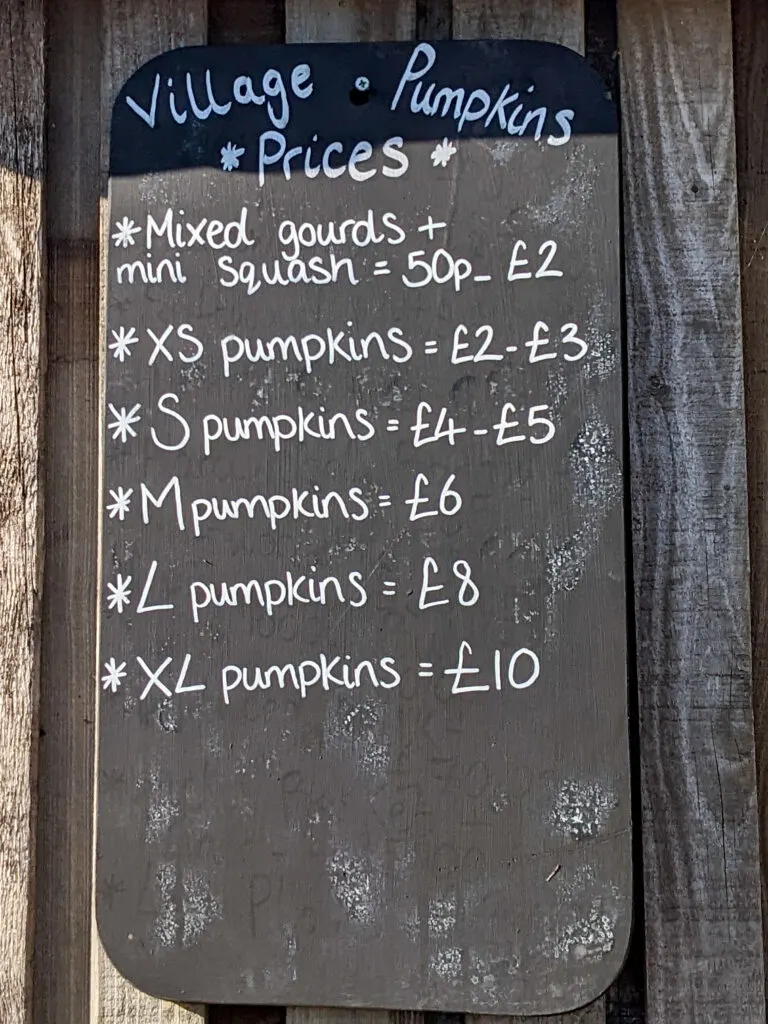 Want your pumpkins to last until Halloween?
We tend to pick our pumpkins the first weekend of October. Some may say that's a little early, but it means we get the best pick, and it's quieter.
But how to make them last until Halloween? Well there's a clever trick:
🎃 Clean off all the mud from your pumpkins
🎃 Mix 1 tablespoon of bleach with 1 litre of water
🎃 Soak your pumpkin in the mixture and let sit for 20 minutes
And that's it! The bleach/water mix will prevent your pumpkins from rotting, and keep your pumpkin perfect until you carve it!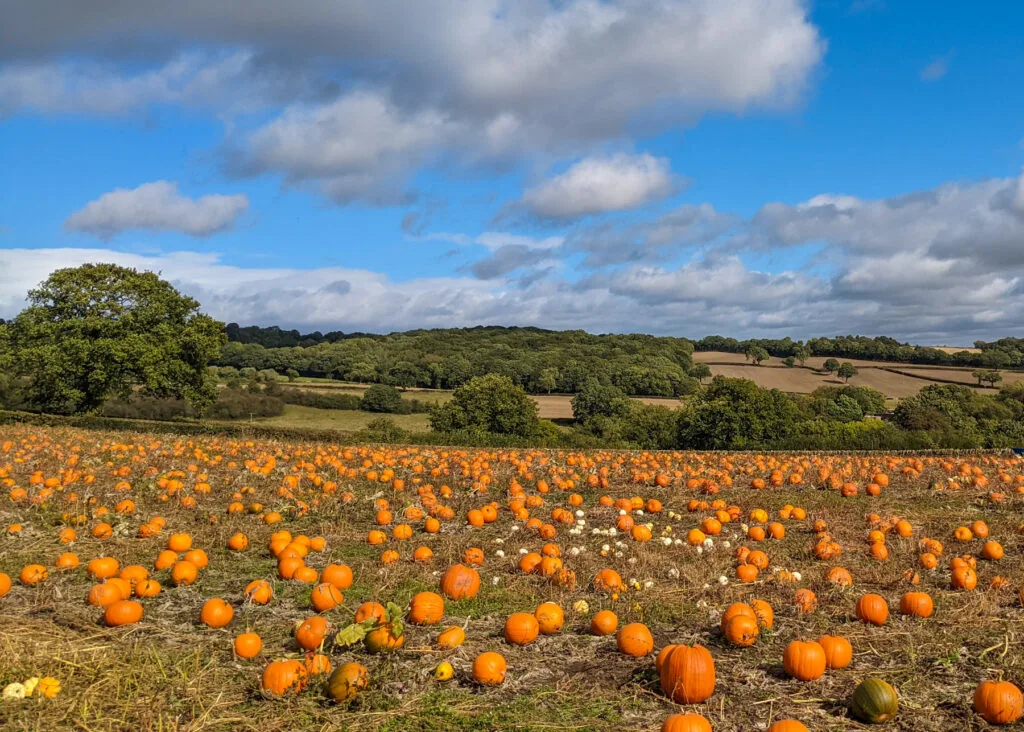 2023 Opening times at Village Pumpkins
🎃 Saturday 31st September & Sunday 1st October (9am to 5pm)
🎃 Saturday 7th & Sunday 8th October (9am to 5pm)
🎃 Saturday 14th & Sunday 15th October (9am to 5pm)
🎃 Monday 16th UNTIL Sunday 29th October (9am to 5pm)
Follow the Village Pumpkin FB page for up to date information.
---
You may also like to read:
What to do on a Peak District rainy day
Peak District October half term events
Peak District Christmas events