Over recent years in the UK, pumpkin picking has become a big tradition for many families on the build up to Halloween (nicely timed with October half term), and we absolutely love it! Dressed in wellies, our boys have so much fun weaving their wheelbarrow through the fields in search of that perfect pumpkin to then bring it home to carve into their Halloween masterpiece. Plus, picking your own pumpkins from a farm is much more rewarding than adding it to your online supermarket delivery; you know that your money is going direct to the farmer.
If you're looking for Peak District pumpkin picking options, the best (and only) place is Village Pumpkins in Barlow, which is strictly just a mile from the National Park boundary, between Chesterfield and Sheffield. Plus Village Pumpkins is FREE to enter, you just pay for your pumpkins at the end. It's a beautiful setting too, especially with poppy flowers popping up amongst the pumpkins.
Check out our guide to what's on this October Half term in the Peak District
Arriving to Village Pumpkins
Click here for google map location. Address is: Johnnygate Ln, Barlow, Dronfield S18 7SE.
There is no public transport to Village Pumpkins and you will need to get there by car. As you approach the farm you will notice lots of signs to point you in the right direction, so don't worry about getting lost!
Free parking is on the field adjacent to the pumpkins. This can get very muddy towards the end of the month.
On arrival, you need to check in for Track and Trace at the main hut. You can either scan the QR code on your phone using the Track and Trace app, or if you haven't yet downloaded it, provide your details to a staff member.
COVID safety
The team at Village Pumpkins have done a fantastic job at making your pumpkin picking experience COVID safe, and we felt safe at all times during our visit.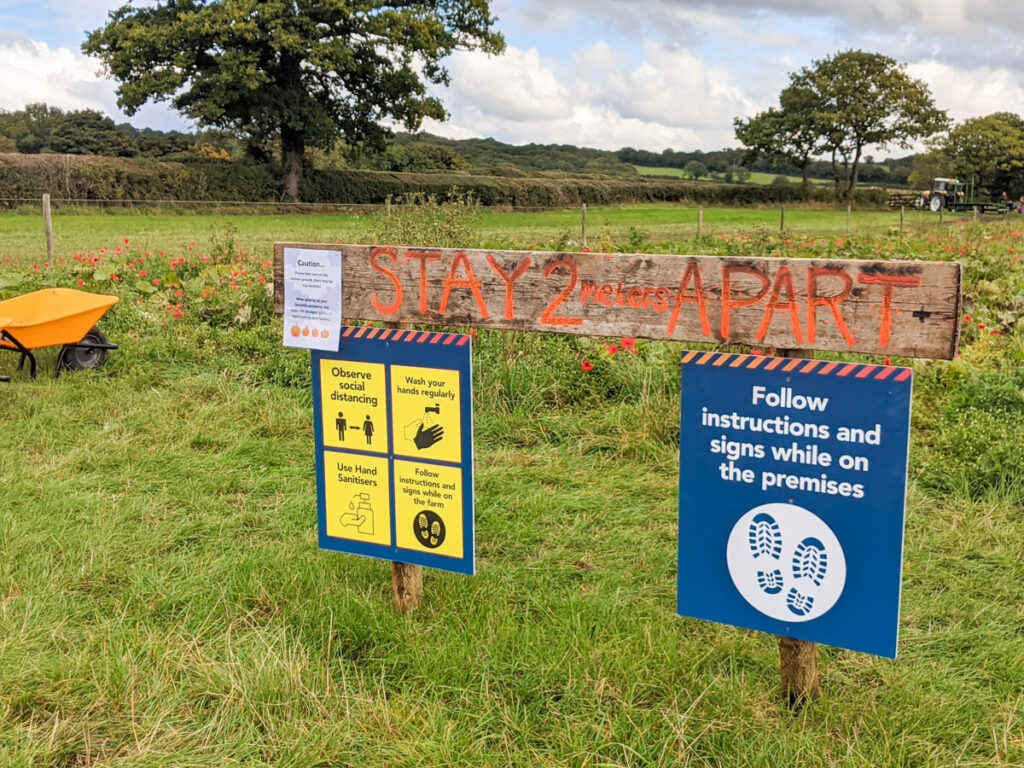 In addition to Track and Trace, there are hand sanitisers available, wheelbarrows are sterilised after use, and all staff wear masks. Visitors are not required to wear masks as you are in the open, but please respect social distancing and keep 2 metres apart from other groups at all time. No more than groups of 6 will be allowed to enter together.
Whilst you do not need to book, Village Pumpkins will be limiting the number of people allowed in the animal barn and amount of people on the farm during busy days. A good reason to arrive early!
Payments by card are preferred, but you can still pay by cash.
Your pumpkin picking journey
Make sure you're all wearing wellies as it gets very muddy, especially if it's raining. We dress our boys in waterproof jackets and trousers. Gloves and hats are a good idea for colder days.
Once you've checked in, grab a wheelbarrow and off you go in search of that perfect pumpkin! The perfect selection may take some time as there are so many to choose from in varying sizes and colour (there are even bluey-grey ones – my fave! – as well as classic orange ones).
Along the way there are some fantastic photo opportunities: hop on the Village Pumpkin giant chair, sit on the vintage tractor, or just become a pumpkin. These make for lovely keepsake photos to look back on in years to come.
And make sure you don't miss seeing the chooks in their pen and piglets in the barn!
Once you've finalised your selection (this can take time, of course), return to the hut at the entrance where you can reward your efforts with a hot chocolate and try some pumpkin cake or pumpkin soup! This is also where you need to pay for your pumpkins. The prices for 2020 are: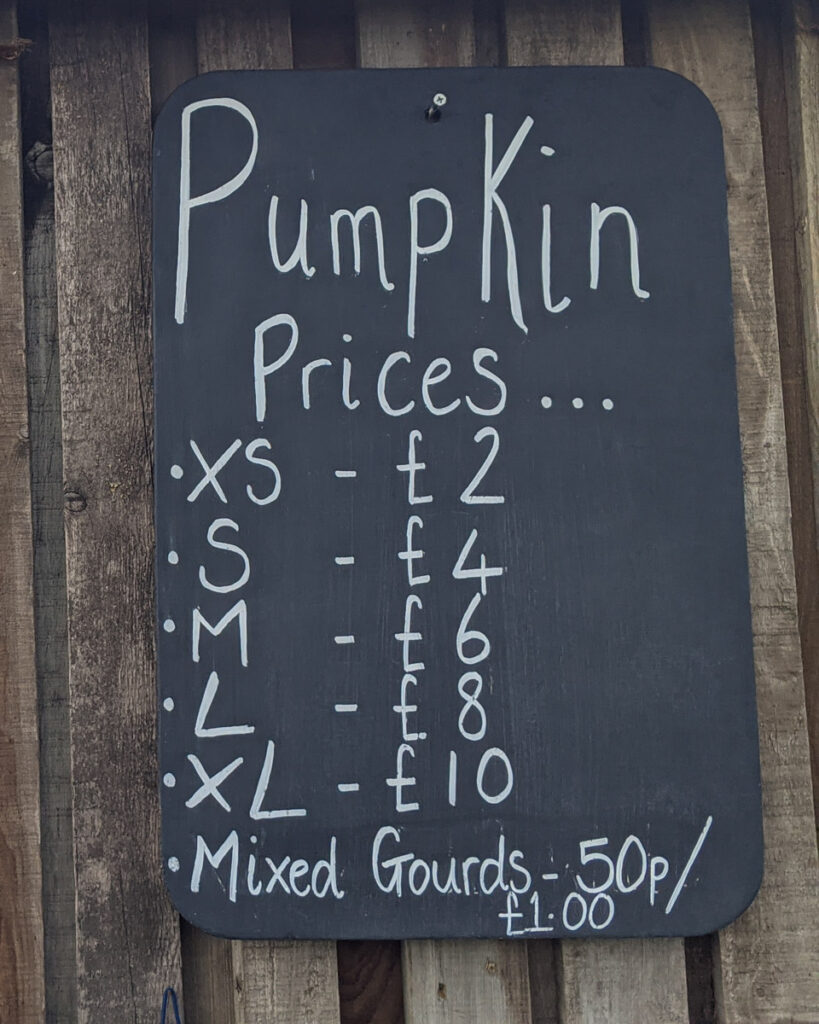 Want your pumpkins to last until Halloween?
We picked up our pumpkins the first weekend of October. Some may say that's a little early, but it meant we got the best pick, and it was quieter.
But how to make them last until Halloween? Well there's a clever trick:
🎃 Clean off all the mud from your pumpkins
🎃 Mix 1 tablespoon of bleach with 1 litre of water
🎃 Soak your pumpkin in the mixture and let sit for 20 minutes
And that's it! The bleach/water mix will prevent your pumpkins from rotting, and keep your pumpkin perfect until you carve it!
Opening times at Village Pumpkins
Village Pumpkins are open every weekend in October, 9am to 5pm, and also Monday 19th to Saturday 31st October 9am to 5pm (which is the October half term week). NO BOOKINGS ARE NEEDED, just turn up. It makes for such a fun morning or afternoon out, and something a little bit different.
Follow the Village Pumpkin FB page for up to date information.
---
You may also like to read:
What to do on a Peak District rainy day
Peak District October half term events
Peak District Christmas events