Alton Towers pulls out all the stops when it comes to Christmas with a unique Santa Grotto, the incredible Lightopia light trail, and authentic Christmas Markets. Throw in some classic Alton Towers rides and fantastic festive entertainment and theming, and it really is one of the best locations to celebrate Christmas in the UK, and we're super lucky that it's on the doorstep of the Peak District National Park.
Peak District Kids were provided with a complimentary Santa Sleepover Alton Towers package for purposes of this review. As always, we provide reviews that are 100% honest, so that you can make the most out of your visit.
We went along to check out the Santa Sleepover Alton Towers package as a family of four, and WOWSERS, what a way to kick start the festive season!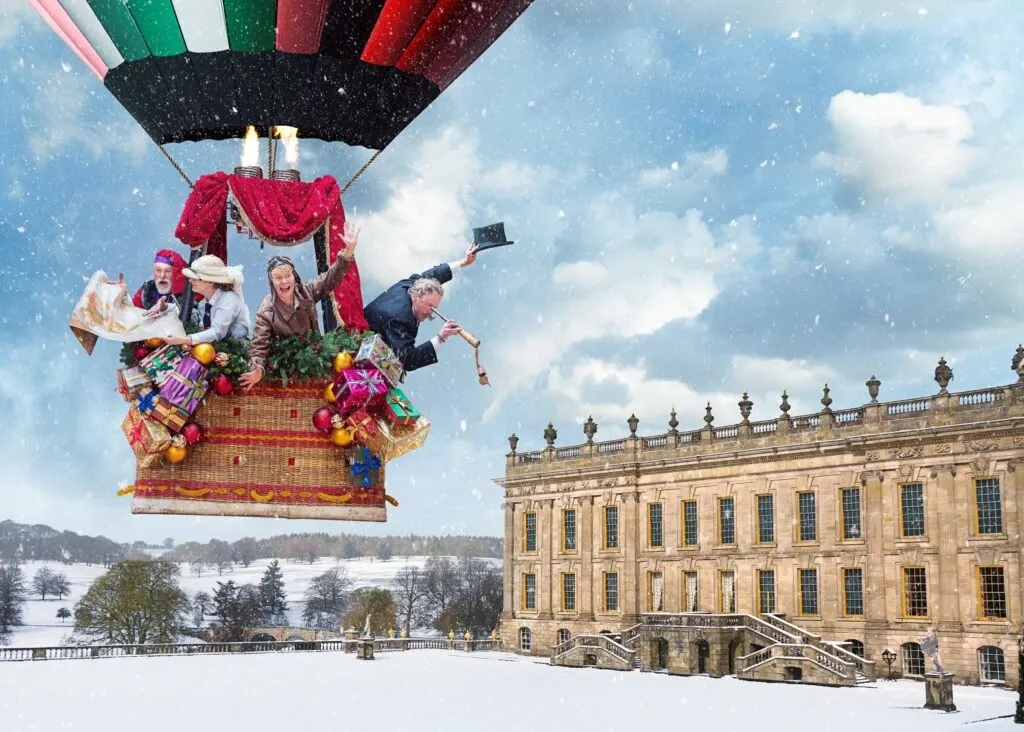 What is Santa Sleepover Alton Towers?
The Santa Sleepover at Alton Towers is a package where families can enjoy all the festive goings-on at the resort over 2 days / 1 night. The package is from £85 per person and includes:
1-Day Entry to the Theme Park with a selection of family rides and attractions
A unique visit to Santa's Grotto and fun Christmas activities
All-new traditional panto
A fantastically festive evening meal and festive entertainment
An overnight stay in one of our fabulously themed hotels
A delicious buffet breakfast
Entry to the wacky Caribbean themed Waterpark
9 holes of crazy Extraordinary Golf
Alton Towers Christmas Markets
The iconic Towers Street is transformed into the enchanting Towers Christmas Market with decorated wooden huts offering unique gifts, tasty treats and festive delights, whilst the seasonal live entertainment from the bandstand stage adds to the atmosphere.
Compared to other Christmas markets around Europe, these markets felt wonderfully quiet (though with still enough buzzing energy). This is probably because visitors are spread around different sections of the resort rather than the markets being the main event, as with cities and towns across the UK.
We just appreciated not having to wait in line for our obligatory festive churros. Yum! And there are little sheltered huts with tables to sit down and enjoy your treats.
Alton Towers rides at Christmas
Now we had recently visited Alton Towers for Oktoberfest earlier this year, so our boys have a very clear idea of what rides there are at Alton Towers. Being 7 and 9 years old, they're at that in between CBeebies Land and Nemesis age, and both under 140cm for the up-side-down rides. But these little adrenalin junkies absolutely loved their Oktoberfest visit, with favourite rides being Wickerman, TH13TEEN, and Spinball Whizzer. Do read our guide to visiting Alton Towers with kids aged 6-10.
However, expectations needed to be set before our visit to Alton Towers this Christmas as most of the rides are not open at this time of year. There are only a select few, which include:
CBeebies Land
The World of David Walliams with Gangsta Granny: The Ride
The ship and tea cups in Mutiny Bay
HEX
Spinball Whizzer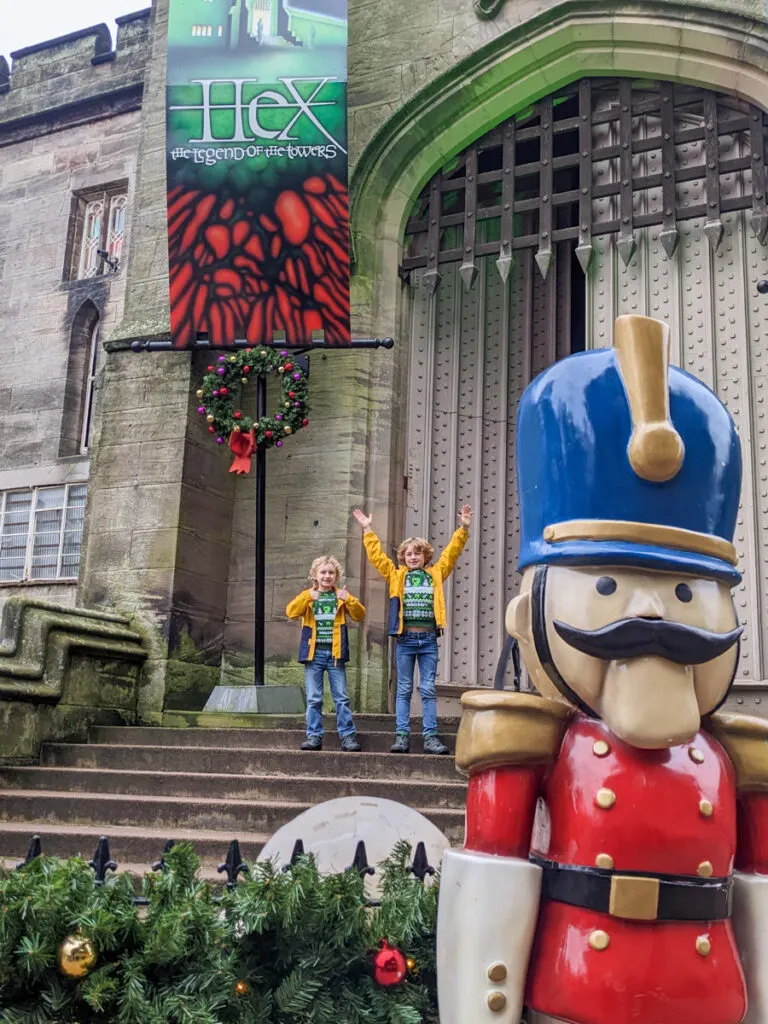 Despite still catching my boys watching Hey Douggee on the odd rare occasion at home, my boys are absolutely adamant that they are too old for CBeebies Land, and also didn't want to bother queuing for Gangster Granny. They were all about Hex and Spinball Whizzer, and enjoyed a quick go on the two rides open in Mutiny Bay before meeting Santa. There was a 30 minute wait for Spinball Whizzer, but the others were just a 2-5 minute wait.
The rides really need to be seen as a bonus, rather than a reason to visit Alton Towers at Christmas, especially if your kids are 'too old' for CBeebies. With the cold, drizzly weather, rides are not guaranteed to be open. In fact during our visit, Spinball Whizzer was only open for about an hour, and even Octonauts in CBeebies Land, closed for a while.
Meeting Santa at Alton Towers
You pre-book a time slot to see Father Christmas, which minimises your waiting time. We waited about 5 minutes before an elf shyly peeked around the entrance door to beckon us in.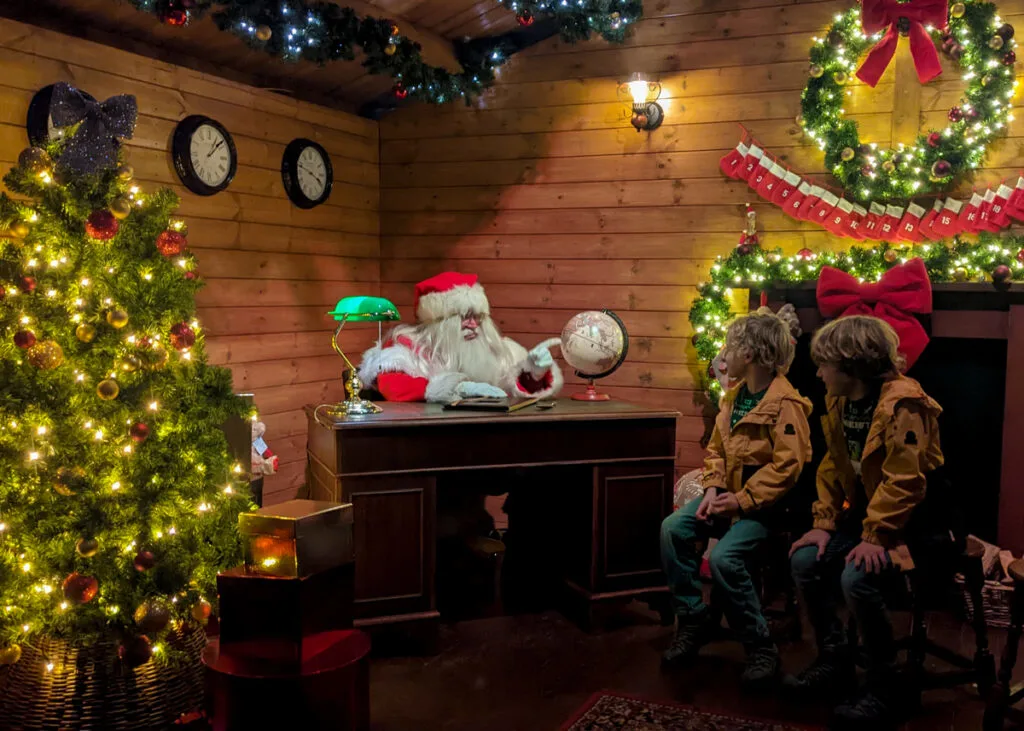 Despite it being such a busy time of year, Father Christmas was wonderfully calm and patient. Somehow the boys made the 'good list' and they chatted about the present that they would really like. And then they were invited to open a box for a small present to take home (an Alton Towers Christmas teddy bear!)
It was a really lovely experience and felt very authentic. Alton Towers is one of the best places to meet Santa in the Peak District (although technically just outside the National Park boundary).
Lightopia
Lightopia is an award-winning light trail around the Alton Towers grounds, and it's utterly magical! There are giant lanterns, immersive projection light shows, and a series of beautiful scenes including the Gate of Wonder, Candy Land, mystic animals, and Land of Diamonds and Fire Dragons. But the most impressive display is right at the end with Christmas scenes projected onto a water fountain.
The light trail is 2km long, so come prepared with snacks. It doesn't open until 4pm, and by that stage little ones may be flagging from visiting Santa and going on the rides already, so do keep this in mind.
Staying at the Alton Towers Hotel
Alton Tower's Santa Sleepover package includes an overnight stay in one of the themed hotels. We were booked into a Moon Voyage Room at the Alton Towers Hotel.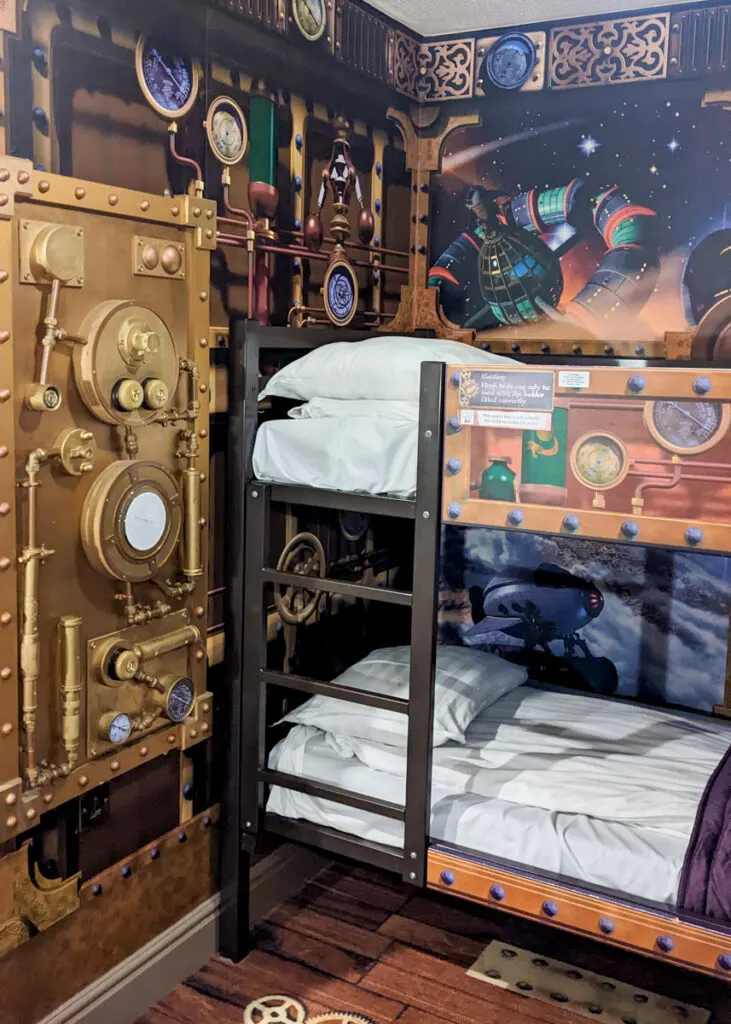 The theming of this room was perfect for our family. But you can choose from a range, including Explorer Room, Gangster Granny Room, Peter Rabbit Room, to name a few.
This Moon Voyage Room sleeps a family of four. There's a big double bed for parents, and then twin bunk beds cleverly separated with a divide. There are tea and coffee making facilities, two TVs, and a small bathroom with bath/shower. But the best bit according to the boys? The Xbox! They don't have one at home and we don't tend to let them use their tablets in their rooms, so this was a humungous treat!
Dining at the Santa Sleepover
Dinner and breakfast is also included in the package; although you do need to pay extra for drinks with your dinner (both soft drinks and alcoholic drinks are not included). We enjoyed both dinner and breakfast at the Secret Garden Restaurant at the Alton Towers Hotel.
The service at dinner was efficient and very friendly, and its a great atmosphere with live music coming from the balloon ship (the focal point of the Alton Towers Hotel). However, we were a bit disappointed at the quality of the food. Just a little on the bland side. It's a set menu (see below).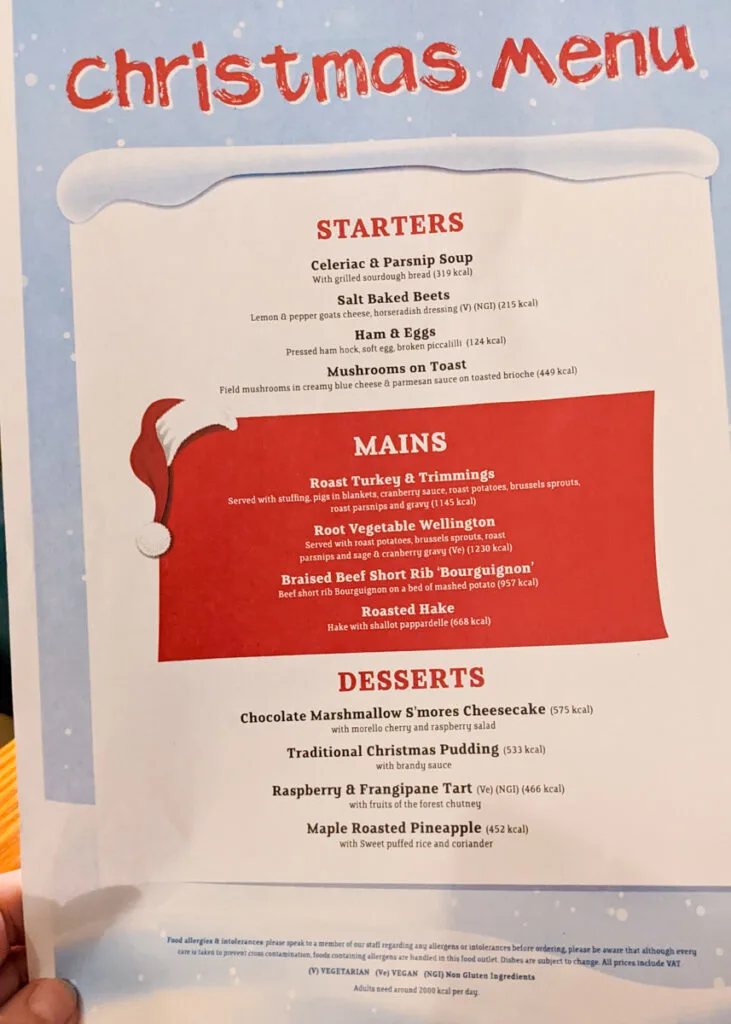 Breakfast is served as a buffet, and despite having a later time slot, fresh food was coming out of the kitchen and everything was kept topped up. It felt very much like a Premier Inn style breakfast, with English breakfast, pancakes, cereal, and breads on offer. Fresh fruit was lacking though. Vegetarian sausages can be cooked on request. We all enjoyed a huge breakfast in preparation for the next and final experience of the Alton Towers Santa Sleepover package.
Alton Towers Waterpark
As if a full day of theme park rides, meeting Santa, Lightopia, and Christmas Dinner isn't enough, the next day after breakfast, we headed over to the waterpark. This is situated next to the Alton Towers Hotel and connected by corridors, so you don't have to walk outside in the cold.
Parents, get mentally prepared for a loud and full on few hours; music blares from the speakers over gushing water and shrills from kids. It's intense, but brilliant fun!
It was busy during our visit, but numbers are limited and the only slides which required a long wait was the Master Blaster (30mins, so we didn't bother). But there are two other slide systems, which kept us more than happy. Add in a lazy river and a huge waterworks climbing frame, and there is enough to make a full day of it.
Just remember to take a 20p coin for the lockers (a family will probably need two lockers). Quite surprised they haven't installed an automated system for lockers yet, but apparently this is coming.
How to book Santa Sleepover Alton Towers?
Head over to the Alton Towers website to book online.
Entry to the park rides, Lightopia, Christmas Markets, and Santa's Grotto is for your day of arrival. Access to the waterpark is for any day of your two-day stay that the waterpark is open (we visited on day 2).
You are sent a separate email to book in a time for Santa's Grotto, evening meal, breakfast, and waterpark. This is arranged by a third party company, Holiday Extras. The process here is rather clunky and if there is no availability for your chosen times, you will be booked in for random times rather than be consulted. So when you receive an email about your preferred times, it's best to give a range of times and be really clear about which times / restaurants are not suitable. However, if you have difficulty, the Alton Towers staff will be able to help you out on arrival.
Do you have to book Santa Sleepover to visit Alton Towers at Christmas?
No you don't.
Santa Sleepover Alton Towers is a way to experience everything that Alton Towers offers at Christmas in one package. But if you just want to go for the day, or just do Lightopia, that's absolutely possible.
Here is a breakdown of the costs:
| | | |
| --- | --- | --- |
| Attraction | Prices | What's included |
| Theme Park and Lightopia | Per person from £30 | Access to family rides and attractions, Lightopia and the Christmas Market |
| Lightopia and Christmas Market | Per person from £15 | Entry into the Christmas Market and Lightopia |
| Santa's Sleepover | Per person from £120 | Overnight accommodation with breakfast and evening meal A unique visit to Santa's Grotto Entry to the Theme Park, Lightopia and Christmas Market 1 day Waterpark access |
| Christmas Market | Free, car parking charge only | Entry to the Christmas Market only |
pricing for Alton Towers Christmas 2022
Final thoughts on the Alton Towers Santa Sleepover
There's a lot to fit in 24 hours, so make sure you get your timeslots booked in asap. This was our timetable:
DAY 1
13:30 – arrive at park and enjoy the rides
15:40 – meet Santa
16:30 – Lightopia
17:10 – churros from the Christmas markets and a wander
18:00 – checked into Alton Towers Hotel
20:00 – dinner
DAY 2
9:30 – breakfast
10:30 – waterpark
13:00 – home
Make sure you set your kids' expectations regarding the rides as only a select few are open, and have snacks at the ready for the Lightopia trail.
But what a magical time we had at Alton Towers to kick of the festive season! We will be back again next year, I'm sure!
---
You may also like to read:
Peak District Christmas Events 2022
Where to meet Santa in the Peak District
Twixmas in the Peak District: what's on between Christmas and New Year